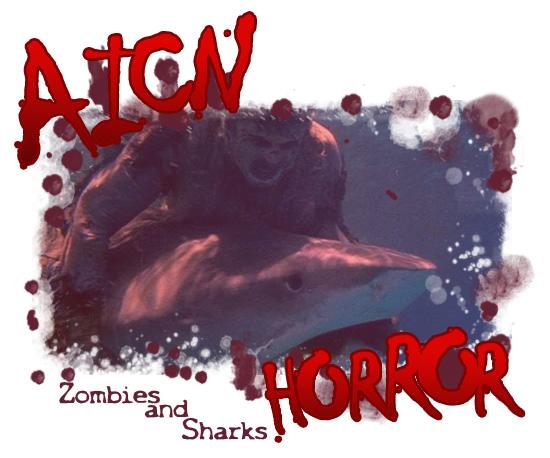 Logo by Kristian Horn
What the &#$% is ZOMBIES & SHARKS?
---
Greetings, all. Ambush Bug here. Happy Birthday to AICN HORROR which celebrates its sixth year on Ain't It Cool News in October! And what a fantastic year in horror it was! Always hoping to pass on new and exciting films for all of you ravenous readers, I have once again compiled a list counting down my favorite horror film released since last October 1, 2014 and covered in my weekly AICN HORROR: ZOMBIES & SHARKS column.

As far as how I compiled this list? Well, I simply looked over my AICN HORROR columns over the last year since October 1st, 2014 (which happens to be the birthday of this little column six years ago!) and worked and reworked a list throughout the year until I had 31. No real method to my special brand of madness; just my own personal favorites. The only rule qualifying the film for this countdown is that it had to be released to the masses (via theaters, digital download, On Demand, or DVD/BluRay) within the range of October 1, 2014 and October 1, 2015. Anything before or after that span of time doesn't count in this haunted dojo. I'll be counting down every day until Halloween to my favorite horror film of the year. I'll also provide a second film suggestion at the end of each post that is worth noting or just missed making the list for those who can't get enough horror.

So let's get to it! Chime in after the article and let me know what you think of the pick, it's placing on the list, how on the nose or mind-numbingly wrong I am, and most importantly, let me know your own personal faves from the last year in horror…let's go!
#14 STARRY EYES
Why is STARRY EYES #14? There seems to be a lot of female body horror going on in indie horror these days and while some go for the gross-out, this one stands out as it makes a comment on the soulless Hollywood ladder and how desperate some are to climb it. With some bone-crunchingly uncomfortable effects and a compelling story that is both gross and engrossing, STARRY EYES is one of the better body horror flicks you're bound to find this year. Here's my review
from November 14th, 2014
!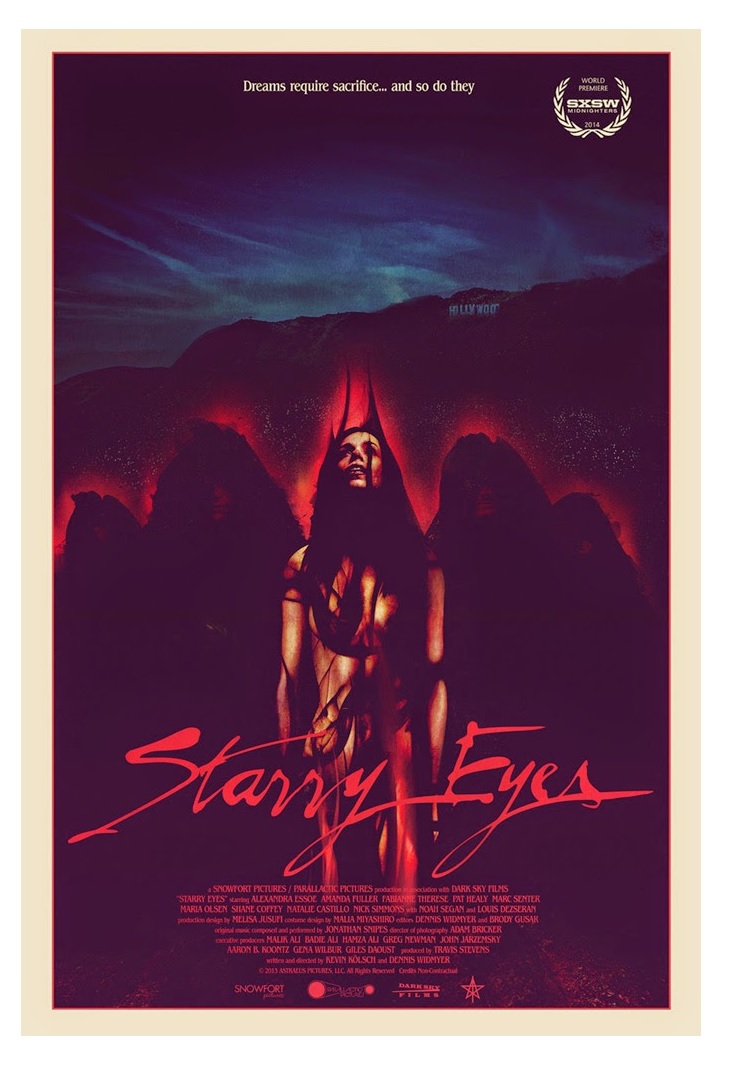 Available on iTunes here and Netflix here!
STARRY EYES (2014)
Directed by Kevin Kolsch, Dennis Widmyer
Written by Kevin Kolsch, Dennis Widmyer
Starring Alex Essoe, Amanda Fuller, Noah Segan, Fabianne Therese, Shane Coffey, Natalie Castillo, Pat Healy, Nick Simmons, Maria Olsen, Marc Senter, Louis Dezseran, Danny Minnick
Find out more about this film here and on Facebook here
Reviewed by Ambush Bug
The best horror films I can think of take a speck of the real world and tweak it to horrific lengths. That's what STARRY EYES does--a bleak and twisted, albeit not so inaccurate, comment on the state of Hollywood and our dreams of stardom and fame.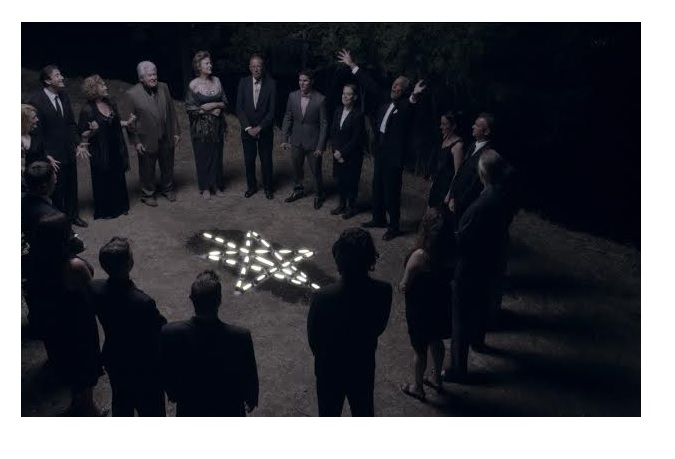 Alex Essoe offers up an ironically star-making performance as Sarah, a waitress at a Hooters knockoff restaurant (managed by the always awesome Pat Healy) who dreams of becoming a star and is annoyed by her friends who also dream of stardom. After bombing yet another audition, Sarah has a breakdown in the women's bathroom screaming and tearing her hair out by the roots. Unbeknownst to her, the casting agent is in the bathroom and witnesses the freak out and sees something in Sarah she did not convey in her audition. Asking her to audition again, we see how this girl we want to root for is really pretty unhinged as she freaks out in front of both casting agents, impressing them with her guttural and primal tantrum. This opens the door to stardom for Sarah, but with that stardom, of course, comes a price.
The standout of the film for me was Essoe's performance. At first, I was drawn into Sarah's plight. Having to wear skimpy clothing and serve fatty foods to mouth-breathing customers is something we think she has too much talent for. But after the freak out and as she progresses up the ladder to possible stardom, a darker and less likable side comes out and it is brave for this story and this actress to show it. While it's subtle at first, as Sarah chuckles when a friend slips and falls, breaking her nose, this cruel streak grows and grows to gargantuan proportions as the film makes a comment that in order to become a star, all forms of humanity and soul must be left behind. What proceeds is not a comfortable film, but it is rich in subtext on how much you are willing to give in order to achieve a dream.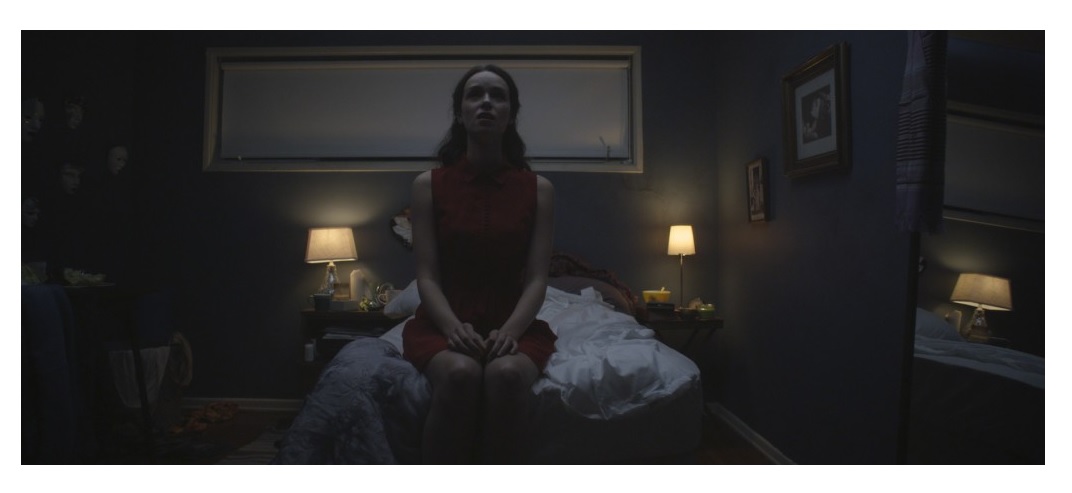 If there's a criticism I have for STARRY EYES is that it's coming out late in the game in terms of movies focusing on painful and awful transformation. Films like
THANATOMORPHOSE
and
CONTRACTED
were notable last year as both being very effective in depicting the deterioration of one person because of the lifestyle they were leading. In those films, the ugliness inside of them seemed to come out and visibly be seen as the movie progresses. This similar theme occurs with STARRY EYES as the latter half of the film depicts Essoe writhing and squirming in pain as whatever is happening to her after her "audition" seems to be changing her from the inside out. Only because I had seen two very effective films already this year depicting practically the same thing did these scenes lose the intended gross-out effect it was going for. But since some of you haven't seen THANATOMORPHOSE or CONTRACTED, this may not be an issue for you.
The ending of STARRY EYES is bombastic, graphic, and poetic all at once. Kolsch and Widmyer highlight the ugliness and beauty of superstar aspirations evenly and all at once. And while STARRY EYES might not be a great film to watch if you have dreams to make it big one day, it is an entertaining and harrowing film that is very difficult to shake after viewing. Strong performances, a great ear for music, and a well executed theme make STARRY EYES stand out even if it is reminiscent of other recent body horror films.
---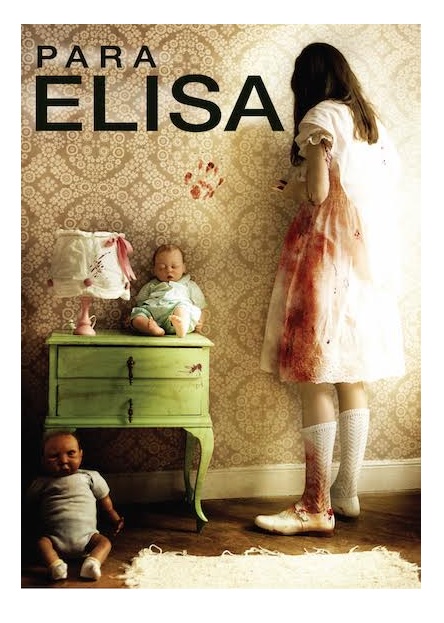 Worth noting: PARA ELISA!
Not really body horror, but this one does involve a naive girl hoping to get a job and ending up getting much more than she expected. Shades of WHATEVER HAPPENED TO BABY JANE? are prevalent, but this locked room thriller kept me entranced from start to unconventional finish. Definitely recommended for those who like creepy people doing utterly creepy things.
Check out my full review of the film here
and you can
check out the film here on iTunes
!
---
Previously on the Countdown!

#31 – AN AMERICAN TERROR
#30 – WE ARE STILL HERE
#29 – FROM THE DARK
#28 – THE TOWN THAT DREADED SUNDOWN
#27 – DEAD SNOW 2: DEAD VS RED
#26 – THE GREEN INFERNO
#25 – THE EDITOR
#24 – THE TAKING OF DEBORAH LOGAN
#23 – WITCHING & BITCHING
#22 – EXTINCTION
#21 – WYRMWOOD: ROAD OF THE DEAD
#20 – BACKCOUNTRY
#19 – POD
#18 – MAGGIE
#17 – A PLAGUE SO PLEASANT
#16 – THE NIGHTMARE
#15 – A GIRL WALKS HOME ALONE AT NIGHT

See ya tomorrow, folks, as I count down the best of the best covered in AICN HORROR since October 1st, 2014!

Ambush Bug is Mark L. Miller, original @$$Hole/wordslinger/writer of wrongs/reviewer/interviewer/editor of AICN COMICS for over 13 years & AICN HORROR for 6. Follow Ambush Bug on the Twitters @Mark_L_Miller.



---
Find more AICN HORROR including an archive of previous columns on AICN HORROR's Facebook page!