Nordling here.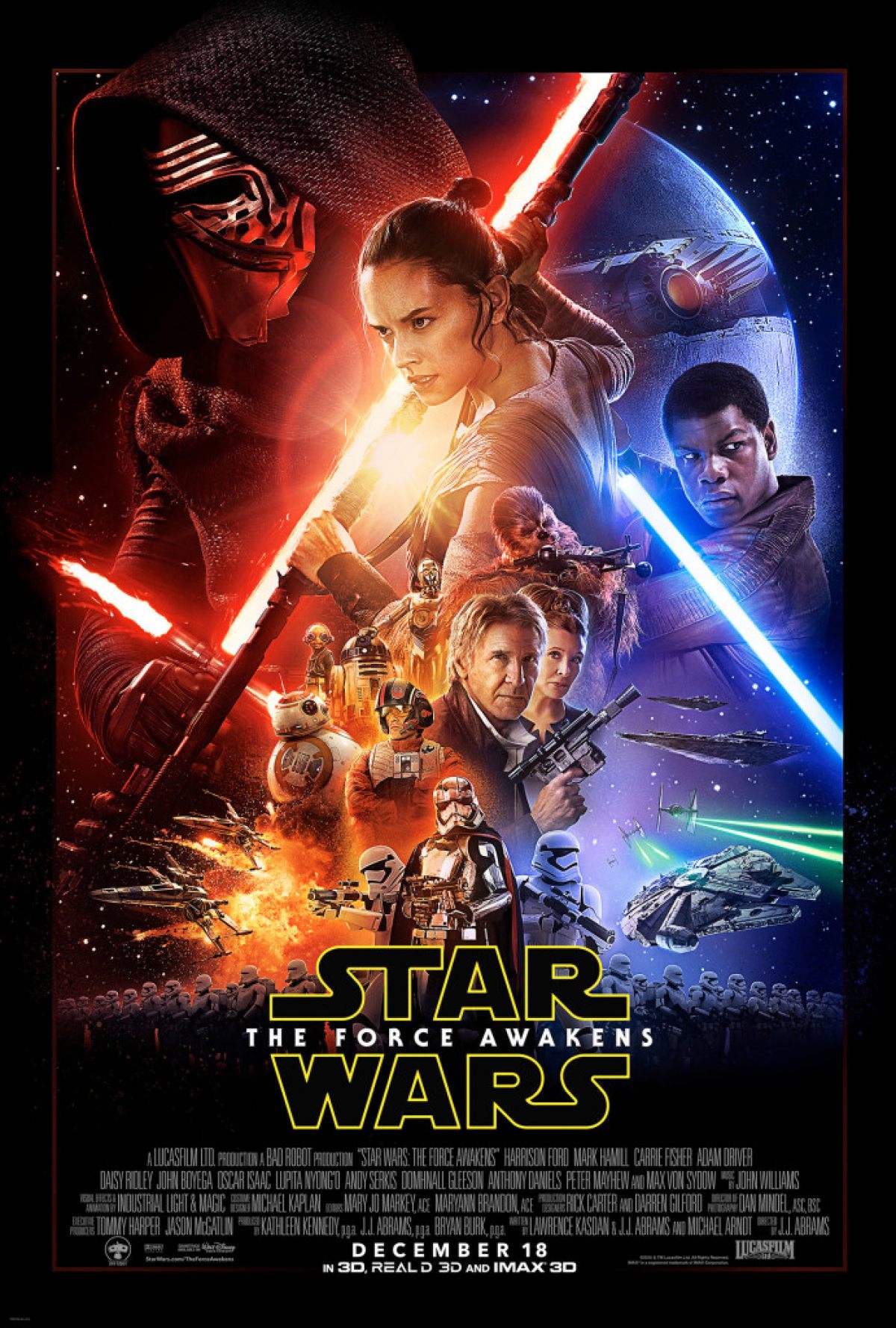 Beautiful. Look, there's Han. And Leia. And Finn. And Rey. And everyone - except Luke. But Harrison Ford, Mark Hamill, and Carrie Fisher are top-billed. Holy crap, all the emotions are kicking me around right now.
New trailer tomorrow.
And from STARWARS.com:
And be sure to tune into ESPN's Monday Night Football tomorrow for an exclusive new look at the film.

If that's not enough, tickets for the highly anticipated film will also go on sale tomorrow for showings in theaters across the globe. Check out the list below to see how some theaters will be celebrating this momentous occasion with special events and exclusive giveaways.

Star Wars Marathon Event

The Star Wars Marathon Event is the ultimate fan experience. All seven movies. One epic journey. Guests will see each of the six previously released Star Wars episodes in digital 2D beginning with The Phantom Menace and concluding with the opening of Star Wars: The Force Awakens in 3D! Guests will also receive a lanyard featuring exclusive marathon art. Coming December 17.

* See below for list of participating theaters.

Regal Cinemas

Star Wars Saturdays: Each Saturday, from December 19 to January 9, at Regal theatres the first 500 guests who experience Star Wars: The Force Awakens in IMAX will receive a collectable ticket featuring unique Star Wars: The Force Awakens art. New art will be revealed each week.

AMC Theatres

Star Wars Sundays: Each Sunday, from December 20 to January 10, guests who purchase a ticket to see Star Wars: The Force Awakens in IMAX 3D will receive an AMC-exclusive Star Wars print from artist Dan Mumford. A new poster will be revealed each week.

Also, join the celebration at Walt Disney World as AMC Theatres and Disney Parks celebrate the release of Star Wars: The Force Awakens. The Opening Night Event will take place on December 17, where participants will be among the first to see the new film at AMC Disney Springs 24 and then celebrate together at a private after-hours party at Disney's Hollywood Studios. Tickets are available online only at AMCtheatres.com/StarWarsWDW

Cinemark

Cinemark is giving fans the opportunity to receive a pair of exclusive RealD 3D Star Wars glasses. There are three ways guests can get these collectable glasses: By attending the Star Wars Marathon Event on December 17. By attending the first show of Star Wars: The Force Awakens Thursday 12/17 in Cinemark XD, or with the purchase of a Star Wars concession combo, coming in November.

Alamo Drafthouse

As part of the advanced ticketing promotion at participating Alamo Drafthouse locations, you can snag two exclusive, limited Star Wars: The Force Awakens collectible items: an officially licensed Mondo-designed pint glass and the first ever, double-sized collector's issue of their very own magazine, BIRTH. MOVIES. DEATH., celebrating 40 years of the Star Wars saga!

Fandango

On Fandango, Star Wars: The Force Awakens ticket buyers will be automatically entered into a sweepstakes for the chance to win a trip to the film's world premiere. Moviegoers who purchase tickets within the first 24 hours can increase their chances to win. Additionally, ten runners-up can win a collectible "Dark Side" or "Light Side" prize pack.

* Participating Star Wars Marathon Event Theatres

REGAL CINEMAS TIKAHTNU 16 Anchorage, AK

COLONEL GLENN 18 Little Rock, AR

AMC WESTGATE 20 Glendale, AZ

HARKINS SUPERSTITION SPRINGS 25 Mesa, AZ

MARKETPLACE 16 Tempe, AZ

CINEMARK PARK PLACE 20 Tucson, AZ

MAYA BAKERSFIELD 16 Bakersfield, CA

AMC BURBANK 16 Burbank, CA

REGAL HACIENDA CROSSINGS 20 Dublin, CA

EDWARDS FRESNO 22 Fresno, CA

EL CAPITAN Hollywood, CA

CENTURY 20 Huntington Beach, CA

EDWARDS SPECTRUM 21 Irvine, CA

CINEMARK 22 Lancaster, CA

MONTEREY 13 Monterey, CA

EDWARDS STADIUM 26 North Long Beach, CA

AMC ORANGE 30 Orange, CA

AMC ONTARIO MILLS 30 Ontario, CA

CENTURY RIVER PARK 16 Oxnard, CA

REDWOOD DOWNTOWN 20 Redwood City, CA

AMC METREON 16 San Francisco, CA

CENTURY 20 OAKRIDGE San Jose, CA

ARCLIGHT 16 Sherman Oaks, CA

CARMIKE THOUSAND OAKS 14 Thousand Oaks, CA

CENTURY 16 GREENBACK LANE Sacramento, CA

AMC MISSION VALLEY 20 San Diego, CA

EDWARDS MIRA MESA 18 San Diego, CA

HARKINS NORTHFIELD 18 Denver, CO

AMC WESTMINSTER PROMENADE 24 Westminster, CO

AMC LOEWS DANBURY 16 Danbury, CT

BUCKLAND HILLS 18 Manchester, CT

CONNECTICUT POST 14 Milford, CT

AMC AVENTURA 24 Aventura, FL

CINEMARK PALACE 20 Boca Raton, FL

CINEMARK PARADISE 24 Davie, FL

DELRAY MARKPLACE 12 Delray Beach, FL

AMC REGENCY 24 Jacksonville, FL

REGAL KENDALL VILLAGE 16 Miami, FL

REGAL WATERFORD LAKES 20 Orlando, FL

AMC TALLAHASSEE MALL 20 Tallahassee, FL

AMC VETERANS 24 Tampa, FL

MUVICO PARISIAN 20 West Palm Beach, FL

UNIVERSITY 16 Athens, GA

REGAL ATLANTIC STATION 18 Atlanta, GA

WARD 16 Honolulu, HI

EDWARDS BOISE 21 Boise, ID

ADDISON CINEMA Addison, IL

AMC RIVER EAST 21 Chicago, IL

REGAL CITY NORTH 14 Chicago, IL

CENTURY 12 EVANSTON/CINEARTS 6 Evanston, IL

AMC SHOWPLACE NAPERVILLE 16 Naperville, IL

ROSEMONT 18 Rosemont, IL

AMC SHOWPLACE SCHEREVILLE 16 Schererville, IN

GOODRICH HAMILTON 16 Noblesville, IN

CEDAR RAPIDS GALAXY 16 CINE Cedar Rapids, IA

CINEMARK 20 JORDAN CREEK West Des Moines, IA

AMC STUDIO 30 Olathe, KS

CINETOPIA OVERLAND PARK 18 Overland Park, KS

13TH AVE. WARREN Wichita, KS

CINEMARK FAYETTE MALL Lexington, KY

CINEMARK TINSELTOWN USA Louisville, KY

AMC NEWPORT 20 Newport, KY

REGAL LOUISIANA BOARDWALK 14 Bossier City, LA

AMC BATON ROUGE 16 Baton Rouge, LA

AMC ELMWOOD PALACE 20 Harahan, LA

AMC WHITE MARSH 16 Baltimore, MD

CINEMARK EGYPTIAN 24 Hanover, MD

REGAL CINEMAS MAJESTIC 20 Silver Spring, MD

AMC LOEWS BOSTON COMM 19 Boston, MA

SHOWCASE CINEMAS DE LUX REVERE Revere, MA

NCG TRILLIUM CINEMAS Grand Blanc, MI

CELEBRATION! CINEMA Grand Rapids, MI

NCG EASTWOOD CINEMAS Lansing, MI

AMC FORUM 30 Sterling Heights, MI

MJR SOUTHGATE 20 Southgate, MI

MARCUS OAKDALE Oakdale, MN

AMC ROSEDALE 14 Roseville, MN

SHOWPLACE ICON St. Louis Park, MN

RONNIES 20 CINE Sappington, MO

TWIN CREEK Bellevue, NE

REGAL STONECREST AT PIPER GLEN 22 Charlotte, NC

AMC SOUTHPOINT 17 Durham, NC

AMC GARDEN STATE 16 Paramus, NJ

CENTURY RIO 24 Albuquerque, NM

REGAL CROSSGATES 18 Albany, NY

UA SHEEPSHEAD BAY 14 Brooklyn, NY

COLLEGE POINT 12 College Point, NY

ISLAND 16 CINEMA DE LUX Holtsville, NY

AMC EMPIRE 25 New York, NY

REGAL UNION SQUARE 14 New York, NY

AMC LOEWS PORT CHESTER 14 Port Chester, NY

CINEMARK TINSELTOWN USA Rochester, NY

AMC LOEWS RACEWAY 10 Westbury, NY

REGAL RED ROCK 16 Las Vegas, NV

AMC LENOX TOWN CENTER 24 Columbus, OH

CINEMARK AT VALLEY VIEW Valley View, OH

WARREN THEATRES Moore, OK

AMC QUAIL SPRNGS 24 Oklahoma City, OK

AMC SOUTHROADS 20 Tulsa, OK

REGAL BRIDGEPORT VILLAGE 18 Tigard, OR

AMC NESHAMINY 24 Bensalem, PA

UA KING OF PRUSSIA STADIUM 16 King of Prussia, PA

AMC LOEWS WATERFRONT 22 West Homestead, PA

PROVIDENCE PLACE CINEMAS 16 Providence, RI

THOROUGHBRED 20 Franklin, TN

REGAL PINNACLE 18 Knoxville, TN

MALCO PARADISO Memphis, TN

ALAMO DRAFTHOUSE SOUTH LAMAR Austin, TX

AMC NORTHPARK 15 Dallas, TX

CINEMARK 17 Dallas, TX

CINEMARK 20 El Paso, TX

AMC GULF POINTE 30 Houston, TX

EDWARDS HOUSTON MARQ'E 23 Houston, TX

CINEMARK TINSELTOWN 20 Pflugerville, TX

CINEMARK WEST PLANO 20 Plano, TX

SANTIKOS PALLADIUM 22 Richmond, TX

SANTIKOS PALLADIUM San Antonio, TX

MEGAPLEX 20 AT THE DISTRICT South Jordan, UT

CINEMARK TINSELTOWN 17 Spring, TX

PARAGON VILLAGE 12 Fredericksburg, VA

AMC TYSON CORNER 16 McLean, VA

AMC LYNNHAVEN 18 Virginia Beach, VA

AMC LOEWS ALDERWOOD MALL 16 Lynnwood, WA

LINCOLN SQUARE Bellevue, WA

CENTURY FEDERAL WAY Federal Way, WA

SEATTLE CINERAMA Seattle, WA

AMC RIVER PARK SQUARE 20 Spokane, WA

MARCUS PALACE CINEMAS Sun Prairie, WI

MAJESTIC CINEMA OF BROOKFIELD Waukesha, WI

SCOTIABANK THEATRE TORONTO Toronto, ON

SCOTIABANK THEATRE VANCOUVER Vancouver, BC

CINEMA BANQUE SCOTIA MONTREAL Montreal, QC

CINEPLEX ODEON SOUTH EDMONTON Edmonton, AB

SCOTIABANK THEATRE CHINOOK Calgary, AB

LANDMARK CINEMAS 24 KANATA Kanata, ON
Nordling, out.