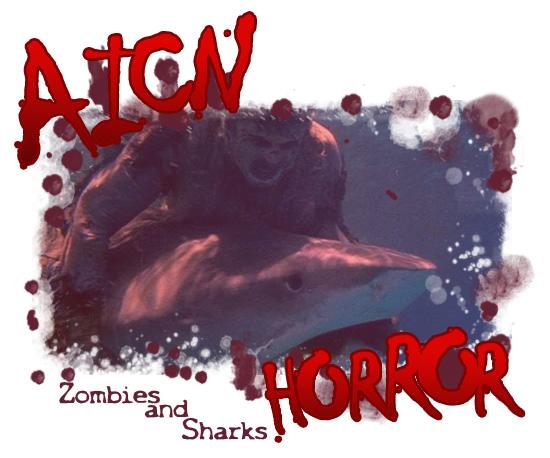 Logo by Kristian Horn
What the &#$% is ZOMBIES & SHARKS?
---
Greetings, all. Ambush Bug here. Happy Birthday to AICN HORROR which celebrates its sixth year on Ain't It Cool News in October! And what a fantastic year in horror it was! Always hoping to pass on new and exciting films for all of you ravenous readers, I have once again compiled a list counting down my favorite horror film released since last October 1, 2014 and covered in my weekly AICN HORROR: ZOMBIES & SHARKS column.

As far as how I compiled this list? Well, I simply looked over my AICN HORROR columns over the last year since October 1st, 2014 (which happens to be the birthday of this little column six years ago!) and worked and reworked a list throughout the year until I had 31. No real method to my special brand of madness; just my own personal favorites. The only rule qualifying the film for this countdown is that it had to be released to the masses (via theaters, digital download, On Demand, or DVD/BluRay) within the range of October 1, 2014 and October 1, 2015. Anything before or after that span of time doesn't count in this haunted dojo. I'll be counting down every day until Halloween to my favorite horror film of the year. I'll also provide a second film suggestion at the end of each post that is worth noting or just missed making the list for those who can't get enough horror.

So let's get to it! Chime in after the article and let me know what you think of the pick, it's placing on the list, how on the nose or mind-numbingly wrong I am, and most importantly, let me know your own personal faves from the last year in horror…let's go!
#17 A PLAGUE SO PLEASANT
Why is A PLAGUE SO PLEASANT #17? Not really cheating since this was released on September 29th and reviewed in my AICN HORROR column the following Friday on October 2nd, A PLAGUE SO PLEASANT shows up this far up on my countdown because of the big ideas the film possesses. This was a decent year for zombies. THE WALKING DEAD remains strong and even has a spinoff and in films, while many attest to having zombie fatigue, films like EXTINCTION, MAGGIE WYRMWOOD, and DEAD SNOW 2 proved that there's still life in the undead genre yet. But my favorite of the bunch is A PLAGUE SO PLEASANT, a film that takes the concept of the walking dead and tosses it into a whole new ballgame. Here's my review
from October 2th, 2015
!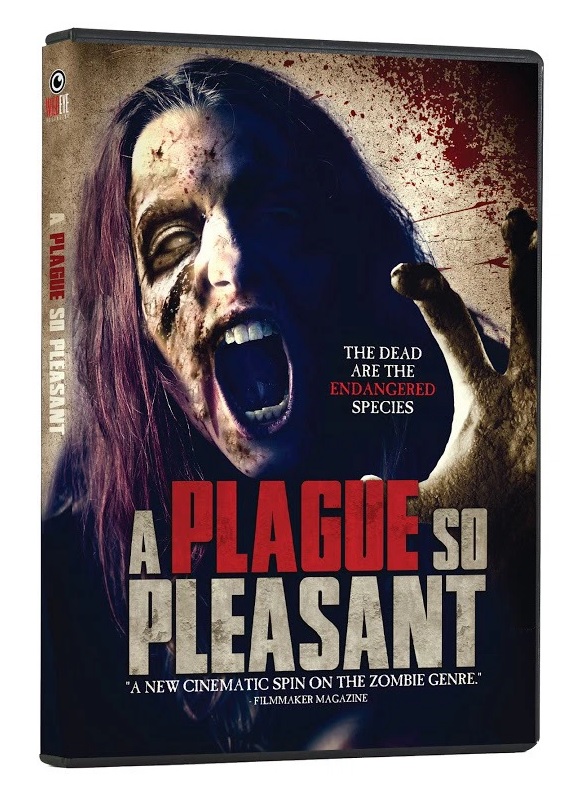 Available on DVD from Wild Eye Entertainment!
A PLAGUE SO PLEASANT (2013)
Directed by Benjamin Roberds, Jordan Reyes
Written by Benjamin Roberds
Starring David Chandler, Maxwell Moody, Eva Boehnke, Kaylee Bridge
Find out more about this film on Facebook here
Reviewed by Ambush Bug
Wow! This was a fantastic film! It's the type of film that you give to folks who are sick of zombie films to show them that there is still room for fresh and new ideas in the zombie genre. Yes, there are too many zombie films, but some of them are actually well done and this is one of the best zombie films you're going to see this year.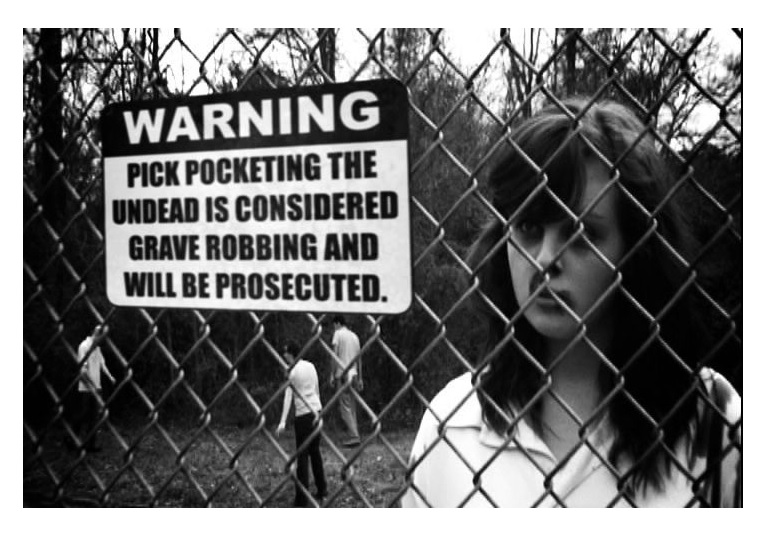 David Chandler plays Clay, one of the survivors of the zombie apocalypse that didn't really destroy society as it only lasted about 20 minutes. Now life is pretty much like it was before the zombies rose, the only difference is that there are now laws protecting the zombies as an act of violence towards the zombies can trigger them to be violent and begin eating humans again. Leave them be and they simply wander around and prefer oats to human brains. Kept in fields where they can roam and be visited by their loved ones, a peaceful coexistence has formed. But when Clay's sister Mia (Eva Boehnke) refuses to move on after her boyfriend becomes a zombie, Clay takes matters into his own hands and decides to do away with her boyfriend in order for her to form a relationship with his best friend and roommate Todd (Maxwell Moody). This single act of violence towards a zombie triggers an all new zombie apocalypse and forces Clay to run for his life with hordes of zombies on his tail.
A PLAGUE SO PLEASANT is overflowing with fun and exciting new ideas that take what we know about zombies and turn it on its ear. The film smartly offers a fresh perspective; playing with the notion that if we hadn't have reacted violently to the zombies in all of those films, maybe there would have been a way for us and them to coexist peacefully. Sure it's a bit of a pacifist stance, but after enduring so many films taking a more aggro method, it's like a breath of fresh air to see the whole zombie apocalypse seen from another viewpoint. The themes of A PLAGUE SO PLEASANT are also intriguing as, while early zombie films could be used as a rich allegory for consumerism, racism, militarism, or whatever, more recent zombie flicks have cut out those themes and just made it about us versus them. But this film rips their thematic heft straight from the headlines as a single act of violence triggers a response of apocalyptic proportions. While this feels like a response to the Ferguson riots and the Michael Brown case, it also is reminiscent of the assassination of
Archduke Ferdinand
to spark the beginning of World War I. A PLAGUE SO PLEASANT is the type of film that you want to talk about with those you watch it with after the film and when was the last time you saw a zombie movie that could do that?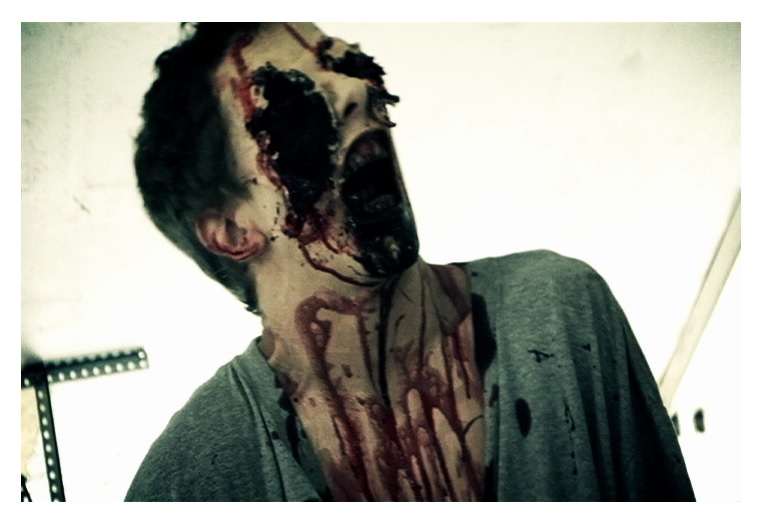 On top of the thematic depth of A PLAGUE SO PLEASANT, once the zombies reignite the film is a non-stop chase sequence that moves at a pace akin to FURY ROAD in the fact that it punches the accelerator and lets it ride for a solid forty-five minutes up until the resonant end. There are scenes during this chase that are brilliantly framed and constructed such as a blind zombie in an abandoned building that charges at the smallest sound. This is a film that knows how to scare and keep the heart racing.
While some of the makeup is dodgy, the film also has some creepy effects such as the aforementioned blind zombie makeup. The acting is an oddity as well. It's not necessarily bad; just otherworldly, as if the actors are aliens trying to act like humans. Maybe this is a statement about how a worldwide catastrophe makes people distant and inhuman. Or maybe it's just a stylistic choice by the director. But all inhumanity washes away once the zombies start running as I was fully invested in the good intentioned efforts of the protagonist. A PLAGUE SO PLEASANT probably was made for a fraction of the budget of a single episode of THE WALKING DEAD. Nevertheless it is a powerful and potent film no fan of horror with depth and resonance should miss. Made a few years ago, this film was finally released and it's a powerful entry in the zombie genre.
---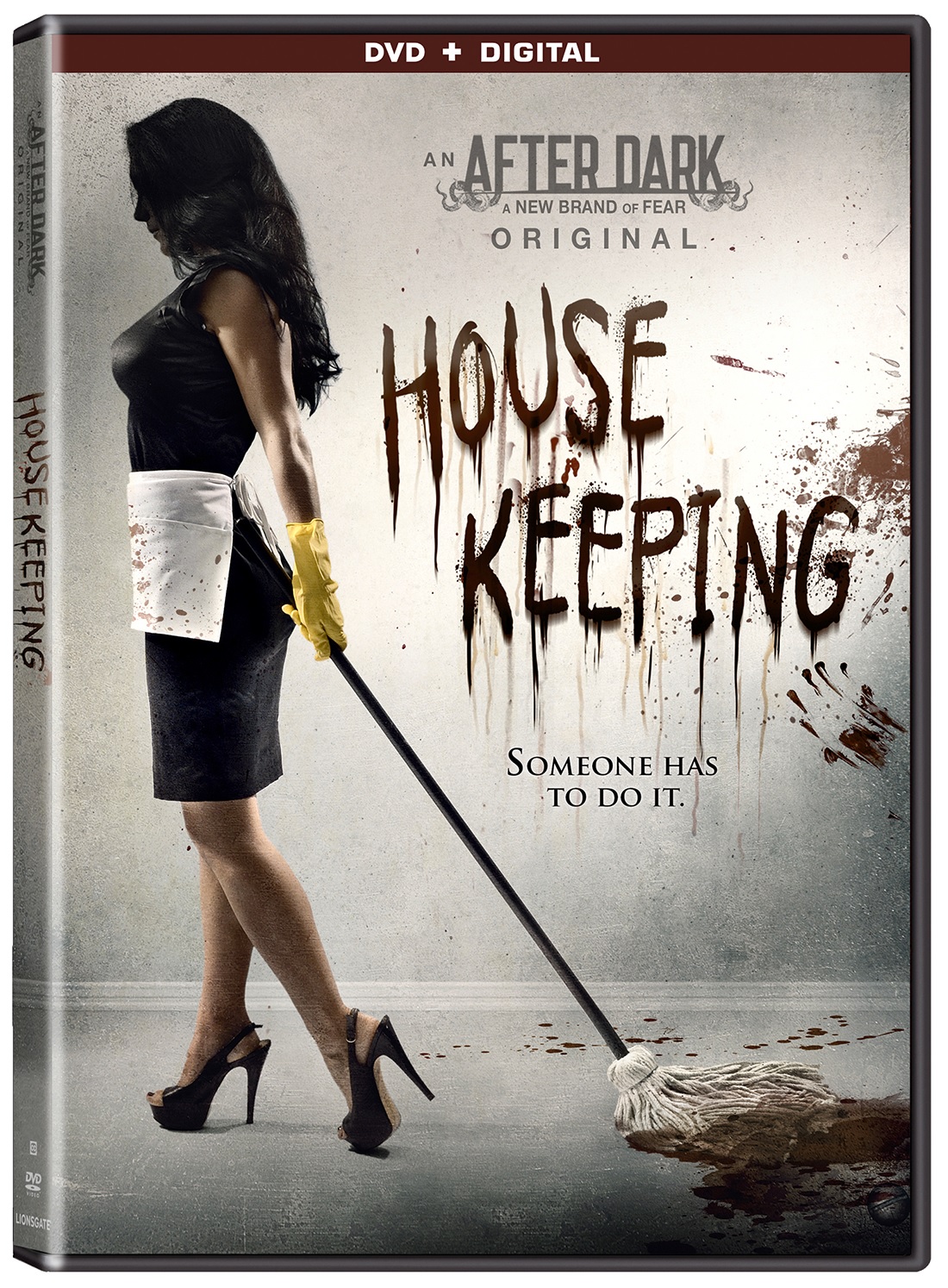 Worth noting: HOUSEKEEPING!
Here's an unconventional film that just missed the countdown about an overworked woman being tormented by the mysterious owner of a house she has been hired to clean. It's an odd film that plays with imagery and pretty much only has one star through the entire film. If you're looking for a film that is different than the norm, HOUSEKEEPING is tension filled and visually intriguing, making it a shoe in for the worth seeking out category.
Check out my full review of the film here
and you can
check out the film here on Netflix
!
---
Previously on the Countdown!

#31 – AN AMERICAN TERROR
#30 – WE ARE STILL HERE
#29 – FROM THE DARK
#28 – THE TOWN THAT DREADED SUNDOWN
#27 – DEAD SNOW 2: DEAD VS RED
#26 – THE GREEN INFERNO
#25 – THE EDITOR
#24 – THE TAKING OF DEBORAH LOGAN
#23 – WITCHING & BITCHING
#22 – EXTINCTION
#21 – WYRMWOOD: ROAD OF THE DEAD
#20 – BACKCOUNTRY
#19 – POD
#18 – MAGGIE
See ya tomorrow, folks, as I count down the best of the best covered in AICN HORROR since October 1st, 2014!

Ambush Bug is Mark L. Miller, original @$$Hole/wordslinger/writer of wrongs/reviewer/interviewer/editor of AICN COMICS for over 13 years & AICN HORROR for 6. Follow Ambush Bug on the Twitters @Mark_L_Miller.



---
Find more AICN HORROR including an archive of previous columns on AICN HORROR's Facebook page!