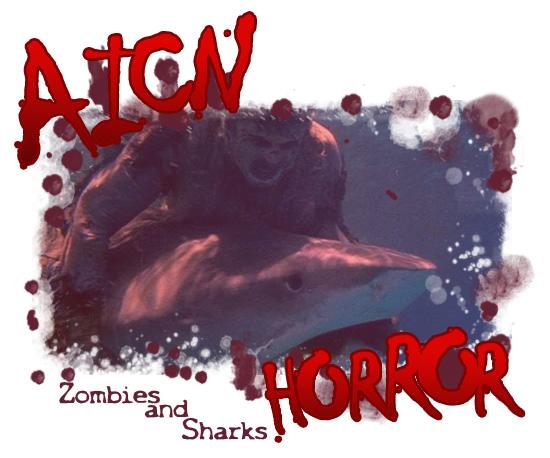 Logo by Kristian Horn
What the &#$% is ZOMBIES & SHARKS?
---
Greetings, all. Ambush Bug here. Happy Birthday to AICN HORROR which celebrates its sixth year on Ain't It Cool News in October! And what a fantastic year in horror it was! Always hoping to pass on new and exciting films for all of you ravenous readers, I have once again compiled a list counting down my favorite horror film released since last October 1, 2014 and covered in my weekly AICN HORROR: ZOMBIES & SHARKS column.

As far as how I compiled this list? Well, I simply looked over my AICN HORROR columns over the last year since October 1st, 2014 (which happens to be the birthday of this little column six years ago!) and worked and reworked a list throughout the year until I had 31. No real method to my special brand of madness; just my own personal favorites. The only rule qualifying the film for this countdown is that it had to be released to the masses (via theaters, digital download, On Demand, or DVD/BluRay) within the range of October 1, 2014 and October 1, 2015. Anything before or after that span of time doesn't count in this haunted dojo. I'll be counting down every day until Halloween to my favorite horror film of the year. I'll also provide a second film suggestion at the end of each post that is worth noting or just missed making the list for those who can't get enough horror.

So let's get to it! Chime in after the article and let me know what you think of the pick, it's placing on the list, how on the nose or mind-numbingly wrong I am, and most importantly, let me know your own personal faves from the last year in horror…let's go!
#23 WITCHING & BITCHING
Why is WITCHING & BITCHING #23? THE LAST CIRCUS was a film that absolutely blew me away and after seeing it, I vowed to put any film by Álex de la Iglesia on my must see list. His follow up WITCHING & BITCHING is much more of a cartoon and comic fable, but it evokes so much classic Speilbergian asthetics that I couldn't help but love this story of bank robbers who happen upon a town haunted by witches. This is a completely unpredictable romp that barely stops for a breath through the entire film and the creative use of witch imagery is truly unique and fun. Here's my review
from October 21, 2014
!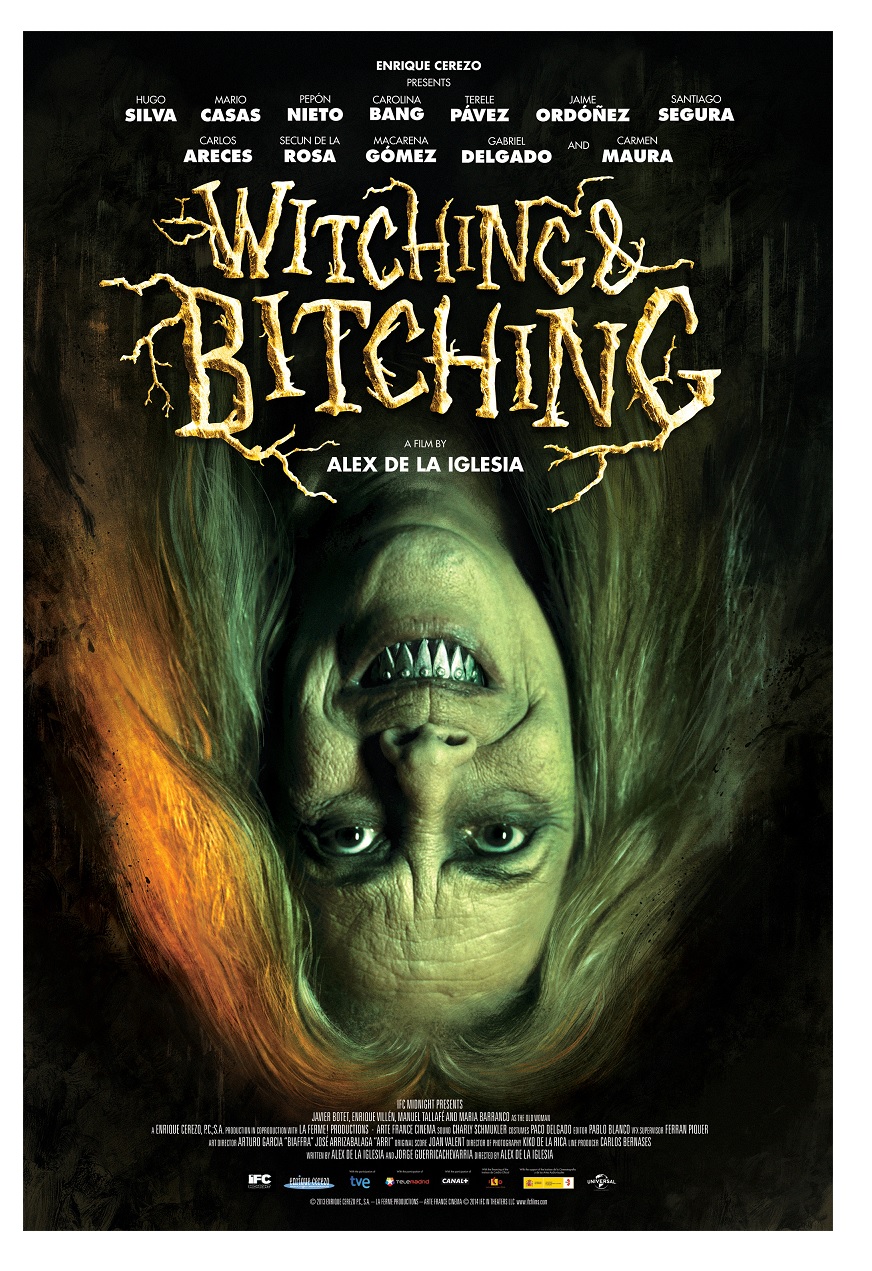 Avalable on iTunes here and Netflix here!
WITCHING & BITCHING (2013)
aka LAS BRUJAS DE ZUGARRAMURDI
Directed by Álex de la Iglesia
Written by Jorge Guerricaechevarría & Álex de la Iglesia
Starring Hugo Silva, Mario Casas, Pepón Nieto, Carolina Bang, Terele Pávez, Jaime Ordóñez, Gabriel Ángel Delgado, Santiago Segura, Macarena Gómez, Secun de la Rosa, Javier Botet, Enrique Villén, Carlos Areces, Manuel Tallafé, María Barranco
Find out more about this film on Facebook here
Reviewed by Ambush Bug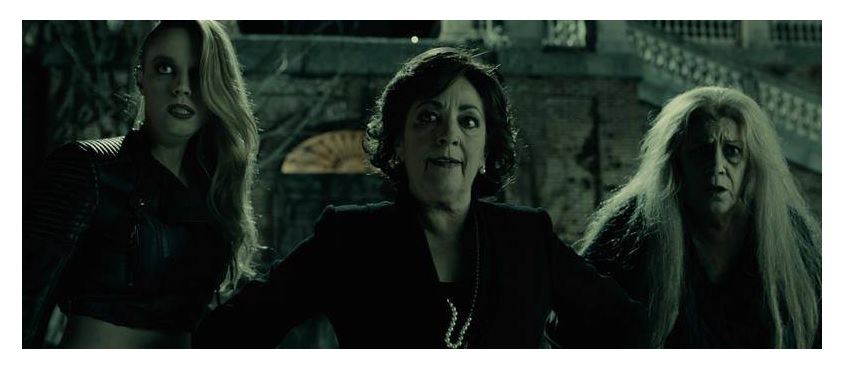 A few years ago, I discovered Alex de la Iglesia's THE LAST CIRCUS (
reviewed here
) and loved it so much that I named it the best horror film of the year. The film was absolutely uncategorizable, filled with elements of horror, superheroics, drama, comedy, and fantasy. Iglesia filled every moment of the film with vibrant and kinetic power. I eagerly waited to see what Iglesias would follow this tour de force with and while AS LUCK WILL HAVE IT was more of a drama, the writer/director's newest film WITCHING & BITCHING is every bit the lunatic rollercoaster ride that THE LAST CIRCUS is…maybe even crazier.
WITCHING & BITCHING begins with a trio of witches around a cauldron. Like Shakespeare's MACBETH, the three witches predict the events that will be occurring throughout the entire film to come. We then cut to a Guy Ritchie-esque heist as Jose (Hugo Silva) clad in a silver Jesus costume giant cross and all, Anotnio (Mario Casas) dressed as a life-size green soldier figurine, and Jose's young gun toting son Sergio (Gabriel Ángel Delgado) steal a satchel full of gold rings, hijack a cab, and head for France to begin new lives. Left behind is Jose's ex-wife and Sergio's mother Silvia (Macarena Gómez) who is not happy in the least that her ex-husband has put their son into this type of trouble. Fleeing across the Spanish countryside, the group of bandits run down a witch in the road and happen upon the small village of Zugarramurdi, a fabled town of witches. Despite their best efforts, the group can't seem to escape this town and the coven of witches gathered for a ritual that will finally give the witches power to conquer man's world.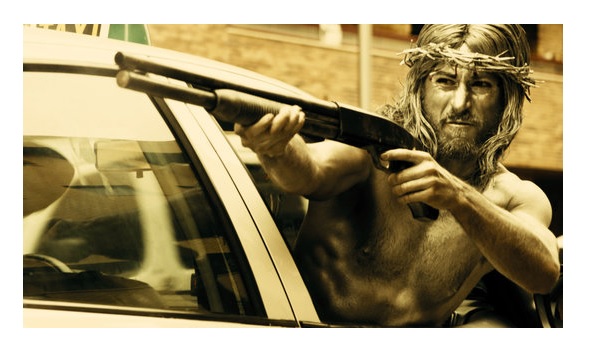 Though that's a long description, it's only the tip of the iceberg in terms of the story that Iglesia unfolds over this two hour long epic. As with THE LAST CIRCUS, the sights and sounds come at the viewer at a rapid fire pace. But while THE LAST CIRCUS tells a single epic tale of a sad clown in search for love, Iglesia juggles multiple storylines and character motivations in WITCHING & BITCHING and not one character seems to be getting the short end of the broom here. Iglesia is able to leap from one corner of this story to the other with ease, making the entire thing flow seamlessly and effortlessly juggling multiple genres with so much skill. As a comedy, there are moments of both broad and more complex laughs as Iglesia isn't above slapstick, but is also able to develop a scene built on more complex comedic blocks. As a thrill ride actioner, Iglesia channels Spielberg at his prime, especially in a climactic ritual scene that is right out of INDIANA JONES & THE TEMPLE OF DOOM, yet still overflows with creativity and imagery you're not bound to see anywhere else.
Finally, as a horror film, Iglesia doesn't forget witches are creepy characters, filling this film with all sorts of amazingly spooky imagery such as scenes of the witches skittering across the ceiling as well as scenes of utter grossness such as a man trapped underneath a toilet whose skin is falling off and the inner bowel workings of a giant witch the size of King Kong.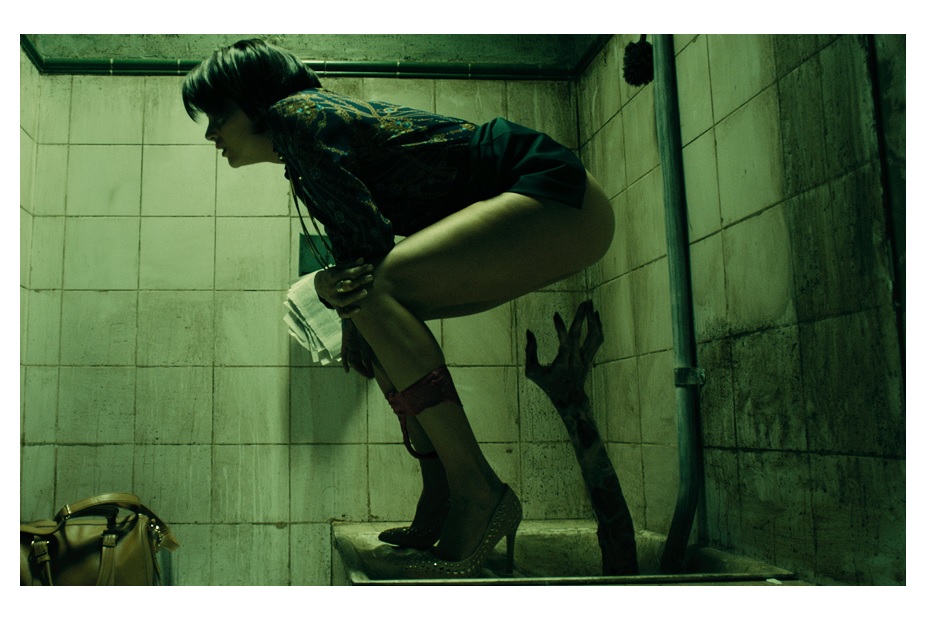 I find it hard to find anything to criticize about this film, but if I had to find a nit to pick, it may lay in the cartoonish nature of the aforementioned giant witch. While I was dazzled by the concept of a giant witch mother, the CG occasionally is a bit on the animated side and there are bits where the giant monster doesn't really fit in with the rest of the scene. That said, the entire sequence the way the giant witch monster arrives, right down to the way our heroes combat it is absolute gold. It's a creature and a sequence that needs to be seen to be believed.
WITCHING & BITCHING has a little bit of something for everyone. Scares, thrills, gross outs, laughs, tender moments, and scenes that titillate and thrill. I can't finish this review without mentioning the smoking hot performance by Carolina Bang (who was also in THE LAST CIRCUS as the object of desire) as the seductive witch who rides a broom like no other and the cameo by the always fantastic Carlos Areces (the star of THE LAST CIRCUS) appearing here in drag as a visiting witch. THE LAST CIRCUS was no fluke. Iglesias is the real deal in terms of insane imagery, thrilling scenes, and bedlamic storytelling. WITCHING & BITCHING is amazing from its kinetic opening sequence to its bombastic finale. Highly, highly, highly recommended.
---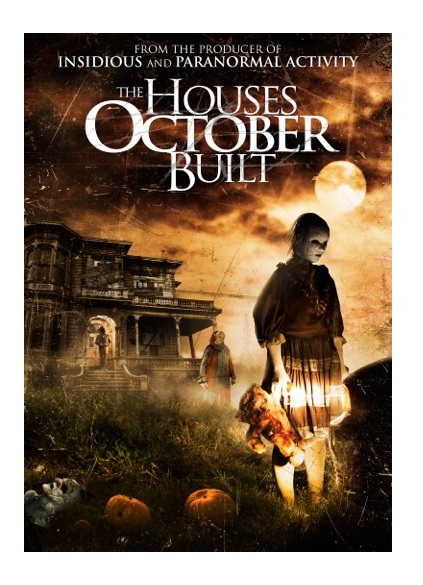 Worth noting: THE HOUSES OCTOBER BUILT!
Premiering last October, this found footager has some effectively set up scares, but the reason it deserves to be mentioned is that is celebrates the age old tradition of going to haunted house parks and getting the shit scared with you with your friends. The ending is a bit lackluster, but the frights on the way there really make things fun. Watch this one in preparation to going out to your local haunted house and you'll get you and your friends in the mood for fun!
Check out my full review of the film here
and you can
check out the film here on iTunes
and
Netflix here
!
---
Previously on the Countdown!

#31 – AN AMERICAN TERROR
#30 – WE ARE STILL HERE
#29 – FROM THE DARK
#28 – THE TOWN THAT DREADED SUNDOWN
#27 – DEAD SNOW 2: DEAD VS RED
#26 – THE GREEN INFERNO
#25 – THE EDITOR
#24 – THE TAKING OF DEBORAH LOGAN
See ya tomorrow, folks, as I count down the best of the best covered in AICN HORROR since October 1st, 2014!

Ambush Bug is Mark L. Miller, original @$$Hole/wordslinger/writer of wrongs/reviewer/interviewer/editor of AICN COMICS for over 13 years & AICN HORROR for 6. Follow Ambush Bug on the Twitters @Mark_L_Miller.



---
Find more AICN HORROR including an archive of previous columns on AICN HORROR's Facebook page!