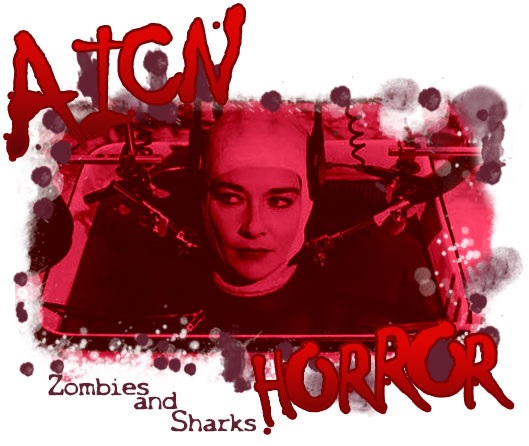 Logo by Kristian Horn
What the &#$% is ZOMBIES & SHARKS?
---
Greetings, all. Ambush Bug here with another AICN HORROR: ZOMBIES & SHARKS column. Before we jaunt right into the reviews, here's a brand new trailer for the upcoming film THE NIGHT OF SOMETHING STRANGE. It looks to be a big sick mix of all kinds of wrong. Find out more about the film here>. Can't wait to check it out.
On with the horror reviews!
Today on AICN HORROR

(Click title to go directly to the feature)
Retro-review: CASTLE OF BLOOD (1964)
Retro-review: EATEN ALIVE (1976)
Retro-review: THE LEGACY (1978)
Retro-review: HOUSE OF THE LONG SHADOWS (1983)
Retro-review: BEYOND DARKNESS (1990)
Short Cuts: SUFFER THE LITTLE CHILDREN Short Film (2015)
REMINISCENCE: THE BEGINNING (2014)
CALL GIRL OF CTHULHU (2014)
DOLLFACE (2014)
HELLIONS (2015)
SOME KIND OF HATE (2015)
Advance Review: THE BINDING (2015)
And finally…CBS Mystery Theater's "The Church of Hell!"
---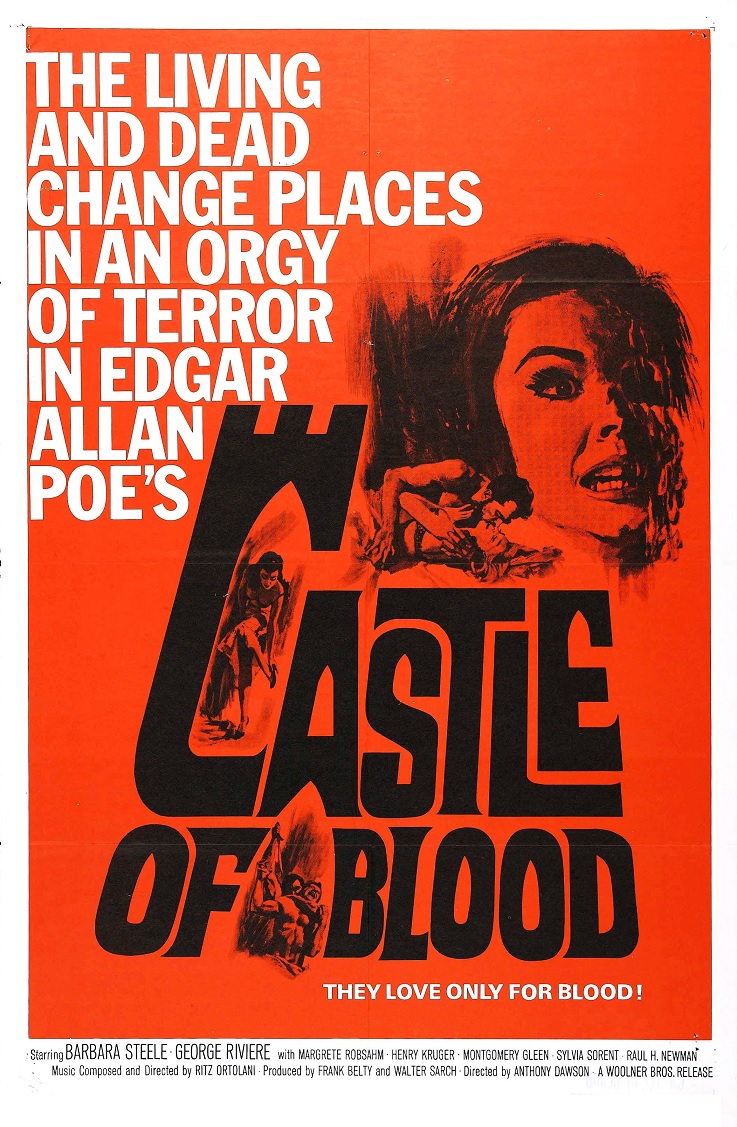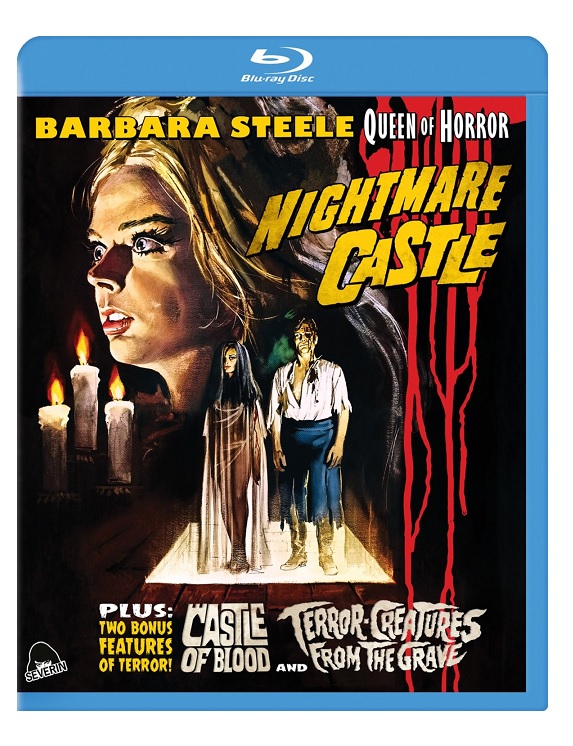 New on BluRay from Severin Films!
CASTLE OF BLOOD (1964)
aka DANSE MACABRE
Directed by Sergio Corbucci (as Gordon Wilson Jr.), Antonio Margheriti (as Anthony M. Dawson)
Written by Sergio Corbucci (screenplay) (as Gordon Wilson Jr.), Giovanni Grimaldi (screenplay) (as Jean Grimaud)
Starring Barbara Steele, Georges Rivière, Margrete Robsahm, Arturo Dominici, Sylvia Sorrente, Giovanni Cianfriglia, Umberto Raho, Salvo Randone, Benito Stefanelli, & Silvano Tranquilli as Edgar Allan Poe!
Retro-reviewed by Ambush Bug
Dripping with gothic ambiance, CASTLE OF BLOOD takes a familiar tale and polishes it up to make it pretty unique with another lost and fantastic performance by the original scream queen, Barbara Steele. This film is added on as a bonus movie with Severin's latest release of NIGHTMARE CASTLE on BluRay (
which I reviewed here
).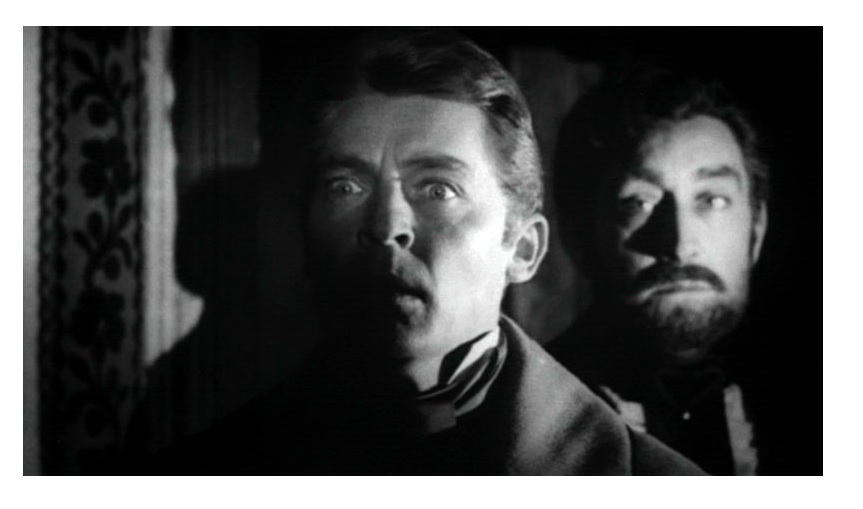 A traveler, Alan Foster (Georges Riviere), meets Edgar Allan Poe (Silvano Tranquilli) in an inn and overhears a tale of a haunted castle. Taking a bet that he cannot spend the night there, Alan enters the castle and prepares for a boring night. Instead, he finds the ghost of countess Elisabeth Blackwood (Barbara Steele), who on this night relives her tragic death over and over again, but only if the ghosts in the castle can drink the blood of the living. Falling in love with the gorgeous waif, Alan is determined to beat the odds and save her, but the ghosts trapped in the castle have other ideas.
For the most part, despite the loose association with Poe's "Danse Macabre" poem, this is an old dark castle tale with long stone hallways decked out in spiderwebbed but decadent décor. Much of this film has Riviere stumbling through one corridor or another in the darkness, running away from something or looking for something. The thing is, though, the acting is surprisingly good for a schlocker and thus it pulls you in with the aforementioned effective atmosphere of it all. While the scenes are not particularly terrifying in this day and age, I think it would have been much more scandalous to have a noblewoman having an affair behind her nobleman's back only to spurn him and fall in love with another as a ghost. Steele's performance is dripping with sexuality which most likely adds to the scandalous feel of it all.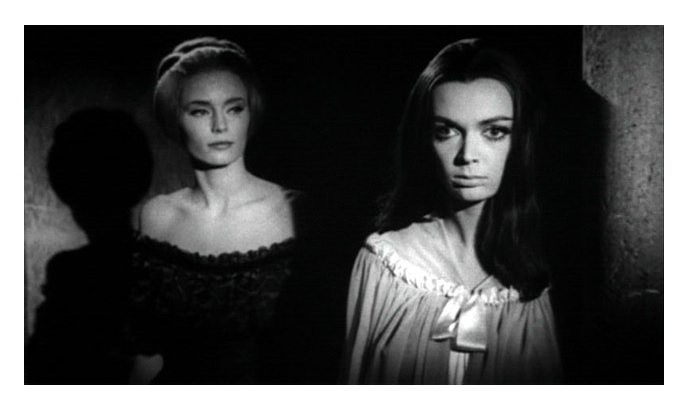 What struck me about this film is how close it is in premise to the 80s farce HIGH SPIRITS (
reviewed here
). Sans Guttenberg's mullet and a drunken Peter O'Toole, CASTLE OF BLOOD could very well be the inspiration for that Neil Jordan film as the characters are stuck in an endless loop of murder due to infidelity. While HIGH SPIRITS played things much faster, looser, and more comical, the similarities really struck me, especially when Alan witnesses the murder of Elisabeth at the hands of her brutish ex-lover. What works though is the terror you see in the eyes of Alan and the deep darkness that surrounds this entire film, right up until the pitch black ending which I found to be haunting and amazing.
While I liked NIGHTMARE CASTLE quite a bit, I think I prefer CASTLE OF BLOOD a little bit more for how simple and dark it turned out to be. Transferred from the original print, this presentation of the film as a backup to the main disc is very scratchy and rough. Still, that only added more old school horror ambience to this film and having seen two of the three films presented in this BluRay rerelease by Severin, I highly recommend checking this one out. I'll be checking out the final film on this disc, TERROR CREATURES FROM THE GRAVE, in an upcoming AICN HORROR column.
---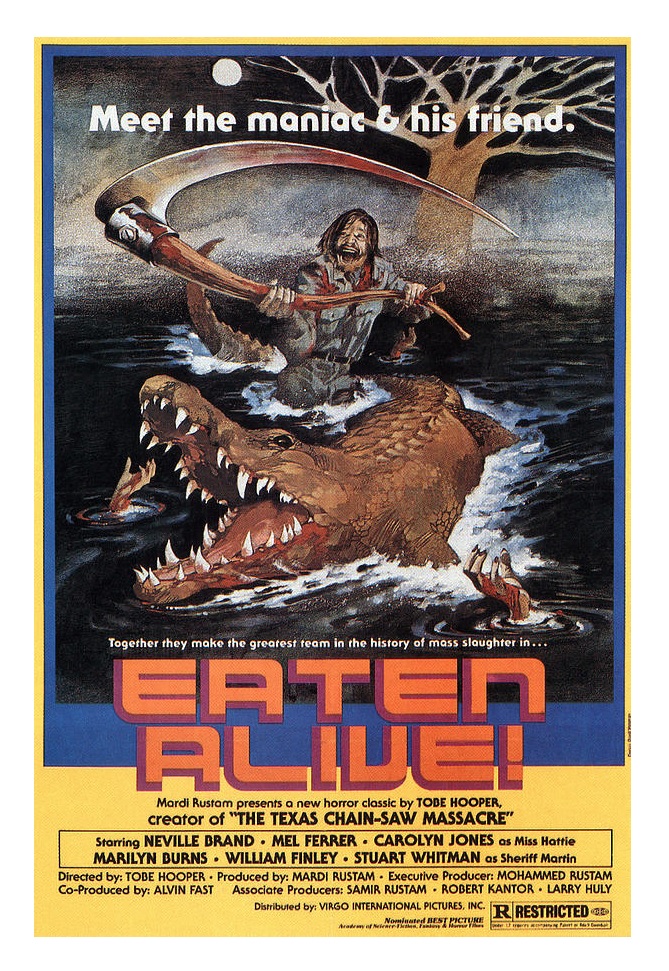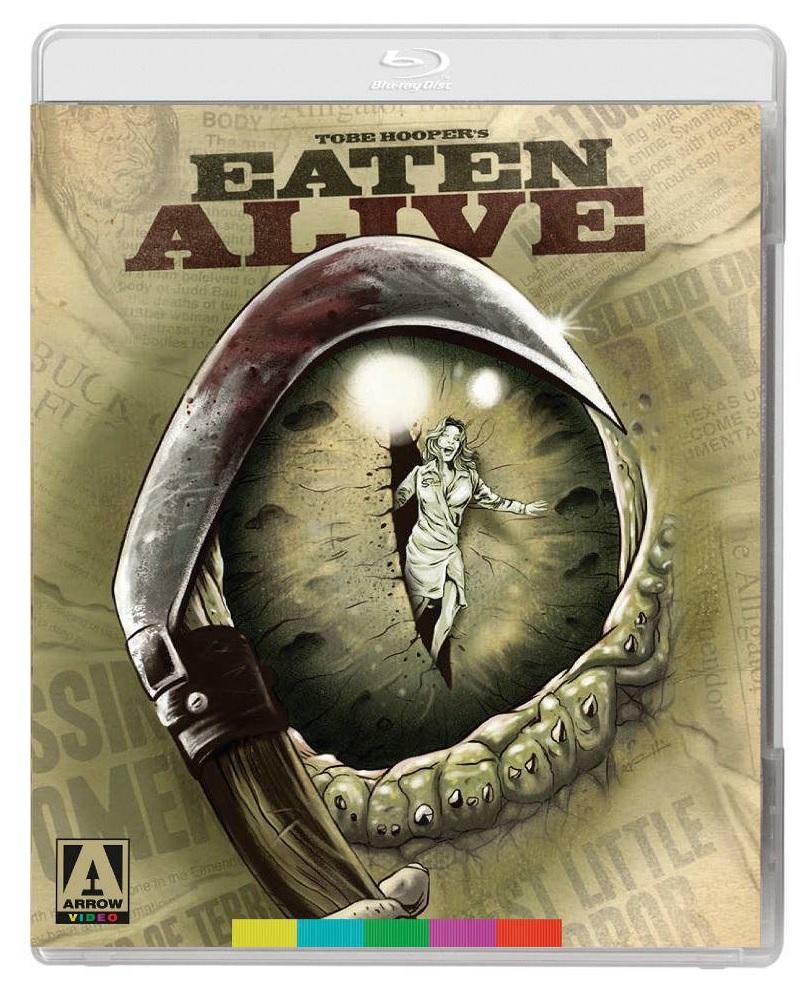 Retro-review: New next week on BluRay from MVD Visual/Arrow Films!
EATEN ALIVE (1976)
aka DEATH TRAP, BRUTES & SAVAGES, HORROR HOTEL, HORROR HOTEL MASSACRE, LEGEND OF THE BAYOU, MURDER ON THE BAYOU, STARLIGHT SLAUGHTER, THE DEVIL'S SWAMP, SLAUGHTER HOTEL
Directed by Tobe Hooper
Written by Alvin L. Fast, Mohammed Rustam (as Mardi Rustam), Kim Henkel
Starring Neville Brand, Mel Ferrer, Carolyn Jones, Marilyn Burns, William Finley, Stuart Whitman, Roberta Collins, Kyle Richards, Robert Englund, Crystin Sinclaire, Janus Blythe, Betty Cole, Sig Sakowicz
Retro-reviewed by Ambush Bug
Tobe Hooper drenches this film with sleazy and grimy characters, and in more ways than one makes EATEN ALIVE feel like the slightly more lecherous half-cousin of TEXAS CHAINSAW MASSACRE. While the plot meanders, there are enough insane performances by the cast to make this schocker worth checking out, especially with this new Arrow Films rerelease.
Judd (Neville Brand) is barely keeping it together running the Starlight Hotel. A Vietnam vet who lost his leg in the war, Judd makes a living doing his best Norman Bates impression as the hotel manager who has a very peculiar attraction out back along the swamp revolving around his pet crocodile, who conveniently disposes of any bodies Judd accumulates as he is batshit crazy and often goes after people with a scythe. The story takes place during one seemingly endless night where tons of people show up to Judd's shithole hotel and meet their dooms.
There is an otherworldly feel that is only hinted at in TEXAS CHAINSAW MASSACRE that permeates EATEN ALIVE, which looks to have been filmed on a large soundstage rather than the expansive Texas landscape that captured the action of TCM. Vivid and dramatic red and blue lighting makes everything feel like it is taking place in a world vastly different than our own. The huge set piece of the hotel is often captured in its entirety in the wider shots encapsulating the perverse and deranged world Judd lives in. Always one to pay attention to the setting and inclusive of tiny details that most films would gloss over, EATEN ALIVE again shows Hooper's obsession with fleshing out the deranged life of his characters with rooms filled with bizarre tchotchkes and antiques galore, accompanied by the ever-present honky tonk radio music, and Hooper is quite successful in making this film feel like some kind of place none of us have ever been or ever would want to go. Much like the intricate details of the interior of the Sawyer House in TEXAS CHAIN SAW MASSACRE, the devil is definitely in the details in this devious looking film.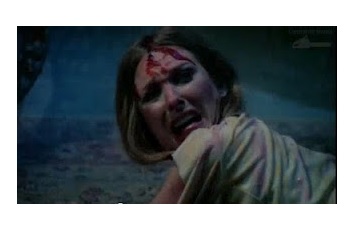 Batshit crazy is pretty much the flavor of the day here as indicated by much of the performances in EATEN ALIVE. Judd (Brand) is definitely off his rocker and gives a performance that is most reminiscent of Jim Siedow's manic and perverse portrayal of the Cook in the original TCM. He is sheepish around women, avoiding their glances while obviously attracted to them and only when he has them alone does he muster up the courage to confront them, but when he does it comes out in frantic violence and the need to bind or kill them. It's a nuanced performance that could be written off as just playing a few extremes, but being the connecting tissue of all of the people and events in this film, Brand does a fantastic job and shows a range of different levels of mental instability throughout.
Accompanying Brand's performance are a trio of roles that are truly sensational. Robert Englund gives us a peek at how he would play Freddy Krueger in a few years as Buck who enjoys drinking, prostitutes, and anal lovin'. As Buck, you can see the cocky swagger Freddy often adopted when he knew he had his dreamers on the ropes and while he isn't the main villain here, he is one of the folks you can't wait to see killed and does a good job of being a bad person. PHANTOM OF THE PARADISE's William Finley is out of his mind in this film as a nebbish father who witnesses the croc attack earlier in the film and has a mental breakdown because of it. Finley is in a class all his own in terms of insanity as he shakes and contorts his body and face while trying to cope with what he just saw. He is completely over the top, but somehow he fits into this cartoonish world Hooper has created pretty snugly. Playing Finley's wife is the late, great Marilyn Burns, who gives another arduous and exhausting role here as the victim who just won't succumb to the torture and torment Judd inflicts upon her. I don't know what Burns did to Hooper, but coupled with the beating she received in TCM, the actress sure does get the shit beat out of her in Hooper's films. You won't be able to watch this movie and not think of TCM when Burns is on the screen.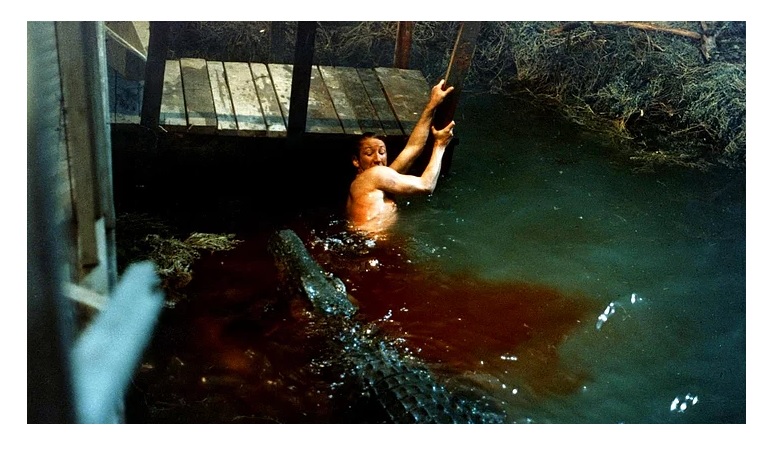 While many may feel the croc is somewhat fake looking, I actually thought through some clever editing and lighting, it does come off as menacing and delivers on the frights any time it crawls or swims into frame. There's an especially fantastic chase sequence under the house as a little girl is crawling through trash and beams in order to avoid being eaten. The scenes where the croc chomps its victims in the water are equally terrifying, mostly because of the actor's reactions and again, Hooper's restraint to only show snippets rather than capture the croc in full frame. While it definitely shows its age, this EATEN ALIVE is a very potent horror film with fantastic performances all around and a very perverse and grimy perspective on the world the movie takes place in. Though I'm not a fan of remakes, if a director with teeth and a decent budget got involved, I'd definitely love to see this film remade. As is, Hooper meanders a bit in this dream-like setting, possibly to make the runtime for a full movie, but more likely to make one feel all the more uncomfortable living in this weirdly lit world of sleaze, blood, teeth, and insanity.
Accompanying this Arrow rerelease are interviews with actors and cinematographers who brought this film to life, as well as a documentary featuring the real life tale of Joe Ball, a cowboy who disposed of his loved ones via the alligator park he made as a roadside attraction. The quality of the picture is beyond amazing. I remember seeing this on VHS and hardly being able to make out the details. Here, every crimson-lit angle and shot is clear and crisp, making EATEN ALIVE look and feel like an entirely different movie.
---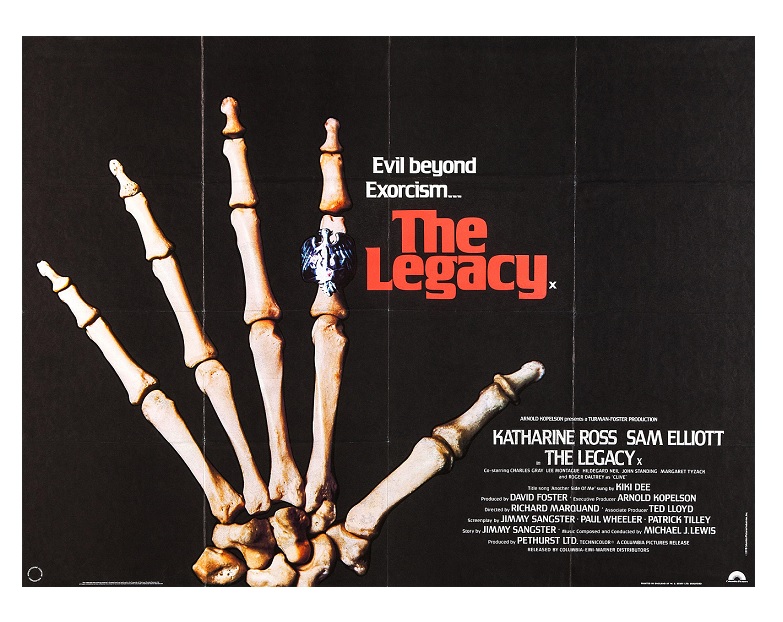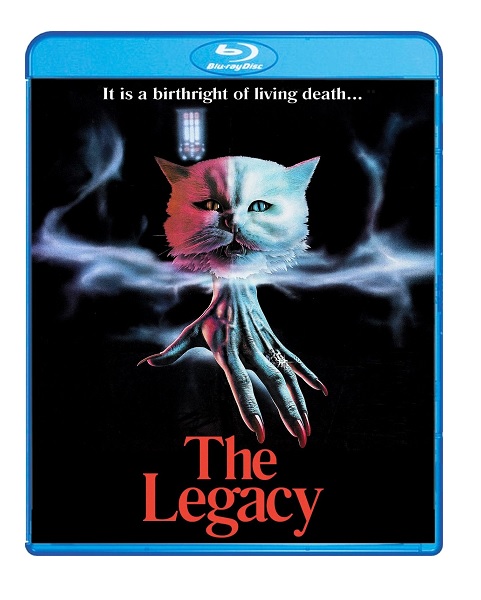 Retro-review: New this week on DVD from The Shout Factory!
THE LEGACY (1978)
THE LEGACY OF MAGGIE WALSH
Directed by Richard Marquand
Written by Jimmy Sangster, Patrick Tilley, & Paul Wheeler (screenplay), Jimmy Sangster (story)
Starring Katharine Ross, Sam Elliott, John Standing, Ian Hogg, Margaret Tyzack, Charles Gray, Lee Montague, Hildegard Neil, Roger Daltrey, Marianne Broome, William Abney
Retro-reviewed by Ambush Bug
Richard Marquand, who went on to direct a little movie called RETURN OF THE JEDI, delivers this snoozefest of a thriller that is only interesting to see Sam Elliot as a younger, blossoming actor. Heavy on set design and light on any type of suspense or actual scares, THE LEGACY really disappointed me.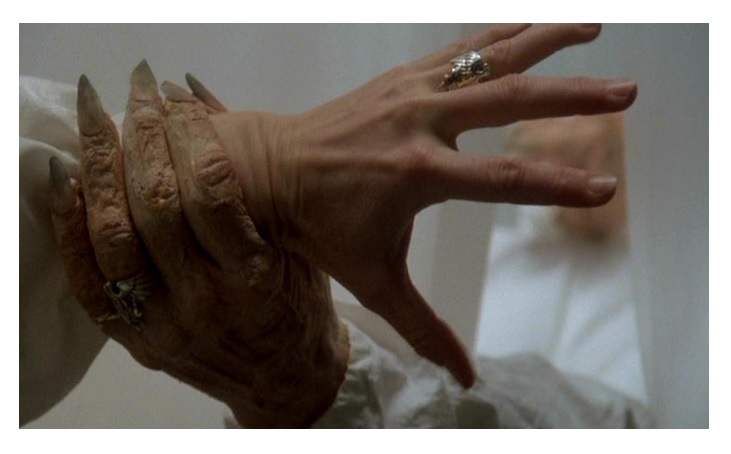 Artsy architect Margaret Walsh (Katherine Ross) gets a mysterious call to go to the UK from a wealthy socialite to do some contract work at a high price. Not knowing much of anything else about the job, her boyfriend Pete Danner (Sam Elliott) is suspicious and tags along to make sure everything is on the up and up. Along the way, their motorcycle (Elliott, exemplifying the rugged manly man, simply must have a motorcycle, you know) is run off the road by a car and brought bruised and weary to a Downton Abbey-style home in the middle of nowhere. When Margaret and Peter arrive, they are greeted as if they were expected to stay and are given a room and an invite to dinner. Soon more people show up, and it is obvious Margaret and Peter have found themselves in the middle of some kind of to do. What they don't know is that Margaret is the belle of the ball in a complicated plot involving reincarnation, black magic, tracheotomies, and tons of cats.
I will give it to this film: there are some unnerving scenes that Marquand was able to pull off. The ever-present cats are pretty disconcerting as they hiss and slink around everywhere in the decadent home. Marquand captures the luxurious mansion at high angles and both close-up intricate and far away admiration shots, giving the mansion a depth and presence all its own. Marquand again plays with space in a scene where Margaret and Peter try to leave and end up driving in circles all day, always returning to the castle. There's also a tracheotomy scene that is extremely tense and palpably gross as a choking man is operated on via steak knife in a bloody fashion. These are the scenes that worked in making things feel kind of ooky.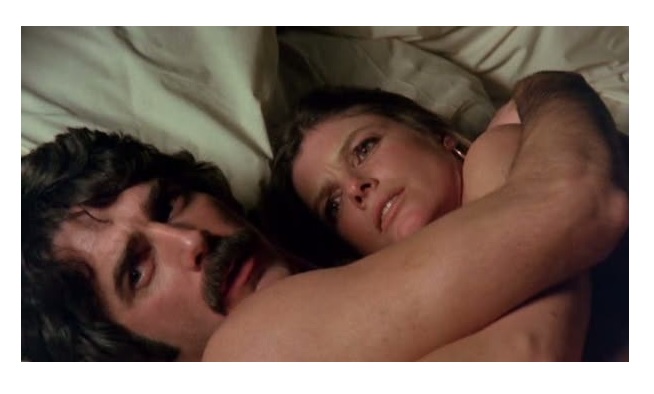 The problem is that even though there is an air of oddness about the visit itself as it really isn't made clear that the estate they end up at is the actual people who hired Margaret in the first place, tThis isn't really established until a lot later in the film. Also, way too many weird things happen and Margaret and Peter seem to only tilt their head a little instead of try to leave immediately. One could say that the black magic going on entranced the two main characters, but the level of magic and what exactly is at stake here is kept vague for most of the film.
The biggest offence of THE LEGACY is that it seems to want to deliver the scares of THE EXORCIST, but fails to reach that level of intensity at any portion of the film. The cast gets concerned, but no one furrows a brow for too long and even creepy things like the ever-present cats or the fact that Margaret can't get off the ring that the decrepit man placed on her finger is taken in stride. Because the actors don't seem too worried about things and we weren't given too much info as to what's going on behind the scenes unbeknownst to her, there really is no reason to be scared other than the fact that this is supposed to be a horror movie. Unfortunately, you have to have some kind of scares to qualify as such and THE LEGACY just left me feeling like all of the scares hit the cutting room floor and only a hint of the evil suggested was seen on screen. Katherine Ross is fine and beautiful as our cloudy-headed damsel, and it's fun to see Sam Elliot in one of his earliest roles, but I was left unimpressed with THE LEGACY.
---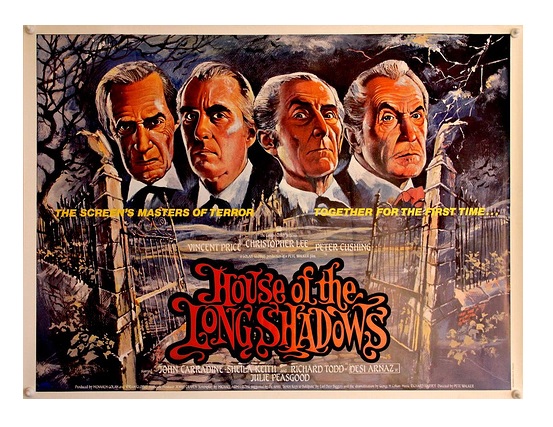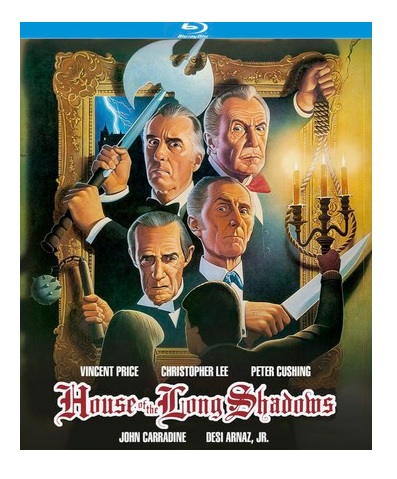 Retro-review: New this week on BluRay from Kino Lorber!
HOUSE OF THE LONG SHADOWS (1983)
Directed by Pete Walker
Written by Michael Armstrong (screenplay), Earl Derr Biggers (wrote the novel "Seven Keys of Baldpate"), George M. Cohan (wrote the play "Seven Keys of Baldpate")
Starring Vincent Price, Christopher Lee, Peter Cushing, Desi Arnaz Jr., John Carradine, Sheila Keith, Julie Peasgood, Richard Todd, Louise English, Richard Hunter
Retro-reviewed by Ambush Bug
The simple fact that HOUSE OF THE LONG SHADOWS gathered together five genre actors together (plus Desi Arnaz Jr.) in one film and had them bounce off of one another in an old dark house should be enough to entice any horror fan to pick this film up. But when I saw the name Pete Walker as the director, I was even more interested as the filmmaker has rarely let me down in his handling of complex storylines with palpable suspense and occasionally a heavy dose of sleaze. It's too bad this film tries to be cute instead of macabre. Still, the performances are a lot of fun.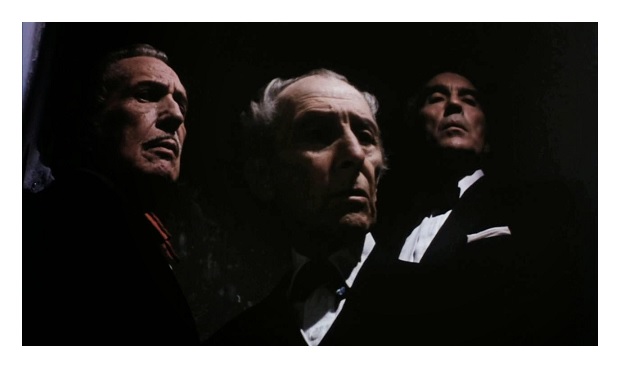 Desi Arnaz Jr. plays Kenneth Magee, a popular and arrogant writer who makes a bet with his agent that he can write a novel in one night, so the agent sets him up in a secluded mansion in order to give him a quiet space to write. Unfortunately, this seems to be the site of a family reunion of sorts as the surviving members of the Grisbane family meet ceremoniously to pontificate about a decision made long ago about their youngest brother, who went insane. As Kenneth attempts to finish his novel, he is constantly distracted by the activities going on in the floors below and when the house's new owner Corrigan (Christopher Lee) shows up, Kenneth is distracted from his writing and becomes wrapped up in the situation as well.
Again, simply having all of these classic horror actors in one space is amazing to behold. While John Carradine is pretty up there in age and only mutters out a line or two, he's fantastic as the elder Grisbane. Peter Cushing is one of the more compassionate of the family and drowns himself in alcohol in order to cope. Sheila Keith (a Pete Walker mainstay) gives a commanding performance as the only female Grisbane, putting up with her brethren. And of course, Vincent Price chews up every scene he is in delivering amazing lines like "Don't interrupt me while I'm soliloquizing." When Lee shows up, it's a full-fledged classic horror geek-out moment as he offers up his own brand of staunch toughness. All around the performances here are top notch, even though these actors were all up there in age.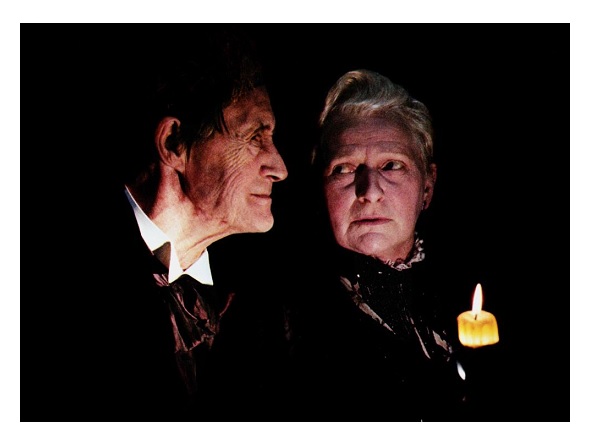 What doesn't work is this film's desire to be cute rather than horrifying. There's a reveal at the end which just kind of ruined everything for me, as I felt the sordid history of the Grisbanes and their demented brother locked in the home was extremely compellingly structured and played out through Walker's lens. But then the ending comes along, and while it intends to pull the rug out from under the viewer, it only led me to frustration as I felt I had invested myself in a story that betrayed me.
That said, I still recommend HOUSE OF THE LONG SHADOWS to any fan of old school horror and have enjoyed the myriad of fright films this cast has been in. Each performance is rock solid and the mystery is fun--up until the final moments, that is.
---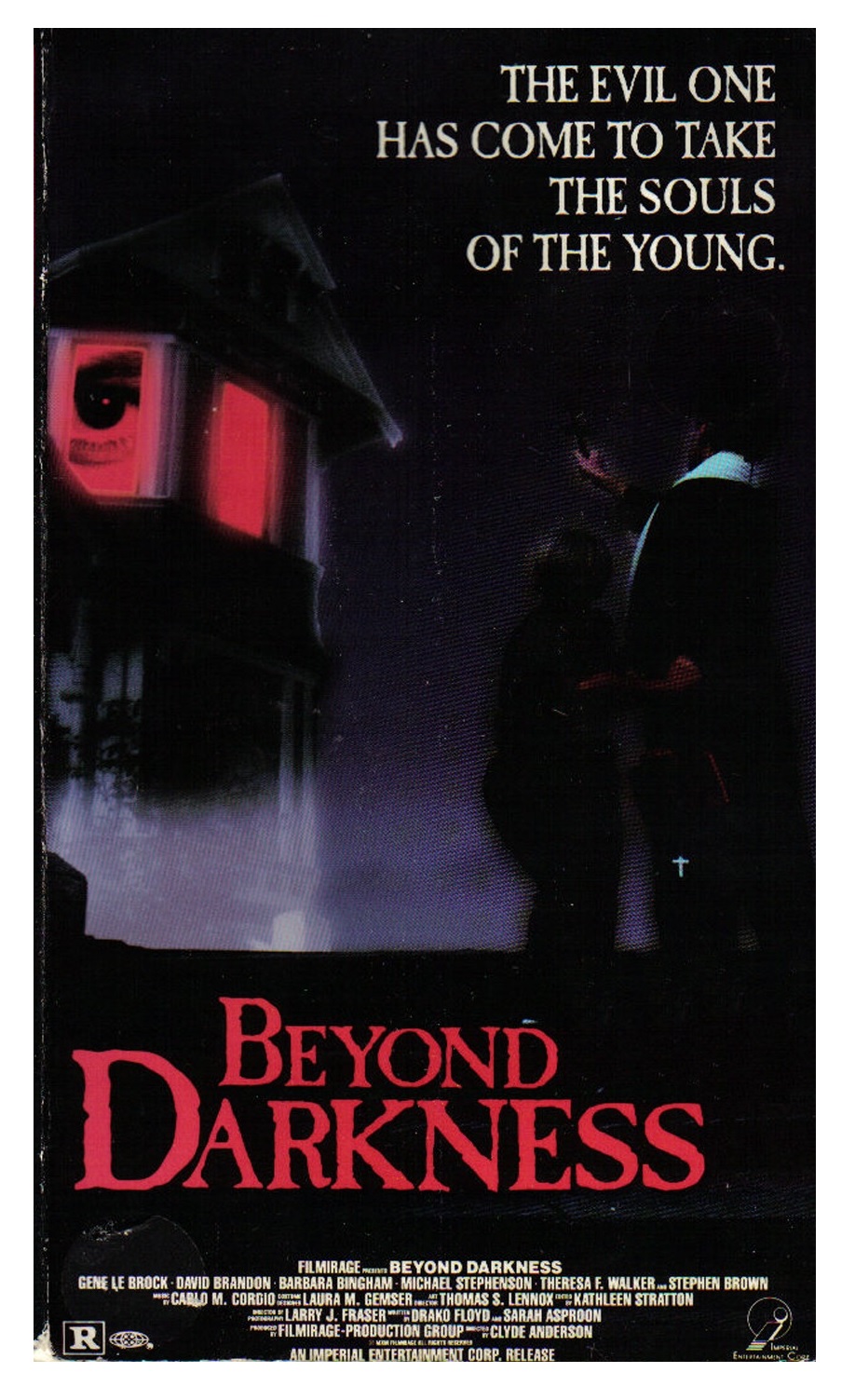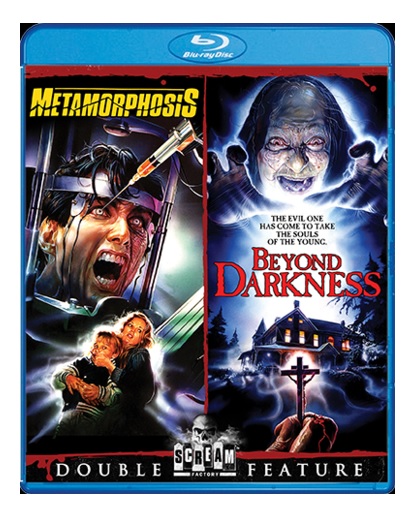 Retro-review: New on a BluRay double feature from The Shout Factory!
BEYOND DARKNESS (1990)
aka HORROR HOUSE II, HOUSE 5, EVIL DEAD 5
Directed by Claudio Fragasso (as Clyde Anderson)
Written by Claudio Fragasso (as Clyde Anderson) & Rossella Drudi (as Sarah Asproon)
Starring Gene Lebrock, David Brandon, Barbara Bingham, Michael Stephenson, Theresa Walker, Stephen Brown, Mary Coulson
Retro-reviewed by Ambush Bug
Touted as the unofficial 5th sequel in the HOUSE and EVIL DEAD series in international markets and the second sequel to the stinker GHOST HOUSE (
which I reviewed a while back here
) after its more fun sequel WITCHERY (
reviewed here
), BEYOND DARKNESS definitely begins more like films like
SHOCKER
and
THE HORROR SHOW
(which itself was considered a sequel to HOUSE…oh, the confusing 80s) with a child-murdering old lady being walked down a long hallway to a trip on the electric chair. The film also stars Gene Lebrock, which is probably why it was paired with the goofy
METAMORPHOSIS
on this Bluray double feature, as the Christian Bale lookalike starred in that film as well.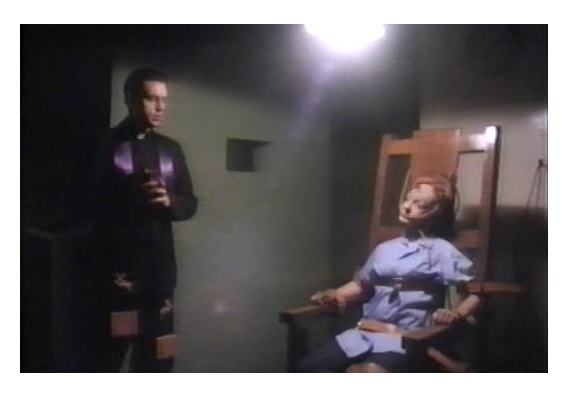 A family moves into an old home is the premise used here, and in pretty much all of the GHOST HOUSE/overseas HOUSE/EVIL DEAD films. This time around Gene Lebrock plays a priest and his house seems to be haunted by ghosts of a devil worshippers. When one of the kids is kidnapped a la POLTERGEIST, there is much Christ power compelling bound and possessed children and a beleaguered priest sacrificing himself for the greater good much like another iconic horror film, THE EXORCIST.
Needless to say, there's not a lot of originality in BEYOND DARKNESS. The film seems to lift from every haunted house and possession film in the ten years prior to its making. It might be fun to play a drinking game naming where each plot element and shock comes from…or maybe not. If anything, it's a testament to some of the more iconic horror films of the Seventies and Eighties and shows how far the influence of some of those films reached.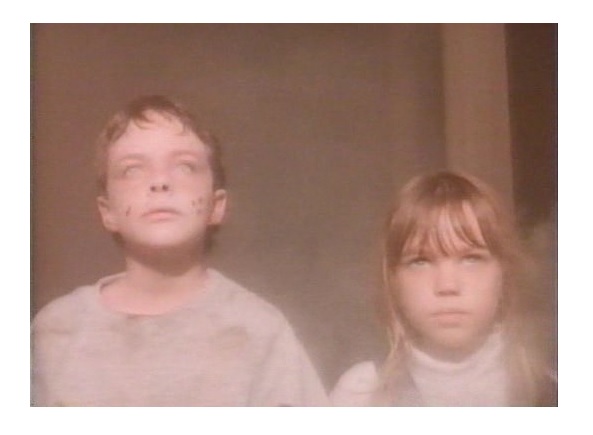 At the same time, what this film lacks in originality it makes up with some pretty potent scares. While they all seem familiar, there are a lot of well filmed and decently timed scares throughout involving masked cultists, ghost children, and creepy old ladies huddled over a child's bed. There's an in your face way this film is made that makes it undeniably effective in its swiped scares, which at least makes BEYOND DARKNESS somewhat redeemable.
But the acting is pretty bad, and there are some genuine what the fuck moments such as an attack by an evil radio and the girl complaining of a blow dryer in the walls (???). So if you can look past the fact that this film looked over at and swiped the answers from the smart kid in school, BEYOND DARKNESS is riddled with some effective and some truly indescribable weirdness.
---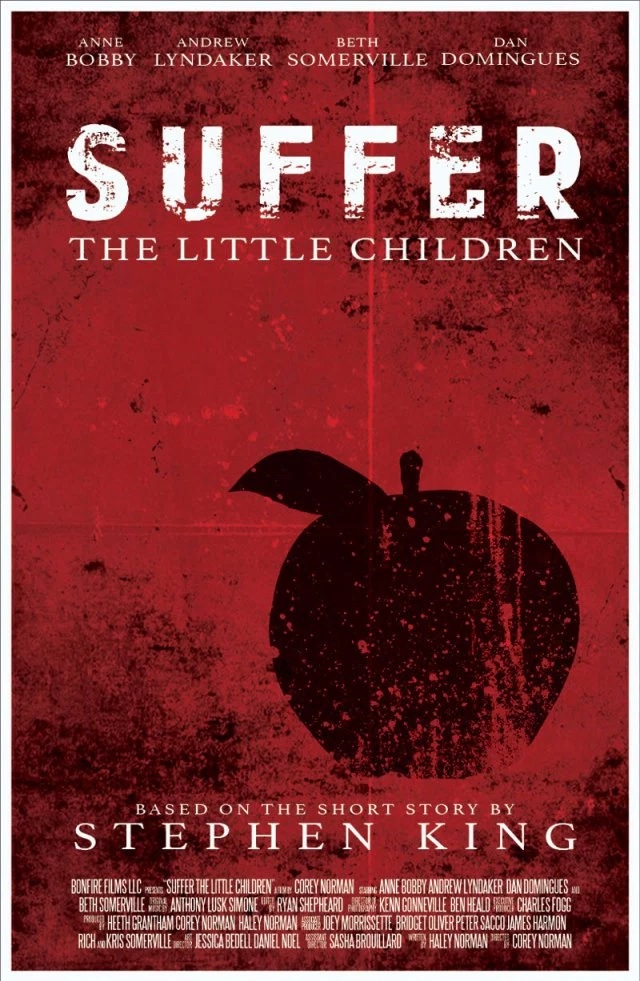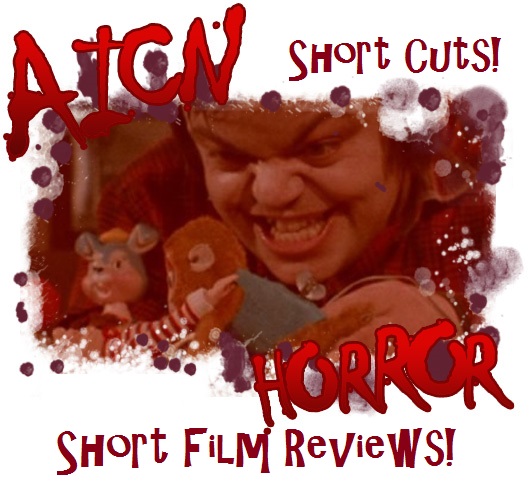 Short Film: Currently playing festivals (recently premiered at HorrorHound Weekend)!
SUFFER THE LITTLE CHILDREN (2015)
Directed by Corey Norman
Written by Haley Norman (screenplay), based on the short story by Stephen King
Starring Anne Bobby
Find out more about this film here Reviewed by Ambush Bug
Inspired by a short story from Stephen King, this truncated tale is a dark and diabolical story of creeping evil and skewed perception.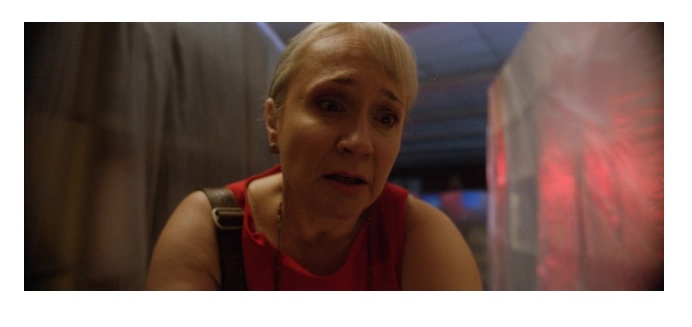 NIGHTBREED's Anne Bobby stars as Ms. Sidley, a grade school teacher who seems to be past her prime. Not only do the kids tend to make fun of her, but the faculty wonders why she doesn't just retire. Still, Ms. Sidley remains steadfast and focused on working with the children; that is, until they begin to turn into little monsters and spout threats to her in the middle of her classroom. What transpires is a rather timely tale of a person pushed to the limits.
This is a particularly gruesome tale; sporting much more teeth than later King works. Bobby gives a fantastic little performance as the stern and stubborn teacher, not willing to back down to the kids who are threatening her. This descent into madness tale is the type of psychological horror I love to sink my teeth into and SUFFER THE LITTLE CHILDREN is rich in moments that seem torn straight from today's headlines with a somewhat demonic and evil twist to it as the kids appear to be monstrous through the eyes of this beleaguered teacher.
SUFFER THE LITTLE CHILDREN pulls no punches and is bound to shock those who are lucky enough to catch it. Once it is available online, I'll most definitely post at the bottom on the column. But if you happen upon this film at a festival, get ready to be shocked and rocked by this crafty 25 minute plunge into darkness.
---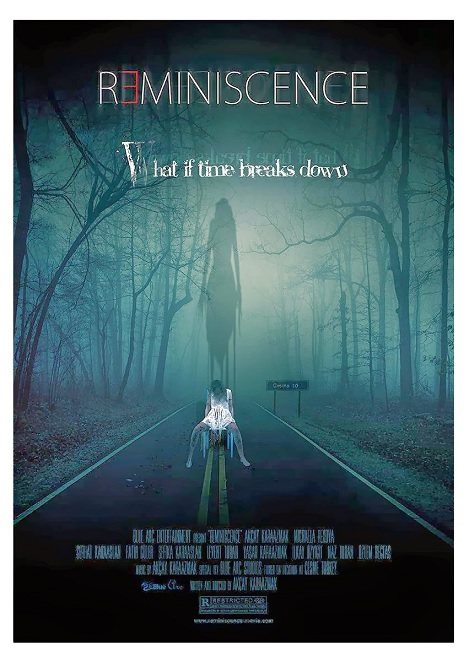 New on DVD from SGL Entertainment, iTunes, and GooglePlay!
REMINISCENCE: THE BEGINNING (2014)
Directed by Akçay Karaazmak
Written by Akçay Karaazmak
Starring Özlem Begtas, Fatih Güler, Sefika Karaaslan, Serhat Karaaslan, Akçay Karaazmak, Yasar Karaazmak, Michaela Rexova, Levent Turan, Naz Turan, Ilkay Özyigit
Find out more about this film here and on Facebook here
Reviewed by Ambush Bug
Starting out with the words "Based on true physics events and black hole theories," REMINSCENCE: THE BEGINNING does possess quite a few shocking and jarring moments in terms of imagery, but in terms of story content, it comes up quite lacking.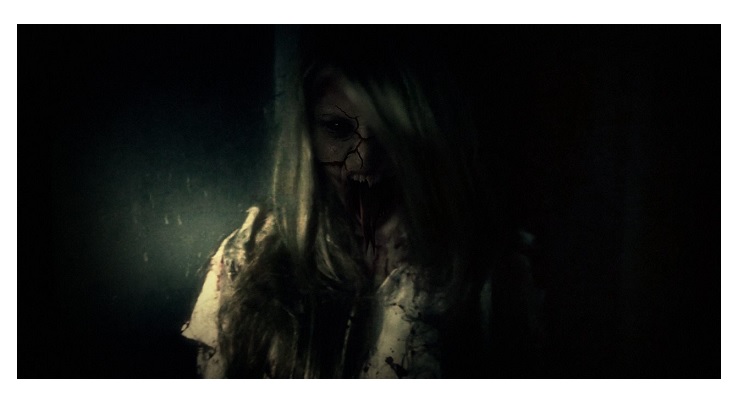 A couple are driving down a dark road seemingly investigating some kind of weird time/space phenomenon and find themselves trapped in a nightmarish loop of violence, horror, and nightmares. That's pretty much it in terms of story, as this hour and forty five minute film simply puts the couple through one reality-warping nightmare after another. Yes, the images are shot in a rock video fashion with in your face shots of monstrous faces and brutal violence, so this is not a wasted hour in terms of scares. But so little time is given for the viewer to get to know the non-actors that it's really hard to care what happens to them no matter how potent the scares.
REMINISCENCE: THE BEGINNING is the type of film you play in the background at a Halloween party where you really don't need to pay attention to the whys and hows things are going on. It's one of those films with effectively creepy imagery, but not much in terms of narrative to follow. The scares are capably coordinated and filmed, but the lack of character, talent in the actors, and overall story makes it more of a slideshow of scares than an actual movie.
---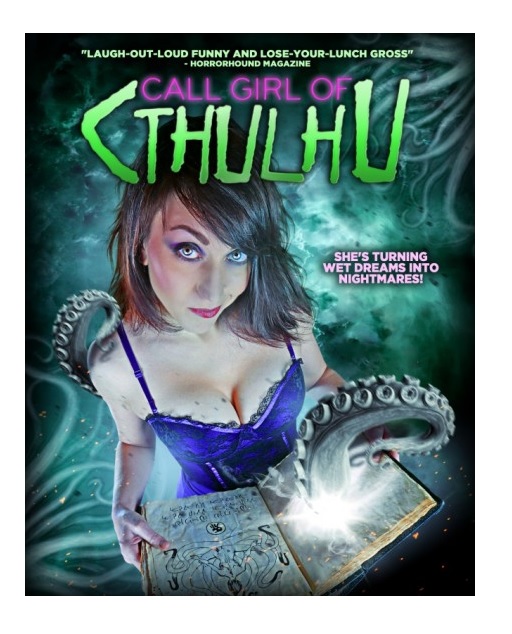 New this week on BluRay/DVD from Camp Home Video!
CALL GIRL OF CTHULHU (2014)
Directed by Chris LaMartina
Written by Jimmy George and Chris LaMartina, inspired by the works of H.P. Lovecraft
Starring David Phillip Carollo, Melissa O'Brien, Nicolette le Faye, Dave Gamble, Helenmary Ball, Sabrina Taylor-Smith, Alex Mendez, Craig Peter Coletta, Elena Rose, George Stover, Leanna Chamish, Troy Jennings, Stephanie Anders, Ruby Larocca, Scarlett Storm, Paul Fahrenkopf, John Bennett, Stavros Halkias, Ron LaMartina, Kitty Bermuda, Carley Cooper, Marla Meringue, Gypsy Love
Find out more about this film on Facebook here
Reviewed by Ambush Bug
While watching CALL GIRL OF CTHULHU, I was reminded of those Hennenlotter flicks from the 80s, not just because this film and FRANKENHOOKER involve women of the night, but because of the level of reckless abandon that Hennenlotter added to his films in terms of whacked out ideas and gore and not really letting budget considerations get in the way of anything. Also hearkening back to those classic Yuzna/Gordon Lovecrafty flicks like FROM BEYOND, RE-ANIMATOR, and SOCIETY, CALL GIRL OF CTHULHU is sure to please fans of that style of gore, creepy, and weirdness.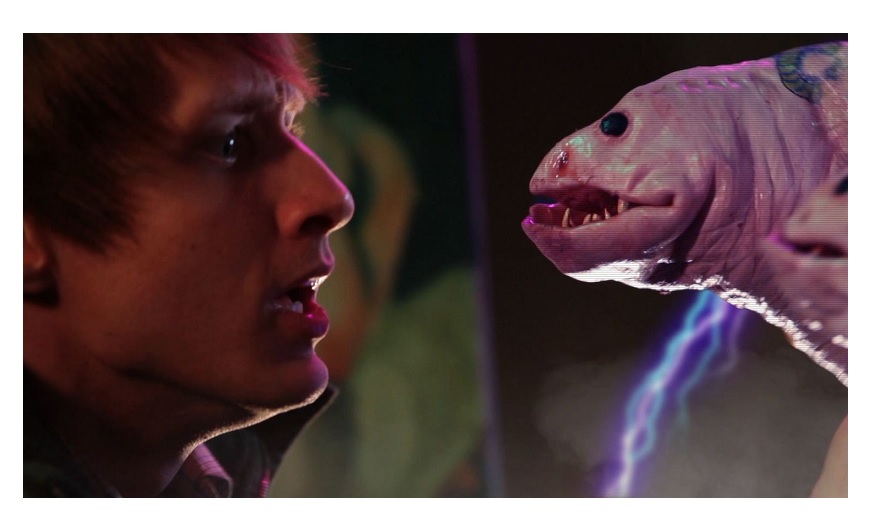 When shy artist Carter Wilcox (David Phillip Carollo) first lays eyes on prostitute Riley Whatley (Melissa O'Brien), it's love at first sight, or at the very least the sassy pro made this virgin artisan super horny. After calling on her services and only wanting her to pose naked for him as a model, Riley is intrigued by Carter's innocence and the two begin a relationship. Unbeknownst to them, though, Riley's odd birthmark in the shape of a squid is a sign that she is the key to unlock the door between realms and a sadistic cult is after her for that very reason, hiring and killing prostitutes left and right. As the two budding lovers come into a collision course with the cult of Cthulhu, all sorts of hell breaks loose.
First and foremost, this is a gorehound's dream with the effects being somewhat subtle at first, but exploding full force in your face by the end of the film with ooze, guts, and plenty of blood. The filmmakers here don't rely on CG effects either. This is practical from top to bottom, and while sometimes that allows you to see some of the seams of the man-made, real-world effects, it only added to the charm with me. Seeing fake heads lopped off of mannequin bodies and plastic tentacle puppets wrapping themselves around the cast makes this feel like some kind of lost gem from the Eighties you might stumble into at the video store.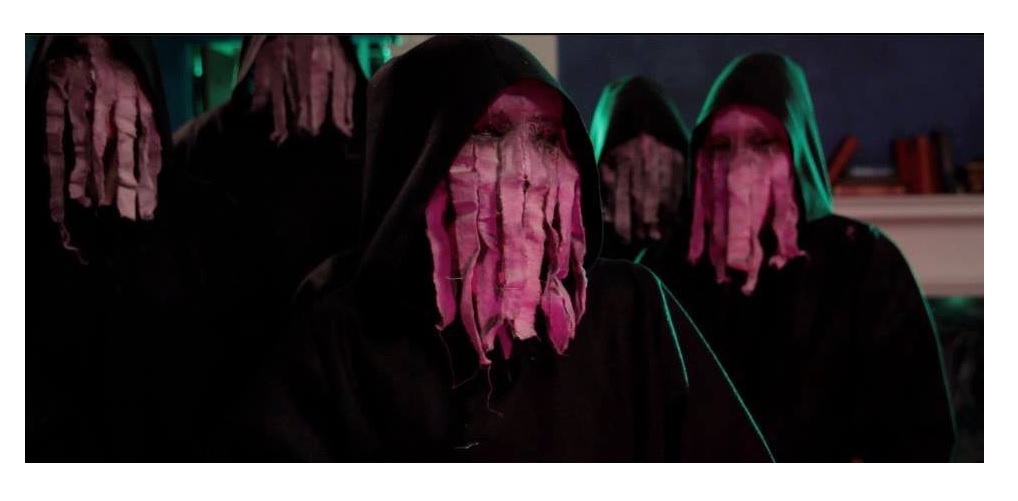 While I wouldn't call the acting bad, I will say that it is the weakest aspect of CALL GIRL OF CTHULHU. The leads are decent and somewhat convincing as Riley and Carter, but anyone further down on the cast sheet feels pretty amateur. Still, I feel the directing was top notch and makes its way around the hurdles in the actors' performances. Able to highlight effect- heavy scenes an also keep things moving at a brisk pace, this is an exciting film and definitely done by talented filmmakers.
I was also impressed quite a bit with the intricate story, which flips back and forth between the two lovers forming a relationship and the pursuit of those two by evil forces. For a film done so much on the budgetary low, I was impressed by how much ground CALL GIRL OF CTHULHU, covered and while some of the performances had some struggles selling the tale, I was still pulled in by the emotional hurdles of the topliners. If you're looking for a throwback gorefest that definitely has fun with the Lovecraftian mythos while trying to tell a convincing story of oddly paired lovers, CALL GIRL OF CTHULHU has got your number.
---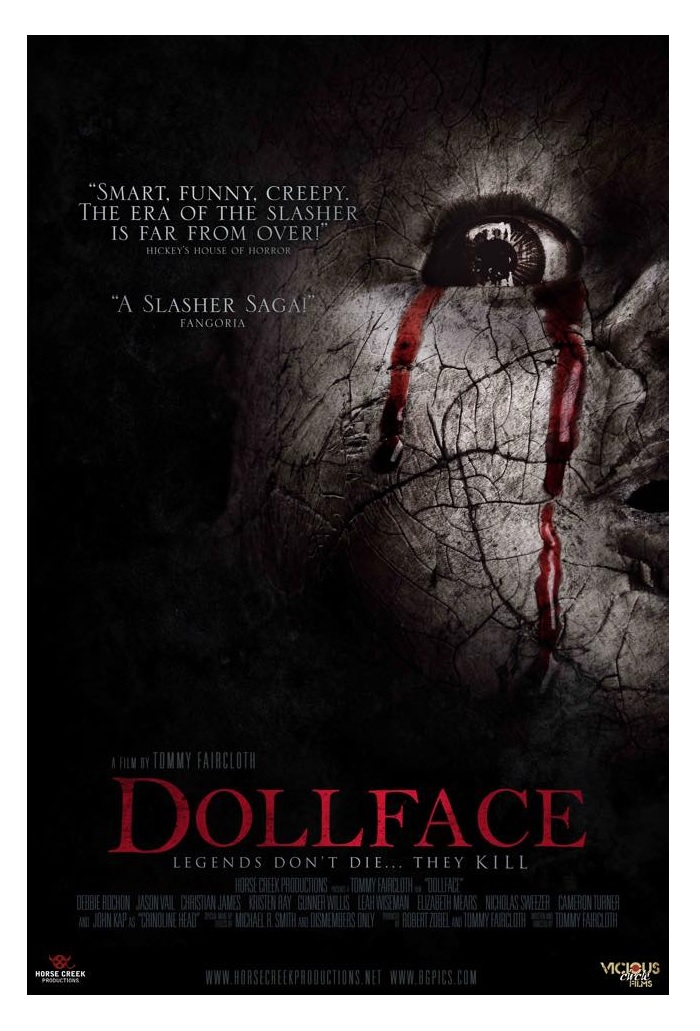 New this week on DVD, Amazon, and iTunes from Breakin Glass Pictures!
DOLLFACE (2014)
aka DORCHESTER'S REVENGE
Directed by Tommy Faircloth
Written by Tommy Faircloth
Starring Debbie Rochon, Christian James, Patrick G. Keenan, Elizabeth Mears, Jason Vail, Andrew Wicklum, Suzie Haines, Leah Wiseman, Kirsten Ray, Nicholas A. Sweezer, Mary Tabor, Andrew Cox, Morgan Monnig, Vance Griswold, Cameron Turner, JohnMichael Tabakian, Charles Starks, Gunner Willis, Christopher Miller, & John Kap as Dorchester Stewart / Crinoline Head!
Find out more about this film on Facebook here
Reviewed by Ambush Bug
DOLLFACE is a pretty run of the mill slasher film which is saved mainly by some creatively choreographed kills.
Dorchester Stewart is a special child. Witnessing the death of his mother who made clothing for dolls, he grew up to be a silent man-monster wearing a cracked doll face and wearing a wig made of crinoline, which I learned from this film is a sort of fabric used in dressmaking. Years later, Dorchester (nicknamed Crinoline Head) is taken down by forensic investigator Paul Donner (Jason Vail, who was great in GUT –
reviewed here
) and his crimes have grown into an urban legend. Years later, Donner is teaching an Urban Legends class (you know, the type of class that only exists in horror movies) and a group of kids want to investigate the legend of Crinoline Head. Many murders happen.
DOLLFACE just feels like very little thought was put into anything but the kills themselves. Each of the kills is actually pretty great, as Crinoline playfully stalks and torments his victims first before ending them. Placing a knife under a woman as she squats to take a leak in the woods and positioning someone hitting a piñata to actually be striking a hanging human are pretty intense and devious ways to go, so this film gets points at least for making the kills unique and, more importantly, viscerally potent.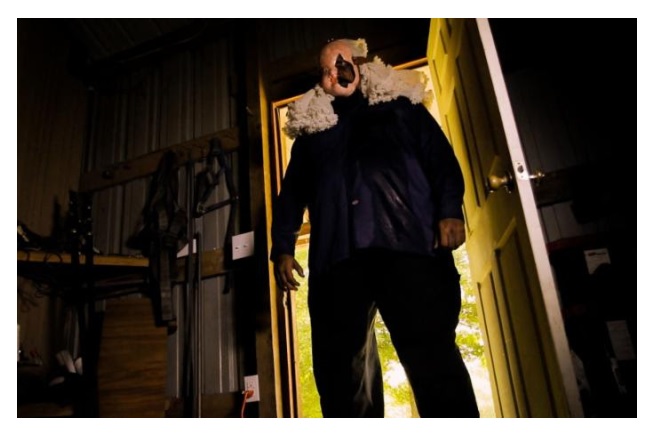 Unfortunately, everything else from story logic to acting is pretty craptacular. While each of the students are assigned different legends, inexplicably (other than the reason to get them all in the same place so the murderer can slaughter them), they ignore their own assignments and join the gang investigating Crinoline Head. Depth of character is attempted, but none of the cast really shows the ability to do so. Even scream queen Debbie Rochon seems a little bit over her head in terms of delivering the chops as a euphemism-explaining landowner of Crinoline Head's property (plus it makes no sense that she is attacked by the murderer at this very moment, as she has been on his land for years, it seems).
On top of all of that, I have to say Crinoline Head is not a name that rolls off the tongue. Why not something a little more catchy like, I dunno, Dollface? Not being a part of common vernacular, crinoline sounds like some kind of drug Dr. Fünke's 100% Natural Good-Time Family Band Solution sings about on ARRESTED DEVELOPMENT. All in all and apart from the kills, DOLLFACE just doesn't bring anything new and distinct to slasher films. There is some skill here put into the kill choreography and how it was filmed, but you just can't make a slasher film on kills alone.
---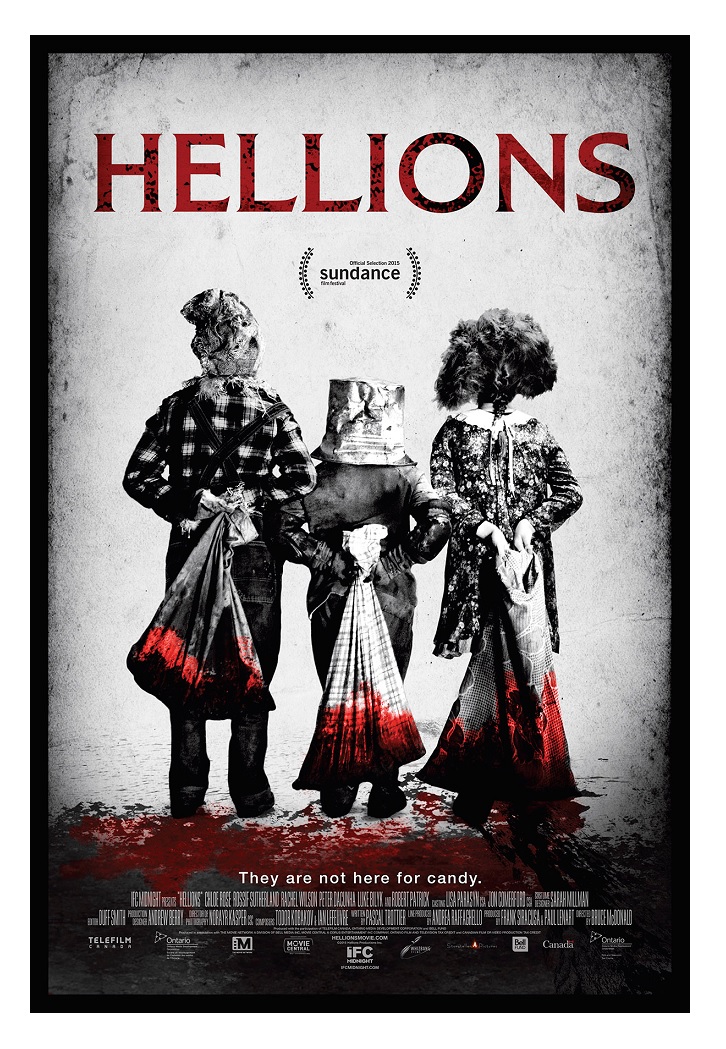 New in select theaters and On Demand from IFC Midnight!
HELLIONS (2015)
Directed by Bruce McDonald
Written by Pascal Trottier
Starring Chloe Rose, Robert Patrick, Rossif Sutherland, Rachel Wilson, Luke Bilyk, Peter DaCunha, Victoria Obermayer, Emir Hirad Mokhtarieh, Nicholas Craig, Sydney Cross, Stephanie Fonceca, Adelaide Humphreys, Aliyah Jhirad, Devon Phillipson, Joe Silvaggio, Karlo William
Find out more about this film here and on Facebook here
Reviewed by Ambush Bug
Beating you about the head and shoulder with metaphor that's just a bit too obvious, HELLIONS' tendency to play it loose with reality makes it hard to latch onto.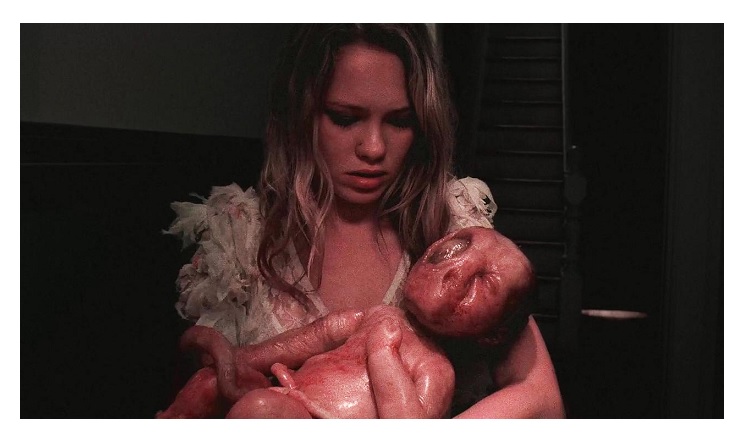 Dora (Chloe Rose) is a rebellious teen who skips school with her pot smoking boyfriend and just found out that she is pregnant. Choosing to stay in on Halloween night, she is tormented by what first seems like rambunctious kids, but when the head of her boyfriend is found in one of the weird little kids' trick or treat bags, she realizes their brand of tricks are real and deadly. Now Dora must make her way through a dream-like world where down is left and up is right trying to make sense of it all and survive the night.
After directing PONTYPOOL, anything from Bruce McDonald is worth checking out in my book. The guy has a unique style of filmmaking that twists modern tropes and makes them feel brand new. He made zombies interesting and trippy again in PONTYPOOL and here he attempts to do the same thing with "babysitter alone in the house" flicks. The thing is, I think this time around, McDonald went a little too far into trippy dippy land and delivered a film that is all dressing and no meat. After a relatively grounded beginning, Dora falls into a dream-like realm at about the halfway point where the sky has a toxic film negative glow, pumpkins explode for no real reason, and wind storms break out indoors. Reality continues to chip away as the film goes on until nothing seems real at all. I felt like I was in for one of those "it was all a dream endings" but McDonald thankfully doesn't do that. Instead, he goes to the opposite extreme and provides no explanation at all as to why the world has gone wonky around Dora once she finds out she is going to be a mommy. I don't always need to know the reasons behind the horror, but when things get so insane and there's no explanation or even a shred of reality to cling to, it succeeds at being a collection of disturbing imagery, but fails at being a compelling narrative.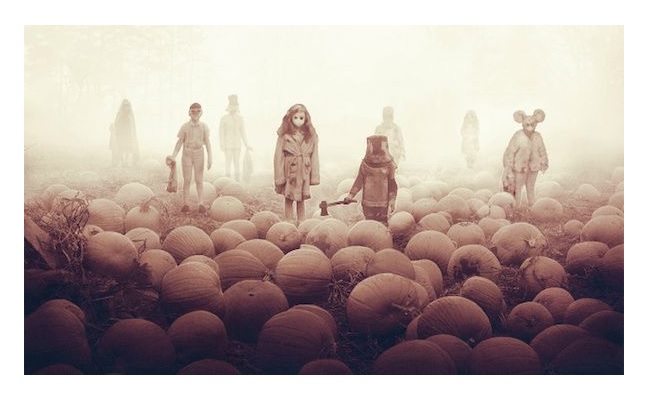 Beyond the exploding pumpkins and screaming masked kids, this is a story about unwanted pregnancy and McDonald goes out of his way to explain that through metaphor so thick that even the most dense of viewers will pick it up. Earlier scenes where Dora sees blood seeping out of a pig statue and is transfixed with a model of a fetus when she first finds out about her pregnancy suggests that this is a rich commentary on not only unwanted pregnancy, but the struggles of a teenager not wanting to tell her parents about said pregnancy. Even the children's constant assaults on Dora signify the struggles she is going through as to whether or not she should keep the baby or not. Had this film kept just one pinky toe firmly on the ground, I might have liked it more. But the fact that this film, like PONTYPOOL on a much lesser scale, ends ambiguously, with no explanation or no sense of what happened in the last 90 minutes, makes it all feel like a pointless endeavor.
Somewhere within all of the dense metaphor is a really decent horror movie. Chloe Rose has a Maika Monroe feel to her and she is quite charismatic here as the expecting teen. Robert Patrick shows up in another role where he plays a cop. The kids, while looking like they were swiped from the TRICK R' TREAT set, really are creepy. And McDonald does imbue this film with some tense and disturbing imagery. The score is creepy at first, but the chanting kids become more grating and it ends up being extremely repetitious. But the main problem with HELLIONS is that too much time is spent making things look creepy and because of that, it hurts the story to most. I imagine those more literal minded will be infuriated by the ending that explains nothing and comes to no resolution. While ambiguity can be one of the most terrifying things, it also can kill a film if there is too much of it. I fear HELLIONS might have a bit too much ambiguity for its own good.
---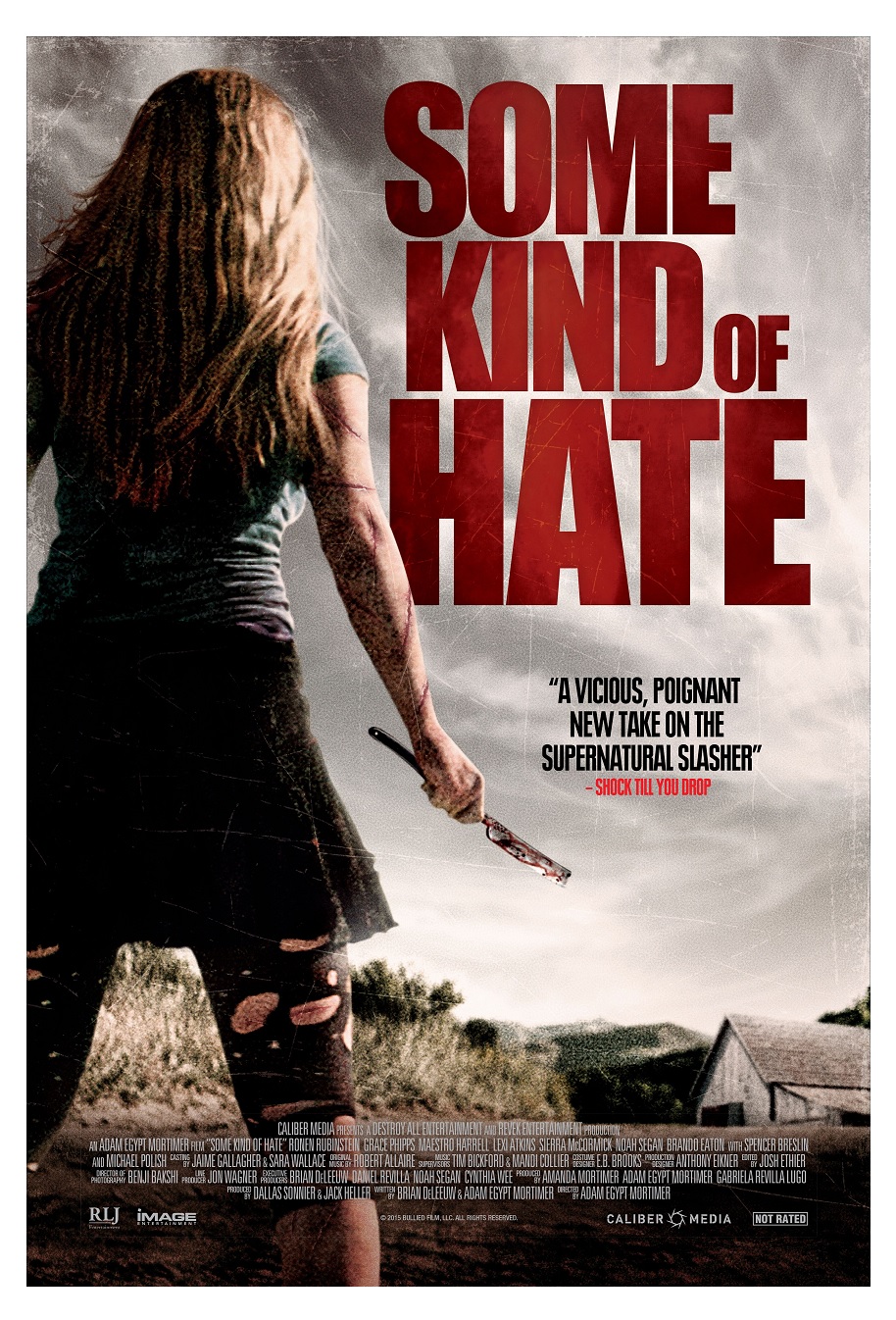 New this week in select theaters and On Demand!
SOME KIND OF HATE (2015)
Directed by Adam Egypt Mortimer
Written by Brian DeLeeuw & Adam Egypt Mortimer (screenplay)
Starring Ronen Rubinstein, Grace Phipps, Spencer Breslin, Lexi Atkins, Sierra McCormick, Brando Eaton, Justin Prentice, Maestro Harrell, Michael Polish, Noah Segan, Andrew Bryniarski, Jisaura Cardinale, Audrey Ellis Fox, Jasper Polish, Matt Beene
Find out more about this film here and on Facebook here
Reviewed by Ambush Bug
Teen angst is always a good well to draw the stuff of horror from, and SOME KIND OF HATE channels that angst in an often spooky, often gory manner.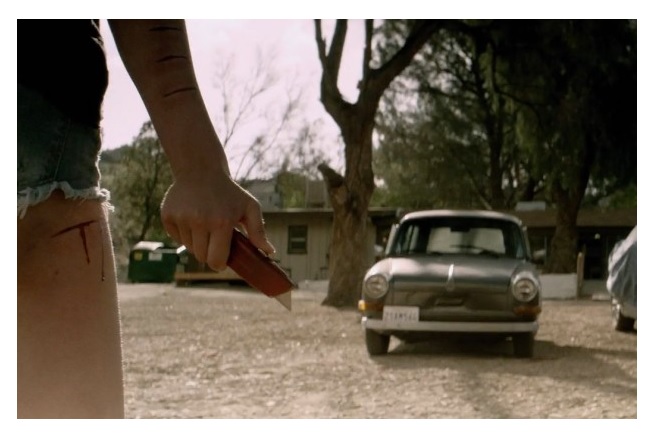 Lincoln (Ronen Rubinstein) is an outsider at school and ripe for bullying, but when he retaliates and stabs a school bully in the face with a fork, Lincoln is toted off to a camp in the middle of the desert to take care of his delinquent ways. But while new age counselors Jack (NORTHFORK director Michael Polish) and his assistant Krauss (Noah Segan) tout that the camp is supposed to help make Lincoln a stronger person, Lincoln soon finds that this safe haven has bullies too (DARK SUMMER's Maestro Harrell and DEXTER's Brando Eaton). What none of them know is that the hatred and rage built up inside of Lincoln has woken the spirit of Moira (Sierra McCormick), a girl whose death has been covered up and kept secret, and seeing that the camp is still rife with abuse and misdeeds, Moira goes on a rampage to take care of those who victimize those who enter the camp.
What I loved about SOME KIND OF HATE was that it doesn't really reveal itself to be a ghost story until late in the film. For the first portion, this is a film about the horrifying and damaging potential of bullying. The film does a fantastic job of capturing the teenage angst and drama without making it feel preachy, like something ripped from an after school special. The twist that this becomes about a vengeful spirit fits into the narrative, but it definitely is a twist I didn't see coming, not knowing anything about the film before going in. Once this film tips its supernatural hat it continues to tell a compelling story, only through a different lens. While late in the game twists can be seen as a gimmick, this one feels organic within the story and doesn't derail the momentum one bit. This has everything to do with director/writer Adam Egypt Mortimer's balance of when to be stylistic with his imagery and when to play things on a more substantial level. There are scenes in this film that really capture the sense of isolation one feels as a teenager, and whether it can be categorized as a tense drama or a supernatural thriller doesn't matter because it all looks great and the script supports it however you see it.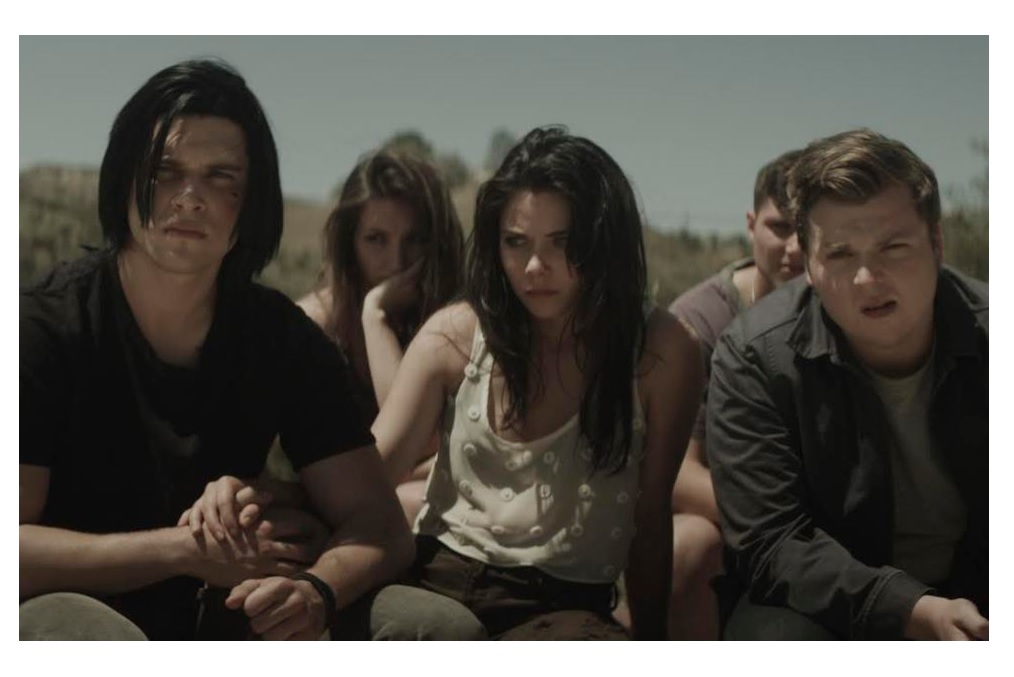 But this isn't all about crying in your pillow because daddy never loved me. This is a creatively gory film that spurts blood in every direction and pulls no punches. There are more than a few scenes where the violence and gore in this film are so intense and personal that it made me wince. Because Moira's weapon of choice is a box cutter (as she is a cutter herself), the slices she makes to herself and transfers to her victims will definitely make your toes curl. Those who get riled at the sight of blood have a lot to get excited about with this movie.
There are a few missteps near the end of the film as some characters seem to rush through transitions rather briskly in order to bring the story to a close, but for the most part this is a top tier film from start to finish. Adding to the strengths of this film are the relative unknowns playing the parts. Rubenstein is great as Lincoln, not overacting but still able to carry most of the heavy scenes. His love interest Kaitlin (VAMPIRE DIARIES' Grace Phipps) is gorgeous and talented as all get out. Phipps is going to be a big star soon, as her performance here as a rebellious ex-cheerleader will grab you by the throat. And NORTHFORK director Michael Polish really surprised me by channeling David Cronenberg from his creepy NIGHTBREED performance as the lead counselor and delivers a chillingly cold turn. With superb acting, tons of blood spatter, and a creative and tactile way to tell a ghost story, SOME KIND OF HATE is a film that is both gripping and gorgeous to look at.
---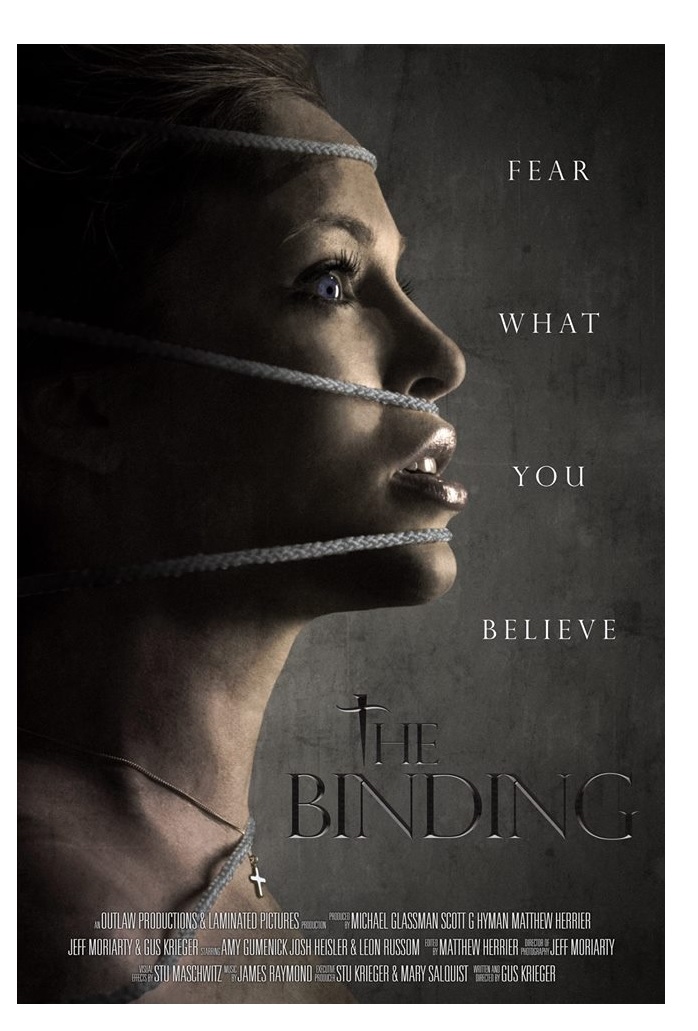 Advance Review: Currently touring festivals!
THE BINDING (2015)
Directed by Gus Krieger
Written by Gus Krieger
Starring Amy Gumenick, Josh Heisler, Leon Russom, Catherine Parker, Larry Cedar, Max Adler, Stuart Pankin, Kate Fuglei, Virginia Welch, Kevin Stidham
Find out more about this film on Facebook here
Reviewed by Ambush Bug
Not being a particularly religious person and having religion forced upon me at young age, any type of film revolving around the practices and beliefs of religion automatically gives me a creepy uneasy feeling. THE BINDING gave me that same feeling, though it starts out absolutely mundane. But with some solid acting and subtle turns of light and sound, this film delivers some very solid scares.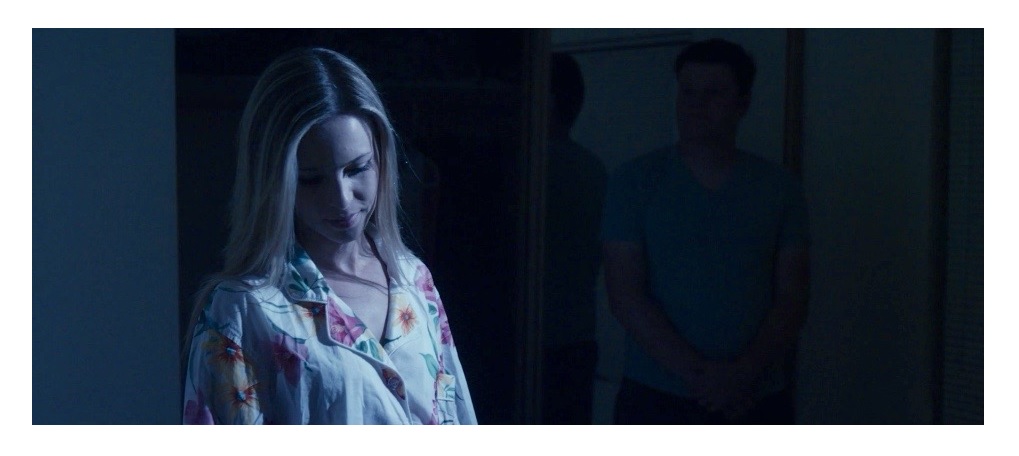 Amy Gumenick plays Sara, the wife of Bram (Josh Heisler) a devout priest at a small town church. The film opens with Sara waking from sleep to hear her newborn baby crying. When Sara goes to check on the baby, she is not in her crib and is nowhere to be found. Frantically she looks for the baby, but Sara cannot find her. It turns out this is a dream and this film revolves around dreams of the kind I believe seems somewhat normal with the parents of a newborn, who worry about everything hurting their precious baby. But it turns out, this dream is an omen, as her husband Bram has been hearing the voice of god telling him to sacrifice his child in the name of the Lord much like what is referred to as the Binding of Isaac in the Bible when God asked Isaac to kill his son. With a history of mental illness and addiction in Bram's family and a natural maternal instinct to protect her baby, Sara finds herself in conflict with her beliefs and the one she loves.
What intrigued me about this film is that it doesn't take the normal negative stance on religion we so often see in movies these days. If the church is portrayed, more often than not, it's the voice of judgment and oppression. Instead, this film shows a family that is pretty devout; praying before meals and attending church with conviction. When Bram first gets the vision, Sara encourages him to pray with her and it doesn't feel hokey or shown in a light as something weird. Even for me, as I don't associate myself in any spiritual way with religion, was impressed by this unique and bold stance on the church as portrayed in this film. Later in the film, there is a lot of doubt in Sara, but this crisis of faith seems to be more inward than obviously presented as something negative about the church. Subtle things like Sara becoming friends with the gay couple across the street when at first she shunned their friendship read more as Sara doubting certain aspects of her religion rather than condemning the church for it. I liked that this film didn't take the easy route and remained somewhat respectful of the church while still showing that it might not be the path Sara wants to take.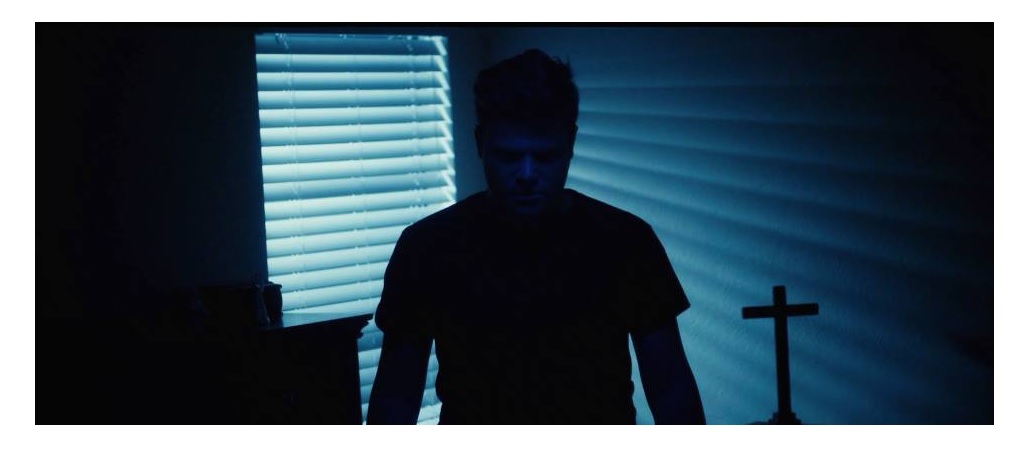 While there is very little in terms of effects or gore here, the real power in this film is the performances by Sara (Gumenick) and Bram (Heisler). Gumenick delivers a Farrow-esque ROSEMARY'S BABY style performance where she doubts everything about the world she has placed herself in and conveys this with a lot of grace and charm. You feel the fear and tension through Sara's eyes the entire time and the actress capably carries this weight. On the flip side, Heisler's performance could have easily been overly preachy during the sane moments and over the top during his possession/mental break moments, but they are not in either case. With some clever lighting and small but important details provided by the deft direction of Gus Krieger, scenes where Bram is not speaking in his own voice resonate and definitely were successful in sending chills.
The film is interspersed with terrifying dreams that encapsulate a mother's fear, all made horrific by Krieger's use of sound, light, and angle of camera, yet THE BINDING had me by the spine the whole way through. This is proof positive that a truly effective thriller can be made without loads of money, gore, and most importantly stupid jump scares. THE BINDING is a mature and potent film, tackling a crisis of faith coupled with dealing with addiction and mental illness in relation to religion. It asks tough but fair questions about how far one would go with their beliefs and if you're comfortable with conversations about that, you're bound to get your brain tickled and your spine tingled by THE BINDING.
Sorry no trailer yet for this one.
---
And finally…here's another trip to yesteryear, before the intewebs, when folks gathered around the radio for their fears. Hosted by the late, great E.G. Marshall, here is "The Church of Hell!" This tale of cats and witches is sponsored by Buick!
---
See ya next week, folks!

Ambush Bug is Mark L. Miller, original @$$Hole/wordslinger/writer of wrongs/reviewer/interviewer/editor of AICN COMICS for over 13 years & AICN HORROR for 4. Follow Ambush Bug on the Twitters @Mark_L_Miller.



---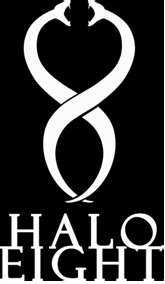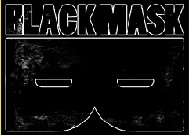 Find out what are BLACK MASK STUDIOS and OCCUPY COMICS here and on Facebook here!


Interested in illustrated films, fringe cinema, and other oddities?
Check out Halo-8 and challenge everything!
Look for our bi-weekly rambling about random horror films on Poptards and Ain't It Cool on AICN HORROR's CANNIBAL HORRORCAST Podcast every other Thursday!
---
Find more AICN HORROR including an archive of previous columns on AICN HORROR's Facebook page!