Hey folks, Harry here... I received 82 entries trying to win BB-8 (Sphero edition) - and they ran the gamut from a Sweden Snowman Bot made of actual snow, to little kid adorable robots, to one actually animated robot and a ton of mixed media and fun presentations. There were a lot of folks that essentially put my head on BB-8 in a variety of styles... But I was looking for a robot that looked like it belonged in the STAR WARS Universe. It needed to somehow relate to AICN and Pop Culture, but it absolutely had to live in the Star Wars verse. These final four came the closest in all areas.
This first one is a wonderful illustration by Jeffrey Sweet of Brookfield, MA - but essentially in my mind, the head of the droid is the key great bit of personal design here, but the body is basically just an R2-D2 take... but other than holding popcorn, there isn't a lot of POP CULTURE sharing abilities either written in the email or shown, so minor points off there. But still... I love it.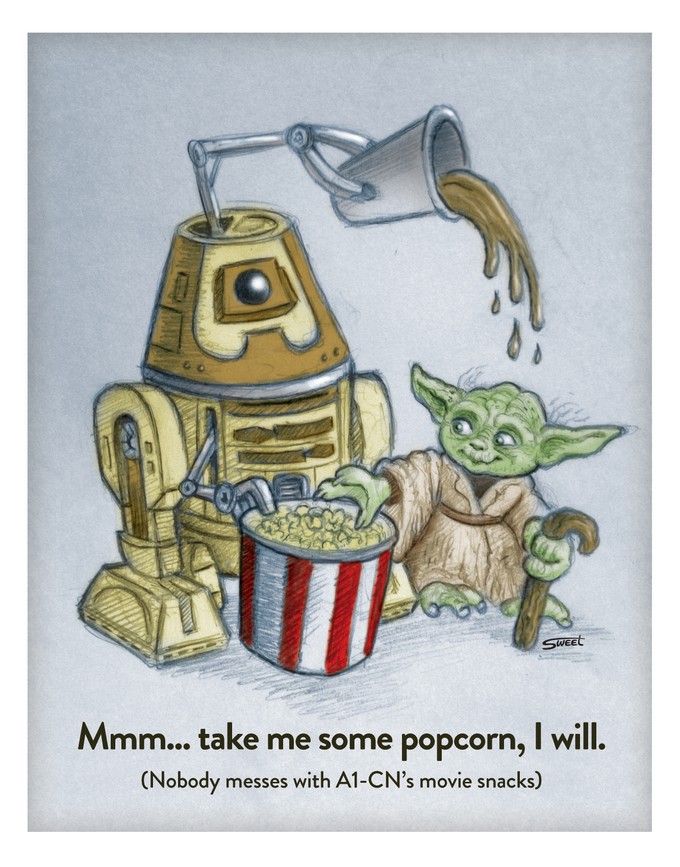 I'm pretty sure most fans will love this one most. It's the funniest. It skewers me beautifully... But, it's pop-culture abilities are limited and I just don't see that droid existing in the STAR WARS universe, although it is beautifully framed to exist in its card universe. Also, the planet surface is a bit ALTAIR 4 rather than JAKKU to me. Still, OUTSTANDING & HILARIOUS JOB from Sophie Perrie of Lancashire, UK!!!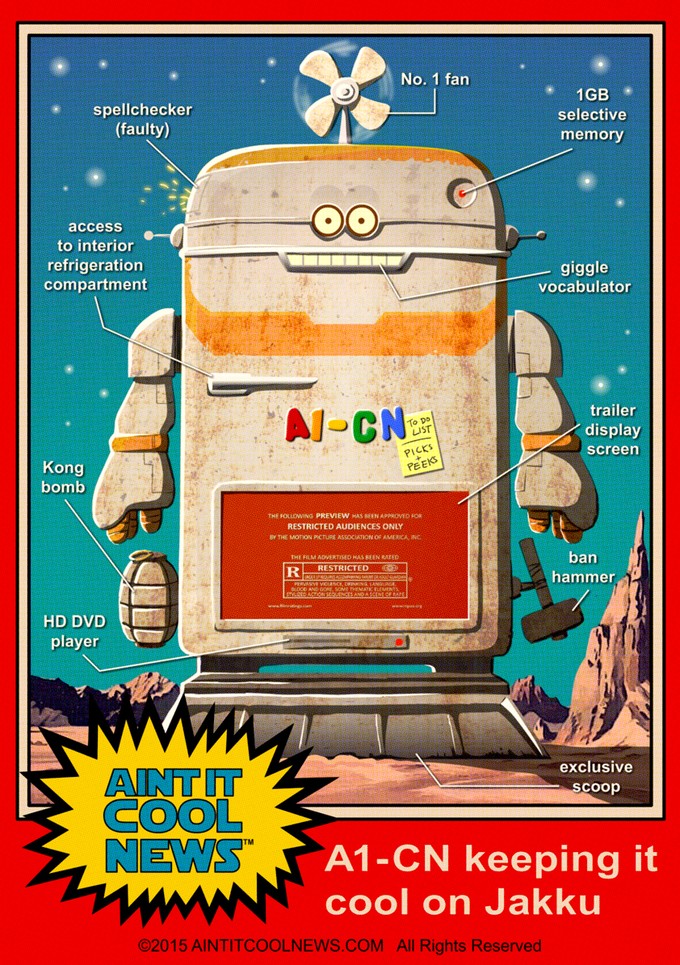 This one - well, had the artist actually explained the functions of this droid a bit, I'd totally have given this the prize. I love the design completely. Love the Batman symbol, love the Giggle Giggle - I absolutely see this droid existing in that galaxy far far away. The only missing aspect was just an understanding of the droid's alleged capabilities, which would've just knocked it out of the park in my mind. Absolutely fantastic job by Alexander Stein of Port Saint Lucie, FL!!!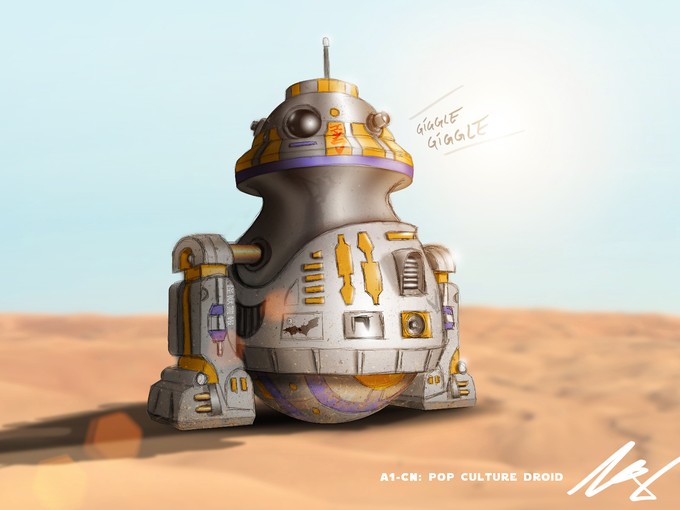 And here is the winner: Joe Green of Austin, Tx.... (No, I'm not friends) - To me... This just nails it. First - I'm not real sure what I'm looking at. Is it physical, cg, a combination of all of that? I don't know for sure, but I dig what I see. It has design cues from that Galaxy Far Far Away, but is different in how it's treads look, that it has a popcorn dispenser. But when Joe Green defined this A1-CN// Pop Culture Droid - he nailed it.
"Featuring
..popcorn popper//dispenser......... ......
..head mounted dvd/bluray drive..........
..pop out portable film projector............
..interactive touch screen display.........
..internet troll incinerating flame thrower **..
**optional feature // not shown here"
Now, meet your A1-CN: Pop Culture Droid!!!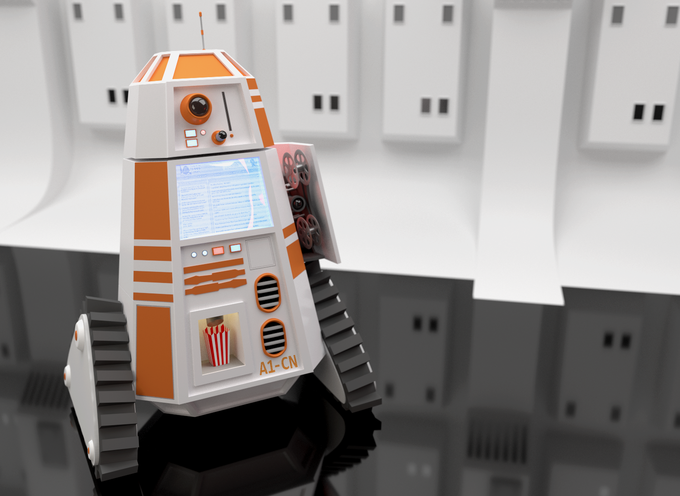 And for Joe Green's efforts - he's getting the finest ASTRO-MECH yet created by the wizards at SPHERO! BB-8 seems to have conquered the hearts and minds of a whole helluvalot of STAR WARS fans.
Helluva prize! Congrats to the lucky winner and all of the talented Artists, Engineers, Kids & Grown Kids that took part in this awesome contest.
Keep it cool,
Harry