Ahoy, squirts! Quint here. I had a long awesome exhausting day at D23 and I'm gonna do my best to run it down for you before my tired eyes get the better of me.
The only panel I did today was the Disney Animation one, which covered the upcoming slate for both Walt Disney Animation and Pixar. But that doesn't mean there wasn't cool stuff to see. One of the least busy sections of the show floor, surprisingly, was a little corner that had some Star Wars costumes and props on display. I think I just got lucky and hit it at the right time.
I still want a BB-8 of my own, but the real show stopper was seeing Captain Phasma's chrome armor in person. Holy moly is it impressive.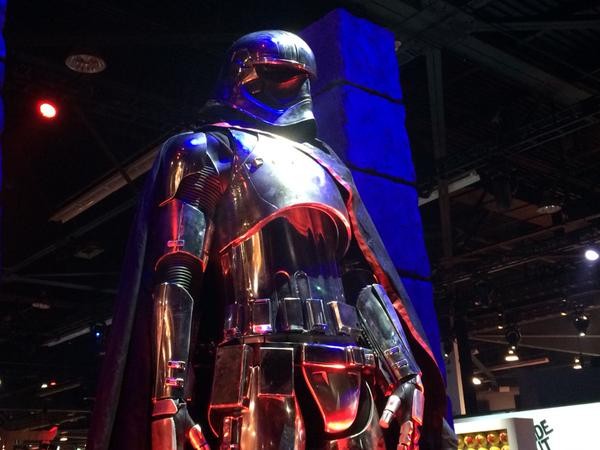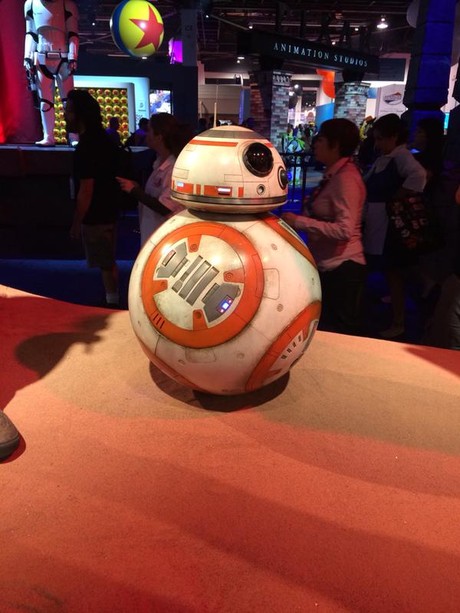 I was trying to get a picture of BB-8 when a little spec flew in front of my lens. I thought something funny was going on, so I told my iPhone to enhance over and over again until I saw this: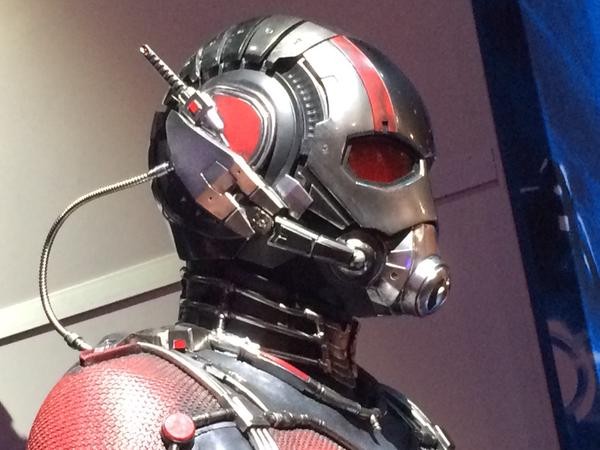 I fuckin' knew it! Paul Rudd just refuses to stop following me despite the numerous restraining orders. That dude, I swear!
I also passed by the Pixar booth and saw the Incredibles II poster everybody's been talking about. I know there's a Cars 3 poster next to it, but don't let that bum you out. Brad Bird's doing an Incredibles sequel! We need it now more than ever (sorry, Fantastic Four).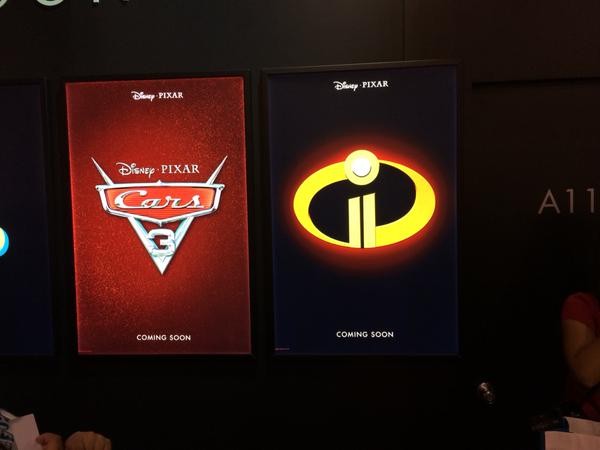 EA also had a Battlefield demo set up, but we'll get to that at the end of the article. Let's talk animation.
The panel started with a sizzle reel of live action stuff, strangely enough. Most of it was footage from stuff we've already seen and know about. Age of Ultron, Guardians, Star Wars trailer stuffs, but there were a few glimpses at new stuff that I suspect we'll see more of when tomorrow's 2+ hour live action panel gets underway.
BEAUTY AND THE BEAST
There was a quick glimpse of Emma Watson as Belle in Bill Condon's Beauty and the Beast. It was a simple couple of shots showing her wearing the yellow ball gown, descending an elaborate richy rich mansion staircase. The cinematography looked beautiful, but I'm sure Emma Watson being the focus of the frame helped that a bit.
PIRATES OF THE CARIBBEAN 5: DEAD MEN TELL NO TALES
Now I might show some ignorance with this one, so apologies. I can't hold on to any imagery from the last Pirates movie it was so dull, so you guys will have to tell me if the Pirates stuff I saw here was just from the last movie and slipped my mind.
It was a quick series of shots showing Johnny Depp drinking from a bottle, silhouetted in a circular doorframe. He says something "How about we rob a bank?" right before a bunch of Red Coats aim muskets at him.
THE JUNGLE BOOK
Jon Favreau's The Jungle Book had a single shot of young Neel Sethi as Mowgli raising a torch against the darkness around him and looking worried at something.
PETE'S DRAGON
The Disney remake train kept on trucking with a few bits from David Lowery's remake of Pete's Dragon, a film that holds a very special place in my heart. The original was the first movie I saw in a theater and was a childhood favorite.
We didn't see Elliott, but maybe they're saving that for tomorrow's big live action panel. There was a quick bit that showed Bryce Dallas Howard talking to Robert Redford about a little boy with an imaginary friend. We then saw Oakes Fegley as Pete, who was covered in dirt and roaring at the camera in full on wild child mode.
Disney's Alan Horn took the stage and mentioned Frozen II being in the works. "Not much of a spoiler alert, more like d'uh!" before turning the floor over to John Lasseter who was rocking an Inside Out Hawaiian shirt. You know, typical Lasseter gear.
He decided to share the love and tossed a few out into the crowd. Unfortunately this hall seated 7500 people and his arm wasn't good enough to reach past the first section... so he brought out a t-shirt cannon. This was probably the only time Hawaiian shirts have been fired from such a wonderful device, but the crowd went apeshit for it.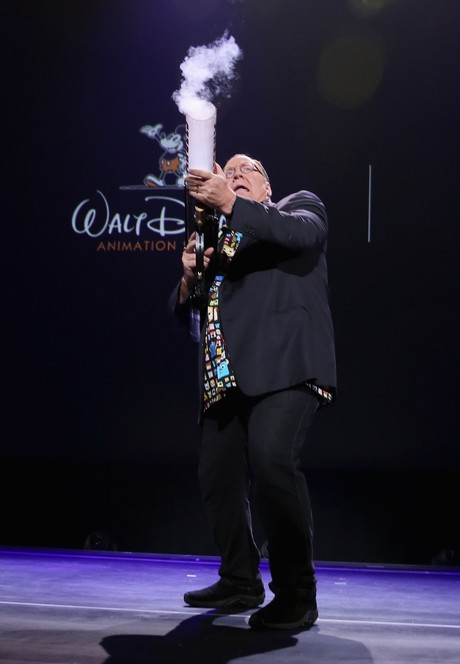 The opened up the panel proper with a nice little speech from Lasseter about his adoration of Walt Disney and the films he ushered in. He still tells his animators "Walt Disney's name is going to be on this film, so aim high" on every new project, including the project that was first up at bat.
ZOOTOPIA
This is the next Walt Disney Animation film to see theaters, coming out March 4th, 2016. Directed by Rich Moore (Wreck-It Ralph) and Byron Howard (Bolt) this one falls under Lasseter's favorite subset of Disney animated movies: animals walking around in human clothes and talking.
The idea behind Zootopia is that it's a society built by animals that evolve to be kinda like humans, but still retain the quirks of their species. The city that serves as the basis of the story isn't just like New York or Chicago, but like what that weird middle ground be humans and animals would create.
The city has different sections, like Sahara Square (built like Dubai... hot, but very rich), Tundra Town (snowy area for those animals that like cold... they joked that they had to include it because there was a mandate from Disney that they had to recycle the snow from Frozen), Rain Forest District and Bunny Burrows (cute little houses marked by a sign that had a Population count constantly ticking up and up and up).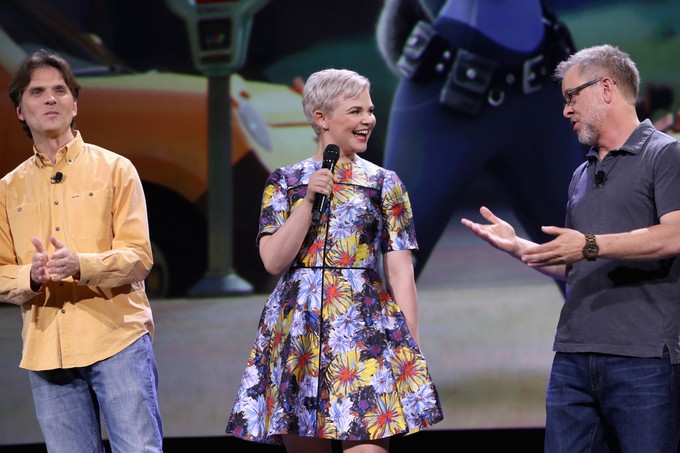 The main character is Judy Hopps, voiced by Ginnifer Goodwin, an enthusiastic bunny rabbit who desperately wants to be a police officer. The problem is in this world only the biggest, strongest animals get to be officers, so she's stuck with being a meter maid. Never one to let an opportunity pass she over-excels at the task, her bunny ears perking up and hearing every meter as it clicks over to overdue.
She ends up finding herself on a missing mammal case and she has 48 hours to solve it. The problem is she needs the help of a con-man fox (con-fox?) named Nick Wilde, voiced by Jason Bateman.
There was quite a bit of finished footage shown for this movie, but the big reveal was that there's a Gazelle character that will be voiced by Shakira, who will also contribute a song to the film that sounds like it's called Try Everything. Shakira recorded a video to say hi and play us a bit of her music.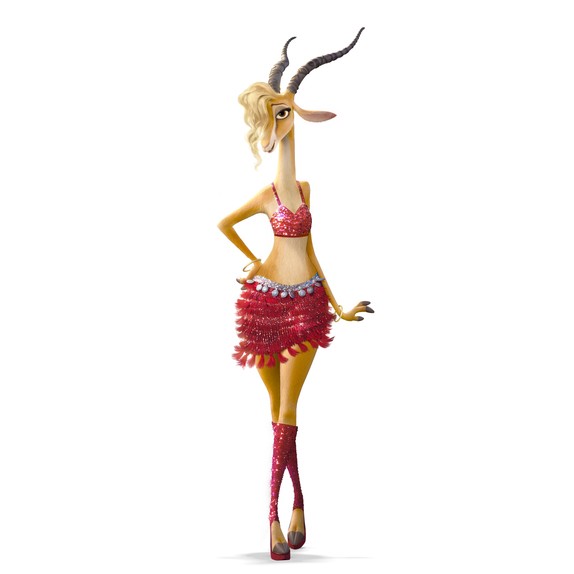 The footage was pretty good. One bit showed the fox pulling off a scam to get a free jumbo pop from an Elephant Ice Cream shop by using a cute kid fox to garner sympathy when don't you just know it, he left his wallet at home. The audience aw'd a lot during this scene as the little fox kid pretended he was afflicted with a disorder that made him believe he was a baby elephant.
The best scene was one from later on in the movie where Hopps and Wilde go to the DMV to ru license plate. Which animal works exclusively at the DMV? Sloths, of course. They all move like they're underwater, talk suuuuuuu...pppppeeeerrrr slllllloooooowwww and really get on the time-pressed Hopps' nerves.
The audience loved this bit, which ended just before it was about to get old. The main Sloth (whose name was Flash, by the way) is told a joke and his reaction to it is one of the funniest things I saw today.
GIGANTIC
Lasseter retook the stage to introduce the filmmakers behind a project called Gigantic. This was the debut of the announcement and he started it off by saying that if Disney attempts to adapt a classic fairy tale, if they do it right, it ends up being the definitive version. Images of The Little Mermaid and Pinocchio and Peter Pan appeared behind him.
He thinks Gigantic could be the definitive Jack and the Beanstalk tale. Directed by Tangled's Nathan Greno this retelling takes place in Spain at some point in the distant past and is about a grown man Jack (not a boy) whose magic beans make a beanstalk that takes him up to the world of giants.
It's not just a single castle, but literally a whole world. Different villages, topography, etc. While there he meets a 60 foot tall 11 year old girl named (I think) Eenma who thinks it's great to have a living toy.
We got to hear a song made for the movie by Frozen's Kristen Anderson-Lopez and Robert Lopez called My Little Man, in which this hyperactive girl goes nuts playing around with her new "toy."
Ultimately these two team up to save both the giant world and the human world below from a gang of mean old Storm Giants.
It was still early going on this one, but the footage was definitely charming.
MOANA
This was probably my favorite presentation of the day. Moana is the Disney film that is based on Polynesian mythology directed by Aladdin and The Little Mermaid's Ron Clements and John Musker.
I've been curious about this one since I heard about Taika Waititi's involvement. I love Lilo & Stitch and thought it was odd that Disney would make another animated film dipping back into that culture so quickly, but the difference quickly became apparent. This one is set 2000 years ago and is way more mythic.
Apparently 3000 years ago the ocean voyaging cultures suddenly stopped exploring for some reason. A thousand years later they started up again, again for no real reason. The filmmakers decided to create a reason for these tribes to continue searching and it has to do with this film's heroine.
Her name is Moana, which means Ocean. Yes, she's a princess and rebels against her father, Chief Tui, who doesn't believe they should venture past their island. Her grandmother fans the flame of interest in exploration in this 16 year old princess.
A key figure in this film will be the demi-god Maui who was known to use a giant fish hook to create island by literally fishing them out of the deep. The directors said they needed someone strong to voice him. "Go on," a voice said through the speaker. "We needed to find someone charismatic." "Yes." "Someone handsome..." "Got that covered."
Some people started recognizing the voice and began cheering even before they announced that Dwayne Johnson would be voicing Maui.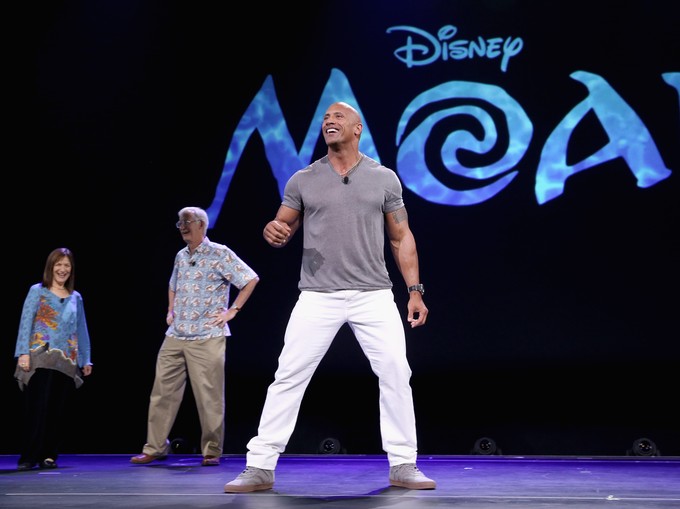 I love seeing The Rock play a room. That dude could build a vast fortune selling time shares. His charisma is so off the charts that every time I've seen him talk at an event like D23 or Comic-Con I'm astounded by how quickly he has the audience eating out of his hands.
He seemed very humbled to be a part of an animated Disney movie, calling it one of his big goals when he entered into the entertainment business. He was also happy to join up with a film that honored his Samoan heritage.
They showed us a clip of Maui trying to impress Moana by telling her his story... via his tattoos, which are animated on his body. She didn't look all that impressed, but the sequence was killer.
We're told that Moana's grandmother, the only person in the tribe who understands her, passes away and we see a piece of production art of a sad Moana at her grandmother's deathbed. The audience was a little taken aback and the directors quickly said, "I'm sorry, but it IS a disney movie..."
To cheer us up they showed us art of Pua, Moana's pet baby pig, and Hei Hei, the crabby rooster who stows away with the princess and her pet pig as she defies her father and goes out in search of what's out there. She ends up teaming up with Maui and fights oceanic monsters (one piece of art showed the form of a giant crab like monster towering out of the ocean) and even a vengeful land spirit.
Now this one looked really cool. The art for it was a wicked witch style woman figure made out of earth and lava, her hair red rivulets of molten ore. They showed an animation test on this creature and it looked a little more kid-friendly then the haggard old witch form. She looked younger and less all out evil, more confused and distrusting. I can't say if that's how the final creature will look, but the CG was very impressive even at this early stage.
They wrapped up talking about one more character, the Pacific Ocean itself. A piece of art showing the main character at the water's edge, an Abyss-like tendril of water reaching out for her foot, appeared on the screen. They said in their research they were blown away by the relationship Polynesian cultures have with the ocean, which they view as a living, conscious thing, and how they realized they had to incorporate that into the story.
They left off with a scene of one and a half year old Moana meeting her new friend for the first time. It's almost completely dialogue free as the little girl plays on the sand. A beautiful sea shell washes up and catches her eye. The waves are regular, going in and coming back. It looks like it takes the shell back, but only delivers it closer on the next wave.
The girl cautiously approaches. The next wave bends around the shell, allowing her to pick it up. The water recedes and comes back, delivering her another shell. Once again the water bends around it, allowing her to go deeper and deeper into the water until, like Moses, the sea's parted around her. You can see fish and turtles swimming by as she picks up more shells.
A water tendril starts playing with her hair, making it into crazy shapes as she laughs along. Someone calls for the girl and the water gently cascades down, washing her up to shore. She dropped the shells, though. Before she can get too sad about it, a wave pushes up the prettiest of the shells. She waves a hand at the water and a flap of water waves back.
It was ridiculously cute and it reminded a whole lot of the kind of quiet relationship building that dominated the first half of Wall-E.
I loved everything about this footage. It had elements of lesser Disney/Pixar outings like Hercules and Brave, but in just the right measurements and juxtaposed against some of the best attributes those guys can display.
That was it for the Walt Disney Animation stuff. It was time to move on to Pixar.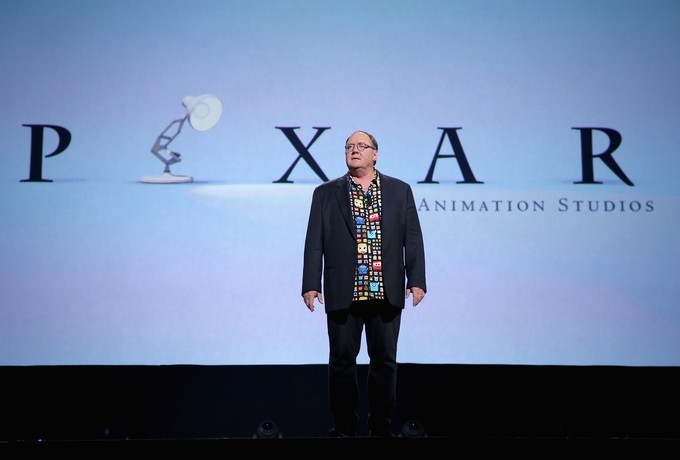 They started by showing us the entirety of a new Pixar short that takes place in the immediate aftermath of the events of Inside Out. It's called "Riley's First Date?" That question mark is part of the title, by the way. It's a really short short about the boy we see from her hockey game at the end of the movie coming over and her parents freaking out.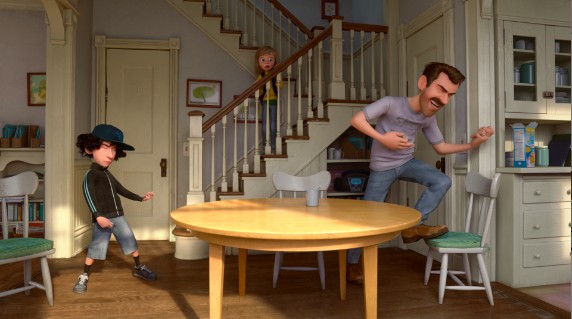 Riley actually barely features in it. It's more about the parents' emotions trying to figure out if this is a date and how this kid measures up.
Like all of Pixar's shorts this one was immediately disarming and funny as hell. Directed by a guy named Josh Cooley, who will come back into play very shortly.
THE GOOD DINOSAUR
What became immediately apparent about this film was that director Pete Sohn (who directed the short Partly Cloudy) wanted to push the envelope on how the environments were rendered in Pixar's work. The main characters, a young dinosaur named Arlo and his feral child human friend Spot, are very cartoony, but their world is not.
In fact I'd go so far as to say their environment is damn close to photo real. The stuff they showed off was amazingly detailed.
So, Spot is a human child who walks on all fours and is pretty much an animal. Sohn said this was a boy and his dog story, but the weird thing is the boy is the dog in this one.
Arlo was the small kid in his family and as such stuck with his father for protection and reassurance. He was very close to his dad, so naturally his dad has to die. Thanks again, Disney formula.
This happens early on in the story and we saw a brief scene of Arlo falling into a river and being swept away from his remaining family, calling out desperately for his mother. It's a quite brutal scene, actually. The young dinosaur is obviously terrified and is battered against rocks in the river.
The second scene they showed made me cry. Legitimately. It's a bonding scene between Arlo and Spot as Arlo tries to communicate with this little monster of a boy. The dino sets up some sticks that represent his family. He names them as he pushes them into the sandy earth and hesitates before grabbing the largest stick and saying "dad."
The boy looks on like a confused dog. Arlo is resigned that this creature won't ever understand him, but the boy grabs a few sticks and makes two adults and one little guy. He draws a circle in the dirt around it, just like Arlo did.
The happiness on Arlo's face falls as Spot gently pushes over the two adult sticks and sadly covers them with dirt. After a moment's thought, Arlo does the same with the stick that represents his dad. He uses his snout to push dirt over it and lays his neck over the mound, tears falling. Spot cuddles up next to him and the scene faded to black and my damn allergies I guess had acted up or something.
The final scene wasn't trying to rip our damned hearts out and introduced us to a family of T-Rexes, voiced by Sam Elliott, Anna Paquin and AJ Buckley. They're on the search for their longhorns and think Spot can help sniff them out.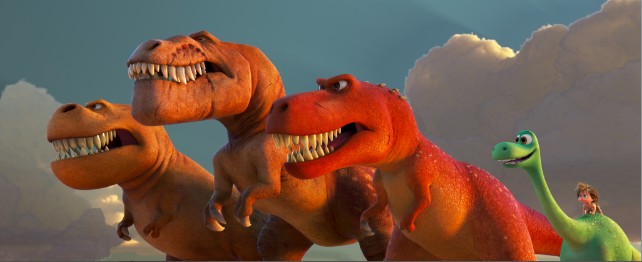 This scene is essentially a western, with Sam Elliott's voice perfectly gravely and threatening as they track their livestock only to find one dead and some kind of feather near the body. "Rustlers..." Elliott growls. They ultimately find the herd grazing in tall grass and the Rex forces the terrified Arlo to go into the middle of the herd and start yelling, wanting to use him as bait to draw the rustlers out.
Arlo doesn't want to, but also doesn't want to end up as lunch for these Rexes. He can't find his scream, though. He's too scared. So Spot helps him out by biting his leg. That does it. His yell attracts some unseen creatures amongst the cattle as they zig zag through the tall grass. The clip cut out just as these lines converged on on poor little Arlo.
I've been optimistic about this one, but I flat out loved the scenes I saw today. Really hoping for another one knocked out of the park by Pixar this year. The film releases this Thanksgiving, marking the first time in Pixar's history that they released two films in one year.
FINDING DORY
Directed again by Andrew Stanton (this time joined by Pixar vet and Toy Story of Terror director Angus MacLane) Finding Dory is exactly what it sounds like. Dory's on the hunt for her parents, the memory of whom comes to her in a flash when she's caught in an undertow and knocked out cold.
She's always had a problem with her memory if you remember, but something was knocked loose. We were shown a scene of Dory sleep swimming, muttering something about "The Jewel of Monterrey." Nemo and Marlin keep her safe until she wakes up and Nemo repeats that Jewel of Monterrey bit to her and she becomes obsessed with exploring the small figment of memory she has of her parents.
Her parents will be voiced by Diane Keaton (playing Jenny) and Eugene Levy (Charlie), but we didn't get a look (or listen) at them today. We did however meet Hank the Octopus. Ellen DeGeneres had joined the stage at this point and corrected Stanton saying Hank was actually a septopus because he was missing one arm.
Grumpy Hank will be voiced by Ed O'Neill.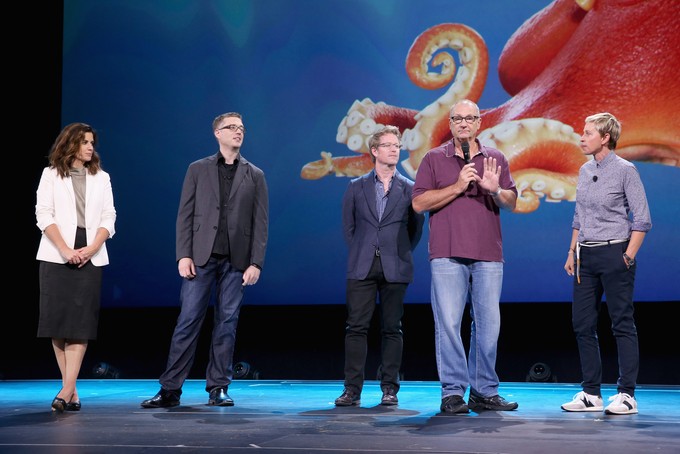 That scene above was shown to us. Dory makes it Monterrey to find that it's some sort of clinic for sick fish. She's tagged in her tank and that draws the attention of Hank, who is slinking around while the humans are gone like he's a cat burglar. Thankfully Octopuses (Octopi?) can camouflage themselves so he slinks along the wall and stops, turning into the exact tile pattern.
He wants that tag and Dory just wants to find her parents. She's still goofy Dory, though. Still dealing with not having a short term memory, so the negotiations for the tag end up really frustrating for Hank.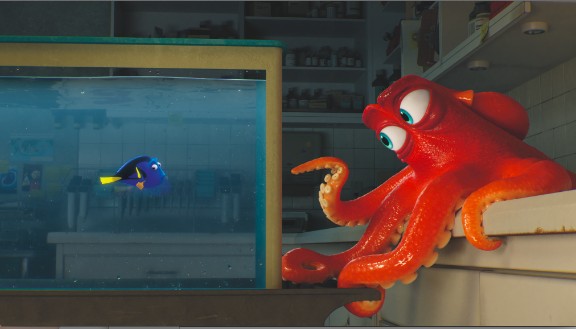 Another new character is Bailey, a Beluga Whale who is at the institute because he thinks he has massive head trauma. He doesn't understand that's just what Beluga Whales look like. Ty Burrell will voice this character.
Another new character will be Destiny, a whale shark who is confused because she thinks she's a whale, but not a shark. Kaitlin Olson voices this one.
Stanton left us saying that ultimately the heart of this film is that the characters accept their weaknesses as strengths and become more complete because of them, not despite them.
COCO
This is the Dia de los Muertos film Pixar has been working on for a while. Toy Story 3's Lee Unkrich is helming this one.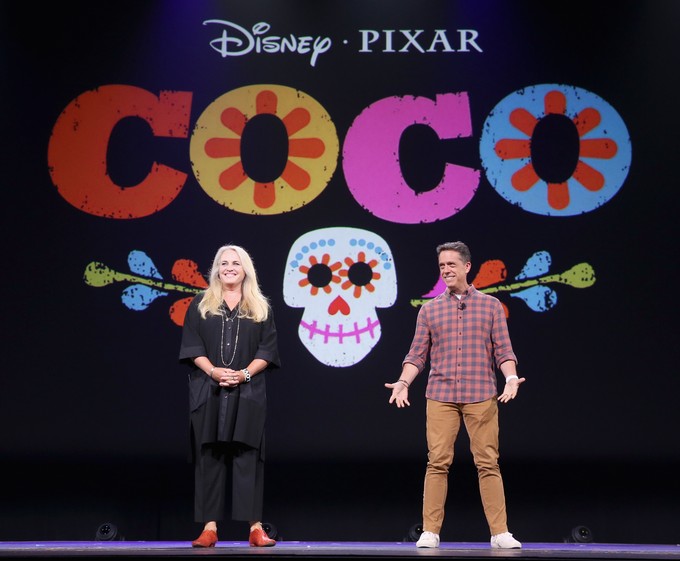 Unkrich came on stage to talk about how fascinated he was with the Dia de los Muertos celebration and how rewarding it has been to actually dip into the culture surrounding it, moving past the colorful decorations and paintings and into the cultural heart of the event.
The clip they showed started very sombre. A candle was lit next to the photo of a passed loved one as an older Mexican woman walks up to a tomb decorated with some low key decorations. The camera pushes past her and into the eye hole of a skull cut out of thin paper.
The mood changes instantly and suddenly we're in the land of the dead and it's a big old party. Skeleton men and women dance and play music, skeleton dogs jumping around playfully at their heels. They even showed skeleton kids beating a pinata, but it was all jubilant.
The long shot pushing through this brightly colored town of the dead (a stark contrast to the serious human world) ends on a band playing guitars. The little skeleton in the middle especially shreds it until his face pops off, revealing a human boy underneath. This is Miguel, the 12 year old lead of the story.
The other skeletons are shocked, all music stopped. One skeleton is so shocked his bottom jaw pops off. Miguel sheepishly retrieves it and replaces it. A moment of uncomfortable silence and then the party starts back up again.
Unkrich said the title of the movie is Coco, which is a character in the movie, but if we met Coco in this footage we weren't told who it was.
TOY STORY 4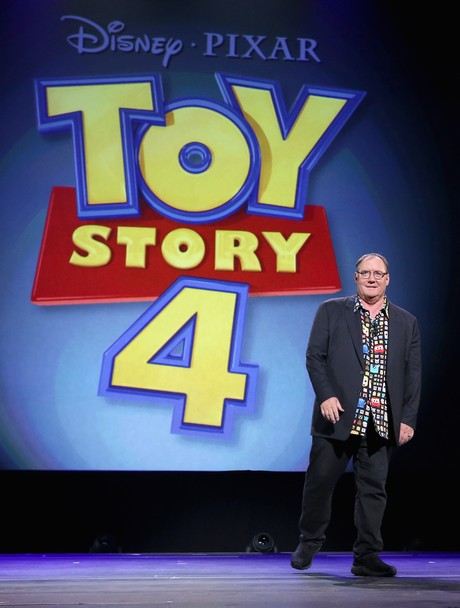 Lasseter returned one final time to introduce the director of Toy Story 4. Himself. He said that he adores running Disney animation, it's a dream job for him, but he couldn't resist the pull of the director's chair forever, so he's going back to helm the new film... with some help.
Remember Josh Cooley, the guy I mentioned above who directed the Inside Out short "Riley's First Date?" He's co-directing with Lasseter from a script by Rashida Jones and Will McCormack, based on a treatment by Andrew Stanton.
Lasseter said he thought they wrapped up the story pretty neatly with Part 3, which is his personal favorite Pixar movie, but Andrew hit upon an idea that really grabbed him and as they explored it (privately, apparently. He said they didn't tell anyone else at Pixar or at Disney in case they couldn't nail it) they decided it had to be told.
He described each Toy Story film as representing a different genre (clearly the last one was a prison break movie). This one is a love story between Woody and Bo Peep. She goes missing and Woody and Buzz have to go out into the world to find her.
Lasseter said Peep in this film was hugely inspired by his own wife, Nancy.
Before they wrapped up, Lasseter confirmed that Randy Newman would be coming back to score this film. Naturally that was his cue to come out and play You've Got A Friend In Me for the crowd.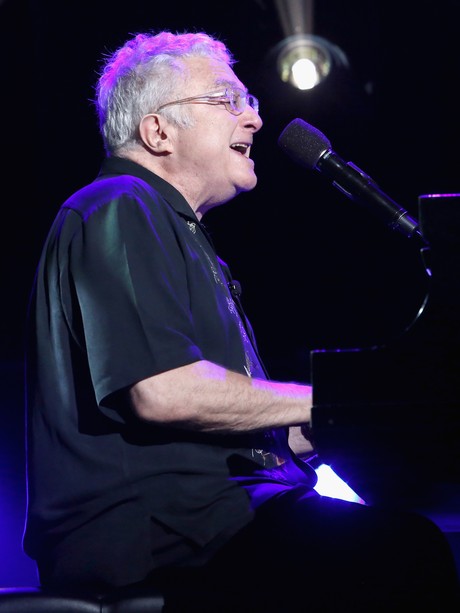 As he sang, costumed versions of the characters came out on stage and green army men repelled down from the rafter. I'm not kidding.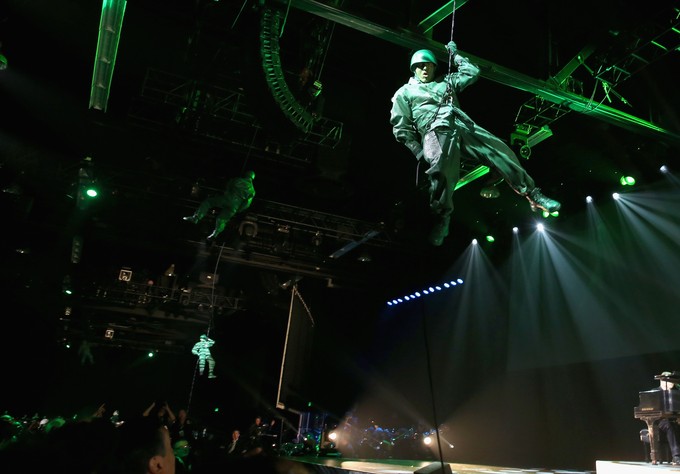 And that was it. No mention of Incredibles II, but they packed the rest to the brim. So much so that this damn report has turned into a mini-novella. I started this tired and now I'm just about ready to sleep forever.
Before I go I have to mention that I ended my day nabbing the last position in line to play through EA's upcoming Star Wars Battlefront. In this demo level you play Rebel Soldiers on Tatooine who have to defend escape pods from six waves of stormtroopers. There were plenty of regular troopers, some red ones that meant more heavily armored and more accurate with the blasters and even a pesky AT-ST.
The graphics were amazing, especially on the environment. It really did feel like a current Battlefield or Call of Duty game except you have a blaster instead of a semi-automatic rifle.
I enjoyed it greatly even though I sucked a nut while playing. I couldn't invert the controls without that forcing my split-screen partner to invert his, so I spent half the game time looking up in the sky or down at my feet because of my weird dependency on inverted controls.
I was kind of dreading the fact that this game comes out a week after Fallout 4 because I have a feeling I'll still be obsessed with wandering the wasteland, but I think it'll be a nice palate cleanser now. No deep RPG elements, just fun shoot 'em up combat.
Okay, time to hit the sack. Big day tomorrow. The Live Action panel promises looks at Jungle Book, Star Wars (my money's on something from Rogue One), Civil War, Marvel in general, Alice in Wonderland, The Jungle Book, Pirates 5 and hopefully some more from Beauty and the Beast and Pete's Dragon, plus whatever other awesome surprises are in the works.
I'll have the ability to live-tweet my reactions throughout, so make sure follow me on twitter for up to the moment coverage!
-Eric Vespe
"Quint"
quint@aintitcool.com
Follow Me On Twitter