Hey folks, Harry here... Our faithful crusty seaman, Quint is wandering around D23 like a sugar fueled child clinging to all the shiny awesome that is upon display - but he just snapped this: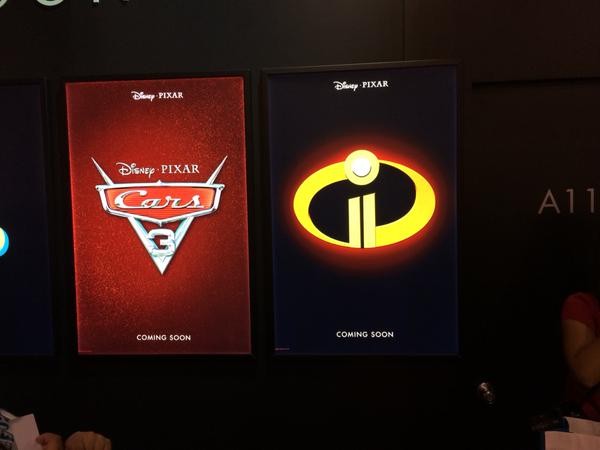 Yeah, I can hear the groan about yet another CARS film, but INCREDIBLES 2 - I've no doubt that Brad Bird has genius in his mind for this film. At least I hope he does. Every PIXAR fan I know has been dying for an INCREDIBLES 2 since the second the first film ended. For many, it's the great great FANTASTIC FOUR flick we've never seen - for others, it's what the FF can never be at Fox. However, my question is - how much further down the road from the events in the first film would it go? Is Jack Jack, Dash & Violet all older? How would that change them? Is it the whole family having to control or even defeat baby JACK JACK?!!? I just want Jack Kirby-esque giant monsters for them to fight. And crazy machinery and a whole lot of Edna Mode.
What's your dream for INCREDIBLES 2? Or for CARS 3 for that matter?
Keep it cool,
Harry