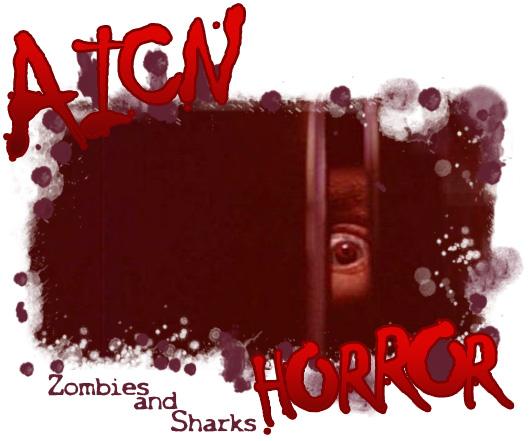 Logo by Kristian Horn
What the &#$% is ZOMBIES & SHARKS?
---
Greetings, all. Ambush Bug here with another AICN HORROR: ZOMBIES & SHARKS column. This week we have another gaggle of ghoulish films of varying levels of quality. Ahead dwells vengeful bikers, killer caterpillars, curses, Mermen, ghosts, perverted landlords, transgender swordsmen, techno-horrors, and worst of all, Nick Nolte!
Only the brave should scroll down to the horror reviews!
Today on AICN HORROR

(Click title to go directly to the feature)
The Boo Tube: METAL HURLANT Season 2, Episodes 1-6 (2014)
Retro-review: THE MONSTER THAT CHALLENGED THE WORLD (1957)
Retro-review: WAR-GODS OF THE DEEP (1965)
Retro-review: WITCHERY (1988)
Retro-review: THE PEOPLE UNDER THE STAIRS (1991)
HOMICYCLE (2014)
THE GHOST CLUB: SPIRITS NEVER DIE (2013)
DARK AWAKENING (2014)
I-LIVED (2015)
DER SAMURAI (2014)
RETURN TO SENDER (2015)
UNFRIENDED (2014)
And finally…CBS Mystery Theater's "The Follower"!
---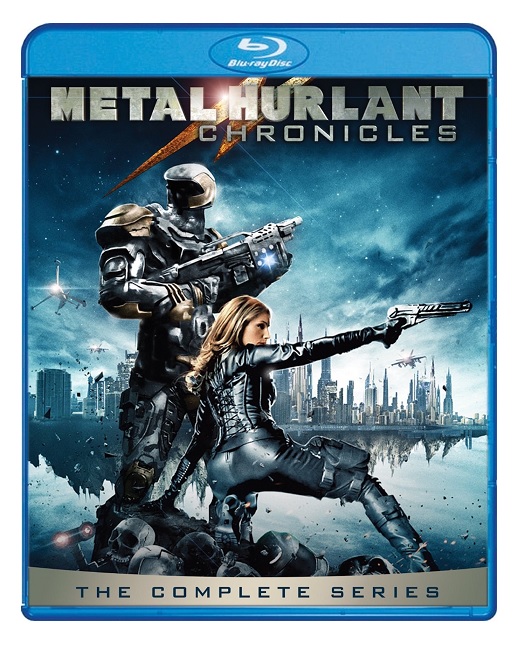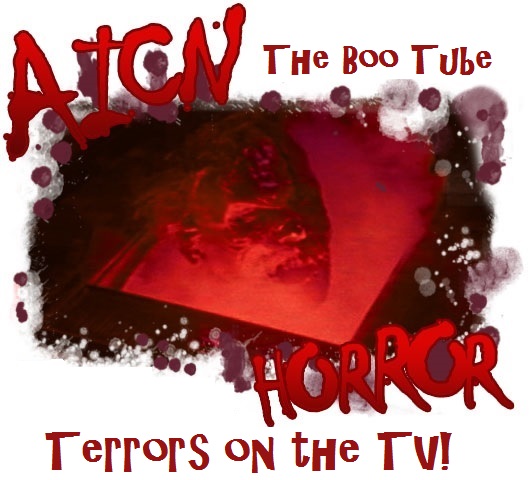 Available on BluRay from The Shout Factory!
METAL HURLANT CHRONICLES Season Two, Episodes 1-6 (2014)
aka HEAVY METAL
Reviewed by Ambush Bug
I reviewed the first season of SyFy's modern adaptation of HEAVY METAL MAGAZINE a while back, and with the series becoming available in the UK (
for more info on the UK release, click here
), I figured it's a good time to review the second and final season of the series this week.
Check out my review of the first season here
. As I stated in my previous review, I was surprised at both the production value and the solid storytelling used in the first season. Will that continue into the second? On with season two to find out…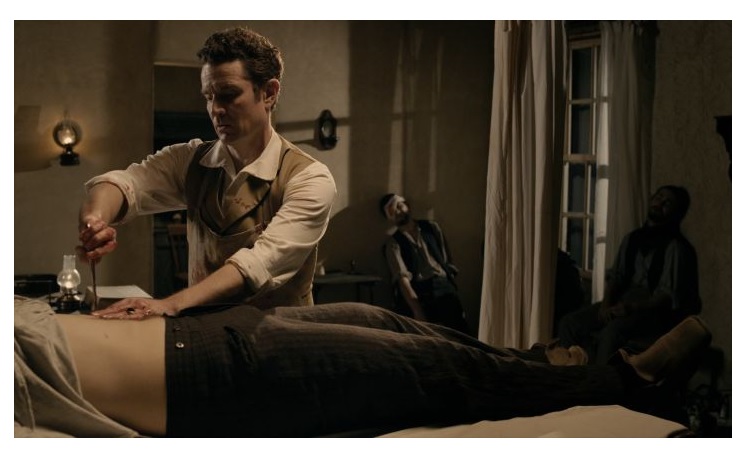 Episode 1 – "Whiskey"
Directed by Guillaume Lubrano
Written by Jim Alexander
Starring Michael Biehn, Dan Cade, James Marsters, Florin Stancu
This is a well paced episode with too little Michael Biehn in my opinion. Biehn plays a grizzled sheriff of a Western town recanting a tale about an Old Timey surgeon (James Marsters) who gains the power to heal all wounds when a freak meteor lands near town. This one plays out like a classic EC horror comic with a pitch perfect and wicked little ending. Still, why have Michael Biehn in the episode if he's just going to be whispering a story to an outlaw? I'd love to have seen more of him inflicting some interstellar justice, but still a decent episode.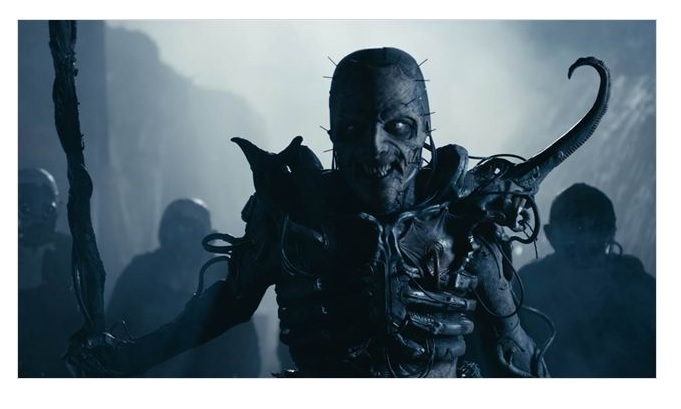 Episode 2 – "The Endomorphe"
Directed by Guillaume Lubrano
Written by Stéphane Levallois
Starring Michelle Lee, Silvio Simac, Michael Jai White, Darren Shahlavi, Fabien Houssaye
This one is an expansive episode with a simple twist ending that really highlights the strength of both the production values of this series and the strength in the HEAVY METAL material it was mined from. The costuming and special effects really are great as a revolt is staged by robot slaves with humans fighting against their extinction against insurmountable odds. Yes, it's TERMINATOR, but the cool designs of the monstrous machines make it feel like these creatures have been born from Clive Barker's head rather than Cameron's. This is a really good looking episode with scary monsters and a fun twist.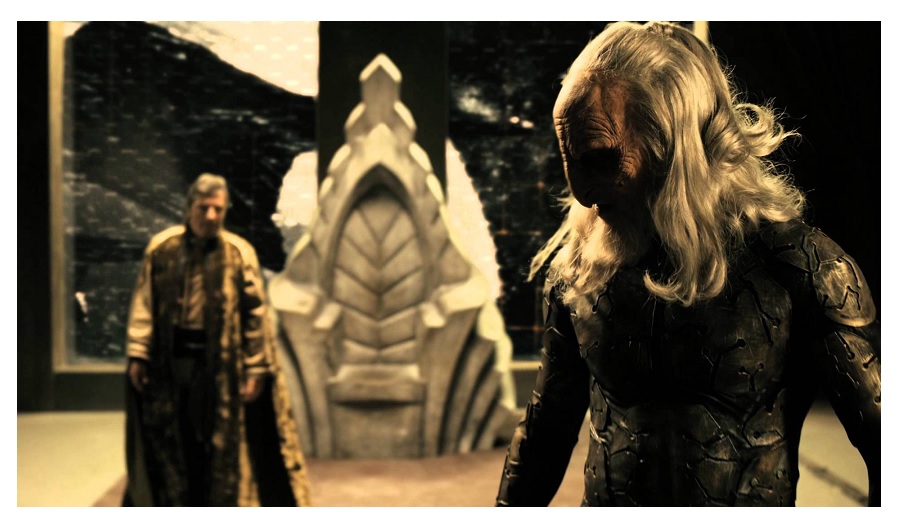 Episode 3 – "Loyal Khondor"
Directed by Guillaume Lubrano
Written by Alejandro Jodorowsky (comic book), Guillaume Lubrano
Starring Karl E. Landler, Marem Hassler, John Rhys-Davies, Scott Adkins, Marc Duret, Kamel Laadaili
Another good episode as the life of a queen is at stake and her loyal alien guard (Karl E. Lander) fights his way through a gauntlet of mercs, guards, and monsters in order to find a remedy for a poison the queen has injested. Again, the TWILIGHT ZONE twist comes late in the game here with a cameo by John Rhys-Davies, but this is high octane actioning, sci-fi-ing, martial arting of good caliber on display here. Some great alien designs and nice fight choreography are to be experienced in this cool episode.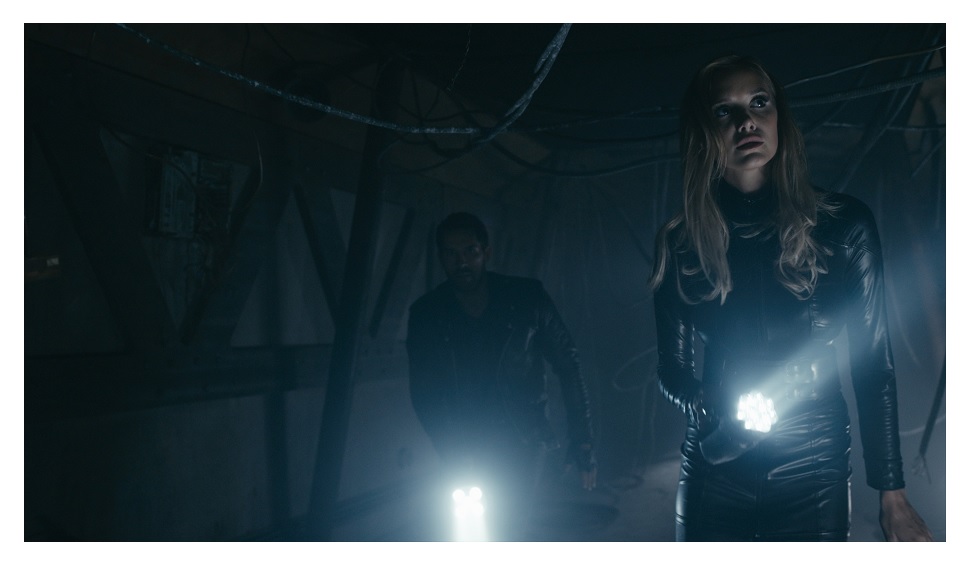 Episode 4 – "Second Chance"
Directed by Guillaume Lubrano
Written by Guillaume Lubrano, James MacDonald (comic book)
Starring Scott Adkins, Lygie Duvivier, Kamel Laadaili, Karl E. Landler
Well, not all of these episodes are going to be good ones and this is the one that proves my point. A Han Solo type without Harrison Ford's charisma (Scott Adkins) makes a deal with a crusty intergalactic loan shark to pay back his debt and teams up with another bounty hunter to do it. Things get twisted and it's fun to see this episode tie into other episodes that have been going on in this series as it shares a scene with "Loyal Khondor" in a fun SIN CITY way. But for the most part Adkins just doesn't have what it takes to be the charming Solo type here and it hurts the overall episode. The ending is rather weird and kind of lame as it feels just a bit too far reaching for the small scope of the episode.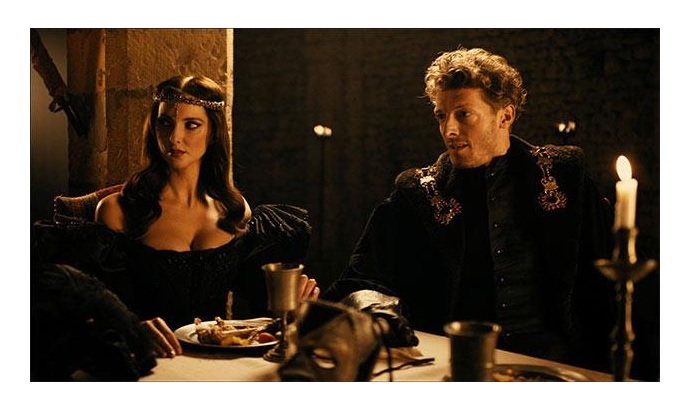 Episode 5 – "Second Son"
Directed by Guillaume Lubrano
Written by Fred Beltran (graphic novel illustrator), Brian Robertson (comic book)
Starring Frédérique Bel, Karl E. Landler, Guillaume Dolmans, Patrick Rocca, Dominique Pinon
Double and triple crosses are the flavor of this episode as sibling rivalry gets deadly once an alluring temptress is involved. Lots of sex and violence in this episode makes it all the more fun and some of the world-building designs which interconnect the episodes of this season make this feel like a small story in a much broader tapestry. While the acting is pretty stiff, I attribute this to the fact that most of the cast is French attempting to do English accents. Still, an immortal curse, an invading robot army, and some Medieval sword fighting makes this one a fun mash-up of an episode.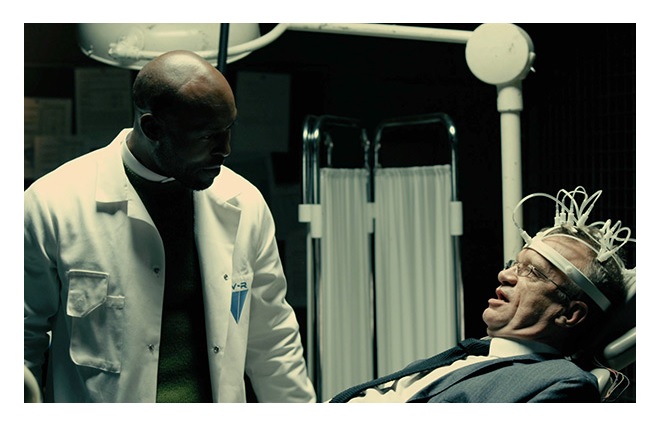 Episode 6 – "Back to Reality"
Directed by Guillaume Lubrano
Written by Marem Hassler (translation), Karl E. Landler(translation)
Starring Dominique Pinon, Jimmy Jean-Louis, Lygie Duvivier, Guy Amram, Grégory Basso
Wrapping up the season is an episode not unlike TOTAL RECALL, as Dominique Pinon plays a bored office clerk who pays a dream merchant to hook him up to a machine that gives him a more exciting life to experience. What makes this fun is that the worlds Pinon visits take place within the stories we have seen play out in previous episodes in this season, so it ties everything together into one fun package. I have to give it to this episode for finding a clever way to do that. It's also fun because layers of reality are flipped and flopped numerous times so we don't know who is the rat in the cage and who is the scientist throughout. Just when you think you know what's going on, TWIST! It made for a fun way to finish off this inventive and resourceful series which made do with what it had in terms of scrappy practical effects and sometimes problematic stabs at acting. Still this entire METAL HURLANT series collected in this BluRay edition hit the mark more than it missed and is one of the more successful ScyFy productions I've seen in quite a while. Don't expect TWILIGHT ZONE level of intellect and thrills, but this is one sci-fi series worth seeking out for those who want their science fiction in short bursts.
---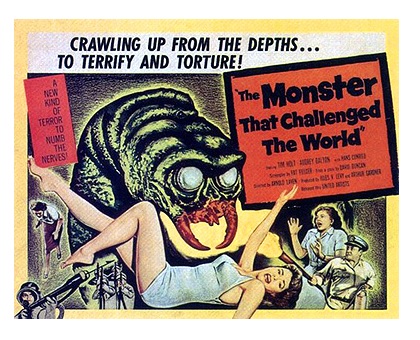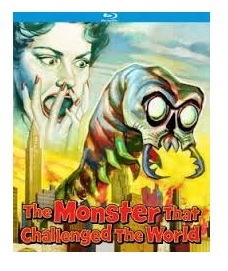 Retro-review: New this week on BluRay from Kino Lorber!
THE MONSTER THAT CHALLENGED THE WORLD (1957)
Directed by Arnold Laven
Written by David Duncan (story), Pat Fielder (screenplay)
Starring Tim Holt, Audrey Dalton, Hans Conried, Barbara Darrow, Max Showalter, Harlan Warde, Gordon Jones, Mimi Gibson, Marjorie Stapp, Jody McCrea, Wallace Earl Laven
Retro-reviewed by Ambush Bug
A surprisingly dark undertone permeates an otherwise goofy monster movie and gives THE MONSTER THAT CHALLENGED THE WORLD a little more bite than I had previously remembered.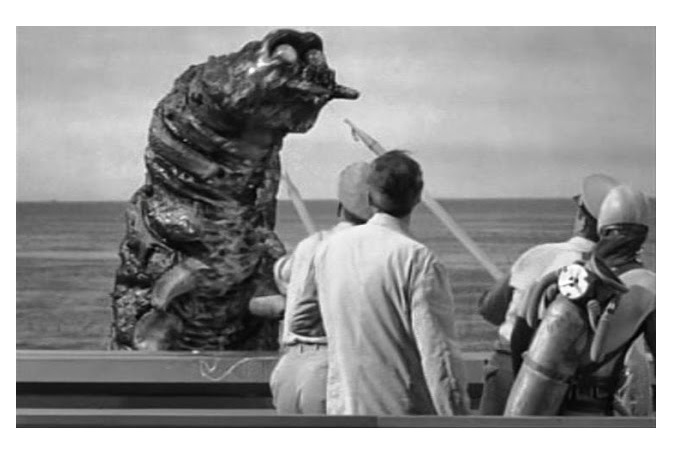 When an earthquake hits the Salton Sea, it awakens a giant snail creature that likes to devour humans and move really slowly while doing it. Despite numerous missions to destroy the beast, the giant caterpillar-slug creatures just keep on popping up and killing people.
This is a damn goofy film. The monster is a giant puppet and isn't the behemoth size of Godzilla (it's more like the size of a horse), but it still manages to get its mandibles around divers and sunbathers who dare frolic near the beach. While the look of the monster is pretty terrifying with cold circular eyes and all sorts of weird pinchers spewing what looks to be sperm all over its victims, the articulation of the creature is what takes the terror right out of it. Seeing the awkward puppet slowly moving about just isn't scary, so while stills of this film may make it feel terrifying, it really isn't. That said, I never noticed the little snail shell that the creature has attached to its behind. It makes sense and does tie it back to the mollusk family, but it still looks more like a giant caterpillar more than anything else.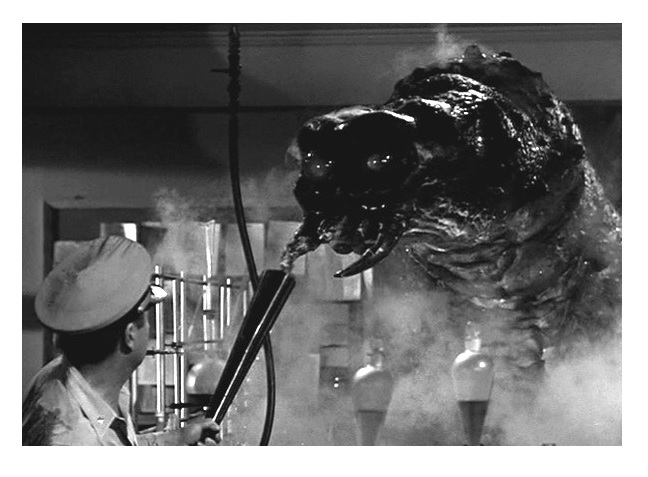 What it lacks in mobility, the creature makes up for it in this film with a pretty pitch black tone. People are murdered left and right here; some by being torn apart by the monster, others by being petrified by fright at seeing the monster. Either way, the monster has a pretty high body count here, devouring characters I did not think would actually die. One of the more gruesome deaths involves the finding of a diver who looks absolutely terrifying as the corpse bobs to the surface. I have to give it to this scene. It got me. Women, children, dogs. None of them are safe. Given the time this film was made, it really does surprise me that they got away with some of the kills that occur here and makes for a film that is much more dangerous than it would seem.
So while the film's monster is not the most pants-shittingly terrifying, the danger this giant beastie packs is pretty potent. Maybe the reason why the creature is so successful in murderizing folks is that it looks goofy and moves like it would take forever for the creature to actually get to you in order to hurt you. Whatever it is, the dark undertones that were lost to me as a kid were front and center this time around in seeing THE MONSTER THAT CHALLENGED THE WORLD and I'm glad Kino Lorber enabled me to experience that through this Bluray rerelease.
---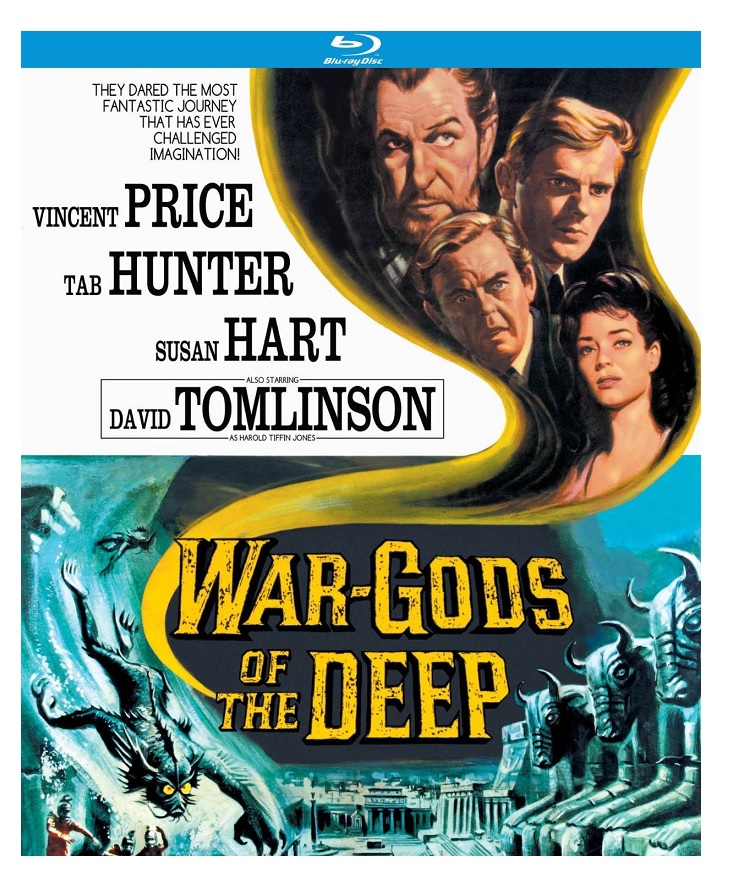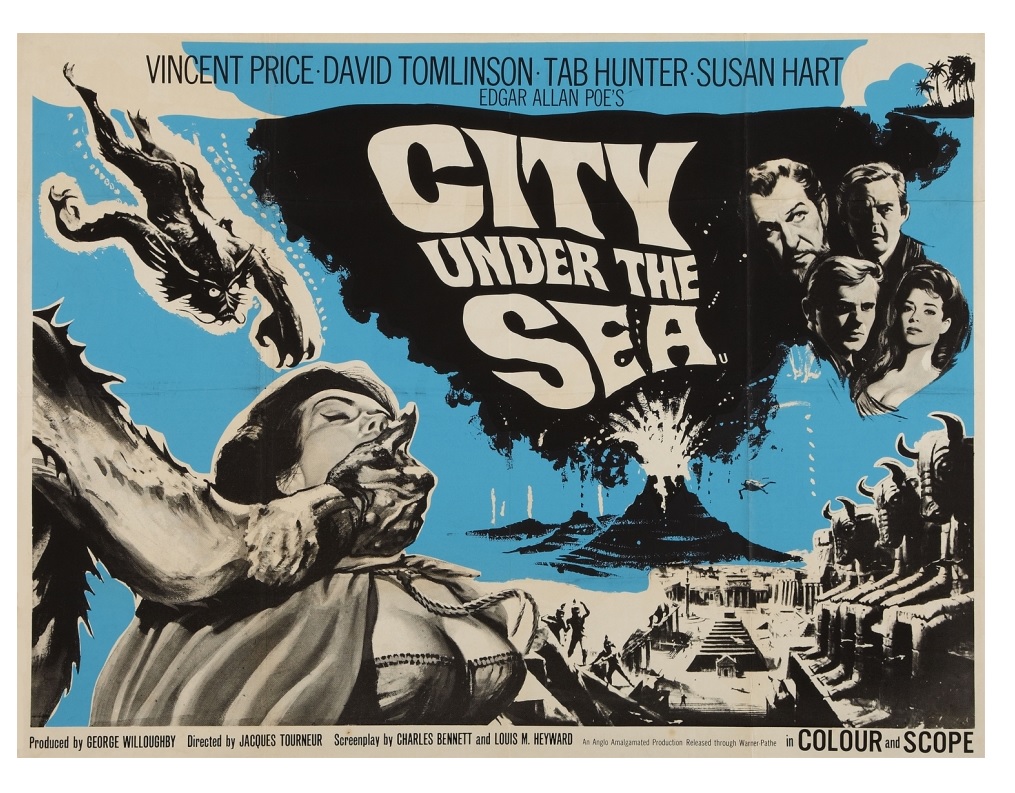 Retro-review: New this week on BluRay from Kino Lorber!
WAR-GODS OF THE DEEP (1965)
aka CITY IN THE SEA, CITY UNDER THE SEA
Directed by Jacques Tourneur
Written by Charles Bennett, David Whitaker, & Louis M. Heyward(screenplay), (based on the poem by Edgar Allan Poe)
Starring Vincent Price, Tab Hunter, David Tomlinson, Susan Hart, John Le Mesurier, Henry Oscar, Derek Newark, Roy Patrick, & Herbert the Rooster!
Retro-reviewed by Ambush Bug
Edgar Allan Poe by way of Jules Verne is the best way to describe this adaptation off the Poe poem CITY UNDER THE SEA.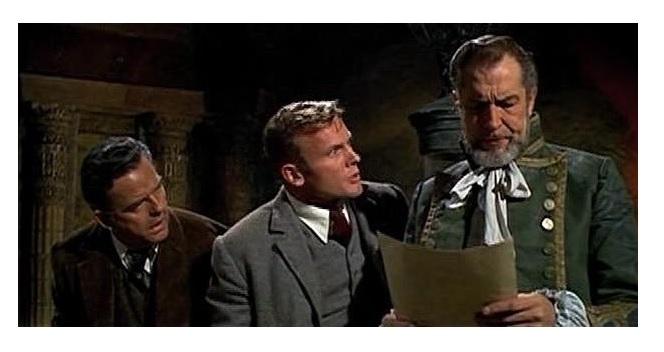 I wouldn't say this is one of the stronger Poe adaptations. In fact, this feels like it is scraping the bottom of the barrel in terms of lacing what this film turned out to be with a Poe poem. Incorporating elements from 1,000 LEAGUES UNDER THE SEA,
THE LAND THAT TIME FORGOT
, and
AT THE EARTH'S CORE
, JOURNEY TO THE CENTER OF THE EARTH with mystical elements from TV's LAND OF THE LOST, WAR-GODS OF THE DEEP turned out to be a rather fun jaunt, though it really doesn't seem to be well realized and relies on a lot of plot points from more successful underwater adventure yarns in order to be effective.
If you've seen those old Jules Verne adaptations, you're bound to get a kick out of this one as much of the marvel and mystery captured in visiting a completely foreign world is captured here as two unlikely investigators (a heroic Tab Hunter and comic relief David Tomlinson) falls through a rift in space and time and wind up in an underground city teetering on destruction as it borders an underwater volcano that is threatening to erupt. Once through the portal, they run into a lost smuggler named Sir Hugh (Vincent Price) and a group of men who have given up the ghost and are preparing to meet their inevitable end. The action isn't the most high octane, and neither are the effects anything to scream about. All in all, this feels like a film built in and around the sets of other films and made to loosely fit a poem Edgar Allan Poe wrote.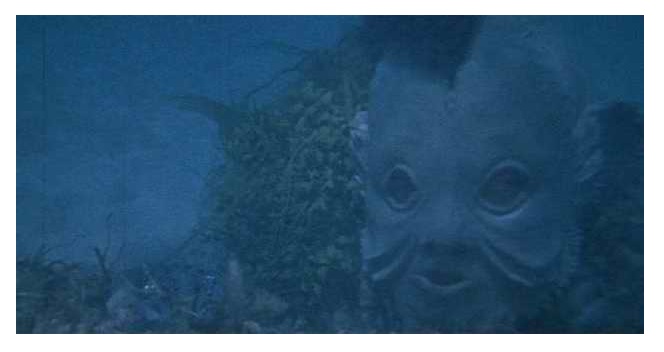 There are a lot of simply weird factors in this one though. For no real reason, David Tomlinson carries around a chicken in a basket. Sure it makes for a light tone in this tale of a city on the verge of destruction, but the comedy often just rings weird and becomes more annoying than anything else as it feels more of a distraction than anything that adds to the film. Add that to the goofy looking and cheap costumed mermen that are often cut to while Price is soliloquizing and it makes for a seemingly unintentional off-kilter movie.
Price offers up his usual professional performance making the inferior script read like Shakespeare and treats his character with a dignity it almost doesn't deserve. Still, if you're a Price fan, you're going to want to soak in this as you will all of Price's performances. But while the collaboration of Matthew Reeves and Price made for cinematic gold being loosely based on Poe's THE CONQUEROR WORM poem, Jacques Tournier and Price didn't really do the trick by adapting CITY UNDER THE SEA into this film.
---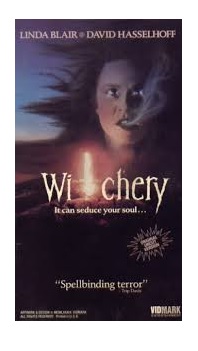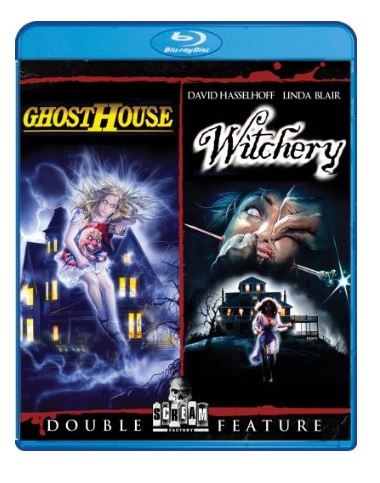 Retro-review: New on a double feature Bluray from The Shout Factory!
WITCHERY (1988)
aka GHOSTHOUSE 2, THE HAUNTED HOUSE, WITCHCRAFT, EVIL ENCOUNTERS, WITCHCRAFT: RETURN OF THE EXORCIST
Directed by Fabrizio Laurenti (as Martin Newlin)
Written by Harry Spalding, Daniele Stroppa
Starring David Hasselhoff, Linda Blair, Catherine Hickland, Annie Ross, Hildegard Knef, Leslie Cumming, Robert Champagne, Rick Farnsworth, Michael Manchester, Frank Cammarata, Kara Lynch, Jamie Hanes, Richard Ladenburg, & Ely Coughlin as Satan!
Retro-reviewed by Ambush Bug
I haven't seen a film with this flavor of batshit craziness in quite some time. That doesn't mean it's good, but it does mean that WITCHERY makes for a pretty entertaining movie.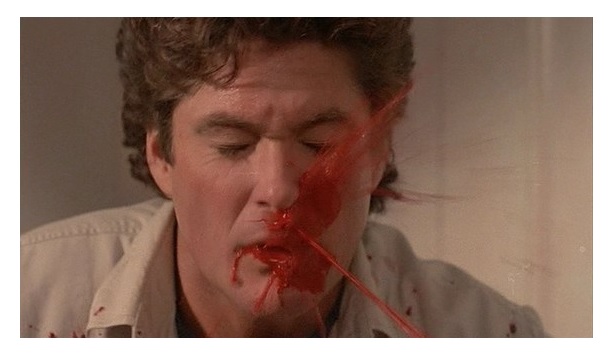 Labeled in some markets as a sequel to GHOST HOUSE (which this film is paired with on this BluRay double feature from the fine folks at Shout Factory and
I reviewed a while back here
) as a cash grab to tie into the success of that film (and Jesus help me, I don't know why as GHOST HOUSE was an absolutely horrible film), both films take place in a haunted house, with the major difference being that I actually found WITCHERY to be pretty entertaining in a dumb fun kind of way. Linda Blair plays Jane, a mother to be and part of a group going in to purchase an old inn on a spooky island. The rest of the group is comprised of the one and only David Hasselhoff who plays a guy who acts just like David Hasselhoff except his name is Gary, his gorgeous virgin girlfriend Leslie (Leslie Cumming), an annoying little kid who reads his lines as if they are being fed to him one at a time though a bad telephone connection, and a few others who are set up to be random deaths scattered about the narrative. Once at the house, which is haunted by the ghost of a German actress, they find themselves trapped inside and tormented by all sorts of horrific visions and monstrosities.
What makes this film good are a few of the horrifying death sequences. One woman is chained upside down inside of the chimney and the rest of the group do not know it and is burned alive when they light the fire. Both the positioning of the lady in the chimney and the effects as her skin is slowly burnt away are absolutely horrific and one of the most memorable scenes in the film. Another graphic, but effective sequence involves a ghost taking Leslie's virginity which is reminiscent of THE ENTITY, though much cruder as we see the sticky mouthed demon attacking her in the dream realm.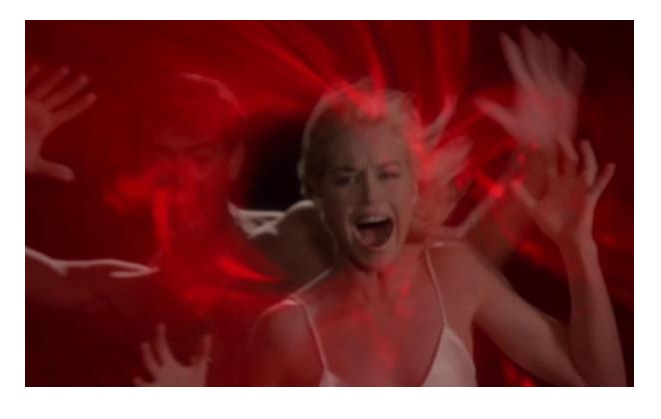 But while those scenes are bound to cause shivers in the most staunch of horror aficionados, WITCHERY shoots itself in the foot with goofy sequences where Hasselhoff is squirted in the face with bright red blood, folks are cast into a terribly rendered animated trips to a trippy ghost realm, and Linda Blair becomes possessed (signified by spraying her hair with about twelve gallons of Aquanet and making it stand on end). These scenes are horrifyingly bad and make for some moments that really take this film into full-on groaner territory.
Still for the effective horror imagery littered about this film, I say give this one a shot. If you don't mind the Hoff doing what the Hoff does best (that's hamming it up, if you don't know), wretched dialog, an ending so sudden it will give you whiplash, and some unintentionally goofy moments, there's a somewhat scary film under all of the mediocrity. I will say this; WITCHERY is definitely the highlight of this double feature as GHOST HOUSE was one of the worst films I've sat through in quite a while. Watching WITCHERY last at least ended this double feature on a high note.
---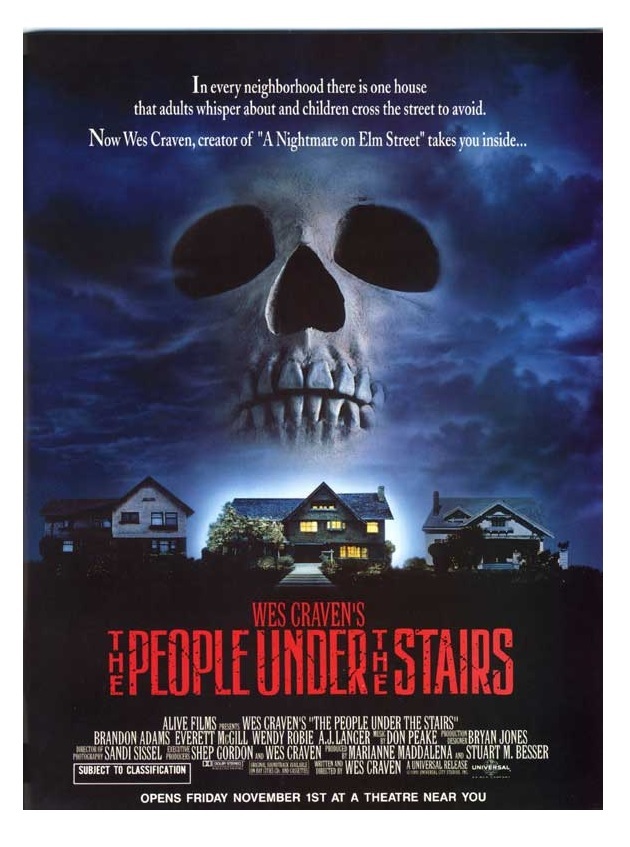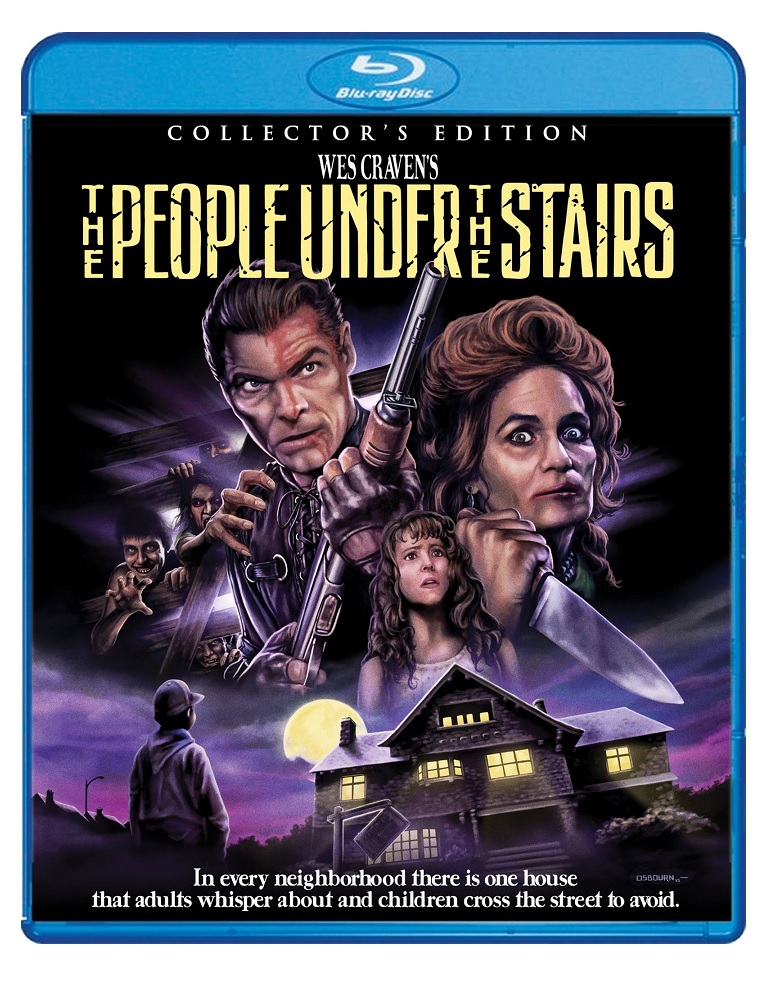 Retro-review: New this week on BluRay from The Shout Factory!
THE PEOPLE UNDER THE STAIRS (1991)
Directed by Wes Craven
Written by Wes Craven
Starring Brandon Quintin Adams, Everett McGill, Wendy Robie, A.J. Langer, Ving Rhames, Sean Whalen, Bill Cobbs, Kelly Jo Minter, Jeremy Roberts, Conni Marie Brazelton
Retro-reviewed by Ambush Bug
While Wes Craven is responsible for some of the most influential horrors in modern cinema, THE PEOPLE UNDER THE STAIRS is not one of those films.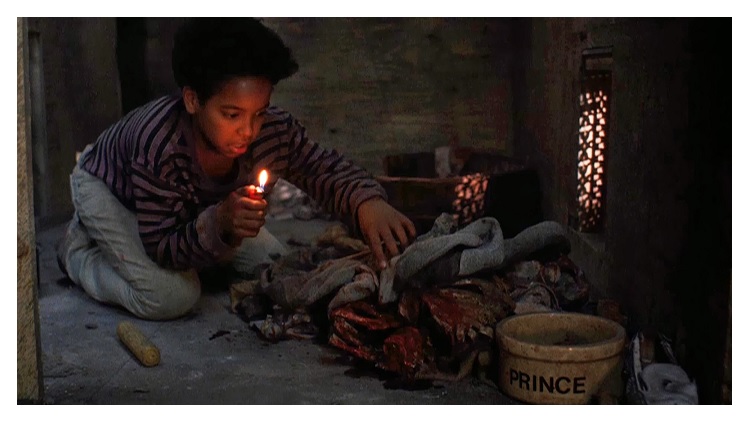 I remember seeing THE PEOPLE UNDER THE STAIRS when it was released in theaters and now after rewatching it on it's Shout Factory BluRay rerelease, and both times I walked away from the film frustrated because somewhere inside this film is a decent and horrific movie. But while Craven seems to have wanted to tell a film ripe with social commentary, somewhere along the way he forgot that he was supposed to make his horror movie scary. Craven seems intent at pointing the finger at Da' Man than serving up shocks by giving us cardboard characters, goofy attempts at humor, lame action, and horror that just misses the boat in terms of mood and effectiveness.
Fool (Brandon Quintin Adams) is a street savvy kid who, like most people in his neighborhood, has fallen upon hard times. With his mother's health deteriorating from the cancers, he teams up with Leroy (Ving Rhames) to break into the spookiest house in the neighborhood, owned by two whiteys who happen to be the landlords of the entire neighborhood. But after breaking into the house, Fool finds out that the unnamed Man (Everett McGill) and Woman (Wendy Robie) reside in a house of horrors with endless corridors, booby traps, and a basement full of freak children who haven't seen the light of day in years. Trapped in the house, Fool befriends Alice (A.J. Langer) the abused perfect daughter of the Man and Woman who helps him elude their wrath in the walls of the house.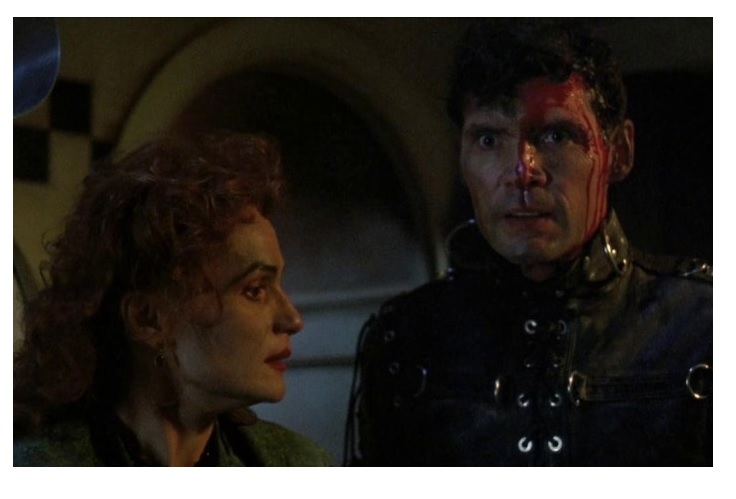 Laying the metaphor on like a peanut butter lover puttin' peanut butter on a PJB with the crusts cut off, Craven pulls no punches in terms of naming his characters according to the role they are playing here. This is a broad and remedial commentary on minority oppression by those in power and Craven makes no steps in making anyone act like real people here. If you're black in this film, you're the picture of sainthood. If you're white, you're either utterly naïve or evil. There's no in between here. And while my problem isn't that it is a film geared towards a black audience, I do have a problem with the allegory being so paper thin that it insults the intelligence of the audience it is geared for. Making things this simple may make sure even the most mouth-breathing of the viewers get it, but shooting for the lowest common denominator doesn't make for the most intellectually stimulating of films.
So basically, we have kids acting tough when they should be piddling in their pants. We have weird fetish wear and equipment inserted for no reason other than to be weird and make the monsters more outlandish and unrelatable. And logic is tossed right outside of the window. For example, the Man fires his shotgun repeatedly throughout the house, but firing the shotgun outside is a no-no. The mutant kids in the basement haven't seen the light of day in years and have turned into zombie-like monstrosities, but when the film ends, they scatter into the night. How in the hell are these albino metal head looking freaks going to survive now that they are out of the basement and wandering the streets? Craven cares not about the answers to these questions. All intellect, psychological heft, tactile terror, and thematic depth put into A NIGHTMARE ON ELM STREET is nowhere to be seen in one second of this film.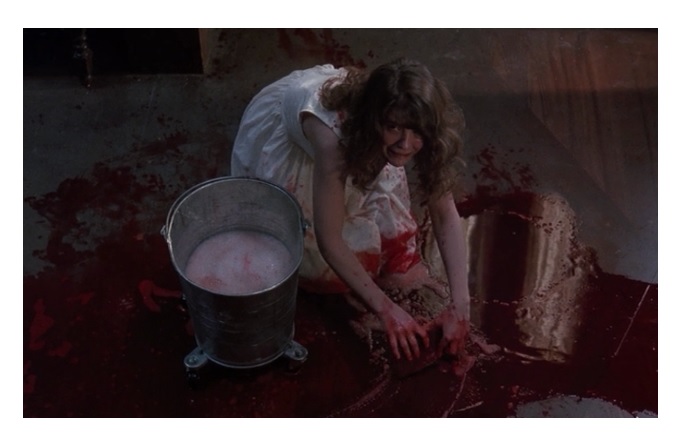 The worst offense this film inflicts on those brave enough to view it is that it isn't scary one bit. All of the astute timing of scares we saw in Craven's earlier works is absent. Though most of the film happens inside of the house, everything is well lit and every camera shot feels rooted and bogged down. The action scenes don't feel as if anything is at stake because the kids don't really act like kids at all, just tiny adults who don't have the height, power, or intelligence to back up the tough talk they are spewing. There's a scene where Fool punches Man in the nuts, done solely for a laugh, that just exemplifies how far into the pit of bad filmmaking Craven has fallen. This scene alone makes Man look not like a formidable monster, but a buffoon that would be more comfortable terrorizing Macaulay Culkin than a horror film with Wes Craven's name on it.
Everything from the horrifically bad and repetitive soundtrack to the flat lighting to the shoddy effects makes me want to toss this movie across the room. While I always hope for good things from classic directors, THE PEOPLE UNDER THE STAIRS was the indicator that Craven had gone Hollywood and left the smartly scary stuff behind him in favor of safe, remedial, and most disappointingly un-scary horror.
For those of you who like this film, I don't hate you. This BluRay is filled with all sorts of bells and whistles in the special features from interviews to behind the scenes footage. So if you're a Craven completist, a fan of the film, or just a glutton for punishment, there's a lot that goes along with this disk to enjoy.
---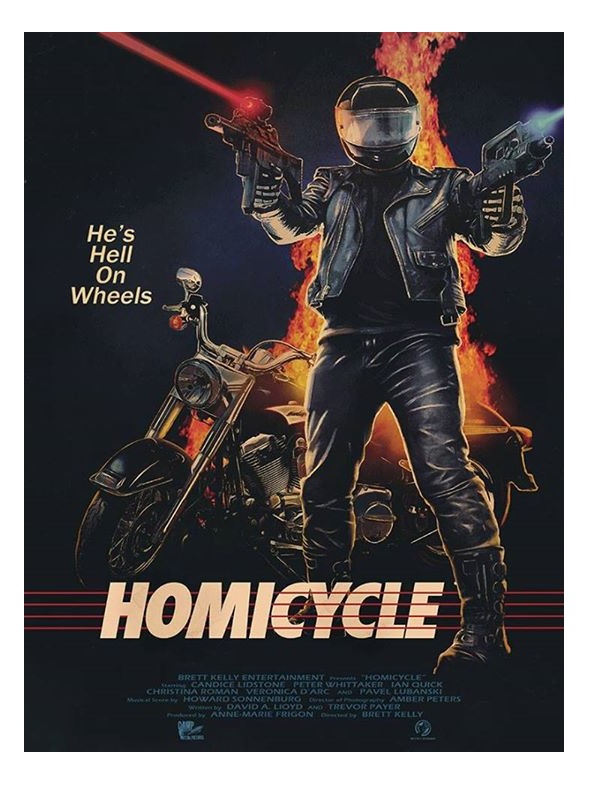 New this week on DVD from Bloody Earth Films!
HOMICYCLE (2014)
Directed by Brett Kelly
Written by David A. Lloyd & Trevor Payer (screenplay), Jennifer Mulligan (additional dialogue)
Starring Candice Lidstone, Peter Whittaker, Ian Quick, Donna St-Jean, Catherine Mary Clark, Veronika D'Arc, John N.E. Hill, Pavel Lubanski, John E. McLenachan, John Migliore, Duncan Milloy, Christina Roman, John Tomac, Anthony Quinn
Find out more about this film on Facebook here
Reviewed by Ambush Bug
This retro-Grindhousey nugget attempts to try to fool the viewer that it might be some lost VHS film you overlooked at your video store back in the 80's but HOMICYCLE seems to lack the punch to bring something new to the table.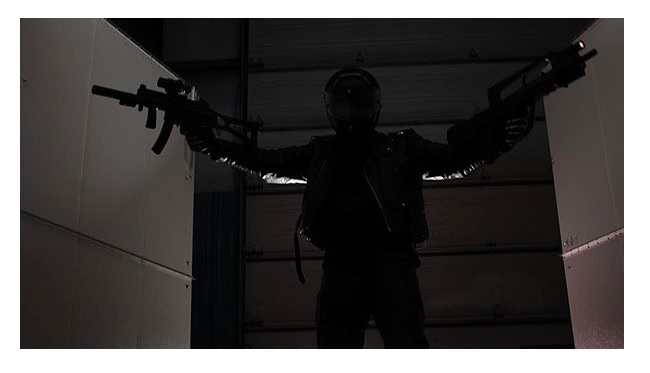 A cop is gunned down in the savage streets of a corrupted city. Not long after, a helmeted biker dressed in black leather patrols the streets unleashing vengeance upon any and all who dare commit a crime. Using both his motorcycle and his endless arsenal of machine guns, things get very, very, bloody.
On the positive side, HOMICYCLE has some fantastic and gory effects and it isn't afraid to wave a severed and grue-spurting stump in your face. Utilizing the spinning bike wheel as a means to saw off limbs and whittle away faces and filling crooks full of more bullets than necessary to end a life, the Homicyclist does dole out some pretty gruesome justice. As a throwback film which is trying to pay homage to horror of the eighties, it certainly encapsulates the trend of a lot of 80's horror films which specialized in effects over actual substance.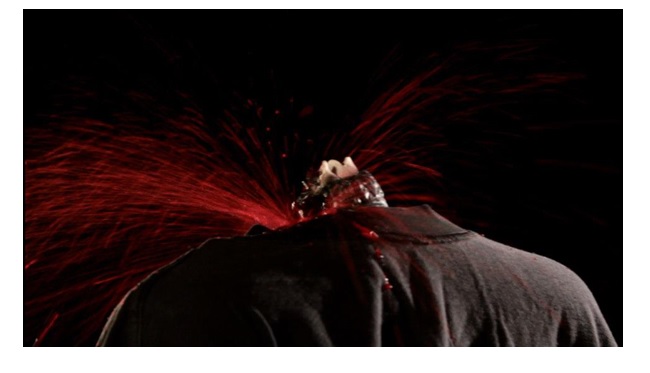 But that's where the problem lies. There really isn't a lot of substance here as everything is rather simplistic in terms of who is good and who is bad. The film pretty much just sets up one crook after another for the Homicyclist to kill bloodily over and over and over again. It just gets a bit tedious after a while. Sure there's an attempt at making this a mystery as to who is under the helmet of his Easy Rider from Hell and there is a fun supernatural element that the film teases, but it's just not enough meat and I felt unsatisfied by the end.
Throwbacks are fun. Making a film that feels like it's been unearthed from a forgotten time is cool, but I'm more interested in a film that can make it feel like it's from another era and uses some kind of modern storytelling sensibilities to make it feel watchable today. I didn't get that from HOMICYCLE and one could say that this wasn't the intention of the film, but if you're going to rehash something, an original spin on things would make it much more digestible. As is, there is a reckless sense of no-fucks-given here in HOMICYCLE and the gore keeps it from being boring, but I was left wanting something more than just that.
---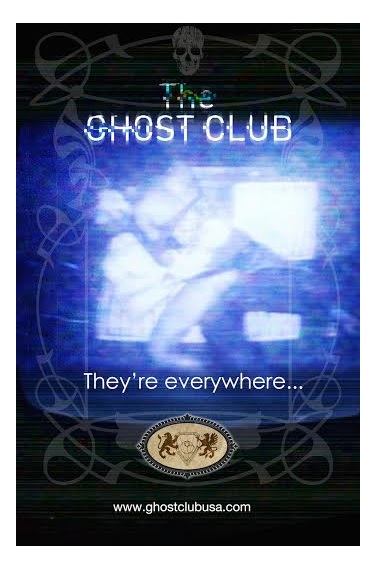 New this week on digital download from Amazon, Vimeo, BigStar, and IndieFlix!
THE GHOST CLUB: SPIRITS NEVER DIE (2013)
Directed by Hank Blumenthal
Written by Hank Blumenthal & Jason Nunes
Starring Enisha Brewster, Jeph Cangé, Alexandra Chen, William Forsythe, Jason Mac, Jason Nunes, Clark Sarullo, A.C. Smallwood, Chase Wainscott
Find out more about this film here and on Facebook here
Reviewed by Ambush Bug
Anyone who has watched a ghost hunting show and wished that once, just once, something could actually happen and for it to be caught on tape, might be the right audience for the low budgeter THE GHOST CLUB: SPIRITS NEVER DIE.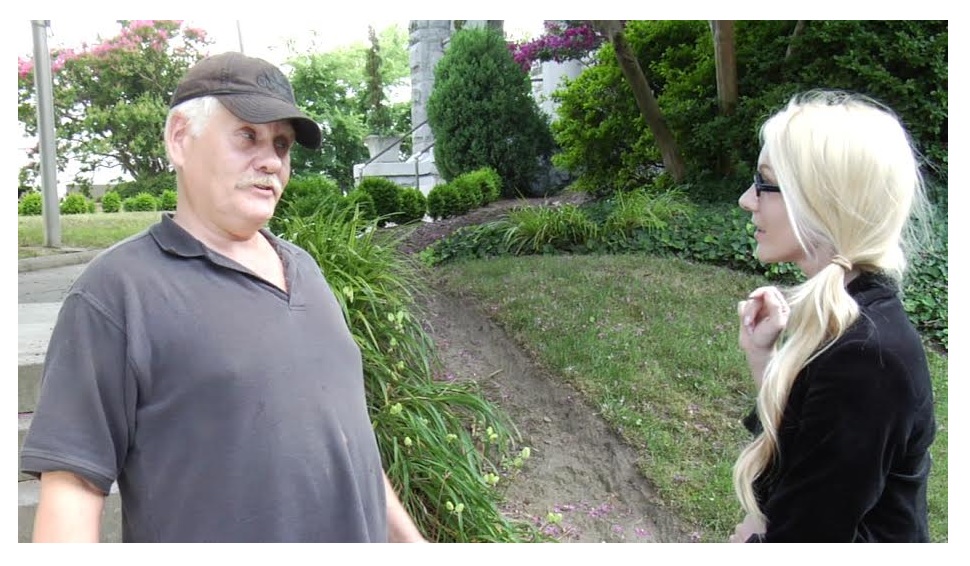 A team of investigators from a hit ghost hunting TV show called THE GHOST CLUB has a long tradition of hunting specters that dates all the way back to Charles Dickens, Sir Arthur Conan Doyle, and Harry Houdini's time. Upholding the tradition of pairing cynics with believers in an investigation, the team gathers to check out a mansion with a long history of paranormal happenings. Greeted by the brash, but earnest groundskeeper Stanley (William Forsythe), they are given a tour of the building by day and set up cameras to investigate the grounds when night falls. While many of the investigators have their doubts that the house they are investigating is actually haunted, their doubts quickly dissolve as they begin to see and hear spectral activity.
As a fan of those ghost hunting shows, I appreciate films like this which actually appeases that ever-growing beast inside of me that gets frustrated every time the smallest creak or trick of light is treated like the greatest discovery of paranormal history in these reality shows that are scattered about the cable box. If I squint right, I can make believe that these actors playing investigators in a reality ghost show are actual investigators and finally, I get to see something happening. As far as the way this film is set up, it does go through the motions to make the whole thing feel like a ghost hunting show, so as far as setting up the illusion of being real, THE GHOST CLUB succeeds.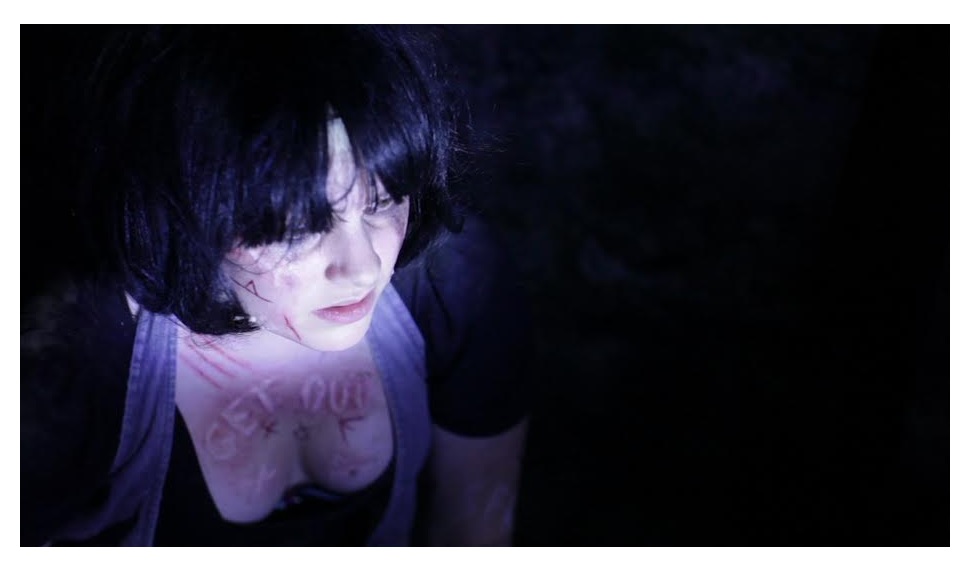 Still, there are some rough acting moments where the "reality" actors feel a bit stiff in their deliveries and the budgetary limits make the effects somewhat lacking in some areas (especially when CG is involved). Still, the film does a decent job of putting the investigators and the audience through a gauntlet of creepy happenings and there are more than a few quality scares scattered throughout this film. THE GHOST CLUB: SPIRITS NEVER DIE is not going to be something lovers of big budget cinema are looking for, but if you don't mind some standard independent and low fi limitations in terms of acting and effects and are a ghost hunting fan, I think you'll have as much fun as I did with this one.
The powers behind this film have gone the multimedia approach and made supplemental material available through various sources. Accompanying the release of THE GHOST CLUB: SPIRITS NEVER DIE, you can check out a "reality series" focusing on The Ghost Club team (
first episode can be found here
). Plus you can
download an app to your Android which will help you in finding ghosts yourself by clicking here
. Finally, a comic series/online blog called
The Skeptics Diary follows the leader of the Ghost Club, which can be found here
.
---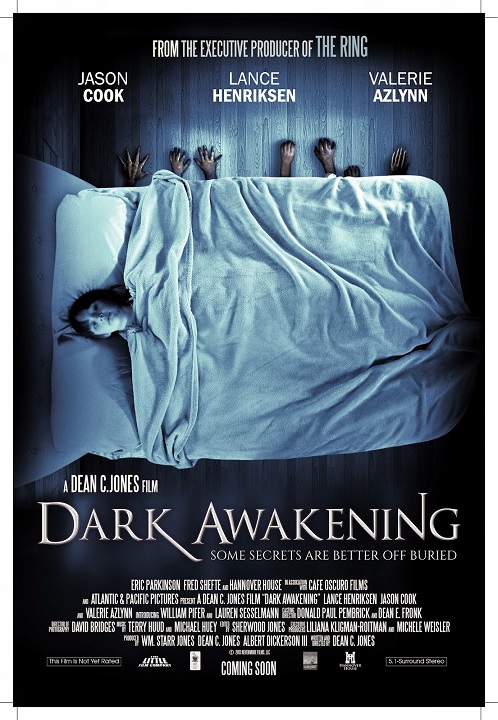 New in select theaters from Café Oscuro Films!
DARK AWAKENING (2014)
aka NEVERMORE
Directed by Dean Jones
Written by Dean Jones & Josh Edwards
Starring Jason Cook, Valerie Azlynn, Lance Henriksen, William Pifer, Lauren Sesselmann, Robert Crayton, Tracey Coppedge, Gil Newsom, Viktor Hernandez, Vanelle
Find out more about this film here and on Facebook here
Reviewed by Ambush Bug
Some very good effects and a pitch black tone elevate this low budgeter a bit and makes DARK AWAKENING almost worthwhile to seek out.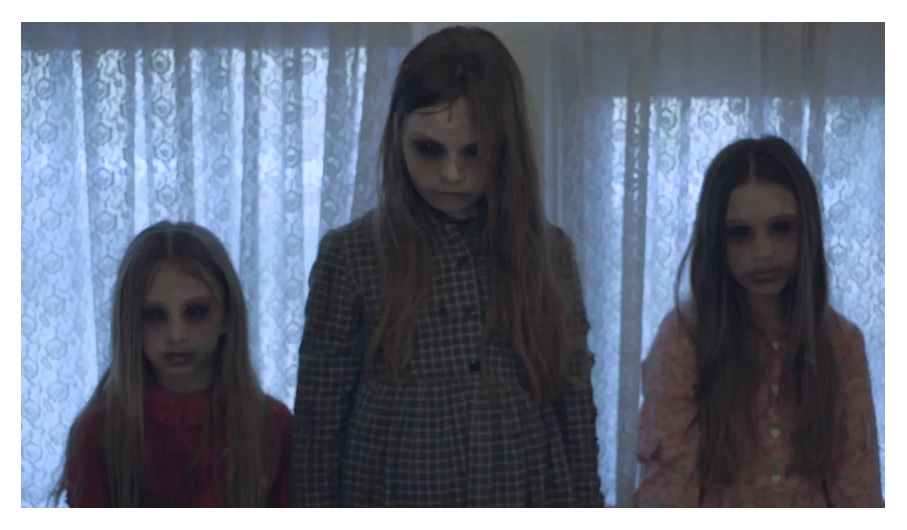 Lawyer James Thomas (Jason Cook) has had a bad day. His client was killed in front of him by an angry relative in court and now he finds out that his mother has recently died. Returning to his small home town which he hasn't been to since he was a child, James brings his wife and kid to sort out the details of his mother's will and clean up her home so it can be sold. But almost immediately after they enter his mother's home, James and his family begins experiencing strange phenomena. James has taken to drinking. His wife Jennifer (Valerie Azlynn) keeps seeing ghosts of children playing with her child, while his son Danny (William Pifer) has made a new imaginary friend who is telling him ghoulish secrets that he shouldn't know. Seems the house has a past, though James knows nothing about it. When Father O'Malley (Lance Henricksen) visits to check in on the family, things seem to get worse. Will James and his family get out of this apparently haunted house alive?
First and foremost, though the budget to this one is low, the effects here are top notch. There are a lot of great practical makeup used for the ghosts that elevate this one to another level in terms of scares and gross out scenes. But not only are the effects creepy, but writer/director Dean Jones props the camera up to highlight these effects to make them damn scary by angling the camera just right and taking advantage of some really creative cuts and reveals. Casting the horror effects in such a good light definitely makes an otherwise flat looking movie with some rough edged acting view a whole lot better.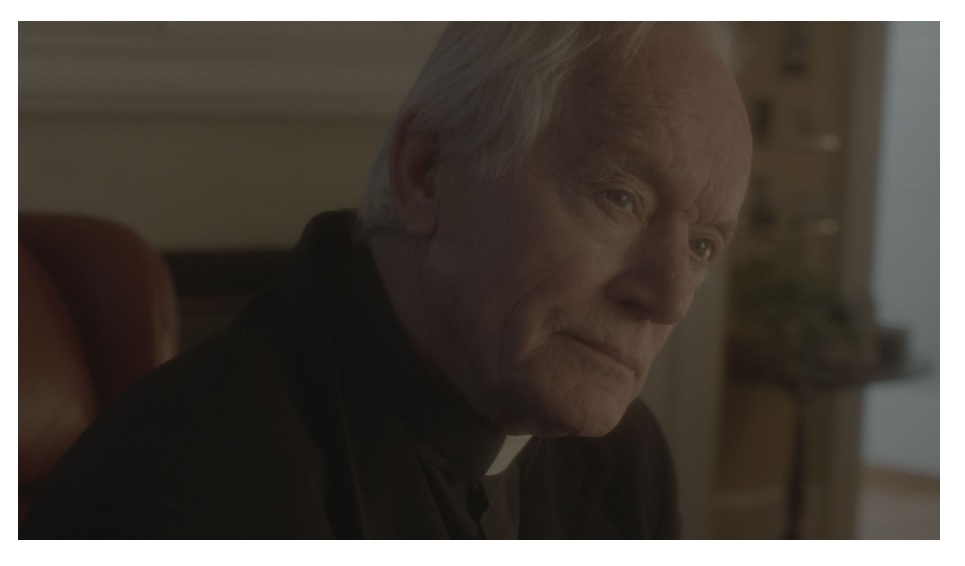 I also really liked the way this film played out. It's unexpected and somewhat original and while I saw the twist coming a while before it did, I really liked the decisions this film makes in terms of the dark places it takes all of the characters. Again, the delivery of lines and some of the drama just doesn't hold up to some weak acting muscles, but the strength of story makes up for it greatly.
So while this is a low budgeter and those who don't have the patience or stomach for that type of filmmaking might be turned off by DARK AWAKENING, the effects and strength of story really made it all worthwhile for me. The directing does feel like it needs a bit of a punch as the non-effects scenes left me wanting, but there are definite scares and shadowy twists to be found in DARK AWAKENING.
---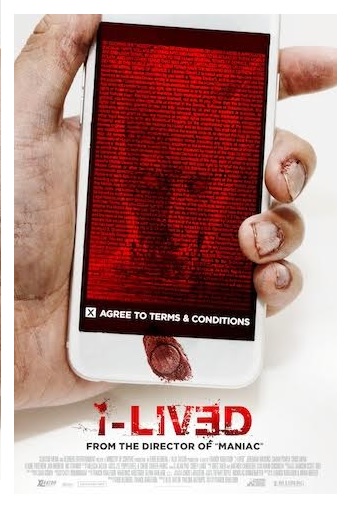 New this week on DVD/BluRay and iTunes from XLRator Media!
I-LIVED (2015)
Directed by Franck Khalfoun
Written by Franck Khalfoun & Brian Breiter (idea), Franck Khalfoun (screenplay)
Starring Jeremiah Watkins, Luis Fernandez-Gil, Christopher Mena, Greg Taieb, Sarah Power, Franck Khalfoun, Jan Broberg, Elaine Partnow, Jeremiah Watkins, Thomas Payton, Maja Miletich, Nic D'Avirro, Brian Breiter, Tim Paul Vordtriede
Reviewed by Ambush Bug
Back and forthing between engrossing and utterly ridiculous is I-LIVED, a tech terror tale from the director of one of my favorite films a few years ago, the MANIAC remake.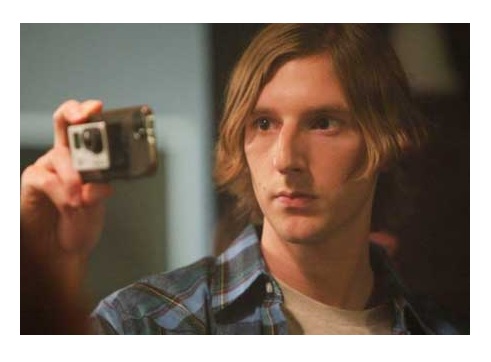 Josh (Jeremiah Watkins) has loads of both potential and problems, but little drive to do anything about it save for invest his time and energy in a blog that reviews new computer apps. Like a morning DJ on crank, Josh's hyperactive report is full of attitude and energy and Josh promises his religious father, ailing mom, and techie friend that it is just a matter of time before he becomes an internet sensation. Josh happens upon an app called I-LIVED, which promises to make any goal in your life come true and testing out the app himself, he finds that things start to turn around for him. He meets a new girl, gets tons of new viewers on his site, and even has the ear of some corporate backers promising lots of money. But when Josh deactivates the app and stops following its self help directions, things begin to fall apart and Josh realizes that the app has a much more diabolical intention under its seemingly innocent exterior. Now, in order to get back the girl, the viewers, and the money, he must do horrible, horrible things.
The main problem with I-LIVED is that the setup feels much more like a modern TWILIGHT ZONE episode premise than an actual film. There's an awful lot of setup where Josh is tooling around with the app and soaking in the benefits and it almost feels like the director lost track of time in the first hour and tried to cram way too much into the last half hour. So while the lead up to the switch between the positive aspects of the app and the more evil intentions is good, it feels a bit overlong and makes for a rather quick descent into horror. Franck Khalfoun does show that he is a capable director (he did this already in the amazing MANIAC remake), but something feels off with the horror here and it makes for a much less effective film. It's as if the concept of what's shocking is rather insulated here and twists and turns that are supposed to knock me on my ass really left me rather unfazed because of this disconnect.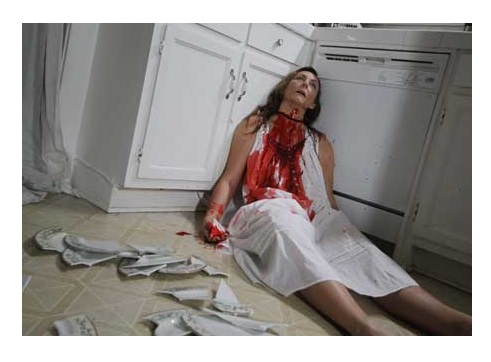 It doesn't help that actor Jeremiah Watkins can be pretty grating himself. Looking a bit like Jesse Eisenberg with a larger schnoz, Watkins' hyperactivity and morning Dj attitude in his podcasts definitely doesn't make me feel for him. Some of the decisions made by the director are downright lame in terms of execution of scares as well as fleshing out the character of Josh. While Khalfoun centered on a flawed and sometimes unlikable character in MANIAC with Elijah Wood, I-LIVED lacks that power and convincibility as Watkins just doesn't have the chops to make us believe and like him.
The rather clichéd plot and even more clichéd ending does not help I-LIVED. There are moments where I felt this film really does a good job (setting up the relationship and breakup between Josh and his new girlfriend was pretty great), but Watkins lacked the strength to convince me of the shift when things go pear shaped and Khalfoun just didn't lead me along by the nose as he did with MANIAC. Watkins does carry this film and is ok for most of it as long as the emotions aren't too heavy, so here's hoping he continues to develop his craft for a more convincing job next time. As for Khalfoun, I hope this is just a bump in the road for him rather than a sign that Alejandro Aja's involvement was much more hands on than it seemed with MANIAC. I-LIVED is breezy and fun at times, but the lack of genuine and original scares really hurts it.
---

New on Bluray from Artsploitation Films!
DER SAMURAI (2014)
Directed by Till Kleinert
Written by Till Kleinert
Starring Michel Diercks, Pit Bukowski, Uwe Preuss, Kaja Blachnik, Ulrike Hanke-Haensch, Christopher Kane, Ulrike Bliefert
Find out more about this film here and on Facebook here
Reviewed by Ambush Bug
Man struggling with his darker side is a theme commonly dissected in horror films. Everything from your classic wolf man story to every variation of Dr. Jeckyll & Mr Hyde deals with the inner battle. Freud identified this struggle as a clash between the animalistic id and the more rational ego which was constantly occurring in every man's head throughout his day to day life deciding whether to think through a problem or pounce and tear the head off of it. Set against the thematic backdrop of man's struggle with his sexual orientation, DER SAMURAI is ripe with symbolism and thematic depth.
Jakob (Michel Diercks) plays a suburban policeman lives a relatively quiet existence building model neighborhoods and playing cards with his grandmother who he lives with. A man-child of sorts, Jakob is not taken seriously by anyone in his burb. The gangs laugh at him and his boss and peers in the police department belittle him. When a wolf from the surrounding forest begins to threaten the suburb, Jakob chooses the path of least resistance and decides to lure the wolf deeper into the woods by feeding it, hoping that it will prefer the leftovers from the butcher to the trash of the neighborhood which endangers the villagers. This act of kindness is not taken as such by his peers in the force who continue to laugh behind and in front of him for his gentle demeanor. When a sword arrives at his home in the mail, Jakob is perplexed, but he becomes even more perplexed when the sword's owner calls to have Jakob deliver it to him. What he finds in the abandoned residence is a long haired man in a white dress (Pit Bukowski) hunched over in front of a mirror, making animalistic noises and tempting Jakob in ways he never even considered.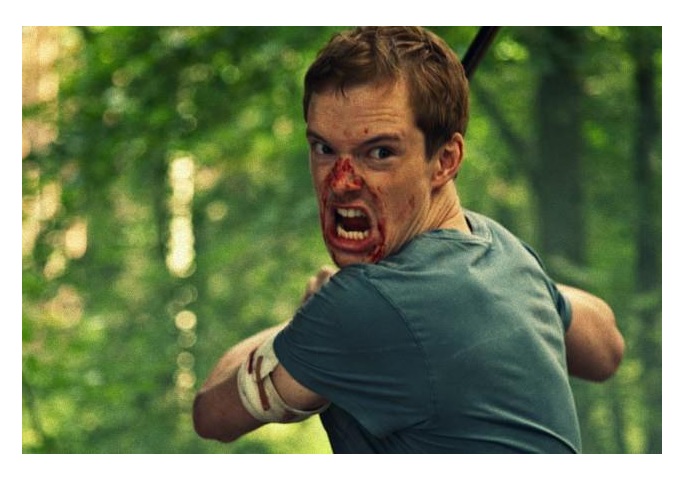 Dealing with the subject of homosexuality is going to be difficult for a lot of people. First and foremost, gays don't need another psycho in a dress to represent them as too often than not, their lifestyle is often looked at as deviant and wrong. So I can understand why some gay and gay-sensitive viewers might get their feathers ruffled at the way this subject matter is approached. On the other hand, there are going to be some just not comfortable watching a film dealing with the subject matter of a man having an inner battle between his hetero and homo sides. As much as I respect the gay perspective, I also respect the perspective of those who think that this film may just not be for them. It's a controversial subject and bound to offend someone no matter what side one takes. At the same time, it's about conflict and conflict is the makings of many a great film and DER SAMURAI is indeed a great film.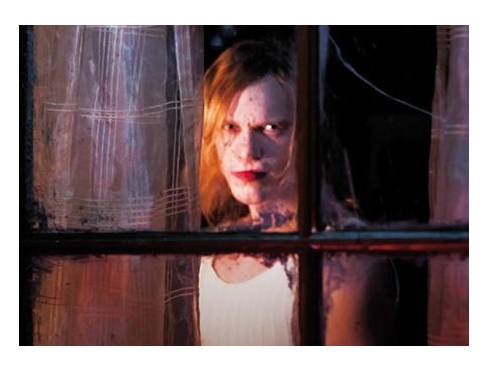 Filled with dark action and gory carnage, the unnamed samurai leaps with uncanny and animalistic speed cutting down all of those who taunted and belittled Jakob in the opening moments of the film. In many ways, this samurai is doing what Jakob can't; which is mainly stand up for himself. At the same time, the samurai represents a side of Jakob he might not even know about himself due to his fear of conflict. The bulk of the film is Jakob trying to subdue, capture, and stop this animalistic swordsman who leaves a bloody trail of people parts Jakob never really liked in the first place. This wholly honest and primal conflict is delved into in the most violent ways, escalating into a literal climax that reeks of symbolism as much as it hits with brutal impact.
DER SAMURAI is not an easy film to watch. It's gory and brutal and involves questions, answers and themes some folks are just not ready or willing to talk about. But it is a fantastic piece of cinema with gorgeously orchestrated transitions between scenes and violence that is both beautiful and blood drenched all at once. Pit Bukowski gives a memorable and bestial performance as the samurai, a movie monster that deserves recognition. And writer/director Till Kleinert delivers in DER SAMURAI a horror film unlike most but also a horror film in its truest, most basic form about a man against a monster inside of him. This is such an absorbing piece of cinema that respectfully, will be simply too much for some.
---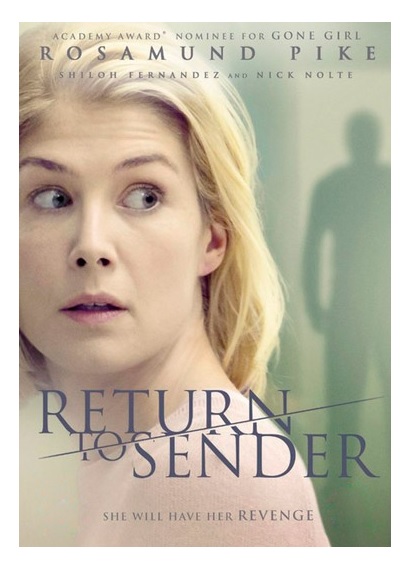 New this week On Demand and in select theaters from RLJ Entertainment!
RETURN TO SENDER (2015)
Directed by Fouad Mikati
Written by Patricia Beauchamp, Joe Gossett
Starring Rosamund Pike, Shiloh Fernandez, Nick Nolte, Camryn Manheim, Alexi Wasser, Rumer Willis, Illeana Douglas, Stephen Louis Grush, Donna Duplantier, Ian Barford, Billy Slaughter, Scout Taylor-Compton, Liann Pattison, Ryan Phillippe, Jeff Pope, Keir O'Donnell, Lucas Boffin
Reviewed by Ambush Bug
While it attempts to pull on heartstrings and flip expectations, RETURN TO SENDER turned out to be just a step and a half above the production values of your typical Lifetime movie.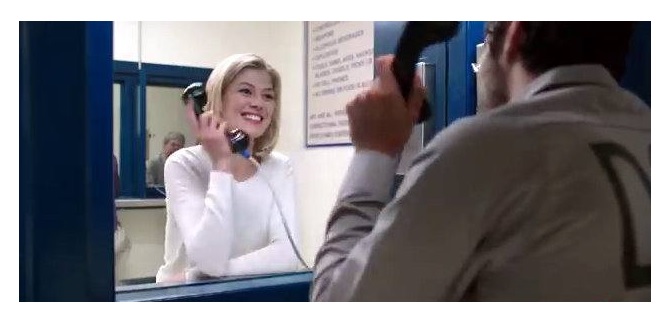 The film opens on an obviously stressed and somewhat OCD nurse Miranda (GONE GIRL's Rosamund Pike) who has aspirations to be a surgeon and a desire to buy a new home, which gives her very little time for a social life. After agreeing to be set up on a blind date, she mistakes a man lingering outside of her home for the date and invites him in, but William (Shiloh Fernandez) is not her date. In fact, he's a creepy stalker and when Miranda gets an altogether ooky feeling from him and asks him to leave; he shows his cards and ends up beating and raping her. It's not long that William is captured by the police and Miranda attempts to put together her life again. But this proves to be more difficult than Miranda can take, so she does something odd—she begins writing William letters in prison. After scores of letters end up returned to her, William finally responds and Miranda goes to the prison to talk with him. Soon the two begin a relationship separated by a pane of glass and a phone line. But what are Miranda's actual intentions; is she crazy enough to fall in love with the man who raped her? This film plays with that question and with your expectations like a cat with a ball of string.
If RETURN TO SENDER has a main fault it's that it feels like it wants to be a big scale movie but in actuality has a small scope. I mentioned Lifetime in the opener because a great portion of this film feels like one of those films with a message pieces rather than a horror film. The rape itself is very much in the realm of horror, but any rape depicted on screen is disturbing to me. But for most of the time after, this is a slow film that winds you up because it really does a decent job of convincing you that Miranda is actually falling for her rapist. This showing up in a horror column pretty much seals the deal that things get dark by the end, but for the bulk of the film, you'd think this was a blossoming romance between a damaged girl and a boy from the wrong side of the tracks who just happened to have rape her.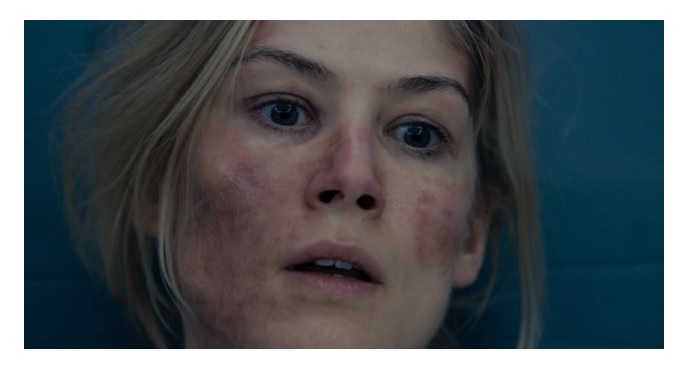 Adding to the odd narrative and perspective this film tries to take, there are tons of little cameos here and there throughout the movie in very insubstantial roles. Sharp eyes will spot Ryan Phillippe as a deliveryman. Camryn Manheim, Rumer Willis, and Illeana Douglas all show up in slightly bigger roles, but it still feels more like one or two day drop ins as a favor to the producer or director or some such. Roles that normally would be given to no name background players end up being played by very recognizable stars. One performance that really stands out is Nick Nolte who, in his old age, offers up a really strong performance as Miranda's confused and hard-nosed father. He really shows both a rough and tumble side and a softer edge as a father who feels helpless coping with the complexities of having a child that has been assaulted. The often volatile actor offers up one of the best roles I've seen from him in years.
RETURN TO SENDER is a really weird film. Not quite hard enough to be horror, not quite fluffy enough to be a Lifetime movie of the week, but landing somewhere in between as it plays with very tough questions about the relationships between assaulters and their victims. While it ends on an extremely terrible pun, the tone of the whole film had me invested as it really takes the viewer to uncomfortable areas, but it hesitates just long enough to lessen the bite most horror fans will want from it.
---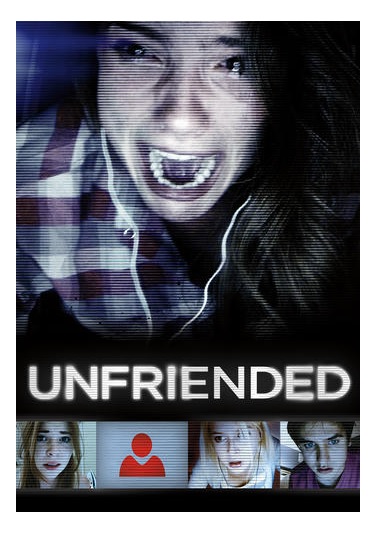 New on DVD/BluRay from Universal Pictures!
UNFRIENDED (2014)
Directed by Levan Gabriadze
Written by Nelson Greaves
Starring Heather Sossaman, Matthew Bohrer, Courtney Halverson, Shelley Hennig, Moses Storm, Will Peltz, Renee Olstead, Jacob Wysocki, Mickey River, Cal Barnes, Christa Hartsock
Find out more about this film here and on Facebook here
Reviewed by Ambush Bug
Basing a film on modern technology is risky business. Most of the time, as soon as the film is made, some new improvement has occurred and the tech used in the film is now obsolete, making what should be a moment of tension rather laughable at the antique terminology and tech used. That said, it can also be used as an interesting form of a time capsule, capturing how tech obsessed we all are and how reliant we've all become to staring at a computer screen much of our waking hours of the day. Through the right lens, this could make for some potent horror and UNFRIENDED utilizes our online obsessed culture pretty remarkably and tells a pretty compelling tale to boot.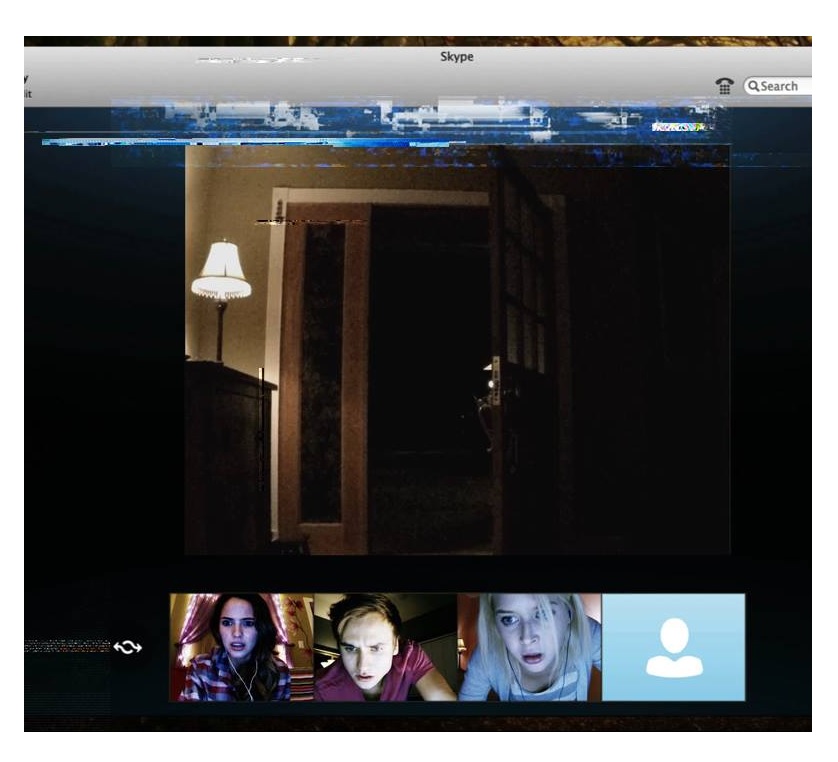 UNFRIENDED experiments with a new format of found footage by having the entire film take place on a computer screen. This is not the first time something like this has been attempted.
Nacho Vigalondo's OPEN WINDOWS
was somewhat successful at telling a story in this manner, but the main problem with that film is that the premise kind of fell apart by the third act when Elijah Wood began carrying the computer around on car chases and such. UNFRIENDED keeps it simple and it's smart to do so. It simply follows a Skype conversation held between a group of friends who were friends with a girl who killed herself one year ago. Before logging onto Skype we follow our "final girl" Laura (Heather Sossaman, who looks a bit like Shannyn Sossamon, but I don't know if she's related to her) who is rewatching an embarrassing drunk video which leads to her friend committing suicide on this day one year ago. Obviously the death is still on Laura's mind and she establishes that she qualifies for the final girl by claiming she's a virgin and having her boyfriend wait until prom to have sex as they are sexting over Skype. When the rest of the crew join in on the conversation, there is a mysterious faceless party in on the Skype conversation. It is written off as a glitch, but when the faceless creep begins interacting with them, they realize that it is someone who has intimate knowledge of their relationships with the dead girl and an even more frightening awareness of their deepest darkest secrets.
What makes this film more successful than OPEN WINDOWS is that it keeps things smartly simple. The movie takes place over one Skype conversation shared by a bunch of friends. While one would think watching a Skype conversation unfold over an hour and a half would be an exercise in tedium, we are given just enough personal information between the characters utilizing other means of communication such as Facebook massaging, emails, YouTube, online chat forums, and personal files on the desktop to make these characters more interesting and worth watching. Writer Nelson Greaves seems to be tech savvy enough and skilled enough with narrative to dole out the information in little bits so it doesn't feel like an expository dump and director Levan Gabriadze laces together a pretty tight story as the film flips through various social media forums deftly doling out this info. There are a few moments of drag time, for the most part, this is a film that moves at a pretty brisk pace as the tech savvy kids flit from one social media avenue to another, figuring out the mystery of who this is and how they can confront it at light speed.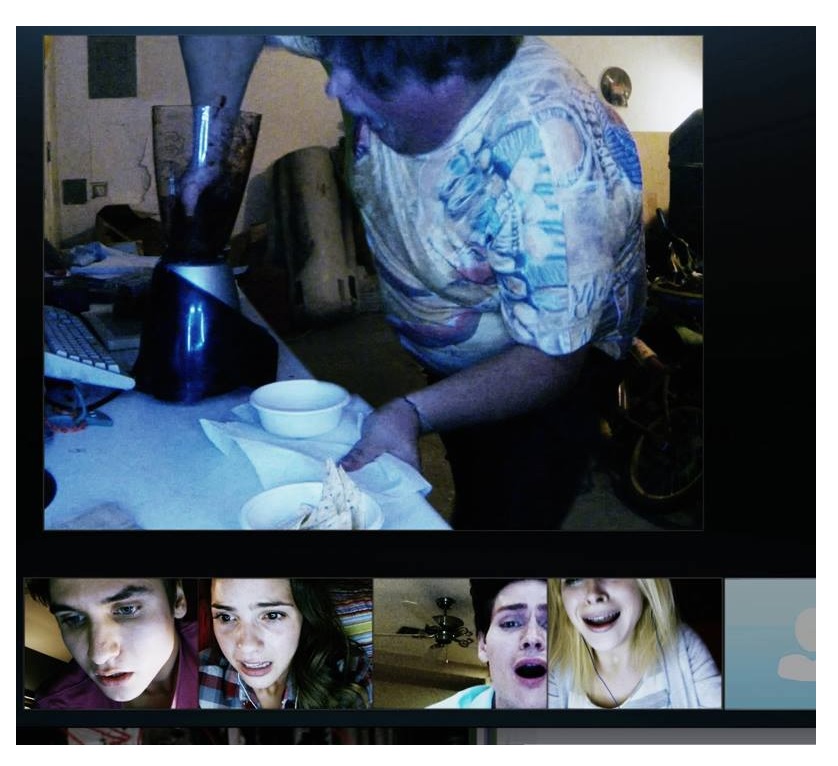 Everything here is done in the world of the computer screen and it's pretty impressive that the filmmaker was able to make this all work so well without the whole thing falling apart as OPEN WINDOWS did. Still though the scope is small, the tension is pretty huge as we are focused in on these kids' faces reacting to the horrors they are seeing their friends endure. It helps that this is a pretty talented cast of kids playing this with Sossamon leading the pack in talent. For the most part, the first person POV and the reactions from the characters accompanied by a patient, yet intriguing story worked for me.
I could put on my old man trousers and say that this is an annoying movie focusing on kids who are addicted to social media and I could see those who take that stance and aren't able to empathize with these kids as they undergo this online horror. I can understand that. I was of the last generation not to have online access to everything as a kid. I too feel the way kids navigate through social media and live every second online is often the stuff of nightmare as I see face-to-face interactions becoming a consistently fading trend. But even if you do feel this way, you might get a cathartic experience seeing these kids bite it one by one. Either way, through catharsis or just sheer enjoyment of a film that utilizes modern technology, UNFRIENDED had me from the beginning and was strangely compelling the whole way through. I also think it is one of the few films that really captures the online obsessed culture in a smart way that hasn't been done before. I don't want to see more movies made in this format, but this time around UNFRIENDED was successful in making me invested and keeping me there right up until the end.
---
And finally…keeping with the theme of Facebook, I dug up this old timey radio play called "The Follower" which played on the CBS Mystery Theater. This creepy little gem is narrated by E.G. Marshall and stars Jerry Orbach. Fans of IT FOLLOWS will definitely a charge out of this one. Be sure to listen with the lights dimmed low. Here's "The Follower"…
---
See ya next week, folks!

Ambush Bug is Mark L. Miller, original @$$Hole/wordslinger/writer of wrongs/reviewer/interviewer/editor of AICN COMICS for over 13 years & AICN HORROR for 4. Follow Ambush Bug on the Twitters @Mark_L_Miller.



---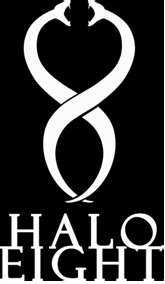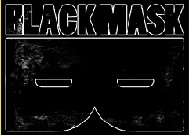 Find out what are BLACK MASK STUDIOS and OCCUPY COMICS here and on Facebook here!


Interested in illustrated films, fringe cinema, and other oddities?
Check out Halo-8 and challenge everything!
Look for our bi-weekly rambling about random horror films on Poptards and Ain't It Cool on AICN HORROR's CANNIBAL HORRORCAST Podcast every other Thursday!
---
Find more AICN HORROR including an archive of previous columns on AICN HORROR's Facebook page!