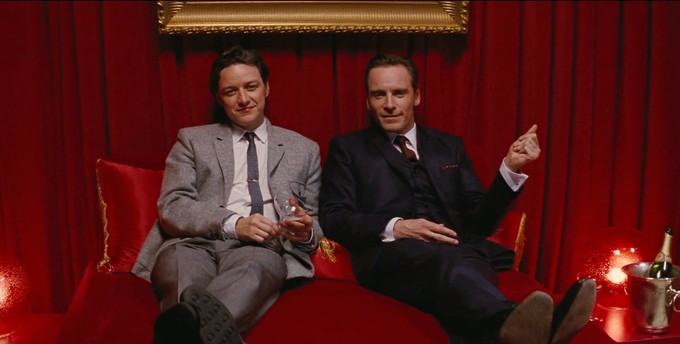 Last week, we started to hear that GAMBIT was going off the rails. Channing Tatum made an appearance at Comic-Con with the rest of the X-folk, and his self-titled film was even granted a logo on the big screen. But the word was that Fox wants Tatum to be their new Hugh Jackman, seeing as Wolvie's on his way out, and Tatum wasn't immediately down with the idea of being the face of the X-franchise and having to appear in whatever X-films Fox decides to make as they go forward.
That ended with Channing officially signing onto GAMBIT, which makes this Heroic Hollywood-sourced rumor somewhat more interesting than if it popped up a week ago.
Apparently, Fox has also locked down Michael Fassbender and James McAvoy to keep making appearances as Eric Lehnsherr and Charles Xavier, respectively. Their deals, along with Jennifer Lawrence and presumably Nicholas Hoult's, were for three pictures, which will obviously be fulfilled when APOCALYPSE comes out next summer. Lawrence seems the least likely to return, given both her career momentum and her own comments on the subject, and Hoult may potentially have his own franchise brewing in the form of ROBIN HOOD: ORIGINS, but it makes sense to make whatever deals they have to keep Fassbender and McAvoy onboard. After all, their characters are the only others (besides Wolverine) to have appeared in every X-MEN thus far, and the internal universe as we know has been structured around their conflict and Xavier's School for the Gifted.
And before you say "Well, they didn't exactly translate to box-office dynamite in FIRST CLASS," remember that not only has some time passed since then, bringing with it a considerable rise in both Fass and McAvoy's star power, but that they were both prominently featured in DAYS OF FUTURE PAST, which is the series' biggest worldwide grosser to date by almost 300 million. So people know who these guys are by now, and would maybe go to an X-MEN movie just to see them. Maybe.
But will they serve as the face(s) of the franchise instead of Tatum, or merely back him up the way Stewart and McKellen did for Jackman? I'm curious to see the direction they're taking this franchise once both Jackman (the only performer who's been in every film since the first one 15 years ago) and Lawrence have left the building for good.
I mean, who wouldn't want more time with these guys as Magneto and Professor X?