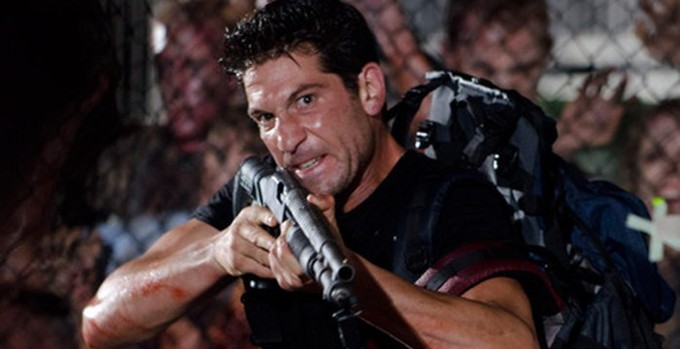 Now that Frank "The Punisher" Castle will be hanging out with Matt Murdock in Netflix's second season of "Daredevil," will the series grow more graphic?
Outgoing first-season showrunner (and former "Buffy the Vampire Slayer" writer-producer) Steven S. DeKnight doesn't think so.
"The first season of 'Daredevil' was violent but I always say it was more implied," DeKnight tells SlashFilm. "It wasn't nearly as violent as 'The Walking Dead,' a show that I love. On that, if somebody were to crush somebody's head in a car door, you would've seen the head crush on screen but we didn't want to go quite that far. We wanted to keep it right around PG-16 and not go all the way to the R. I have no idea if they're planning to push it that far next season but I would be surprised."
On the upside, DeKnight says he does expect Jon Bernthal's Netflix Punisher could prove more entertaining that the movie versions we got in 1989 (Dolph Lundgren), 2004 (Thomas Jane) and 2008 (Ray Stevenson) -- because this is the first Punisher controlled by the folks behind the Iron Man, Captain America, Thor and Avengers movies.
"The thing about The Punisher, and I think there are great things about each of those versions, but none of them was completely the Marvel version. And none of those movies were under the Marvel Studios banner until they recently got The Punisher back. So this is really the first time that we're seeing the Marvel Studios from the Iron Man days, when they can control their own product, actually do this character."
Speaking at Netflix's Television Critics Association event this week, Netflix chief content officer Ted Sarandos said The Punisher could be spun off onto his own series (and that any of Netflix's Marvel characters could at some point find themselves on the big screen).
"Daredevil," "Jessica Jones" (a Marvel/Netflix series due later this year) and all the other Netflix/Marvel series ("Iron Fist," "Luke Cage" and "The Defenders" among them) share the same screen universe as "Agents of SHIELD," "Agent Carter," "Guardians of the Galaxy," "Ant Man," "Incredible Hulk," and the Iron Man, Thor, Avengers and Captain America movies.
Find all of SlashFilm's interview with DeKnight here.