Hey everyone. Capone in Chicago here.

When beginning to embark on his journey into the tumultuous life, times and career of singer-songwriter Amy Winehouse, director Asif Kapadia (who made the great 2010 doc SENNA, about the Brazilian Formula One racing driver Ayrton Senna) decided to go through all of Winehouse's music, and to his amazement a great deal of her life story is contained in her self-penned lyrics, with the music there to flesh out the mood. So it should come as no surprise that the primary focus of his documentary on Winehouse's life, AMY, is the music, following closely by an examination of the relationships in her life that meant the most—from her mother and father, to her closest childhood friends, her manager and closest collaborators. Kapadia even talks to her deeply troubled lovers, who either inspired more trouble in Amy's life or enabled her bad behavior in the areas of drug and alcohol addiction, as well as her struggle with bulimia.

And while the British press and members of Winehouse's family have done their best to trash the film quite publicly, calling it inaccurate and accusatory, it should come as no surprise that some of the worst behavior found in AMY belongs to those two elements in her life. When Winehouse writes in "Rehab" "…my daddy says I'm fine…," that's because her father went on record as telling her she didn't need addiction therapy, despite her abusing crack and booze. The film doesn't overtly put the blame for Winehouse's death on any one thing, but the microscopic attention paid to her by the media and the jokes about her behavior in the court of public opinion certainly didn't help the thin-skinned singer.

I first heard Winehouse's voice on a BBC Radio compilation about a year before Back in Black was released, and it led me to her first album, Frank, a jazzy, brash and utterly infectious collection of songs about heartbreak and other forms of pain and pleasure. What many may not realize is that a lot of the troubles that Winehouse is best known for were in full effect by the time Back in Black was released, so much so that the U.S. release of the album deleted a track titled "Addicted" that was on the original UK version of the album (ironically, the song is about smoking weed). I became obsessed with Winehouse's power as not just a singer but with her ability to boil down emotions and raw hurt into words that other songwriters might be buried in flowery imagery. I saw her perform once, in 2007 at Lollapalooza. At the tightly scheduled event, she came on stage for her mid-day set 15 minutes late and played past her slated stop time, and she sounded fucking fantastic. You can watch the set here (she actually opens with "Addicted"):





In the four years between this show and her death in July 2011, I kept thinking that once she started making her next record, she'd snap out of her haze and focus on the work ahead. There were hints that she was exactly on that path, including rumors that she and collaborator Mark Ronson were working on a new James Bond theme, but her small, fragile body just gave out after years of abuse, and suddenly the same fans and press that tracked her downfall (and did nothing) mourned her loss with camera-ready tears and questions about fault and blame. AMY is more or less as complete and unbiased document of her entire life story as I've seen, which is not to say that it doesn't draw conclusions (or allows us to do so).

But the film's primary objective is to paint a total picture of her, not glossing over anything, but also remembering that even in her worst moments, the music was her core, even in moments where she couldn't bring herself to perform in front of people any longer. I sat down in Chicago recently with AMY director Kapadia and producer James Gay-Rees and dug deep into their long and sometimes-painful process of extracting memories from those closest to Winehouse. Please enjoy our talk…





Capone: I forgot to grab them on the way out the door, because I wanted to show you—I actually have three different editions of "Back to Black" just to let you know what a great admirer of Amy I was. I also have the two-disc set for [Winehouse's first album] "Frank," too. I was actually into that album before "Back to Black". I used to buy these BBC compilations at the end of every year, so I guess I actually discovered her music from one of those. I actually saw her play here at Lollapalooza, too. When I see a music doc about somebody I'm familiar with, I'm almost a little harder on them. In my head, I'm thinking of about 10 different things you better hit in the course of the film. When the film is about music I'm less familiar with, the film has to convince me that is this somebody worth making a documentary about? For someone who had such a short career, why was she worthy?


Asif Kapadia: Finish your train of thought… And?



Capone: And what?



AK: When you did see the film, what did you think?



Capone: I don't mind saying I loved the movie. I almost cried during it, several times. So why in your estimation is she someone worthy of a documentary? Why should people care?

James Gay-Rees: That's a great question. As filmmakers, that's the way you go into these things, it's always the question you're battling with all the time. Is it going to warrant two or three years of your life and all this money and all the activity? It's always really healthy to have that question going in, even if you're really confident. I certainly had that going into SENNA: Does this demand to be elevated to the big screen. And that had a really clear narrative arc, and this one, to be honest, didn't have such a clear narrative arc. Obviously, everybody knows what the end game is, maybe they know the bear essentials.

I think what it came down to when we were asked to do it, I had a fairly instinctive gut reaction to the idea there must be something more to the headlines than what we were given in the UK tabloid press. And then I spoke to Asif; we had a conversation. We both felt there was a movie to be made, but we didn't know what it was. So it was a bit of a leap in the dark, basically, in terms of going for it. Thank god, there was a lot more to the story than we could cram into the two hours, because you're always coming back to, you're cramming 10 years into two hours.

AK: To me, it was her and the music I knew. I had the records, and I knew the persona. I never met her or saw her live. But she was the local girl because I'm from North London, and there was always something about that she was the girl from just up the road. I lived in Camden, I lived up the road from Camden, I used to work in Camden, I walked through it every day. So it was always this thing that this story was going on just over there, this madness If you just came off my high street, you'd go past her house. But I didn't really go past it. It was just this idea very early on of this thing going on in our world.

So when James called me, I remember there were questions. It's always good to have questions, because I wasn't a massive fan. I don't really want to make films about somebody I'm a massive fan of. So I'm learning along the way, right? I'm like the audience. And then hopefully, you get lucky, and the two films we've done together, we fall in love with the lead character. You think they're great. "Why now?" was an issue. Is it too soon to make a film of someone who's just died? But then we started doing our research and looking at material, and I remember the one thing about Amy is life is never boring. It's either incredible, or it's a really bad one. There were very few in between, phoned-in shows. It was amazing or bad.

And all of the other news material, the stuff that was on YouTube, there was always drama around her. That's when you think potentially there's a film because there's drama. Stuff is happening. A lot of stuff happened in a very short space of time. And very quickly, it becomes apparent that there is a social context of how she was represented and how she's been attacked and how the media and paparazzi treated her, and you realize there's a bigger story. There's something about the world we live in, literally I lived in. This is going on down the road. That made it a bigger story than one girl's journey.



JGR: It feels like a really modern film. She's the last, thankfully, UK celebrity to pass away. But I think the lead up to that and the fall out from that is very of the moment, and I think that is worth exploring, because of the way she was treated by the media, and the retrospection is basically kicking in now.





AK: I think of it as a film about the city as much, because I haven't done anything at home for a long time, so it felt like this is a movie about where we live. If you are from London, you know those streets. You know those pubs. You know the people. Everyone I know and James knows, they are somehow connected to Amy. You're one or two steps away from her. People have met her, or they know someone who knew her. Everyone. So there's this other layer that's important to make a film about where we live and what was going on, and we were a part of it. We were all a part of it. We all saw this stuff going on; no one stopped it.



Capone: It is a film about being complicit in someone's death, being complicit in that you don't do anything to stop it. You said initially you didn't know what the story was, or if there was a deeper, more interesting story here about her. Can you even plan the narrative before you know what you'll have access to in terms of footage and interviews?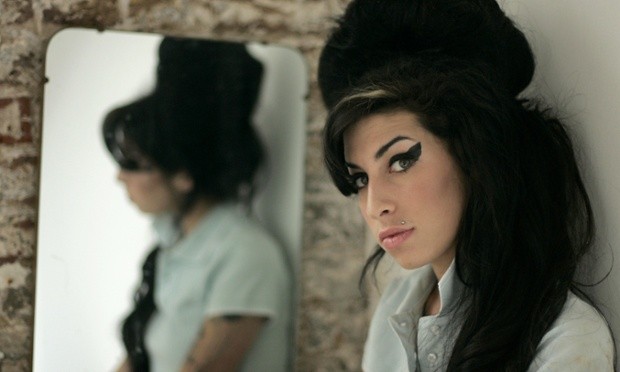 AK: It's an instinct. We have an idea we're going to make it. The first thing you need to know is if you're going to have the music. So the first conversation James and I had is you can only make a film about a musician if you have all of that in place. You've got to have the music, you've got to have the publishing, you've got to have everyone agreeing, because without the songs, there's no movie. So that's the first stp. And then once you've got that, literally you go and listen to the songs. Fairly early on, we were looking at lyrics like, "Oh my god. Has anyone actually read the lyrics?"





JGR: It was biographical.





AK: Yeah, and most pop stars or writers have a seam of that, but she wore her heart so on her sleeve.



Capone: When you put the lyrics up on the screen, which is a great idea, there are things in there even about "Rehab" that I didn't realize were in there or what they actually meant.



AK: Her songs are like documentaries—documents of incidents, experiences, and emotions. Literally, things that happened, she found a brilliant way of putting it down with a little twist, with references. It's all in there. All the clues are there, we just didn't listen carefully enough or look carefully enough. That's what it became. It was a big revelation. It's amazing writing.





JGR: Just to answer your question, though, the really important thing about the way we approached this was that we were asked to make this, and as Asif said, we didn't know her, we didn't have an angle; we went in with a complete blank slate, basically. That's his process. The only way you can approach these things, I think, is to talk to everybody you can possibly talk to, and watch everything you can possibly watch, and form your own opinion. In a situation this sensitive, everybody's got a theory. Everybody thinks they were her best friend and they know why she unraveled. So you go, okay, and you bank that. You get as much information as you can, you cross hatch it all, and start to find the consistent themes that come through, and that's the only way you can be objective about it. So that's why, to be honest with you, we're quite confident in our position in terms of any criticism we may have received because we did our homework.



Capone: I guess it's really her father's reaction that you're talking about. He says he's speaking for the family, but I don't know if that's true. Is he the only one who's come out against you at this point?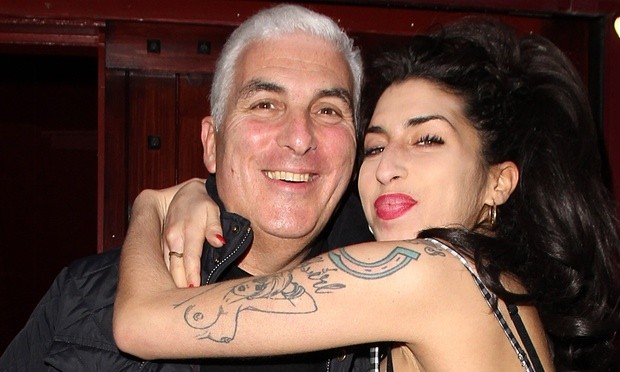 JGR: He's the most vocal. I think he speaks for himself, at the end of the day.



Capone: This is not a fan film. This is not as much about legacy. Everyone you interview is somebody that knew her, worked with her. It's not people that were influenced by her.



JGR: It's not famous people.



Capone: I'm sure you could have gotten that.



AK: I'm sure people have done that. I'm not too interested in that. I wanted to get on the inside. And actually, I would say 95 percent of people we've spoken to have never given an interview, never spoken to anyone, never written a book, TV show, or sold a story to a tabloid. There are quite a few TV docs made about Amy over the years, really awful, and all of them have the same few people. Very few of those people we actually spoke to, because you realize they are not a key part [of her life]. They're the guys that will always speak, but they don't know anything, and the people that knew, didn't speak.





JGR: And they didn't want to speak to us. It was interesting, after she died her really good friends took this vow of silence to basically not speak to the media or anybody like us, because they wanted to keep it sacrosanct what they had. So it was really a question of winnig their trust and bringing them in one by one. That took most of the last two years, but obviously they're the people you want to speak to you.



Capone: Those women that we hear from at the beginning, her oldest friends who are in those early home movies, are the heart and soul of the film. They probably add more to our understanding of where she came from than anybody who heard about it after the fact. Even more than her parents, I think.



JGR: They really ground her, because they're your average North London, middle-lower class people who knew her as this kid from the 'hood. They make her.





AK: They're Jewish, they have the same upbringing, they went to school together, went on holiday together, did everything together, wanted to be singers together—it's this whole experience that they shared. Hanging out with boys, parties, all of that, they did together, and then they got separated when she became famous. She went off to this other place, and they were watching her from afar. That became quite painful. They talked to her on the phone, but they didn't travel with her. They kept their own lives and they're still very ordinary, simple people when you meet them.





JGR: It's like you said before, we could have gone and interviewed Adele, but I'm much more interested in what her childhood friends who were consistently there, how they viewed this journey, because your best friend has become one of the most famous people on earth. What's that like? I think that's interesting, because it grounds it.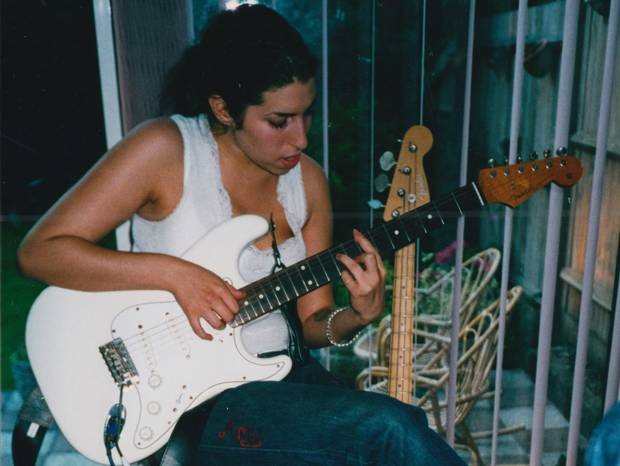 AK: They came through Nick. Nick was the first manager. He was the first person to talk to us. So it's really those three that are the heart of the story. They're the ones that, honestly, I trusted, and I think the audience, when you listen to them, you trust them. They set the pace. Nick was the first person to talk. Nick was the one who trusted us first and gave us that footage of her young, on tour, singing in the cab, talking, chatting, all of that. He said, "Look, the two people you have to talk to are Juliet and Lauren. They are just like Amy, which means they are going to be brilliant and really difficult, just like Amy was. But you need to talk to them if you want to get to the heart of who Amy was."



Capone: If you're saying 95 percent of the people in this movie have never been interviewed before, I've got to imagine that make this movie wast a constant exercise in gaining people's trust. A lot of these interviews are very confessional. Some of these people are carrying a lot of guilt.

AK: It's a therapeutic process, honestly. It all happened quite organically. We did a previous film called SENNA, which had interviews, but they were really famous people, people who had been interviewed a million times, and they're very PR'ed up. This was very different. These were ordinary people who are in pain, haven't really come to terms with her death, were angry, were guilty; there were so many emotions going on. Physically, they looked like they were about to burst. They were desperate to talk, but they didn't feel like they could trust anybody. So it took a long time just meeting them, talking to them, text messages, just to meet. To say, "Let's just meet. I don't have an agenda. We're not journalists; we have done this other thing. If you haven't seen it, I'll show it to you so you see where we are coming from." And it was just getting them to come to our edit suite and see that this is us. We are ordinary people.

Nick, for example, said to me the other day one of the biggest things for him was we had done this wall of different things that had happened in Amy's life. It was a bit like the detective in a bad cop movie, you know? We had the wall covered in poster board. We didn't know the story, so we just went and said, "This is what happened this year. This is when she was born, this is when she died." And then you look at it and you go, "It all happened there—2007." It needed it's own wall. And he looked at that and said, "Wow, no one has ever done that before." That was a big reason for him.

It was the fact that we made SENNA, but also the fact that we already done some much homework. No one had joined the dots and looked at it. So he then really helped us by talking to Juliet and Lauren, who took a long time to talk, but they had to talk. Once they all started to talk, it'd be like we'd meet for a half an hour, it'd become an hour, two, three, four hours, five hours later we're still talking. They'd be like, "We'll come back again. There's other stuff we haven't told you." Or they would break down while they were talking, and you literally didn't know what they were saying because there were so many tears. And it would just be a microphone, they were sitting opposite each other, nobody else in the room, they'd be in another room where the mixer, and it was quite harsh lighting. I didn't like the lights overhead, so we turned the lights down, so we'd almost sit in the dark talking. And they just had to talk. It was a blank piece of paper. Whatever you want to talk about. Let's start at the beginning, and see how far we get.



JGR: Yeah, and that worked even with her manager Ray, who never had been interviewed at all. He said, "I'm not going to partake in the film. I'll help you get to people, but I'm not going to partake." He was the same. He started off being very defensive, and then six hours later, he's saying things that I think he's even surprised by.





AK: And then everybody walked out feeling a little bit better. I'm not in the music business. I don't know anyone in this world. So it was really good to be quite dumb and not know anything, and you're just asking stupid questions. I didn't even really understand the music, publishing, the label, all of that. Why are you on stage? Who's decision is it to be on stage? Is it the label? No, because they deal with albums. There's quite a lot of information that comes out of this.



Capone: Let's talk about the use of music, because it looks like you use it two different ways. One, like you said before, is to illustrate these moments in her life and how she got them out into these songs, and you show us these lyrics. And second, you let us see what she can do in front of an audience. "Let's watch her blow us away for a second."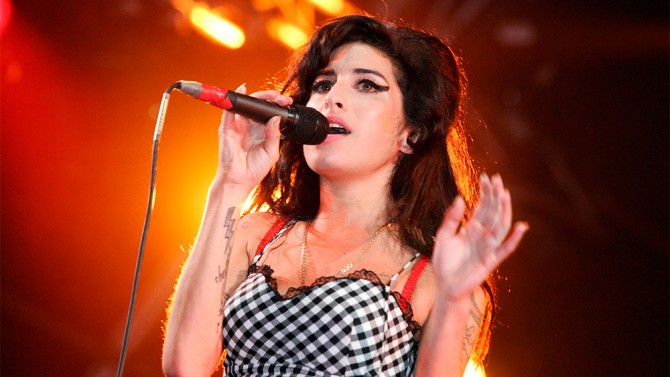 AK: They were the spine. We started with the songs, and it was obvious we had to have the songs, and once you understand that the lyrics are really important. After "Back to Black," Amy stopped talking. She stopped giving interviews. So the big difference between her and Senna was Senna was always so eloquent. You give him one question; he's talking for 45 minutes. She spoke a lot in the early years, she spoke a lot around "Frank." Then there's the pivotal period where everything changes. She changed management, she met Blake, she broke up with Blake, she had a breakdown, they tried to get her help, and all of that happened when she was off camera. And the second album comes along, and she stops talking, and so the songs were her at her most eloquent. The idea was to just to let her talk, and the lyrics were a key way for you to go, "Oh my god that's so revealing." So the songs were first, the question was always in which order and which tracks do we use and which performance, because the idea became I just want to see her live. I don't want to see the album being played while I watch her do something. She's so amazing with the guitar. She's so good. So that "Fran"k stuff, the early stuff that Nick gave us, gave us the beginning. That was always the worry: where does this story start?



Capone: I was most excited to see that material because that's the part of her life I know the least about. That's great stuff.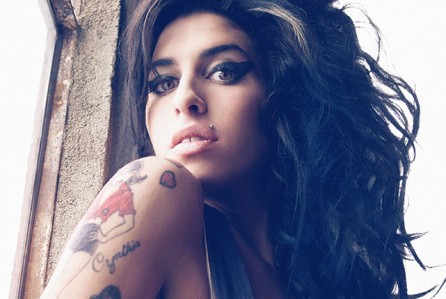 AK: And then it was building the narrative around the songs. Songs are always going to be upfront. That's what she does. She's an amazing singer, an amazing vocalist. That's the action scenes. That's the race scenes in SENNA. Those are the pivotal moments that blow you away, but we needed people to watch it in a different way and pay attention to what she's saying. Don't just get carried away with music. So the lyrics were key, and then it was just unraveling each song to work out what the narrative was going to be. For me, this was like a musical, where the songs are the story, and everything else is slightly secondary to that.



Capone: I want to ask about Blake and her father, because you don't necessarily demonize them, but it's tough leaving this film not seeing them as the villains. How do you present them in a way that isn't hyper critical? The world seemed to paint them in such a negative light before this movie…



AK: I don't know if they did. I don't know if people did, and also I don't think I'd use that word.





JGR: I think Blake was an easy target, and he's clearly no angel, but he's clearly not also the son of Satan. He's got his own issues. It's that classic addiction thing where somebody looks at somebody more damaged than themselves to latch on to.





AK: She was thinking she was saving him.





JGR: He's a very smart guy, but he's troubled, as he would admit.





AK: His backstory nobody had ever heard. That's the thing you have to understand: he's got issues.





JGR: He obviously was complicit in the drug cycle, but she would have found somebody else to self destruct with.



Capone: That's the interesting thing about "Back to Black," is we don't realize that by the time that album came out, a lot of the damage had already been done.



JGR: But before that, she was medicating with music to begin with. The music is her salve, basically. It allows her to make sense of the world. But then, the pivotal moment is "Rehab," because that's when her music changes everything for her irreparably, and the machine goes "Right, we've got to run with this as fast as we can." She can never stop that momentum after that point, so what was her salve becomes this beast that devours her. That's why, if you think about it, toward the end of her time, she's in this house, she can't go outside because the paparazzi are there, she can't live a normal life that allows her to create, because she can only create when she's living life on the edge. But she hasn't got a life. She just stays inside.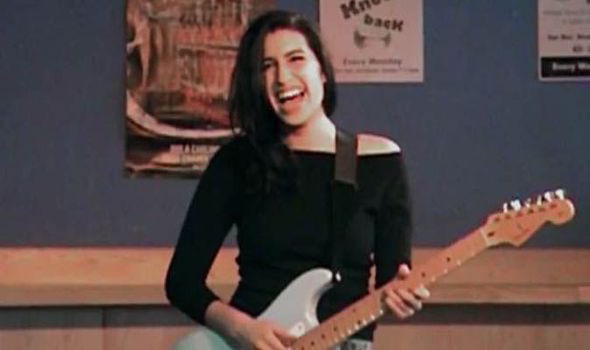 AK: She was asking her friends, "Tell me what you do, because I'll write about your experiences," which she couldn't do. But she wanted to change. She enjoyed trying something different. "Frank" was very different from "Back to Black." And I think with her third album, she wanted something different. The problem is if you have that big a hit, you have to follow it up with another hit. I think the success became the problem. She needed to knock out an album that didn't sell a lot of records, then she would have had the freedom to do a hip-hop album, a jazz album, something smaller—another level of creativity and experimentation, which I think became a real problem.



Capone: That's what I thought was going to happen—that everything would be fine once she started making that next record, but she didn't quite make it there.



JGR: She didn't have the type of life ability.





AK: But also they were just putting her in studios, and she just couldn't do it. There was so much damage by then. Too much damage.



Capone: The one thing I wondered about that wasn't in here was, is there any truth to this thing that she was going to do a James Bond theme with Ronson?



JGR: They started it.





AK: I've heard it. She never put down the lyric, but the music exists. She didn't want to do it.



Capone: It would have been great, though.



AK: [laughs] The music was great. There was a longer version of the film where we had that sequence. But she was in a bad way. It's really heavy, really heavy. Believe me, you did not want to see what she looked like at that moment. She was in the wrong place to think about a James Bond theme.



Capone: Thank you so much.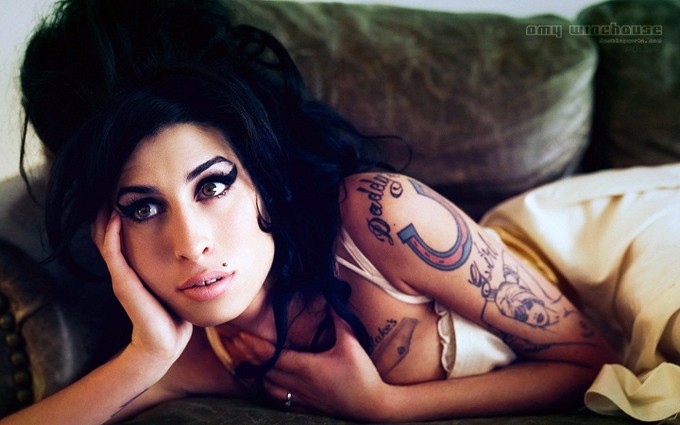 -- Steve Prokopy
"Capone"
capone@aintitcool.com
Follow Me On Twitter