Ahoy, squirts! Quint here. I have something to tell you... brace yourselves... I'm not going to Comic-Con this year. I know, crazy right? This is the first year I've decided to sit out the convention since 2000. The reasons are all what you'd expect (cost, hassle, stress, yadda-yadda-yadda), but even though I'm a little relieved not having to try to figure out ways to sneak back into Hall H after I have to run out to do some interviews I am kinda bummed not to be in that awesome/awful/amazing nightmare chaos again.
Especially when I see what cool SDCC exclusives are hitting this year. Funko has an exclusive Quint/Bruce figure that I'm probably going to have to buy on eBay for crazy money and now Mondo has let it be known to us at AICN that they're releasing a new Jaws print at the Con. How dare they!?! At least they were nice enough to let us debut the Quint-centric art by Nicolas Delort for you guys: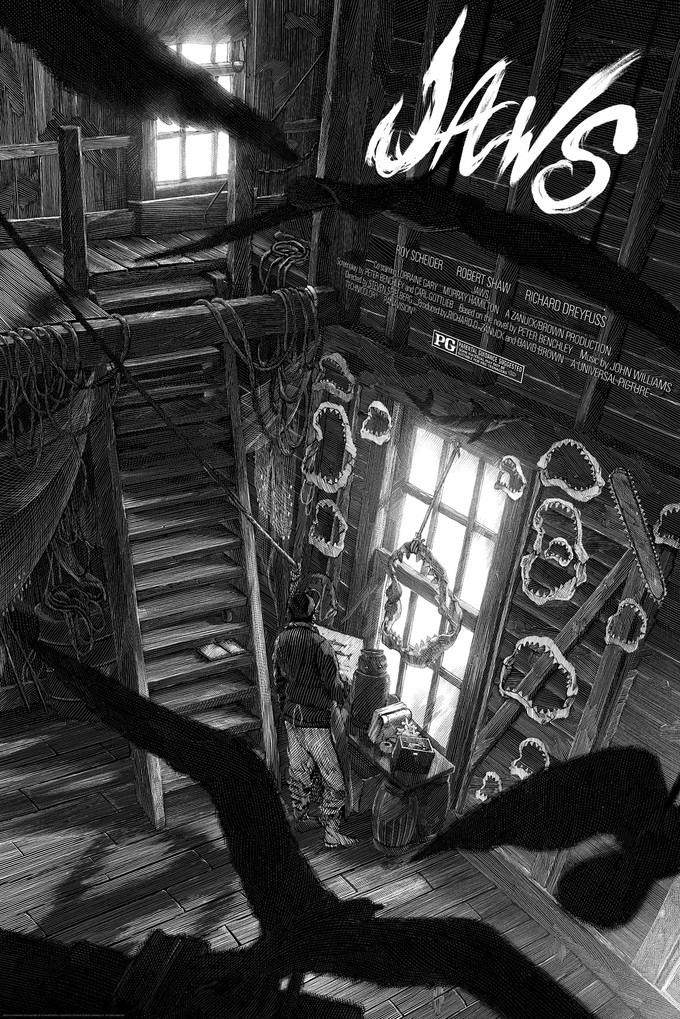 The Mondo folks are dropping this awesome print Preview Night (that's tomorrow, folks) at the San Diego Comic-Con. The print measures 24x36 and there are only 375 of 'em, so as soon as those doors open tomorrow make a bee line to booth #835 and get you some. Pick up one for me, too. And then go to Funko and get me one of them bloody Bruce Eating Quints. And then Facetime the Star Wars, WB, Fox and Legendary panels for me... and then... and then...
-Eric Vespe
"Quint"
quint@aintitcool.com
Follow Me On Twitter