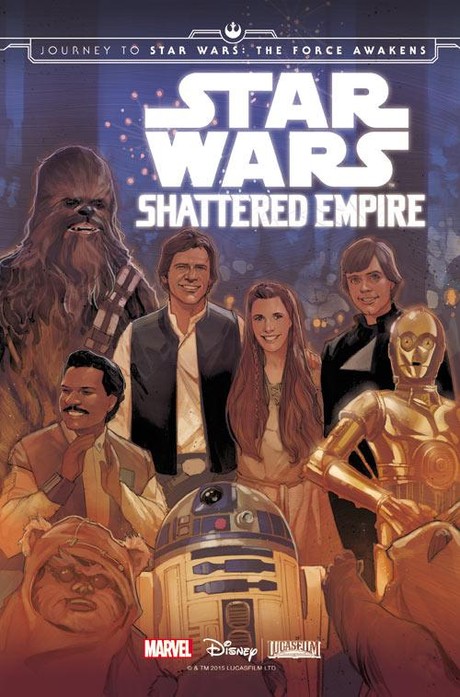 So much speculation with regard to the universe Han, Leia and Luke will find themselves in when J.J. Abrams and Laurence Kasdan's "Star Wars: The Force Awakens" debuts later this year.
Key among the big questions: Did The Empire survive its emperor? Gwendolyn Christie's Captain Phasma chrometrooper character, we know, serves something called The First Order, but what is that exactly?
Lucasfilm is publishing a truckload of new Star Wars books between now and the movie's Dec. 19 release, all carrying the words "Journey To Star Wars: The Force Awakens" on their covers.
Now that Disney has vanquished the old sequel novels to an alternative universe that apparently not be a part of "Force Awakens," a new comic book series penned by Greg Rucka titled "Shattered Empire"
explains what happened between "Return of the Jedi" and "The Force Awakens."
The first issue comes out Sept. 2, but Lucasfilm has already issued a synopsis of the four-issue series:
Emperor Palpatine's twenty-year reign of terror came to an abrupt and fiery end in the skies above the forest moon of Endor. A decisive victory for the Rebel Alliance, to be sure, but even with the loss of its leadership, the Empire's Moffs and regional governors retained their hold on important systems from the Core to the Outer Rim, thanks to the might of the Imperial Starfleet. Now, with a power vacuum atop the Empire, those Moffs will jockey for position and control, and the heroes of the Rebel Alliance will soon discover that a wounded and fractious Empire may be more dangerous than any threat they faced before!
So the rebels somehow won but the Empire survived anyway, with a bunch of Palpatine's non-Darth lieutenants fighting for control of it?
All four issues will be collected into a paperback due Nov. 17.