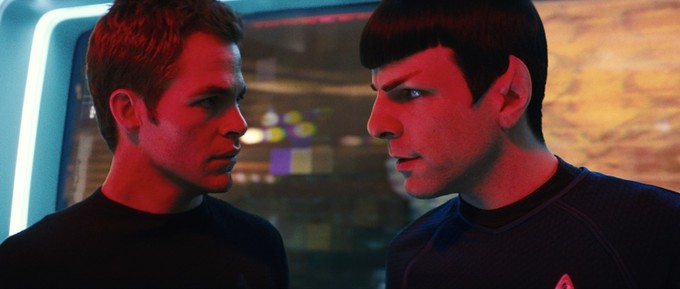 Next year's "Star Trek" movie only began shooting this week, but Paramount has already negotiated a deal to extend Chris Pine and Zachary Quinto's three-picture deal to four pictures, according to The Hollywood Reporter.
Nothing is known of Pine and Quinto's fourth Trek movie except that the actors will again play James T. Kirk and his trusty half-Vulcan first officer.
Court documents filed in a 2012 lawsuit that pitted Pine against his former talent agency reveal that Pine was paid $600,000 for the 2009 "Star Trek" and $1.5 million for its sequel, "Star Trek Into Darkness."
The same 2012 documents indicate that Pine was going to receive $3 million for his third Trek, but the Reporter's story says Pine – thanks to his signing on for his fourth Trek – will now receive $6 million for that third Trek, rumored to be titled "Star Trek Beyond."
Directed by Justin Lin ("Furious 6") from a screenplay by Simon Pegg ("The World's End") and Doug Jung ("Confidence"), Pine & Quinto's third "Trek" is scheduled to hit cinemas July 8, 2016.
Find all of The Hollywood Reporter's story on the matter here.