UPDATE: Gonzales tweeted on Friday that a source told him his "Old Man Logan" rumor was a false one.
Original post: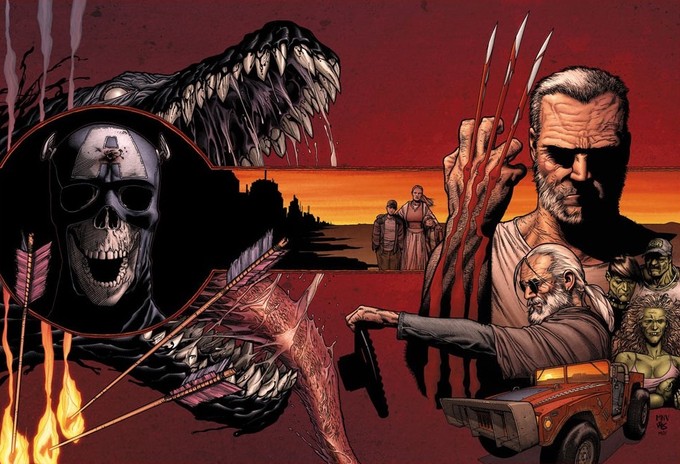 Latino Review vet Umberto Gonzales, appearing on the webcast "Marvel Movie News" Thursday, says Hugh Jackman's third and final "Wolverine" movie is rumored to be based on the future-set "Old Man Logan" storyline penned by Mark Millar.
Millar also wrote the comics on which "Kingsman," "Kick-Ass," and "Captain America: Civil War" are based.
"I'll give you guys a free scoop here," said Gonzales. "Rumor is the third and final Wolverine movie is going to be based on 'Old Man Logan'."
I dare hope this is true; "Old Man Logan" may be the most entertaining Wolverine story ever forged. Millar is on staff at Fox, home of the movie Wolverine, where he oversees scripting for the studio's Fantastic Four and X-Men movies.
Fox's fast-approaching "Fantastic Four" movie is based on Millar's run on Ultimate Fantastic Four.
Published in 2008 and 2009, "Old Man Logan" takes place more than 50 years in the future on Earth-807128. Most of the Marvel superheroes have been slain and the United States has been carved up into territories controlled by supervillains Kingpin, Doctor Doom, Red Skull and The Hulk.
Logan (he no longer uses his claws or identifies himself as "Wolverine" due to a horrific incident we learn about late in the story) lives with his wife and kids near Sacramento, now a component of Hulkland, where he must pay rent to the grotesque incest-derived offspring of Bruce Banner and Banner's She-Hulk cousin, Jennifer Walters.
To raise cash and avoid eviction, Logan takes a job helping a blind Hawkeye on a cross-country journey to deliver a mysterious package to a destination back east.
Now the bad news is most of the characters in Old Man Logan are not controlled by Fox, so unless some sort of deal can be worked out between Fox and Disney, the movie won't be able to utilize Hawkeye, Red Skull or Kingpin. Also, I think Universal might still have some control over the use of Hulk outside of the Avengers movies. So a lot might have to change.
Since Fox controls The Fantastic Four as well as the X-Men, I wonder if, instead of Hawkeye, Logan couldn't team up with an elderly fucked-up version of Reed Richards (who may not be able at this point to snap back into a fully human shape?) or Johnny Storm (who may be walking around like a mummy to hide his horribly charred body?).
Or maybe Ian McKellen could be lured back to play Logan's traveling companion??
Gonzales unveils the scoop at the 39:28 mark: