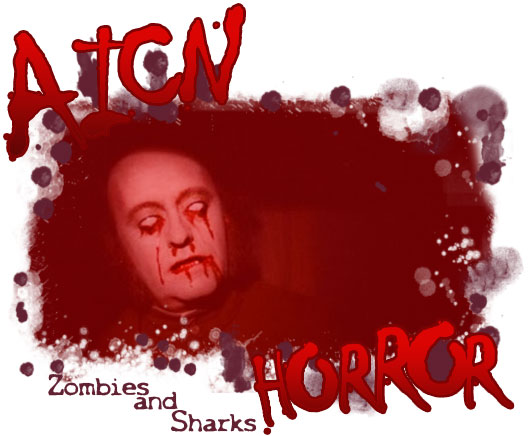 Logo by Kristian Horn
What the &#$% is ZOMBIES & SHARKS?
---
Greetings, all. Ambush Bug here. Look for my regular AICN HORROR column tomorrow, but I wanted to be sure to say a fond farewell to Christopher Lee who passed away at the age of 93. Though the man was an icon in many genres, he was most impactful to me as a moviegoer in his horror films playing everything from murderers to vampires to hero detectives in scores of horror films. Below are just a few of Christopher Lee's films I have reviewed in AICN HORROR over the years and given that the actor starred in countless genre films, I'm sure I'll be reviewing more Lee films for a long time to come.
Today on AICN HORROR

(Click title to go directly to the feature)
THE WHIP & THE BODY (1963)
DRACULA: PRINCE OF DARKNESS (1965)
THE HORROR EXPRESS (1972)
NOTHING BUT THE NIGHT (1973)
---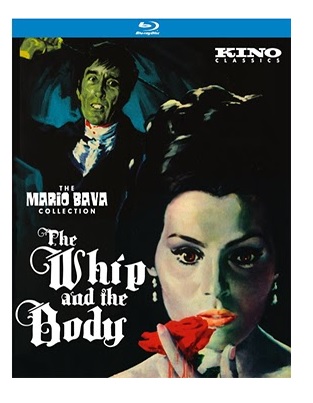 Retro-review: Available on BluRay from Kino Lorber!
THE WHIP & THE BODY (1963)
LA FRUSTA E IL CORPO, THE WAY OF THE BODY, THE WHIP & THE FLESH, THE BODY & THE WHIP, SON OF SATAN, NIGHT IS THE PHANTOM
Directed by Mario Bava
Written by Ernesto Gastaldi, Ugo Guerra, Luciano Martino
Starring Daliah Lavi, Christopher Lee, Tony Kendall, Ida Galli, Harriet Medin, Gustavo De Nardo, Luciano Pigozzi, Jacques Herlin
Retro-reviewed by Ambush Bug
Though Hammer was just getting started relatively around the same time (CURSE OF FRANKENSTEIN being released in 1957 and DRACULA in 1958) THE WHIP & THE BODY feels like it fits right in with the Hammer horror films showing that, though the template was being carved by Hammer at the time, the cinematic tropes we often associate with the films were being developed in Italy as well by a true master of horror, Mario Bava.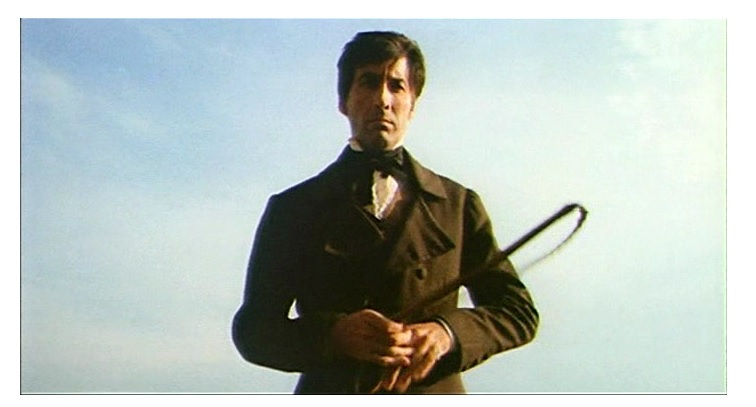 Obviously, playing off of Christoher Lee's popularity as the Count, Lee is in full Dracula mode without the fangs as Kurt, a former lover of Navenka (Daliah Lavi) who returns to take up his S&M ways with the woman, though she is now married to his younger brother, Christian (Tony Kendall). Christian naively chooses to turn a blind eye to Navenka's obvious fascination/repulsion to Kurt's return and when Kurt ends up dead, they all fear his ghost is still haunting the castle and continuing his whipping ways.
The story is an interesting metaphor about hidden desires and secrets of the past. Everyone has a few skeletons in their closet, and this film plays with the fear of them returning very well. I have to admit, the ooky feeling I got while watching it had a lot to do with how Christian was being so chickenshit about his wife's obvious love for his brother and how she secretly enjoyed being tortured by him. I don't judge anyone for their sexual eccentricities, but the fact that Christian is played as such a mush was rather annoying.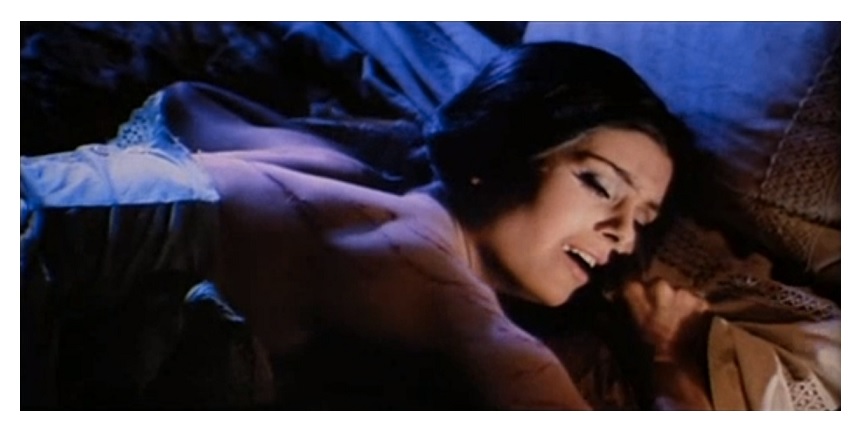 Bava is in full-on Hammer mode here with gothic castles, elaborately decorated interiors, heaving bosoms, and swelling music reminiscent of the best Hammer films, all of it done with a bit more of an edge to the sexuality factor. Lee is equally amazing as Kurt and really seems to enjoy whipping the shit out of Navenka, and the ending is a winner with all sorts of depravity going on, reminding you that, just in case you forgot, this isn't one of those safe Hammer films for the masses.
Extras for this one include a commentary by Tim Lucas (author of MARIO BAVA: ALL THE COLORS OF THE DARK), Italian & French translations, and trailers for many of Bava's films. Bava's THE WHIP & THE BODY is just naughty enough to make you squirm, but never really goes into the edge of some type of early rendition of torture porn as other filmmakers like Jess Franco often liked to do. There are some genuinely scary scenes involving bumps in the night, ghostly hands from the darkness, and Lee chewing up the scenery sans fangs. If you're looking for Hammer horror with a bit more oompf, THE WHIP & THE BODY might just be what you're looking for.
---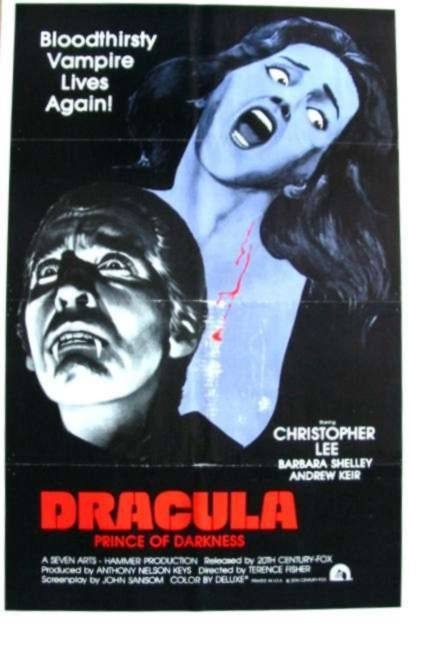 Retro-review: Available on BluRay from Hammer Films!
DRACULA: PRINCE OF DARKNESS (1965)
Directed by Terence Fisher
Written by Jimmy Sangster, Anthony Hinds, Bram Stoker
Starring Christopher Lee, Barbara Shelley, Andrew Keir, Francis Matthews, Suzan Farmer, Charles 'Bud' Tingwell, Thorley Walters, Philip Latham, Walter Brown
Retro-reviewed by Ambush Bug
Low-necklined dresses, bright red blood, ornate sets, and gloomy castles: sounds like the recipe for a Hammer film, and DRACULA: PRINCE OF DARKNESS is one of the best. For the first time on BluRay, this film presents the master of darkness clearer, more vivid, and more exciting than he's ever been before.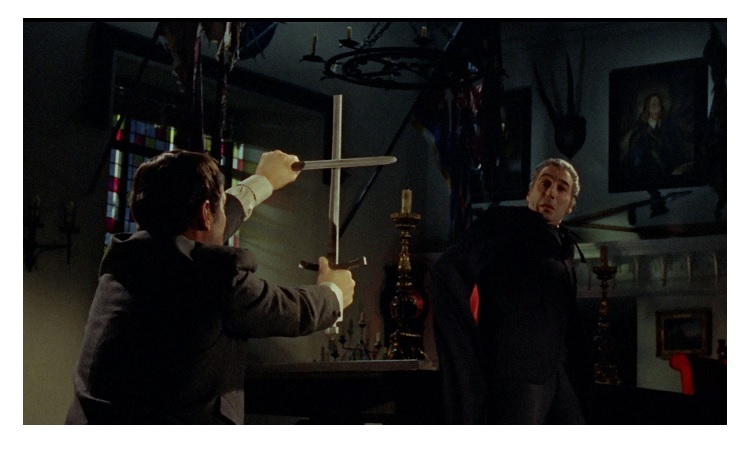 One of my biggest criticisms of vampire films, and Dracula films in particular, is that they adhere to Bram Stoker's classic too much. I'd love to see some story involving the fascinating character of Count Dracula that doesn't involve the reincarnation of his lost love. I understand immortality and being born again is an ongoing theme with vampirism and is intrinsically linked to the mythos, but surely there are other tales to tell with such a fascinating character. I can't say that DRACULA: PRINCE OF DARKNESS veers too far from those narrative themes, but when it does zig from them, the film does so in interesting ways.
This story basically follows the same narrative structure, as a traveler with business that needs to be done at Dracula's castle arrives at the place and is met with a night of terror. But instead of expanding upon that tale, bringing it back to England and having everything play out there, this story sticks with the castle itself, and instead of having one lonely soul crossing paths with the Count, four people arrive at the mysterious castle and most of the action takes place there. This simple shift in story locale and structure makes for a wholly different movie, and one that doesn't feel like a tired retread of Stoker's classic.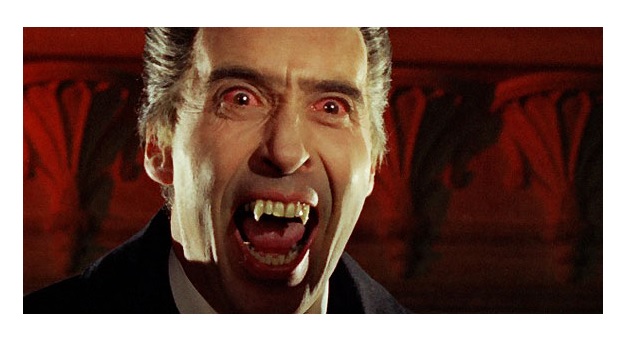 The performances in DRACULA: PRINCE OF DARKNESS are top notch. The travelers are all fun to follow, as one is leery of the castle and the dark unknowns it hides, while others are dismissive of obvious and ominous cues that appear in the form of a Lurch-like henchman, a bug eating Renfield type, and coffins galore. Dracula himself, played once again by Christopher Lee, is more of a hissing monster here than a suave nobleman. I love Lee's more monstrous take on the vampire here, making Him much more of something to fear than lust for, as most modern renditions seem to prefer to go for. Harsh red lighting as well highlights the scares; a rudimentary method of fright exemplified in most campfire tales, but an effective one.
Though the way Drac is taken care of in this one is a little more lame than most, cornering the Count over a frozen moat of running water is a method of termination not often used in vampire films, so points for originality. Seeing Dracula's frozen solid corpse at the end is a gripping image. Terence Fisher directed most of the best Hammer horror films, including THE HORROR OF DRACULA, which this film is a direct sequel to. Here he proves why he is the king of Hammer in building from the mythos, rather than homaging well-tread territories. This new BluRay features interviews with the stars, including Christopher Lee, plus a HAMMER STARS: CHRISTOPHER LEE featurette focusing mainly on the actor. BACK TO BLACK is new and focusing on the making of the sequel. Plus the usual trailers and stills, plus this set has collector cards with images from the film included as well. Altogether a fine-looking presentation of a fantastic vampire film.
---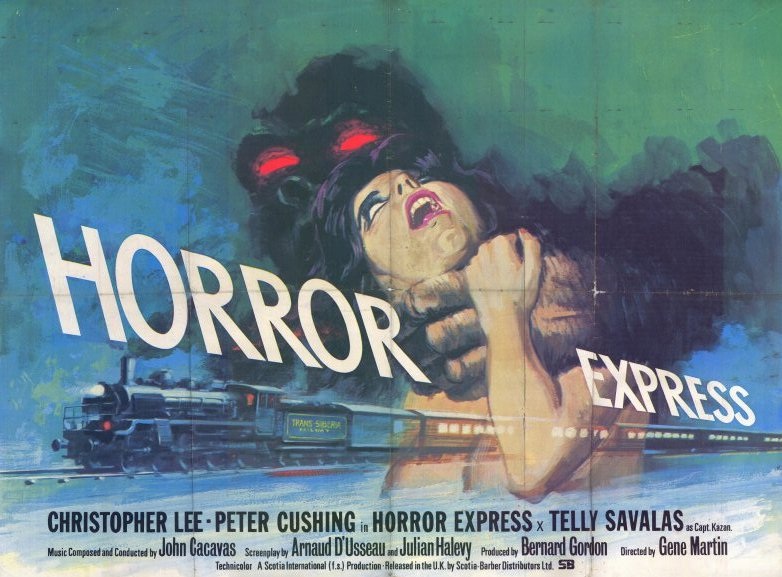 Available on BluRay/DVD!
HORROR EXPRESS (1972)
Directed by Eugenio Martín
Written by Arnaud d'Usseau & Julian Zimet
Starring Christopher Lee, Peter Cushing, Silvia Tortosa, Julio Peña, Telly Savalas, and Alberto de Mendoza
Reviewed by Ambush Bug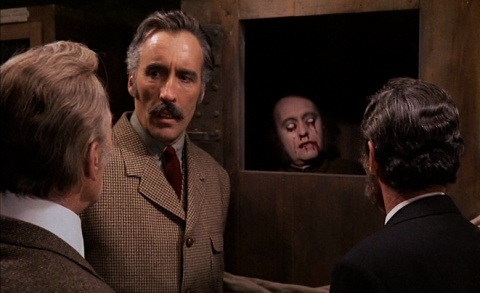 Horror usually abides by a lot of rules, or at least it used to. There were certain conventions that studios such as Hammer, Universal and Amicus would abide by and audiences would come to expect certain things from those films. My favorite films, though, chuck those conventions and tell a new kind of story--which is exactly the kind of weird odd gem HORROR EXPRESS is. With unconventional concepts, characters, and monsters shuffling between train cars throughout the film, HORROR EXPRESS proves to be ahead of its time with a sort of "throw a bunch of shit against the wall and see what sticks" attitude that other films of its era were afraid to have.
The biggest selling point of this film is its two lead actors, Christopher Lee and Peter Cushing. Usually at odds in horror films, this time around they have a weird pairing as dueling archeologists putting their heads together to uncover a mystery surrounding an archeological find Lee happens upon during a Himalayan excavation. Lee brings this creature he finds in the ice on a train and immediately weird things start happening. Christopher Lee has a big ol' Vlad Tepes moustache and Cushing, who outside of the film had recently lost his wife, appears more gaunt than usual in his role. Both Cushing and Lee are almost upstaged by Alberto De Mendoza as a holy man who becomes transfixed on the creature. Also threatening to steal the show is Telly Savalas, who shows up very late in the film for about fifteen minutes, but makes each of those minutes count as a boisterous Cossack running the train.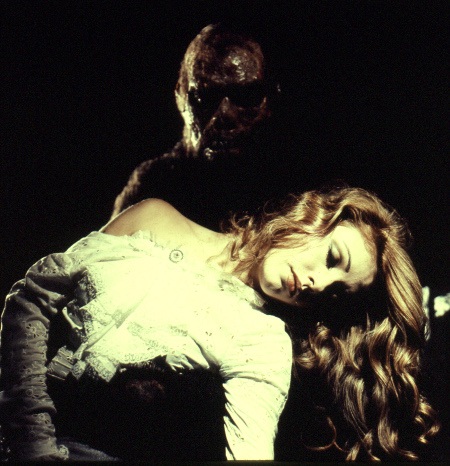 Elements of this film show up in many a latter monster movie, most notably John Carpenter's THE THING and even PREDATOR. Much like John Carpenter's THE THING, the two deduce that the creature travels from one body to the next, with the best indication of possession (or infection, depending on if you favor science or religion) being close inspection of the eyes. The creature also mimics the voices of passengers on the train much like the monster in PREDATOR as it turns out the hairy beast is also a pretty good whistler. There are moments of ludicrousness, though, as the beast, frozen in ice for a millennia, somehow knows how to pick a padlock with a bent nail. The camera really amps up the menace of the creature in close-ups with its glowing eye and hairy body, but when they pull back, the lumbering beast loses its effectiveness.
On top of the monster itself, director Eugenio Martin adds screeching and wailing music, reminiscent of a train's wheels breaking, that is as haunting as the subject matter itself. The autopsy scenes performed by Lee and Cushing are amazingly gory for its time, showing much more of the red stuff than Hammer or American studios were used to. This most likely is due to the fact that the Italian filmmakers were following in the steps of Bava, Argento, and Fulci rather than the more romanticized horror of American and English directors of the time. The white eyed and bloody stares of the possessed characters of this film makes this film all the more terrifying.
Though like most films of its time, the film ends abruptly, HORROR EXPRESS is full of shocks, surprises, and innovative ideas and performances. It's a tale of a monster running amok on a train--a simple concept deftly plumbed for all its worth and a film that most definitely will not be forgotten once viewed.
---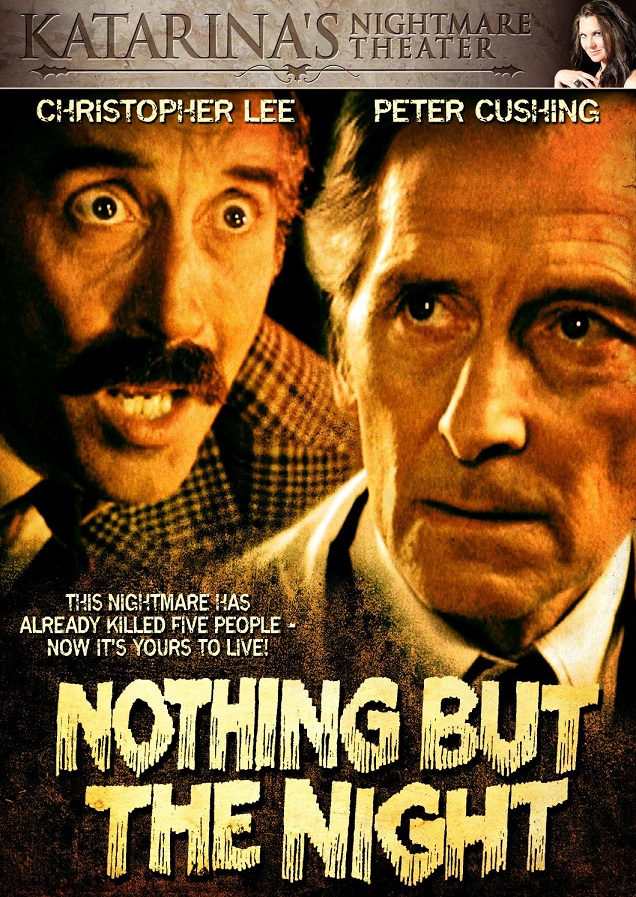 New on DVD from Scorpion Releasing & Katarina's Nightmare Theater!
NOTHING BUT THE NIGHT (1973)
AKA THE DEVIL'S UNDEAD and THE RESURRECTION SYNDICATE
Directed by Peter Sasdy
Written by Brian Hayles (screenplay), John Blackburn (novel)
Starring Christopher Lee, Peter Cushing, Diana Dors, Georgia Brown, Michael Gambon
Retro-reviewed by Ambush Bug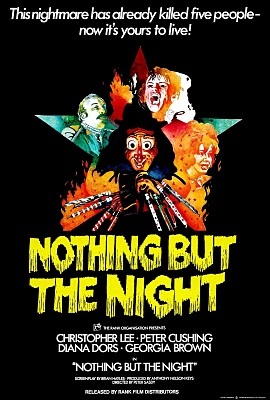 I was pleasantly surprised at how much I became wrapped up in this slow burning shocker that repeatedly pulls the rug out from under the viewer all the way until the end of the film. NOTHING BUT THE NIGHT looks and feels like a late Hammer film, mostly because of its stars, Christopher Lee and Peter Cushing, but thematically belongs more in the company of ROSEMARY'S BABY and THE WICKER MAN. Like those two films, NOTHING BUT THE NIGHT deals with more sophisticated themes than fangy vamps and the leaping missionaries that hunt them, venturing more into themes of conspiracy and paranoia.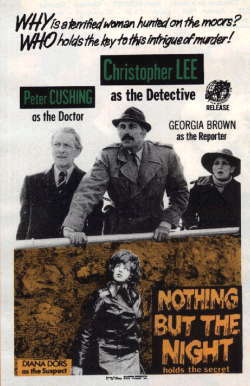 Christopher Lee plays an investigator looking into the mysterious deaths of board members of a secluded school. He works closely with a forensic specialist played by Peter Cushing in investigating what look to be suicides, but still twinge the two investigators' suspicions of foul play. Though the investigations lack the detail modern forensic detective stories possess, the mystery still takes its time to unfold and more than a few red herrings are tossed out to mislead us along the way. In many ways, Lee and Cushing play a modern day Sherlock and Watson with Lee handling the street investigations while Cushing is back in the lab. Seeing these two horror veterans in a film I didn't know existed was the real treat here.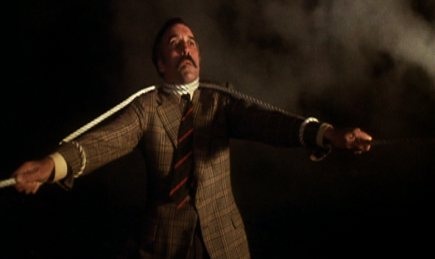 I don't want to give too much away about the story. There is a lot of deception going on by the director right up until the end. Peter Sasdy also filmed TASTE THE BLOOD OF DRACULA with Lee and Cushing and prefers to keep the audience misled along the way in this one. I found the ending to be both ballsy and shocking, though the real threat becomes obvious towards the end. Just lumping this film in with ROSEMARY'S BABY and THE WICKER MAN (released in the same year) might clue you in about what the ending is like, but still there's enough originality to the script and strong performances by both Lee and Cushing (not to mention the ending, which will definitely take the wind out of you) to attract fans of old school horror in NOTHING BUT THE NIGHT's direction.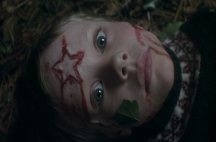 This film is presented by Katarina Leigh Waters, who does a nice job of offering up both Elvira-esque witticisms and substantial fun factoids about the film such as the appearance of a young Dumbledore 2 himself, Michael Gambon, as a policeman. Katarina also informs us that this was the first and only film produced under Christopher Lee's company Charlemagne (named so because Lee is a descendant of the famous Roman emperor). Katrina's contribution definitely makes this DVD presentation particularly worthwhile for completists of both Lee and Cushing's works. I highly recommend this forgotten treasure of a thriller starring two of horror's greats.
Rest In Peace, Christopher Lee. You will be missed and remembered for your countless iconic roles forever.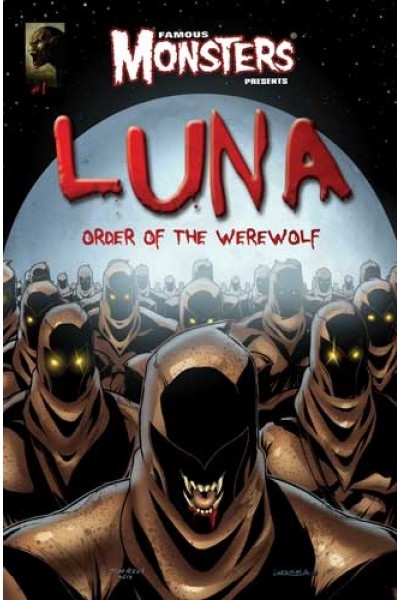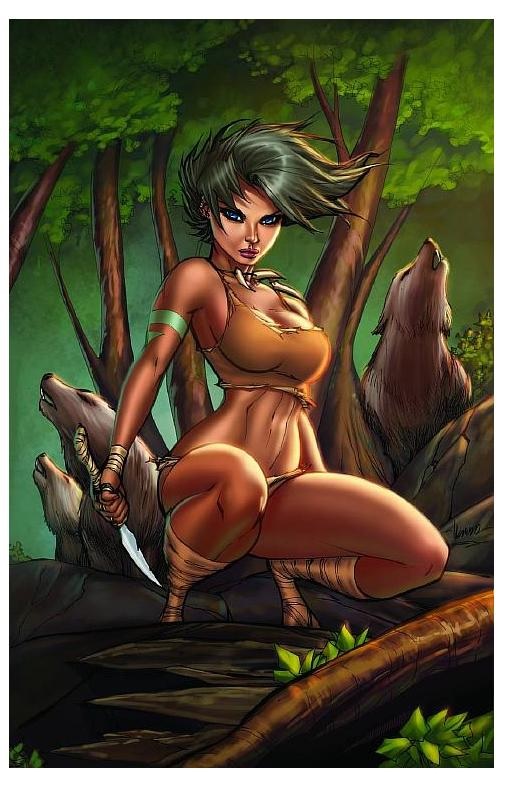 Ambush Bug is Mark L. Miller, original @$$Hole/wordslinger/writer of wrongs/reviewer/interviewer/editor of AICN COMICS for over 12 years & AICN HORROR for 3. He has written comics such as VINCENT PRICE PRESENTS THE TINGLERS & WITCHFINDER GENERAL, THE DEATHSPORT GAMES, & NANNY & HANK (soon to be made into a feature film from Uptown 6 Films). He has co-written FAMOUS MONSTERS OF FILMLAND's LUNA: ORDER OF THE WEREWOLF (to be released in 2013 as a 100-pg original graphic novel). Mark wrote the critically acclaimed GRIMM FAIRY TALES PRESENTS THE JUNGLE BOOK from Zenescope Entertainment & GRIMM FAIRY TALES #76-81. Look for GRIMM FAIRY TALES PRESENTS THE JUNGLE BOOK: LAST OF THE SPECIES available in February-July 2013 and the new UNLEASHED crossover miniseries GRIMM FAIRY TALES PRESENTS WEREWOLVES: THE HUNGER #1-3 available in May-July 2013! Follow Ambush Bug on the Twitter @Mark_L_Miller.
---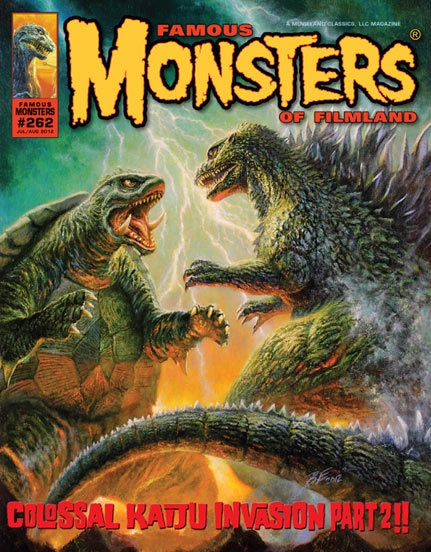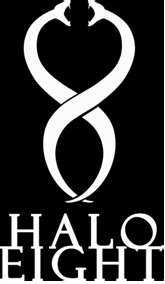 Check out the FAMOUS MONSTERS OF FILMLAND Website for all things horror!


Interested in illustrated films, fringe cinema, and other oddities?
Check out Halo-8 and challenge everything!



---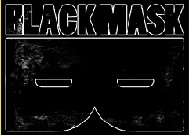 Find out what are BLACK MASK STUDIOS and OCCUPY COMICS here and on Facebook here!





---
Find more AICN HORROR including an archive of previous columns on AICN HORROR's Facebook page!