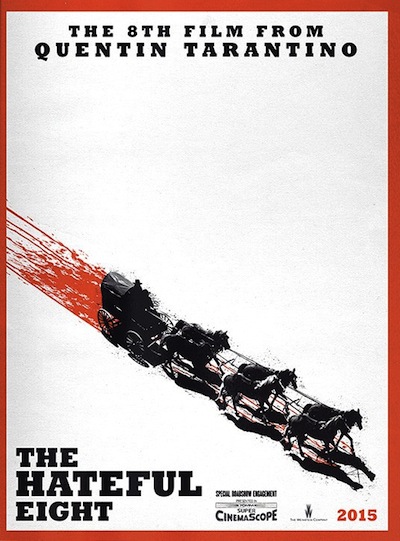 Jeremy here...
It seems like the coolest bits of movie news have a tendency to slip out during the weekend. For instance, I was just sitting here working on a screenplay over a glass of delicious, ice cold Champale when this tweet popped up on Twitter.
Ultra Panavision 70 "Hateful 8", 1.25 times anamorphic squeeze, yielding an extremely wide aspect ratio of 2.76:1 pic.twitter.com/Efm5FA9BjK

— Bill Bennett ASC (@CineBill) June 6, 2015
This right here is our first look at a 70mm projection of Quentin Tarantino's THE HATEFUL EIGHT (or is it HATEFUL 8), and it is gorgeous. Cinematographer Robert Richardson seems to be channeling Laszlo Kovacs or Vilmos Zsigmond or, I don't know, Owen Roizman. Basically, I'm getting a nice, soft 1970s vibe from this shot, and I love it. Do we really have to wait until Christmas for this?
To make the wait even more interminable, check out these other tweets from Bill Bennett. Goddamn, this sounds wonderful.
Saw Ultra Panavision 70, Tarentino's "The Hateful 8", projected in Anamorphic 70mm. Crazy beautiful. An entirely chemical analog process.

— Bill Bennett ASC (@CineBill) June 6, 2015
@davidneal Tarantino is retrofitting 50 theaters in the world with 70mm projectors with the Anamorphic projection lenses. Film still lives.

— Bill Bennett ASC (@CineBill) June 6, 2015
As for who's obscured by the lens flare in that shot, my guess is that it's Craig Stark as Chester Charles Smithers, the son of Bruce Dern's General Sandy Smithers.