Father Geek here with Darius25's Asia-AICN column #26. There's loads of cool info this week from the far east, so sit back , relax and dig in... This bit came across Father Geek's desk just as I was writing up this intro and I thought you would find it of interest...
I've been reading AICN for over a year now, and this is my first time to contribute. Coming off a real high of meeting the incomparable Michelle Yeoh at the New York Film Festival screening of "Crouching Tiger, Hidden Dragon" Monday night, I find what could possibly be good news, to me anyway, about another martial arts legend, the great Jackie Chan.
New York Magazine reports that Dimension Films has cut the original ending scene from Drunken Master 2 that shows Jackie reduced to a mentally retarded state due to his excessive drinking. I am usually right there with the people who protest any meddlesome revisions of classic films, but you know what? I really hated the original ending and thought it came close to ruining one of the all-time great martial arts films. It may be sacreligious to say so, but maybe Dimension got it right this time. Flame away!
Call me Qualopec.
Father Geek back again, I don't know... I prefer that they leave it as it was originally intended by the film makers. Now here's Darius25 and his Asia-crew... Asia-AICN Hey all. Hope you've had a good week. We have an info-PACKED column for you this week. Plus, "Pigmon" and "Matrix1966" are back so you can enjoy those Japanese and Korean reports once again. Anyway, here's the latest from Asia: INDIA
- Actress Rinke Khanna has been signed for a South Indian film titled Majnu (Heartthrob). The Tamil-language film will be directed by Dr. Murli Manohar and will star Prashanth.
- Kamal Haasan will star in an upcoming sci-fi film, which is a very rare genre in India. The film will be directed by Shankar and will be produced by Pentafour films. I believe this is the Haasan-Shankar reunion we were hearing about a while back. Work will get underway once Shankar finishes Nayak (Hero) with Anil Kapoor.
- South Indian actor Ajith has been signed to appear in Santosh Sivan's Ashoka the Great. He will play the role of Shahrukh Khan's brother.
- Subhash Ghai's latest venture will be the film Rahul (an Indian name), to be directed by Prakash Jha. The film will star Jatan Garewal and Neha. Rahul has already started principal photography and will be released sometime in December.
- Actor Manoj Bajpai has been cast as the main protagonist in director Partho Ghosh' Panchhi (Bird). Principal photography has already started on this place, part of which is being shot in USA right now.
- Producer Sujeet Kumar's Champion has been delayed to November 10. Now the Sunny Deol-starrer will have to compete yet another Sunny Deol film, director Raj Kanwar's Farz (Duty). Deol's co-stars in Champion include Raveena Tandon and Rahul Dev, while Farz co-stars Jackie Shroff and Preity Zinta.
- There were 4 films released on Friday, October 6. While I didn't get a chance to see all of them, I'll still provide a small description of each film. The first film, Aaghaz (The Beginning) was directed by Yogesh Ishwar and stars Sunil Shetty, Sushmita Sen, and Namrata Shirodkar. From what I hear, this is a typical Sunil Shetty action film. Govind (Shetty) comes to Bombay from a small village and runs into trouble with the usual cops, politicians and of course, the Bombay underworld. You can expect the usual Bollywood action-movie formula: Hero's a nice guy, rebels against the criminals, the criminals punish him, hero kills 'em all, the end. Even though Shetty's action films are routine, I like them for they are - your average escapist fare with some pretty good action. Expect the same from this film.
Here's a scene from Aaghaz with Sunil Shetty and Sharad Saxena: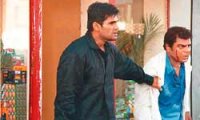 - The second film out this week is Dil Pe Mat Le Yaar (Don't Take it to the Heart), directed by Hansal Mehta. The film stars Manoj Bajpai, Tabu, Saurabh Shukla and director Mahesh Bhatt (as himself). Even though the initial plot is similar to Aaghaz, the two films are very, very different. As the title suggests, the film is actually a social satire about everyday city-life, and how it can even corrupt the most innocent persons. Ram Saran (Bajpai) is a small town mechanic who comes to Bombay with big city dreams. He ends up working at a garage, and befriends a journalist and a cameraman. The journalist, Kamya (Tabu), gets impressed by Ram Saran's simplicity and honesty and writes an article about him. Ram turns into a local celebrity overnight, causing everyone (including the journalist) to take advantage of his fame. Eventually Ram gets corrupted himself and decides to get even with everybody. I will not discuss the ending, but trust me when I say that it is truly bizarre in a silly kind of way. The acting and directing are both superb with kudos going to Manoj Bajpai for his incredible work. He is an excellent dramatic actor, but with this film he has proved that he has a knack for comedy as well.
- The third film of this past week is director Mahesh Manjrekar's Astitva (Existence). The film stars Tabu, Sachin Khedekar and Mohnish Behl. This one is a hardcore "feminist" drama about marital infidelity and the double standards that women still have to face in present-day India. The basic plot of the film revolves around a man whose life is shattered when he finds out that his child is a result of an affair that his wife had with her good friend. He abuses her in front of all her friends and takes her to court in order to humiliate her in public. We eventually find out that the guy himself had an affair, but he isn't ashamed of it because he feels that it's alright for him to do it (you go guy J ). The wife then somehow proceeds to revolt against the hypocrisy of the Indian society where the husband is THE king and the wife is just an underling. Tabu does a very good job as the wife who stands up for her rights as a wife AND a woman while Sachin Khedekar gives a very convincing performance as the chauvinistic pig. Mahesh Manjrekar has written a very good script, and he apparently knew exactly what he was doing - the film was shot (and completed) over 18 days!!
Here's a picture of Tabu in Astitva (the necklace binding her hands is a feminine symbol of wedlock in Hinduism, much like the wedding band):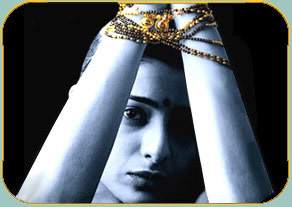 - Unfortunately for me, I chose to see Shikari (Hunter), the new film by director N. Chandra which stars Govinda, Karisma Kapoor, Tabu and Nirmal Pandey. The film doesn't start off that badly. A criminal, Om (Govinda), escapes from prison, dons a disguise and heads off to South Africa where he poses as wealthy businessman. He then kills his rival (Nirmal Pandey), takes off his disguise, and enters the rival's house as a family friend. He then proceeds to kill off nearly everyone in the film, before the absolutely ridiculous ending. We are never aware of Om's actual motives until the final 15 minutes where a flashback sequence portrays him as a tortured soul and unsuccessfully tries to justify his psychotic actions. The director was apparently confused. Why set the audience up to hate this guy from the very beginning and then try to justify his actions at the end?? Even at the end, Om is still the insane murderer as he was in the beginning and nothing really could make us sympathize with this character. There are also major plot holes in the movie. At the beginning, we see Pandey's sister (Karisma) act as Nancy Drew and investigate his brother's murder. She does suspect Om, but as soon as she sees some contradictory evidence (forged documents), she haplessly falls in love with him!? There are also some MAJOR plot holes concerning Tabu's character (as Pandey's widow) but I will not go into it for spoiler reasons. Acting wise, only Govinda truly impresses. This is his first time as the heavy and he doesn't disappoint. Even though his character was written quite horribly, Govinda does as best as anyone can with such a role. At least he's better than Keanu Reeves in "The Watcher" (another awful film). Tabu's ok with her minimal role while Karisma's character is just plain dumb. There are more problems with this movie (bad songs, not enough thrills, etc.) but you should already get the point. Avoid this film as best as possible.
- If any of you actually want to see a good killer movie, look no further. This week, I am recommending Baazigar (Gambler), directed by Abbas-Mustan. I am not going away any spoilers but be prepared for some shocking twists. Shahrukh Khan stars in dual roles as a student, Ajay, and a businessman, Vicky. Both Ajay and Vicky are in love with the two daughters of a wealthy industrialist (played by Dilip Tahil), respectively. Since Ajay is poor, of course the father won't consent to him marrying his daughter. From this point on, the film turns into a complex suspense thriller which will keep you on the edge of your seats until the extremely violent conclusion. Without giving away any spoilers, SRK is excellent as both Ajay and Vicky. The film was made in 1993, when Shahrukh was still a newcomer in the industry. This is the film which catapulted him into superstardom. Both Kajol and Shilpa Shetty are very good as the two sisters. This was Kajol's second film and she showed a very broad range of acting which would ensure her success later on in the 90s. Shilpa Shetty made an impressive debut in this film and made her presence felt. But it is really Abbas-Mustan who made this film so taut and suspenseful, even though the audience is in on the secret the whole time. The first death comes as such a shock that the audience never knows what to expect. And unlike Shikari, we know exactly why the killer is doing what he is doing. There are no last minute surprises here. All in all, if you're looking for a clever (but violent) thriller in the vein of The Talented Mr. Ripley, be sure to check out Baazigar.
CHINA / HK The following was reported by "The Accidental Spy":
- After finishing "A Fighter's Blue", Andy Lau's Teamwork Productions plans to film "Full-time Hitman", an adaptation of the best-selling HK novel about a soon-to-be-retired assassin named O, who is challenged by a young up-and-coming hitman Todd, an ex-Olympic competitor who likes to copy killing methods from the movies. This project was originally planned two years ago, right before "Running Out of Time".Johnnie To is in talks to direct the film, with possibly Andy Lau and Nicolas Tse starring as the main leads. This film is still under copyright hassles as the author has sold the rights to another studio.
- Director Andrew Lau ("Stormriders", "Sausalito") is planning a HK version of "Pretty Woman". Leon Lai and Cecilia Cheung, who recently worked with Andrew in "Sausalito" and "The Legend of Speed" respectively, are Andrew's choice for the roles of the rich business man and the hooker (or a PR girl in the HK genre). The film is scheduled to shoot next year.
- "HK wild man" Francis Ng has just finished approx. 70 shows of his wildly successful stand-up comedy in HK (along with comedian Cheung Tat-Ming and Dino Wong) and is moving on to a Singapore film, which is a sequel to a local blockbuster from 1999, literally named "The Return of Madam Wong"(excuse me for not knowing the exact title).
- Last weekend at the HKBO, "Healing Hearts" continued to dominate the charts, with an estimated grossing of $10 million HKD in just 9 days (and still counting). "Chicken Run" stayed at no.2 while Tony Leung Chiu-Wai's critically-praised "In the Mood for Love" jumped one spot to no.3. Director Wong Kar-Wai is pleased with the results (it collected an estimated $5 million HKD in 9 days). Kar-Wai especially liked the fact that the film is being appreciated by the same audience which dissed his earlier work. "Autumn in New York" slipped to no.4, "White Out" remained at the fifth place, and the Edward Norton-directed romance "Keeping the Faith" debuted at no.6. Here's two articles from TIMEASIA, about Wong Kar-Wai and "In the Mood for Love": Just Go Here, or to read the other Click right here.
- Four HK summer movies are now available on DVD, including the hospital satire "Help!"(the most ridiculous thing I've seen in the past couple years, and I can't believe it's from Johnnie To!), the screwball romance "And I Hate You So" and two Leslie Cheung's starrers, "Okinawa Rendezvous" and "Double Tap"(awesome flick!).
To purchase "Help!" on DVD, Click here
To purchase "And I Hate You So" on DVD, Go here
To purchase "Okinawa Rendezvous" on DVD, Just click here
And finally, to purchase "Double Tap" on DVD, Go to their site
- Tsui Hark's "Time & Tide" (Excellent film - D25) premiered last weekend. The film stars Nicholas Tse, Candy Lo, Wu Bai and Cathy Tsui. Here are some pictures from the premiere.
From left, Tsui Hark, Wu Bai, Candy Lo, Cathy Tsui, and Nicolas Tse: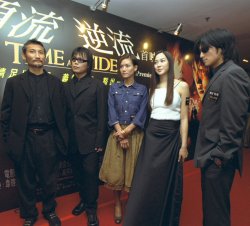 Candy Lo and Cathy Tsui: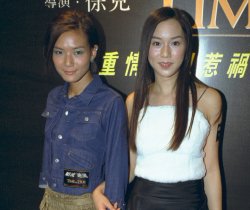 Here is some news on the upcoming Hallmark adaptation of "The Monkey King" from "Monkey_King":
Film title: The Monkey King
Stars: Thomas Gibson (Dharma & Greg) as Nick Orton, Bai Ling (The Crow, Red) as Quan Yin, Russell Wong (Romeo Must Die) as The Monkey King, Sun Wu Kung.
Director: Peter MacDonald
Producer: Steve Harding
Exec Producer: Robert Halmi, Sr
Writer: David Henry Hwang(M. Butterfly playwright)
VFX Supervisor: Matt Johnson
Production company: Hallmark Entertainment/Jim Henson Studios
Story: American journalist Nick Orton is caught up in the world of Chinese gods and monsters when he goes on a quest to find Wu Ch'eng En's lost manuscript of Hsi Yu Chi (The Journey to the West). He is accompanied by an immortal humanoid monkey, a humanoid pigman, and an ex-cannibal on his fantastic journey. Airdate: February of 2001/Chinese New Year 2001. Will also air on NBC in the USA.
For a detailed synopsis, click here.
Here's a picture of Russell Wong as the Monkey King: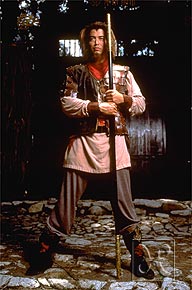 Take a look at this additional picture,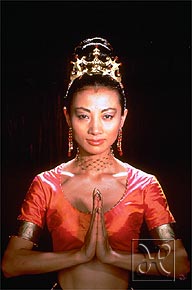 AICN poster Monkey_King is also preparing his own screenplay for a future feature film entitled 'The Stone Monkey.'
JAPAN The following was reported by "Pigmon":
- Masato Harada (director of " Kamikaze Taxi") is directing a horror film titled "Inugami". The film will be released sometime in January.
- A famous Japanese religious cult leader, Ryuhou Okawa's new animated feature "The Laws of the Sun" will be in theaters on October 28. At this point, nobody has seen this film yet, but I can assume that it is definitely "weird" from the poster's artwork.
- "Godzilla vs Megaguirus" has been completed and it have its world premiere on November 3rd at the Tokyo International Film Festival.
- I got more information on the late Osamu Tezuka's "Metropolis". The film will be directed by Rintaro, whose new big budget animated film "Alexander" has just opened in theaters. According to the producers, this film is greatly influenced from Otomo's work. It will be completed next January and will be releasing in June 2001 all over the world.
- I had a chance to see Hideaki Anno ("Neon Genesis Evangelion)'s new film, "Shikijitsu", which is in competition at the upcoming Tokyo International Film Festival 2000. The film is about a film director (played by Shunji Iwai, the real life director of "Swallowtail") and a girl (played by Steven Seagal's daughter, Fumiko Fujitani). The girl tries to commit sucide but the director comes in her life and they start to fall in love. The digital effects are superb - just watch the highly impressive dream sequence. "Shikijitsu" will open in Europe and USA sometime next year.
- Last week at the Japanese box office, Being John Malkovitch topped the charts, followed by Autumn in New York, The Kid, The Patriot, Whiteout, U-571, Nagasaki Pura Pura Bushi, Gone in 60 Seconds, M:I-2, and Music of the Heart, respectively.
KOREA The following was reported by "Matrix1966":
- Here's the list of the films at the 5th Pusan International Film Festival (Oct. 6~14, 2000). The list is just a fraction of 209 films from 55 countries all around the world. (The format is film title, director, program.)
'The Wrestlers', Buddhadeb Dasgupta, The Opening
'In the Mood for Love', Wong Kar-Wai, The Closing
'O Brother Where Are Thou', Joel Cohen, Open Cinema
'Dancer in the Dark', Lars Von Trier, Open Cinema
'Devils on the Doorstep', Jiang Wen, A Window in Asian Cinema
'The Road Home', Zhang Yimou, A Window in Asian Cinema
'Gohatto', Nagisa Oshima, A Window in Asian Cinema
'The Circle', Jafar Panahi, A Window in Asian Cinema
'Million Dollar Hotel', Wim Wenders, World Cinema
'Bread & Roses', Ken Loach, World Cinema
'The Legend of Rita', Volker Schlondorff, World Cinema
'The Limey', Steven Soderbergh, World Cinema
PHILLIPPINES The following was reported by "AznFob55":
- Vina Morales is back again with another action film (her previous one was with Robin Padilla) and now she has teamed up with Jinggoy Estrada in "Sagot Kita...Mula Ulo Hanngang Paa". The movie is now open in Metro Manila theaters.
- Speaking of Robin Padilla, his movie with Regine Velasquez, "Ang Kailangan Ko'y Ikaw" (What I Need Is You) has opened for about two weeks now. The movie was packed on it's premiere night and is said to be another big box-office hit for both actors.
- These are the movies opening within the next few weeks in Manila: Biyaheng Langit; Bless the Child; Bring It On; Chicken Run; Crouching Tiger, Hidden Dragon; Disney's The Kid; Gossip; Get Carter; Kailangan Ko'y Ikaw; Remember the Titans
- The new GMA show with Miriam Quiambao (Miss Universe 1999 First Runner-Up) and Bong Revilla Jr., "Idol Ko Si Kap" is a massive hit and hopefully, it will continue to be that way.
- Bojo Molina is currently shooting a gay role in the movie, "Gusto Kong Lumigaya" (I Want To Be Happy) with Allyson. This movie is probably one of the most controversial this year considering reports from this movie are heating up the tabloids.
I think it's time to end this week's column. Remember, if you have information regarding any movie industry in Asia, please contact our Asia-AICN offices atshrivas@home.com. See you all next week. - Darius25