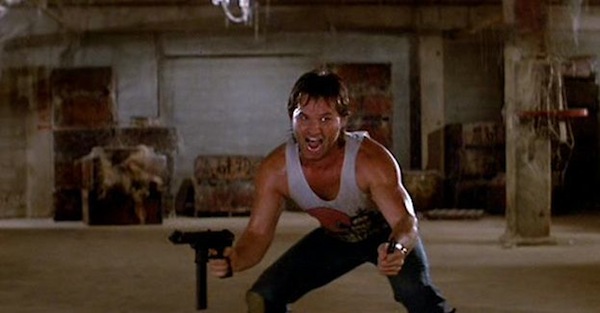 Jeremy here...
Though beloved today, John Carpenter's BIG TROUBLE IN LITTLE CHINA was a tremendous flop when released on July 2, 1986. 20th Century Fox had three big movies that summer in BTILC, ALIENS and THE FLY, and, by the time they got around to marketing them, Carpenter's brilliant "John Wayne Meets The Shaw Brothers" riff was the one they didn't get. So they tepidly promoted the movie, and left it to die, which it quickly did ($11 million domestic gross on a $25 million budget). But when BIG TROUBLE IN LITTLE CHINA hit video and, most importantly, pay cable the following year, the film found a huge cult following. From that day forward, if you found someone who could go quote-for-quote on Carpenter's film, you knew you'd found a friend for life.
Remaking BIG TROUBLE IN LITTLE CHINA has always been a possibility. The notion of a two-hander where the musclebound movie star plays inept sidekick to his slight-in-stature buddy is irresistible. So I'm hardly shocked to learn from The Wrap that Dwayne "The Rock" Johnson is set to get behind the wheel of the Pork Chop Express as the new Jack Burton. Johnson and his producing partners reportedly pitched the remake to Fox (it's one of the actor's favorite movies), and the studio liked the idea so much they put X-MEN: FIRST CLASS screenwriters Ashley Miller & Zack Stentz on the project. Fox is probably feeling extra smart about this after SAN ANDREAS' $54 million opening weekend.
It's a smart play for the studio. Johnson is at the peak of his big-screen popularity, and he comes equipped with the perfect goofball charm to pull off Jack Burton. But it'll have to be a different vibe. Kurt Russell's out-of-his-depth John Wayne portrayal is out the window here; it's no longer about a cocky white guy getting his ass kicked up and down San Francisco's Chinatown. The trick now is finding someone with Dennis Dun's physically unassuming demeanor to complement The Rock's overflowing charisma. I'm sure there's an obvious choice out there, but I'm too big a fan of the original to think of who that might be.
I'm not against this. I love The Rock, and have no trouble believing he's a huge BIG TROUBLE IN LITTLE CHINA fan. He's also become friendly with Kurt Russell after shooting FURIOUS 7 with him, so it's possible he got the first Jack Burton's blessing. But the original film is a lightning-in-a-bottle mix of Hong Kong martial arts elegance and brawny American action; it was probably a decade ahead of its time, and all the more lovable for it. Now that the element of surprise is gone, Johnson and his team (they have yet to attach a director) will have to work twice as hard to assemble a film worth of its title. I wish them the best of luck, and hope they possess the proper reflexes. You've got to shake the pillars of heaven with this one.