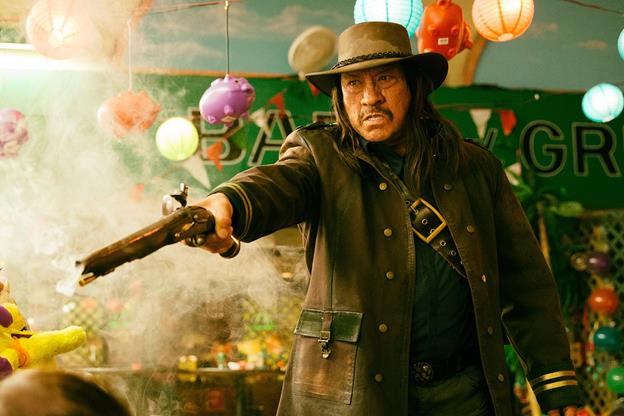 Trejo plays "The Regulator," described as "a horrifying agent of evil who is summoned to perform a deadly errand."
Others joining the cast for the El Rey vampire series' second season include Jeff Fahey ("Lost," "Jutified")), Esai Morales ("Caprica") and Briana Evigan ("Step Up 2") as Sonja – an American expatriate working as a tattoo artist in a Mexican mercado.
Those returning from season one include D.J. Cotrona ("G.I. Joe: Retaliation"); Zane Holtz ( The Perks of Being a Wallflower"); Jesse Garcia ("Sons of Anarchy"); Wilmer Valderrama ("That '70s Show"), Madison Davenport ("Noah," "Shameless"); and Brandon Soo Hoo ("Tropic Thunder," "Ender's Game").
According to an El Rey press release, we are well beyond the Titty Twister when new episodes return late this summer:
Season Two explores a new chapter in this supernatural crime saga that travels from Mexico to the edgy, tricked-out Texas of Robert Rodriguez. It also deepens and complicates the core relationships between the characters, while adding new faces and new dynamics. Season Two begins with our characters in their separate worlds – Santanico (Gonzalez) and Richie (Holtz) are outside Houston, living like Bonnie and Clyde; Seth and Kate (Madison Davenport) are scraping by South of the Border; and Freddie Gonzalez (Jessie Garcia) is protecting his wife and young daughter in a Houston suburb. And Carlos Madrigal (Valderrama) and Scott Fuller (Brandon Soo-Hoo) emerge from the Titty Twister, changed men. They will all come together once again – this time facing off against an even bigger threat.

The Prequel To GAME OF THRONES!! $21.78 Hardback!! $11.99 Kindle!!