Ahoy, squirts! Quint here, reporting back after a long, fun phantasmic day. This afternoon I did some grown up homeowner errand bullshit before jumping in the ol' Orca and driving up to Dallas for a special pre-Texas Frightmare Weekend screening of the original Phantasm in 35mm with much of the original cast in attendance.
I've been a big fan of the Phantasm series since I was a wee little squirt. It was the heavy cable rotation of Phantasm 2 that hooked me. Phantasm 2 is Sam Raimi good, guys. It's darker than a lot of Raimi's output, but Don Coscarelli's inventiveness with his shots and gags is as good as Raimi's from that era. I remember finding that movie and wanting to know more about this crazy series.
They ran the first Phantasm tonight as director Don Coscarelli and cast members A. Michael Baldwin, Angus Scrimm, Bill Thornbury and Kat Lester gave a live commentary (Reggie missed his plane). It was great to revisit the film on 35mm and in a big theater full of fans and it only drove home just how influential that first movie was to so much of the genre I consumed after its release.
I don't know if Wes Craven has ever discussed it, but you can feel Freddy Krueger's DNA in the Tall Man. Dude seems to live in nightmares and even has his fingers cut off and regrows them to fuck with his victims. The creepy waking dream tone and common shared nightmare scenarios like trying to run and your feet getting stuck I mud are present in both films and I have to wonder how much Craven had Phantasm lurking in the back of his mind when writing A Nightmare On Elm Street.
Because that's one of the great talents of that original movie... it worms its way into your brain and sticks with you. Sure, it was a low budget exploitation flick with some questionable line delivery, but the ideas that went into it were so heady and far out and effective that it grabs ahold of your subconscious and won't let go. I know it hasn't for me and judging by the massively sold out audience tonight I'm not alone.
I also know Stephen King is a fan. As a big Dark Tower nerd I was delighted to see mention of Phantasm brought into the fifth book, The Wolves of the Calla. I guess there aren't a lot of flying death spheres out there and people tend to remember them.
The soundtrack also plays a big part in making the tone work. Fred Myrow's score is a deadly combination of catchy and eerie. Much like the movie itself it'll dig into your brain and force you to replay it over and over again. So it's no surprise that Mondo was at the big screening unveiling their limited edition vinyl Phantasm Soundtrack. The variant was pressed in mausoleum marble white, by the way.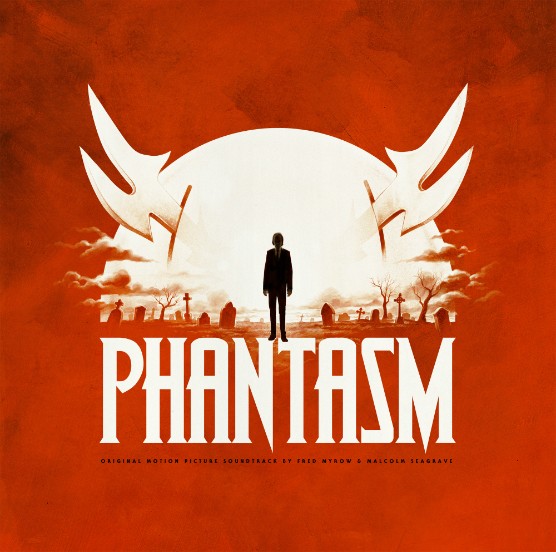 They also had a cool poster available to phans at the show.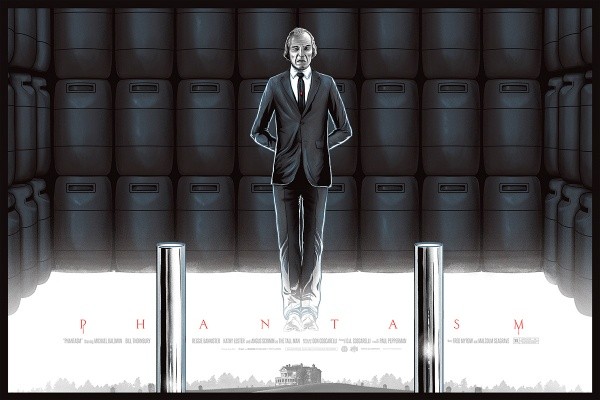 If you want either you can grab 'em at Mondo's booth at Texas Frightmare this weekend. I'm sure the remainder will be made available online.
I suppose I should probably talk about the newsworthy stuff shown tonight, huh? Mixed in with the Alamo trailers beforehand was a special surprise: a new long clip from Phantasm Ravager, the fifth installment in the Phantasm series and the first not directed by Don Coscarelli. Don is godfathering this project, though, and not in a bullshit send-me-my-check way, either. He's putting up dough and shepherding David Hartman as he directs the continuing adventures of everybody's favorite bald ice cream slinger.
I know this because I actually visited them while they shot some of this and Don was just as on the job as he was when I spent time on the set of Bubba Ho-Tep. Back when I visited they were developing this as a kind of web series, but liked the footage so much they decided to morph it into a feature.
The footage they showed seemed to play around with alternate time lines quite a bit. One of the biggest dialogue sections had Reggie as a patient in some kind of nut house and Michael was either a visiting friend or a psychiatrist trying to explain alternate time lines. "Do you want me to get you a book on it?" Pissed Reggie's response: "I don't need a goddamn book! I need my four barreled shotgun!"
The other lengthy clip shown in the sizzle reel had Reggie arriving through a trademark phantasm portal into an empty mausoleum. He had a sack over his shoulder and a katana hilt was sticking out of it... He slowly looks around, hears the scuttling of an evil dwarf and pulls a Snake Plissken style scoped uzi out of his bag and explores some more.
Behind him appears a woman... the Lady in Lavender (Kat Lester) once again. Here's a picture I took when I visited them on set many moons ago: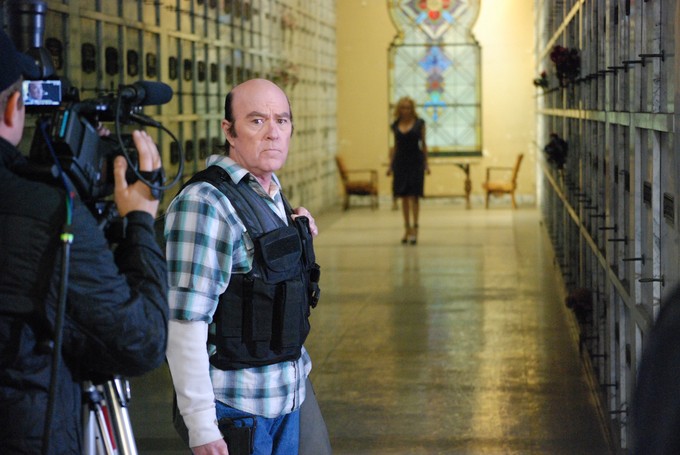 She floats toward him, her bare feet skimming the marble floor. In a nice bit of fuckedupness her big toe drags and actually cuts a line in the marble with a Quint-like screeching scratch. She reaches Reggie who lowers his gun... She caresses him and looks like she wants to kiss him, but then pulls a face that I swear to God reminded me of the Librarian ghost transforming in Ghostbusters. They did some CG makeup on her to make her more demonic, but I saw her do this in person and the only thing the CG did really was widen her mouth and make her skin look rotten.
Other quick glimpses in the trailer include Michael in a crazy gas mask: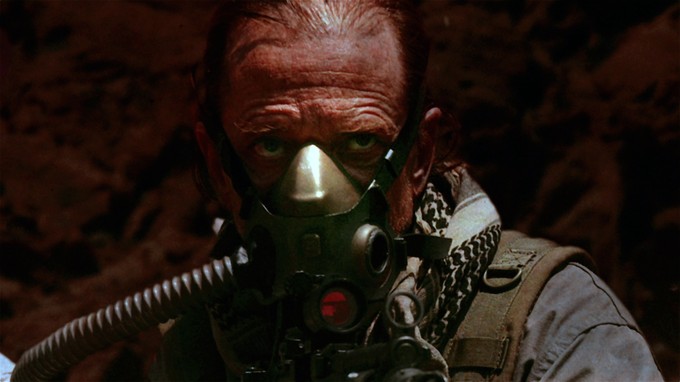 Also saw footage of Jody (Bill Thornbury) pulling up in the Hemi that I'm pretty sure had dual mounted mini-guns on the hood, said Hemi tearing up dwarves with mini-guns and Angus in some Hellish environment talking to Michael.
Everybody is looking older, but not necessarily weaker. I'm not sure how the final thing is going to turn out production value wise... the stuff I saw ran the gamut from cheap, but ambitious to really impressive footage.
The real test will be in how cohesive the story ends up being. The biggest fault I found in Phantasm 4 was it never really gelled as a weird, but fun sci-fi/horror/adventure story the first three did. I can handle shoe-string budget limitations, but I want a fun story to go along with them.
I can definitely say ambition is not lacking in what I saw. Giant ship-sized spheres attacking cities, car crashes, explosions, gunfire, teleportation... all represented.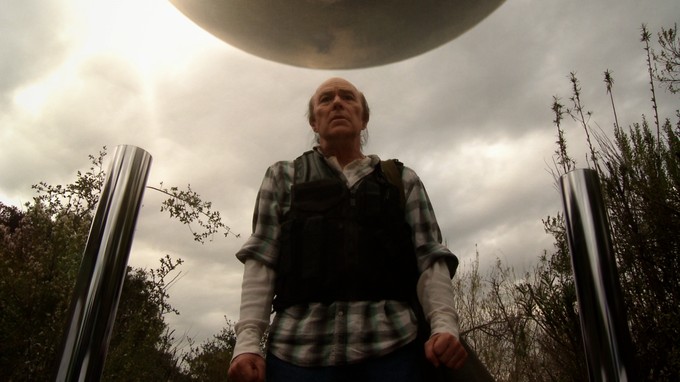 So, today was pretty cool. I got to snuggle with many LA area friends in town for Frightmare, see a nice 35mm print of Phantasm as well as new footage from a Phantasm 5 and hear a fun live commentary recording. Not sure what they're going to do with it (Coscarelli did tease that big things are afoot regarding a massive box set of all Phantasm films... Can we hope for more awesomeness from Scream Factory?), but it was fun.
Best moment was someone (possibly Michael Baldwin) jokingly asking Angus Scrimm if he still has the Lady in Lavender's purple dress. Without missing a beat he replied, "Yes, I do, but I don't wear it often." Even at 88 Angus is still knockin' em dead.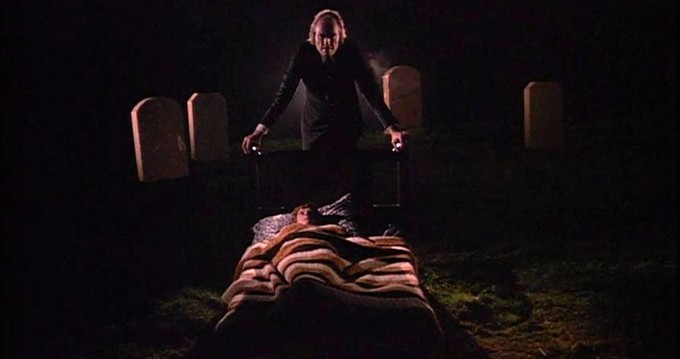 -Eric Vespe
"Quint"
quint@aintitcool.com
Follow Me On Twitter