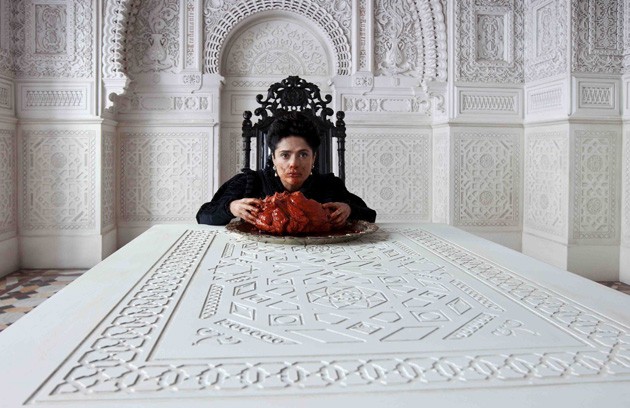 From the director of GOMMORRAH and the DP of THE EMPIRE STRIKES BACK and DEAD RINGERS, based on stories by the original writer of CINDERELLA, SNOW WHITE, and SLEEPING BEAUTY, and starring John C. Reilly, Salma Hayek, Vincent Cassel, Toby Jones, and Shirley Henderson.
Even without a title, a still, or a trailer, that's enough to get many filmgoers' respective motors running.
But when you have a trailer like the one below, promising some mature, highbrow fantasy tales based on stories by 16th-century Italian writer Giambattista Basile, it becomes even more irresistible.
I can't even find the words to describe what I'm seeing, except that this completely flew under my radar until today, and that it looks like something potentially quite fascinating. Even though GAME OF THRONES is kicking ass on the tube, we still don't get as much mature, adult-skewing fantasy as we'd like, so leave it to Italian cinema (which, as we all remember, blew our own notions of the American West out of the water) to put dragons and magic back on the big screen with the sex and violence they are so often deprived of.
We should hear more about THE TALE OF TALES when it premieres at Cannes next month, but for now, we have this lovely trailer to chew on while we wait to see/hear more.
Anyone out there getting off on the CIRQUE DU FREAK reunion of Reillly and Hayek?