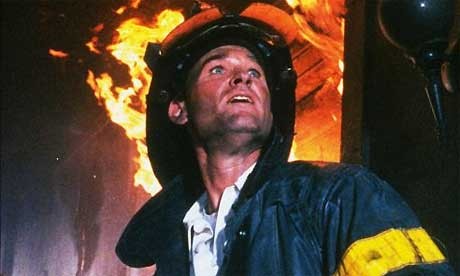 Peter Berg's DEEPWATER HORIZON just got a whole lot cooler.
Kurt Russell is in talks to join Peter Berg's flick, which already has Mark Wahlberg and Gina Rodriguez onboard. The film (based on this New York Times article) tells the story of the 2010 BP oil spill that cost 11 men their lives and spilled countless gallons of crude into the Gulf of Mexico.
No word on who Russell will play, but he's got the experience as a cinematic roughneck to play as hard of an oilman as has ever been written. The man, as we all know, can be one tough cinematic son-of-a-bitch when he wants to be.
I saw FURIOUS 7 a couple months before its release, and one thing that really tickled me when the flick finally started playing for audiences was how much attention Russell was getting for his energetic, badass work as Mr. Nobody (who will no doubt appear in the next sequel, which I hope they call simply F8). So it's nice to see that his fun appearance in that megahit (and his upcoming role in Tarantino's HATEFUL EIGHT) has boosted his profile, leading him to getting A-list gigs like this one.
It may be too early to hope that this'll get him some Academy recognition when the time comes…but fuck it, let's hope for it anyway, in case his tough-as-nails John Ruth doesn't clinch him a nom come 2016.
I mean, who doesn't love Kurt fuckin' Russell?
DEEPWATER HORIZON gives you another movie to get DEEPSTAR SIX confused with on September 30th, 2016.