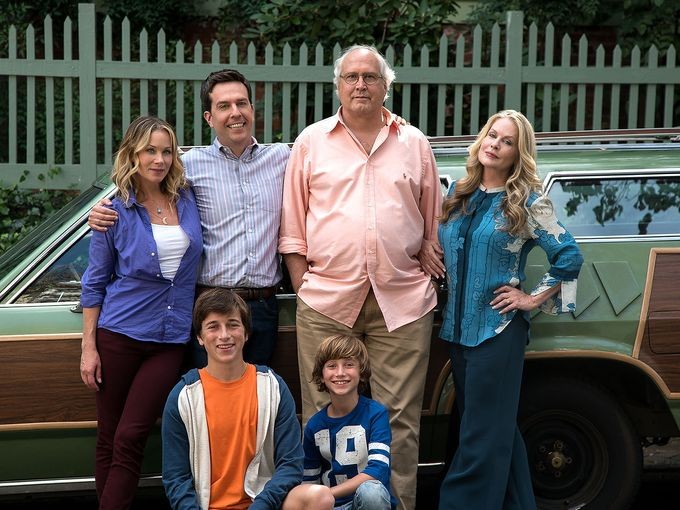 Less than two weeks ago, New Line's VACATION remake got bumped up from it's original October release to the prime summer slot opposite MISSION: IMPOSSIBLE - ROGUE NATION in late July. USA TODAY (of all places) premiered the first look at the film via the cast photo above.
If you are unfamiliar with the specifics of this "remake," don't get confused: it is very much a sequel to the original Harold Ramis film, with grown-up Rusty (now played by Ed Helms) taking his family to Wally World to recapture the spontaneity and unpredictable mayhem that plagued his own youth, thanks to Clark. Along the way, they meet up with Audrey (Leslie Mann, not pictured here) and his parents, still played by Chevy Chase and Beverly D'Angelo. His two sons are played by Skyler Gisondo (NIGHT AT THE MUSEUM: SECRET OF THE TOMB) and newcomer (and alleged scene-stealer) Steele Stebbins.
I've heard the film is very much a piecemeal affair like the first two movies, with Rusty dragging his reluctant family from location to location to make them all tighter-knit on their way to the California theme park. Doesn't he remember how miserable he was as a kid, with his dead aunt laying on his shoulder, his dad openly skinny dipping with a younger chick, and the dog pissing all over the sandwiches (though the beer and the girl from EUROPEAN VACATION were probably highlights)? There are appearances by a host of celebs, including Charlie Day, Chris Hemsworth (as Audrey's husband), and two of co-director John Francis Daley's old FREAKS & GEEKS buddies.
Apparently, Clark and Ellen aren't in the movie very much, and their home is just another stop on the way out to So-Cal, but bringing Chevy and D'Angelo back is definitely a heartwarming callback, especially considering how they outlasted each of those Rustys and Audreys by a good three movies. The above photo is a nice way to segue into this new-and-improved, 2015 VACATION, and I'm looking forward to seeing if they can cut together a badass trailer that shows what Helms & Co. are bringing to the table.
Don't you love that look on Chevy's face? Almost like he's saying "I'm Chevy Chase, and he's not."
VACATION takes you up the holiday road on July 31st.