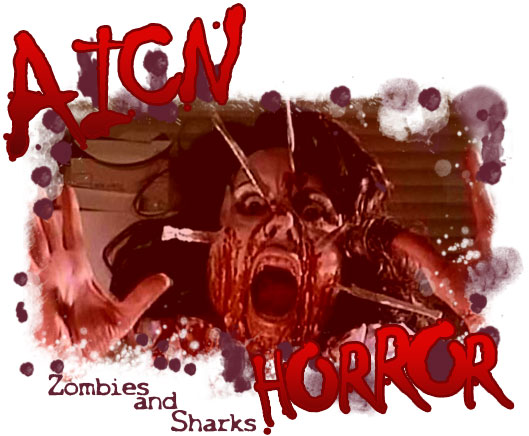 Logo by Kristian Horn
What the &#$% is ZOMBIES & SHARKS?
---
Greetings, all. Ambush Bug here with another AICN HORROR: ZOMBIES & SHARKS special. Doc Karen Oughton had a chance to chat with director Till Kleinert about the amazing descent into madness tale THE SAMURAI recently. The film is having its UK DVD release party with a screening tonight at the Prince Charles Cinema so if you're in the UK, you should check it out!

Below is the audio of a conversation Doc Oughton had with the director. Click on the link to hear the goods and then scroll down to check out Doc Oughton's review of the film!

Premiering in the UK tonight at at the Prince Charles Cinema
THE SAMURAI (DER SAMURAI, 2014)
Directed by Till Kleinert
Written by Till Kleinert
Starring Michel Diercks, Pit Bukowski, Uwe Preuss, Kaja Blachnik, Ulrike Hanke-Haensch, Christopher Kane, Ulrike Bliefert
Find out more about this film here and on Facebook here
Reviewer: Doc Karen Oughton (@DrKaren Oughton on Twitter)
What do you do when you're lonely?
You can either write maudlin lyrics or you can find something to do with your time, something to dedicate yourself to. This is in many ways the premise of, and the way to understand, Till Kleinert's The Samurai. The film opens with us seeing a lone figure trekking a bag of bloody entrails through the woods, intent (we discover) on catching a wolf that has been causing havoc in the local area and instead coming upon a figure in a dress that wanders, wielding a samurai sword against the markers of suburban discontent. The figure is slight and has a hunted quality to him and we will soon discover as the locals catcall him with anti-gay slurs. The film's genius is that it combines this very insular perspective on self-doubt and even self hatred with a message of determination that manages to be completely incongruous and totally relevant within its fairytalesque setting.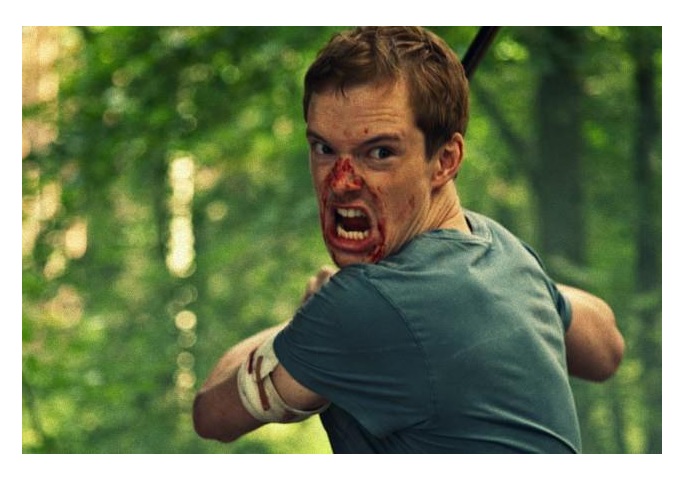 The heart of the film is very much its reflection of its psychological landscape. We move between scenes where Jacob's resolve is tested both by the crowd catcalling him and also the wilderness that threatens to engulf him. This is shown through some fascinating uses of a model village that gives a very real sense of what it is to be dislocated from one's expected mental and social landscape. As a result, it feels beautifully intimate without becoming cloying. Indeed, there are certain sequences where almost dreamlike states are shown by literally flipping the camera upside down, or alternatively using the lighting to focus on what appear to be supernatural characteristics that are otherwise those to which Jacob seeks to aspire. The soundtrack is equally superb and unexpected, combining classical overscores with pounding dance tracks that, oddly, break the film's illusion in a way that actually enables audiences' empathy.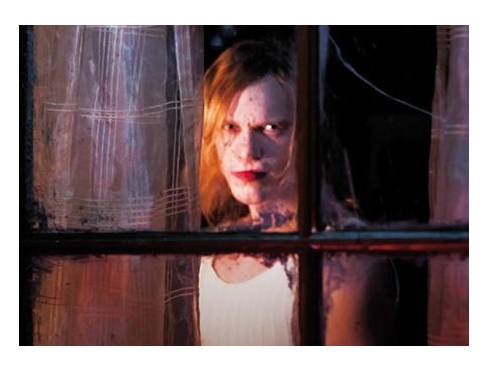 Indeed, the actors in this film are stunning and the casting is superb. Michel Diercks (as Jacob) makes for a willowy hero with a wispy, inconsequential air that hides an incredibly stubborn streak. His dreamy look is vital to the piece as it is possible to believe that he would go on a quasi mythical quest and do some of the frankly daft things requested of him on the basis that he would place value in their inner logic. Added to this is his look. While slight, his hair colour and angular bone structure make him appear a shade of the Arian ideal, covering the notion of duty and denial of emotions beautifully. His mysterious doppelganger, the intransigent Samurai played by Pitt Bukowski, is also superb. Similar in look to Jacob, Bukowski's bone structure is somewhat harder and more masculine and it really is impressive how this man wearing a dress manages to exude a sexuality that manages to be simultaneously both aggressive and passive to extent of appearing almost demure. The figure is both terrifying in its force but also deeply sweet owing to the quasi-romantic storyline that weaves its way through the film.
The Samurai synergises a realistic story of survival within an unforgiving culture alongside one of the mental processes you take on when survival alone ceases to be enough. It's true that there's enough symbolism here to keep followers of Freud and Jung entertained for days, but the overall impact of the film is one of pure jubilation. Till Kleinert's tale thrusts and dances its way to the heart of what we tell ourselves to make romance possible.
Check out Ambush Bug's review of THE SAMURAI from a while back here!
Look for our bi-weekly rambling about random horror films on Poptards and Ain't It Cool on AICN HORROR's CANNIBAL HORRORCAST Podcast every other Thursday!
---
Find more AICN HORROR including an archive of previous columns on AICN HORROR's Facebook page!