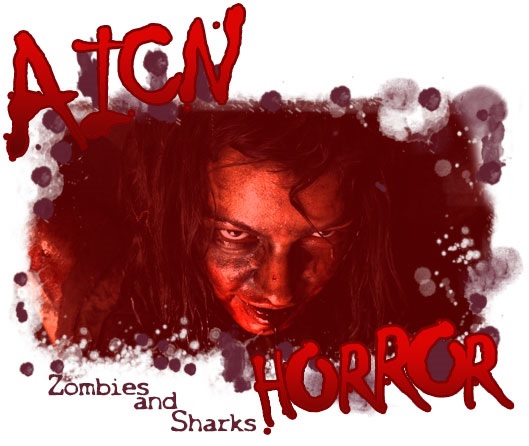 Logo by Kristian Horn
What the &#$% is ZOMBIES & SHARKS?
---
Greetings, all. Ambush Bug here with another AICN HORROR: ZOMBIES & SHARKS column. Along with our normal horror batch, I am happy to celebrate three indie films that show how Chicago is the place to be in terms of low budget horror. This weekend in Chicago is the Dead Walk Fest, a two-day marathon of the best in indie zombie horror films. Plus I check out a short film called RESTORATION that debuted in Chicago a while back and I just recently got my grubby mitts on.

But before we get to the movie reviews, there's this!
---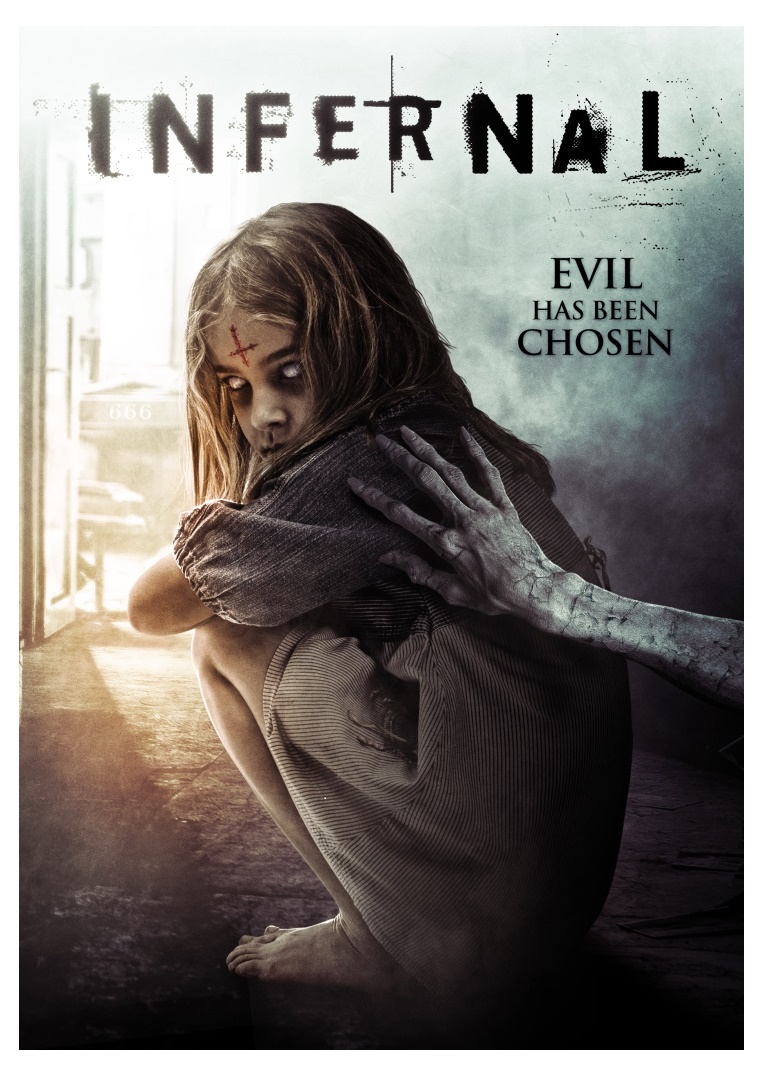 Next up is INFERNAL, from director Bryan Coyne. The film is set to be released on April 10th On Demand and in select theaters from Uncork'd Entertainment and will definitely be covered here on AICN HORROR the week of release.
Here's the official synopsis:
a young family is torn in half when they discover that their insomniac daughter has made contact with an infernal being beyond our reality.
Below is an exclusive spooky clip from INFERNAL with a special message from director Bryan Coyne, followed by the trailer for the film.
---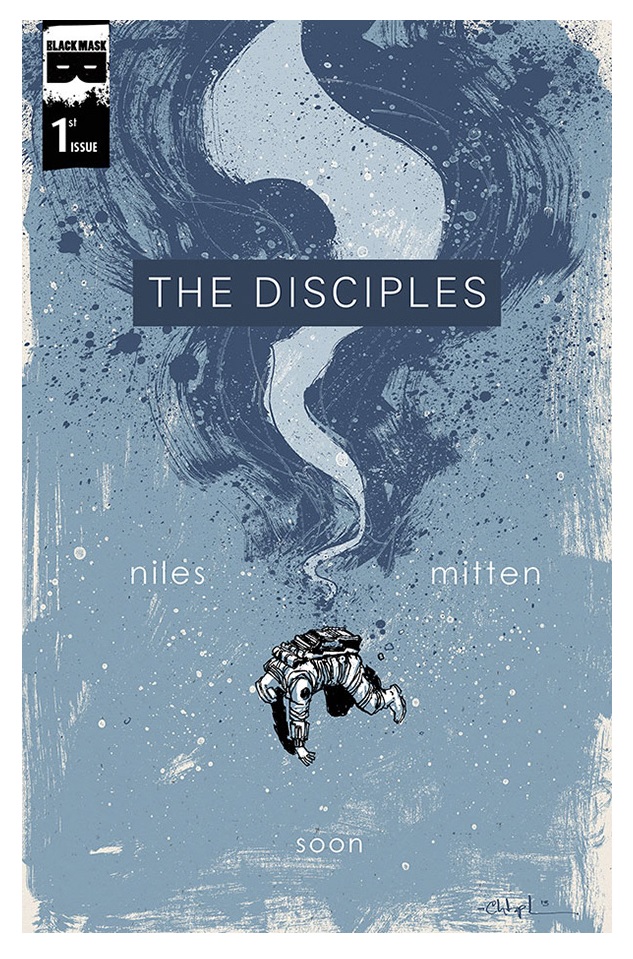 Just announced this week from
Black Mask Studios
(the same stellar comic book publisher that puts out my own horror comic
PIROUETTE
) Steve Niles and Christopher Mitten's new series THE DISCIPLES was optioned as a TV series for Universal Cable Productions brought to life by Master of Horror Wes Craven. THE DISCIPLES is described as;
a sci-fi/horror story about a team of interstellar private eyes tracking down a girl who's run off to join a cult on Jupiter's moon Ganymede... it's 'True Detective in space'
As a fan of horror and comics and especially horror comics, I can't wait to see the development of both the comic book by Niles and Mitten and the TV series from Wes Craven. Look for THE DESCIPLES comic book, from Black Mask Studios, in stores April 27, 2015 (you can still order through Diamond code MAR151018 in Previews!
---
It's time once again for the Hudson Horror Show and once again I'm jealous I don't live near the show to see it. But if you live near the Empire South Hills 8 in Poughkeepsie, NY or are in the area on Saturday, June 13th, 2015, you have the opportunity to check out the horror movie marathon, sponsored by Vinegar Syndrome and the B Movie Film Vault!
This year the Hudson Horror Show #11 is featuring JAWS, A NIGHTMARE ON ELM STREET 2: FREDDY'S REVENGE, MS. 45, MADMAN, and a mystery movie! Tickets for this show will go on sale Saturday, March 28th, 2015 at 12pm E.S. T. Advance tickets are just $31.00 for 12 hours of movie madness! Click here to find out more info about the wheres, the whens, and the hows of this event!
And check out the "Rules of the Hudson Horror Show" video below!
---
I've always been a fan of Big Biting Pig Productions as they are able to make a lot out of very little and always end up with an interesting and often scary film. The company has put together a Kickstarter page to raise funds for their latest feature, FRANCES STEIN and they are asking you for help. FRANCES STEIN looks to be a mad science movie with a feminine twist.
Below is the pitch trailer for the film and if you like what you see and want to support indie horror with your hard earned cash, click this link and support the project!
---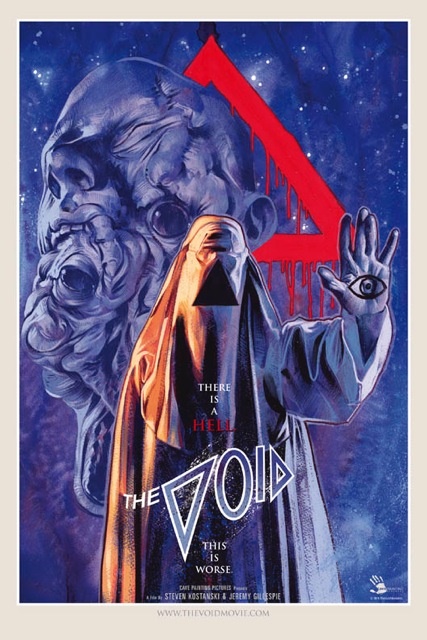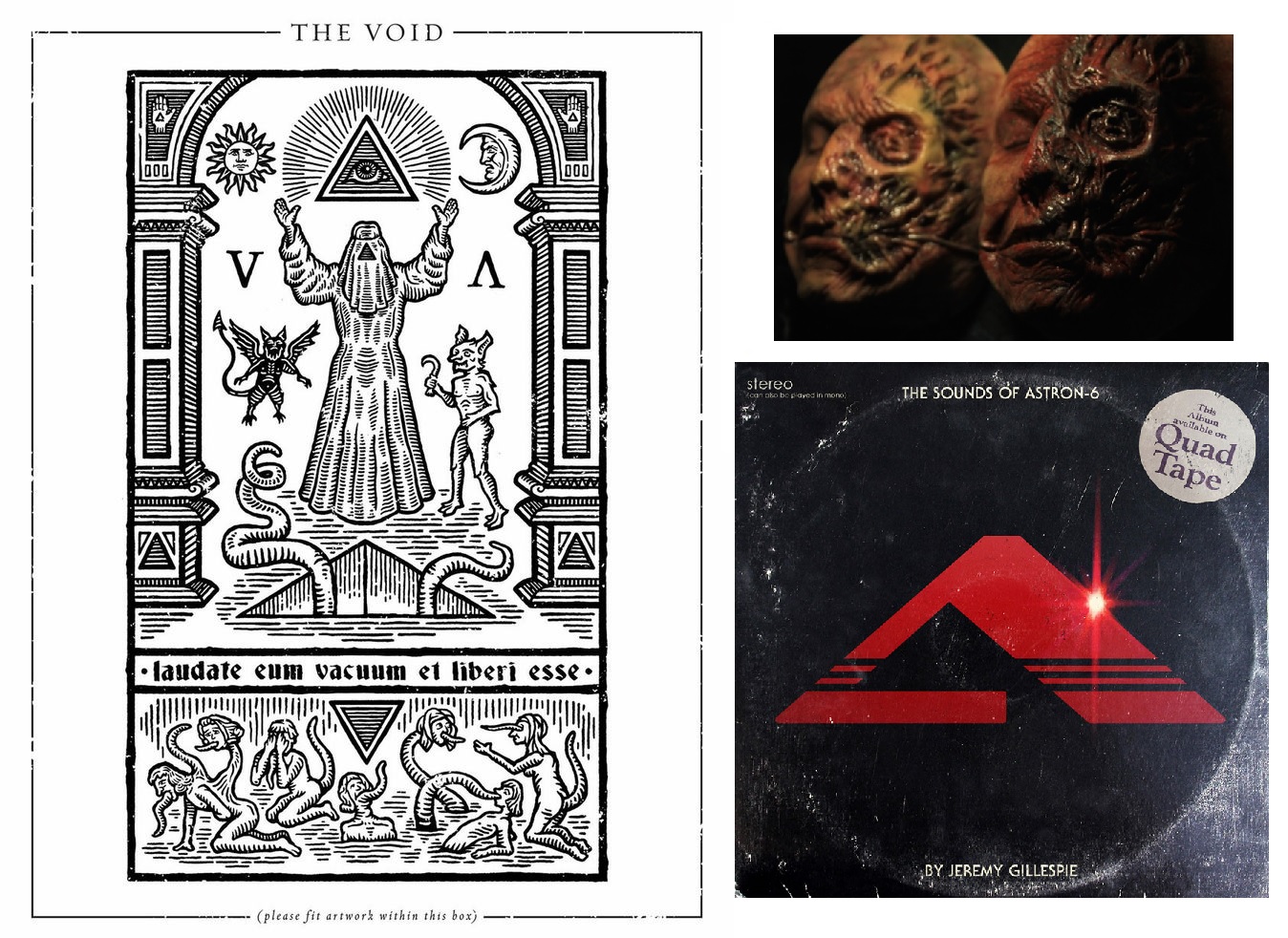 Last, but definitely not least,
there's still just a little time left to support the talented filmmakers at Astron-6 on their IndieGoGo page we talked about a few weeks ago for their upcoming feature, THE VOID.
The filmmakers have been hard at work offering up some really cool incentives for donating to the film including the upcoming THE SOUNDS OF ASTRON-6 Album which includes songs from their films MANBORG, FATHER'S DAY, and THE EDITOR (which I am dying to see), plus some tunes to their short films as well.
Plus they are sharing the first looks at some of the sculpts for the masks from THE VOID and sending out a call for art for the upcoming THE BOOK OF THE VOID, which includes fan art inspired by the film.
This is Astron-6's most ambitious project to date and I hope these guys can achieve their goal for all of us to get sucked into THE VOID. If you like what you see in the pitch trailer below, click here to donate your hard earned dollars to the project!
---
On with the horror reviews!
Today on AICN HORROR

(Click title to go directly to the feature)
Retro-review: THE VINCENT PRICE COLLECTION II: DR. PHIBES RISES AGAIN! (1972)
Retro-review: RABID GRANNIES (1988)
THE SINS OF DRACULA (2014)
SOMETHING WICKED (2014)
MEMORY LANE (2012)
HELLFIRE (2012)
MISSIONARY (2014)
DIGGING UP THE MARROW (2014)
Advance Review: INTERIOR (2014)
Chicago Horror: BATTLE APOCALYPSE
Chicago Horror: DEAD WEIGHT
Chicago Horror: RESTORATION (2014)
And finally…Pat Higgins' HOW NOT TO MAKE A HORROR MOVIE!
---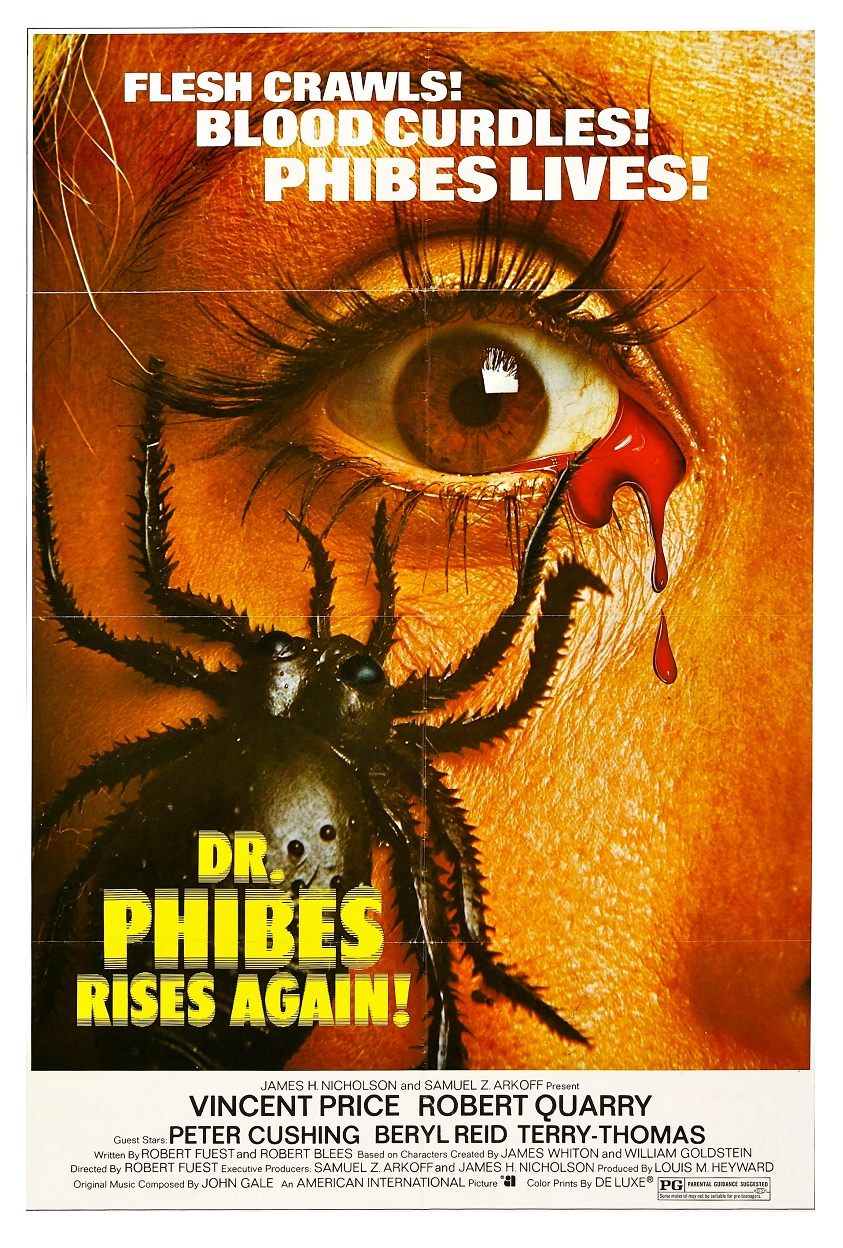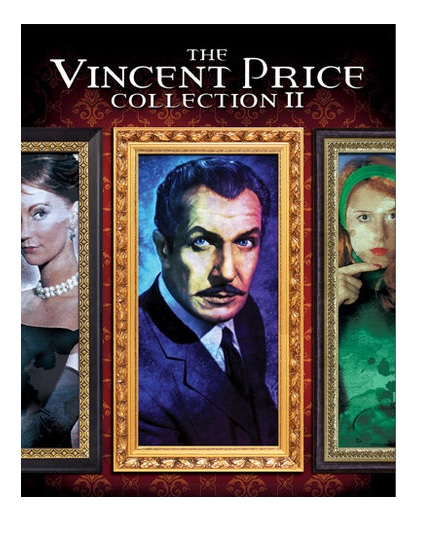 Retro-review: New on BluRay as part of THE VINCENT PRICE COLLECTION II from Shout Factory
DR. PHIBES RISES AGAIN! (1972)
Directed by Robert Fuest
Written by Robert Fuest & Robert Blees
Starring Vincent Price, Robert Quarry, Valli Kemp, Beryl Reid, Peter Jeffrey, Fiona Lewis, Hugh Griffith, Terry-Thomas, John Cater, Gerald Sim, Lewis Fiander, Peter Cushing, John Thaw, Keith Buckley, Milton Reid, Caroline Munro
Retro-reviewed by Ambush Bug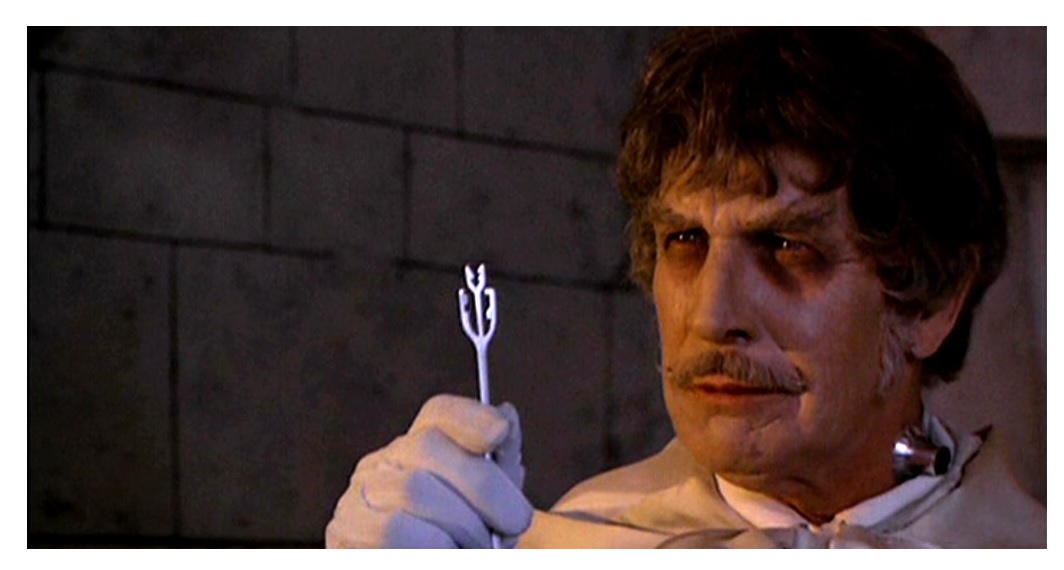 As I watched this final film in the VINCENT PRICE COLLECTION II set I felt kind of melancholy, as I knew that the number of Price films I've yet to cover in this column are dwindling and there won't be any more made with an actor I see as one of the best horror actors ever to grace the silver screen. These days, those who focus mainly on horror aren't given top tier status in theaters and most are only popular with those in the genre. But Price was mainstream and loved horror. You could see it in the all of the films he was in as he always gave it his all, no matter how goofy the role. And while Dr. Phibes is an incredibly cool and quirky character, there's a lot of goof to him too, and I don't know if anyone could have walked that tightrope as well as Price did.
Dr. Phibes rises again according to the title, and the film delivers as much right off the bat in a very cool and altogether funny scene where Phibes rises to find his elaborate mansion in ruins around his chamber with his secret scrolls of immortality stolen by a conniving millionaire with a thirst for immortal life by the name of Darrus Biederbeck (Robert Quarry). Phibes once again is trying to resurrect his deceased wife, but without the scrolls, his plans are all for naught, so Phibes embarks on a quest to find the scrolls and a secret chamber among Egyptian ruins which hopefully will lead to Biederbeck's stolen scrolls and ultimately his wife's resurrection. The film is a race against time, as Biederbeck only has a few more doses of his anti-aging serum left and the law is after Phibes for his previous and continued murders by elaborate means.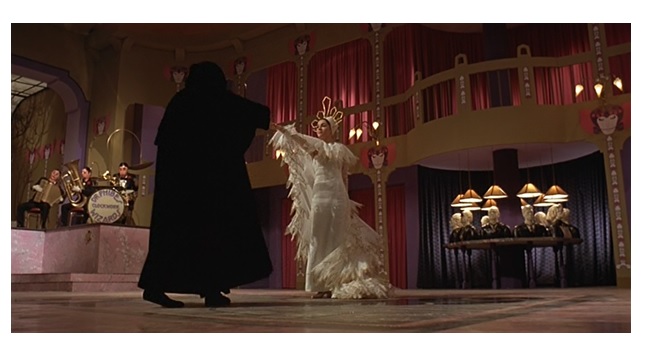 And the means are just as elaborate and fun here, as clockwork snakes, trained falcons, scorpions, and all sorts of maniacal machinations are used by the good doctor to enact his revenge. Goofy as they are, these methods of death aren't set to the biblical plagues as the last film followed. Here they are a little less focused, yet all too gory. I especially liked the ferocious falcon scene, as a real falcon was used eating chunks of meat off the body of a person playing dead. The clockwork snake scene is especially devious as well.
While much of the film simply functions to set people up to die in elaborate ways, the other half of the time Dr. Phibes is living in decadence dancing and making art with his beautiful assistant Vulnavia (Valli Kemp) to the tune of his clockwork robot orchestra. I love it that Phibes has his own musical theme music a la John Spade in I'M GONNA GIT YOU SUCKA.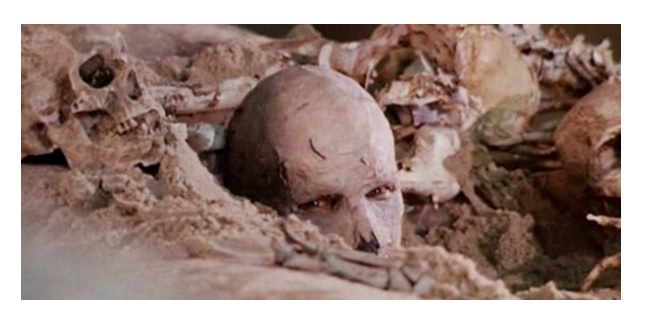 The chase reaches its climax in an underground river, with Phibes rowing his wife down a long corridor. Though there was no second sequel, the film certainly leaves things open for one. The eccentric demeanor of Phibes and the way Price played him as using a machine to talk and eat with the Price face merely a mask covering the acid scars is utterly unique, and it's a wonder this film hasn't been revisited. Though I've grown weary of Burton/Depp collaborations of the past, this is one film I think would be interesting for the director/actor combo more than any other I've heard them attached to.
Still, Price was one of a kind and I doubt anyone could do Phibes the justice he did with the character. This completes the second collection of Price films from The Shout Factory. Still, there are plenty of Price films worth collecting for a third BluRay set. Until then, I guess I can start rewatching them again from the beginning to fill the time.
Previous Reviews of THE VINCENT PRICE COLLECTION I!
PIT & THE PENDULUM, THE HAUNTED PALACE, WITCHFINDER GENERAL, FALL OF THE HOUSE OF USHER, THE ABOMINABLE DR. PHIBES, THE MASQUE OF THE RED DEATH
Previous Reviews of THE VINCENT PRICE COLLECTION II!
THE LAST MAN ON EARTH, TOMB OF LIGIEA, THE COMEDY OF TERRORS, THE RAVEN, RETURN OF THE FLY, HOUSE ON HAUNTED HILL
---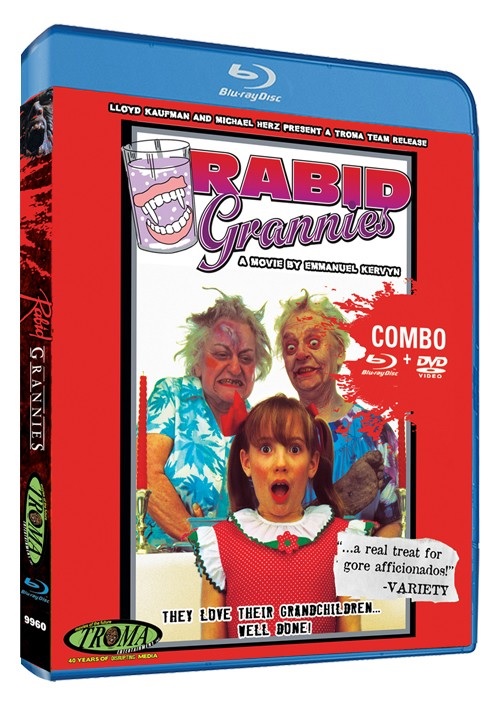 Retro-review: New on BluRay/DVD from Troma!
RABID GRANNIES (1988)
Directed by Emmanuel Kervyn
Written by Emmanuel Kervyn
Starring Catherine Aymerie, Caroline Braeckman, Richard Cotica, Danielle Daven, Patricia Davia, Robert Du Bois, Florine Elslande, Anne-Marie Fox, Paule Herreman, Bobette Jouret, Françoise Lamoureux
Retro-reviewed by Ambush Bug
Light on story, this early Troma classic doesn't really need one as it relies heavily on ultra-gore to keep us entertained and, for the most part, it works. RABID GRANNIES was one of those films I remember renting as a kid and loving the dickens out of because it offered up a scary dark house, creepy monsters, and tons and tons of gore.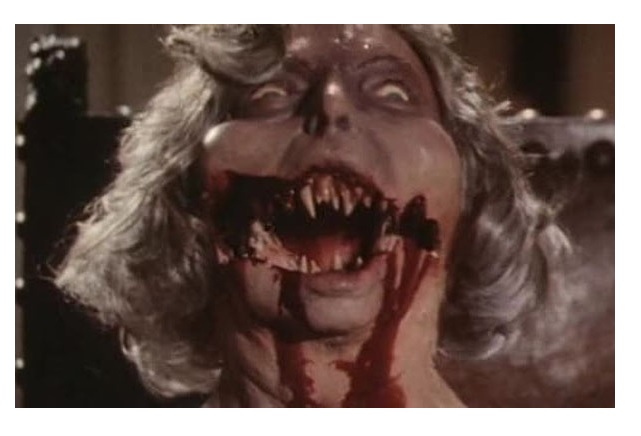 A family is invited to an old dark house to visit their ailing and aged aunts, who happen to own a fortune. A neglected relative drops off a special package carrying a curse which turns the lovable old biddies into carnivorous demons who hunt and kill the entire family after an especially lively dinner sequence, which is the most memorable scene of the film. Scattered to the four corners of the house, the family locks themselves in the various rooms in order to save themselves from the toothy grannies.
Any story necessary for this film is taken care of in the first five minutes in an info dump and introduction scene of the grannies and each family member. All of the family are grubby shits, waiting for the old coots to keel over in order to get their inheritance, so there's not a lot of folks to like. This makes it easy to just sit back and enjoy the carnage that ensues and not worry about rooting for anyone to survive.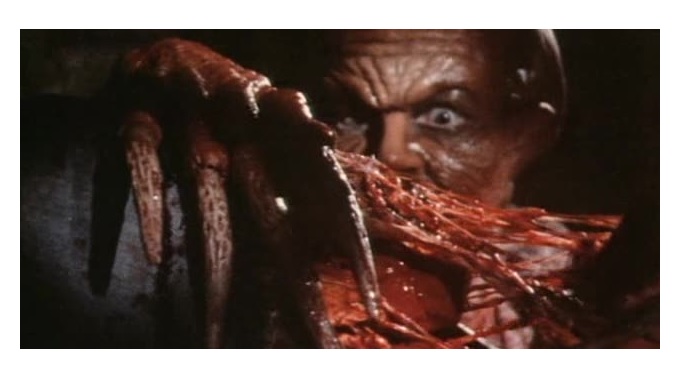 The gore sequences are impressive here, and it's obvious writer/director Emmanuel Kervyn was most interested in highlighting the various bloody sequences of carnage. The initial sequence when the grannies first attack at the dinner table is especially impressive, not only for the copious amounts of effects shots (granny puppets, an extended arm, and a bloody beheading), but also in the manner with which it was filmed, which is reminiscent of Raimi's early cartoonish take on gore and action. Sped-up motion and goofy but bloody effects pop up throughout the film and by the end, it feels like an extended sequence from DEAD ALIVE as the old ladies are attacking family members in a gory and heartless manner. This film was released right around the rise of Raimi and Jackson during their gorier years, and you can tell the influence these filmmakers' movies had on the genre at the time.
This is basically a monster in the house flick and it's barely an hour long, so it's not a huge commitment, but RABID GRANNIES doesn't really need that long as it pulls no punches in being just a gorefest. Scenes of evil demon-looking monsters creeping through hallways and tearing folks to pieces may get tedious, but this is a fun throwback to a time when gore was king in horror. Special features on this new DVD/BluRay transfer include both a regular and director's cut of the film, as well as commentary and an interview from the producer talking about the state of the horror genre at the time and how the film came to be. Films like this paved the way for the tasteless Troma we know today. Though this one is slightly less tongue in cheek, it is a goofy and fun horror film that looks great on this new transfer.
---
New this week on DVD from MVD Visual!
THE SINS OF DRACULA (2014)
Directed by Richard Griffin
Written by Michael Varrati
Starring Jamie Dufault, Sarah Nicklin, Samantha Acampora, Johnny Sederquist, Carmine Capobianco, Jesse Dufault, Jamie Lyn Bagley, Steven O'Broin, Tobias Wilson, Elyssa Baldassarri, Aaron Peaslee, Derek Laurendeau, & Michael Thurber as Dracula!
Find out more about this film on Facebook here
Reviewed by Ambush Bug
A self-aware and witty script ends up saving this low budget, low concept vamp flick, but only by a bit.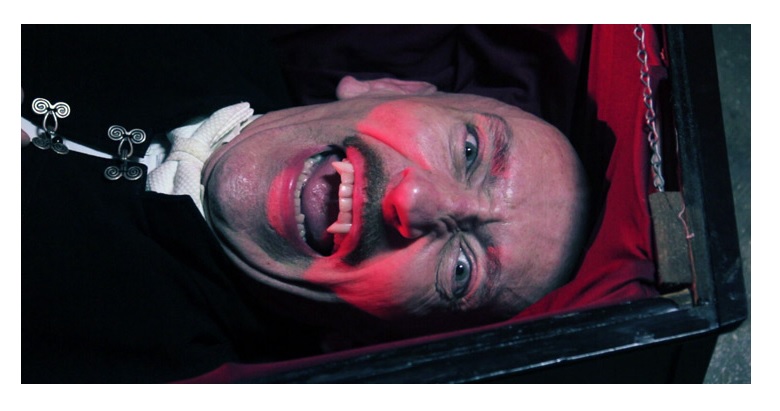 THE SINS OF DRACULA opens on Billy (Jamie Dufault) singing his heart out in the church choir, but feeling like he wants to branch out into a local theater acting troupe with his girlfriend. After a lengthy scene where we meet everyone in the troupe, we meet Lou Perdition (Steven O'Broin), who is always lit in red and is not really trying to hide that he is very devilish. As the troupe are whittled down one by one, a plot to resurrect the corpse of Dracula (Michael Thurber) is uncovered and soon it's just Bible-thumping Billy and his girlfriend left against the King of the Bloodsuckers.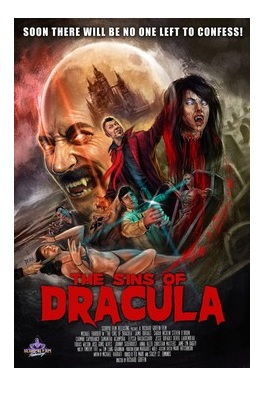 There's a SOUTH PARK/ORGAZMO-style wink and nod at the viewer going on in terms of the cartoonish way it looks at Billy's religious ways. And while there is the same type of satirical look at other cultures such as gamers, retro-punks, druggies, and homosexuals, it lacks the brains and nuance of what Matt Parker and Trey Stone do in their work. Instead, this film relies on identifying their cast by their traits rather than actual character and, worse than that, they explain, over-explain, and then explain again how each of these characters are outcasts by being a gamer, retro-punk, druggie, homosexual, or religious kid. What's worse is that Billy's girlfriend doesn't even get a niche to call her own. She's just the overly horny girlfriend of a god-rocker. This lack of character makes the entire story rather hollow and very much less effective at grabbing you and making you give two shits about any of these characters.
I did laugh a time or two at THE SINS OF DRACULA, specifically at the way Billy's devout ways are often made fun of or he is put in a situation where his beliefs get in the way of him functioning normally in the world around him. There's also a nice amount of gore here and a twisted side that you normally don't see in horror comedies (one scene has Lou Perdition fucking his girlfriend with a severed hand, which is all kinds of twisted), but these moments of good and craziness are few and far between. Most of the acting is pretty shoddy and the lack of character really does make it hard to care. Still, if you are not expecting much, there might be a scene or two in THE SINS OF DRACULA that gives you a nip.
---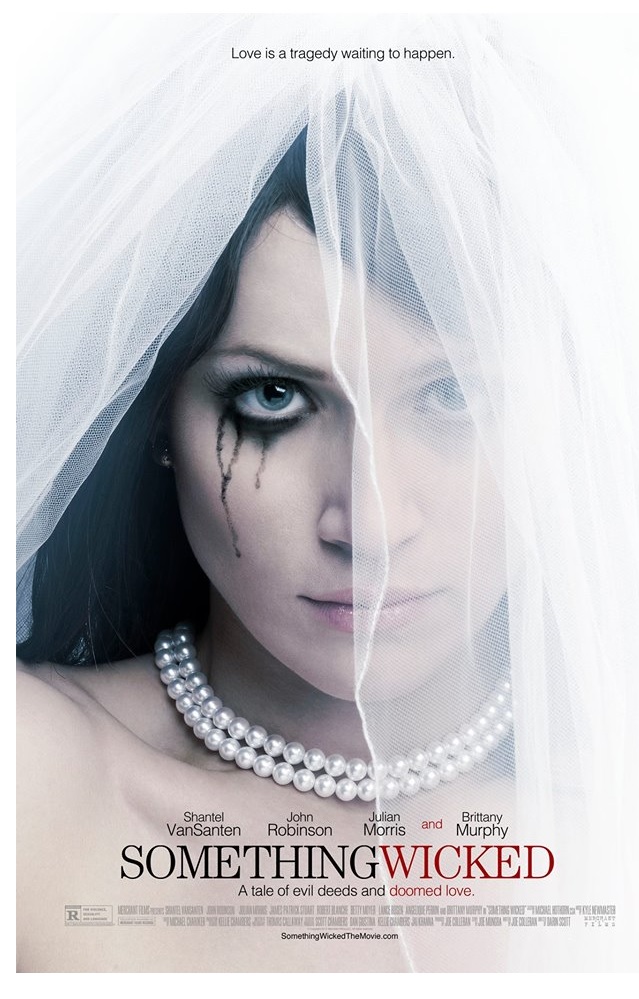 New this week on DVD and digital download from ARC Entertainment!
SOMETHING WICKED (2014)
Directed by Darin Scott
Written by Joe Colleran (screenplay), Joseph Mungra (story)
Starring Brittany Murphy, Julian Morris, Shantel VanSanten, James Patrick Stuart, John Robinson, Katie O'Grady, Robert Blanche, October Moore, Megan Lee Joy, Betty Moyer, Taber Cross, John Breen, Mona Leigh, Angelique Perrin
Find out more about this film here and on Facebook here
Reviewed by Ambush Bug
Brittany Murphy was an odd and unique actress, and while I know her death is shrouded in mystery, I still was very sad to hear of her passing. She seemed to be a bold actress who took on roles that were out of the norm and definitely gave it her all while doing so, something many young actresses lack the courage or talent to do. It pains me even more to see her final film be SOMETHING WICKED, as it really isn't indicative of the actress' talent and oddity.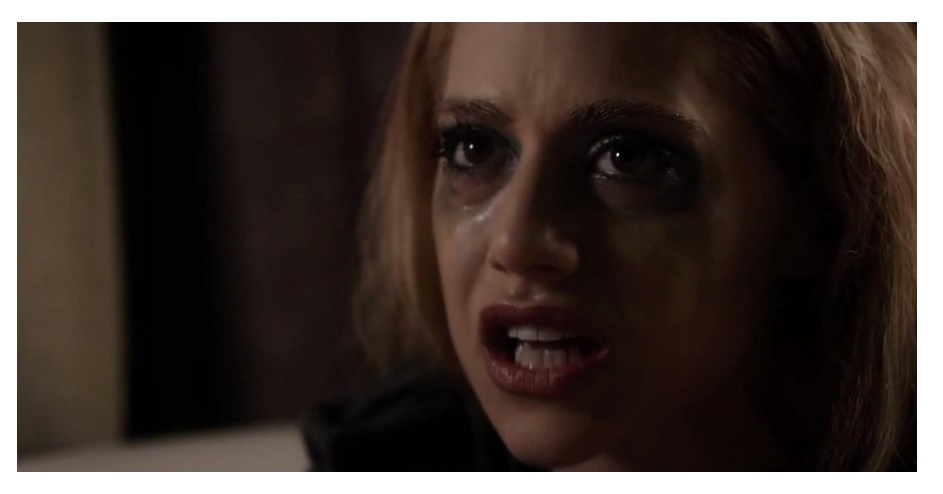 Murphy isn't the star here. She plays Susan, the sister in law of Christine (ONE TREE HILL's Shantel VanSanten), who is deeply in love with her boyfriend James (ELEPHANT's John Robinson), though her parents want her to wait before the two marry. After a horrible accident leaving her parents dead, James and Christine have nothing stopping them from marrying, except maybe for a creepy stalker kid Ryan (Julian Morris) who follows Christine all over the place, and Christine's pervy brother Bill (James Patrick Stuart) who likes to watch her getting changed in her room. When a creepy kid with a see through mask joins the fun, there are all kinds of twists and loop de loops happening on Christine's way to the altar.
This film is a hot mess. It's trying so hard to mislead the viewer as to whodunit and why they whodunit that is gets lost in its own twists, turns and red herrings. Sure, by the end of it all it kind of makes sense as to who is behind all of these weird happenings and why they are sabotaging Christine and James' trip down the aisle, but bound by any form of logic or consistent character, I just didn't care by the time the curtain was pulled back.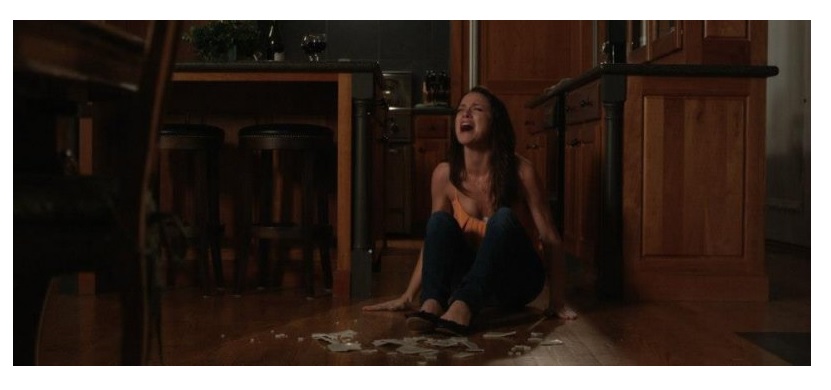 There are a few well-shot moments of tension, and I was rapt in the mystery for a while, but for the most part I just couldn't give a shit, and while it became kind of obvious what was happening by the end, the person behind the murders and mayhem really isn't believably qualified to do all of it in terms of the way the character was portrayed for most of the film.
But folks are going to want to watch this film out of morbid fascination about it being Brittany Murphy's last. She does a decent job playing a therapist by day (info dumping a lot of necessary details just to keep the viewer up to date) and nagging housewife who is trying to get pregnant by night with pervy Bill. It's really hard to like her because not only does Murphy have kind of a faraway stare in her eyes the whole time, but she is also bone skinny with enormous hair as if she was trying to look like Jessica Alba as the blonde-haired Invisible Woman in the last FANTASTIC FOUR. She is not bad in the role, just odd and obviously much more talented than the script, the film and cast around her. It's too bad SOMETHING WICKED will go down as Murphy's last film, but at least it will be remembered for something as the rest of it tries too hard and accomplishes too little.
---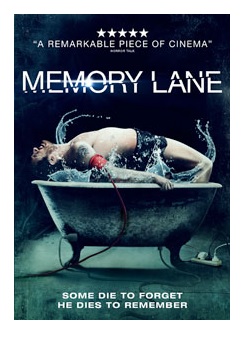 New this week on DVD from MVD Visual!
MEMORY LANE (2012)
Directed by Shawn Holmes
Written by Shawn Holmes, Hari Sathappan
Starring Michael Guy Allen, Meg Braden, Julian Curi, Zac Snyder, Anna Szyszkiewicz, David D'Andrea, Marianna Alacchi
Find out more about this film on Facebook here
Reviewed by Ambush Bug
Though not necessarily horror, this is an unconventional movie about life and death involving someone using crude and mad science to cheat the laws of nature. If it worked for Frankenstein, why wouldn't it make MEMORY LANE AICN HORROR-worthy?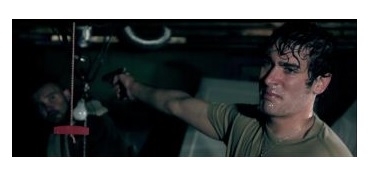 Michael Guy Allen plays Nick Boxer, a war vet suffering from PSTD and trying to find his place in the world after returning from his time in the service. On a night jog, Nick meets Kayla M., a mysterious girl played by Meg Braden, as she seemingly is about to kill herself by jumping from a bridge. The two immediately fall head over heels with one another, but when Nick pops the question to Kayla (without even knowing her last name), she retreats to the bathroom and kills herself. Looking for answers and finding none, Nick decides to follow his Juliet into the great unknown, but ends up being revived by his friends. Upon his return to the land of the living, Nick catches a glimpse of instances that he hadn't noticed before in his limited interactions with Kayla that leads him to believe she was killed instead of her killing herself. Nick attempts to recreate his near death experience to find out more about the mystery, much to the chagrin of his friends who are watching him destroy himself for a girl he hardly knows.
The most appealing aspect of MEMORY LANE is the concept. Sure it's part FLATLINERS, but instead of being motivated by becoming god like Keifer, Julia and crew in that movie, Nick is motivated by love. The problem is that we don't get nearly enough time with the couple to show us why Nick is so head over heels for her. Kayla is actually pretty shitty to him in a child-like flirtatious way by stealing Nick's car, keeping mum about any and all details about her life, and, you know, the whole killing herself right after he proposes thing. Because of the secretive way Kayla is, I didn't trust her from the beginning and to see Nick fall so madly for her made me dislike him as well for being so dense. Still, love works in mysterious ways and though the film didn't convince me that it was that substantial, the characters' actions and numerous discourses on why love is worth killing yourself for does its best to convince us otherwise.
In the end, I think the script of MEMORY LANE is a little too complex for its own good. Some rough bits of acting, shoddy sound, and choppy edits don't help make the story any more cohesive. So when we do find out more about this mystery, it's hard to care because the editing, sound, and acting have worked against it the whole movie through. Still, the premise of MEMORY LANE is a winner, and I think the filmmakers have a much better movie in them having made this one. Here's hoping for something a little more believable in terms of emotional investment between characters and a little more technically proficient for the next film from these guys.
---
New on DVD from Midnight Releasing!
HELL FIRE (2012)
Directed by Marc Fratto
Written by Marc Fratto
Starring J. Scott Green, Katelyn Marie Marshall, Selene Beretta, Jennice Carter, Kasey Williams, Ray Chao, Jodi Mara, Shashone Lambert, Joshua Nelson, Chris Davis, Mindy Wedner, Xavier Rodney, Gaetano Iacono, James E. Smith
Reviewed by Ambush Bug
A story of a few greedy prostitutes, an abusive drug dealer, and the Anti-Christ offers up both old school and new school awesomeness in HELL FIRE, a low fi classic in the making.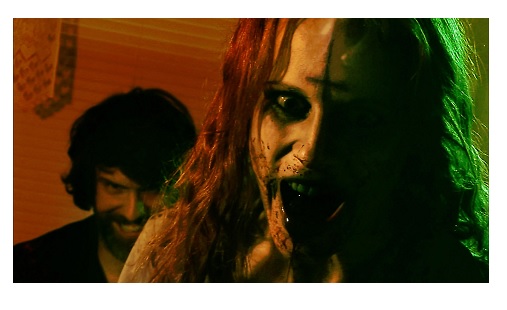 In an intro that borders on cheesy we are introduced to the Anti-Christ, a bearded hipster with a Southern drawl that's a little bit too much like Matthew McConaughey. But I got over that pretty quickly as the action begins pretty quickly as we get to know the not so lovable cast of prostitutes with attitude. For some reason, we are given both their pro names as well as their real names in flaming letters during the intro, even though we really only know some of them for a tiny bit and even the ones who live a little longer than the rest go by only one name. Still, some of the info like one being the sister of another and how they are fleeing an abusive relationship or another who had a back alley abortion are fun facts that end up biting them in the ass once the Devil's son gets a hold of them. The Anti-Christ spends most of the film bound to a chair while the rest of the cast, who have robbed their pimp, ends up tearing each other apart in the name of greed, jealousy, and just downright bitchiness. As their number is whittled away, the few surviving pros end up uncovering the Anti-Christ's plan to take out the new child of God, which is still in the belly of a Brooklyn single mom. Once the pros get privy to AC's plan, some decide to help him as it means power, while others try to stop him having just gained a sense of right and wrong.
The story of HELL FIRE sounds complicated, but really it isn't as there's a lot of sitting and jawing back and forth explaining it all. The filmmaker definitely took notes at the Tarantino School of Banter, but when this is done obnoxiously or awkwardly it can really stand out and ruin a film. Instead, writer/director Marc Fratto does a fantastic job of filling these evil people with words as forked as the tongue of the Devil himself. While his McConaughey drawl is thick, actor J. Scott Green is the glue that holds this film together as he tempts, seduces, and charms his way out of one near death scenario after another, bringing out the absolute worst in all around him, yet still coming off as cool and likable. The rest of the cast are pretty talented as well, and while many of their lines contain a creative use of the word "fuck," they deliver their lines pretty well.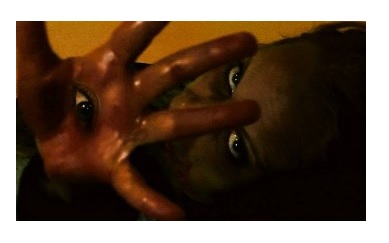 But what is really impressive with HELL FIRE, above the compelling script, story and actors moving the script and story along, is the frantic pace and the abundance of violence and gore that occurs in this film. Adding the Anti-Christ to this heist planned by these prostitutes seems to be the first tip of the dominoes, as everything falls apart rather quickly and it does so in a very, very gory manner. The gore is fast-paced, often sped up to a comical level, and comes at you like a rapid-fire machine gun for much of the film. Body parts are severed, shot, and pierced. Demonic forces are unleashed. And it all comes at you at a pace that'll make your head twirl. The abuse the cast inflicts upon one another as well as withstands is on a THREE STOOGES level. if only Larry spurted blood profusely after being walloped in the mush with a plumber's wrench by Moe.
Channeling the greats can often be a final nail in a coffin for a film if done incorrectly. But writer/director Marc Fratto knows how to handle the staccato back and forthings of a Tarantino and bathe it in equally capable and comical grue found in early Raimi films. HELL FIRE is a rock solid film that is sure to entertain and is definitely deserving of a wider audience. This is devilishly good horror filmmaking at work here.
---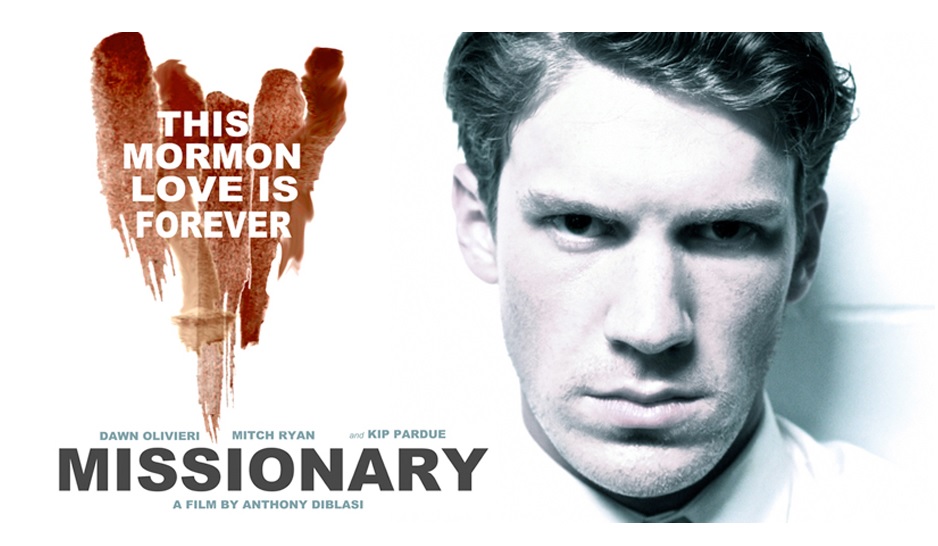 Available now On Demand & coming soon to DVD/BluRay!
MISSIONARY (2013)
Directed by Anthony DiBlasi
Written by Bruce Wood, Scott Poiley
Starring Dawn Olivieri, Mitch Ryan, Kip Pardue, J. LaRose, Connor Christie, Jordan Woods-Robinson, Randy Molnar, Danielle Kimberley, Dushawn Moses, Jesse Malinowski, Jeff Chase, Glenn R. Wilder, Gricel Castineira
Reviewed by Ambush Bug
Though it covers familiar territory, MISSIONARY proves to be an uncomfortably wicked little stalker film.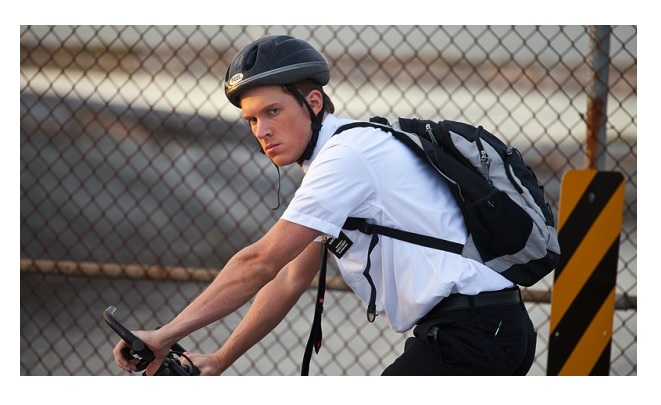 Recently separated from her husband Ian (Kip Pardue), single mom Katherine (Dawn Olivieri) does her best to provide for her son Kelsey (Connor Christie), but she's completely worn out and barely keeping things together. While tossing the football with her son in the front yard, a pair of Mormons bike up and ask for a moment of their time. At first, Katherine does what everyone does and tells them she's not interested, but when one of them, Elder Brock (Mitch Ryan), asks to toss the ball with her kid, she finds herself endeared to him as he offers to help out when she desperately needs it. Bad decisions are made and through a series of events, Katherine kisses and then ends up sleeping with Brock, giving in to her urges and checking her brains at the door. The affair lasts for a bit, but when Brock starts talking about celestial bonding and God's Will, Katherine realizes what kind of mistake she's made sleeping with a kid ten years younger than her. When she attempts to call off the relationship and return to Ian to try the marriage anew, Elder Brock shows a much darker, more obsessive side and refuses to accept the relationship is over. The rest of the film focuses on the ugliness that happens when a weak and impulsive action meets an abusive and obsessive person.
Mormons are not going to like this movie. It really doesn't paint the Mormon faith in a good light, even though the film tries to distance the religion from the extreme actions of Elder Brock in the latter half. Still, that doesn't account for the opening sequence where the Mormons practice one method after another to get folks to talk to them in order to spread their gospel. Brock uses this gospel to worm his way into Katherine's life by preying on her desperation and using her son in order to get to her. Sure, the impulsive move was on Katherine for kissing the rock-hard-abbed Holy Roller, but the fact that the religion itself attracted such a person and sent him out to spread the word without making investigations into his past obsessions does not paint the religion in a good light. And while not all who practice religion devoutly are obsessive psychotics, it does tend to attract addictive personalities. The film does a fantastic job of showing how one with such a personality can fit right in with a religion, but all it takes is one left instead of a right and bad shit happens.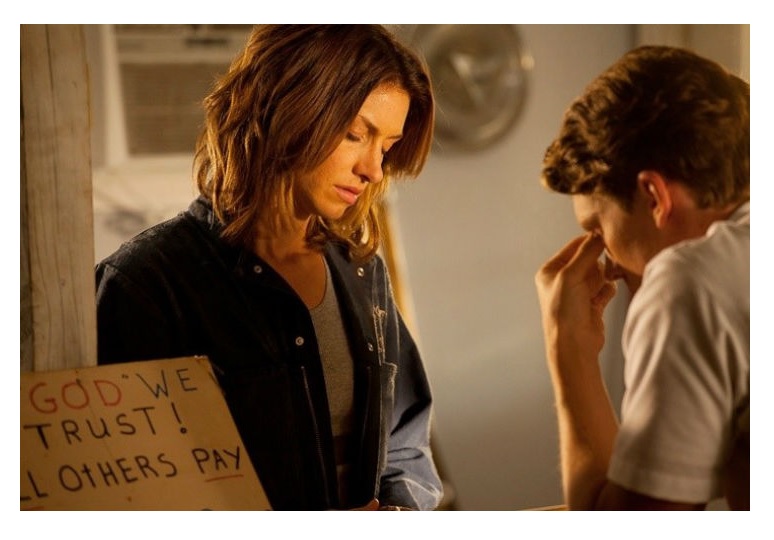 The acting across the board is phenomenal. Olivieri is fantastic as the conflicted woman caught between being physically attracted and wanting to relive her youth before her child is born and the stability of motherhood and commitment to her marriage. As Brock, Mitch Ryan is terrifying and all too real in the way he tries to manipulate and prey on Katherine's weaknesses. He says all the right abusive things to make it seem, in his world, that the increasingly intense and aggressive actions are justified by his love for Katherine. If anyone's been in an abusive relationship, this is going to be a very uncomfortable movie to sit through as it feels all too real.
Things get extreme in the end, and given that this is a movie, I guess that's expected. Far superior but still very much like the Marky Mark abusive boyfriend flick FEAR ("Now, lemme in da houthhh!"), MISSIONARY is a relentless and scarily authentic look at an abusive relationship. While it gets much more unrealistic by the end, the trip there will make most squirm at how Brock makes every violent move right according to his religion, which is what all good horror movies should do. Reminiscent of everything from FATAL ATTRACTION to the aforementioned FEAR, MISSIONARY is frightening because the monsters in this film actually exist and are portrayed as all too real.
---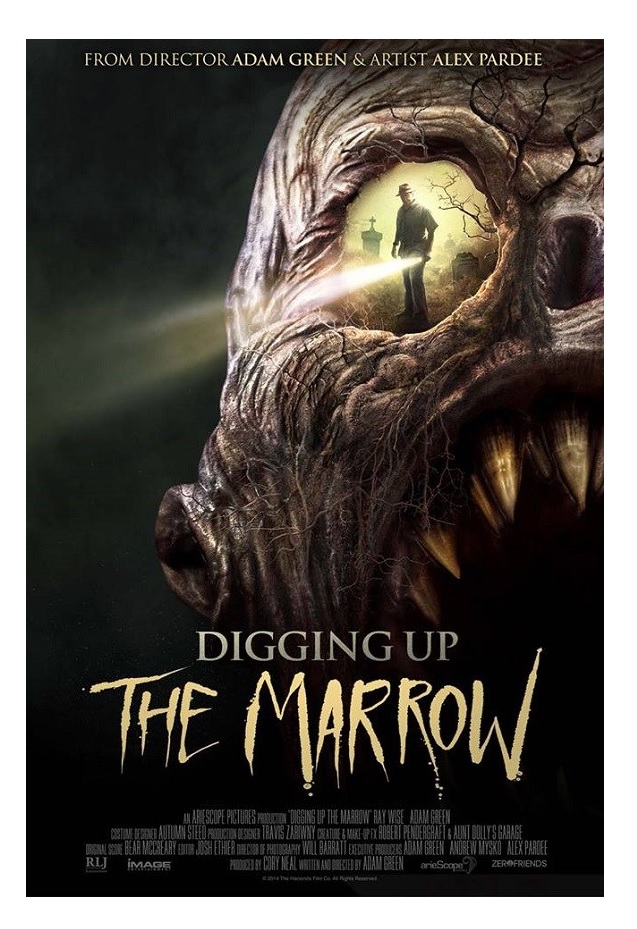 New this week on DVD/BluRay and on iTunes from RLJE/Image Entertainment!
DIGGING UP THE MARROW (2014)
Directed by Adam Green
Written by Adam Green with characters created by Alex Pardee
Starring Ray Wise, Adam Green, Will Barratt, Rileah Vanderbilt, Josh Ethier, Kane Hodder, Tom Holland, Mick Garris, Sarah Elbert, Alex Pardee
Find out more about this film on Facebook here
Reviewed by Ambush Bug
HATCHET and FROZEN director Adam Green turns the camera on himself and makes one of his most interesting films to date with DIGGING UP THE MARROW, a mockumentary of monstrous proportions.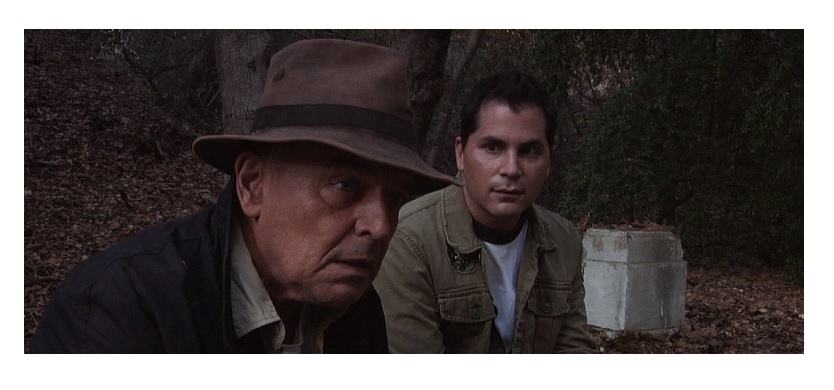 Green portrays himself as a person wanting to believe monsters exist so bad it hurts. He wants to believe this so much he answers the letter of a fan who reveals that he knows about a world under our own where monsters live, and that man is willing to show Green the evidence to prove it, so Green gathers up his cinematographer Will Barratt and goes to the home of William Dekker (Ray Wise) to find out more. Dekker guides Green and Barratt to the back of an old cemetery where he believes a portal to a world called the Marrow exists and promises that if they are patient, they will see monsters exist. Against Green's better judgment, he follows Dekker into the dark and discovers that it is quite possible monsters do exist.
While Green has delivered quite a few great and entertaining films, he really does grab you by the throat with this one. I must distinguish this film from the found footage genre as it is more of a mockumentary horror (or shockumentary) as Green edits interviews with actual scenes of him out in the dark with Dekker and Barratt looking for monsters. Doing the film in this manner gives the viewer the found footage first person POV sensibilities of immediate danger, but it also allows for Green to do some cheats with edits and such that he wouldn't be able to get away with in a straight up found footager.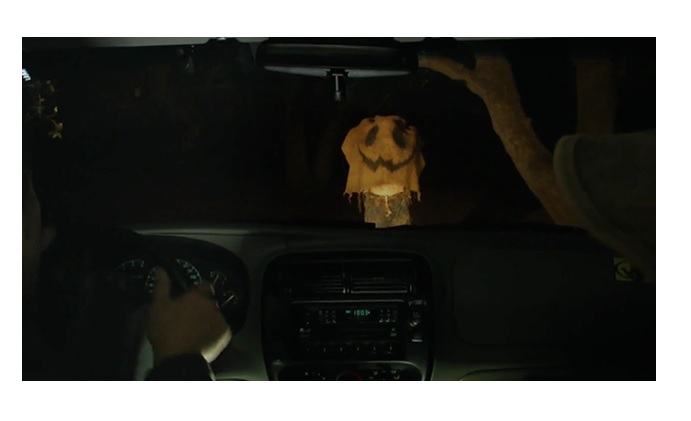 The mythology as told by Ray Wise as Dekker is absolutely engrossing. There is something about Wise's delivery that makes it all feel genuine and believable, and while the actor is recognizable from his plentiful offbeat character work, the method by which he tells a story is utterly convincing. It isn't long into the film that Laura Palmer's dad faded away and Wise was only Dekker, a man of many secrets and the key between our world and the Marrow. Much of the film is just Green and Dekker interacting with one another, with Green playing the goofy question man to Wise's straight-faced and ultra-serious Dekker. Seeing the two interact is often comic and sometimes horrific gold.
The design work on the monsters themselves is pretty amazing as well. Artist Alex Pardee, who is best known for his T-shirt, album cover, and comic book work, designed the various creatures that wander out of the Marrow. While most of the monster work suffers from the obvious lack of budget, Green makes due with what he has and is able to come up with some really creepy monsters here. Oftentimes, Dekker explains who or what these monsters are before they appear and shows a sketch by Pardee in order to illustrate his story. This is a clever way around the budget, as the image is already imprinted in the viewer's mind, so when the monster does show up, even if it is only on screen for a short while, you know what it looks like from Pardee's pictures that Dekker has shown us.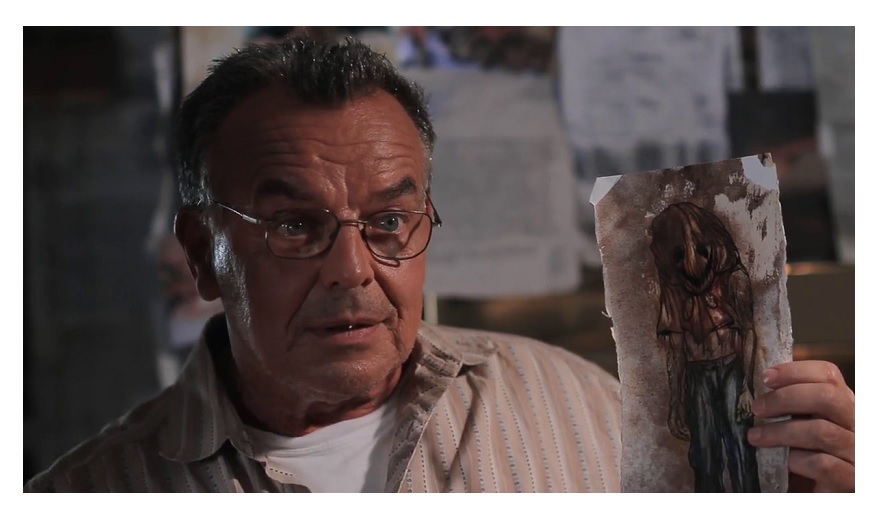 If there is anything critical that I have for DIGGING UP THE MARROW, it's that Ray Wise's recognizability did deter me from suspending my disbelief in the opening moments. Wise is amazing here, as I mentioned above, but the character does have the baggage of previous iconic roles, so when you first see him, you think "that's Ray Wise" and don't believe the name you are given at the beginning. But again, the longer Wise is on screen and the deeper we delve into this mystery, the more I forgot about this baggage and just went with it. Had Green went with an unknown actor, he might have avoided this, but this would have sacrificed a truly phenomenal performance by Wise as Dekker.
I found DIGGING UP THE MARROW to be an absolutely fantastic film full of great laughs and genuine scares. The film felt much like a roller coaster ride, causing me to question what was going to happen next and truly not being able to predict anything that was happening. The mockumentary format gave a real sense of urgency throughout, and both Green and Wise offer up performances that are rich in character, comic timing, and truly suspenseful moments. Long after viewing this film, I was still thinking about it and recommended it to many a friend to check out. It really is pretty amazing what Green was able to cook up with DIGGING UP THE MARROW using some subtle effects, solid performances, and some fantastic design work by Alex Pardee.
---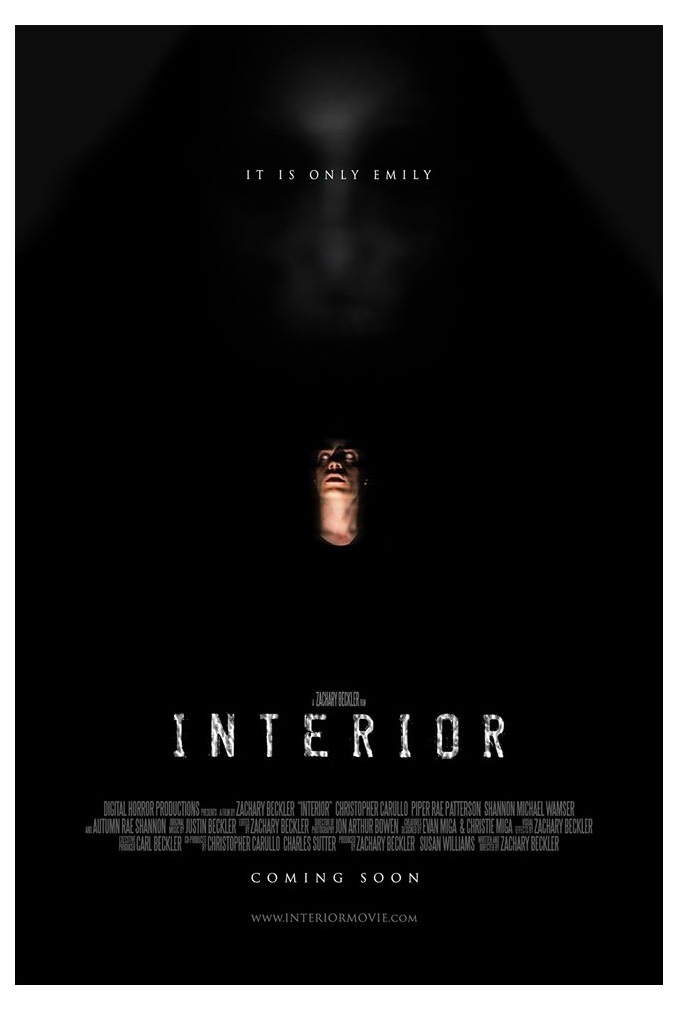 Advance Review: Currently touring festivals!
INTERIOR (2014)
Directed by Zachary Beckler
Written by Zachary Beckler
Starring Christopher Carullo, Peg O'Keef, Piper Rae Patterson, Autumn Rae Shannon, Shannon Michael Wamser, Zachary Beckler
Find out more about this film here and on Facebook here
Reviewed by Ambush Bug
Though not found footage, the hand held camera motif is just one of the ways writer/director Zachary Beckler makes his film INTERIOR bore into your brain and send all sorts of chill down your spine.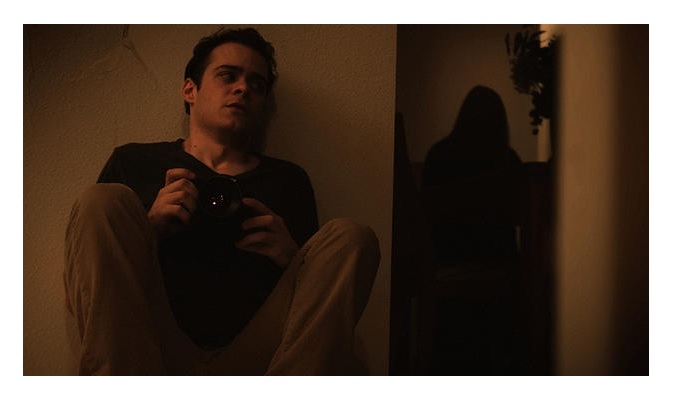 An out of work filmmaker named Sam (Christopher Carullo) agrees to spend the night alone in the home of his ex-girlfriend Allison (Piper Rae Patterson), which she believes is haunted. Skeptical, but more than willing to work with his ex again, despite the fact that she is married and has a child, Sam sets up shots with a multitude of cameras and a mobile computer network to do some amateur ghost hunting in the home. Allison keeps tabs with Sam via Facebook and phone, but for the most part, Sam is alone in the house--at least for a little while.
This is your typical haunted house film where one man is trapped in a single location for the entirety of the film. This could be excruciating if the actor is not up to snuff at carrying a film or if not enough happens. Thankfully, Carullo is more than capable here as the lead and I can see the actor go far as he is likable, engaging, and downright hilarious at times. For the most part Carullo's Sam is a moron, bumbling around the house looking for ghosts--looking through drawers he shouldn't be looking in, playing with Allison's daughter's toys, and looking up Youtube videos of ghost sightings. These scenes are great and really do their job in endearing you to Sam's character so that when things start getting real and spooky, I couldn't help myself but hope he makes it out alive. Carullo's likability was crucial here in order for the rest of the film to work, but if you're the type to get annoyed by a specific type of character (in this case, the lovable loser) the movie's going to be a completely different experience for you. Since I found myself liking the guy, it didn't bother me that he is front and center in this film for practically 99% of this movie.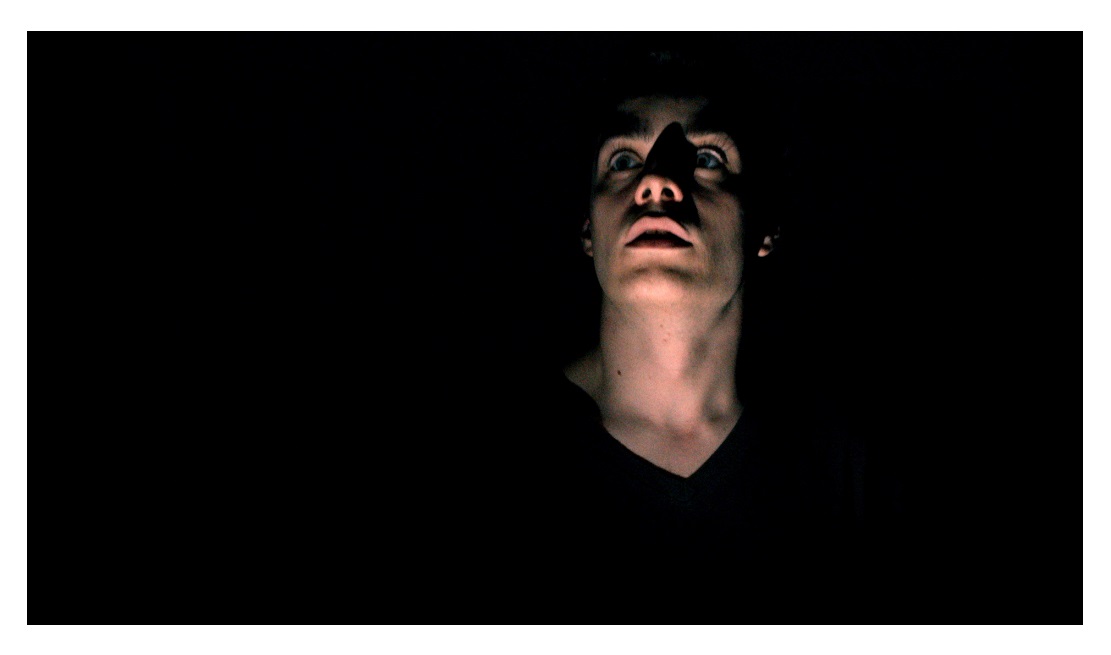 Writer/director Zachary Beckler shows a lot of talent here in terms of setting up one scary scene after another. Some scenes utilize bone-shredding audio of the ghost screeching and screaming. Others are time bomb-style scares where we know something is in the other room and we see Sam approaching it. Still others are more subtle scares playing with the found footage motif without committing to it, as in an early scene where the camera pans back and forth as Sam is on the phone talking with Allison, but then view pulls back and we see that we are looking through a camera which is being moved by unseen forces while sitting on a coffee table. This realization that the scene we just saw was manipulated by ghostly means is a very cool and subtle form of unease that this film is filled with.
Comparisons to PARANORMAL ACTIVITY and other ghost in a home shows are inevitable. They even reference PARANORMAL ACTIVITY in the film. But while those films are all about a slow build and not much payoff, INTERIOR has an abundance of scenes that are absolutely chilling. While those looking for every answer might be frustrated with the resolution, I was happy with the way INTERIOR ended as its ambiguity only amplifies the scares. I jumped time and time again at the expertly patient way Beckler sets up his scenes of fright and horror, and I think you will too as the filmmaker utilizes sound, silence, activity, and the spaces in between to really play with expectations and make you scan every corner of the screen for something creepy going on. Once the monster is revealed, it's equally terrifying, marking one of the few times when an intense buildup leads to a satisfying payoff. INTERIOR is a fright flick like few others, delivering a likable lead and authentically terrifying thrills.
Accompanying shorts were made to go along with this film, both of which are available to watch, so I've included them below. The first short, SÉANCE, serves as a prologue to the film and is mentioned in the movie.
And the short WHERE IS ALICE? is the epilogue to the film.
WHERE IS ALICE? - A Short Horror Film from Zach Beckler on Vimeo.
And here's the trailer for the film itself!
---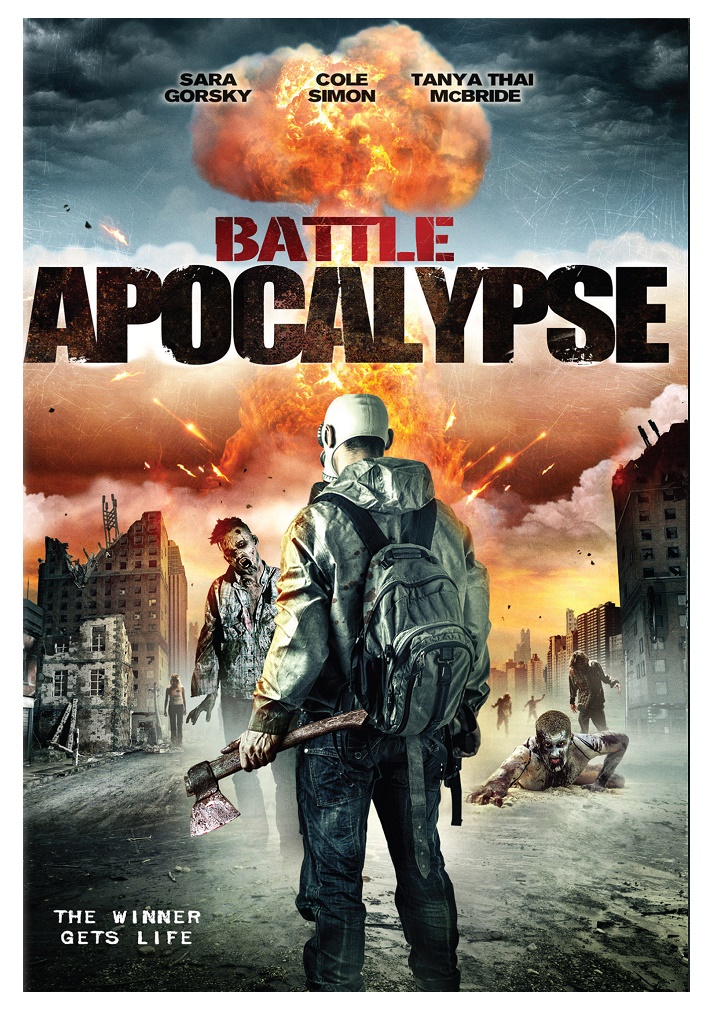 Chicago Horror: Playing this weekend at Chicago's Dead Walk Fest celebrating indie zombie horror and available now on VHX and Vimeo on Demand from Glass City Films and Cinedigm!
BATTLE APOCALYPSE (2014)
aka CHRYSALIS
Directed by John Klein
Written by Ben Kurstin
Starring Sara Gorsky, Cole Simon, Tanya Thai McBride
Find out more about this film here and on Facebook here
Reviewed by Ambush Bug
A while back at Chicago's Fantastic Fest, I happened upon a booth with a simple flyer advertising a new film called CHRYSALIS. Intrigued by the comic book-esque illustration of a pair of survivors dressed for a harsh winter staring down what looks to be a decimated apocalyptic setting, I asked the representatives at the desk about it, and my interest grew as they talked about the upcoming project. Fast forward six months and the film is complete and had its premiere two days ago in Chicago. This is yet another reason why these festivals are so cool. If not for that festival, I would have never known about CHRYSALIS and most likely would have missed out on a truly harrowing and genuinely heart-wrenching theatrical experience.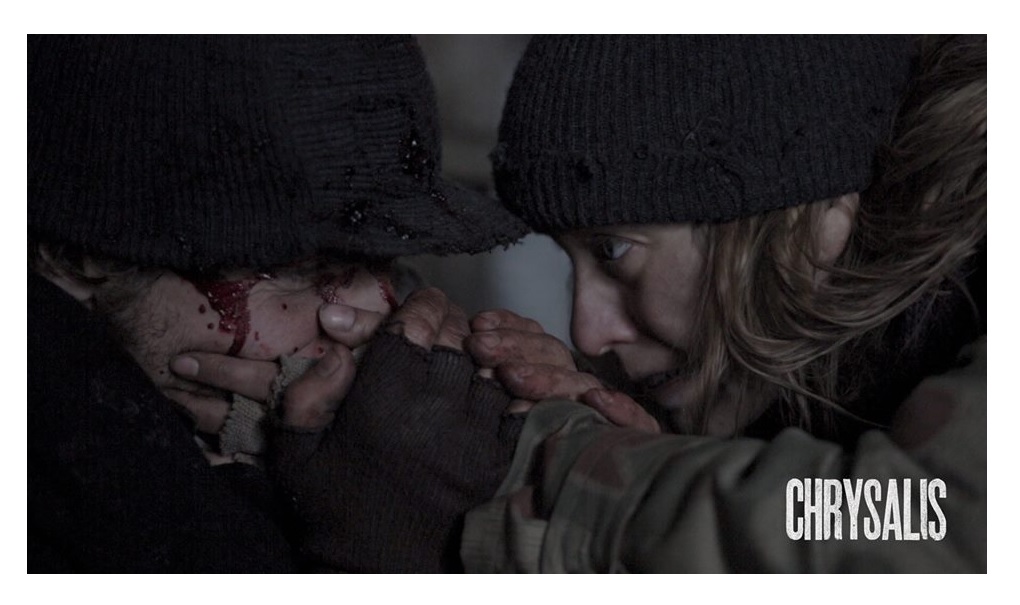 Retitled BATTLE APOCALYPSE, which sounds more like a MAD MAX ripoff rather than an end of the world character study, Josh (Cole Simon) and Penelope (Sara Gorsky) are a pair of survivors making their way across a seemingly decimated and uninhabited landscape with what seems to be a purpose, but ends up being simply to survive. The two are obviously very close, with Josh assuming the dominant role of leader and Penelope happily following Josh's lead. But this is a caring relationship--one which doesn't seem to be based solely on who's leading who, but one sincerely formed out of a strong love for one another. In the opening moments, Josh narrates the distance they have crossed, the things (or lack thereof) they have seen, and their feelings about it all. We also see that the land is not only populated by packs of roaming and hungry dogs, but infected zombie-like creatures.
Unlike most zombie films, this isn't a showcase of gore or the number of zombies or even identifying what other group the zombies are up against. BATTLE APOCALYPSE is much more like THE WALKING DEAD, as it is about survival and how close and even dependent these two people can become on each other in this dire situation. Penelope most definitely relies on Josh to be the protector, but later in the film, it's evident that Penelope is equally important in this equation as she gives Josh purpose in that he exists as her protector. While this might make for a weak characterization of Penelope, actress Sara Gorsky does a fantastic job of giving her quirks and personality enough to make you understand why Josh would be so much in love with her. When another survivor, Abira (Tanya Thai McBride), shows up, Penelope is immediately suspicious, not only because she is a stranger, but because she is seen as competition and seeing how Abira is pretty good at taking care of herself, Penelope is smart enough to realize that the burden would be less if Josh had a relationship with her. These deeply realized emotional conflicts make BATTLE APOCALYPSE much more emotionally depthy than your run of the mill zombie flick.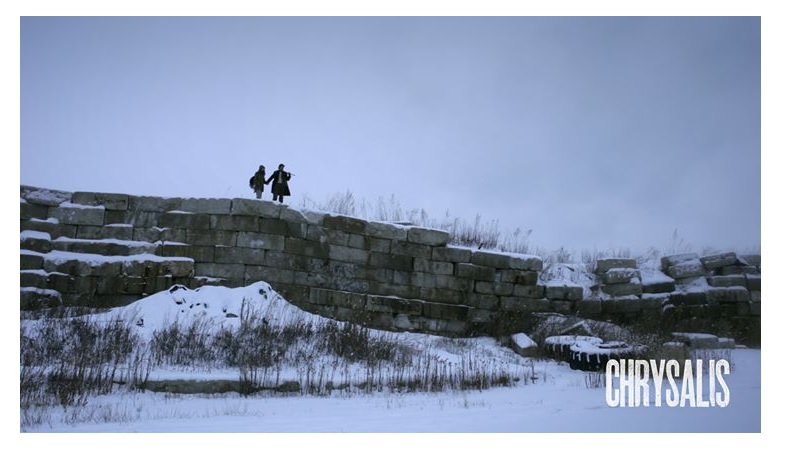 But it's not all emotional resonance and deep feelings. BATTLE APOCALYPSE has some absolutely terrifying moments throughout the film as the zombies are used smartly, always a reminder of the threat that is just steps behind these survivors. There's an especially excruciatingly scary series of events that happen towards the end of this film where the use of absolute darkness and flickering flashlights make my bones shake and rattle. The intensity of these final scenes where the survivors are running around in the dark with just a single beam of light between them and the advancing zombies achieves scares few zombie films are able to accomplish.
At this point, it takes something pretty special for me to be impressed with a zombie movie, but BATTLE APOCALYPSE absolutely blew me away. The level of acting, as well as the deft use of character by Ben Kurstin and the solid direction by John Klein, make BATTLE APOCALYPSE much more than the typical zombie fare overpopulating the genre. By focusing on survival rather than gore and body count, they've successfully made a film that stands out above the rest of its genre and deserves to be seen. Though it lacks star power and huge distribution, BATTLE APOCALYPSE is one of the strongest zombie films of the year.
See it. BATTLE APOCALYPSE is a film that reminds us why zombies can be so scary.
---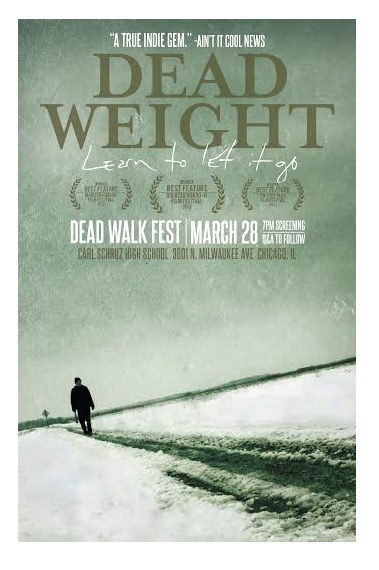 Chicago Horror: Playing this weekend at Chicago's Dead Walk Fest celebrating indie zombie horror and on DVD, digitial download, & iTunes from Kino Lorber/Horizon Movies!
DEAD WEIGHT (2012)
Directed by Adam Bartlett & John Pata
Written by Adam Bartlett & John Pata
Starring Joe Belknap, Mary Lindberg, Michelle Courvais, Aaron Christensen, Sam Lenz, Jess Ader, Matty Field, Jake Martin, Mark Muetzel, Steve Herson, Cheri Sandlin, Fran St. Andre, Jason Ryf, Reva Fox, Adam Loper
Find out more about this film here and on Facebook here
Reviewed by Ambush Bug
Some films blast out of the gates with goodness, while others take the slow burn route. With patience being on the minimum these days, I'm sure there might be a few of you who are likely to turn off a film midway if it's not ticking all the marks for you. Me, I'm more of the patient sort, especially when it comes to horror, and it's a good thing. Had I been the type to walk away from a film because of a rather slow start I might have shuffled past a film like DEAD WEIGHT, but had I done so, I would have missed out on a true indie gem.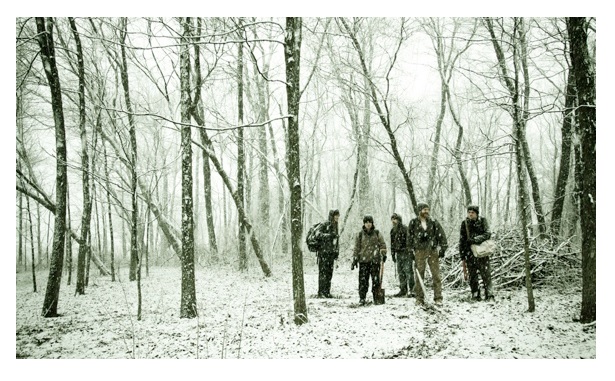 Writer/directors Adam Bartlett and John Pata offer up a script that increases the heat from the first second to the last, but only in small increments. The story of a world gone sideways with no real explanation as to what it is that has set the world off-kilter is a powerful one here. Instead of focusing on the zombie fx or comet animation or even radioactive glows in the sky, DEAD WEIGHT focuses on the survivors themselves. In true THE WALKING DEAD fashion (and Romero zombie films before it), the horror comes from the interaction between the humans and how humanity ebbs away like sand through a sieve.
The film opens on Charlie (Joe Belknap) as he slowly starts his day, shuffling through his morning routine zombie-like and hardly awake. His girlfriend Samantha (Mary Lindberg) calls him and tells him to turn on the news, and this is the first indication that something is wrong. Apparently, there are outbreaks of some kind all across the Midwest and with Charlie being in Toledo and Samantha being in Minnesota doing an internship, the couple immediately make a plan to meet somewhere in between. Thus begins a journey for Charlie to find his girlfriend. The story takes place between the barren present and the vibrantly colored past, which tells the tale of these two lovers in reverse, from their last words on the phone to one another to the first time they met. In between these scenes is Charlie's arduous trek across the county, encountering infected humans, ill-mannered rednecks, horrible weather, abandoned houses, and the limits of his own sanity. Teaming up with some other survivors, Charlie does what it takes for him to get to his girlfriend, no matter what the cost to his humanity.
This being a lower-budgeted film, the acting is a bit choppy at times. Though I've seen far worse, there are a few members of the cast that have that wooden delivery amateur actors do best. That said, there are a lot of strong performances here, including Aaron Christensen (writer of HORROR 101 and HIDDEN HORROR – review coming soon) as the earnest leader of a group of wanderers. Steve Herson plays one of the few earnest and kind souls the group crosses paths with, and Michelle Courvais plays a mother-like figure to Charlie. Joe Belknap, who plays Charlie himself, is really good here as the lead. Though he is an unconventional hero to follow, his transformation is fascinating to see from the beginning to the end of this film. Belknap has a young Ethan Embry kind of look about him that feels earnest even when the things he does aren't so much. His performance in this film is really outstanding.
DEAD WEIGHT is a film that picks up momentum in the last half despite its slow beginning, culminating in a finale that really took me by surprise at how impactful it was. While most great zombie films serve as a metaphor for something else, this one is a twisted little take on how long-distance relationships are often a difficult journey to take. While low budget, the film really does have a strong script and story, and the filmmakers seem to go out of their way to focus on the characters themselves rather than the spectacle of the zombies--so much so that you really don't even see the zombies until the very end, but by that time, I was wrapped up in this post-apocalyptic tale of lost and found love. If you can look past the low-budget trappings, you're likely to be impressed at the high-quality emotion and character of DEAD WEIGHT.
---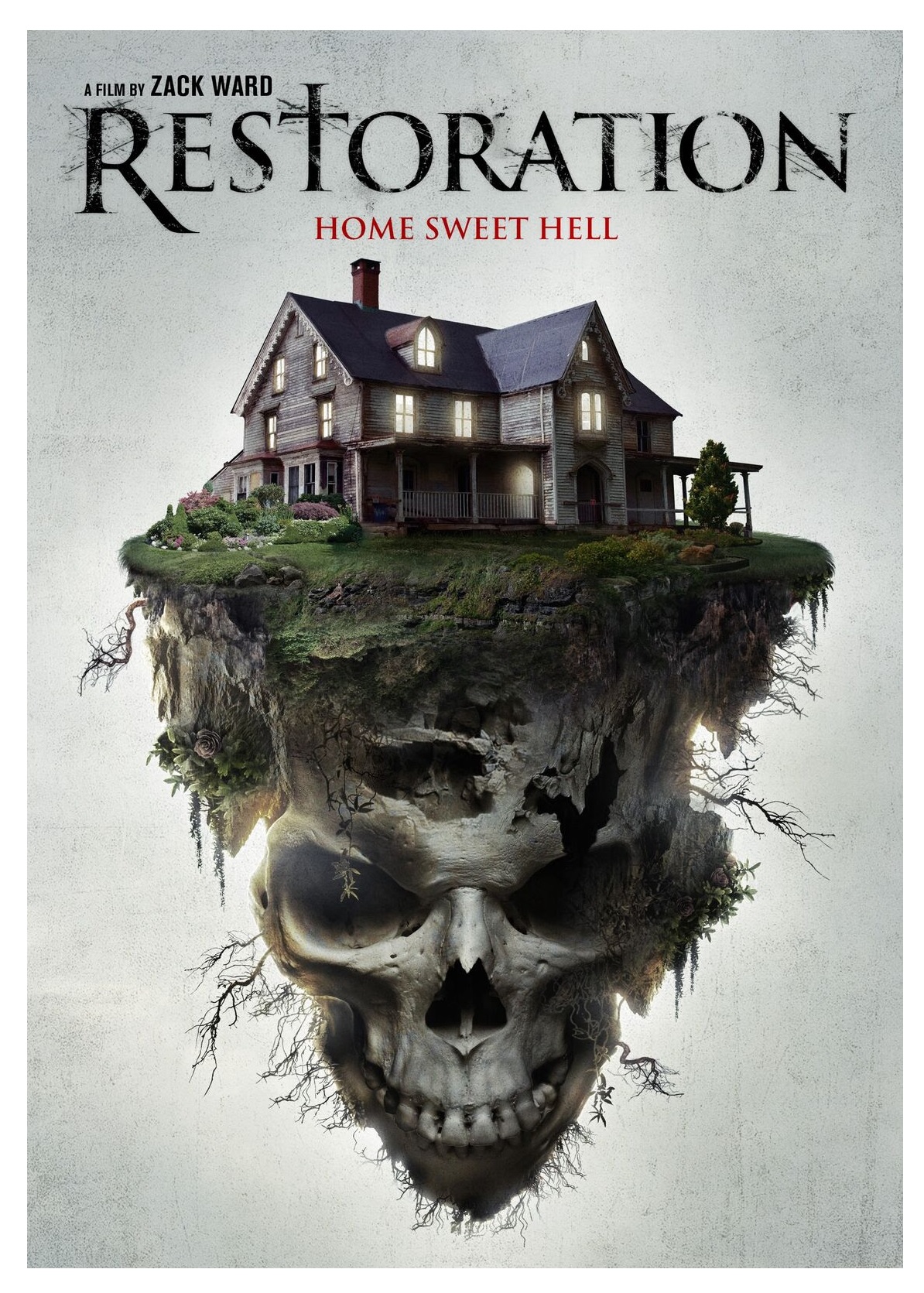 Chicago Horror: Touring fests at the Music Box for the Chicago Critics Film Fest as well as Motor City Nightmares in April from Deathblow Productions!
RESTORATION (2014)
Directed by Ryan Oliver
Written by Ryan Oliver
Starring Lily Horn, Brant McCrea, William J. Norris, Norbert Caillouet, Billy Favata, Molly Brennan, Brent Fatava, Denis McQuinn, Joel Rabb, Helena Buckley, Brian Connelly, Brian James Dickie, Christine Jennings, Ryan Oliver, Angelina "Pocalypse" Horn, Enrique Rico, Kiko Rico
Find out more about this film here
Reviewed by Ambush Bug
There's not a lot in terms of horror for gearheads. The only one that comes to mind is CHRISTINE, and while RESTORATION has a lot of the same qualities as the Stephen King/John Carpenter classic, the film manages to distinguish itself by immersing itself into gearhead culture--not focusing on a nerd looking to get back at bullies, but from the perspective of the noble cause of making something old and tarnished new again. Though this film is a tight and quick 45 minutes long, it still packs in a lot of scares, thrills, and good looking cinematography into such a small amount of time.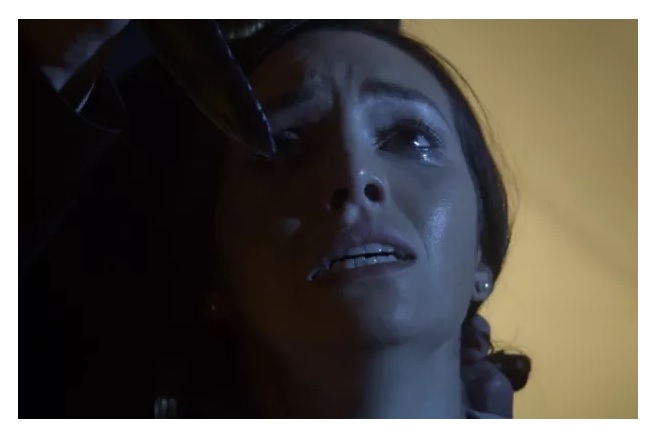 RESTORATION begins in the 1960s as a little girl (the adorable Lily Horn) plays hide and seek with her friend in a cornfield. Finding an abandoned car at the edge of the field, she gets in, thinking she's found the perfect hiding spot. But when the trunk closes, she's unable to get out and suffocates in the back of the car. Jaunt forward fifty odd years later and we find Sonny Ray (Brant McCrea) shuffling around a car garage where he works. Happening upon an ad in a car magazine for a free 1950 Fleetline Deluxe, he leaps at the opportunity to pick it up and races out to the Chicago suburbs to check out the dilapidated vehicle. While the old man who greets him want to warn him about something off about the car, Sonny Ray stops him and tells him he will take it no questions asked, thinking he can restore the sweet ride and be the apple of his gearhead brethren's eyes. But once the car is in the garage, weird things start happening: Sonny Ray sees a little girl in the mirrors of the car and people start getting perished pretty gorily. It all leads to a confrontation between Sonny Ray and the little girl who is wreaking havoc on his life.
This is a pretty straightforward haunted house story in terms of structure. There's a cursed item (in this case an old car), and someone with high hopes to renovate it, but the past sometimes likes to stay un-renovated. What sets this story apart is that it really does pull back the curtain on gearhead culture and casts it in a light not often seen in films. As I mentioned before, in any other film, the gearheads are the bad guys, all tattooed and surly looking. But as I've found out interacting with these folks in bars and concerts (some of the cast members of this one have been friends of mine for years), they are just like you and I and this film tries to shatter that bad guy stereotype by telling a compelling story with a gearhead in the lead. Casting Sonny Ray, who if this were a typical Hollywood film would be the lead baddie, as the protagonist here makes for an interesting shift and it's enough of a shift to make the entire film feel fresh and different. RESTORATION humanizes a culture which is often stereotyped, showing them at work and at play in a light we usually don't see.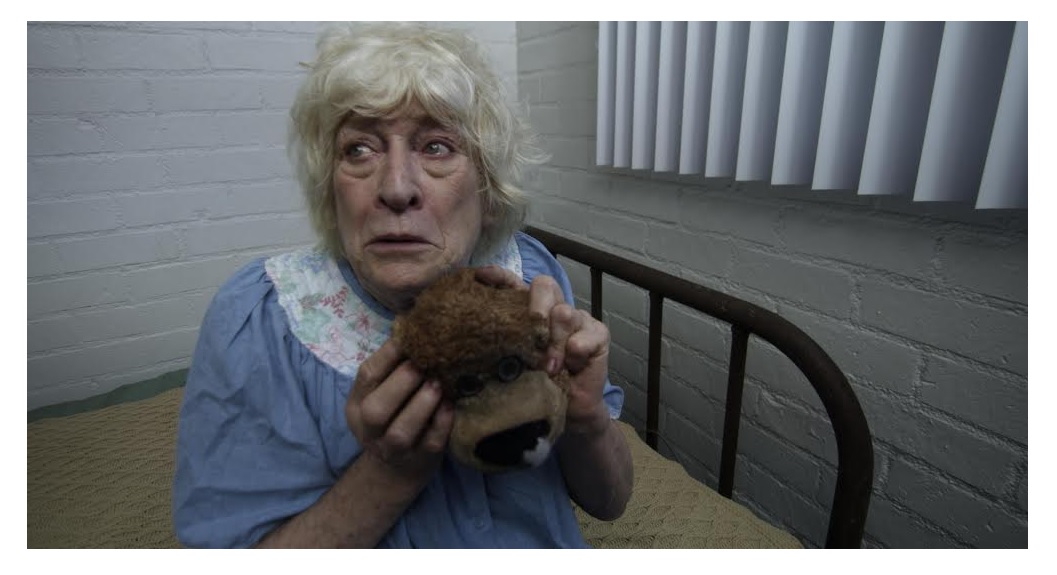 Another aspect that makes this film infectiously watchable is writer/director Ryan Oliver's eye for making the mundane beautiful. Through stylistic slo mo shots, we see the mechanics soldering metal with a torch or going about the usual garage humdrum in a manner that makes it all feel like a gorgeous dream. Oliver does some fantastic stuff just capturing the mood of this garage, and when the little girl begins her bloody rampage through the various areas in the garage, it does so in a manner I haven't seen before. And while Oliver is great at setting up tension, atmosphere, and mood, he also isn't afraid to let loose the red stuff in some really tasty scenes of gore and carnage.
RESTORATION is a fantastic little ghost story with an adorable little ghoul in the lead with Lily Horn, who maintains a creepy and emotionless stare throughout. Seeing bars I frequent like Exit in Chicago and the gearhead culture represented so well in RESTORATION makes my cold, black heart all warm and squishy. RESTORATION is a low budgeter of the highest quality. Everything looks gorgeous, even the grime on the tires and the blood gushing from various opened wounds. Oliver is currently working on a feature film, and if his work on RESTORATION is any indication as to what it will look like, I can't wait to see it.
---
And finally…I have a really special treat for folks this week in the last spot in the column. I've reviewed three of Pat Higgins' films (THE DEVIL'S MUSIC, BORDELLO DEATH TALES, ANGRY NAZI ZOMBIES) and found all three to be low budget horror filmmaking at its best. Higgins recently gave an hour plus long talk he gave (with a little help from fellow filmmaker Paul Cousins) on the dos and don'ts of making low fi horror and he was nice enough to pass it on to me to share with all of you! In this feature-length live show, Pat discusses everything that can go wrong on a low-budget horror shoot, complete with video contributions from cult horror filmmakers like Keith Wright (HAROLD'S GOING STIFF), Dani Thompson (SERIAL KALLER, AXE TO GRIND), MJ Dixon (SLASHER HOUSE, LEGACY OF THORN), James Eaves (BANE, THE WITCHES HAMMER), Al Ronald (JESUS VS THE MESSIAH), Jonathan Glendening (13 HRS) and Jason Impey (HOME MADE, SNUFF FILM), who all share their worst experiences from the trenches of horror filmmaking. So while most of this time this spot is aimed to entertain, this time around it's here to educate those happy and hopeful filmmakers in the crowd who want to make their horrific dreams and worst nightmares come true on film. This is some fascinating stuff and definitely worth a look see for fans of and pros in the industry. Check out Pat Higgins' HOW NOT TO MAKE A HORROR FILM below and learn a little somethin'!
How Not To Make a Horror Movie (Pat Higgins Live at Horror-on-Sea 2015) from jinxmedia on Vimeo.
See ya next week, folks!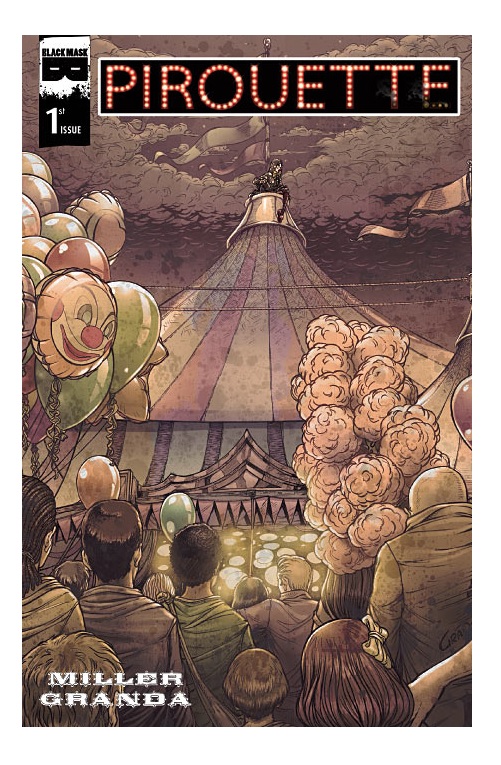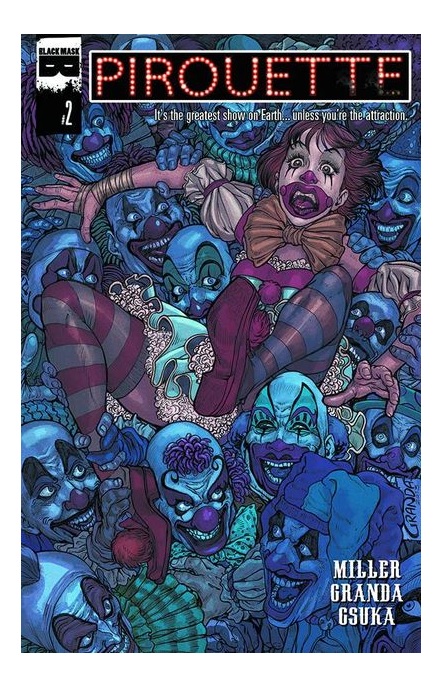 Ambush Bug is Mark L. Miller, original @$$Hole/wordslinger/writer of wrongs/reviewer/interviewer/editor of AICN COMICS for over 13 years & AICN HORROR for 4. Follow Ambush Bug on the Twitters @Mark_L_Miller.

Be sure to tell your comic shop to order his new comic PIROUETTE (out now!) from Black Mask Studios!
---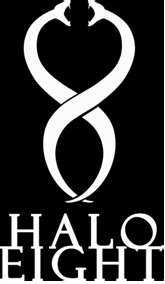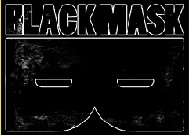 Find out what are BLACK MASK STUDIOS and OCCUPY COMICS here and on Facebook here!


Interested in illustrated films, fringe cinema, and other oddities?
Check out Halo-8 and challenge everything!
Look for our bi-weekly rambling about random horror films on Poptards and Ain't It Cool on AICN HORROR's CANNIBAL HORRORCAST Podcast every other Thursday!
---
Find more AICN HORROR including an archive of previous columns on AICN HORROR's Facebook page!