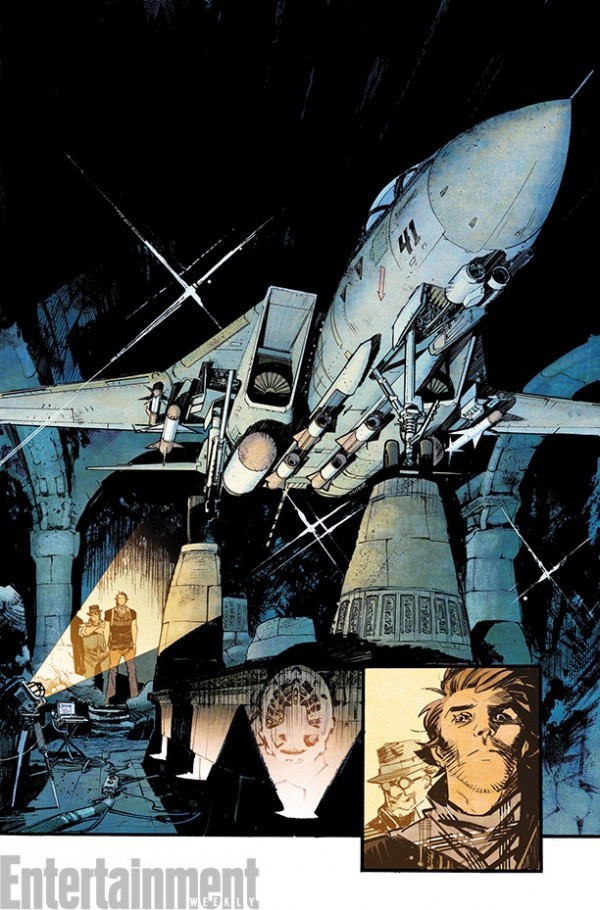 How long, I wonder, before they start letting comic book writer Mark Millar write and direct his own movies?
He's getting closer. Millar's latest comic book series, "Chrononauts," only hit stands Wednesday but Universal has already put the time travel tale in development as a motion picture. At least that's the story Deadline is telling in its Wednesday "exclusive."
But if you read Wednesday's "Chrononauts" story in Wired, Millar says he actually set up the Chrononauts movie deal "almost before we did the book."
Millar, whose "Ultimates" comic cast Samuel L. Jackson as Nick Fury long before Jon Favreau's "Iron Man" got around to it, continues to emerge as a big-screen powerhouse.
2008's "Wanted" (which grossed $341 million worldwide) was the first Millar comic to leap to the big screen (the comic was MUCH better), followed by the more carefully adapted (but still not as good as the comics) "Kick Ass" (2010), "Kick-Ass 2" (2013) and "Kingsman: The Secret Service" (2015).
The "Kingsman" worldwide gross is $278 million and counting.
Millar's excellent "Ultimate Fantastic Four" run (2004) serves as the basis of the Josh Trank movie due Aug. 7.
Millar's popular "Civil War" series (2007) serves as the basis of next year's Captain America (slash-Iron-Man-slash-Spider-Man) movie.
Twentieth Century Fox currently has at least three movies based on Millar-written comics in development:
Millar's 2010 comic "Nemesis," about a mass-murderer supervillain, is expected to be co-written and directed by Joe Carnahan ("Smokin' Aces," "The A-Team," "The Grey," "Stretch"), with production slated to begin as early as this year.
Millar's 2010-2012 tale "Superior," whose big-screen adaptation has since April been overseen by "Kick-Ass"/"Kingsman" writer-director Matthew Vaughn, follows a wheelchair-bound 12-year-old who faces some impossible moral choices when he is transformed into a hero with Superman-like powers.
Millar's "Starlight," published last year, follows an elderly American who finds himself pressed back into interplanetary service by extraterrestrials --decades after his last batch of Flash Gordon-y adventures ended. Gary Whitta ("The Book of Eli," "After Earth" and an early draft of the "Star Wars" spin-off "Rogue One") is scripting.
Millar has also said he also has a writer and director lined up for a screen adaptation of his 2012 miniseries "Supercrooks," for which he wants Bradley Cooper to star as superpowered ex-con Johnny Bolt.
He also wants Richard Dreyfus to star as Walter Sampson in a big-screen adaptation of Millar's wonderful and ongoing "Jupiter's Legacy," about a family of superheroes who fall into deadly conflict when one of them – Walter – decides to exert more influence on human affairs.
Find all of Deadline's exclusive on "Chrononauts" here.