Hey everyone! I am back with some more "day in the life" coverage from SXSW '15. In case you didn't get the memo, this year I am covering the various events I attend in addition to my usual film reviews. If this is not your bag, please move on friend. However, if you'd like a veteran's view of the fest, read on...

Once again, I started the day on the train. That is, the so-packed-some -people-couldn't-even-get-on the train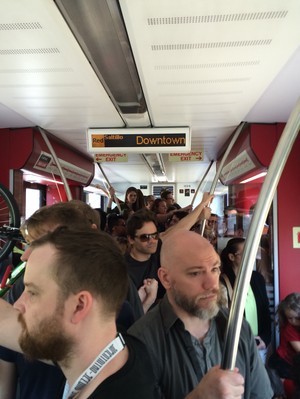 Seriously Austin Cap Metro, if one of the biggest music/film/interactive festivals in the world is happening in your town, perhaps consider more than two train cars, K? Ok, rant over, moving on...
Once I arrived downtown, I hauled ass to the Paramount theater just in time to meet up with the always radiant Yoko for the premiere screening of David Gordon Green's latest MANGLEHORN.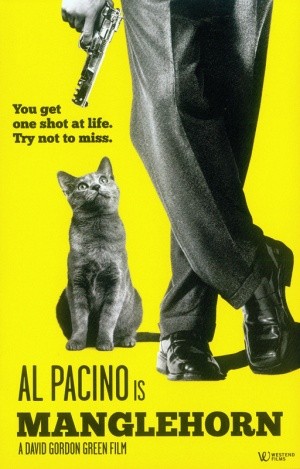 MANGLEHORN

MANGLEHORN is the final film of what SXSW film fest producer Janet Pierson lovingly called Green's "Austin trilogy." The film centers on Al Pacino's titular character- a lonely locksmith who can't let go of the love of his life that he let get away. Much like his earlier "Austin" efforts PRINCE AVALANCHE and JOE, MANGLEHORN is a character study of an aging, stubborn man having difficulty letting go of a past that is preventing him from living his present.

I would describe more about the plot, but that pretty much sums it up. While that may not sound like the best endorsement, let me assure you that there is much more going on than that. If you're familiar with Green's smaller films, you'll recognize the same meandering vibe that permeates these projects.

I must admit that this type of movie is not usually my thing, however something about the way Green captures real life and real characters is simply mesmerizing to me. The photography itself is beautiful, and the deliberate, contemplative tone is wonderful. As usual, Pacino chews up the screen- even in his most quite moments. It's pretty great to watch artists collaborate, and MANGLEHORN truly gives a sense of this rare type of magic.

Supporting performances by Chris Messina as the estranged son and Holly Hunter as the sort of love interest certainly help elevate the Pacino's character from a mere curmudgeon and help feature the true depth of his character. In a brilliant bit of comic relief, Harmony Korrine steps from behind the camera creating one of the most lovable sleazebags I can recall from recent cinema.

Though MANGLEHORN is definitely not for everyone, I encourage those of you who really appreciate a solid character study to check it out.

After the MANGLEHORN screening,Yoko and I went on a free food mission. It's kind of feast or famine sometimes with the free stuff at SX, and we were definitely in the latter. Though social media guides us to a few venues, all of the free noms were gone. When we passed a random PR office offering "snacks", we found ourselves at a sad table with nothing but Hawaiian dinner rolls and spinach artichoke dip. Beggars can't be choosers, so we gladly dug in and escaped right before some 20-something speaker took the mic to espouse the virtues of their start up that will maximize the effectiveness of online photos for your business- or something like that. Yeah, we got out of there as fast as we could...

We then headed to the Stephen F Austin Intercontinental for their happy hour on the terrace. Once again, free drinks, but no food unless you count the Kind bars in the lobby. Favorite observation of the day: Yoko said, "Does anyone actually ever pay for Kind bars? It seems like they just give them away for free everywhere." I love her. The terrace was absolutely gorgeous and the free drinks were delicious.

Soon we met up with Lady Del Mar and her Oneofus.net boys Chris Cox and Brian Salisbury. We cussed and discussed what we'd seen and done so far, and basically marveled at all the crazy free parties happening everywhere. Before we parted ways, I snapped a shot of the trio with Del Mar and Brian modeling the sweet nerd glasses they are giving out at the fest to promote their site. Super cute.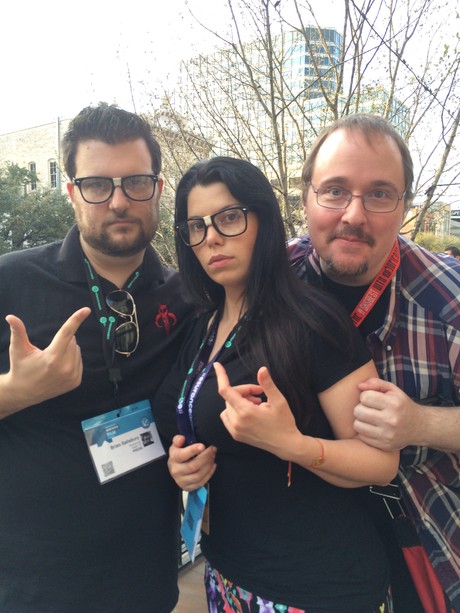 Following the happy hour, Del Mar and I queued up for our next film, MOONWALKERS.
MOONWALKERS
The film is about a down-on-his-luck 1969's British band promoter (Rupert Grint) who finds himself at the center of crazy CIA scheme to get Stanley Kubrick to film a fake version of the moon landing just in case the real mission fails. Sounds pretty insane, right? That's just the tip of the iceberg in this off the wall screwball comedy. The super secret operation is spearheaded by a PTSD stricken Vietnam vet (Ron Perlman) whose reputation and sanity is on the line. And then it just gets weirder and weirder as the group sets out to complete their task by the looming deadline.

Though some of the pacing feels a bit odd, and the story teeters on the edge of ridiculous, director Antoine Bardou-Jacquet somehow manages to reign in all the madness, creating a unique and totally fun film. I really enjoyed seeing Perlman in such a screwball comedy. While he pretty much plays the straight man in a cast of clowns, he definitely runs with the opportunity to play up his comedic side by the film's end.

Rupert Grint does the exasperated hero thing so well. He is charming and funny without coming off as too clownish.

Also worth mention are the great effects that are sprinkled through the film. Between Perlman's Vietnam flashbacks, the crazy hippie artist trippiness, and the fake moon landing, Bardou-Jacquet features some pretty amazing special effects that I wasn't expecting at all.

Overall, I think MOONWALKERS is a solid comedy. It is over-the-top and completely wacky, and I totally dug it. Here are some snapshots during the Q and A following the film.

After the Q and A, I watched for a while as Grint got mobbed by fan girls outside of the Alamo Ritz on 6th street. I decided to take a stroll to the historic Driskill hotel bar- which is always a great place to hang during the fest.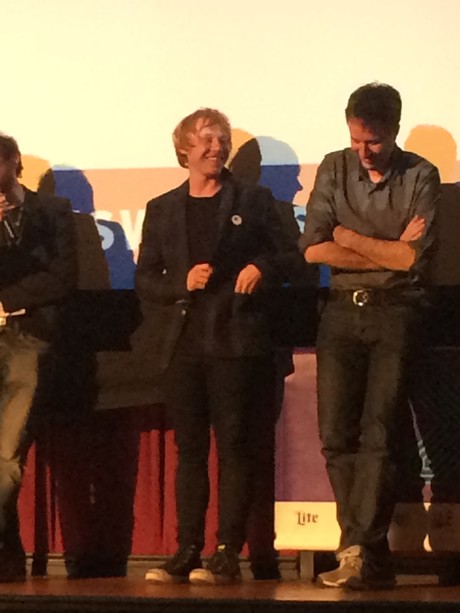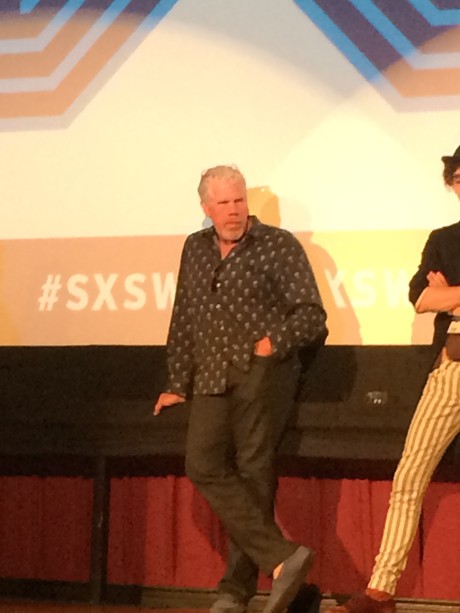 Great bathrooms too, btw. On my way out of the hotel, I literally ran right into Grint on the street and was able to tell him in person how much I liked the film. And just like that, I was suddenly one of the fan girls too. Anyway, he was very nice and thanked me. I'm still kicking myself for not asking him if he wanted to grab a pint, but I guess that would be a conflict of interest...oh well.

Since it was still pretty early, I decided to take to the ol' social media again and see what parties I couldn't miss. Low and behold the Rooster Teeth (Google it) party was happening not to far away. Even though I was solo at this point, I decided to check it out. Once again, a free open bar, killer DJ,....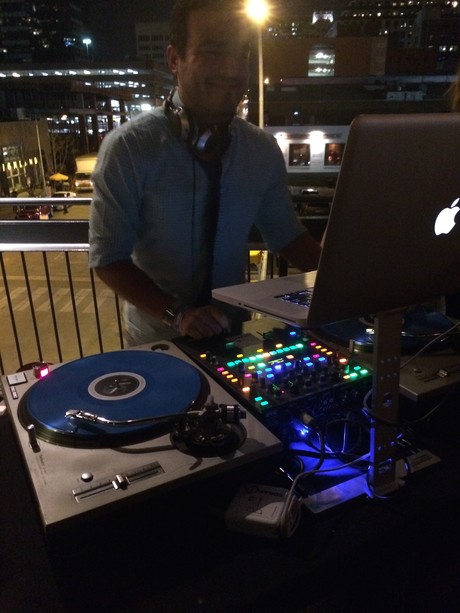 ...and even better people watching kept me at the party WAY later than I expected. I'll never cease to be amazed by these kind of free-for-alls everywhere downtown all week.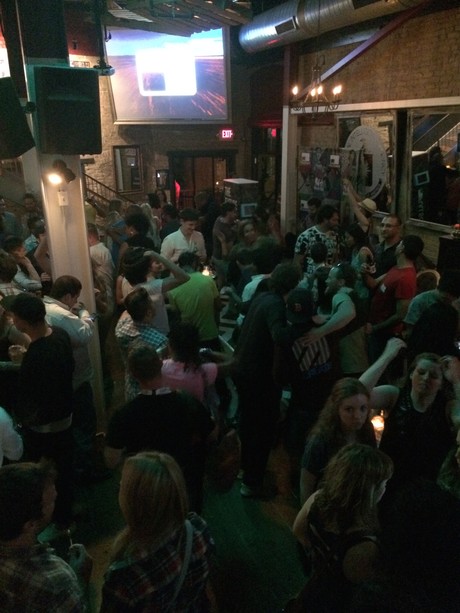 At this point, I was more than ready to go home but the wait for the train was not happening for me, so I got an Uber ride home. Good Lort do they gouge during SX- a 4 mile trip cost me $40!!! Ouch. I won't be doing that again during the fest, but boy was it worth every penny when my head hit the pillow way earlier than it would have if I was still waiting on that train.

So there ya go. Quite an eventful day two of SXSW. I hope you're enjoying this type of coverage because it really is an amazing adventure all week. I'll be checking in again tomorrow with more coverage!


Rebecca Elliott

Aka Annette Kellerman