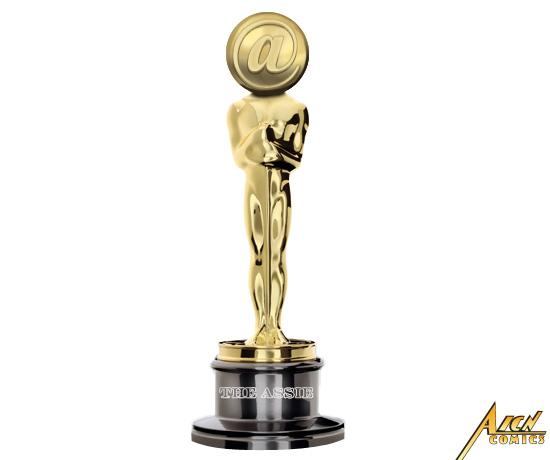 Logo by Kristian Horn
@@@ AICN COMICS @@@
@@@ 11th ANNUAL @$$IE AWARDS! @@@
---
Welcome, all, to the 11th Annual AICN COMICS @$$IE AWARDS, where comics best and brightest are recognized for stellar achievement in comic bookdom. It's your old pal Ambush Bug here. There was a time when we could fit all of the @$$ies into one lengthy column, but the @$$Holes' ranks have grown too big for that, so for the next week, we will be going through a multitude of categories covering the wide world of comic books. Most awards are given around the turn of the year, but we think ours is special, so while those outside of the know celebrate the time of the Oscar (yes, I know the Oscars were last week, apologies for the lateness of these), we here at AICN COMICS celebrate the time of the highly coveted @$$ie Award. So sit back, crack the knuckles in your browsing hand, and scroll down as the @$$Holes pick the @$$ies!
And the @$$ie goes to…

(Click title to go directly to the reviewers picks)
@@@ BEST SINGLE MOMENT/SINGLE ISSUE! @@@
@@@ BEST MINISERIES! @@@
@@@ BEST PUBLISHER! @@@
---
---
@@@ BEST SINGLE MOMENT/SINGLE ISSUE! @@@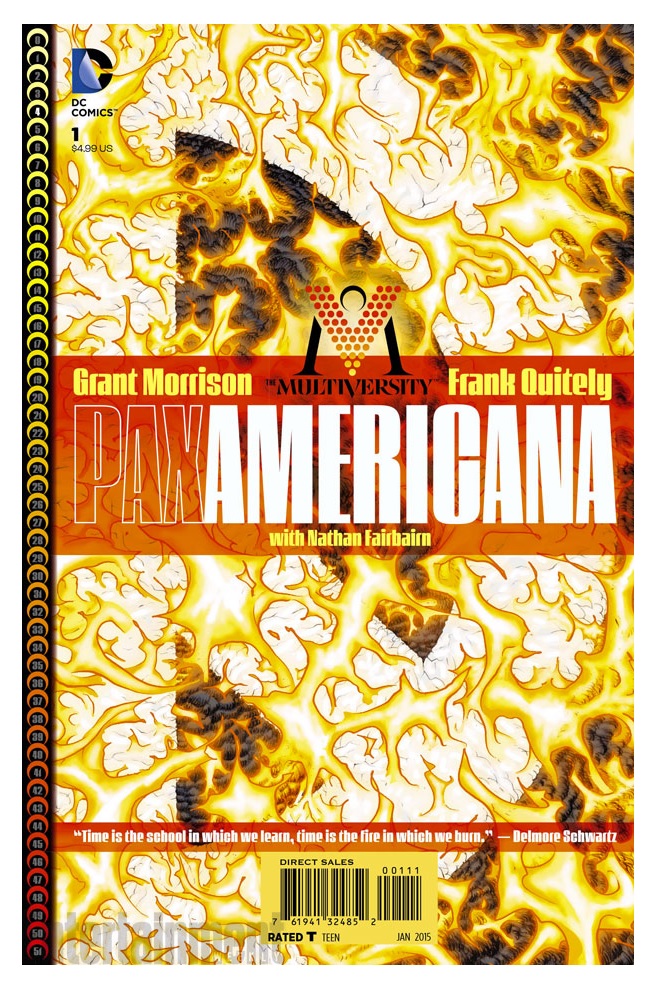 Ambush Bug - MULTIVERSITY: PAX AMERICANA #1 (DC Comics)
No other comic was as jaw-droppingly dense and amazing as Grant Morrison and Frank Quitely's reimagining of Alan Moore's reimagining of the old Charlton characters. Using the WATCHMEN as the template, Morrison not only succinctly sums up Moore's iconic miniseries, but does so articulately in one single issue. PAX AMERICANA is a book I plan on returning to over and over as a sparkling example of the potential comics has as a story telling medium. This mix of existentialism, poetic and chaotic paneling, succinct dialog, amazing visuals is the type of comic that either inspires or intimidates those who read it. While the Multiversity Event is good, PAX AMERICANA takes comic booking to a whole new level of excellence.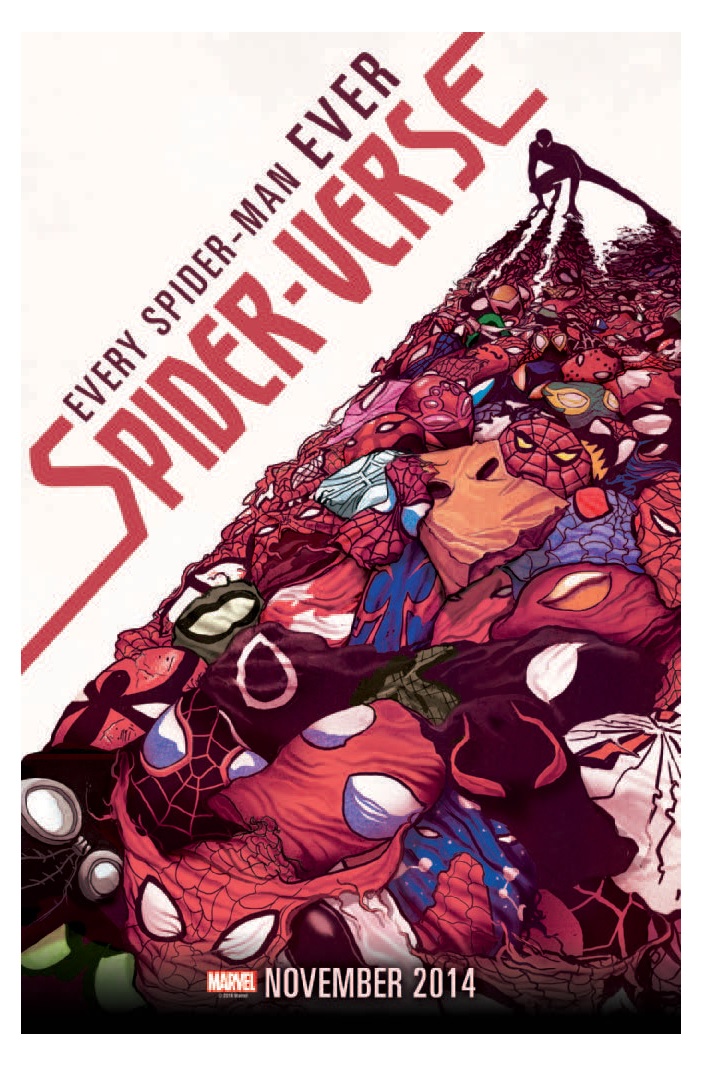 Henry Higgins is My Homeboy - All of Spidey-verse (Marvel Comics)
I realize that this might not really count, but this book has been focused hard on nailing the single moments. What I mean to say, is do you have a favorite random version of Spider-Man? Did you grow up reading Spider-Girl or the newspaper Spider-Man or love the 60's meme or watching Spider-Man and his Amazing Friends or watch the movies or read a What If or like the version where he had a giant mech robot or any version of Spider-Man ever? Because Dan Slott and a host of guest writers/artists have referenced that. Whatever version of Spider-Man you love has shown up, and then done something great. That's the best moment of Spider-Verse. And it's great. The best has been the newspaper Spider-Man who, thanks to the incredibly odd passage of time, has to recap everything that's just happened every three panels.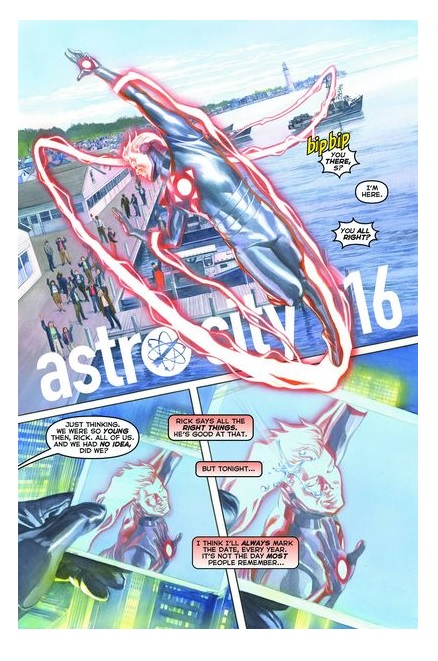 Vroom Socko ASTRO CITY #16 (DC Vertigo)
So good.
So phenomenally good.
In one issue, we have a complete story about identity, friendship, redemption, and personal transformation, with a twist ending that… I dare not spoil it for those who missed out. Trust me, if you haven't read this issue, you've missed out.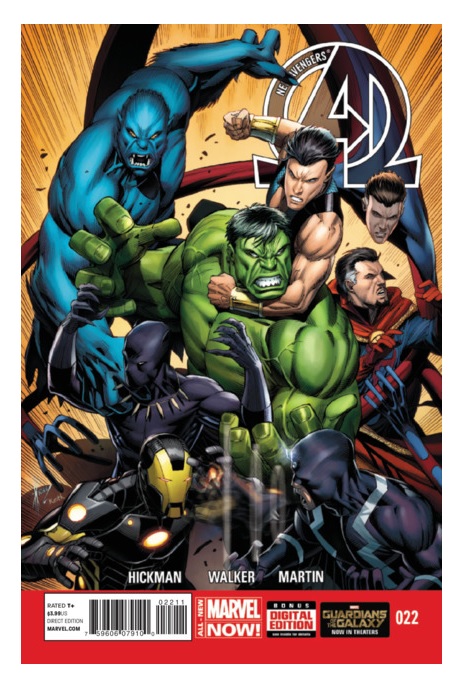 Mighty Mouth - NEW AVENGERS #22 (Marvel Comics)
Namor does the unthinkable. Could you do it? Could you kill billions to save trillions? Since learning of the incursion, the New Avengers knew this day would come. Faced with the terrible prospect of destroying one world to save countless others, the Avengers find themselves unable to pull the trigger. This is when Namor steps up and does what the other Avengers could not do. Is this the ultimate acts of a martyr or sheer egotism? You decide.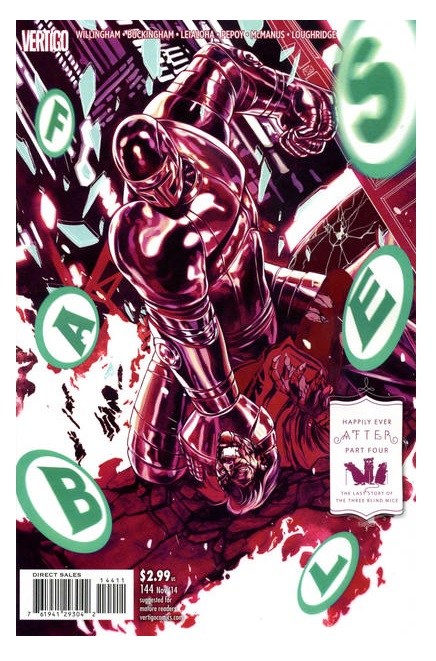 Matt Adler - FABLES #144 (DC Vertigo)
This fantastic series is wrapping up its legendary run soon (whenever issue #150 may be solicited), but it's not losing steam, and looks to be going out with a bang. Evidence of this can be seen only a few issues back, in issue #144. Bigby Wolf, easily the most popular character in the series, whom creator Bill Willingham had the balls to kill off, comes back (sort of) in even more monstrous form, and does the unthinkable. He brutally slaughters two of his former comrades, the Beast (of Beauty & fame) and Ozma, the sorceress from the world of Oz. And from the looks of things, that's just his warm-up act.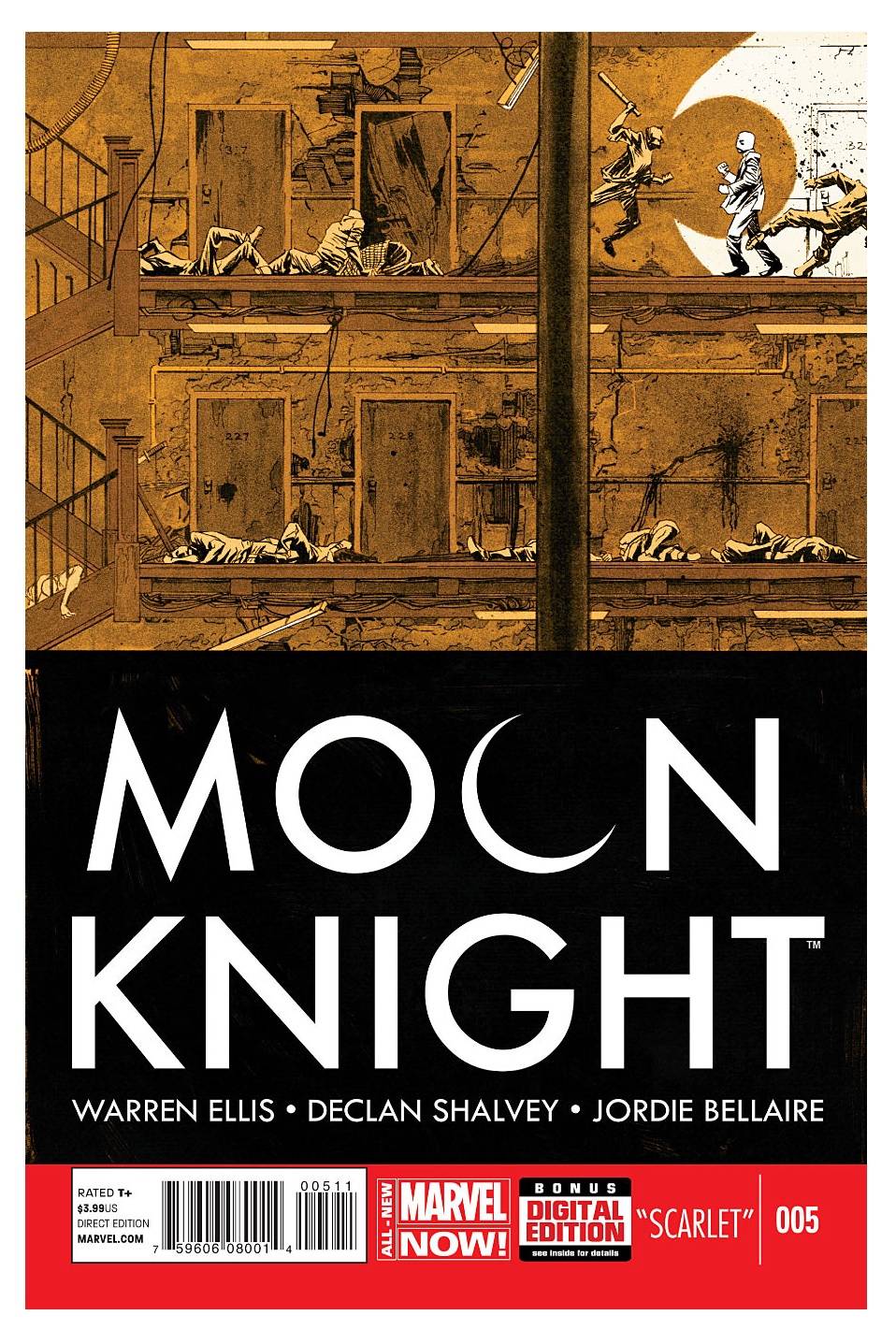 The Kid Marvel - MOON KNIGHT #5 (Marvel Comics)
I've got MOON KNIGHT in a lot of my categories for the 2014 @$$ies, because it is such a great series from writing to the artwork. However, choosing the Best Single Issue was both easy, yet difficult at the same time. It was easy because during Warren Ellis's run, all the books were single stories and not connected to an overall arc. But at the same time, it was hard because so many of these single stories were great and it was tough choosing just one. In the end, I felt MOON KNIGHT #5's homage to the Raid through its simple, easy to read linear storytelling, along with the perfectly collaborated artwork, as the best single issue of 2014. Ellis' dialogue for Moon Knight is direct and minimal, making each line hold more weight within the story and adding to his badassery. Plus, Declan Shalvey does an excellent job of creating memorizing and artistic bone crunching action, showing beauty within chaos.
DrSumac - BATMAN ETERNAL #21 (The return of Hush, DC Comics)
For me Hush is one of the best Batman villains of all time and the fact that he has been so under used is nothing short of a crime. I have to say that I approve of him returning by stabbing Alfred in the head with a syringe full of Scarecrow toxin. This was a great moment and seemed promising, but unfortunately this version of Hush turned out to be a red herring used as filler to keep the weekly series going with his origin tremendously dumbed down.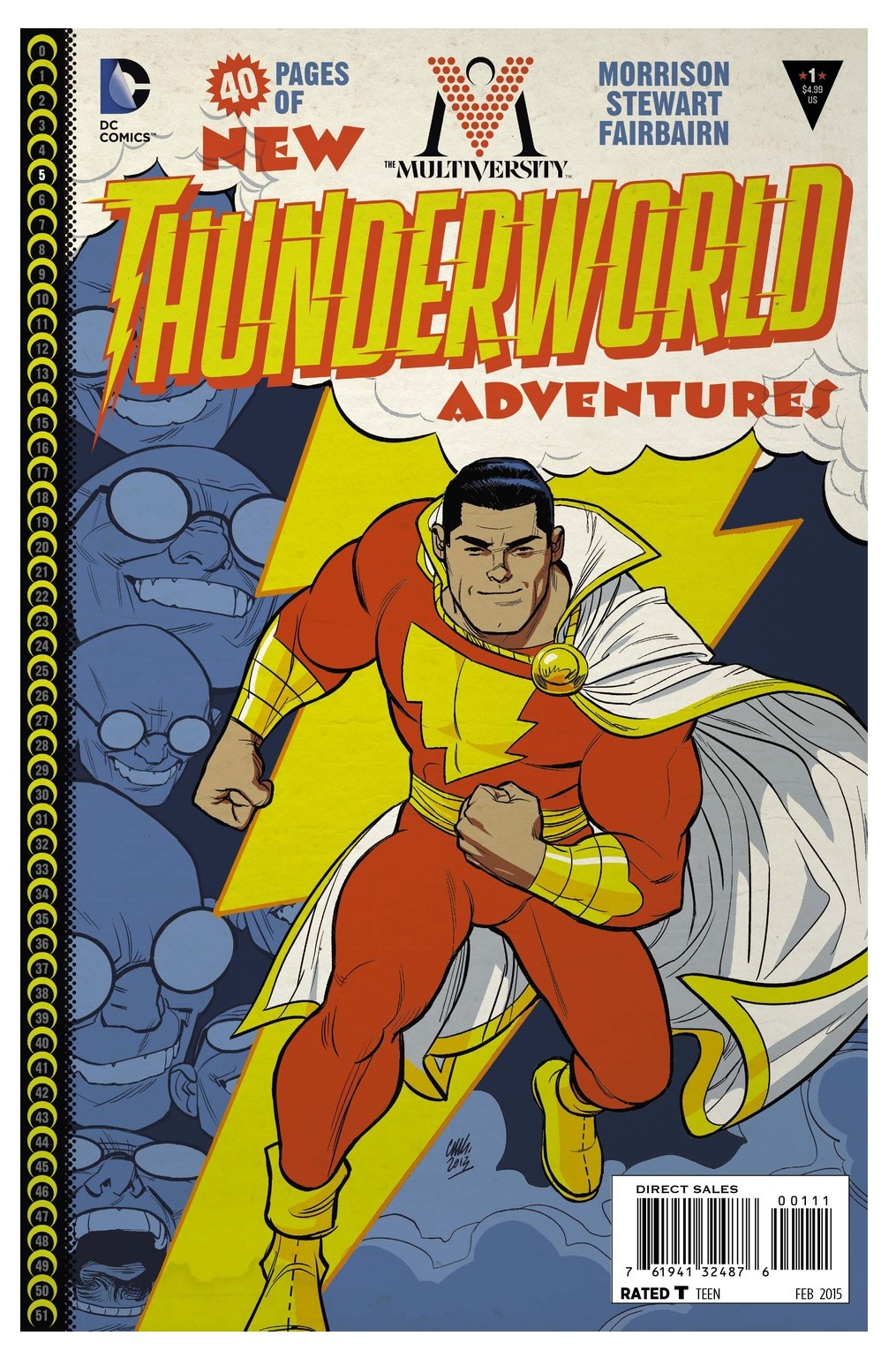 Humphrey Lee - MULTIVERSITY: THUNUDERWORLD #1 (DC Comics)
Do you like pure comic book joy? Daring feats of selfless super heroism presented in an "aw shucks" manner but that presents them in a way they have something for all ages to enjoy? That looks gorgeous while celebrating the comic book industry's heritage while doing so with its tongue firmly in cheek while you let yours wag as you pour through the pages? That was THUNDERWORLD a dozen times over and that's why it's here as my best single issue of 2014. You do not even have to be in participating in MULTIVERSITY to follow along; just find $5 and that inner child who occasionally finds themselves needing their fun levels and imagination rekindled.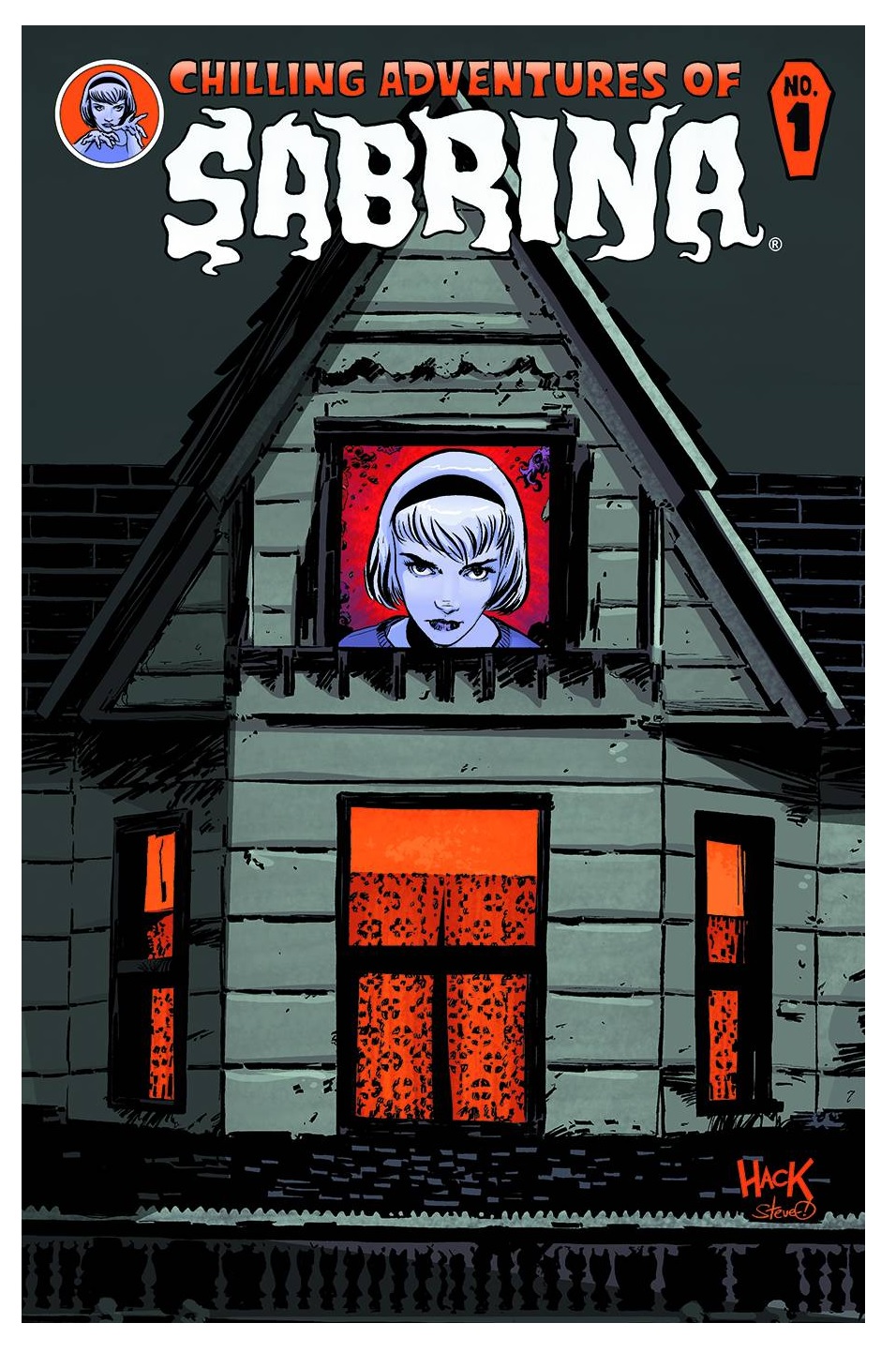 Lyzard - CHILLING ADVENTURES OF SABRINA #1 ( Archie Comics)
AFTERLIFE WITH ARCHIE was just a taste of what Archie Comics could do when stepping away from their Mayberry, vanilla world. It seems only obvious that the follow-up (tonally, not plot-wise) take advantage of the already supernatural world that is SABRINA. The first issue of this darker more horrific take on the teenage witch is one which I think all horror nuts should own, with its references to ROSEMAARY'S BABY, THE OMEN, SUSPIRIA, and other 1960s/70s horror classics.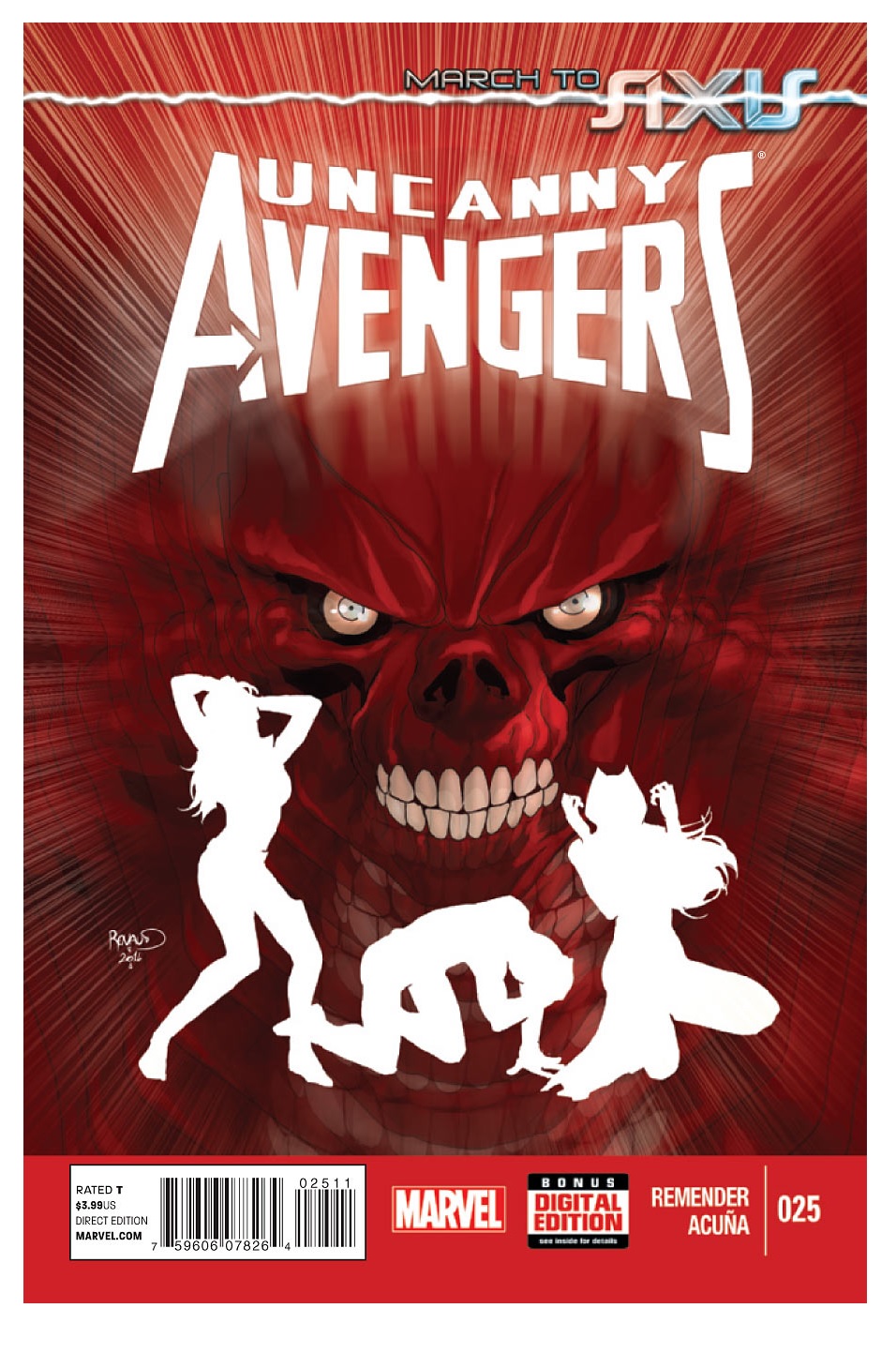 Masked Man - UNCANNY AVENGERS #25 (Marvel Comics)
The bad news is this issue led us into AXIS. The good news is, it's one of the most bad@$$ super villain show downs of all time. You see, the Red Skull has used Prof. Xavier's brain to give him Xavier's powers, and with it, he plans to rid the world of mutants. Enter Magneto who is all about protecting mutants and killing Nazis. Meanwhile, the X-men are slugging it out with the Red Skull's brain washed/controlled S-men mutants. Rick Remender does a great job building the action here and letting these characters cut loose, plus ending it in a way you don't see coming. And Daniel Acuna draws the hell out of it, with some of his best work of bold action. Great issue.
---
---
@@@ BEST MINISERIES! @@@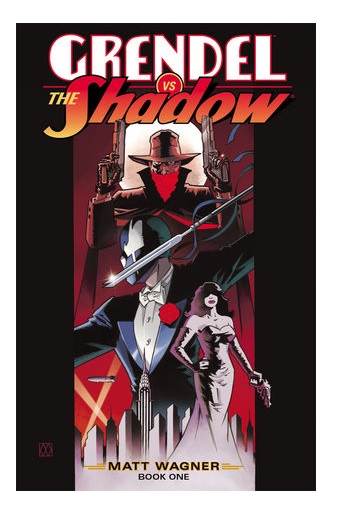 Masked Man - GRENDEL VS THE SHADOW (Dynamite Entertainment/Dark Horse Comics)
This is the type of cross-over we've been missing out on in the past few years. As writers often feel the billing isn't enough, and they need to give the story a deeper meaning. Which usually result in the writer missing the point of the cross-over in the first place. Not so here as writer / artist Matt Wagner just lets us watch the fireworks as Grendel and the Shadow collide. He keeps the three issues light and clever, enough to satisfy any adventure lover. And there are few artist who can match Wagner's awesome noir imagery. Great series.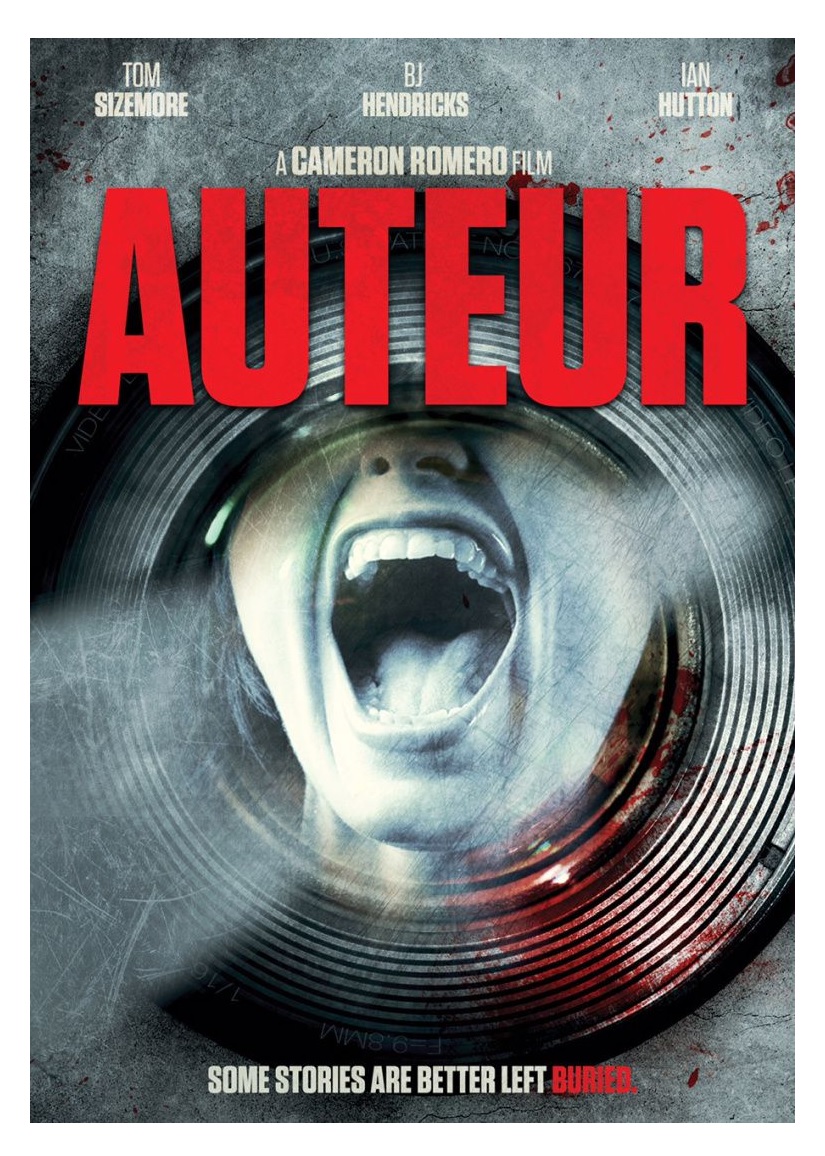 Ambush Bug - THE AUTEUR (Oni Press)
I come to comics (or any type of media for that matter) to be surprised. I don't care what or who the story is about or what genre it takes place in. What impresses me is telling a story in a compelling and unique way. Not only does THE AUTEUR tell a unique story, casting a whacked out, drug addled, washed up Hollywood director as the "hero" of the story, but it actually made me care about this piece of shit. Seeing the horribly unethical and downright wrong manner by which Nathan T. Rex somehow gets a slasher film to be the most important cinematic experience of the millennia is a beauty to see unfold. Writer Rick Spears and artist James Callahan made every panel a fascinating, albeit frantic look behind the curtain at the Hollywood movie making machine through the lens of a coked up Tex Avery cartoon. This was the miniseries that made me long for the next issue after I finished the one I was reading and the one that made me the most sad when I read the last issue and found out it was only a miniseries. THE AUTEUR is good comic booking in a short, but satisfying dose.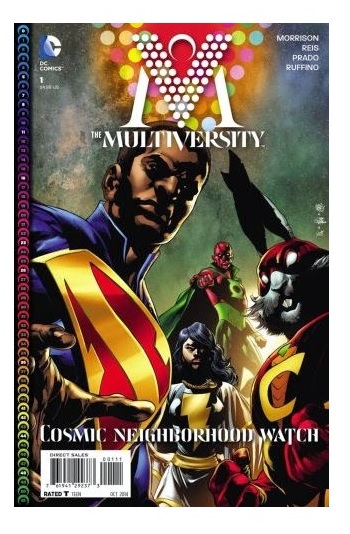 Henry Higgins is My Homeboy - MULTIVERSITY (DC Comics)
Holy SHIT I love this book. It keeps being surprising in entirely new ways, from a spot on Watchman riff to an unironically bright and fun old school Captain Marvel adventure. This book continues is always shifting artists, and each one has brought their A-game. While the overarching plot stopped mattering roughly eight pages in, that hasn't been the point. It's Grant Morrison tackling various eras of comic book storytelling, and it's constantly getting better. Plus, Captain Carrot beat up the Hulk with cartoon physics.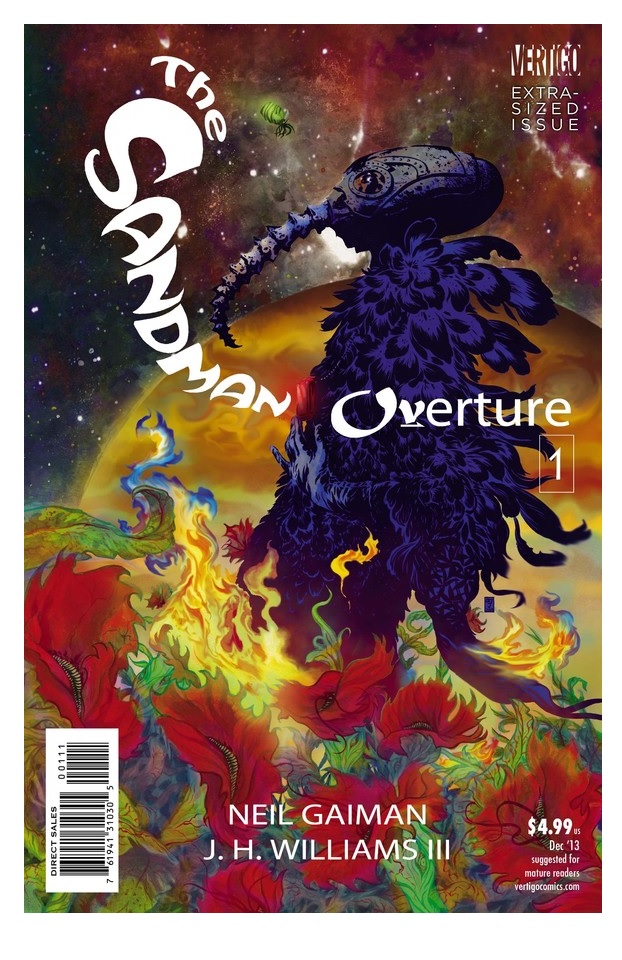 Vroom Socko - SANDMAN: OVERTURE. (DC Vertigo)
Really, is there another choice?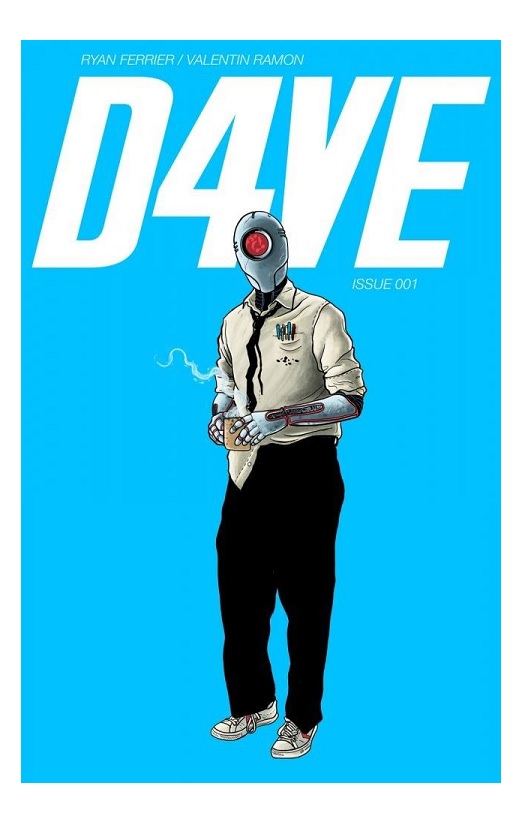 Mighty Mouth - D4VE (Monkeybrain Comics)
I don't typically dabble with digital comics, but with D4VE, I'm glad I did. This one took me completely by surprise. This book managed to cram an alien invasion robots and the human dilemma of being stuck in a rut; all in one witty and brilliantly rendered package. If like me, digital isn't your thang, it's my understanding that D4VE will be coming to print in 2015; so watch for it.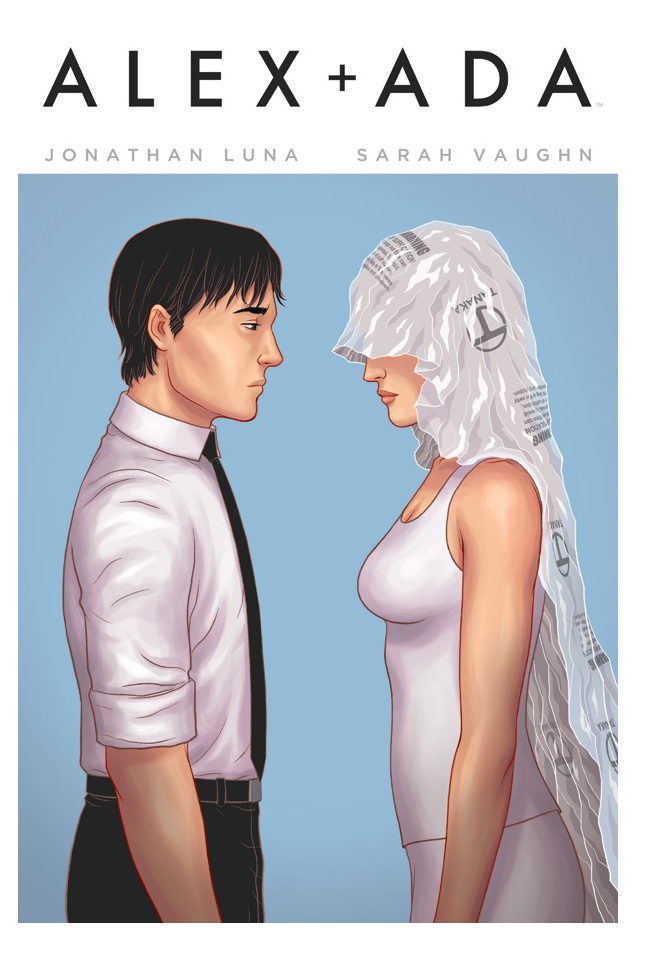 Matt Adler - ALEX + ADA (Image Comics)
Oh man, I wish this didn't qualify for this category because it should be an ongoing, but it looks like 15 issues is all we're getting. Jonathan Luna tells the intriguing story of a romance that shouldn't be, between man and gynoid. Along the way, he explores critical issues of freedom, self-awareness, and the very nature of being, and does so in way that poses even more questions than it answers. We really need more comics like this.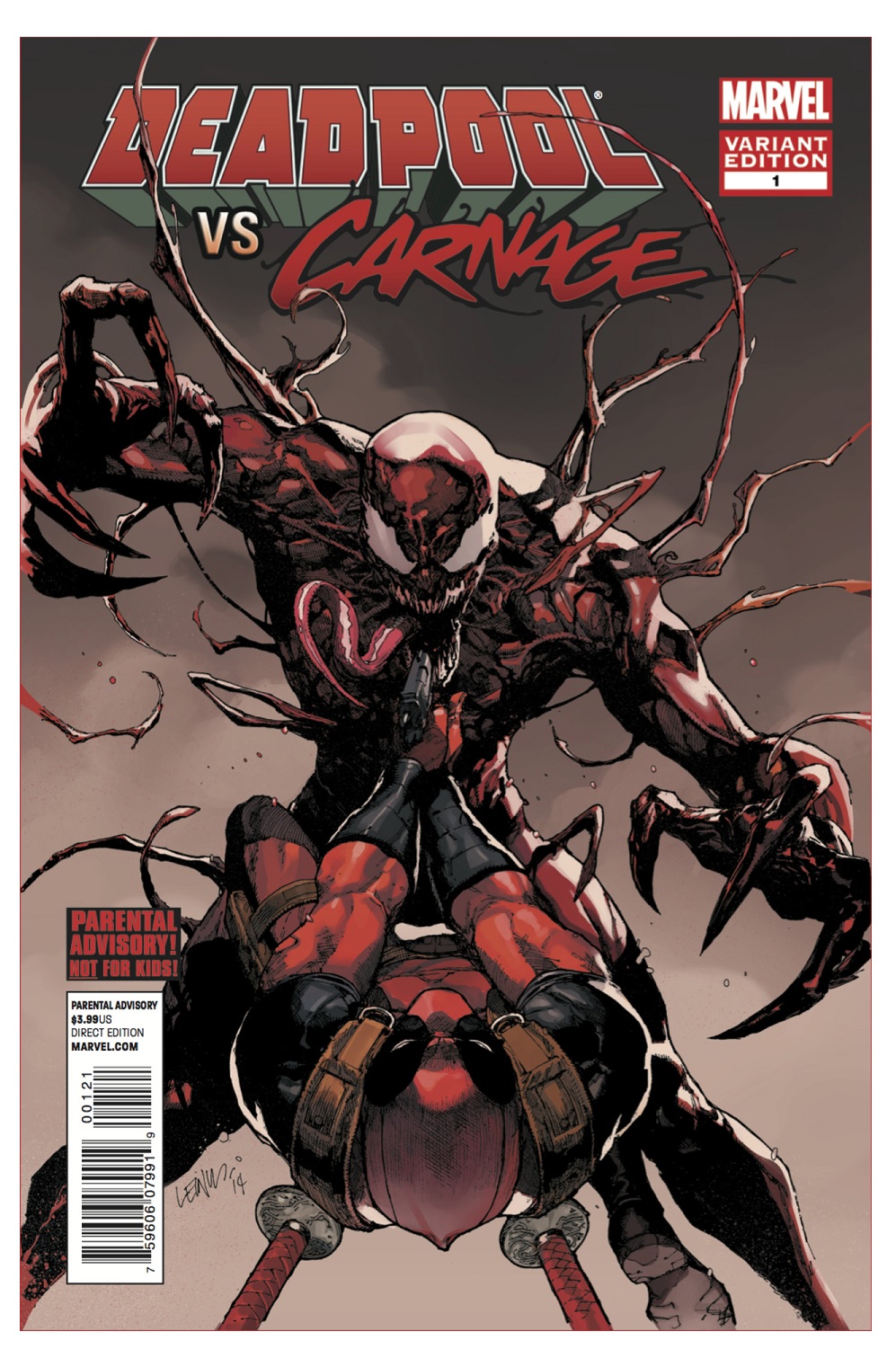 The Kid Marvel - DEADPOOL VS CARNAGE (Marvel Comics)
My favorite Mini-Series of 2014 by far was DEADPOOL VS. CARNAGE. It was pure mindless violence and entertainment across the board. Taking two of Marvel's most mentally unstable characters and having them go back and forth, in some of the most bloody and violent ways, works in both the idea and in the execution. From Deadpool's general wackiness and quips, to Carnage's extremely dark humor, this series was tons of fun. Cullen Bunn did an excellent job as the writer and the same can be said about Salvador Espin on the art. DEADPOOL VS. CARNAGE didn't have the most intricate of storylines or the most mentally engaging premise. However, it ended up being a great read.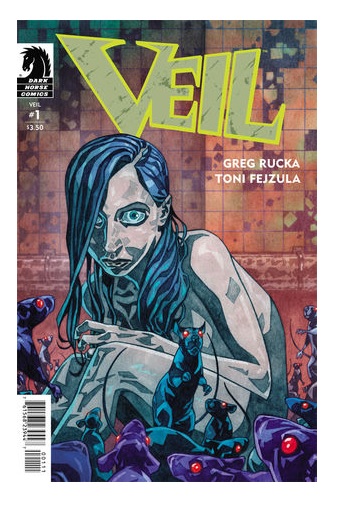 DrSumac - VEIL (Dark Horse Comics)
Greg Rucka stepped out of his comfort zone on this series to bring us something very different from his previous works. However aside from the writing the art was equally unique. Each panel could stand on their own as fine art, and did as the dialogue was often sparse to rely purely on the art to tell the story. Veil is dark, mystical, and mysteries in a way that was both compelling and intriguing.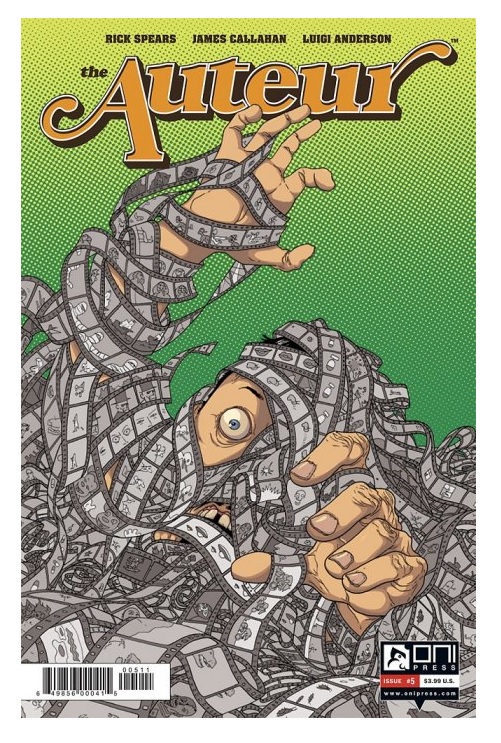 Humphrey Lee - THE AUTEUR (Oni Press)
I've always been a big believer that comedy in a medium like comic books - where so much collaboration is necessary to bring the material to life - has to be one of the hardest things in the industry. Especially when you immediately establish yourself as a book of "mad bastardry" and then set an ungodly high bar for it that you execute for several issues. That was THE AUTEUR, a tale about a drug-addled and egomaniacal movie director out to make the best Slasher flick of all time, and then happens to fall in love. Serial murderers are set loose, large bosoms are filmed then hacked apart, and even cities are destroyed. If "Ed Wood" and "Fear and Loathing in Las Vegas" did all of the drugs, stuffed both versions of Johnny Depp full of dick pills and then fucked, you would have THE AUTEUR. I do not know how you get any more "buy me right the fuck now" than that.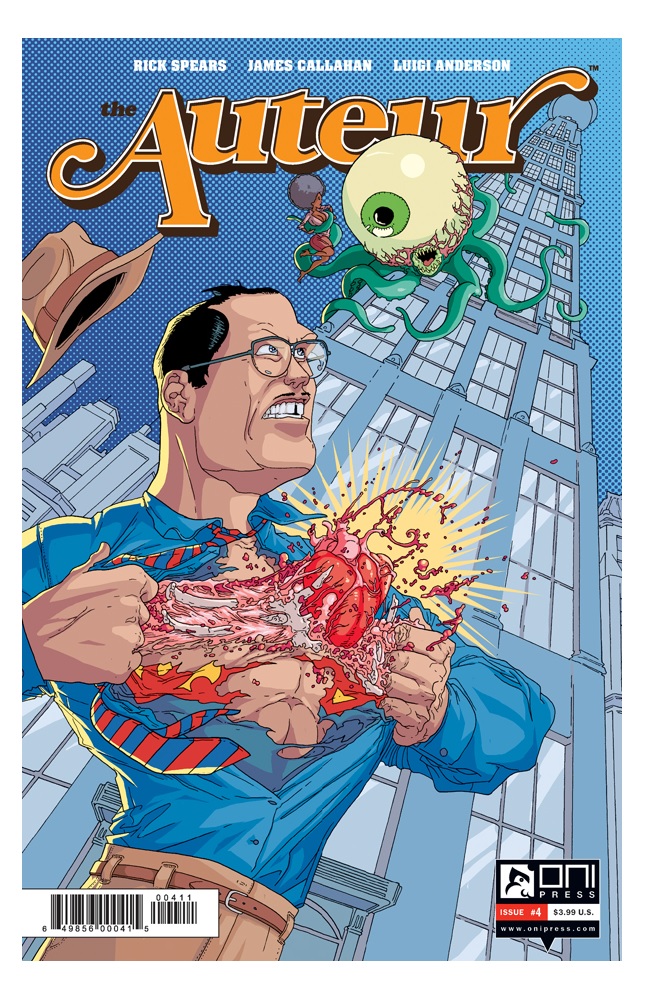 Lyzard - THE AUTEUR (Oni Press)
The AUTEUR had it all: wit writing, acid-droppin' like art, crazed characters, and a plot that Hollywood wished it was creative enough to come up with. The ending was a bit anti-climactic, but as the months have passed it is my theory that an unexpected happier ending just seems to fit better with a comic that was constantly showing the ridiculousness of Tinsletown. Even more importantly, this comic could only be told as a miniseries, as any more issues would have diluted the impact of the comic's absurdity.
---
---
@@@ BEST PUBLISHER! @@@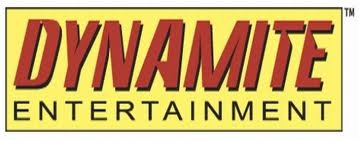 Lyzard - Dynamite Entertainment
I've reviewed a couple of Dynamite comics this past year: IN SEARCH OF LOST DRAGONS, SHERLOCK HOLMES VS. HARRY HOUDINI, and SPLINTER CELL. All have gotten good to great reviews, but what I like about Dynamite is their library that combines both adaptations of popular media like DRESDEN FILES, continuation of classic comic characters such as FLASH GORDON, along with unique, original ideas like LOST DRAGONS.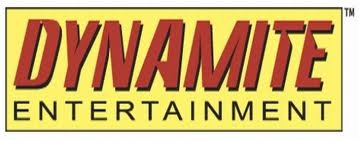 Masked Man - Dynamite Entertainment
This year Dynamite helped bring together two really good cross-overs, GRENDEL VS THE SHADOW and '66 BATMAN MEETS THE GREEN HORNET. And while not every project of theirs worked, SIX MILLION DOLLAR MAN SEASON SIX and JUSTICE INC, I applaud their taste in subject matter. They also stepped up and played nice with the Edgar Rice Burroughs Estate to get a fully licensed John Carter comic book. Their latest FLASH GORDON book is the best in years. And since they aren't as gimmick crazy as other publishers, I deed them the best publisher of 2014.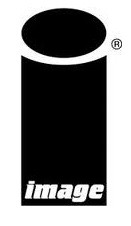 Ambush Bug - Image Comics
Comics is a complex medium these days. Publishers can either treat your properties like mini-pitches for films only looking for the next big hit or they can let the popular films lead the comic book line around by the nose holes and leave the interesting stuff to be played out on screen while filling the racks with fluff. Or you could just make good comics and that's what Image Comics has been doing all year long. While this is a company that started out as all about the look, somewhere along the way, story and real chances seem to be the real flavor of the company. While I was deliberating as to what company I should choose for this category, all I had to do was look at my weekly pull and see my choices from the Big Two waning while my Image pile continues to grow. That's what makes it the best publisher. It just makes good comics.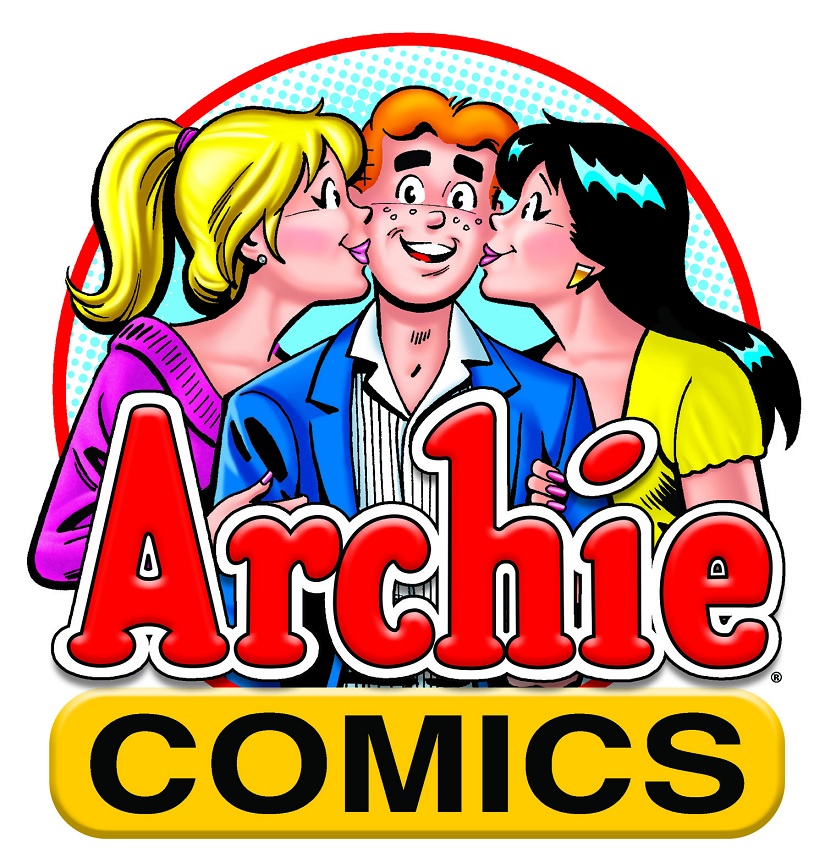 Henry Higgins is My Homeboy - Archie Comics
Mostly because of AFTERLIFE WITH ARCHIE. Have you been reading that? It's a straight faced horror comic, gruesome scenes and creepy situations, but it's all happening because of Sabrina the Teenage Witch. Who happens to be stuck in a H.P. Lovecraft story. Also, they've written a canonical death of their main character (almost at the same time as Wolverine, which amuses me to no end), while also embracing a reboot by Mark Waid, WHILE ALSO being surprisingly progressive and revitalizing their old line. Got to admit. I'm impressed with Archie.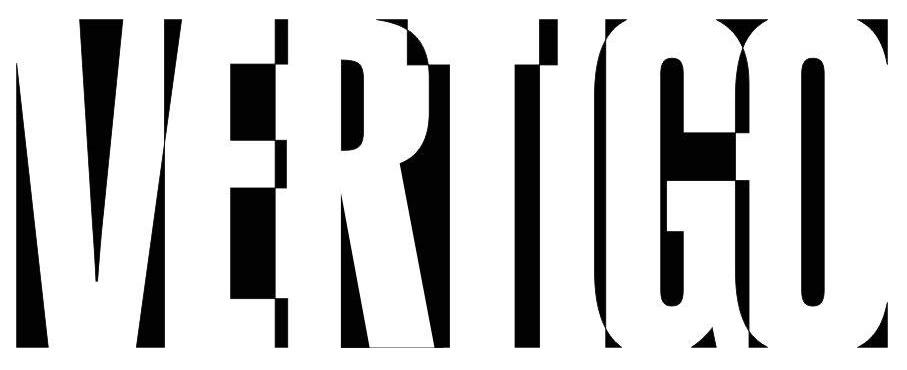 Vroom Socko - DC Vertigo
Between ASTRO CITY, SANDMAN, FABLES, BODIES, THE KITHCEN, and the quarterly CMYK, Vertigo spent 2014 printing nothing but quality.
Quality beyond quality.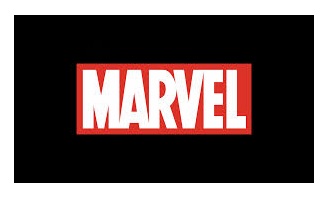 Mighty Mouth - Marvel Comics
Marvel has always been my favorite comic publisher for a very simple reason. The characters have always been and continue to be the most relatable in comics. Nuff said.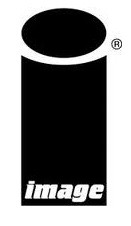 Matt Adler - Image Comics
Folks, I have to be honest with you. When you've read comics as long as I have (I started as a little kid in the '80s), you can get a little jaded. You hear people tell you to give it up, comics are for kids, it's only natural that you should lose interest. Don't expect them to be anything more. But I'm not buying that argument, and Image Comics is at the forefront of why. Image consistently shows us that comics are an art form, not a genre, and that other publishers, to be blunt, often aren't even trying. And with the top creators the industry has to offer like Robert Kirkman, Brian K. Vaughan, J. Michael Straczynski, Scott Snyder, Warren Ellis, Ed Brubaker, and more, Image reminds us that the way to get the best, most innovative ideas out of creative people is to give them a stake in what they create.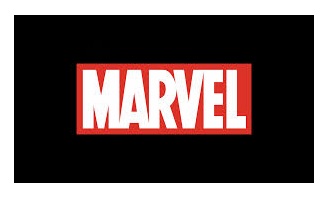 The Kid Marvel - Marvel Comics
No contest, Marvel wins this category with ease. From comics to movies, whatever medium Marvel is handling, they seem to have things down to a science. In the comics department, Marvel dominates in sales outside of DC's Batman and Image's Walking Dead. Cinematically, I don't think anyone can question 2014 wasn't Marvel's year. Even if X-MEN: DAYS OF FUTURE PAST isn't part of the MCU, it's still a Marvel property and a superb movie. Plus there are the more obvious ones, like CAPTAIN AMERICA and GUARDIANS OF THE GALAXY, which are both amazingly entertaining and top notch films. Although, I will admit that their animated properties could really use some work. However, let's take a second to recognize that Marvel was on top of the comic world in 2014, mostly in part because of a smartass Raccoon who shoots guns and a vocabulary defiant walking tree. That honestly says a lot about Marvel's current power atop the other companies.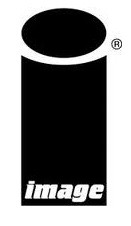 DrSumac - Image Comics
Image seems to be in the forefront of making risky comics that both validate comics as a literary medium and elevate the industry in ways we still can't fully understand. Ask anyone in the industry what their favorite titles were and I can garment that a high percentage of them would be from Image. I don't need to explain that though since their titles speak for themselves: EAST OF WEST, LAZARUS, SAGA, THE MANHATTAN PROJECTS, THE WALKING DEAD, ALEX + ADA, WYTCHES, SEX CRIMINALS, and BITCH PLANET to name a few truly speak for themselves.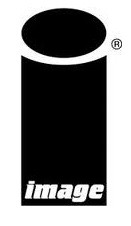 Humphrey Lee - Image Comics
For over a decade now I've had myself a comic book "budget" of about fifty titles a month. They are, quite frankly, the goddamn bane of my wallet, my apartment space, and in some ways my entire existence, but I love them so dearly. But while that (admittedly arbitrary) monthly limit has stayed the same for ten years plus, the composition of that buy list from a publisher standpoint most certainly has not. Obviously Image now dominates that list or else I would not have gone through such a set up, and it seriously is not even close. Half (HALF MOFO!!) of my pulls are dominated by the big 'I' these days and that's even reining it in a bit so I can get some superhero fixes or follow some of my favorite creators that somehow aren't all just dealing with the Image folks. When you're basically the home to every big name creator in the game and their "labor of love" projects, how do you not have the claim and credibility to be best in the business? Answer, you do get that claim and you get it for the fourth year in a row from me.
---
Now it's time to pick your own @$$ies in the Talkbacks. Thirsty for more @$$ie Awards? Look for more categories tomorrow with Best One-Shot/Annual/Special! Best Super Team! & Best Artist! See you then!
Thanks for celebrating the best of the best in comics! Be sure to check out our weekly comic book reviews in AICN COMICS REIVEWS every Wednesday, AICN COMICS/POPTARDS PODCAST every Tuesday, and Ambush Bug's AICN HORROR reviews every Friday on Ain't It Cool!
---
Editing, compiling, imaging, coding, logos & cat-wrangling by Ambush Bug
Proofs, co-edits & common sense provided by Sleazy G
Remember, if you have a comic book you'd like one of the @$$holes to take a look at, click on your favorite reviewer's link and drop us an email.