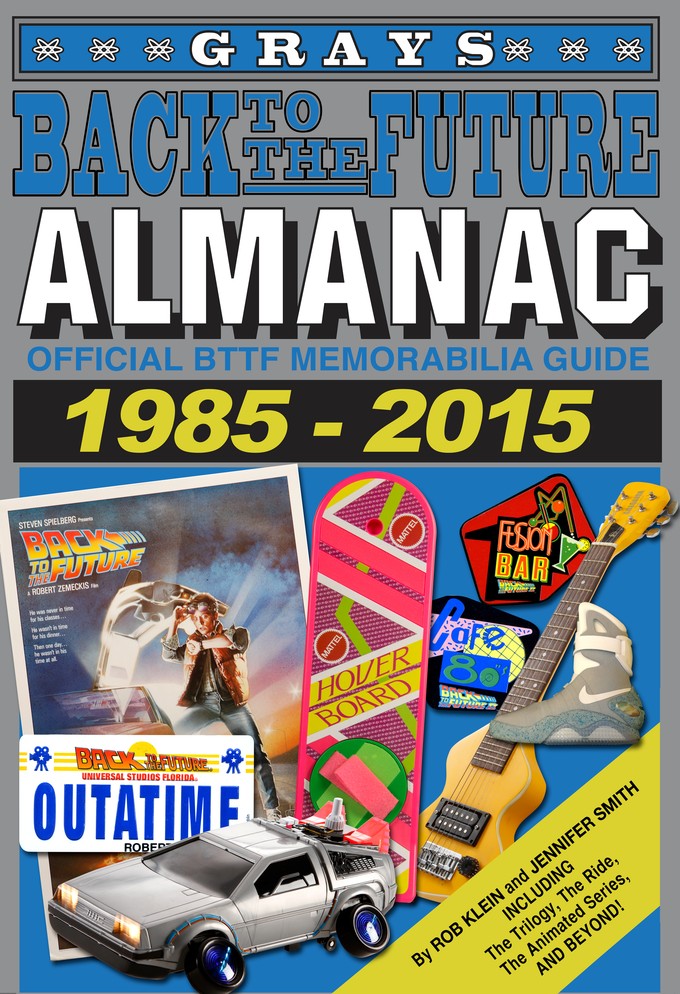 A few weeks ago we pointed you towards a fun piece in which BACK TO THE FUTURE franchise producer/writer Bob Gale trotted out some memorabilia from throughout the history of the BACK TO THE FUTURE franchise. That was in conjunction with the arrival of a new book - the BACK TO THE FUTURE ALMANAC. Co-authored by Rob Klein (former Manager of the Walt Disney Archives) and Jennifer Smith (and assistant professor of art history at California State University, Northridge), this is the first officially licensed BACK TO THE FUTURE-related book since 1990. Think on that for moment...how did that happen?
I've now had a chance to glance through the ALMANAC firsthand, and it's a blast. Featuring a preface by Gale, the impressively presented title chronicles a myriad of merchandising and promotional material from across the decades, ranging from the relatively mundane (BTTF buttons featuring the first film's title), to a California Raisins Toyota Dream Truck Giveaway, a novelization of the first movie by George Gipe (as presented in different countries), a better look at the covers of some of the pulp magazines seen in George McFly's room in the first film, memorabilia dedicated to BACK TO THE FUTURE's Universal ride, material pimping McDonald's BACK TO THE FUTURE: THE ANIMATED SERIES Happy Meal promotion, BTTF comic book covers, the Nike future shoes (of course), and much, much more. 'Much more' as in 249 pages more (sans index pages), each page usually featuring between 3-8 items.
There is an immense quantity of merch featured herein, and as much as the BTTF ALMANAC is an interesting and nostalgic trip down memory lane, it's a vivid and undeniable illustration of exactly how long-lived, and how immensely popular, this franchise is. By this I mean: when one discusses STAR WARS or the Marvel Cinematic Universe, for example, there's a tacit understanding that marketing and merchandising is almost as important to the franchise's landscape and longevity as the movies themselves. In BACK TO THE FUTURE's case, many folks don't make such such immediate associations - but once you see the enormous archive on display in this book, your perception of the franchise's breadth and consequence may well change.
Despite the vast amount of imagery it contains, this large hardcore book is cleanly and slickly laid out. It's easy to glance through, easy to re-find items you want to see again. While much of the ALMANAC is picture based, there is ample (and usually rather interesting) text context and description which frequently proves invaluable. For example: did you know that BLADE RUNNER's "Spinner" car was used in the future Hill Valley sequences in BTTF 2? I didn't - apparently there was even a Japanese toy of it as well. Seems Centauri's car from THE LAST STARFIGHTER is in those sequences, too. So, yeah…
I'd argue that the printing of some color images here is slightly over-saturated and could've been re-produced with greater definition, but on the whole this is a nitpick given the sheer bulk of material being presented in the book, and the overall quality of both item selection and accompanying context.
The BACK TO THE FUTURE ALMANAC is not a 'Making of…' title, per se. It's more a celebration of the sometimes amazing, frequently fun, and occasionally kitschy product onslaught which may well have helped Marty McFly, Doc Brown, and their time machine DeLorean endure to this day. Which is not a common approach for retrospective books of this nature, to be sure. But it's one which is filled with merit, and is even a tad thought provoking on a macro level (the relationship to marketing and merchandising and its impact on a film's long-term endurance). And it works very well.
The BACK TO THE FUTURE ALMANC can be ordered HERE.
———
Glen Oliver
"Merrick"