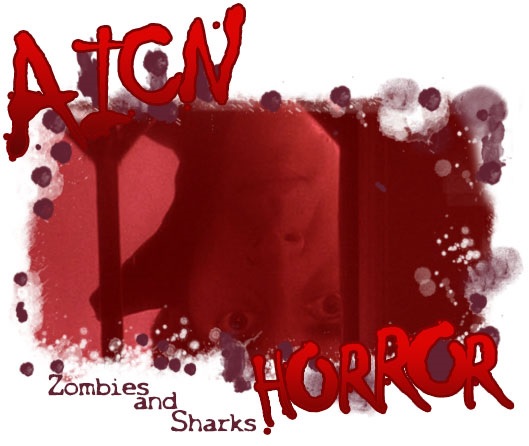 Logo by Kristian Horn
What the &#$% is ZOMBIES & SHARKS?
---
Greetings, all. Ambush Bug here with another AICN HORROR: ZOMBIES & SHARKS column. This week we end the column with the premiere of MONSTRO!, a fun short animated film that will definitely warm the hearts of anyone who frequent this column. Plus, we have our regular horror reviews before it!
---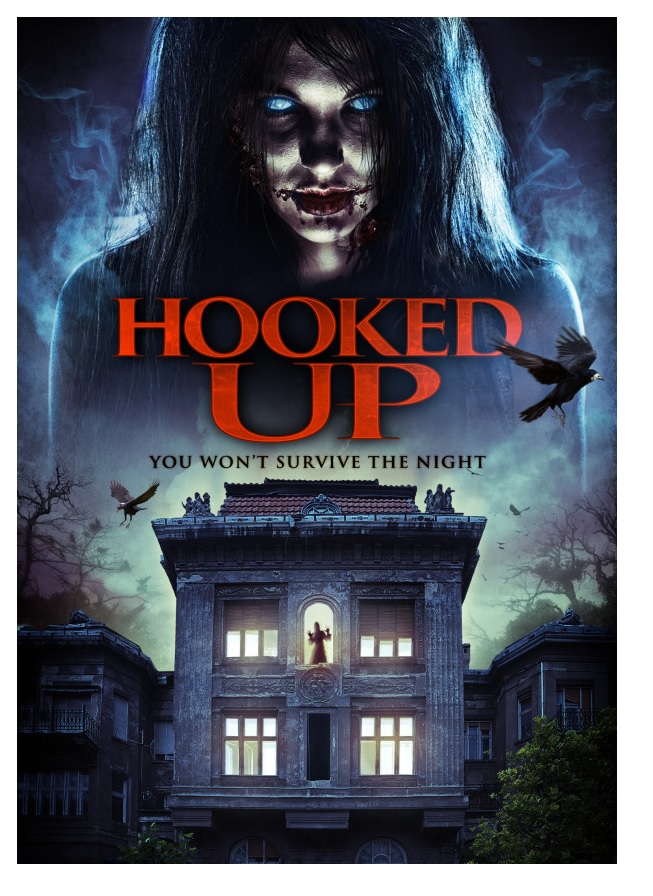 Before that, we've got a premiere of the trailer for HOOKED UP, a found footage horror film made completely on an iPhone. From director Pablo Larcuen and executive producer Jaume Collet-Serra (Non-Stop), the film is described as:
Tonio and Peter, two young Americans, travel to Barcelona to party and, above all, to score with women. During their very first night out partying, they meet some girls that they go home with. There, things will take an unexpected turn. With no possibility of escape, they must face their worse nightmares.
The film is released On Demand on April 7th and on DVD June 9th from Uncork'd Entertainment. Here's the brand spankin' new trailer!
HOOKED UP - GREENBAND-HD from Uncork'd Entertainment on Vimeo.
On with the reviews!
Today on AICN HORROR

(Click title to go directly to the feature)
Short Cuts: GORDON FINN Short Film (2014)
Retro-review: ONCE BITTEN (1985)
Retro-review: PHANTOM OF THE OPERA (1989)
Retro-review: ZOMBIES: THE BEGINNING (2007)
AXE TO GRIND (2015)
THE CABINING (2013)
THE CASEBOOK OF EDDIE BREWER (2012)
MALIGNANT (2013)
ANIMAL (2014)
LOVE IN THE TIME OF MONSTERS (2014)
MOTIVATIONAL GROWTH (2013)
TREEHOUSE (2014)
And finally…Christopher Romano's MONSTRO!
---
Currently touring festivals (played at last year's Indie Horror Film Festival in Chicago)!
GORDON FINN (2014)
aka LAST RITES
Directed by Wolf McKinney
Written by Willy Adkins (revisions), Kevin Bui (head writer), Jason R. Davis (revisions)
Starring Willy Adkins, Ann Sheehan, Stewart Ogilvie, Lillian Lamour, Andy Schatner, Ruby Gonzalez, Chase Zawilinski, Kylie Sullivan
Find out more about this film here and on Facebook here
Reviewed by Ambush Bug
Full scale indie and seemingly proud of it, filmmaker Wolf McKinney offers up a little murder and psychological mayhem in GORDON FINN, a twenty minute short that played in last year's Chicago Indie Horror Film Festival.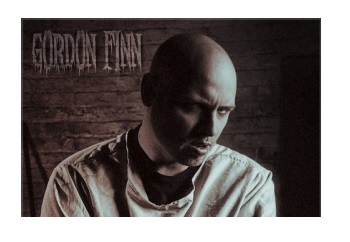 The story has a pretty wide reach as it offers up snippets of the titular character's life from troubled childhood to final meeting with his psychiatrist before moving on to death row, and then back to the reason why he's incarcerated in the first place. While expansive, it is a tightly told tale with just enough to entice before the big reveal, which is a lot of fun to see play out as Gordon begins to turn the tides on his doctor within the meeting. Sure the acting is not the best, but still, from a storytelling perspective there's a lot of talent on display here.
Hopefully, when GORDON FINN is available online, I'll be putting it at the end of my column in the "And finally…" section. Until then, keep an eye out for GORDON FINN at your local horror film fests. It's a fun, low fi creeper!
---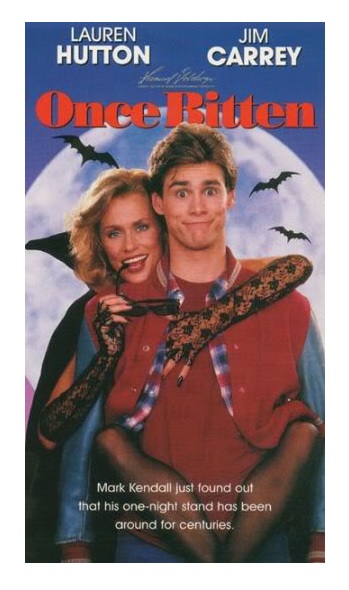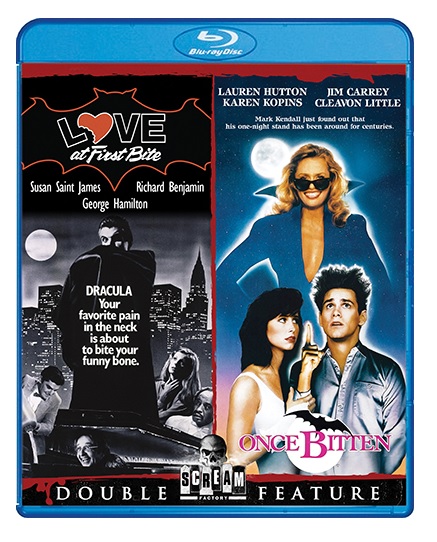 Retro-review: New this week as a Double Feature BluRay from The Shout Factory!
ONCE BITTEN (1985)
Directed by Howard Storm
Written by Dimitri Villard, David Hines, Jeffrey Hause, Jonathan Roberts
Starring Lauren Hutton, Jim Carrey, Karen Kopins, Cleavon Little, Thomas Ballatore, Skip Lackey, Jeb Stuart Adams, Joseph Brutsman, Stuart Charno, Robin Klein, Glen Mauro, Gary Mauro, Carey More, Peter Elbling, Richard Schaal, Peggy Pope
Retro-reviewed by Ambush Bug
Howard Storm directed every kind of sitcom from RHODA to JONI LOVES CHACHI to EVERYBODY LOVES RAYMOND, and infuses a lot of sitcom antics into ONCE BITTEN, one of Jim Carrey's early attempts to become a leading man.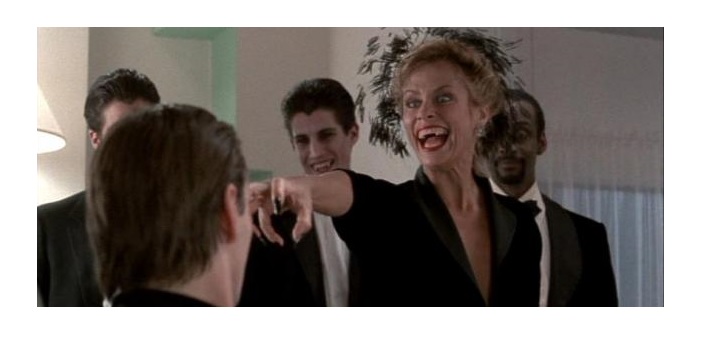 Marc (Carrey) is a lovable loser who just wants to do what every high school kid seemed to be doing in the 80's: get laid. His girlfriend continues to push him away whenever the petting gets heavy, and all he and his friends do is sit around and pine about their virginity. Meanwhile, the Countess (Lauren Hutton) arrives in town, looking for virgin blood and not having a lot of luck as virgins are hard to com by. Marc and the Countess meet in a singles bar where she plants a bite onto his little Jim, and all she has to do is plant two more penile hickeys on the future mega-star in order to turn him into a creature of the night and maintain her beauty for another 100 years.
In the 80s while slasher films were busy telling kids that if you unzip it you're bound to get the business end of a machete (coincidentally, not one, not two, but three FRIDAY THE 13TH alum appear in this film--kind of weird to see them all in one place outside of Crystal Lake, but it makes for a fun drinking game to spot them), comedies were letting kids know that being a virgin sucks. One of the most horrific films I've ever seen is THE LAST AMERICAN VIRGIN: not a horror film, but the ending that movie is one of the single most depressing endings I've ever experienced, and it's all about trying to lose your virginity, losing love, and missed opportunities. ONCE BITTEN is a slightly more upbeat but equally bold statement on the state of virginism in the 80s, as the whole premise teeters on Marc being a virgin. The film has a pretty remedial take on things like relationships and sexual maturity, as Marc's girlfriend doesn't really seem to bat an eye at the fact that he cheated on her with an undead MILF. In fact, she suggests it's her own fault for holding out for so long and no one in this film disagrees with her. Add a shower scene that ends with Marc and his friends being chastised for being "FAGS IN THE SHOWER!" and this is not a film that those who bleed political correctness are going to appreciate. So while the themes of relationships, love, and sex in general are sophomoric, at least there's some fun comedy from time to time to make this teen comedy watchable.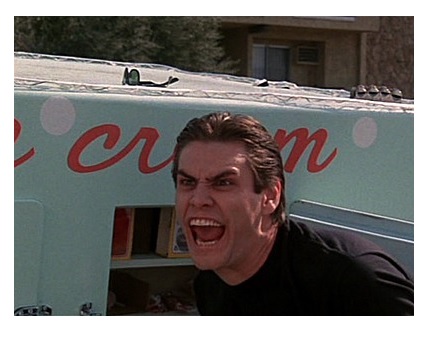 Watching Jim Carrey contort his face and body in this film is the real treat. It is evident that the man is a clown of monumental proportions, ingeniously talented at playing to goof. While a lot of the comedy seem to be bits Carrey injected himself to the role (as they are movements, facial gestures, and even sayings that he uses in his later films and TV sketch comedy), many of them seem out of character for the nebbishy and down on his luck characteristics of Marc. So while Carrey's future humor talent is on display during dance scenes and while goofing off with his girlfriend at the mall, these just don't match up to the depressed wallflower he is supposed to be portraying.
If you're looking for scares, you should check another coffin. This film is pure comedy with nary a scare to spare. Still, with some worthwhile physical comedy from Carrey, a sultry performance by the smoky-voiced Lauren Hutton, and a standout performance by the always awesome Clevon Little, this is an enjoyable yet somewhat misguided, still indicative of the age it was made, romp.
---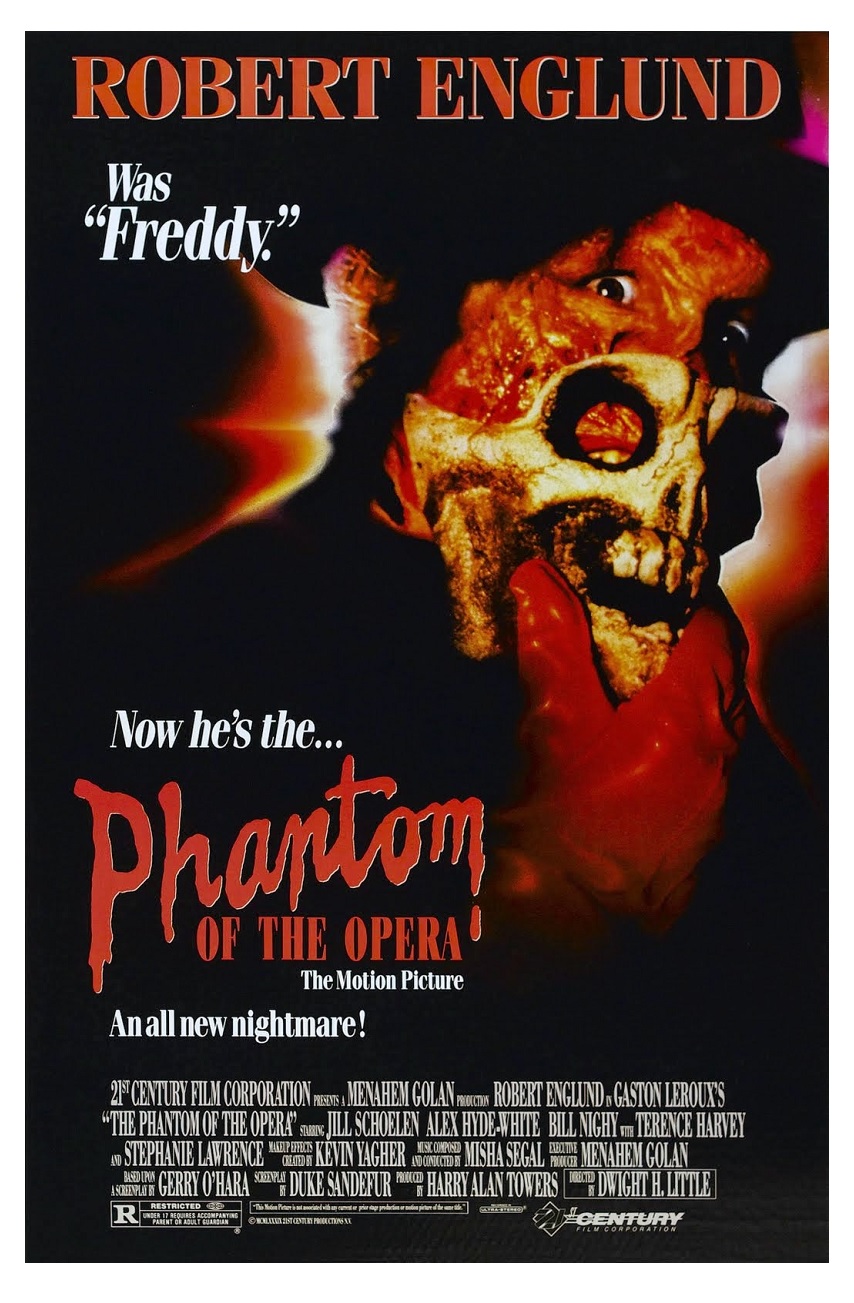 retro-review: New this week on BluRay from The Shout Factory!
PHANTOM OF THE OPERA (1989)
Directed by Dwight H. Little
Written by Gaston Leroux (novel), Gerry O'Hara (based upon the screenplay by), Duke Sandefur (screenplay)
Starring Robert Englund, Jill Schoelen, Alex Hyde-White, Bill Nighy, Stephanie Lawrence, Terence Harvey, Nathan Lewis, Peter Clapham, Yehuda Efroni, Terence Beesley, Mark Ryan, Ray Jewers, Robin Hunter, & Molly Shannon
Retro-reviewed by Ambush Bug
There was a time in the eighties where I believe Robert Englund wanted to be the new Lon Chaney Jr. Possibly seeing the imminent end of his role as Freddy Krueger in the A NIGHTMARE ON ELM STREET franchise, Englund diversified his own particular spin on evil as the Marquis De Sade in DANSE MACABRE (which originally was planned to be a sequel to the subject of this review) and as Eric Drestler in PHANTOM OF THE OPERA. While none of those films really took off into a new franchise, there is still a lot to like about this gory and atmospheric take on Gaston Laroux's classic tale of tragic love at the opera.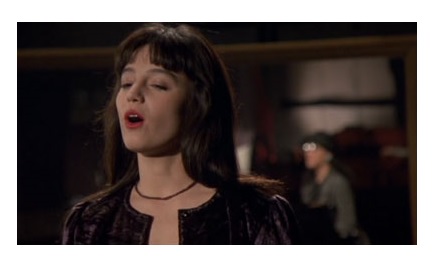 Nummy 80s girl in peril Jill Schoelen (who played damsels in slasher distress in THE STEPFATHER and CUTTING CLASS) plays Christine, a modern day soprano who uncovers an age-old music score from a composer named Eric Drestler (Englund), who also happened to be a serial killer. When she is knocked on her cute keister during an audition while singing the song, she is transported back to 19th Century London, where she lives the life of an understudy to an opera diva. Enamored with Christine, Drestler clears the path for Christine to be the star of the show and will slice and dice anyone who stands in his way. Drestler himself is a cursed man, living in the shadows of the opera house under the guise of superstition and rumor and haunted by the decision to write beautiful music at the cost of both a soul and a scarred face. Sewing fresh skin of his victims over his own scarred face until it rots, Drestler attempts to woo Christine, but his psychopathic tendencies get in the way.
Director Dwight H. Little cut his teeth on HALLOWEEN 4: THE RETURN OF MICHAEL MYERS and honed his craft with such films as Steven Segal's MARKED FOR DEATH and Brandon Lee's RAPID FIRE before doing a lot of TV work (and a sequel to FREE WILLY!). But before that he did a pretty good job at trying to make this Phantom into a franchisable character. Utilizing the arts with some pretty macabre and gothic gore, this Phantom is much more menacing and diabolical than most renditions of the character. While the Phantom is often seen as a romantic yet scarred antihero, in this film, he is a genuinely sick man convulsing with pleasure as he slices into a victim and blood spurts into his face, and seemingly enjoying his torment of Christine a little too sadistically. Maybe it's that most slasher fans aren't into classical music. Or maybe this gorier and ghastlier fiend was just too toothy for the general public, who had grown used to bloodless kills in FRIDAY THE 13TH and cartoonish one-liners in the NIGHTMARE series. Either way, the film didn't take off and a potentially iconic slasher was never born.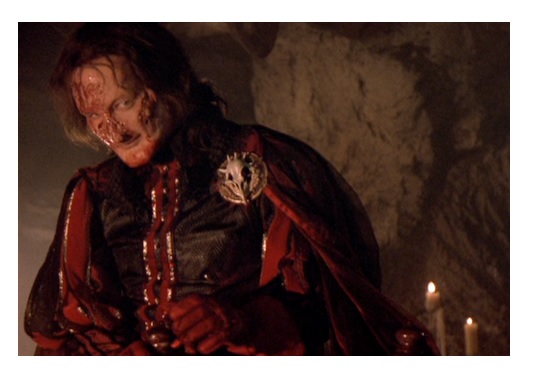 While it's quite obvious Schoelen isn't singing the vocals in the film, she does offer up her cute as a button delivery fairly well here. The scenes between Englund and Schoelen are particularly good as the two genuinely play back and forth with one another, with Schoelen's Christine both fascinated and repulsed by the maniac. Savvy eyes will see a super young Bill Nighy as the theater manager, and SUPERSTAR Molly Shannon plays Christine's best gal pal in her first film role.
What impressed me most about this film was that it was a particularly lavish film in every way. Everything from the over the top gore to the genuinely beautiful musical score to the decadent opera house with which the film is set is something you don't often see in a slasher yarn. If you're tired of your run of the mill slashers from present day Crystal Lake, Springfield, and Haddonfield, you might want to try PHANTOM OF THE OPERA 1989. While it still adheres to the slasher format, set in the elaborate and eloquent backdrop of 19th Century London, all of a sudden it feels like something I hadn't seen before--or at least something different enough from what you usually get from a slasher film.
---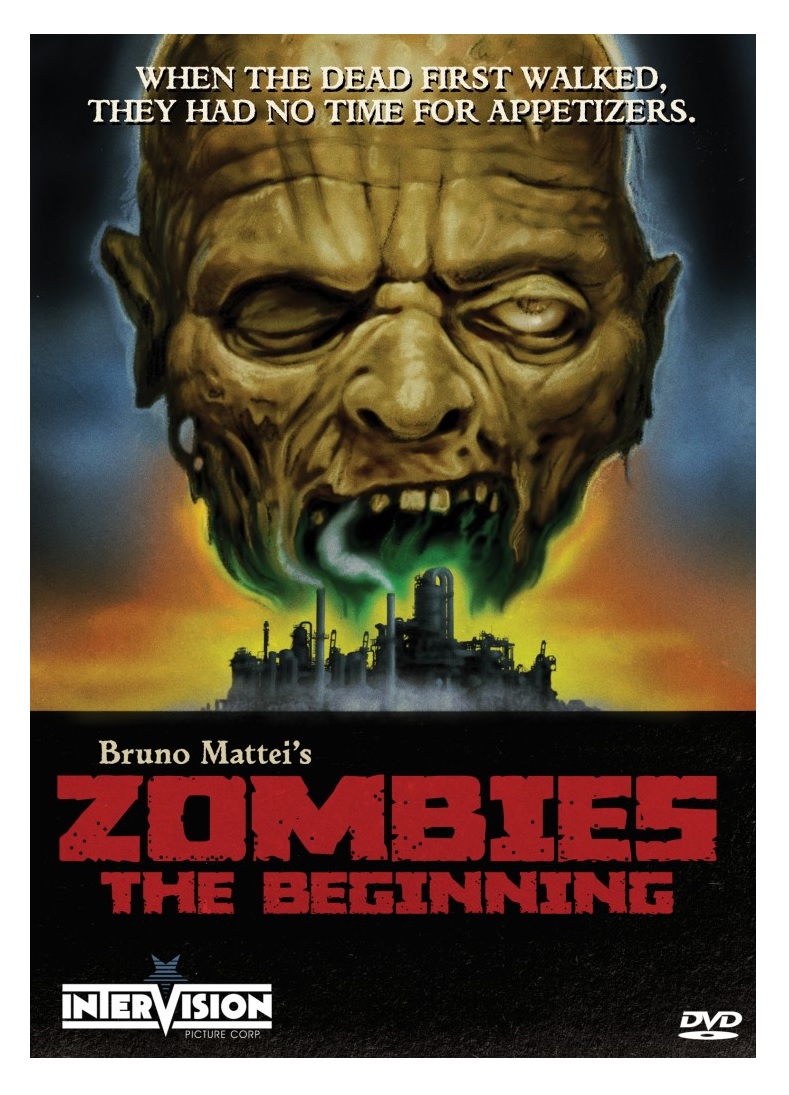 Retro-review: New on DVD from Severin/Intervision!
ZOMBIES: THE BEGINNING (2007)
aka ZOMBIE 2009
Directed by Bruno Mattei as Vincent Dawn
Written by Giovanni Paolucci (story & screenplay), Antonio Tentori (screenplay)
Starring Yvette Yzon, Alvin Anson, Paul Holme, James Gregory Paolleli, B.B. Johnson, Dyane Craystan, Gerhard Acao, Mike Vergel, Miguel Faustmann, Gene Zwahir, Ronny Boos, Sereno Cunial, Sven Stefaniksen, Tony Wells, Bon Vibar, Lili Schneider
Reviewed by Ambush Bug
Man, Bruno Mattei loves him some ALIENS--so much he attempts to recreate the James Cameron classic by substituting zombies for xenomorphs, but that's about it when it comes to differences between the two in terms of the narrative. Of course, in terms of budget, acting, directing, and overall quality, the two films are about as different as they come.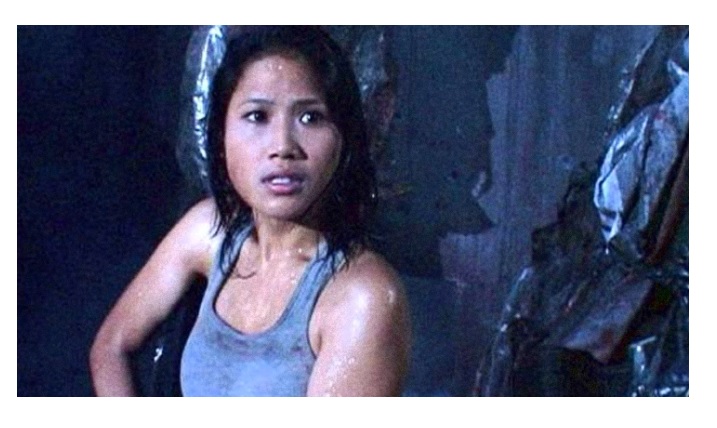 After I watched this film, I realized I did it kind of out of order as this is a direct sequel to ISLAND OF THE LIVING DEAD (another Mattei film which I will be reviewing next week). The film basically follows the story of ALIENS beat for beat following the survivor of the first film, found by a government organization who want to send a military team back to the island from the first film. Accompanying the team is a government stooge (a la Paul Reiser) and the survivor (Yvette Yzon stars in ISLAND OF THE LIVING DEAD as well). The adventure leads Yzon into the lower bowels of the island where an alien—I mean zombie queen--is giving birth to little zombie babies out of a long tube that looks like it was made for nine bucks with a trip to Home Depot.
Everything is derivative of something before it. I'm ok with films taking bits and pieces of other films and making them feel new and shiny. But when a film simply takes a script and rewrites the word "zombie" over the word "alien" in red pen every time it appears in the script, it should be grounds for me hating a film. At least, there should be grounds for some kind of valid legal action. But for the life of me, as I watched ZOMBIES: THE BEGINNING, I have to admit that I kind of fell in love with the film. It takes balls pretty big to rip off a movie in such a blatant way, and I'm guessing director Bruno Mattei, who has followed the ALIENS story template a few times in his films, is not someone I want to see in short shorts.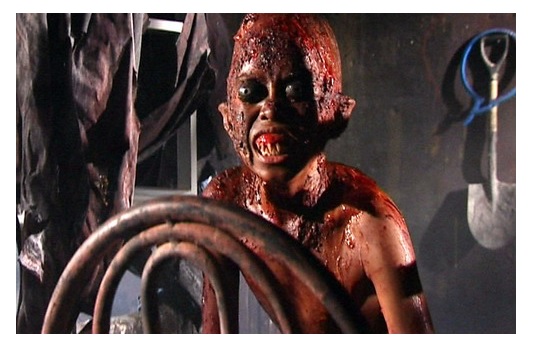 To say this film is cheaply made is an insult to low budget filmmaking. The acting is stiff. The camera work is flat. The script, that which wasn't directly lifted from ALIENS, is pretty uninspired, and Mattei even borrows stock footage from what looks to be CRIMSON TIDE (most likely without permission) for the submarine shots--if you look closely in these shots you even see Viggo Mortensen and Denzel Washington in some of these scenes (and something tells me hiring them is a little out of Mattei's price range).
But even though the edges of this film are as ragged as they can be, there's an undeniable moxy to this film that swept me away. Although Mattei has made scores of films, there something about this little special needs ripoff that makes me root for it. There are copious amounts of zombie carnage and gore to enjoy, and though it is a rip off, it rips off ALIENS rather well, aping some of its most expansive scenes on a micro budget. ZOMBIES: THE BEGINNING was Bruno Mattei's last film, and fits in nicely as a throwback to those fun and gory Italian zombie flicks of the 80s. If you appreciate those old Italiano zombie romps, you'll likely have an affinity for this one. If you're going to rip something off, you might as well go for the gold, and ZOMBIES: THE BEGINNING does this and then some.
---
New this week on DVD from Midnight Releasing!
AXE TO GRIND (2015)
Directed by Matt Zettell
Written by Scott C. Sanford & J.P. Linde
Starring Debbie Rochon, Guy Torry, Matthew James Gulbranson, Paula Labaredas, Michelle Tomlinson, Dani Thompson, Adrian Quihuis, Tony von Halle, Rachael Robbins, Kelsey Zukowski, Tawny Amber Young, Andrew Baxter
Find out more about this film here and on Facebook here
Reviewed by Ambush Bug
A few weeks ago, I reviewed a film called TROPHY HEADS, which basically served as an excuse for a bunch of former scream queens to gather in one movie and off them one by one. The film was not the best, in fact, it was a downright flawed from top to bottom, but while watching AXE TO GRIND, I think it deals with the same kind of premise, only far more successfully.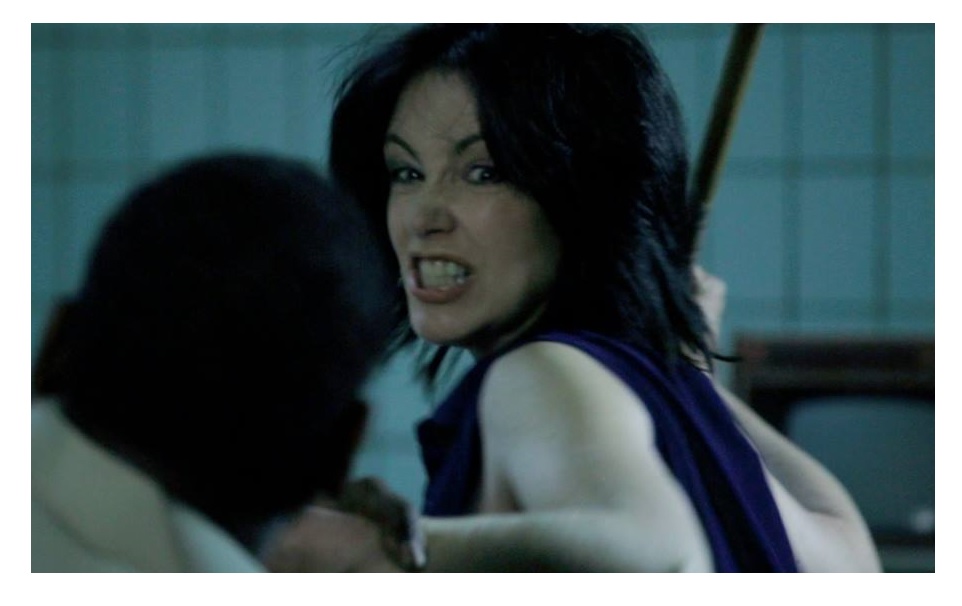 Scream Queen Debbie Rochon plays B-movie queen Debbie Wilkins, the estranged and definitely unhinged girlfriend of a Roger Corman-esque director of low budget films. When Debbie finds out her beau is planning to make a new film and neglected to tell her about it, she crashes the set and begins offing the girls in the film one by one with an axe.
Simple as that, this is a woman scorned film and it doesn't really try to be anything more than that. Though the cast is not made of former scream queens as TROPHY HEADS was, it does celebrate the role of the scream queen by featuring numerous types of horror film femme fatales for Debbie to axe to pieces. There's the Barbie doll, the Busty Brit, and the Dominatrix; all of which have a date with Debbie's axe and while the story is not really that nuanced, all of these dames do their thing rather well.
Sure, there won't be any Oscars handed out for this film, but I kind of dug the simplicity of the way this one plays out. It's fun watching Rochon chew the scenery as the psycho girlfriend from hell and the rest of the beautiful cast were surprisingly charismatic and entertaining to watch as well. And while this straight forward take simply puts one gal in front of Rochon after another for her to get jealous of and then take a few chops at with her axe, this wink and nod to low budget/scream queen style films is bound to be fun for fans of this style of cinema. With Rochon hamming it up, a bevy of talented beauties on display, and blood flying a plenty, AXE TO GRIND is pure low fi B-grade fun and it seems to be pretty proud of it.
---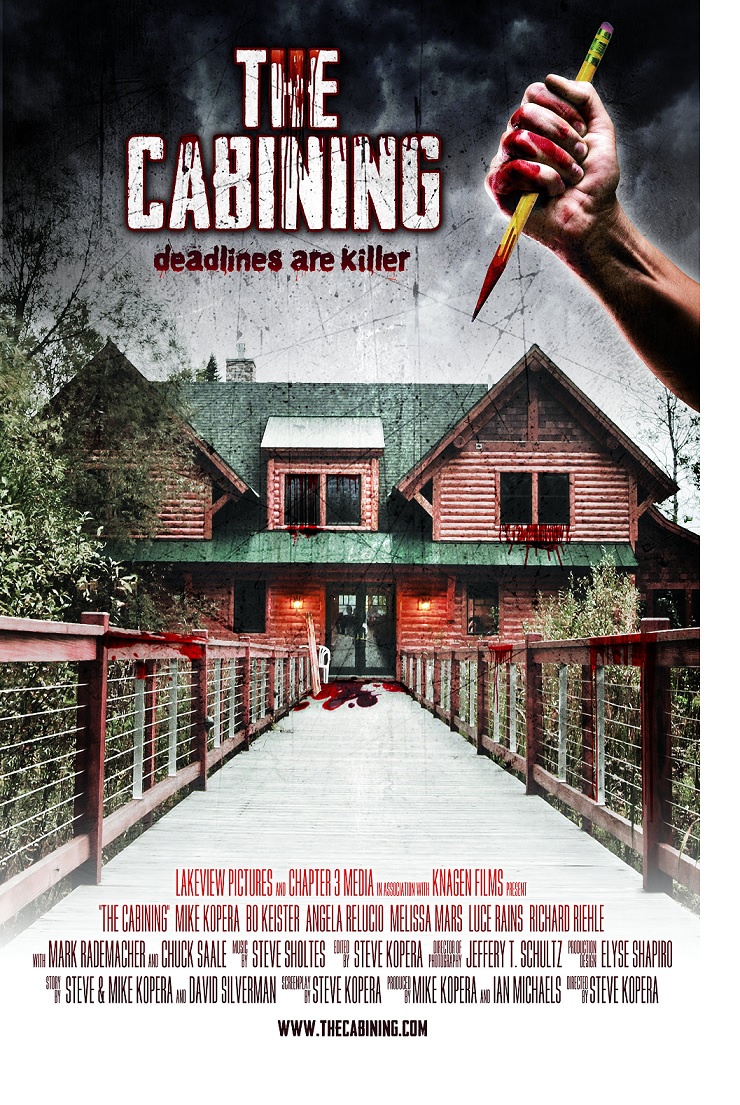 New on DVD from Indican Pictures!
THE CABINING (2013)
Directed by Steve Kopera
Written by Steve Kopera, David Silverman
Starring Mike Kopera, Bo Keister, Angela Relucio, Melissa Mars, Luce Rains, Richard Riehle, Mark Rademacher, Chuck Saale, Joseph Barone, Jackson Thompson,
Find out more about this film here and on Facebook here
Reviewed by Ambush Bug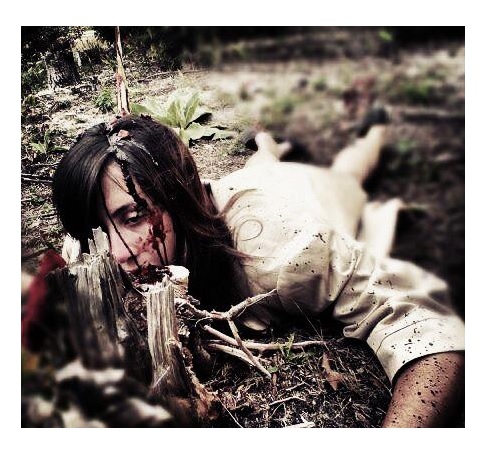 Sticking a bunch of good-lookings in a cabin in the middle of the woods with a threat outside is a horror trope that's been a skipping record through the years, even before CABIN IN THE WOODS did its best SCREAM on the subject. I thought CABIN IN THE WOODS would be the nail in the coffin for this type of film, forcing people to go back to the well of ideas to come up with a new way to scare us, but it feels like now more than ever, there's a new cabin horror film every week, and it's getting to be as bad as the zombie and found footage trends I continue to hear gripes about. Responding to this hype is THE CABINING, a slightly meta look at the popularity of cabin horror films, which focuses on a pair of writers writing a cabin horror film who go to a cabin and experience horrors in order to be inspired to write a cabin horror film.
Still following me?
Well, the film isn't hard to follow at all as two likable loser writers, Todd and Bruce (Mike Kopera & Bo Keister), are stuck with their script and decide to go to a writing retreat in the woods called Shangri-La. As soon as they get there, they are introduced to a cast which is almost lifted from the game CLUE, and when the bodies start dropping, Todd and Bruce try their best to solve the case and be sure to take notes, since this would make a pretty keen movie.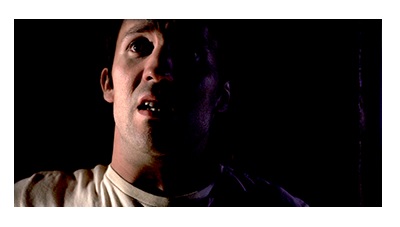 While low budget, THE CABINING relies on some pretty strong performances from Kopera, who plays the uptight writer to Keister's Bruce, who is all loosey-goosey when it comes to just about everything in his life. The two often clash, which leads to some of the strongest scenes in the film, as seeing the two bounce ideas off of each other and then argue them to death is actually a lot of fun to witness.
THE CABINING is a peek behind the camera at the hardships writers go through to write a script and grasp that elusive good idea. While this definitely would be considered independent and low fi entertainment to some, THE CABINING has some hearty laughs and some clever twists within its runtime.
---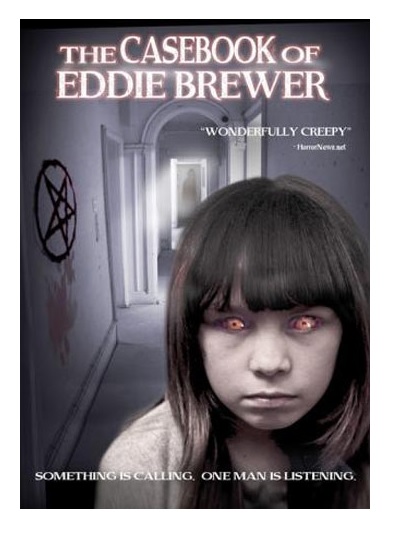 New this week on DVD from Shock-O-Rama Cinema!
THE CASEBOOK OF EDDIE BREWER (2012)
Directed by Andrew Spencer
Written by Andrew Spencer
Starring Ian Brooker, Peter Wight, Louise Paris, Alison Belbin, Phil Blake, Erin Connolly, Sean Connolly, Bella Hamblin, Glen Hill, Greg Hobbs, Sarah Horner, Robert Lister, Paul Magson, Rina Mahoney, Clare Owen, Mark Reynolds, Tom Roberts, Laurence Saunders, Rob Stanley, Natalie Wilson, Gillian Twaite
Find out more about this film here and on Facebook here
Reviewed by Ambush Bug
High on creep and atmosphere, while not a whole lot occurs in THE CASEBOOK OF EDDIE BREWER, it still is a very moody little number.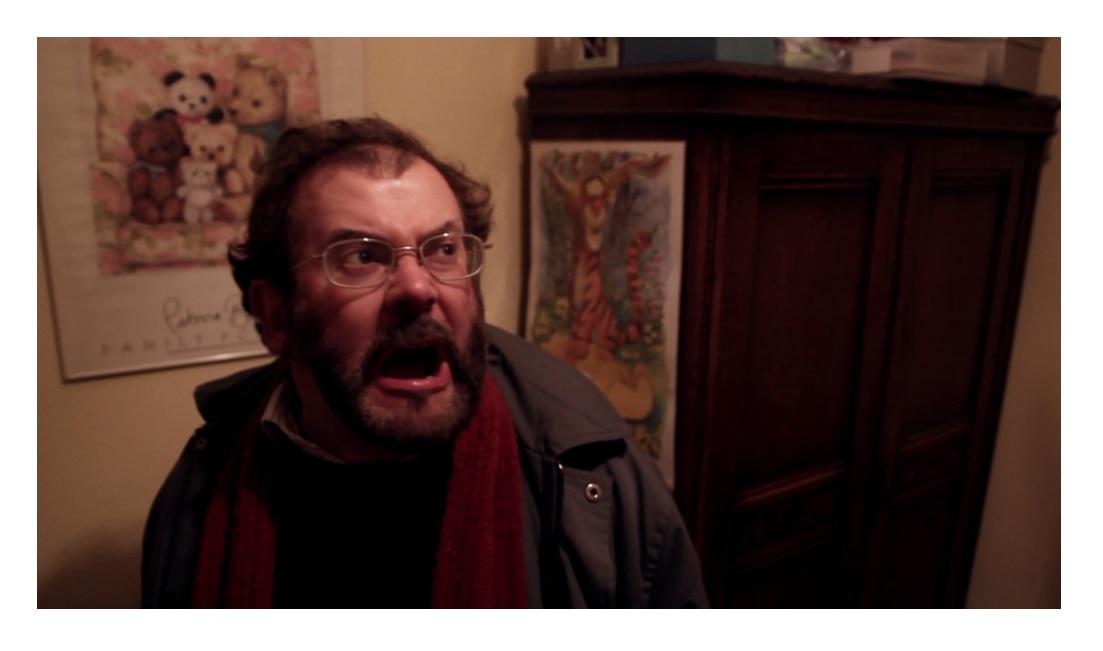 Ian Brooker stars as paranormal investigator Eddie Brewer, a wizened and haggard ghosthunter who regularly appears on paranormal radio shows, has an ongoing feud with a skeptic debunker, and also has what seems to be a full docket of cases he is currently investigating. When a documentary crew decides to follow Brewer on a typical day in the life, they capture numerous occurrences that they cannot explain as anything but paranormal. But unbeknownst to Brewer and the camera crew, there is a connection between these cases and evil lurking in the darkness Brewer investigates.
Filmed in and out of the mockumentary format, we sometimes follow Brewer in his investigations through the lens of the crew following him and on various security cams. But then occasionally, it switches to a more cinematic and standard format to film the in between scenes. This mish mash of formats makes for a rather uneven and downright patchwork kind of experience watching THE CASEBOOK OF EDDIE BREWER. Sure there are some compelling scenes caught on camera, but all tension is often broken when the camera switches to omniscient POV. Sure it supplies little snippets of a possessed girl whispering in Brewer's ear (a detail the handheld format would not have been able to catch effectively), but it also feels like something of a cheat, as if the found footage format is used whenever it serves the story, rather than committing to one or the other.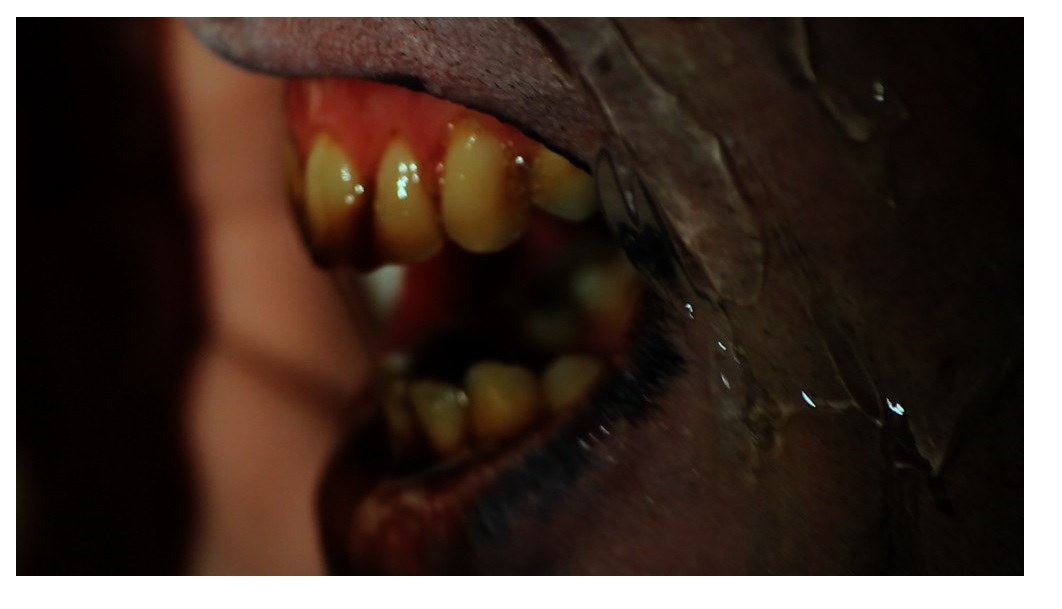 That said, I really like Eddie Brewer as a character. Brooker does a good job of playing the role in a tired and somewhat jaded manner, not really putting up with the antics of the overzealous camera crew who just want to catch something paranormal on tape. Brewer seems to genuinely want to solve these cases and help these people, and it is because of the genuinely altruistic manner Brooker plays the role that makes this film so watchable.
There are also some very genuinely scary moments in this film, especially towards the end as all forces ghostly and demonic seem to be descending upon Brewer at once. Despite a small budget, a lot of tension is accomplished with alternating light and darkness as well as forced perspectives that only allow you to see part of what's happening. Still, at the end of the film, I felt as if not a lot did happen. THE CASEBOOK OF EDDIE BREWER is a great cast study of a longtime ghosthunter, but suffers because the filmmakers weren't able to commit to one format.
---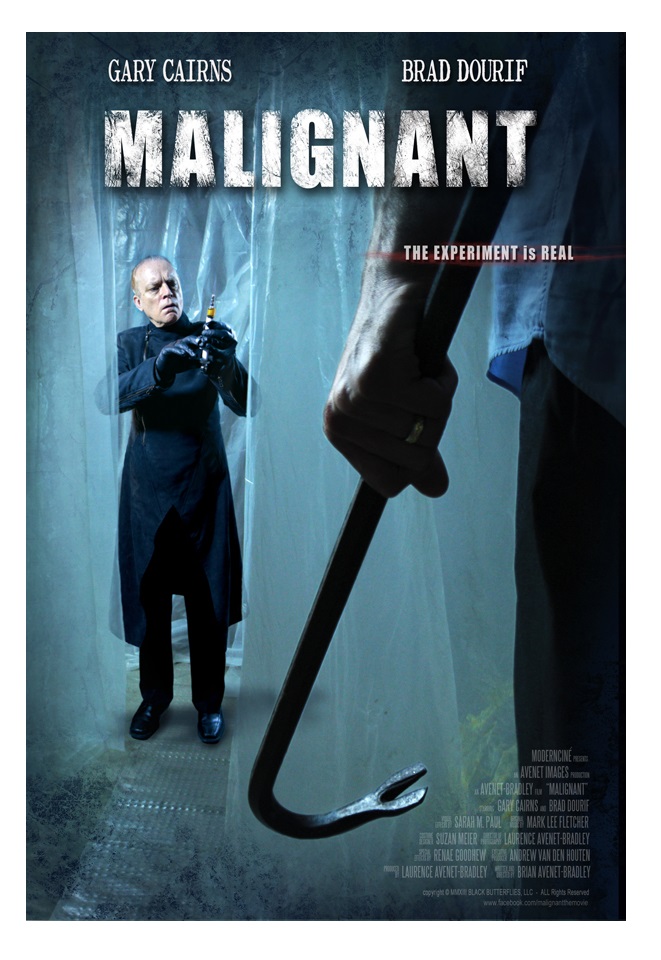 New this week on DVD from Moderncine and MVD Visual!
MALIGNANT (2013)
Directed by Brian Avenet-Bradley
Written by Brian Avenet-Bradley
Starring Gary Cairns, Brad Dourif, Nick Nicotera, Sienna Farall
Find out more about this film on Facebook here
Reviewed by Ambush Bug
Though the budget is low, some solid acting, a great handling of tension and suspense, and a few gruesome scenes of an age-old brain surgery technique make MALIGNANT a tension-filled thriller worth checking out.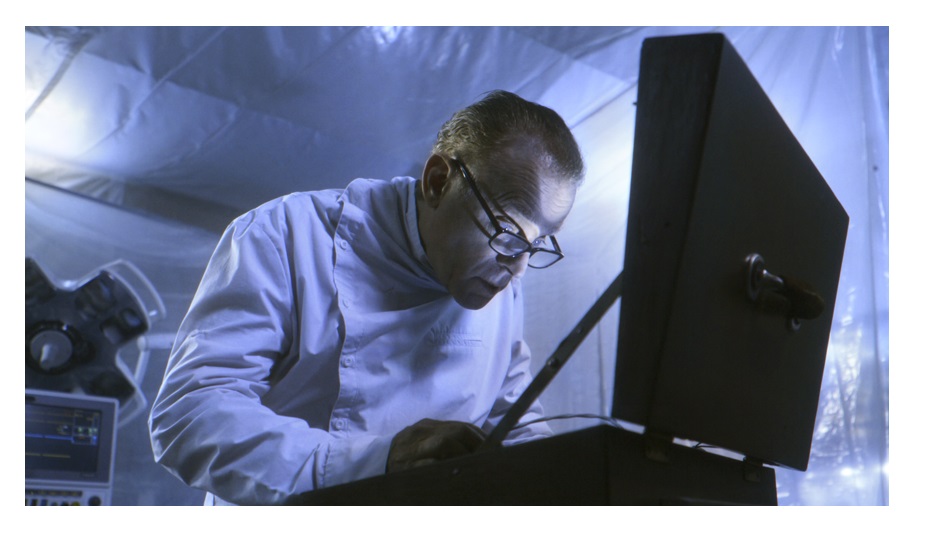 The story follows Allex (Gary Cairns), who lost his wife in a drunk driving accident and now drowns his sorrows in booze every night after he sloughs into work. One night after blacking out and somehow making his way home, he finds a stitched-up wound on his chest. He is then visited by a man in a trench coat (Brad Dourif) revealing that Allex is going to be a part of an experiment to make himself a better person. If Allex drinks, the man in the trench coat murders someone he knows, but if he abstains, he will conquer his addiction and thus have a better life. Thinking this man is full of it and giving in to his own addictions, Allex drinks up and then receives a video of himself killing a woman he meets in a bar (an uncredited cameo by Jennifer Blanc-Biehn). Soon, Allex realizes that he has somehow become the puppet of the trenchcoated man who seems to want to help, only through extremely unethical methods.
I love mad science stories, and this one is steeped in it. Brad Dourif is always a welcome addition to any horror film, and though this was probably a film of a lesser budget than he is used to, he takes everything deathly serious here. Every scene he's in overflows with Dourif's trademark intensity, and though the science is a bit goofy, Dourif sells it, giving the mad scientist depth and even an ounce of sympathy since he is ultimately trying to help Allex overcome his addiction. Though the treatment is somewhat similar to the "Quitters Inc." segment of CAT'S EYE, writer/director Brian Avenet-Bradley does a great job of making it all twisted and believable.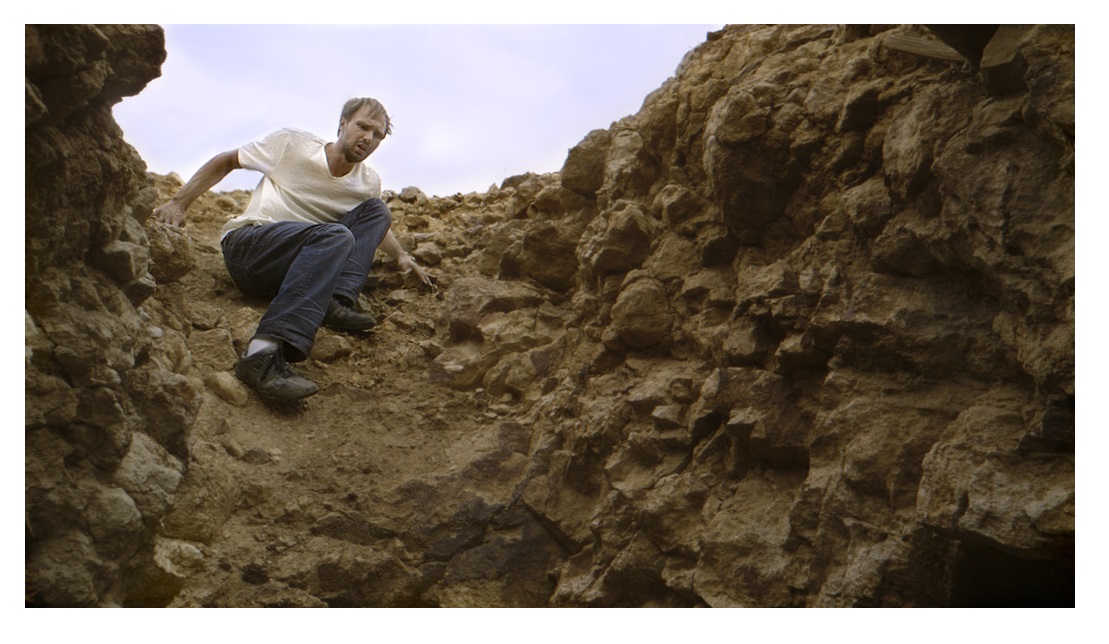 But the really effective aspect of MALIGNANT is the lobotomy scenes, which made my toes curl. The delicate and detailed way Dourif performs these lobotomies, all the while describing his technique in truly disturbing Dourif style, makes the whole sequence grueling to endure. The best parts of the film are these intimate scenes of Dourif with his little hammer and icepick performing a procedure that is both archaic and fascinating.
Brian Avenet-Bradley has constructed a solid thriller here with a strong mystery, characters you can't help but feel for, and a diabolical and bent villain in Dourif. MALIGNANT is one of those under the radar films that I love highlighting here on AICN HORROR, since it really does possess a lot of scenes that are going to get under your skin and burrow into your brain.
---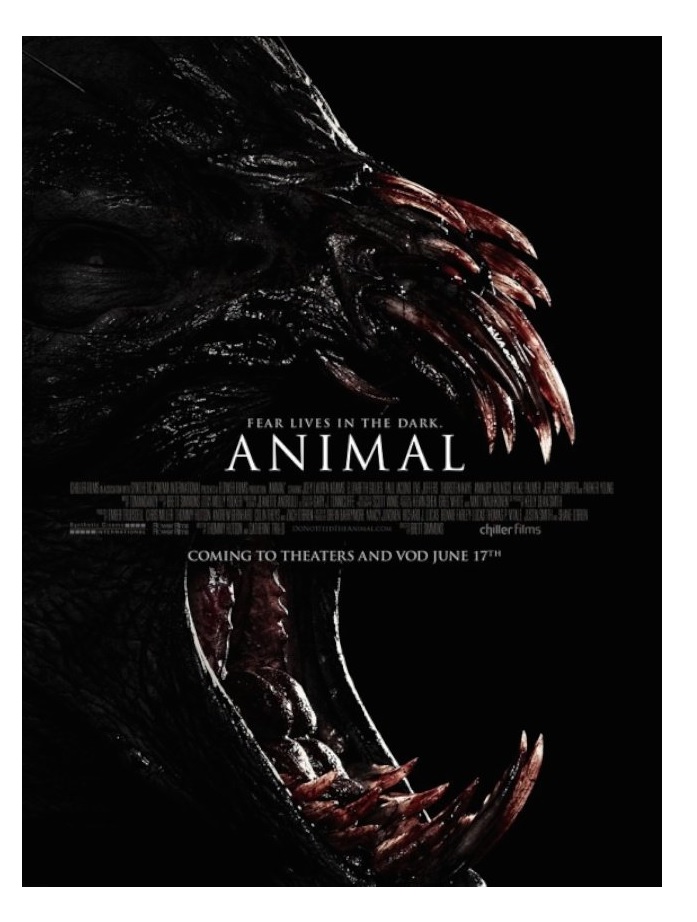 New this week on BluRay from The Shout Factory!
ANIMAL (2014)
Directed by Brett Simmons
Written by Thommy Hutson, Catherine Trillo
Starring Jeremy Sumpter, Joey Lauren Adams, Elizabeth Gillies, Keke Palmer, Amaury Nolasco, Parker Young, Eve, Paul Iacono, Thorsten Kaye
Find out more about this film on its website and on Facebook here
Reviewed by Ambush Bug
ANIMAL is the second film I saw this week from director Brett Simmons, and another indication that he is a filmmaker to watch out for. This time around, Simmons has the coproducer/documentarian/writer of
CRYSTAL LAKE MEMORIES
and
NEVER SLEEP AGAIN
, Thommy Hutson, and writer Catherine Trillo, on board with the script. This proves to be a potent mix of talent as they take a very common monster movie theme with ANIMAL and make it feel fresh, new, and exciting.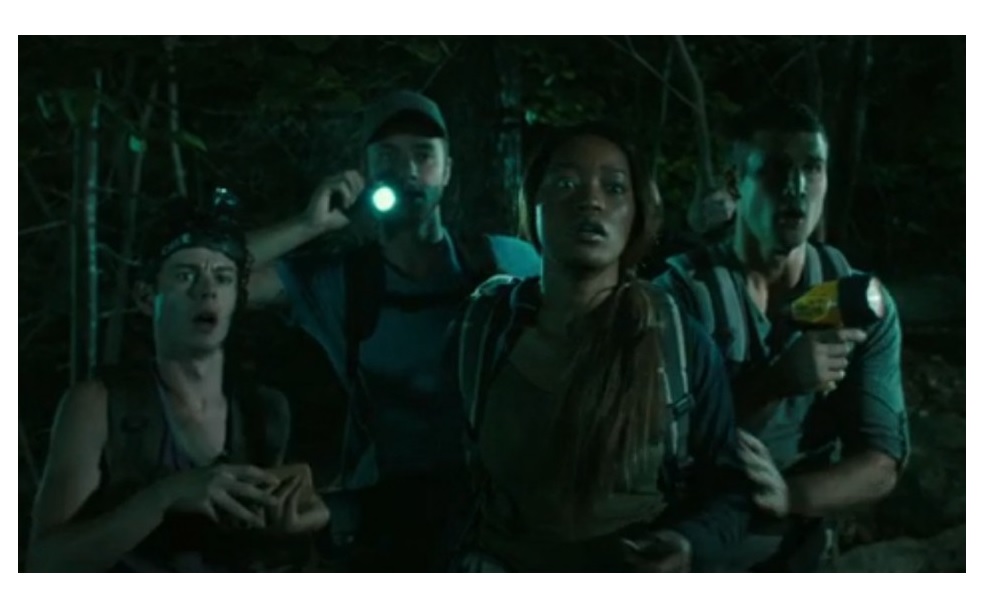 How many times have you heard this in the description of a horror film: a group of kids go backpacking into the woods and cross paths with…? I feel like I write that sentence about three times a week covering these AICN HORROR films. But this time around, due to a talented cast, a wickedly awesome monster design, and an unpredictable script, ANIMAL doesn't feel like the same old, same old monster flick.
Let's start with the animal itself. Uncategorizable is a good term to describe it. Part insect, part bear…maybe there's a hint of a moose in there. The creature is definitely an interesting design, and one I haven't seen before. It's bipedal, but for my money, I like seeing it the best when hunched down and crawling as it looks the creepiest then. The front jaw is filled with teeth, which is all the more to tear people to shreds with, and this film does give the beast an ample amount of people to do this with. While it's hard these days to make a distinct design in terms of movie monsters, this one is wholly original-looking, like a product of the thickly wooded environment it is hunting and killing in, yet nothing we've ever seen before. Even down to the distinct whiny, almost canine-like howl, this animal is an original. <br.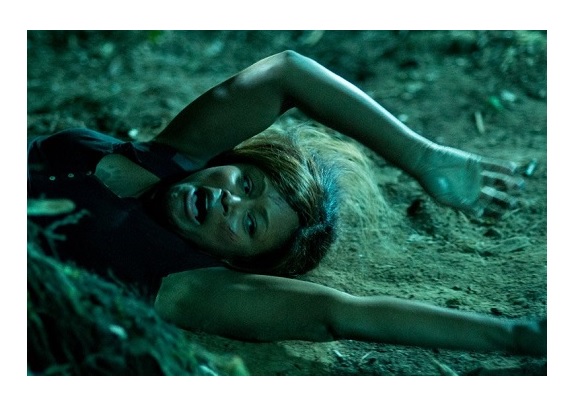 The cast assembled here is impressive as well. Eve shows up briefly, and CHASING AMY's Joey Lauren Adams has a more sizable part. Jeremy Sumpter is always solid (loved him in the goofy but fun
SASQUATCH GANG—reviewed here
) and delivers a good performance here as one of the hikers. The other standout is actor Paul Iacono, who offers up a different sort of performance than you usually see in horror films. He's a gay character but not stereotypically so, which is refreshing to see, and he's not necessarily set up to be monster fodder either, which is nice to see as well. Iacono offers up a lot of emotion that makes the danger feel all the more manic and real.
One thing I noticed is that the film opens up with John Carpenter lettering, which doesn't go past the opening credits, but it's interesting to see this film and ALMOST HUMAN earlier in the column paying homage to Carpenter and proof that the filmmaker is still very much resonant in today's horror. It's amazing to see how good character, a fun monster, and a twisty and turny script can really revitalize something that one has seen over and over. ANIMAL is a monster movie, but not your typical one, which makes it all the more worth checking out. Director Simmons seems to be on a roll here with HUSK, MONKEY'S PAW, and now ANIMAL offering up fresh takes on well-worn concepts.
---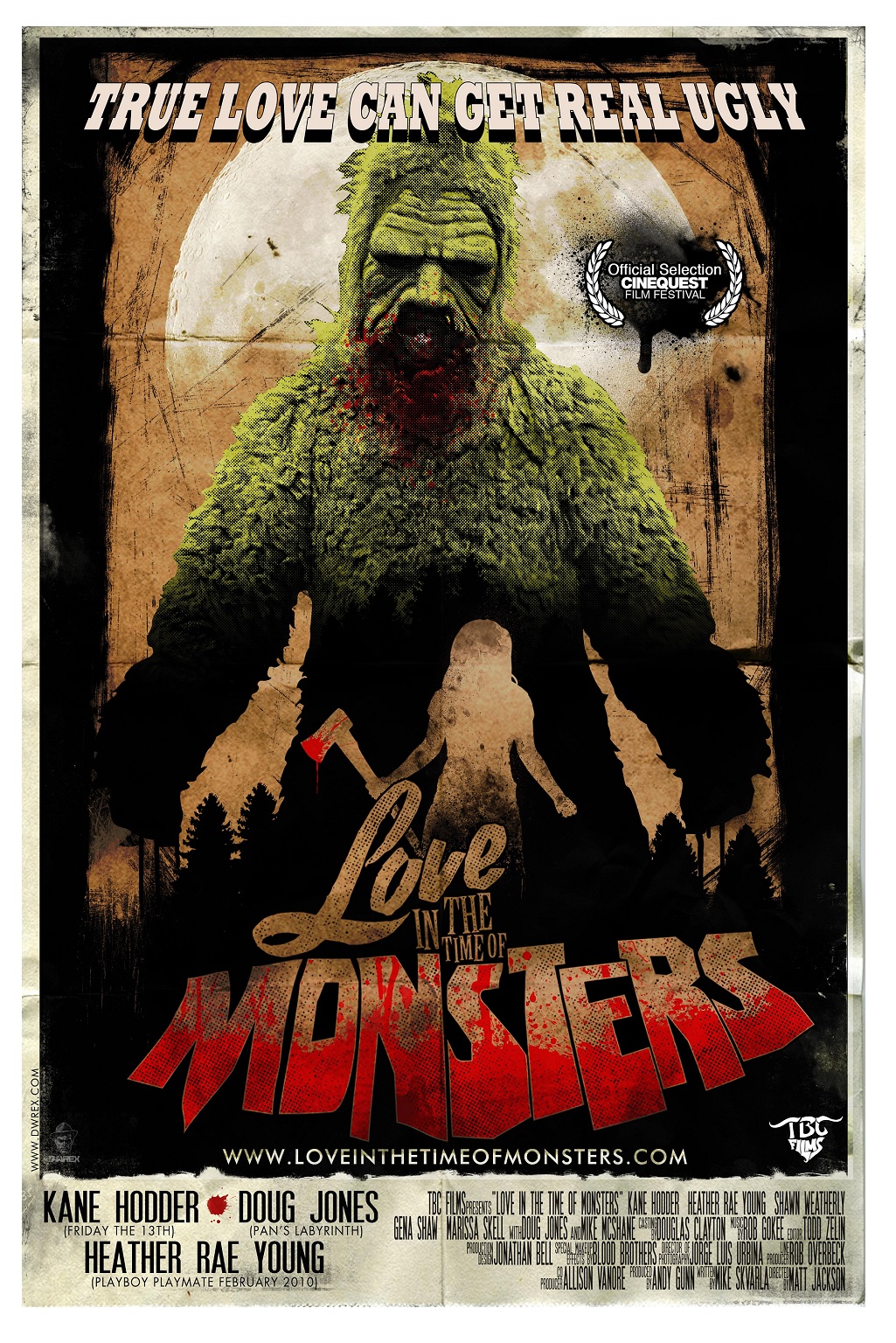 New this week on DVD and digital download from Indican Pictures!
LOVE IN THE TIME OF MONSTERS (2014)
Directed by Matt Jackson
Written by Michael Skvarla
Starring Doug Jones, Kane Hodder, Michael McShane, Shawn Weatherly, Heather Rae Young, Gena Shaw, Marissa Skell, Paula Rhodes, Hugo Armstrong, Danny Vasquez, Paul Elia, Ben Palacios, Jade Carter, Zylan Brooks, Alex Sanborn, Joe Fria
Find out more about this film here and on Facebook here
Reviewed by Ambush Bug
Making do with what it's got, indie flick LOVE IN THE TIME OF MONSTERS is one of the few horror comedies that succeeds in doling out equal parts grisly gore and unconventional laughs.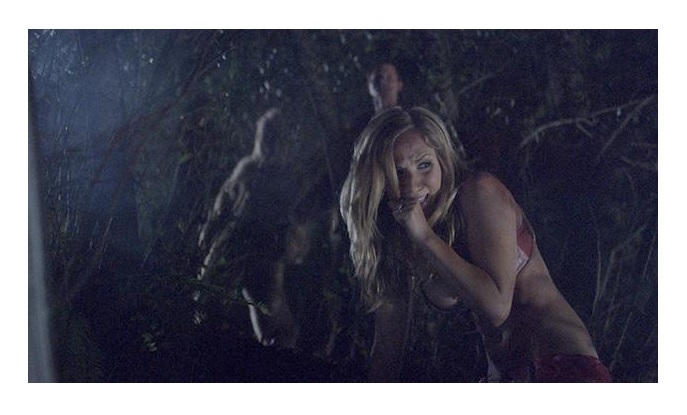 I ran into the LOVE IN THE TIME OF MONSTERS booth last year at San Diego Comic Con, and it was a lot of fun talking with director Matt Jackson and producer Andy Gunn about the film, our mutual love for Bigfoot films, as well as a similar appreciation for low budget cinema. It's always difficult for me to put a face to a project and talk personally with directors and producers as there is always a chance that the film, once completed, is not going to be something I am going to like. So when I had a chance to check out LOVE IN THE TIME OF MONSTERS, I watched with a nervous demeanor for the first moments, hoping it wouldn't suck.
Turns out my worries were all for naught as LOVE IN THE TIME OF MONSTERS is a film able to mix comedy, horror, fun, and gore in a way that is as rare to find as Bigfoot itself. Set in a woodland travel lodge filled with party mixers, staged Bigfoot sightings, and all sorts of downhomey fun family offerings, two sisters decide to take a gal-cation as one of them (Carla, played by spunky Marissa Skell) has just found out that her fiancée has been working at the park as a faux Bigfoot to make extra money for them. Carla's sister Marla (played by the likably snarky Gena Shaw) goes along for the ride, yet makes it clear she is not happy about the trip. Before they arrive, Carla's boyfriend and the other "actors" in Bigfoot costumes fall into a river filled with some kind of toxic sludge, causing them to act erratically and go on a murderous rampage across the park.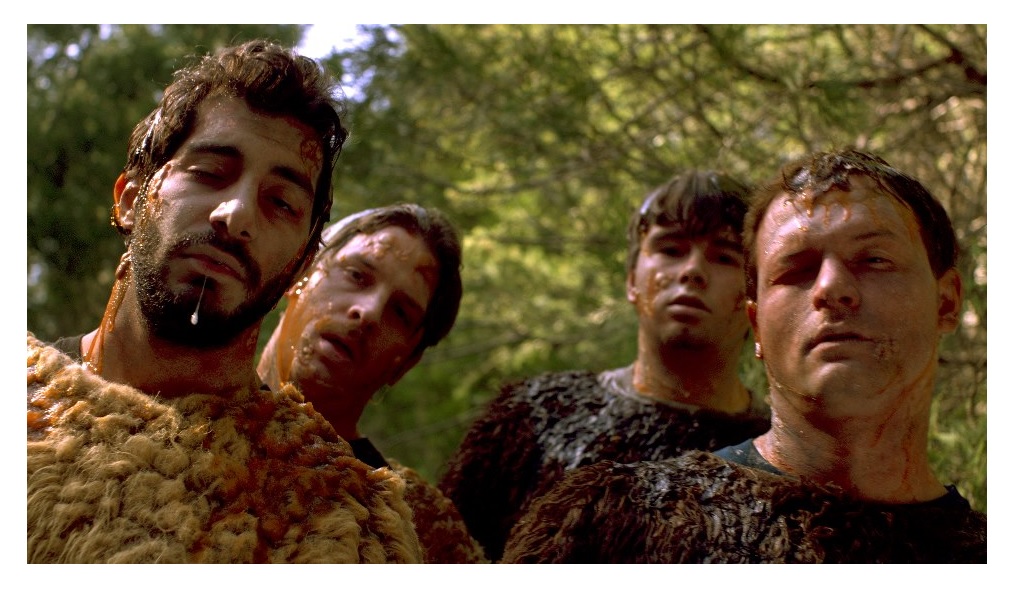 What surprised me most about LOVE IN THE TIME OF MONSTERS is how funny it actually is. I found myself laughing quite a bit in this film, which is often a feat more difficult than any effects shot or budgetary restraint. So much of the writing of this film is crisp and on the money in terms of entertaininment and wittiness and while some of the characters might be guilty of having similar voices behind the humor, the delivery from the cast is dead spot on. Mixed with some pretty gruesome effects and some gross monsters in goofy Bigfoot costumes, and you have a mix of horror and comedy that is harder than most think to pull off.
Plus there are fun little surprises in LOVE IN THE TIME OF MONSTERS that really end up enriching the film quite a bit. Among the infected wearing Bigfoot costumes is Kane Hodder, who plays the leader of this pack of monster men. Hodder is best known for playing Jason Voorhees, but I am constantly amazed at how strong an actor Hodder is. In many low budgeters, genre vets like Hodder and Doug Jones (who is also a lot of fun here as a doctor with a low tolerance for alcohol) have bit parts, mostly shot in a single day, then touted on the DVD box or poster as the stars of the flick. I was expecting that here, but actually both Hodder and Jones' roles are substantial chunks of the film, and both actors prove they are as effective without makeup as they are inside of it. And while I've seen Jones act in comedies before, Hodder really surprised me at how funny his comic timing really is.
While this is a low budgeter, this small scale infection film utilizes fun little details and twists and some cool camera trickery to tell a tale that is wholly, originally, and contagiously fun. With the comedy hitting the mark most of the time and the gore factor amped to about 11, LOVE IN THE TIME OF MONSTERS is a horror comedy that is successful at both tickling your funny bone and testing your gag reflex. Fun gross stuff that should not be missed by fans of EVIL DEAD II and other gory comedies.
---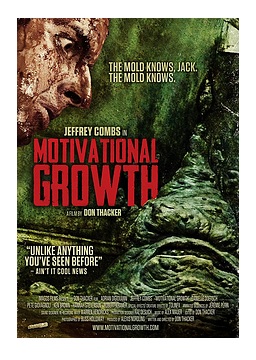 New this week DVD/BluRay from MVD Visual!
MOTIVATIONAL GROWTH (2013)
Directed by Don Thacker
Written by Don Thacker
Starring Adrian DiGiovanni, Jeffrey Combs, Danielle Doetsch, Ken Brown, Pete Giovagnoli, Robert Kramer, Erica Highberg
Find out more about this film here and on Facebook here
Reviewed by Ambush Bug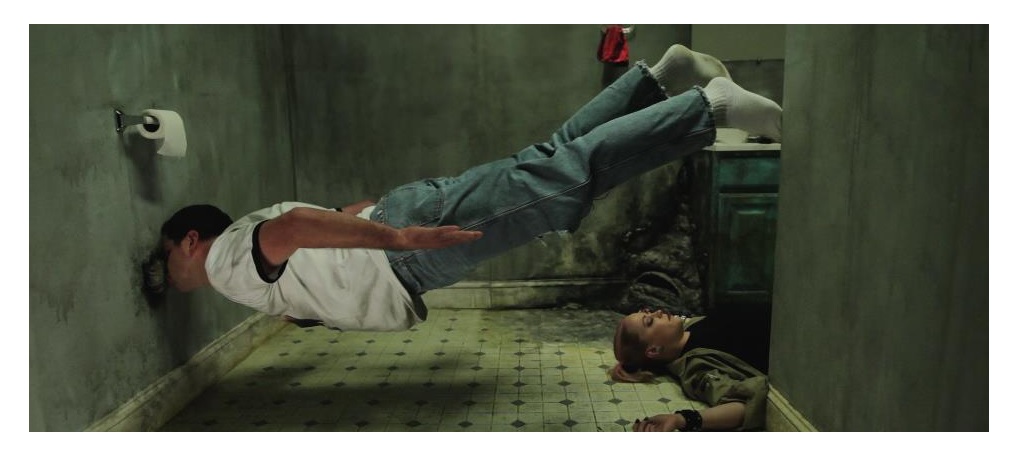 MOTIVATIONAL GROWTH is a fantastic character study of a man defeated, sitting around with months worth of grime, filth, and hair growth on his body with a path carved through pizza boxes and other garbage from the couch to the bathroom to the door and back again. Though it doesn't go into too much detail in regards to why Ian (Adrian DiGiovanni) is so down, the actor's performance makes us forget about asking these questions since his performance is so captivatingly sad and fascinating all at once. Ian talks directly to the camera through the film, walking us through his humdrum life. In most cases, this would be horribly pretentious, but there's a sense of real soul in his performance that loses all pretention and made me want to go along for the ride.
When Ian's antique television he calls Kent dies on him, it motivates him to find other means of entertainment. Only able to sleep for so long, Ian futzes around talking to the camera about this and that until he realizes that something must be done about the faulty TV. When he slips and falls in the bathroom, hitting his head on the floor, a pile of mold in the corner forms a mouth and begins talking with him. And that voice sounds an awful lot like the Re-Animator. Combs does a fantastic job as the pile of fungi who becomes Ian's motivator to get his life back together. Though it takes a while for Ian to trust the pile of goo, soon he finds that it is trying to help him and the two embark on a quest to put his life back together.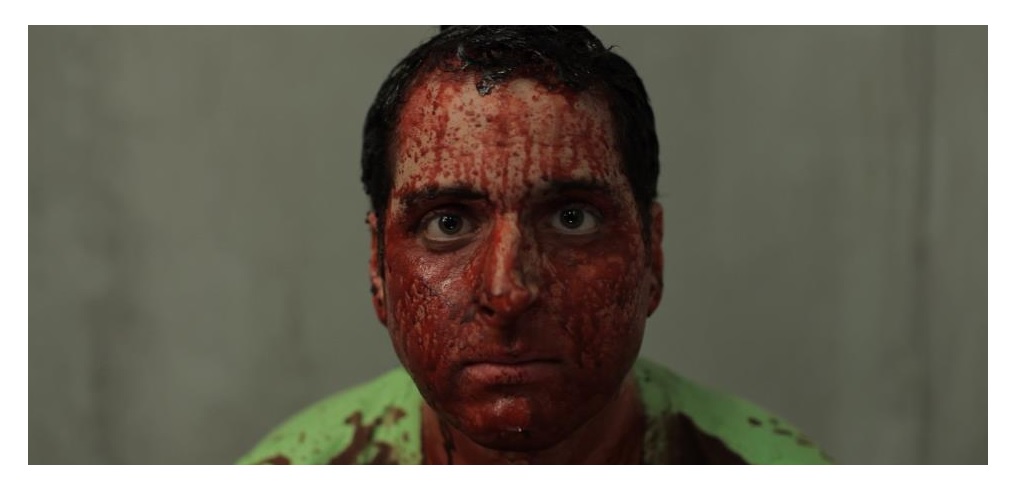 All taking place in one locale, the charm comes from scenes of utter lunacy as Ian eats pieces of mold sprouting from the pile and goes on some gravity-bending acid trips. Soon he's starring in the television episodes he zoned out on, cleaning his apartment with new vigor, and shaving off his disgusting beard. The effects in the film are minimal, but the ones used are highly effective, especially the Muppet-like pile of mold that undulates convincingly. There are also some amazing sequences of 8 bit pixilation animation that prove to be fun, as well as the vertigo-inducing slo mo falls Ian tends to endure.
The fact that 90% of this film takes place with a guy talking to the camera on his couch, all the while maintaining a creative, interesting, and intelligent edge all the way through, is a testament as to how great MOTIVATIONAL GROWTH truly is. The alternating dark and light tones give this film a unique texture, never really letting on as to where it will go next. Sure to poke, prod, and play with your brain in ways normal cinema does not, MOTIVATIONAL GROWTH is unlike anything you've seen before. Coming from someone who has seen a lot, it's refreshing to see so much ingenuity crammed into one little movie.
---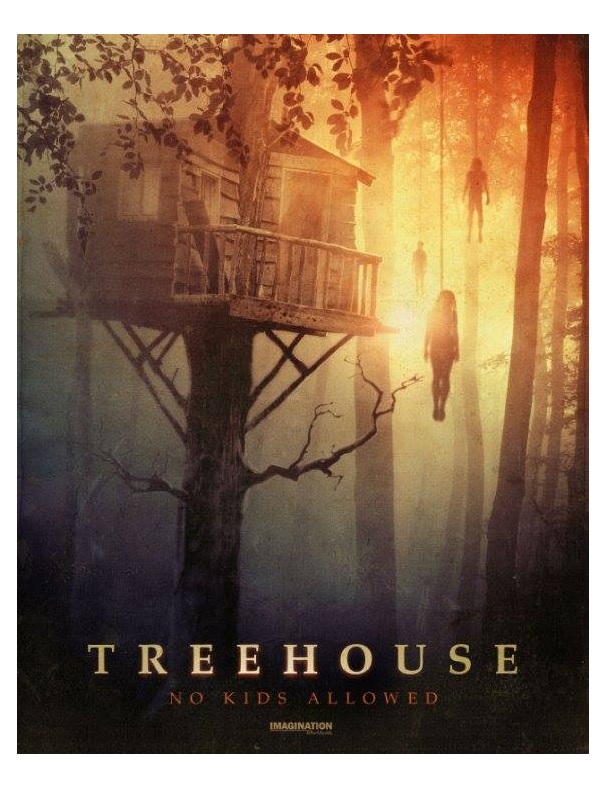 New this week in select theaters and digital download! There will be a special Q&A screening this Saturday night in L.A with the cast and crew of TREEHOUSE at 8pm PST (Q&A to follow screening) at Arena Cinema 1625 North Las Palmas Avenue Hollywood , CA 90028 (click here for more info!)
TREEHOUSE (2014)
Directed by Michael G. Bartlett
Written by Alex Child & Miles Harrington
Starring Dana Melanie, J. Michael Trautmann, Clint James, Daniel Fredrick, Shannon Knopke, Darren Kennedy, Victoria Spencer Smith, Nick Herra, Jake Gregory, Vincent Michael-Smith
Find out more about this film on Facebook here
Reviewed by Ambush Bug
The great unknown TREEHOUSE immerses you in for the first half of the film is about as tension-filled and scary as they come, but once the cards are shown, the scares lessen and wane quite a bit.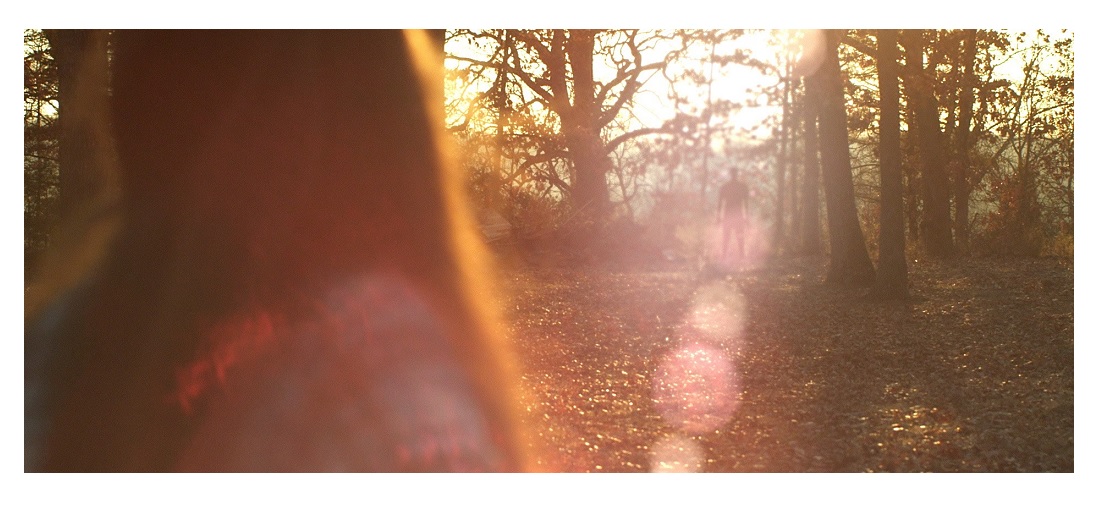 In TREEHOUSE, it's evident from the get go that something evil is lurking out in the woods. What it is, though, is left murky for most of the film. Still when young Elizabeth (Dana Melanie) comes home to find her siblings and mother gone, she seems to know something awful has taken her and as she gives chase through the woods in the opening moments of TREEHOUSE, the only clue we are given is that there is a threat out there. Cut to two brothers at school, one a popular jock named Crawford (Daniel Fredrick), the other a sheepish pushover named Killian (Daniel Fredrick), as they try to survive the normal everyday fights, teachers, girls, and bullies that go along with school. Still, the brothers are able to take the time to grab fireworks and survival gear and go adventuring and partying in the forests that seem to surround this little rural town. Happening upon a large structure high in a tree, the two brothers find Elizabeth and realize that there is something predatory in the woods.
Everything leading up to the big reveal of what is after the group is gold here. The buildup, the otherworldly aspects of the predators, the mysterious treehouse: all of those things are filled with intrigue and curiosity. Scenes where the thing in the woods are seen in the distance and obscured by the foliage and shadow are so well done that this feels like those pursuers have PREDATOR-type camouflage. Scenes such as the one where one of the things in the woods comes to the doorway of the treehouse with Elizabeth and Killian hiding inside are effective enough to make the hairs on my neck stand on end.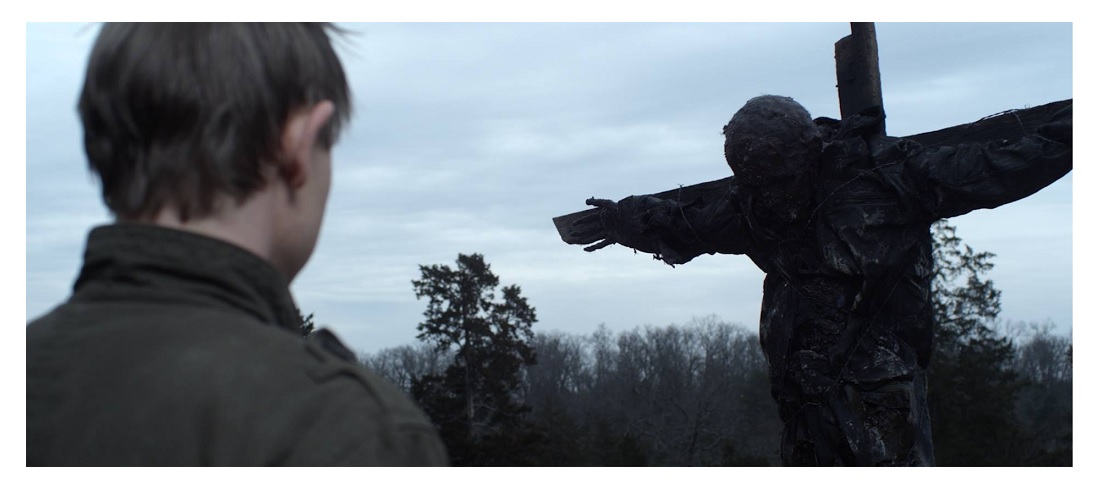 The problem with setting your scenes up this way is that any type of reveal is bound to be a letdown once the monsters come into the light. Here it's even more disappointing, as it really doesn't live up to the ominous threat that is established in the first half of the film. You'll have to find out who or what the monsters are yourselves, but personally, I was disappointed once the shades were pulled back. The bizarre turn towards the end of the film and the non-resolution the film comes to by the closing scene makes the entire last half hour difficult to like.
Lack of satisfying resolution aside, TREEHOUSE shows that director Michael G. Bartlett (who also gave us THE ZOMBIE DIARIES, THE ZOMBIE DIARIES 2, and PARANORMAL DIARIES: CLOPHILL, all films that weren't nearly as successful at this one in scares) is a director able to deliver the makings for a tense scene and offers the buildup and premise that I found to be infectiously and deviously likable. While I found the ending and revelations to be disappointing, there's a lot to like about TREEHOUSE in its initial hour as it offers up a palpable sense of dread and suspense and some situations that chilled me to the bone.
---
And finally…last week, I reviewed MONSTRO! in my Short Cuts spot and said I'd be posting the short film online free for a limited time in this section for all to enjoy. I'm a man of my word, so here it is, in all of its mer-thing glory. Fans of CREATURE FROM THE BLACK LAGOON will especially get a kick out of it, I'm sure. So check it out writer/director/animator Christopher Romano's MONSTRO! below for a limited time!
¡MONSTRO! from Chris Romano on Vimeo.
See ya next week, folks!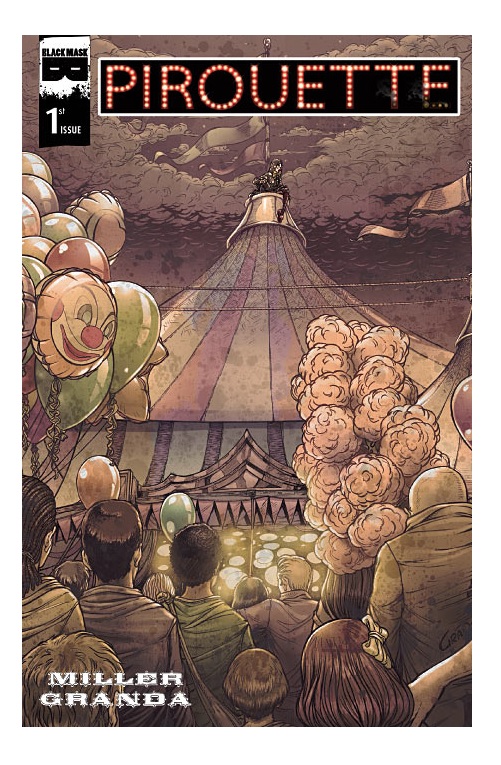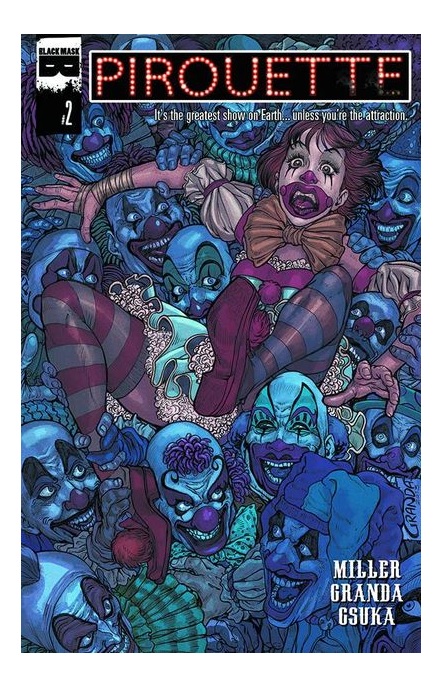 Ambush Bug is Mark L. Miller, original @$$Hole/wordslinger/writer of wrongs/reviewer/interviewer/editor of AICN COMICS for over 13 years & AICN HORROR for 4. Follow Ambush Bug on the Twitters @Mark_L_Miller.

Be sure to tell your comic shop to order his new comic PIROUETTE (out now!) from Black Mask Studios!
---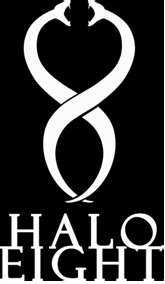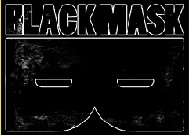 Find out what are BLACK MASK STUDIOS and OCCUPY COMICS here and on Facebook here!


Interested in illustrated films, fringe cinema, and other oddities?
Check out Halo-8 and challenge everything!
Look for our bi-weekly rambling about random horror films on Poptards and Ain't It Cool on AICN HORROR's CANNIBAL HORRORCAST Podcast every other Thursday!
---
Find more AICN HORROR including an archive of previous columns on AICN HORROR's Facebook page!