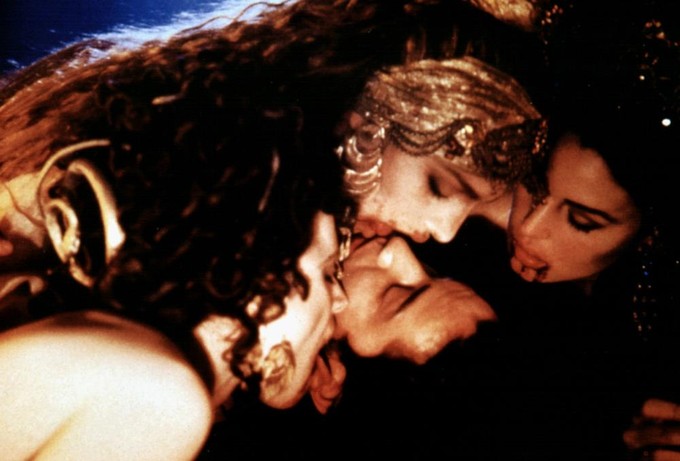 Keanu Reeves is currently on a nice streak of working with visually distinctive directors since beginning his own directorial career with THE MAN OF TAI CHI. He stars in Eli Roth's upcoming KNOCK KNOCK (which our Capone recently approved), he's working with Tarsem on THE PANOPTICON, and now, he's gonna be working with DRIVE/ONLY GOD FORGIVES director Nicolas Winding Refn on THE NEON DEMON.
He and Christina Hendricks will star in the film, which revolves around a young queen bee (played by Abbey Lee) who metaphorically, and possibly literally, sucks the blood out of the girls in her social sphere. Elle Fanning is the lead, a young girl who gets pulled into Lee's character's sway, but no word on who Reeves and Hendricks would play. Hopefully not merely Fanning's parents.
This is Refn's first film without Ryan Gosling since he hit it big with DRIVE, but Keanu is equally magnetic (maybe even moreso) when used correctly, and I'm excited to see him inhabit Refn's pitch-black cinematic universe. He's taking chances these days, and some of those chances are really starting to pay off (47 RONIN, not so much), so I'm hoping this is another showcase for his unique charms and ability. Refn is a minimalist guy in many respects, and I could see him using the very same stoicism Keanu used to get loads of crap for, and working it to his advantage. Maybe we'll even get to see some DRIVE-level badassery from the former Baba Yaga.
As for Hendricks, I loved her largely-silent turn in DRIVE, and I'm hoping to get more time with her character this time around. I didn't watch MAD MEN, but she certainly amassed a nice following from her work over there, so hopefully this is another opportunity for her to exercise her chops and win over some fans.
I know Refn's a divisive filmmaker, but Reeves and Hendricks' respective presences may entice non-fans to come check this one out. For those of us already onboard with anything Mr. Refn puts out, this is just icing on the cake.