Hey folks, Harry here with the second half of this wondrous interview that our ever crusty... oh so salty seaman Quint has produced for all of us to enjoy and read and discuss. In this part, Quint begins to further explore the projects that have been rumored to be on Tarantino's plate... where they stand... and believe it or not, manages to actually squeeze some never-before-heard details out of QT. However, if you have missed the first part of the interview... be sure to CLICK HERE TO READ IT FIRST! Remember.. Quint is all caps, Tarantino is not...
SO, IS SAM "THE MAN" JACKSON GOING TO BE IN EVERY MOVIE YOU DO FROM NOW ON?
He's great. I don¹t know if I have a role for him, actually, in the one I'm writing now. We'll see. Whenever it's appropriate. But when Sam's right, he's so right that no one else could do it. He's righter than right.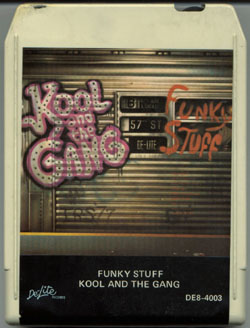 KOOL AND THE GANG, EXACTLY. (AT THIS POINT I PUT MY HAND OVER MY MOUTH, EMBARRASSED)
(laughs) Kool and the Gang...
SORRY... THAT¹S ANOTHER THING, ALL THIS STUFF HAS BECOME INGRAINED IN OUR CULTURE...
Yeah, but I have to give credit where credit is due. I get pissed off that people think Sam came up with most of his own dialogue, 'cause I wrote fuckin' Sam's dialogue, all right. Part of the reason we love working with each other is Sam has the ability when I write dialogue, especially when I write black dialogue...umm... my black dialogue can be even more musical, all right? My dialogue's musical anyway, it just gives it complete license to be musical. No one really quite sings it like the music it's supposed to be the way Sam does.
My dialogue isn't poetry, but it's a second cousin to poetry. It's funnier than poetry, but it's a second cousin to poetry. Sam says it like poetry. He makes it sound like the poetry that it is. BUT Kool and the Gang is his, all right. That's something he says. The Kool and the Gang is his. I found myself fuckin' saying that fucking thing for 2 years after making Pulp Fiction. Koool and the Gaaang. (laughs)
I don't even like the group that much, all right. I like Jungle Boogie. I don't even like them that much and for two years I'm like, "Kooooool and the Gaaaaaannnngggg."
WELL, THERE ARE PEOPLE... WHEN YOU TALK TO PEOPLE AT THE FEST, THEN LEAVE TO GO TALK TO SOME OTHER GROUP, THERE¹S ALWAYS ONE OR TWO IN THERE THAT WILL BEGIN SPOUTING OFF RES. DOGS LINES OR PULP FICTION AND I'M JUST LIKE, "UGH!" ME BEING EMBARRASSED TO BE NEAR THEM. SO, I WAS TELLING MYSELF, NO PULP FICTION LINES DURING THE INTERVIEW AND HERE I AM GOING, "BLAH-BLAH-KOOL AND THE GANG.. OOPS..."
(laughs)
SORRY.
Hey, man. That's the coolest thing. Making a movie with dialogue that people remember and repeat them to friends when they see them.
YOU MENTIONED DURING THE FEST THAT JACKIE BROWN AND THE CRITERION PULP FICTION WERE COMING TO DVD PRETTY SOON. WHEN WILL THEY BE OUT THERE?
Shannon Macintosh at Miramax, she's doing both of them. She's doing transcripts of all the Criterion stuff to DVD and I think she's going to do a couple more things. I think she's found a couple more things, but she's the one that did most of that with Criterion before. She's like kinda the post production gal at Miramax and she's fantastic.
She came in and editing wise put together that whole documentary that they released, Rhyme and Reason, the hip-hop documentary. That's kind of her thing. She does all the post production, preproduction stuff, featurettes. Like on Four Room. She did the Making of Four Rooms, called Four Friends and a Movie or something like that. We all get killed for doing Four Room and she won the Best Making of a Movie Promotional thing in the industry that they have the awards for that. Jesus Christ! She wins awards for that and we get murdered, run out of town on a rail, tarred and feathered for it.
I LOVE FOUR ROOMS. TIM ROTH IS HILARIOUS IN IT!
Oh yeah. I think he's hysterical in it. Bur it was all cracking us up, Shannon's the one that gets all the acclaim. Her Making of Four Rooms is really terrific, actually. It's like this little movie unto itself. It's really cool. As opposed to most Making Ofs, there¹s actually an interesting story about the four of us doing it. It's kinda cool.
Anyway, she's doing that. I think there's actually a couple of new things in there, but I don't know. I can't 100% remember. I think, if she put it together, we were going to put one sequence back. I don't know if we're going to find the sequence edited together, but I'm sure it's there, but if not, just put a couple takes in there.
There was one more big conversation that Mia and Vincent had at Jackrabbit Slim's that we cut out. There was a whole conversation that happened early on in the first part when they're still kinda getting to know each other that we took out, but I started playing it again the other day, just to kinda watch it, all right, and went, "All right, that's kinda cool. That would be a good thing to put back in." Put back in, not in the flow of the movie, but just as an "Oh, here's some more information if you like the movie."
It's just this sequence about Mia's time when she goes to Amsterdam, when she talks about going to Amsterdam once a year to chill out, or something like that. She talks about being in Amsterdam and Vincent has just come back from Amsterdam, so they have this little Amsterdam talk. She talks about a hash bar and he goes, "I've been to that hash bar!" It turns out they both know the owner and she goes, "You know in... I forget the name of the place (pause...) oh! It's the Cobra. OK. She goes, "You know in the Cobra, you know Derek has all those pictures behind the bar and there's this one picture of Derek with his arms around 2 girls, one wearing a cowboy hat and the other one's wearing a baseball cap?" He goes, "Yeah," She goes, "OK, well Petra's the one in the baseball cap, I am the one in the cowboy hat." "That's you! That's you in the cowboy hat!!" (laughs) So, that might be in there.
She just did the whole thing on the whole Jackie Brown one. Actually, she just came down to my house and shot a bunch of my Pam Grier posters and crap.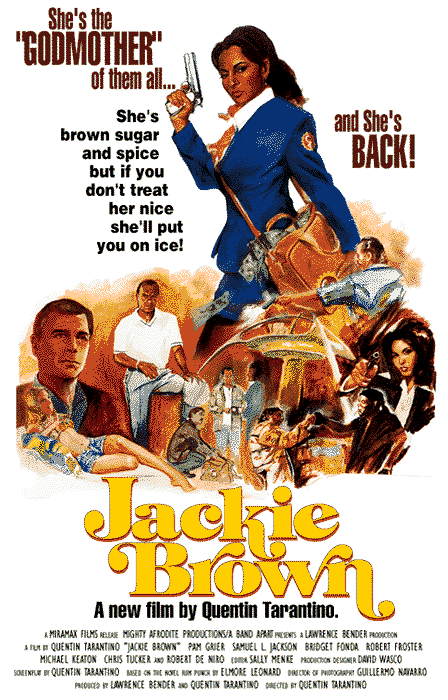 I LOVE THAT JACKIE BROWN POSTER, THE ONE THAT THEY DIDN'T USE, THE ONE WITH THE BLAXPLOTATION ART.
Yeah, the one Jerry Martinez drew for the book (What it is/What it was)? Yeah. That was great.
SPEAKING OF JACKIE BROWN, I¹VE HEARD RUMOR THAT YOU'RE ADAPTING A FEW MORE ELMORE LEONARD NOVELS.
I have a couple Elmore Leonard books, but I'm not doing them right now, actually. But there are a couple I could totally do and wouldn't mind doing somewhere along the trail. I want to do a couple of originals next, then go on.
I THINK THAT'S THE WAY TO GO. THAT MIGHT QUIET DOWN SOME OF THE ASSHOLES OUT THERE SHOUTING "ONE HIT WONDER" AND "UNORIGINAL" BECAUSE YOU DID JACKIE BROWN (BASED ON ELMORE LEONARD'S RUM PUNCH) AND THEN YOU....
Then I did nothing! Then I did nothing. It's kinda funny. I have different sides that kinda get hungry. My directing side was hungry when I did Jackie Brown, my acting side was hungry when I did my play, now the writing side of me is hungry, so I have to write an original.
ON THE ACTING SIDE, YOU JUST DID LITTLE NICKY. HOW WAS THAT?
I had a lot of funny doing that. That was really cool.
HOW BIG IS YOUR CHARACTER?
It started off, he was just one little joke and then Adam and all his buddies he makes his movies with, they just really liked the character. They changed his name to Deacon, he was this blind preacher. They said, "It's just this one joke in the script, but we're going to do more with him." So, they just kept adding gag upon gag upon gag and now I'm throughout the whole movie. It was really cool, it was a lot of fun.
I REALLY DIG THE TRAILER TO IT...
Did you see the teaser trailer? That had me in it?
THE WHOLE, "YOU MAKE GOD VERY NERVOUS" ONE?
Yeah, yeah, yeah, uh-huh. It was funny because they were like, "Man, we love the Deacon, the Deacon's our favorite, the Deacon's great. The little kids are going to love the Deacon. You're going to have 10 and 12 years olds coming up to you going 'Hey! You¹re the Deacon'." When I saw the teaser, I went, "Wow. I guess the weren't bullshitting! Guess they did like him, they give me such a big part in the teaser."
He's a Yosemite Sam kinda character. Yeah, that's exactly what I am! I'm the Yosemite Sam of Little Nicky. I kinda look like Yosemite Sam in a crazy way. In just a ragged hairy way, it's not red hair, but crazy, wild white and gray hair.
SINCE WE'RE TALKING ABOUT SANDLER, I HAVE TO ASK ABOUT THE WORLD WAR II FLICK THAT YOU¹RE DOING.
Well, I've been writing a World War II film for the last year and half. Actually, I've been writing it for the last year and researching it for the half a year before that. I've taken college courses on World War II. I've been writing and yeah I do have a part that would be great for Adam, just fantastic. So, yeah, we're going to do it when I'm finished with it.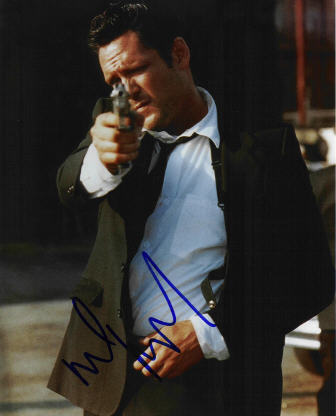 I ALSO HEARD RUMOR THAT MICHAEL MADSEN MIGHT BE INVOLVED...
Yeah! Where'd you hear that from?
I HAVE MY WAYS... YOU DON'T WANT TO KNOW THEM, BUT I HAVE MY WAYS.
Yeah, it's true. Michael would be... oh yeah.... I've got a great part for Michael in it. As a matter of fact, the part I want Michael to play... OK. I wanna have a Charles Bronson kind of guy in the movie, BUT it's not like writing a part for Charles Bronson and trying to get an actor to be like Charles Bronson. No. The kind of part Charles Bronson would play in a movie like this. Not the '70s where Charles Bronson was the star, but the kind of Charles Bronson played in The Great Escape. The kind of part he got cast in in The Magnificent Seven, the kind of part he got cast in in The Dirty Dozen. The kind of part he got cast in in all these big, ensemble mean muthafuckin' guy movies.
Michael Madsen could have got cast in any one of those roles. Not the Bronson roles where Bronson was the star, but the roles of '60s, Michael Madsen could have been cast in any one of those that he was in back then. In fact, I'd probably cast Michael Madsen in the Bronson role before I'd cast him in the Steve McQueen role, even though you might see more a connection between one than the other, but do you know what I mean?
YEAH, TOTALLY. THE PERSONALITY AND THE FEEL HE HAS.
And that great sense of violence about Michael. He could go all the way. Charles Bronson's real name is Buchinsky, so I decided to just give a tribute to him, I'm naming Michael's character that he's playing in the movie Babe Buchinsky.
ROCK ON. I WAS HEARING IT WAS GOING TO BE KINDA LIKE GUNS OF NAVARONE MEETS DIRTY DOZEN...
The story line isn't anything like any of those, not much. It's a bunch of guys on a mission, but not like a handpicked... a bunch of guys thrown into this situation and having to deal with it.
SO MORE LIKE ASSAULT ON PRECINCT 13, THEN.
No, no. No, like the Dirty Dozen. They're on their way to be executed, all right and they get this reprieve kind of situation. Stuff like that. Not your normal hero types that are thrown into a big deal in World War II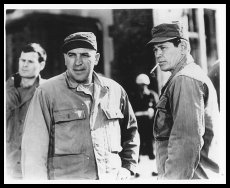 WHAT'S YOUR FAVORITE DIRTY JOKE?
Ah...
AND YOU CAN'T DO YOUR PISSING ON THE BARTENDER, DESPERADO JOKE.
OK, yeah. I'll tell you my favorite dirty joke of the moment. A black guy walks into a Cadillac dealership. He's looking around, looking at the cars and the salesman comes up to him and goes, "So, Sir. Thinkin' about buying a Cadillac?" He goes, "No. I goin¹ to buy a Cadillac. I'm thinkin' about pussy."
THERE ARE A WHOLE BUNCH MORE RUMORED PROJECTS THAT I'D LIKE TO RUN BUY YOU.
Uh-huh.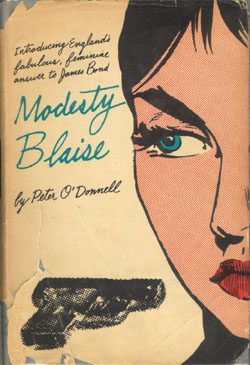 MODESTY BLAISE CAME UP.
Yeah, I'm really not doing anything other than the World War II movie and I'm writing another script that I'm going to do. I am doing a movie that I'm writing with Uma Thurman in the lead. I actually started writing it 7 years ago and I'm finishing writing now. It's a character that me and Uma came up with together.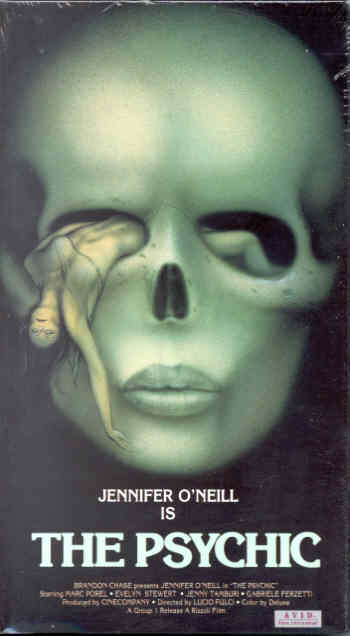 WHAT ABOUT THE POTENTIAL REMAKE OF THE PSYCHIC WITH BRIDGETT FONDA?
If I do it, I'll do it with her, but I don¹t even know if I'll do it, but it's a movie I keep thinking about remaking. I keep working it in my head. In fact, it was really nice the other night when I showed The Psychic here, it was the first time in a long time I was able to let go of my remake for a second, you know. I kind of have a tendency to start remaking it in my mind as I'm watching it. It was really great to just watch the movie with the audience. It was just really, really terrific. I got over myself for a second and just watched the movie, so it was really terrific.
I showed it to Bridgett and said, "I've been thinking about remaking this movie for about 3 years now." We screening it and she was all, "Oh, my God! It was great! I loved it!" It was cool. She called me like the next day and was all, "Aw, Quentin! You¹re driving me fucking crazy! I'm walking around thinking about that character and how I would want to do this or that and everything. I know you won't do it for 5 years, if you'll do it at all, but I'm already thinking about it."
It may happen, it may not. It's a project in the murky future. I don't even own the rights to that stuff. It's like, if it's meant to happen, it'll happen, kind of thing. It's one of those things where it's like if somebody buys the rights to make, I won't make it. They can totally fuck it up. If it's meant to happen, it'll happen.
BEFORE I GO, I GOT TO GET AT LEAST ONE FROM DUSK TILL DAWN QUESTION IN. YOU'VE HAD YOUR SCRIPTS DONE BY OTHER PEOPLE. SOME YOU APPROVE OF AND SOME YOU DON'T. HOW WAS IT BEING ON SET, WORKING ON THE PROJECT AND IT'S YOUR SCRIPT EVEN, BUT SEEING SOMEONE ELSE DIRECT IT?
Oh, no, it was great. It was terrific because I had complete faith that Robert had the material and I wanted to see Robert take it and turn it into a Robert Rodriguez movie. I wanted to see that. I think that would be the best thing for that movie, all right. I even thought he had a pizazz for the project I didn't have, all right. It was like a writing for hire that I've always loved, but I knew Robert could take it and make it his own.
The thing about it is, it reminded me of like back when I used to collaborate with Roger, when we were both working at Video Archives and everything, it kind of filled that void. Robert's like really confident about himself. He has no problems about his own ego, so he doesn't have to worry about me, so it was just so much fun. What was actually interesting was I just wanted to be Richie, I didn't want to be this or that or the other or be the Godfather on the film or anything like that. I just wanted to play that guy. I just wanted to be the guy during the day and not be asked to break character and everything. That's kind of what I did.
But every once in a while, it was always kinda cool, because they would be trying to figure something out, about what's, like, the emotional core of the scene. I tried not to say anything. It was actually kind of easy to just be quiet and let them work it out. If ever I felt them going away different from what I thought it should be, it's one of those things where you know what? If they wanna go that way and it¹s a choice that Robert made or George made during the course of playing the scene, it's all good. That's fine. But know you're doing it.
So, what I would do was every once in a great while, I'd go over to Robert and I go, "Robert, I'm not saying this is how we have to do it, but if you're interested in what I was thinking the day I wrote this scene..." He would go, "Yes! What were you thinking?" Sometimes we liked what we¹d come up with on the set that day or it was like, "No, that's the way." The writer's not there. Sometimes you have to interpret his material and you just can't think of a better way to do it where if he was there he could tell you, "Well, what I was thinking in the day..." "Oh! OK! All of a sudden it¹s so clear." Usually it¹s just 2 little words that you have to say, "Where I was coming from..." 'Wow, now it makes sense.'"
There's a whole weird aspect about a director interpreting somebody else's work that very kinda unfathomable, especially if the work has anything to it! You know what I mean? The guy could just be completely wrong about what the emphasis in the scene should be. I mean, the writer could be wrong, but he's not wrong by mistake, he's wrong because he was wrong, it's not out of inattention.
THERE YOU GO, CONSTANT READERS! HOPE YOU LIKED IT. IF YOU WANT TO DO AN INTERVIEW WITH THE CRUSTY SEAMAN OR JUST WANNA SHOOT THE SHIT, DROP ME A LINE. TILL NEXT TIME, SQUIRTS, FAREWELL AND ADIEU.
-Quint