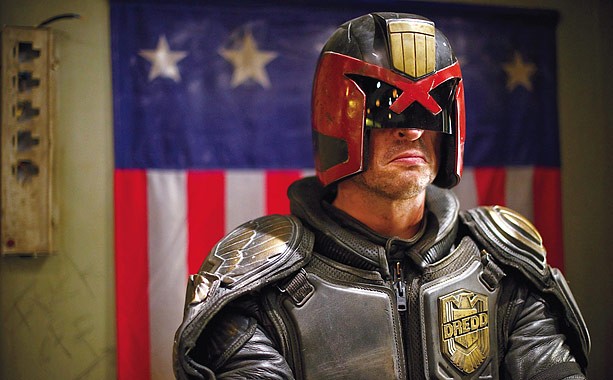 We've known since June that Jason Momoa would be Aquaman in this upcoming slew of DCU flicks, and that he'd be getting his own solo feature film in 2018. Well, the comic-book-movie-savvy folks at Latino Review have proposed a potential villain and director for the character's debut film (not including the infamous James Cameron-Vincent Chase record-breaker).
Karl Urban, known for his terrific turns as "Bones" McCoy and Judge Dredd, is said to be wanted for an "unspecified supporting role, possibly the villain." LR purports that WB "is waiting patiently" for Urban to wrap up his work on the forthcoming STAR TREK 3, so I'd imagine it's a fairly significant role Urban's up for if they are dead set on landing him for the part. Probably a plum one too, even if he's not the big bad.
As for the director, they apparently were looking at MUD's Jeff Nichols before leaning towards the decidedly more appropriate choice of 300: RISE OF THE EMPIRE helmer Noam Murro. Aside from having some balletic, large-scaled action scenes, there's also a good amount of aquatic footage in the film, with the camera seamlessly weaving in and out of the water to great effect. He also knows how to glorify big, muscly, bearded men covered in water/sweat, so Momoa would be in good hands.
Now, we got 3-and-a-half years before this rolls out, so even if there's veracity to these rumors, things are very early in the process and absolutely nothing (save, I suppose, Momoa's casting) is set in Play-Doh, let alone stone. I bet we'll hear a ton of names for prospective directors and villains before anything is made official. Still, I think Murro would be a good, somewhat unconventional choice that would bring some grit to the widely-mocked DC character, and I've come to appreciate any and all Karl Urban appearances in anything.
Would Noam Murro be a good choice to bring AQUAMAN to the big screen? If not, then whom?
AQUAMAN butterfly stokes into action on July 27th, 2018.