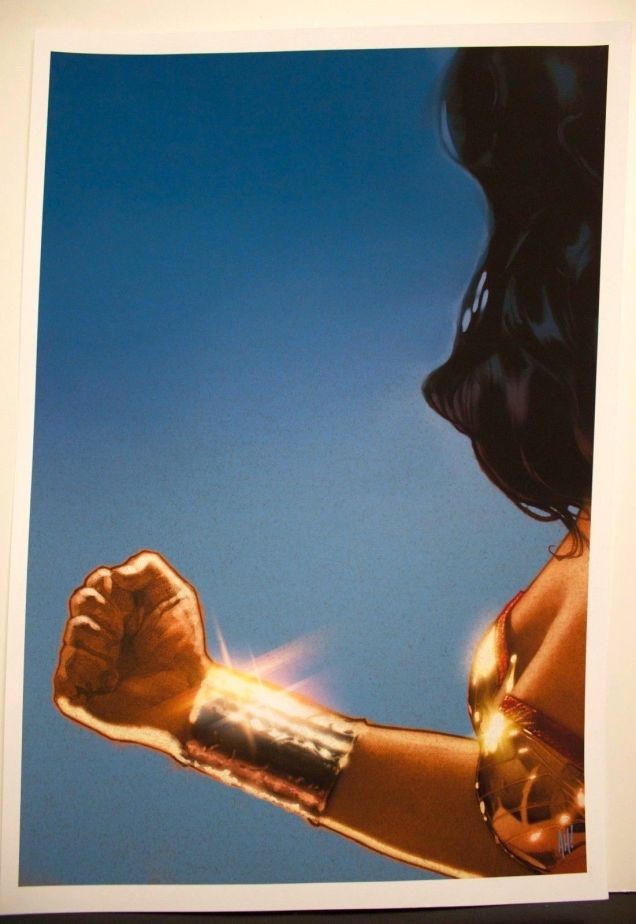 You may remember that long before Gal Gadot was hired to play WONDER WOMAN, and even before Adrienne Palicki donned the bulletproof cufflinks for the failed David E. Kelley pilot, Joss Whedon came and went as the writer/director of a solo WW film just before George Miller's JUSTICE LEAGUE started gaining momentum. Obviously, it never happened, but Joss was attached for about two years, so a good amount of work had already brewed on his take on Diana Prince and her alter-ego.
One of the things that apparently came out of that brewing period was this art by Adam Hughes (take a look at more of his art here). It and the original pencil sketch are currently available on Ebay, but make sure you got a bankroll if you're interested in buying: the bidding is currently at $1,275 (plus 16.90 for shipping).
I mean, it's basically just an outstretched arm and some gold with a bit of wavy black hair, but it's such a cool, iconic, and recognizable image that I'm sorta bummed WB wasn't able to reappropriate it for their 2017 WW flick. It took them a long time to pull the trigger on having WONDER WOMAN head up her own flick, but I think this image would've gone a long way in creating brand awareness for the character (as well as capitalizing on fanboy nostalgia) the same way that BATMAN logo did when it was apparently omnipresent in '89.
Does this image make you lament the fact that Joss's WONDER WOMAN never got off the ground, or does the idea of a Michelle MacLaren-directed, Gal Gadot-starring WW wash that taste right out of your mouth?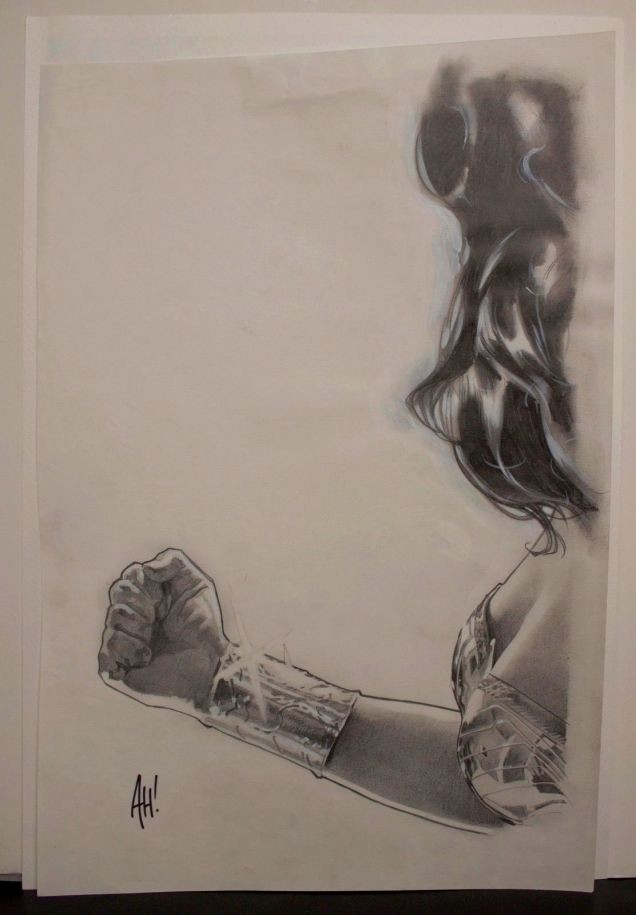 WONDER WOMAN invisible jets into action on June 23rd, 2017.