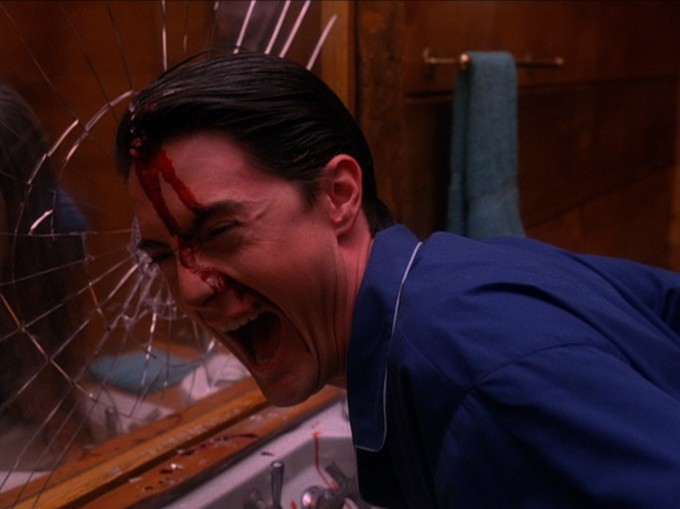 "Twin Peaks" was a series with a lot of moving parts, but surely one of the most beguiling was the enthusiasm Kyle McLachlan brought to the role of FBI special agent Dale Cooper.
Showtime just confirmed that McLachlan is returning to the role for the 9-hour series directed by David Lynch from teleplays by original series masterminds Lynch and Mark Frost. As the hauting "Peaks" theme played, the actor made a surprise appearance, emerging with a cup of coffee at a Showtime event for the Television Critics Association gathering in Los Angeles.
Of course the last time we saw Cooper (outside the big-screen prequel "Twin Peaks: Fire Walk With Me") he was trapped in a woodsy supernatural realm called The Black Lodge, leaving his evil doppleganger to damage hotel mirrors.
The new series, arriving on Showtime next year, will be set nearly a quarter century after ABC's final episode.
There's still no word as to which, if any, other cast members from the original 1990-1991 series will return for the sequel series.
The top of my wish list? All the FBI fellows we met in the series and the movie, particularly the ones played by Lynch, Kyle MacLachlan, David Bowie, Kiefer Sutherland, Chris Isaac, and Miguel Ferrer.
When ABC abruptly cancelled "Peaks" in 1991, it left a host of questions, few of which were answered by Lynch's 1992 big-screen prequel.
For those unfamiliar, "Peaks" told the tale of a coffee-loving FBI man dispatched to rural Washington State to solve the murder of a beautiful and popular high-school student. It turned out there are supernatural aspects to the case.
Frost will publish a book later this year -- before the new series hits Showtime -- teasing what became of the series' characters between 1991 and 2016.