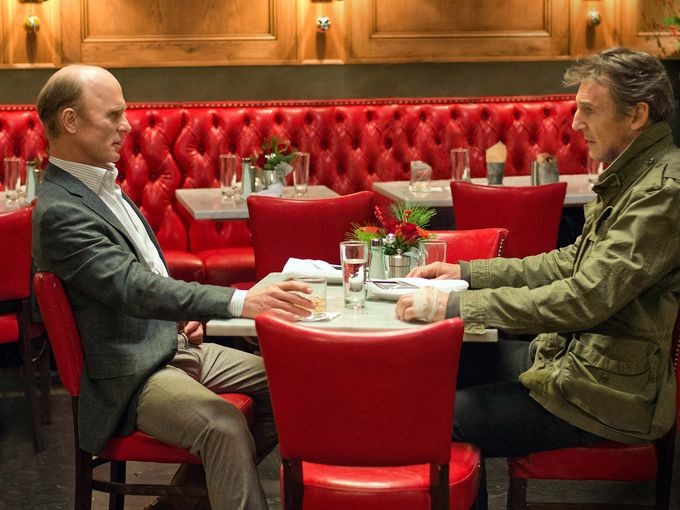 Just in time for the premiere of Liam Neeson's apparently lackluster TAKEN 3, we have a trailer for another of the actor's collaborations with UNKNOWN/NON-STOP director Jaume Collet-Serra. This one pits Neeson and son Joel Kinnaman against Ed Harris, who's channeling his STATE OF GRACE character as the head of a New York City Irish mob. Liam kills Harris' son to save his own, and the father-son pair are forced to try and make it all the way back to Coney…I mean, keep from getting killed until the morning (for reasons that aren't made clear).
These Neeson/Collet-Serra potboilers aren't SCHINDLER'S LIST (or even DARKMAN), but they're significantly more fun than the Olivier Megaton-directed TAKEN 2 (and, it would seem, TAKEN 3), and this looks like it could be the best of the bunch. I'm digging the New York City locations, the self-contained "just gotta survive the night" setup, and the cool supporting cast, which also includes Vincent D'onofrio, Bruce McGill, and an oddly clean-shaven (and surprisingly badass-looking) Common.
I know many of us are writing off Neeson's particular set of check-cashing skills, but this trailer has made me open to the idea that this might actually be worth 90-120 minutes of my time. What about you?
Also, be sure to check out the most recent Screen Junkies Honest Trailers for their hilarious (and, as always, somewhat accurate) take on the TAKENs:
RUN ALL NIGHT, or at least as long as it takes you to get to your local multiplex, on April 17th.