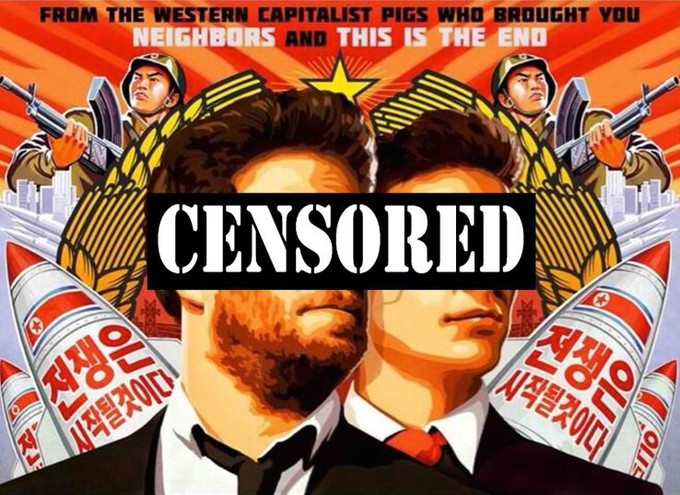 UPDATE #2: Sony has now confirmed the "limited theatrical release" of The Interview on Christmas day, but makes no mention of a day and date VOD release that was rumored. I've heard from solid sources that the rumor of this only being a single day release is BS, that it'll have a full theatrical run at the indie theaters willing to play it. If I were a betting man, I'd say that once the big 5 theater chains that pussed out so spectacularly see that no violence happens at the Alamos and the Atlanta theater they'll start lining up to show how brave they are and how much they stand for America blah-blah-blah. No matter what, this is a big boon for whatever indie theaters can play The Interview as this movie has about the most focus I've seen on any single film in a long while. It's kind of an event to go see it, a patriotic duty, even. Original story and update below.
UPDATE #1: Indiewire is reporting that the film will screen at the Alamo Drafthouse locations and the Plaza Atlanta as well as a VOD release on Christmas Day. They seem to be under the impression that it's a one day only screening theatrically, though. We'll keep an eye out for an official announcement with the exact details in the next step of this most curious cinema saga.
Original story below:
Ahoy, squirts! Quint here. The news just broke that Seth Rogen and Evan Goldberg's The Interview will actually be out Christmas Day. This didn't come from an official Sony announcement, but rather Alamo Drafthouse owner Tim League's Twitter. See:
Breaking news: Sony has authorized screenings of THE INTERVIEW on Christmas Day. We are making shows available within the hour. #Victory

— Tim League (@timalamo) December 23, 2014
No word yet on if this is a wide release via all big chains that previously backed out or if it'll be a more limited release through the brave indie theaters that don't answer to random anonymous threats from North Korea.
I do know that Drafthouse is currently adding showtimes to their schedules at most if not all of their locations. Keep your eye on Drafthouse.com if you have one in your area. We'll update this story as we hear more, but it's for sure good news either way. The Interview is really fun and funny and wrong and it's the kinda fun, funny and wrong that greatly benefits from seeing with a loud, laughing crowd.
-Eric Vespe
"Quint"
quint@aintitcool.com
Follow Me On Twitter