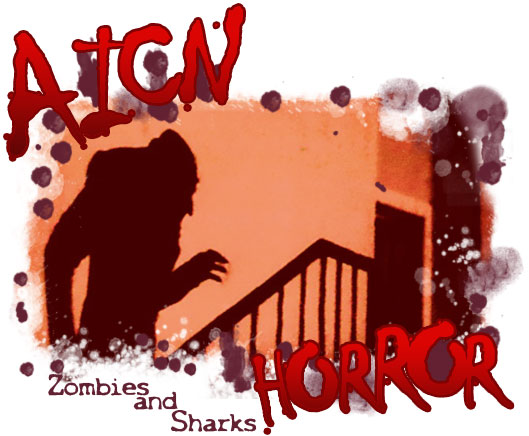 Logo by Kristian Horn
What the &#$% is ZOMBIES & SHARKS?
---
Greetings, all. Ambush Bug here with another AICN HORROR: ZOMBIES & SHARKS column. Here are a few more films to take notice of from the horror genre! On with the horror reviews!
Today on AICN HORROR

(Click title to go directly to the feature)
The Boo Tube: THE TWILIGHT ZONE Season 3, Episodes 32-37 (1962)
Retro-review: THE VAULT OF HORROR (1973)
Retro-review: HALLOWEEN 6: THE CURSE OF MICHAEL MYERS vs. HALLOWEEN 666: THE ORIGIN OF MICHAEL MYERS (1995)
THE KILLER 4 PACK DVD Collection: HELLWEEK: GRINDHOUSE EDITION (2010)
DAY OF THE MUMMY (2014)
KINGDOM COME (2014)
TAETER CITY (2012)
DON'T BLINK (2014)
DEAD SNOW 2: RED VS DEAD (2014)
THE BABADOOK (2014)
Advance Review: SHEEP SKIN (2013)
Advance Review: EL INCIDENTE (2014)
And finally…JUDITH: THE NIGHT

SHE

STAYED HOME!
---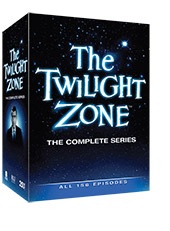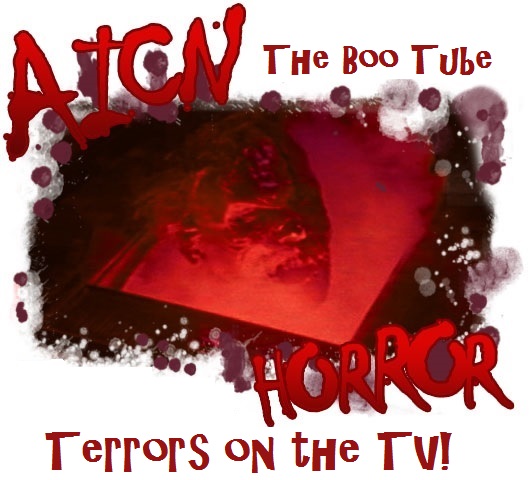 Collecting the entire series in a new Collector's Box Set on DVD from Image Entertainment!
THE TWILIGHT ZONE SEASON THREE (1962)
Episodes 32-37
Retro-reviewed by Ambush Bug
With the release of the Complete Season Collector's Box Set of TWILIGHT ZONE on DVD from Image Entertainment a few months ago, I've been celebrating by checking out each episode and tossing out my two cents on a semi-weekly basis.
Image Entertainment is also releasing THE TWILIGHT ZONE: 5th DIMENSION Limited Edition Box Set, which includes the complete TZ episodes from the first series (1959-1964) and the 80s series (1985-1989)! You can pick up the collection by clicking this link here!
Now, let's finish up THE TWILIGHT ZONE Season Three…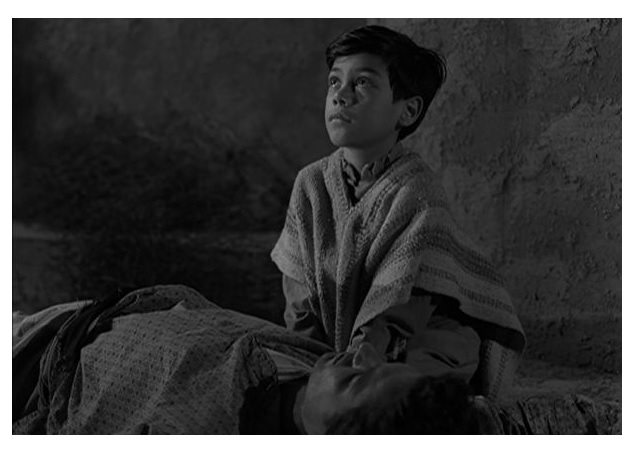 Episode 3.32: The Gift
Directed by Allen H. Miner
Written by Rod Serling
Starring Geoffrey Horne, Edmund Vargas, Nico Minardos, Cliff Osmond
A touching tale is almost ruined by a not so subtle and in your face ending as a small Mexican town is overcome with suspicion and superstition when an alien craft lands outside of the village and the lone survivor makes his way into town. Only a small boy sees the alien's altruistic nature while everyone else seems to just want to blow it to bits. The "cure for cancer" ending and the alien's speech explaining what has already been established in the story are unfortunately the clunky aspects of Serling's writing when he gets a soapbox to stand on. Still there are some fun performances and a different twist on the alien landing motif that go on despite the preachy ending.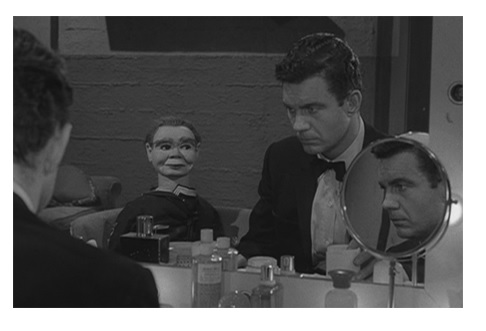 Episode 3.33: The Dummy
Directed by Abner Biberman
Written by Rod Serling, based on a story by Leon Polk
Starring Cliff Robertson, Frank Sutton
One of the most memorable and creepiest episodes about a ventriloquist (Cliff Robertson) who is either off his nut or may really be haunted by his own dummy. While the ending answers that question, it is the subtle way this episode makes the dummy come alive through shadow and subtle movements that make this one so note-worthy. As is, the tale definitely packs a punch and I'm sure this episode did for dummies what STEPHEN KING'S IT did for clowns for many viewers.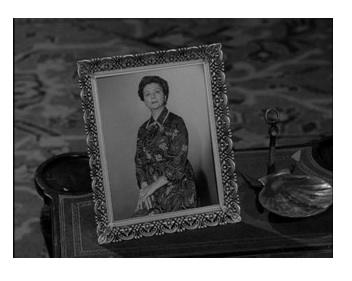 Episode 3.34: Young Man's Fancy
Directed by John Brahm
Written by Richard Matheson
Starring Alex Nicol, Phyllis Thaxter, Wallace Rooney, Helen Brown, Rickey Kelman
Richard Matheson writes a nuanced and powerful tale about the tug of war man often experiences between his mother and his lover as a dead mother haunts a newlywed couple. The wife wants to change the childhood home she is moving into or better yet, sell the home and move away. But it's often hard to cut the cord, as exemplified by the husband's reaction. A much more sophisticated tale dealing with real life problems with a supernatural twist; that's what this episode and all good TZ episodes offer.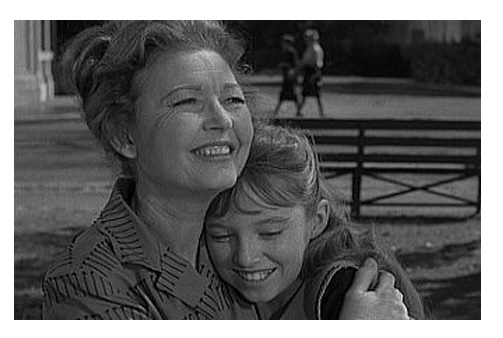 Episode 3.35: I Sing the Body Electric
Directed by James Sheldon and William Claxton
Written by Ray Bradbury
Starring David White, Josephine Hutchinson, Dana Dillaway, Veronica Cartwright, Charles Herbert, Vaughn Taylor
While a lot of this tale about an electric grandmother taking care of three rambunctious kids ranks high on the schmaltzy scale, I have to admit because of the strong performances by the cast, this one won me over. Bradbury uses some common twists here including the convincing salesman selling bizarre wares and the theme of leaving youth behind and moving on. The showroom where the kids pick out specific features they want in a caregiver is rather creepy, though it's made to look pretty sweet. Still a showcase filled with types of ears can't help but he creepy.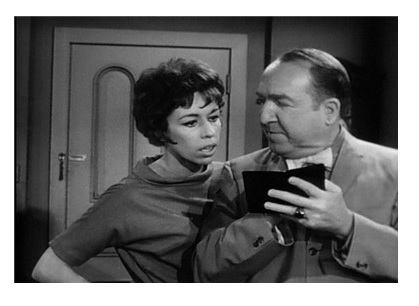 Episode 3.36: Cavender Is Coming
Directed by Christian Nyby
Written by Rod Serling
Starring Carol Burnett, Jesse White, Howard Smith
This one is more of a showcase of Carol Burnett and Jesse White's comic talent than anything else. The story features a clumsy gal who is looked over by a bumbling guardian angel. Both end up helping each other than is likely to cause a laugh or two due to the extreme lengths Burnett goes in terms of physical comedy. One of the greats, Burnett really shows why she became a star here in this heartwarming role.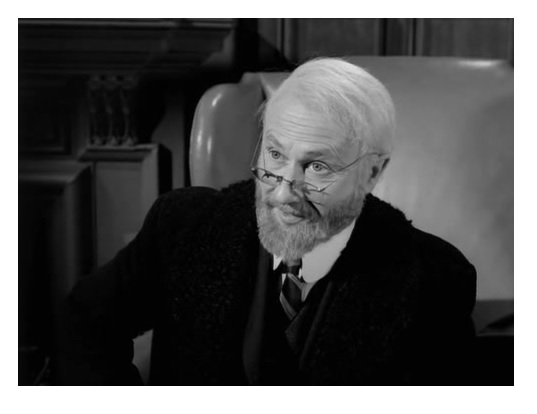 Episode 3.37: Changing of the Guard
Directed by Robert Ellis Miller
Written by Rod Serling
Starring Donald Pleasence, Phillippa Bevans, Tom Lowell, Russell Horton, Buddy Hart
The third season ends perfectly with a Christmas tale that rivals that of Scrooge itself about an aging teacher, forced into retirement and contemplating suicide upon thinking that all of his teaching mattered not to his students. Donald Pleasance seems to be channeling John Housmann in this fantastically written episode filled with heart with a somewhat hard edge. Sure it's a Christmas tale involving suicide, but beyond that it is an affirmation to anyone who has ever put pen or paintbrush to paper and wondered if it was going to be seen by anyone at all, much less appreciated. One always wants to be remembered after one is gone and this episode deals with the fear of that not happening. Pleasance still seems to shout every line as if it were his last, but the desperation in his voice only makes me sad that we won't get any more performances by this amazing character actor who would go down in history as Loomis from the HALLOWEEN franchise, but offered so much more in every role he played. If this episode doesn't fill your soul with joy, you may not have one.
Previous TWILIGHT ZONE Episode Reviews!
Season 1: Episodes 1.1-1.6, 1.7-1.12, 1.13-1.18, 1.19-1.24, 1.25-1.30, 1.31-1.36
Season 2: Episodes 2.1-2.6, 2.7-2.12, 2.13-2.18, 2.19-2.24, 2.25-2.29
Season 3: Episodes 3.1-3.6, 3.7-3.12, 3.13-3.18, 3.19-3.24, 3.25-3.31
Season 4: Episodes 4.1-4.5, 4.5-4.8, 4.9-4.13, 4.14-4.18
Season 5: Episodes 5.1-5.7, 5.8-5.14, 5.15-5.21, 5.22-5.28, 5.29-5.36
Season 1 (1985): Episodes 1.1-1.3


Starting next week, I begin to cover TWILIGHT ZONE (1985)!
---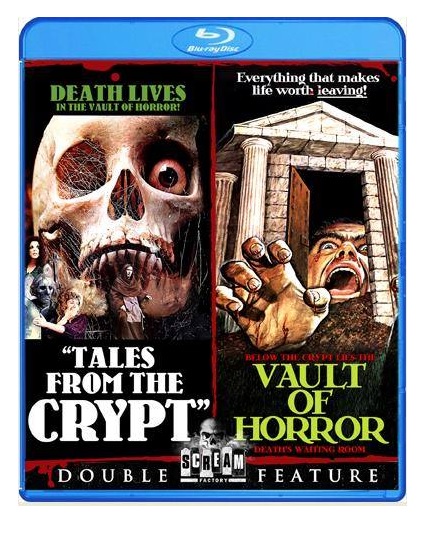 Retro-review: New this week as TALES FROM THE CRYPT/VAULT OF HORROR Double Feature BluRay from The Shout Factory!
THE VAULT OF HORROR (1973)
aka FURTHER TALES FROM THE CRYPT, TALES FROM THE CRYPT PART 2
Directed by Roy Ward Baker
Written by Milton Subotsky (screenplay), based on the stories written by Al Feldstein & William M. Gaines
Starring: In "Midnight Mess" - Daniel Massey, Anna Massey, Mike Pratt, Erik Chitty, Jerold Wells, in "The Neat Job" - Terry-Thomas, Glynis Johns, Marianne Stone, John Forbes-Robertson, in "This Trick'll Kill You" - Curd Jürgens, Dawn Addams, Jasmina Hilton, Ishaq Bux, in "Bargain in Death" - Michael Craig, Edward Judd, Arthur Mullard, Geoffrey Davies, in "Drawn & Quartered" - Tom Baker, Denholm Elliott, Terence Alexander, John Witty, Tony Hazel, Maurice Kaufmann, Sylvia Marriott
Retro-reviewed by Ambush Bug
Continuing my coverage of the Shout Factory's Double Feature BluRay release of TALES FROM THE CRYPT and it's semi-sequel THE VAULT OF HORROR, I'm cracking open the Vault this week. Both films took old EC comics and adapted them with talented English actors and both really feel like truncated marathons of the old NIGHT GALLERY series (while only a few of the installments really being up to par with TWILIGTH ZONES). But all of them have an old school schlocky flair that is undeniable.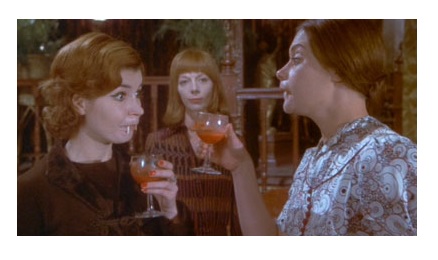 Story one, entitled "Midnight Mess" most likely worked better in comic book form as the ending, while foreshadowed, feels rather clunky and awkward—especially since nothing in the story really points in a supernatural direction until the end. Still, this one sets the tone for the twist endings that are to come at the end of each installment for the rest of the film.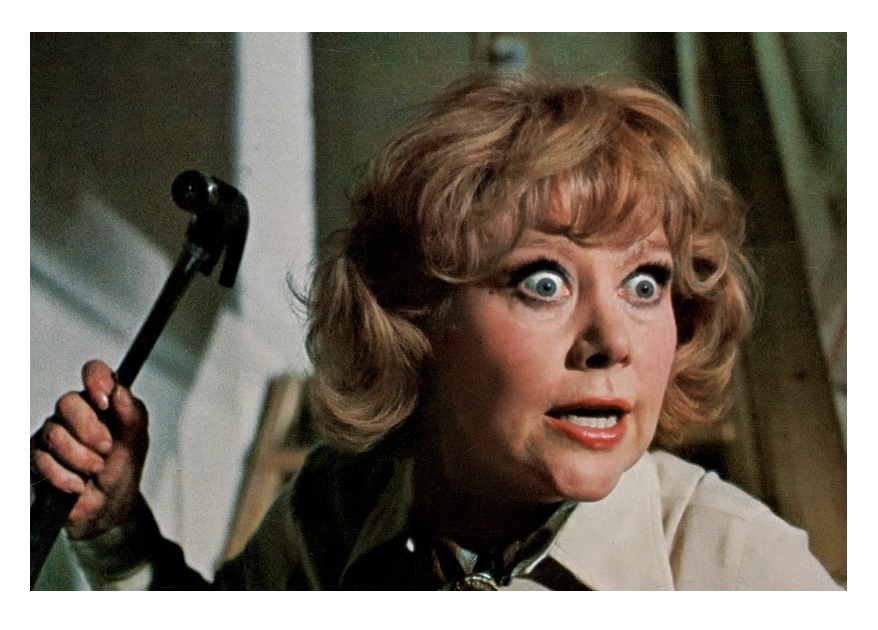 Next up is "The Neat Job" and while it's not the scariest, it is the most devilishly hilarious of the group, mainly due to the wonderful comic performances of Terry-Thomas & Glynis Johns who have impeccable comic timing. I especially like the symphony of errors Jones takes part in as she tries to tidy up for her neat freak husband. The ending is shocking and brutal, but still carries with it a dark giggle track.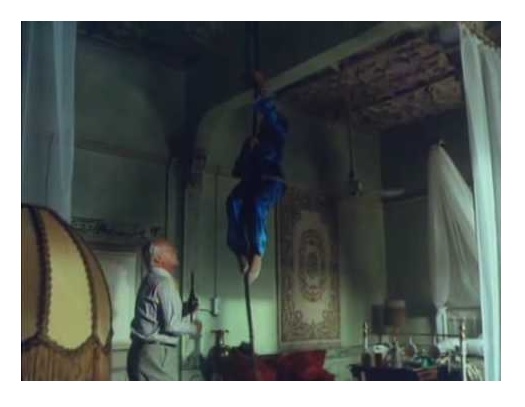 "This Trick'll Kill You" is a rather by the numbers little tale of one magician trying to steal the trick of another. While setting it in India adds a rather exotic flavor, I found this trick to be rather blah. And while it is fun to see a magic gone wrong bit, this one felt rather bland in both delivery and content. Still, the basket trick and serpent rope does add a little flavor to this bland tale.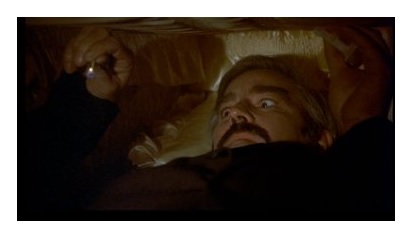 Fourth at bat is "Bargain in Death," a short that would feel right at home with the best of Edgar Allan Poe's buried alive tales; this one involving an insurance claim and a fake death. While it lacks the supernatural touch of some of the other installments, this one ends and begins in a tomb and makes use of some very claustrophobic atmosphere even if the tale is not the most original.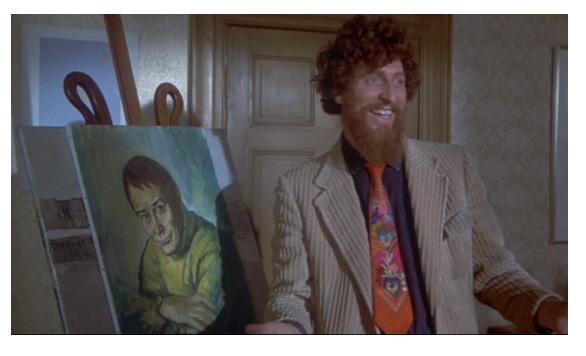 The last segment, featuring DR WHO's Tom Baker playing a Bob Ross bent on revenge-type, features a painter who's proficiency with the paintbrush turns out to spell doom for whomever he paints. This one also features INDIANA JONES' Marcus Brody aka Denholm Elliott as one of the painters intended victims. I loved the varied ways these characters met their maker almost as much as seeing Baker play the bad guy so diabolically well.
Like TALES FROM THE CRYPT, THE VAULT OF HORROR opens with a quintet of characters taking an unplanned trip into the unknown. Unlike that film, it's not as obvious until the end that they died. Instead, these five gentlemen ride an elevator to a subbasement they did not know existed and sit and gab about their worst nightmares over drinks. As with TFOC, these wraparound bits are the most uninteresting part of the film. Being a long time horror comic book lover, it's cool that THE VAULT OF HORROR and TALES FROM THE CRYPT offer some nostalgic scares though they may not be as good as those old EC comics. Still, they do a fine job of adapting them.
---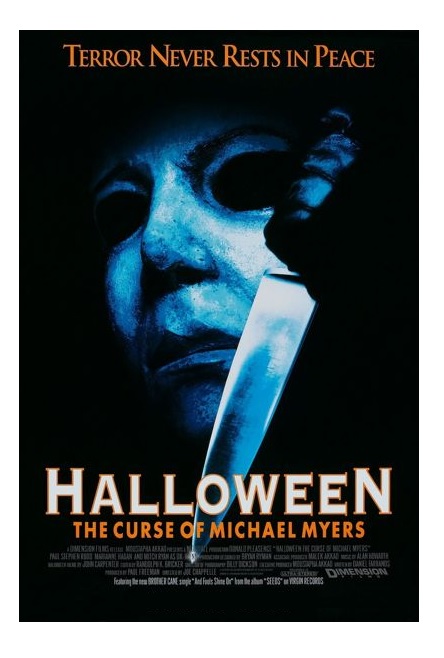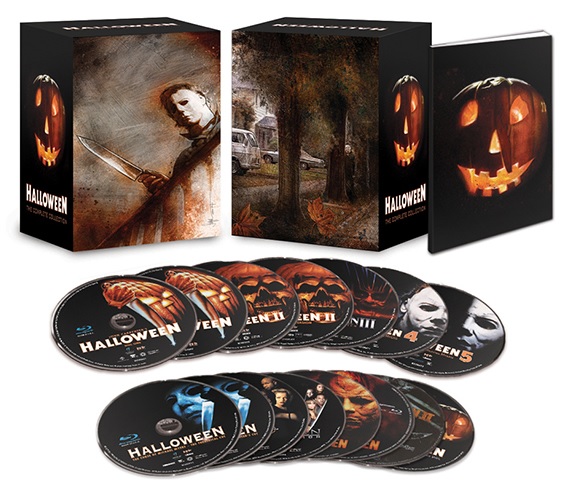 Retro-review: New this week as a BluRay Box Set: HALLOWEEN: THE COMPLETE COLLECTION available from Scream Factory and Anchor Bay Entertainment!
HALLOWEEN 6: THE CURSE OF MICHAEL MYERS (theatrical cut, 1995) vs. HALLOWEEN 666 (producer's cut, 1995)
aka HALLOWEEN 666, HALLOWEEN: THE ORIGIN OF MICHAEL MYERS, HALLOWEEN: MICHAEL'S BACK, HALL6WEEN
Directed by Joe Chappelle
Written by Daniel Farrands
Starring Paul Rudd, Donald Pleasence, Marianne Hagan, Mitchell Ryan, Kim Darby, Bradford English, Keith Bogart, Mariah O'Brien, Leo Geter, J.C. Brandy, Devin Gardner, Susan Swift, Janice Knickrehm, Alan Echeverria, and George P. Wilbur as Michael Myers!
Retro-reviewed by Ambush Bug
I'm fascinated with the story of the sixth installment of the HALLOWEEN franchise. By 1995 Miramax and their sister company Dimension were beginning to make waves in the world of cinema and while the original HALLOWEEN was the epitome of the indie horror film done good, this seemed to be the point where everything really went wrong for the film series. At that point, Michael Myers was a commodity, not a masked serial killer and this film with its battles between writers, directors, and producers really did prove to be the one to finally take the Shape down.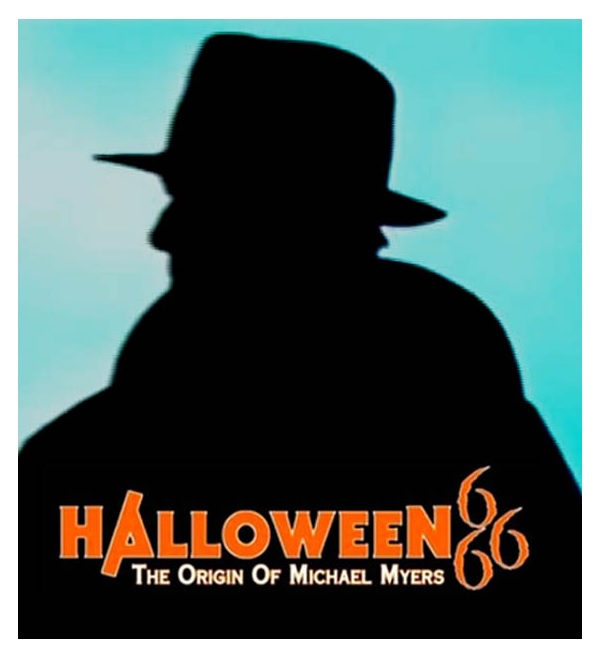 Personally, I loved every film up to six. The fifth installment, while problematic as it veered closer and closer towards the edge of the supernatural in a market where people just wanted to see a masked killer murder nameless kids, still had a lot going for it. But with the cliffhanger in the fifth film, it kind of cornered the sixth to be the one to answer all of the questions and most of the time, proven with films like HANNIBAL RISING, the STAR WARS prequels, and even WOLVERINE: ORIGINS, telling the backstory isn't always a good thing. Much of the mystique of Michael was that his acts were somewhat random and that he was a blank slate. Start adding meaning to that character and giving him a face and a motive and soon the power of the unknown starts to fade. People love a mystery, but rarely are people satisfied with the reveal because it's been built up too much. So even before one frame is seen, part six was set up to disappoint.
Still, the screenplay Daniel Farrands delivered straddled the real world and the supernatural pretty well and for me at least, I found the explanation as to why Michael does what he does, who is the man in black, and just what does that weird tattoo mean to be pretty satisfying. The problem is that it really feels like all parties involved were blind Indians trying to identify an elephant here, not really considering what others' takes or opinions were and really wanting to run the kitchen no matter how many cooks were present. This behind the scenes strife is evident in the final moments of the film which, in both versions, are choppy and feel rather rushed with a lot of exposition crammed in at the last minute once all realized that the credits roll was approaching.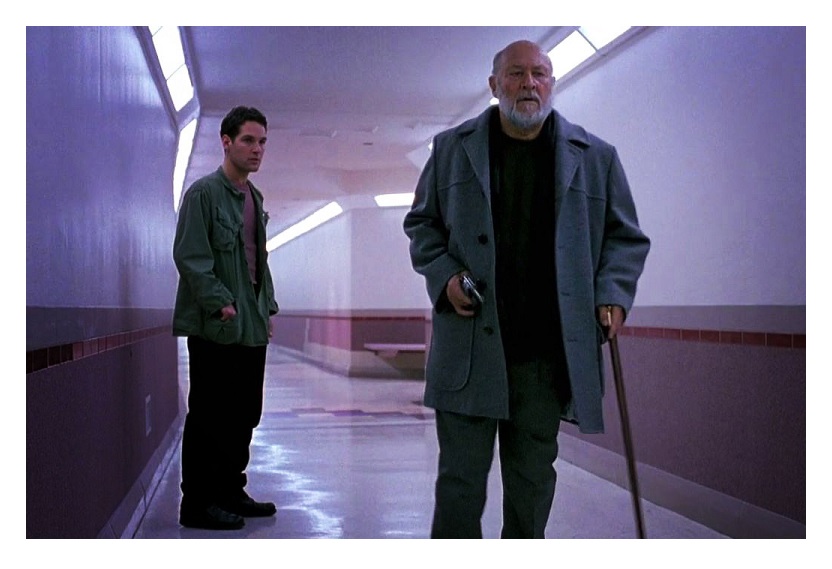 I saw the original theatrical cut of HALLOWEEN 6: THE CURSE OF MICHAEL MYERS in theaters and like many of you was pretty disappointed in the film for a number of reasons. The film is edited and chopped up as if ten serial killers took turns on it – most notably, the ending which I'll get into in a minute. But even not considering the ending (which is where the two versions of the film deviate the most), the film is filled with lame comedy bits, weird out of sequence kills, and plot holes, plot holes, plot holes. Michael flits all over the place as if he had his own Brundle pod, moving back and forth between the old Myers house (which cousins of Laurie Strode live in) and a fair being held by the town's kids to take back Halloween from the superstitious old timers of Haddonfield who banned the holiday all of those years ago. In one scene, Michael kills someone at the Strode homestead only to bolt over to the fest to kill a radio DJ (how Michael knew he was there, you've got me). The thing is, this inconsistency could have easily been remedied by having the radio DJ go to the old Myers house as he was planning to do and meet his maker there where Michael was camping out.
Other painful beats involve gratuitous gore scenes that make no sense (one guy's head explodes after being electrocuted for no reason) and idiotic comedy beats that instantly date the film such as a painful Beavis and Butthead reference. Add that to a horrible music score that drops the iconic piano and substitutes in obnoxious guitar riffs and an ending that suddenly gives a skinny Paul Rudd super strength enough to go toe to toe with Michael and jab him with a million syringes full of tranquilizer resulting in Michael bleeding green, and it's pretty evident that this film is more like a runaway train skidding off the tracks. The whole thing ends with Loomis refusing to leave with the rest and being killed off screen as Michael's mask and syringe fall to the ground.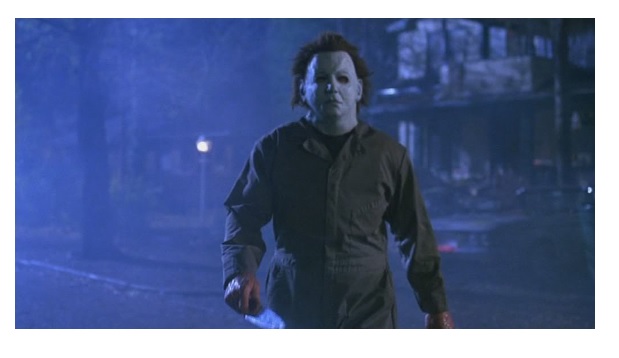 Just a rough way to end this one that felt as if it were slapped together the day before the film premiered in theaters after some Jolt cola, a few lines, and through a set of bleary eyes sick of the whole thing.
But there are some cool things going on with the story in both versions of the film. The man in black is actually a group of men in black; a druidic cult with ties to the original meaning of Halloween and the boogey man. Michael's killing sprees were given meaning, occurring when the constellation of the Thorn, an ancient druidic rune appears in the sky (coincidentally on Halloween) and his penchant to try to wipe out his family is sort of covered with a curse to keep the elder gods pleased and the cult alive and kicking. Given that druidism was referenced in the sequel as well as playing a heavy role in SEASON OF THE WITCH, this use of druidism kind of explained things rather nicely in a way that makes it all seem like it was planned to go this way from the get go. Daniel Farrands did a fantastic job piecing together all of the random factors and making it feel like it was one big epic slasher tale.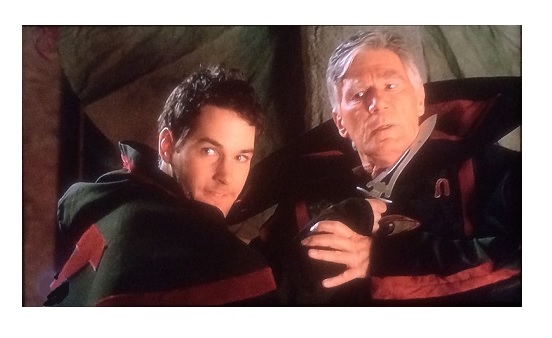 Still, there's a scene where Michael is kind enough to hand a guy a towel in the shower before he kills him…
The film unforgivably recasts Jamie with J.C. Brandy after refusing to give Danielle Harris $5000 to return to the role. The whole Jamie thing in this film really does get under my skin; not because Brandy did such a bad job with the role, but because ***SPOILER*** she is killed off so easily and so early in the film (staying alive a bit longer in the producer's cut). Also the insinuation in the theatrical cut and the out and out reveal in the producer's cut that Michael is the father of Jamie's baby doesn't really sit right with me. It takes the whole Freudian sexual killer idea to a whole icky level that I feel is best left in symbology rather than actual sexual acts ***END SPOILER***.
This was Paul Rudd's first ever role and the future Ant Man does a decent job here. His roles in ANCHORMAN and THE 40 YEAR OLD VIRGIN have made it hard for me to take the actor seriously when he tries to be, but Rudd is committed to this role and does a decent job of it. Still, I can't decide whether I love or hate Rudd's little psychopathic ticks he experiences when he first sees Michael in the hallway. In one way, it's an original way of showing that he is definitely unhinged. On the other hand, it is a little goofy.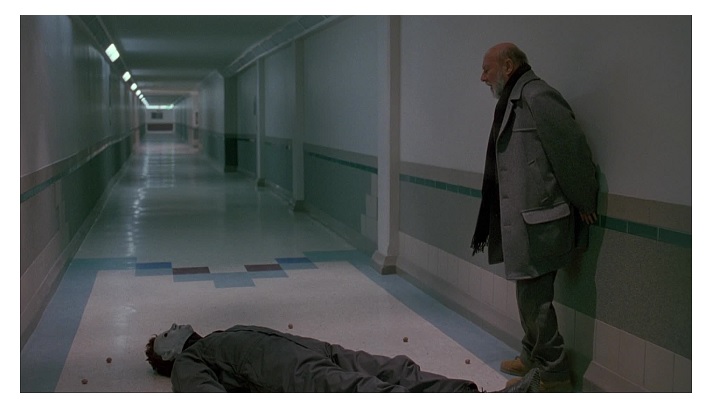 Embracing the druidism with a full on low hug, the producer's cut is much less bloody, but sports Carpenter's moody synth score and gets full on magical at the end of the film. ***SPOILER*** The fact that Rudd's Tommy Doyle character is able to capture Michael in a circle of runes and the tattoo of Thorn can be passed to Loomis in the end makes this installment pretty fantastical. But if you're going to go there, you might as well jump in headfirst, I guess ***END SPOILER***. This is it pretty choppy as well and feels like it is missing a scene or two, I actually prefer the much more creative and fulfilling climax of the producer's cut as it feels like it confirms all the mysticism that's been hinted at since the first installment.
This installment in the BluRay set not only sports both versions of the film, it also has an FX reel highlighting John Carl Beuchler's best work on the film and a piece made interviewing two parts of the warring producer factions behind this film discussing the producer's cut and the drama that occurred behind the scenes. Seems a lot of shady stuff occurred in this installment, but that's the price of going big. For my money, longtime fans of the series should seek out the producer's cut as I found it to be most satisfying. Still, it is the fork in the road for this HALLOWEEN series as the mysticism is nixed from here on out in the following installments. For many, this is where the series ends and after knowing what films are to come, I kind of wish it would have been.
Previous HALLOWEEN: THE COMPLETE COLLECTION Reviews!
HALLOWEEN (1979)
HALLOWEEN II (1981)
HALLOWEEN III: SEASON OF THE WITCH (1982)
HALLOWEEN 4: THE RETURN OF MICHAEL MYERS (1988)
HALLOWEEN 5: THE REVENGE OF MICHAEL MYERS (1989)
---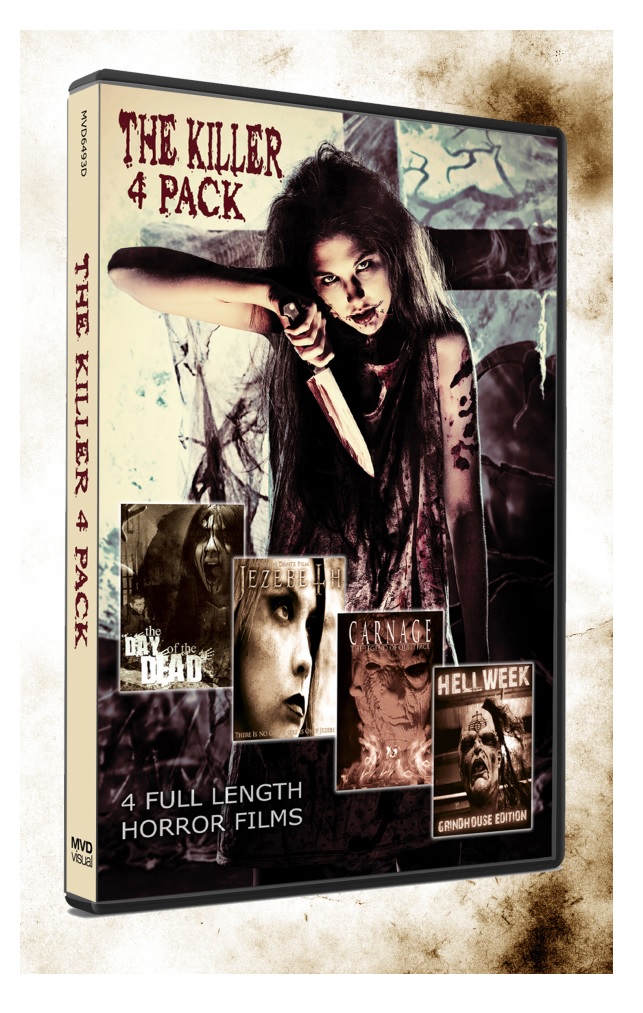 New collection of four films THE KILLER 4 PACK available this week from SGL Movie Store!
HELLWEEK: GRINDHOUSE EDITION (2010)
Directed by Eddie Lengyel
Written by Eddie Lengyel, April Needham
Starring Rob Jaeger, Karen Fox, Michael Reddy, Robyn Griggs, Steve Thomlin, Eric Matyjasic, Shane Clark, Michelene Pancoe, Breanne Racano, Rob Purcell, April Needham, Robert S. Miller, Michael Braddock, Greg Jackson, Don Kilrain
Find out more about this film on Myspace here!
Reviewed by Ambush Bug
For the last couple of weeks, I've been checking out four low budget films that can be found collected in one disk called THE KILLER 4 PACK from SGL Movie Store. The films lean more on the DIY side and while I wasn't really excited to crack this one open,
the first offering I checked out last week called EL DIA DE LOS MUERTOS proved to be much better than I had expected
, while the second film
JEZEBETH unfortunately was pretty hard to get through
. The third film
CARNAGE: THE LEGEND OF QUILTFACE
wasn't anything I'd recommend, but it was watchable. This week I finish the 4 pack and check out HELL WEEK: GRINDHOUSE EDITION.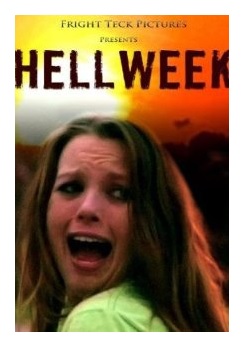 HELL WEEK not only describes a particular ghoulish week a group of college frat and sorority kids experience in a house of horrors filled with lunatics, it also represents the allotted amount of time it felt like as I sat through this film. Paced in a snail like manner, the film lingers on horribly scripted dialog which attempts to be funny only to be replaced by horribly scripted dialog that attempts to be scary or prolific—succeeding at none of these things. A good forty minutes of lame college tomfoolery and party antics occur before we even get to the locale that houses these crazies and most of you would have checked out of this film by then at the level of clichéd and downright uninspired events that occur. Me? I'm a glutton for punishment; watching films so you don't have to, so I sat through this until the end. And while I wish I wouldn't have, I feel as though a merit badge of fortitude through suckitude should be awarded to me.
When everyone does get to the warehouse the doubles for the crazy house a family of TEXAS CHAIN SAW wannabes inhabit, you want these kids to die violently. The thing is, these characters are such knock offs of the entire Leatherface family that it's hard to see past that. Add to the fact that those characters that don't look like members of the Sawyer bunch are direct rip-offs of THE HOUSE OF 1000 CORPSES (which in itself was way too derivative of TCM) and this unwatchable mess becomes all the more tough to sit through.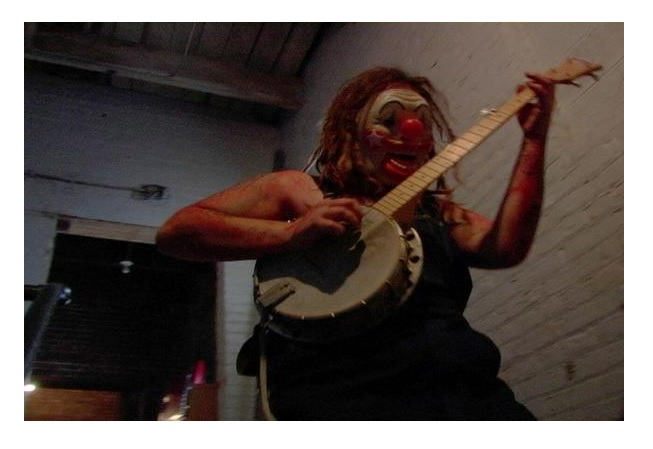 Any attempts at tension are shattered with horrible dialog. Any attempts at scaring the viewer shoots itself in the foot for being too choppy and poorly edited. Any attempts to make sense of this family, why they are crazy, why they exist, and why they want to slaughter these college kids is beyond my understanding of this film. What HELL WEEK offers is a time suck of about an hour forty minutes and a mild headache from the quick and flashy edits that occur through its runtime.
So one out of four of these flicks featured in this indie four pack is worth checking out. DIA DE LOS MUERTOS really has some charm, but you can skip the rest of the turds in this four pack of low budget fare.
---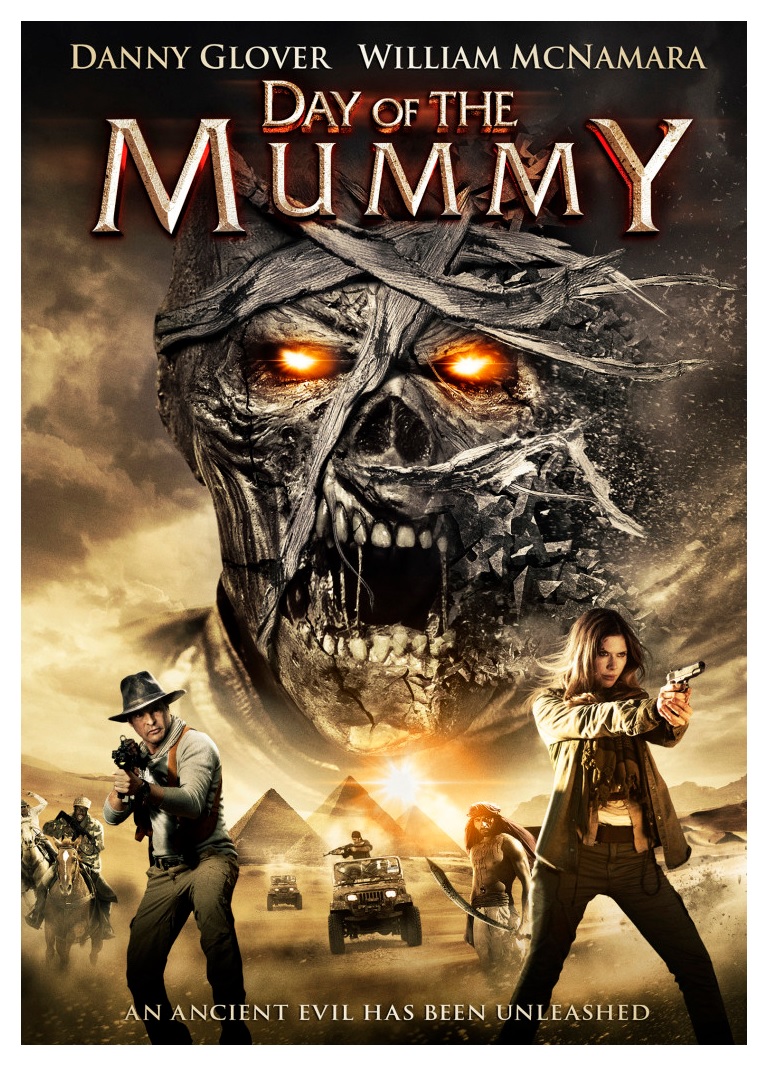 New this week on DVD and On Demand from RLJ/Image Entertainment
DAY OF THE MUMMY (2014)
Directed by Johnny Tabor
Written by Garry Charles
Starring Danny Glover, William McNamara, Nimi, Andrea Monier, Philip Marlatt, Anthony Fanelli, Michael Cortez, Natalie De Luna, Robin Steffen, Eric Young, and Brandon deSpain as Nefuru the Mummy!
Reviewed by Ambush Bug
Danny Glover may be too old for some shit, but he ain't above collecting a paycheck for this snoozer. Clunking out on DVD and straight to a ScyFy movie of the week spot is DAY OF THE MUMMY which features CHASERS' William McNamara as an expert in Egyptian hieroglyphics and Glover as a reclusive billionaire who sends him on a mission to find a mythical diamond buried in a lost tomb. This one has a very Indiana Jones-ey feel to it, minus the adventure and the budget and the wonder and the character and anything else good that Indy's movies had and this one doesn't.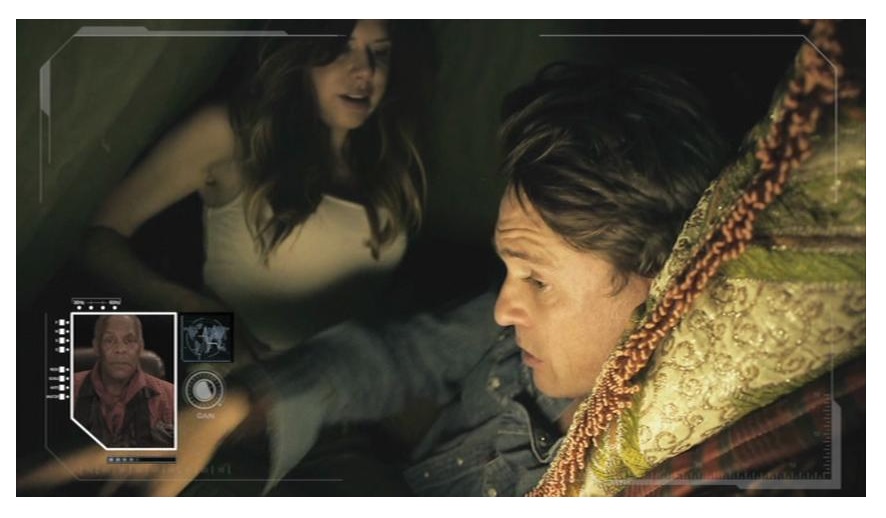 Told through the lens of some camera glasses McNamara dons in the first few minutes of the film, DAY OF THE MUMMY is basically a found footager where the footage isn't really there to find, but it still acts as a first person POV style film. Basically, you are riding on the glasses of whoever is holding the camera in this one the whole way through which makes for some opportunity for some mummies to get all up in the viewers face over and again.
Seeing this film through the lens of the camera, this allows both "name stars" in this film (McNamara and Glover) to really actually phone in their roles as McNamara is off screen the entire time (since he is wearing the glasses we are seeing through) and Glover only appears as a pop up box in the bottom corner of the screen like that annoying paperclip in Word sipping a brandy and looking concerned at the screen. This leaves the rest of the film focusing on mostly bad actors trying to act as if they are in peril as dirt clods, dust, and the occasional guy in a bad mummy suit flies at them in caves. I will attest that actress Andrea Monier is one of the few standouts who actually seems like a) she knows how to act and b) she actually gives a shit to be in this film.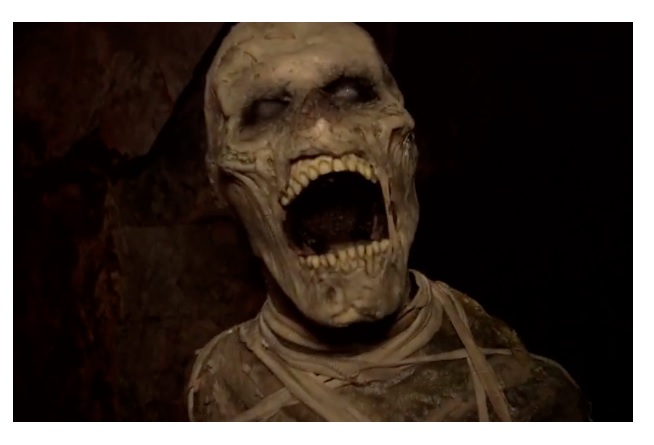 That said this is basically a bunch of people lost in a cave story. Effects are at an all time low here with a semi-cool mummy suit with an articulated jaw contrasting the foam-core looking hieroglyph slabs conveniently leaning against the cave walls just waiting to be discovered by our archeology crew. But what makes it more difficult to take seriously is that it really doesn't seem like the folks behind this film tried to make things scary or thrilling at all, cutting to black when whatever happens is outside of budgetary range or in one sequence, really not giving a shit that we can clearly see the guy in the mummy suit waiting in a space he believes is off camera, but turns out he is in clear view of the people who are supposed to be startled by him moments later. Just bad, MST3K stuff going on throughout this entire ordeal.
While I'm always game for a new take on the mummy subgenre, it seems to have been enmeshed with the Indiana Jones style action film ever since the Sommers MUMMY films. Here's hoping someone with some ingenuity and a little more creativity can come up with something new for mummy movies as nothing new or interesting is to be discovered in DAY OF THE MUMMY.
---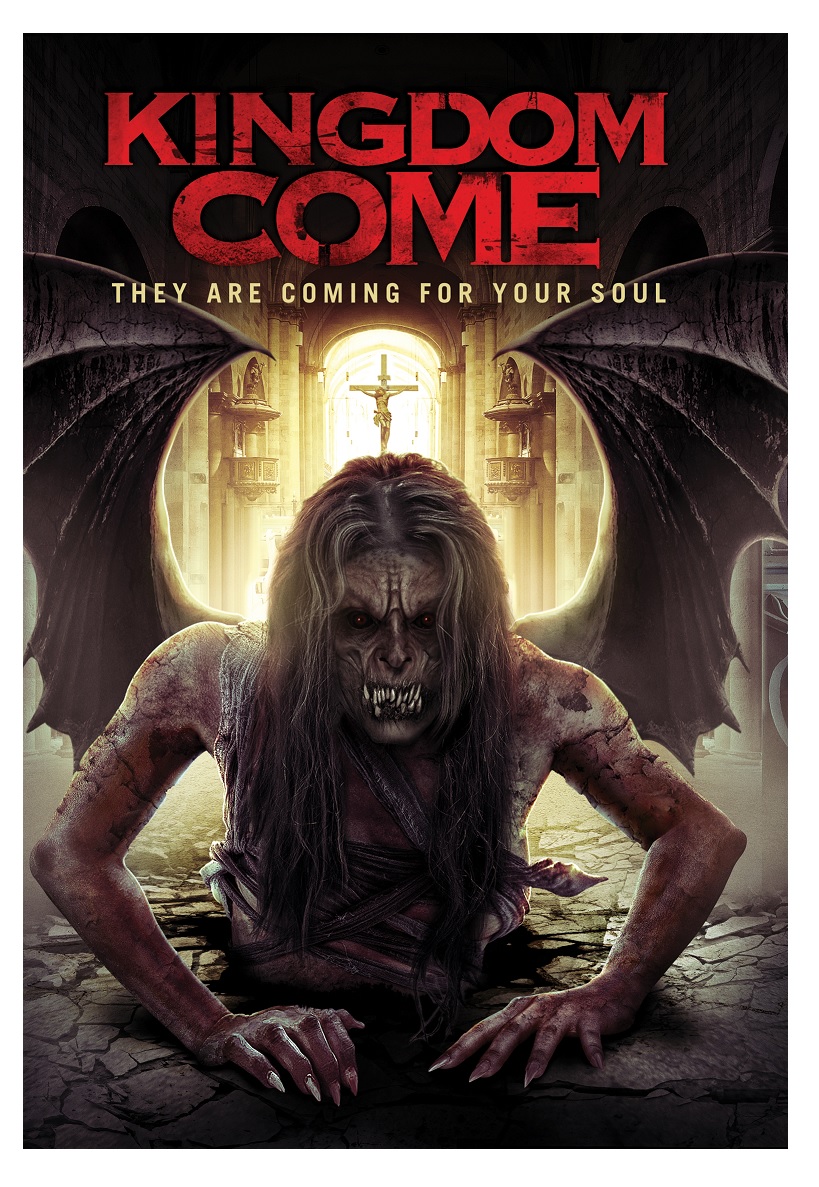 New this week on DVD, On Demand, and on iTunes here!
KINGDOM COME (2014)
Directed by Greg A. Sager
Written by Geoff Hart, Greg A. Sager, A. Jaye Williams
Starring Ry Barrett, Camille Hollett-French, William Foley, Jason Martorino, Soroush Saeidi, Katie Uhlmann, Jo Jo Karume, Chelsey Marie, Ellie O'Brien, Bruce Turner, Kirsten Comerford, Sima Sepehri
Find out more about this film here
Reviewed by Ambush Bug
Anyone who has seen an episode of the TWILIGHT ZONE or been to modern thriller/horror cinema is going to be able to sniff the "twist" ending of KINGDOM COME from the opening credits and while I won't reveal it here, it's a good thing that the twist ending isn't the only trick in this film's bag—otherwise it'd be tough to recommend.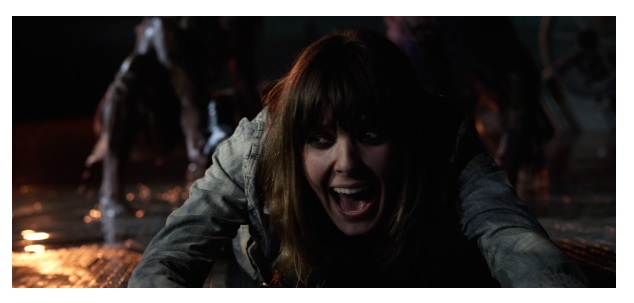 But despite all of that, KINGDOM COME does offer up some nice thrills and chills as well as some pretty awesome monster-work for viewers. The story isn't half bad itself, even though you're bound to know where it's going.
The design work on the gatekeeper monsters are actually pretty effective as they look like fallen angels with clipped wings, bandaged eyes, and emaciated muscles. Their crooked teeth and antlers jut all over the place and the director does a good job of lighting them so they even look more dangerous. On top of that, there's another villain (who I will leave nameless) who is equally threatening, even though he doesn't really wear makeup and relies on his devious performance alone. So in terms of threat, this little horror fest has a lot packed in there.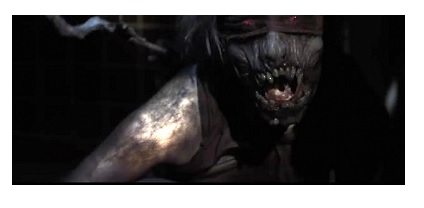 The story opens in a dank and dilapidated warehouse with no exits as a handful of people wake up and do not know why they are there or how they got there. As the story goes on, the not-so-subtle clues pretty much certify what I predicted in the opening credits, but the strong interactions between the characters made it all enjoyable, albeit predictable.
So while KINGDOM COME isn't a scorcher in terms of story, the ambience, the characters, the acting and the monsters more than make up for it. Maybe some will be surprised by the ending, but I assure you if you pay attention and have seen a movie in the last ten years, you're going to be able to call it accurately like I did. Not a deal breaker, as KINGDOM COME has other entertaining cards up its sleeve, but disappointing to those like me who love to be surprised at the movies.
---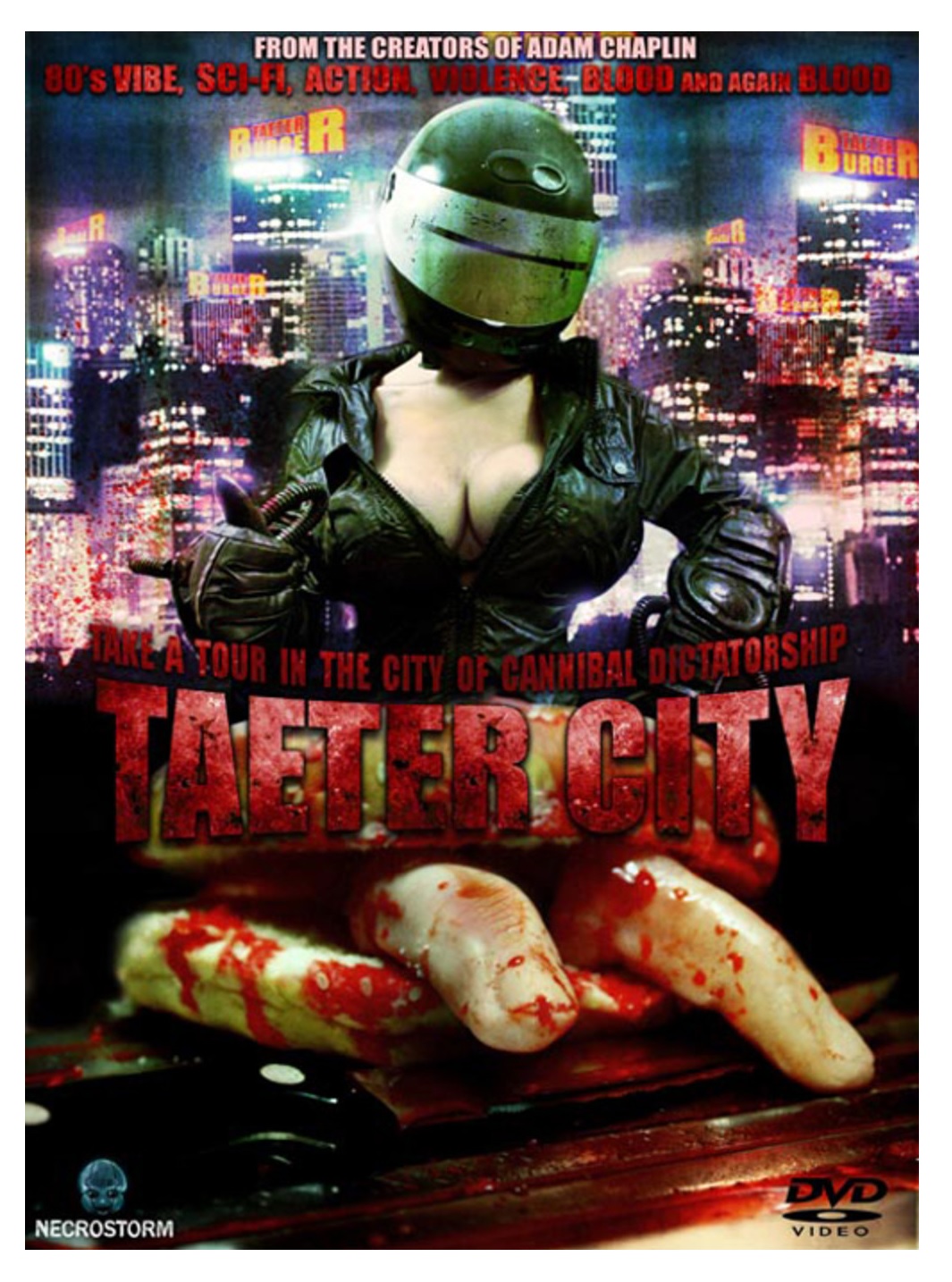 Available on DVD from the website here!
TAETER CITY (2012)
Directed by Giulio De Santi
Written by Giulio De Santi
Starring Monica Muñoz, Riccardo Valentini, Santiago Ortaez, Wilmar Zimosa, Giulio De Santi
Find out more about this film here and on Facebook here
Reviewed by Ambush Bug
"Don't ask me why because this is fucking nonsense,,,fucking nonsense!"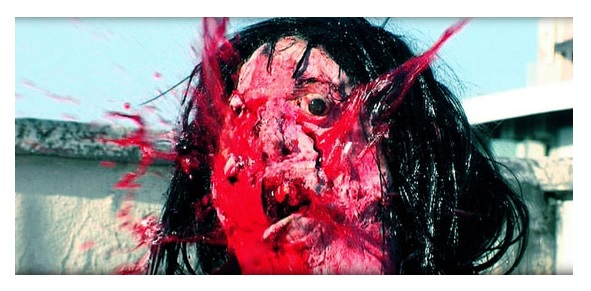 That quote from TAETER CITY pretty much sums up the movie as anyone trying to assign some kind of rhyme or reason to this film is going to come up empty handed.
Still, this story of a utopian city of the future which relies on human meat from criminals for nutrients is an all you can eat buffet of uber-gore and ultra-violence. Set in the mythic town of Taeter City, heavily armed police are sent to patrol the streets and rid them of those who use animals for food or those who don't uphold the many laws passed down from the leaders and corporations who just happen to also make Taeter Burgers, which are admittedly made of human meat.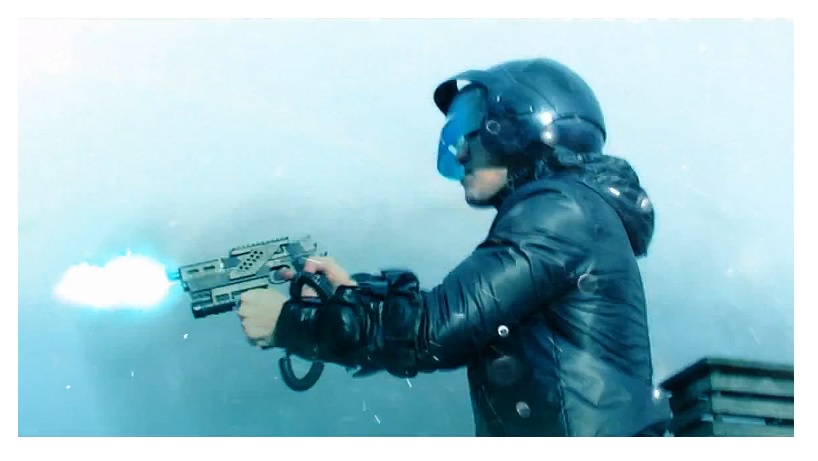 Now, one bosomy crime fighter (Monica Muñoz) must track down a man whose brain has adapted to the waves used to seek out violent criminals for the meat and whose voice can cause suicidal and violent outbursts to whomever is within earshot. Cornering the man in a hotel, a trio of police officers must take out this criminal before he makes them take out themselves.
What I love about this film is its simplistic, yet effective action movie plot of one man trapped in a place with no exit and having to face down three law enforcement officers. Now, none of the rest of this film makes a lick of sense, but that doesn't matter. Filmmaker Giulio De Santi sets it all in a simple locale for the carnage to take place in. And with the amount of carnage that happens, all you need to do it set it up and watch the blood splash around.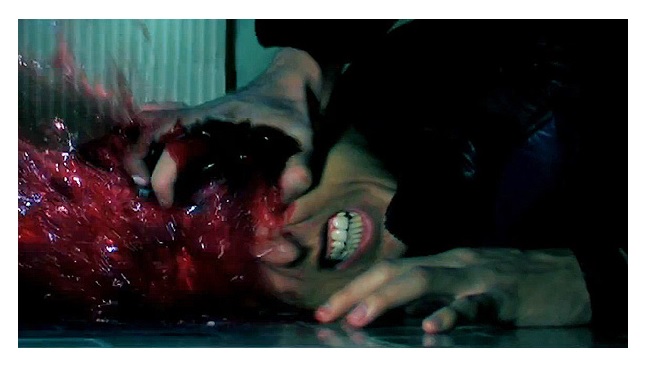 And whoa NELLY does the blood splash around. The amount of blood is almost as impressive as the sophistication of the computer effects which look better and more convincing than all of the ScyFy movies combined. I don't understand how effects such as these can be in a low fi film like TAETER CITY and ScyFy is still farting out horribly rendered monsters and even worse blood spatters. In TAETER CITY, the gore is convincing and gratuitous. It's outrageous, but so seamless, you'd swear it really happened. Faces are sliced in two, stomped, and 'sploded read good and it all looks so real you can almost taste the grue.
If you're a gorehound and aren't really interested in complexity of character or plot, TAETER CITY is going to be right up your alley. Not all films have to be cerebral or classy to be good. TAETER CITY proves it by being in your face, puckering up, and ready to give you a sloppy, bloody kiss for watching it.
---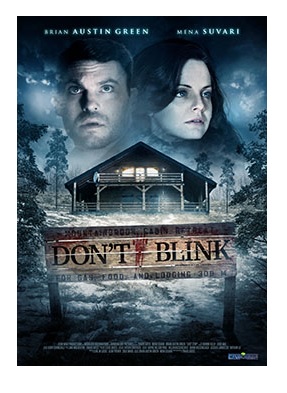 New on DVD from Vertical Entertainment!
DON'T BLINK (2014)
aka LAST STOP
Directed by Travis Oates
Written by Travis Oates
Starring Mena Suvari, Brian Austin Green, Joanne Kelly, Zack Ward, Robert Picardo, David de Lautour, Fiona Gubelmann, Leif Gantvoort, Emelie O'Hara, Samantha Jacobs, Curtiss Frisle, Boots Southerland
Find out more about this film on Facebook here
Reviewed by Ambush Bug
DON'T BLINK is a slice of TWILIGHT ZONE-ian goodness. It's ambiguous enough to be interesting but not too obtuse to be obnoxious and with a recognizable cast, it makes the whole thing all the more fun and relatable.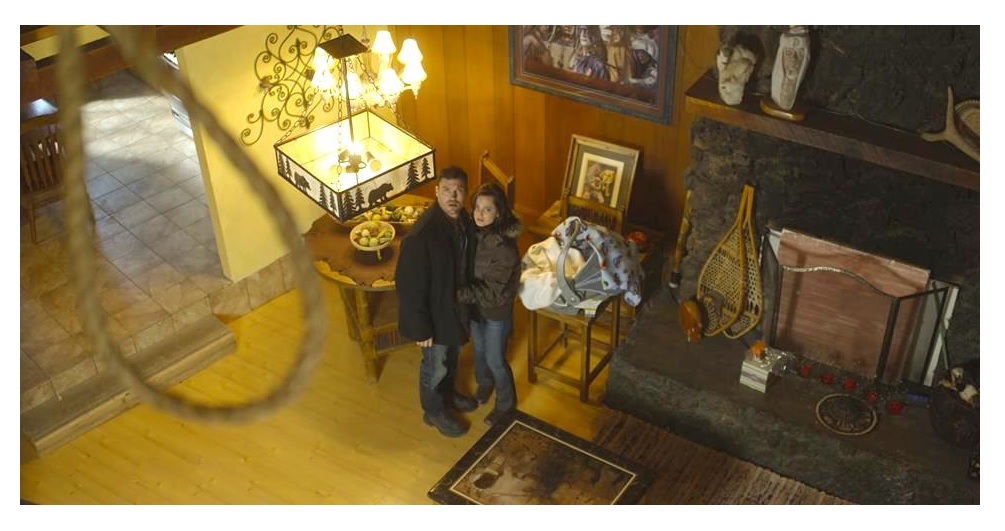 Though the "a bunch of young good looking people meet in a cabin in the middle of nowhere" is probably the most used cliché in horror, sometimes it sticks gold if used properly. Usually, when a cast is made up of faces you can easily place from other films/TV shows, it can be a detriment. But since actors like Mena Suvari, Brian Austin Green, and Zack Ward have all played likable or at least, memorable characters we've all seen, it kind of speeds the process of the getting to know you stage and ends up being something that makes the story a little more engaging a little quicker than normal. I don't know what this says about the range of the actors involved, but they do play these characters in a likable way, making it all the easier to root for them when the weird stuff starts to happen.
And when I talk about weird stuff, I mean it, as this film is very unconventional in terms of its "monster." Basically, the danger here is completely unseen as we don't know how or why people are disappearing. The only thing is clear is that once someone is out of sight of the group, that person up and disappears. So while this danger isn't something you can drive a stake into or kill with sunlight, it is something absolutely dangerous and the ambiguity of it all makes it all the more frightening.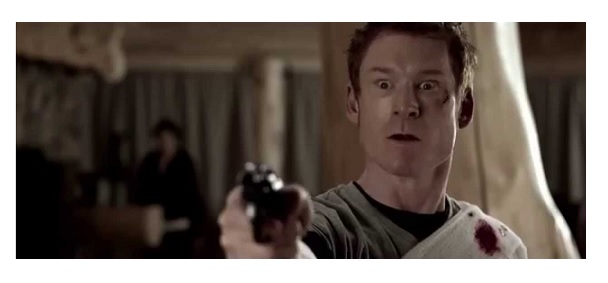 But what makes this film work is that as more people disappear from the group, the more suspicious those who are still around become and from that paranoia comes ugly feelings and even uglier actions. As the group gets desperate, those survival instincts kick in and while the more heroic struggle to keep it together, it gives those a little less weak of will a chance to show how awful they really are. We all knew Zack Ward (who also acted as one of the producers of the film) had an evil side when he played Scott Farkus, but here we get to see how horrible he can be all grown up. This film really pulls no punches in terms of the depths it takes these characters in peril.
So while the threat is kind of weird and indescribable, it's also pretty original and compelling in the way it brings out the worst in people. Disappearing without a trace is a scary thing and writer/director Travis Oates does a fine job off conveying that danger in a palpable way that gives one the feeling that no one is safe. DON'T BLINK is a thriller filled with all kinds of dangers, playing off of base fears and smartly leaving things eerily ambiguous for the audience to fill in the blanks with their own dark terrors. Some may be frustrated with the lack of answers here, but if you're willing to look a little outside of the box in terms of movie monsters, this one is going to be a pleaser.
---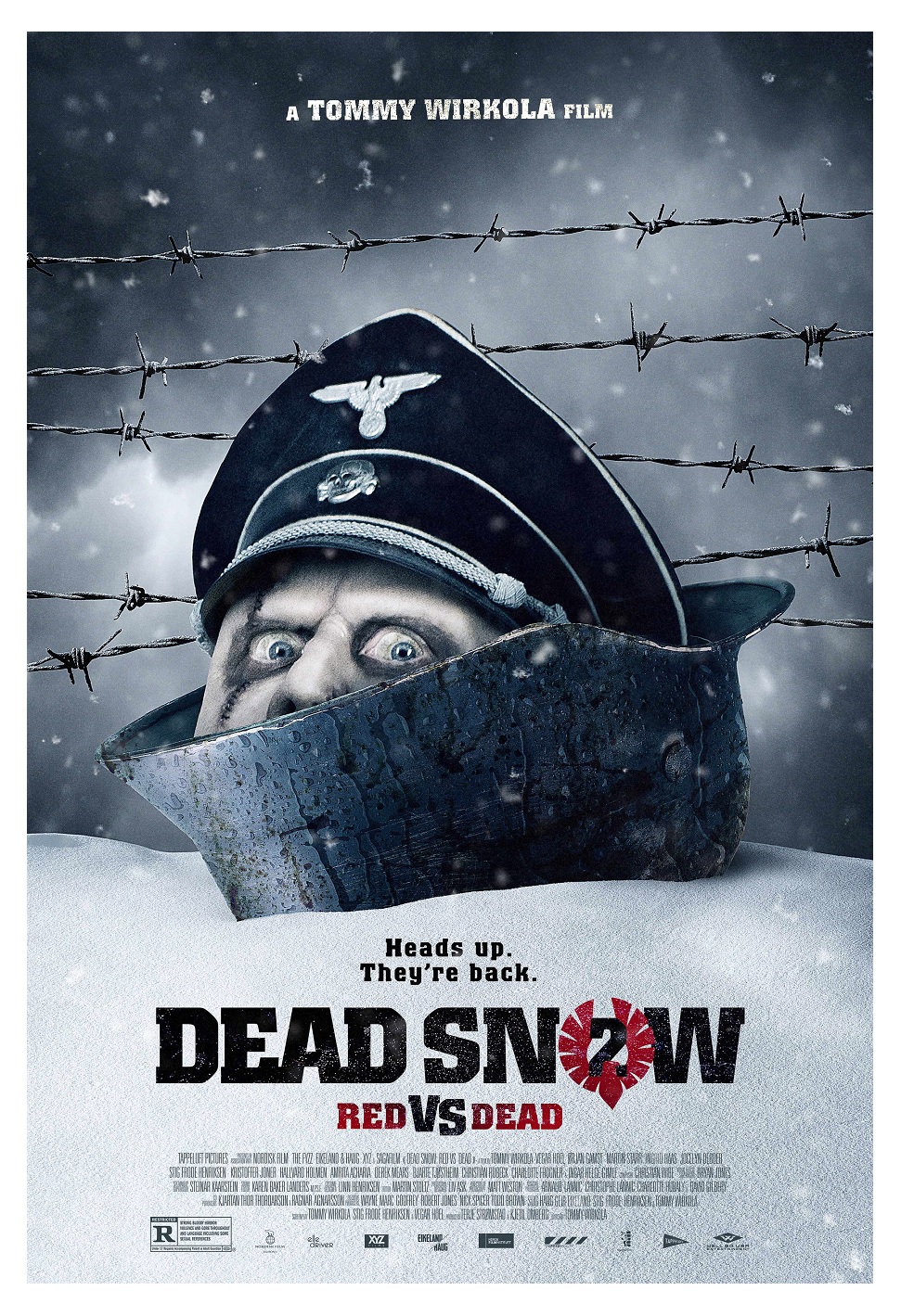 New this week on BluRay, DVD, and digital download from Well Go USA!
DEAD SNOW 2: RED VS DEAD (2014)
Directed by Tommy Wirkola
Written by Stig Frode Henriksen, Vegar Hoel, Tommy Wirkola
Starring Vegar Hoel, Ørjan Gamst, Martin Starr, Jocelyn DeBoer, Ingrid Haas, Stig Frode Henriksen, Hallvard Holmen, Kristoffer Joner, Amrita Acharia, Derek Mears, Bjarte Tjøstheim, Charlotte Frogner, Jesper Sundnes
Find out more about this film here
Reviewed by Ambush Bug
After a few missed attempts to see DEAD SNOW 2: RED VS DEAD at festivals, I finally got to check it out on BluRay this week and it really is a lot of fun. But there's a noticeable shift in tone between the original and this sequel and I kind of wanted to talk about that in this review.
Like all cool sequels (such as EVIL DEAD 2, a film I'll be referencing a lot in this review), DEAD SNOW 2 starts right where the original left off (only slightly tweaking continuity to adjust for the second film's storyline). I love it when films do this because—even though it might not have been in the filmmakers' heads to make this sequel at the end of the first film; it feels like it was all planned out. So while it is doubtful this was a planned LORD OF THE RINGS-like epic, director Tommy Wirkola makes it all feel like it's is one.
The story definitely expands in this sequel as the Nazi zombies kind of switch gears from finding their lost gold to continuing their original mission before they were struck down by the Russians during WWII. Also coming back is Martin (Vegar Hoel) who was the sole survivor of the last film, minus an arm. Losing a limb really seems to be a subject Wirkola likes to delve into as the opening action sequence has Lead Nazi Zombie Herzog lose his own arm and after a goofy series of coincidences, Martin and Herzog end up with each others' arms and a new power to raise the dead and add to their Nazi army. Losing a limb is also the subject of a short film which accompanies the BluRay called ARMEN which continues the dark sense of humor this film uses so well.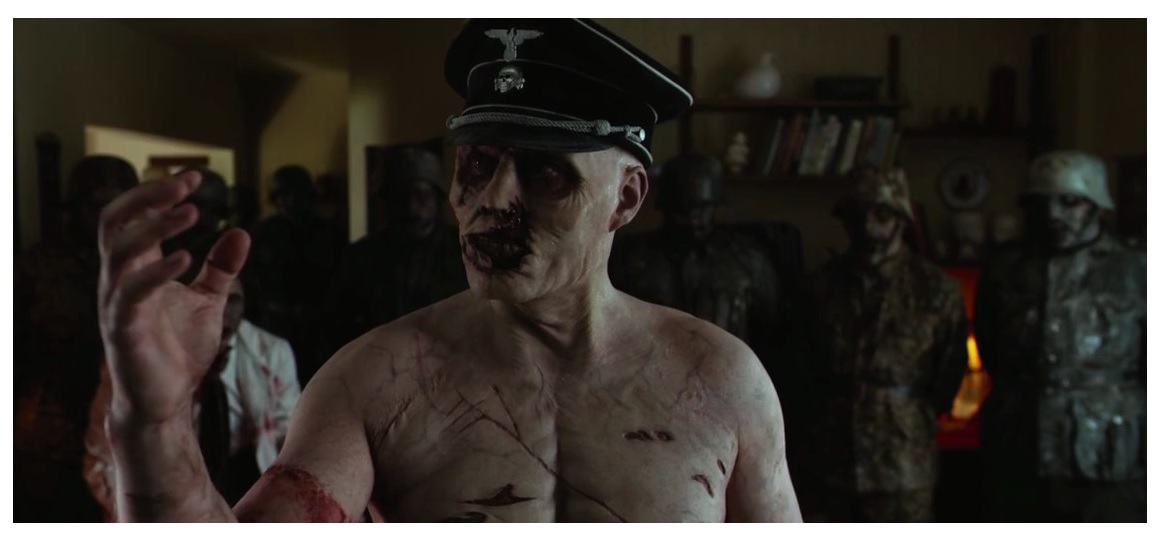 And there is a lot of fun to be had here with DEAD SNOW 2. The EVIL DEAD 2 slapstickery that was prevalent in the latter portion of the original is front and center here from beginning to end. Those looking for doom, gloom, and utter seriousness in their horror should check out other Nazi zombie flicks such as SHOCK WAVES, OASIS OF THE ZOMBIES, and the like. Here, no body part or type of person is ignored in the zombie mayhem. Even kids are not safe for the Nazi horde; something that usually is off limits in American films. In DEAD SNOW 2, kids, women, priests, and pretty much anything with a pulse will be dissected and desecrated by the Nazi undead.
The addition of the American Zombie Squad, lead by FREAKS & GEEKS alum Martin Starr is fun, though much of the flubs and inconsistencies in this film comes from the involvement of his squad. Somehow, immigration laws, getting a passport, and making plans to travel from America to Norway are almost immediate actions as all it takes is one call and a quick cut for Starr and his crew of female zombie killers to be on the scene. I laughed a lot at the Zombie Squad's zeal as they react to the fact that zombies are real as well as the multiple nerd references dropped by the trio.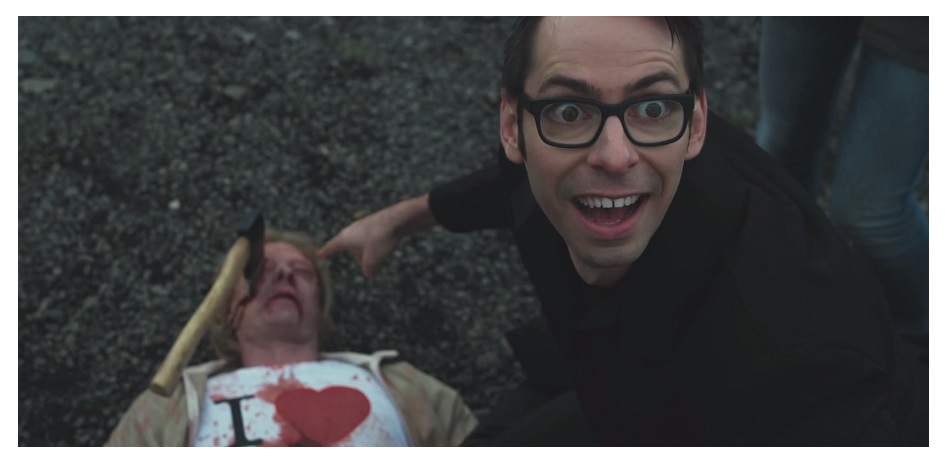 The humor at play here is pretty broad. This isn't a criticism, but it is a quality of humor that is an acquired taste. Those who roll their eyes at THE THREE STOOGES or think DUMB AND DUMBER is as stupid as can be will most likely be adverse to buying into the over the top violence at play here. Still I laughed a ton at this film and while it feels like the comedy and gore changed to a more broad scope in the sequel, those who thrilled at the chaos that ensued in the final moments of the first film.
And while DEAD SNOW went for the shock and awe ending, this one at least seems to wrap things up into a more pleasing, albeit gross package. There's a sense of closure here that wasn't in the first film as it really feels the character of Martin ends up where he should, as do the Nazis. As a double feature, DEAD SNOW and its sequel work much better than most first and second installments. Here's hoping if there is a third installment, it maintains this level of laughs and gore.
---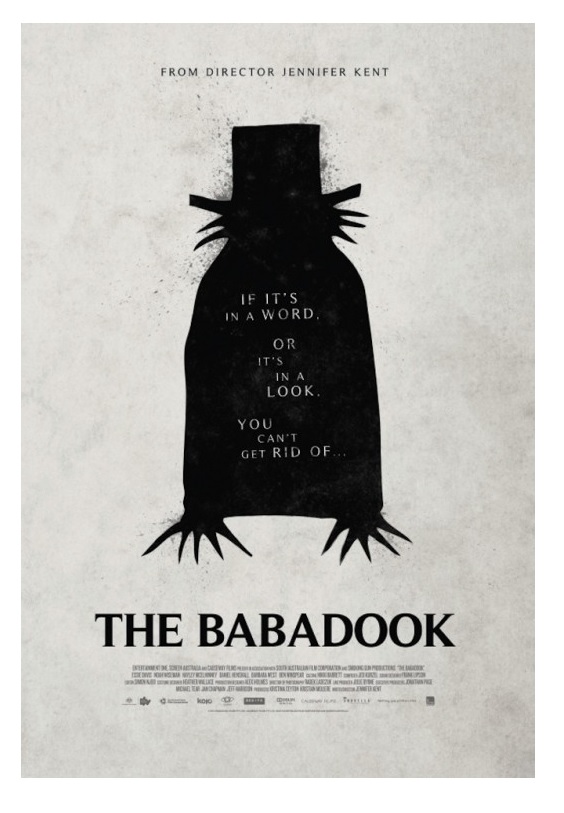 Available now On Demand and in select theaters from IFC Midnight!
THE BABADOOK (2014)
Directed by Jennifer Kent
Written by Jennifer Kent
Starring Essie Davis, Noah Wiseman, Daniel Henshall, Tim Purcell, Tiffany Lyndall-Knight, Hayley McElhinney, Cathy Adamek, Benjamin Winspear, Barbara West, Craig Behenna, Terence Crawford
Find out more about this film here and on Facebook here
Reviewed by Ambush Bug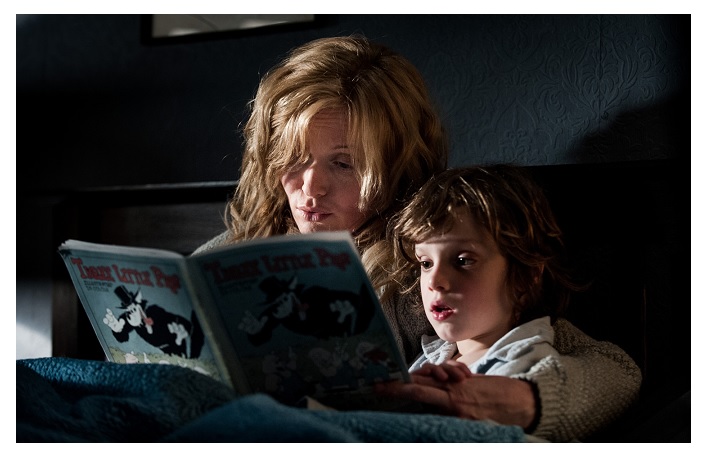 THE BABADOOK delivers the childlike thrills promised to us with MAMA and never kept. While that film devolved into an overly CG-ed mess, THE BABADOOK keeps things nice and uncomfortably close and is a better film for it about childhood fears and how it effects the parents almost as much as the children.
Essie Davis plays a worn down mother named Amelia who lost her husband the day her only child Samuel (Noah Wiseman) was born. Now a rambunctious child of 10, Samuel brings weapons to school, spastically keeps his mother awake all night, and seems to be having serious ADHD problems. All of this wears heavily on the beleaguered orderly who tries to be a good mother despite it all and keeps her chin up, hoping some day to find Mr. Right to make her life a little easier. After a particularly spastic day of being kicked out of school and terrorizing his cousins, Samuel finds a pop-up book called MR. BABADOOK and asks his mom to read it to him for bedtime. But upon reading this mysterious book causes all sorts of trouble beginning with nightmares and developing into outright paranoia and suspicion that the monster in the gloomy little book might actually be real and this means bad things for Amelia and Samuel.
If this were a major blockbuster big time Hollywood production, the Babadook would most definitely be real and there would be CG chases through endless corridors and dreamscapes with some kind of magic totem scaring it away right at the last moment before the credits. But THE BABADOOK is not a major blockbuster big time Hollywood production and because of that, it is more unclear as to whether the Babadook is real or the product of an unwell and worn down mind. Writer/director Jennifer Kent does a fantastic job of leaving things deliciously ambiguous, never really explaining who wrote the seemingly haunted children's book or what the Babadook really is. In doing so, she has crafted a story that can be absorbed and enjoyed on a multitude of levels. It is as much a monster on the loose story as it is a ghost story as it is a story of a descent into madness. It's actually all of that and a little more and a little less depending on which way you want to look at it, making it enjoyable on many viewings (and I plan on watching this one and rewatching it considering each angle). Because of this, more so than your run of the mill horror film, the film proves to be an utterly rich experience, making it a film you want to talk about immediately after viewing it.
Samuel is indeed a handful and hats off to little Noah Wiseman for being such a spastic little shit. As a person who works with this type of kid every day at my day job as a licensed therapist in a residential home for boys and girls, I know how exhausting a child such as this can be. Seeing Wiseman writhe around like he's got ten monkeys under his skin is entertaining until you see the toll it takes on Amelia and Essie Davis offers up a ballsy and convincing role of a mother trying her best against insurmountable odds. Seeing her come apart at the seams is both believable and terrifying since she has shown the viewer how much she really loves her child. Davis' performance is the stuff you rarely see in horror; a motherly character much like Dee Wallace's role in CUJO who struggles to do what is right in the face of danger and trying to keep her wits to her despite it all.
The effects in THE BABADOOK are equally amazing. Not overly done, never gratuitous—just some glimpses in the shadows, a faint movement in the background, or a subtle pile of clothes hanging in a hallway. Keeping to the less is more motto, director Kent had me pulling my knees up to my chin in during the climax of this film, fearing for the lives of all involved and hoping that the shadowy Babadook doesn't show his face.
And as this film reaches its quiet resolution and bizarre closure, I found myself wanting to see this film again (something that rarely happens these days with horror films). If you're looking for one of the most effective horror films of the year, THE BABADOOK is definitely one of them. It's not your typical horror film and it's a film that somewhat transcends the genre in terms of acting punch and directorial and story power. Those looking for a cookie cutter thrills can seek out cinematic sharts like ANNABELLE. But if you want to see real terror, THE BABADOOK delivers!
---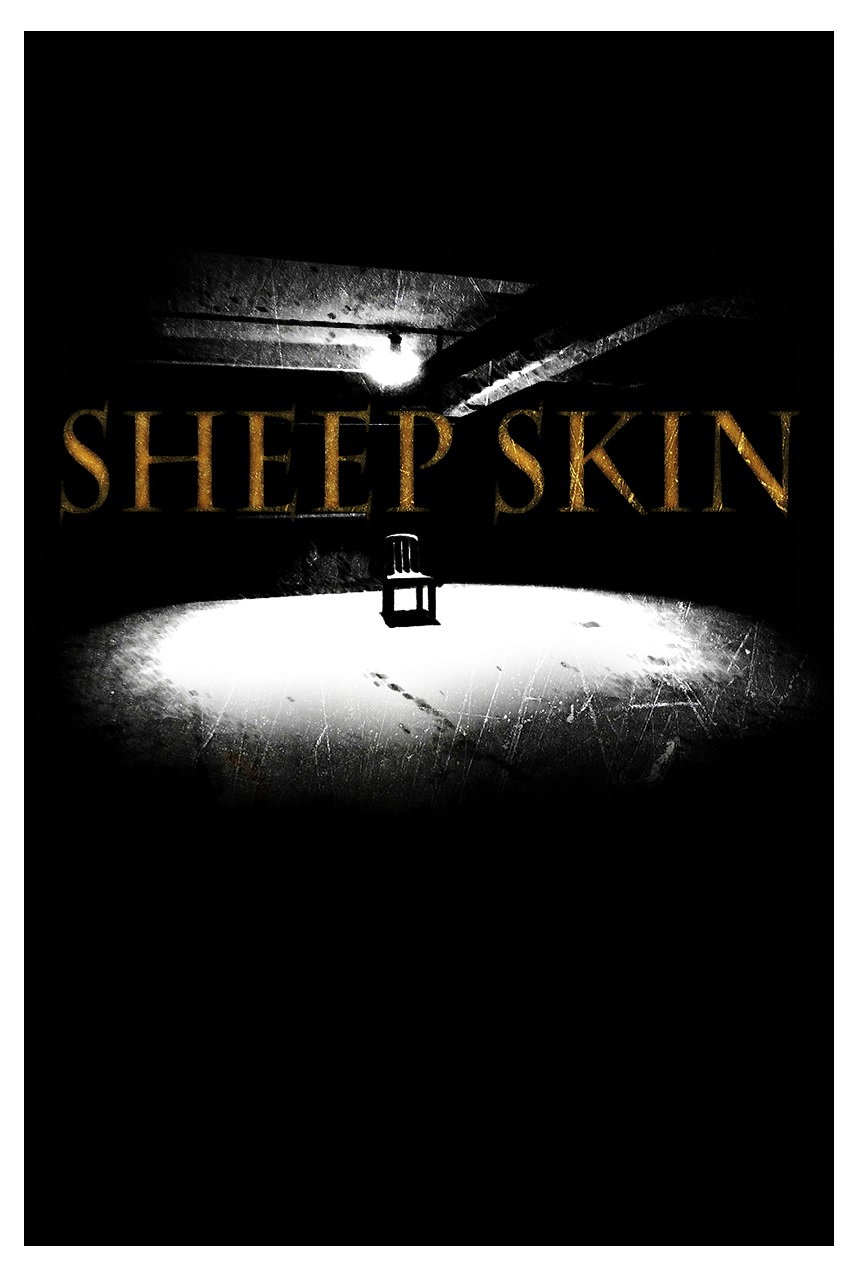 Advance Review: Coming soon from Invasive Image!
SHEEP SKIN (2013)
Directed by Kurtis Spieler
Written by Kurtis Spieler
Starring Jamie Lyn Bagley, Zach Gillette, Mark Resnik, Michael Schantz, Laurence Mullaney, Bryan Manley Davis, Ria Burns-Wilder
Find out more about this film here and on Facebook here
Reviewed by Ambush Bug
I love a good locked room mystery and while this isn't exactly that, SHEEP SKIN unfolds like a stage play with one setting, giving the actors involved to show a lot of character and the mystery a chance to breathe.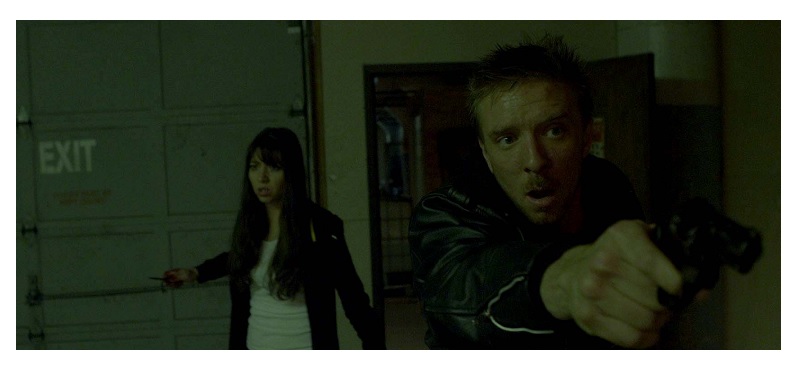 SHEEP SKIN is a rock solid mystery that will keep you guessing until the very end. Is this a supernatural tale? Or is it just a bunch of hearsay and accusations? The members of a punk rock band who kidnap a business man believe he is a werewolf and they've gathered information to back that theory up, as ludicrous as it sounds. The businessman admits to having an affair with the sister of the lead punk, but thinks his kidnappers are nuts for thinking he's a creature of the night. But the punks don't believe him and decide to wait the night out until the full moon rises to make sure their theories are true. As soon as the businessman sprouts one hair, tooth, or claw, they have a gun full of silver bullets ready for him.
The thing SHEEP SKIN does well is really keep you guessing up to the final moments of this film as to whether this is a werewolf story or just a story about people paranoid enough to believe in the creatures existing. Writer/director Kurtis Spieler keeps this secret guarded until it is absolutely the last moment as to what the man bound to the chair really is. The answer is provided in the final moments (and I won't reveal it here), but I will say that the reveal is satisfying and makes sense in regard to the info given to us throughout the film.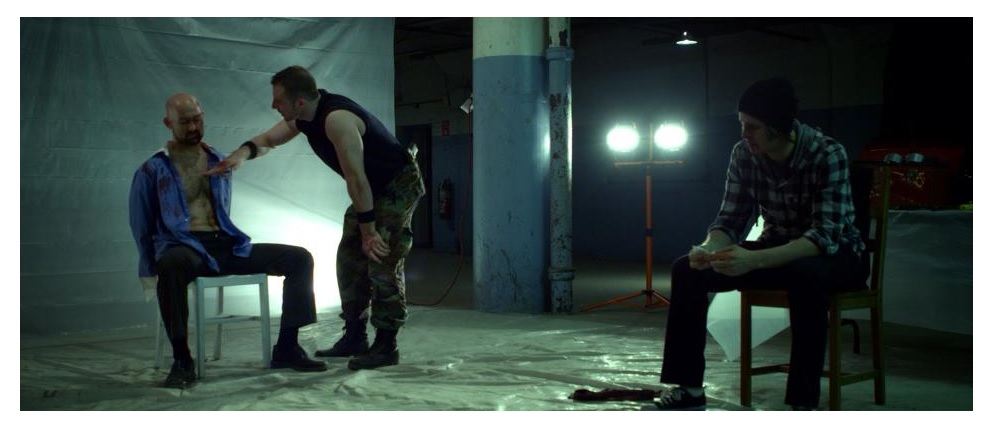 The acting here is kind of hit and miss. The two lead punks, played by Michael Schantz and Ria Burns-Wilder are decent actors and deliver their roles effectively. The businessman in peril bound to the chair is played by Laurence Mullaney who has a peculiar delivery which seems perfect for the slimy businessman he plays, but the volume of his voice is so low that it was difficult to understand him at times. Still, Mullaney exuded an untrustworthy vibe which really does play well into the mystery as to whether or not he's going to wolf out any second or not. The rest of the small cast are decent here as well, but the acting is not the draw or the focus of this film, the one question about whether werewolves exist or not is always front and center.
This isn't a big film. What effects this film has are pretty modest and there are no expansive sets or elaborate technical aspects to SHEEP SKIN. But it does unfold a mystery with a steady and patient, and most importantly, rather capable hand, so fans of slow burn stories are going to want to seek this one out if it crosses your path.
---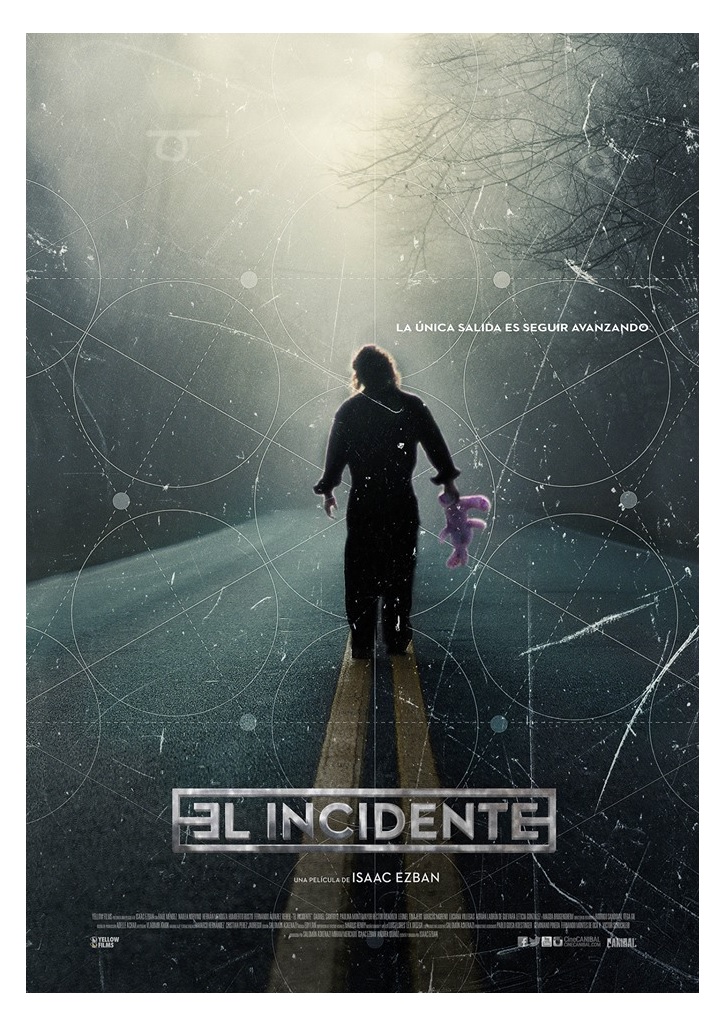 Advance Review: Currently touring festivals (appearing this week at Festival Internacional de Cine de Hermosillo)!
!
EL INCIDENTE (2014)
aka THE INCIDENT
Directed by Isaac Ezban
Written by Isaac Ezban
Starring Raúl Méndez, Nailea Norvind, Hernán Mendoza, Humberto Busto, Fernando Álvarez, Gabriel Santoyo, Paulina Montemayor, Héctor Mendoza, Leonel Tinajero, Marcos Moreno, Luciana Villegas, Adrián Ladrón de Guevara, Leticia González y Magda Brugengheim
Find out more about this film on Facebook here
Reviewed by Ambush Bug
Films like PI, CUBE and TIME CRIMES often come to mind when talking about innovative and low fi takes on sci fi standards, using innovative concepts to tell a tale that is one step beyond what we call reality. I dare to add EL INCIDENTE to the list of sci fi films that folks will be talking about for years and years to come in terms of engrossing ideas and innovative ideas about space and time.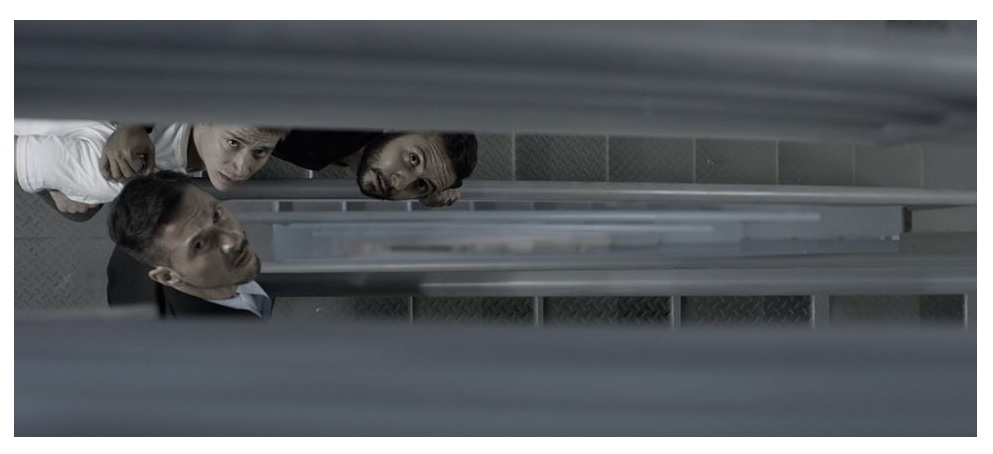 A pair of hoodlums make chase away from a police officer into a stairwell. A family sets out on a road trip along a desert highway. Two scenarios that aren't all together original, but once in motion, these two parallel stories start moving grows to a rapid pace quickly and dangerously. Soon all parties involved realize that they are caught in a loop of both space and time in an infinite flight of stairs and a never-ending stretch of road.
EL INCIDENTE follows the confusion, shock, and disbelief of these people when they realize the path they are on has been travelled over and over in a manner that illustrates this mixed bag of emotions subtly and clearly. Given the age and status differences in the cast, it's fascinating to see how the cast reacts to being stuck in a non-stop loop. Some crack. Some die. Some persevere. And some grow. This story illustrates all of that with so much finesse that not one moment is wasted. And while the realization of being stuck in such a predicament is where any normal TWILIGHT ZONE or even in a substandard sci fi movie would leave off, this film is just getting started. Just wait until we fast forward 35 years and check back in on our stranded parties in the hamster wheel. It's absolutely astounding where this story goes.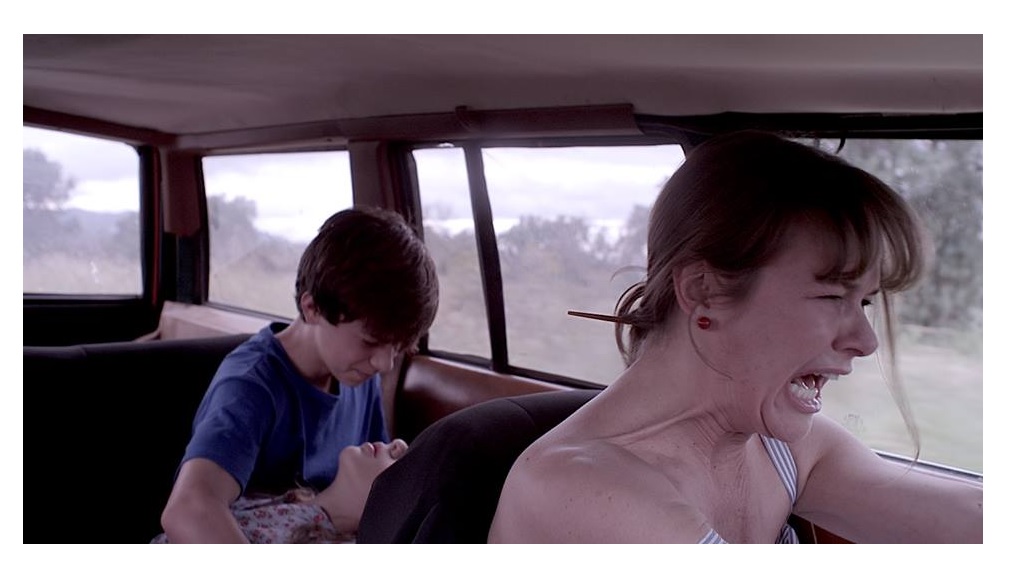 The resolution of EL INCIDENTE is bound to leave a few people scratching their heads and if I were only half watching this film, I probably wouldn't have gotten it myself. But this movie is too engrossing to half-watch and if you're paying attention, even though it is a bit broad and meta, I think you're going to enjoy how this film wraps up as much as I did.
EL INCIDENTE is the type of sci fi that would make Bradbury, Serling, and Wells stand up and cheer. It's a sophisticated take on the redundancy of life as well as a lesson in physics, psychology, and the human condition. Horrifying at times—mesmerizing all the way through, I was in awe of how clearly writer/director Isaac Ezban makes these complex and abstract concepts easy to follow without dumbing things down one bit. EL INCIDENTE is an intelligent and terrifying trip into a new kind of TWILIGHT ZONE. It's a film once seen you'll want to tell others about and one you definitely will not forget. Blending sci fi, philosophy, psychology, and horror gently, expertly, and skillfully, EL INCIDENTE is a masterpiece in modern science fiction and should not be missed.
---
And finally…with all of this HALLOWEEN hullabaloo, I found myself in the mood for some HALLOWEEN fan films. One of the better ones is from HONEYSPIDER (which I haven't seen) director Josh Hasty and writer Kenny Caperton which focuses on one of the untold tales from the HALLOWEEN mythos; that of Judith Myers, the one who started it all.

Here's JUDITH: THE NIGHT

SHE

CAME HOME…
See ya next week, folks!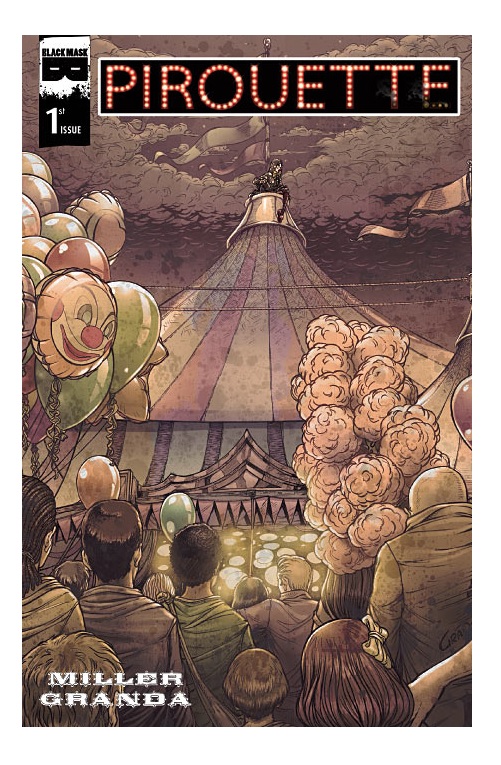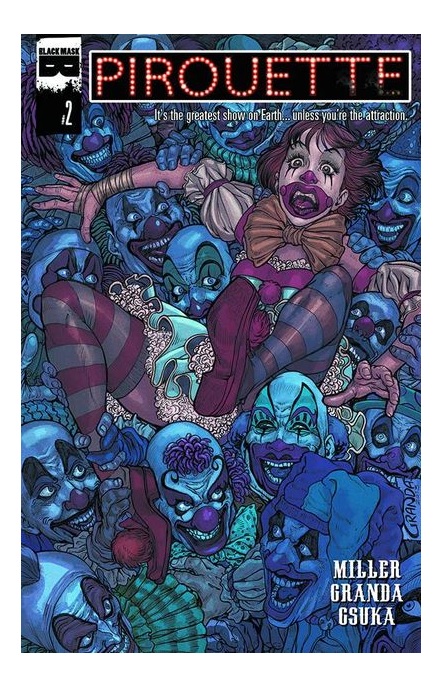 Ambush Bug is Mark L. Miller, original @$$Hole/wordslinger/writer of wrongs/reviewer/interviewer/editor of AICN COMICS for over 13 years & AICN HORROR for 4. Follow Ambush Bug on the Twitters @Mark_L_Miller.

Be sure to tell your comic shop to order his new comic PIROUETTE (out now!) from Black Mask Studios!
---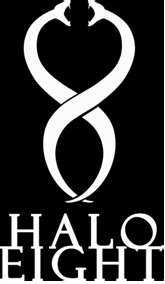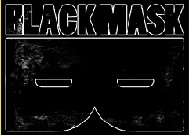 Find out what are BLACK MASK STUDIOS and OCCUPY COMICS here and on Facebook here!


Interested in illustrated films, fringe cinema, and other oddities?
Check out Halo-8 and challenge everything!
Look for our bi-weekly rambling about random horror films on Poptards and Ain't It Cool on AICN HORROR's CANNIBAL HORRORCAST Podcast every other Thursday!
---
Find more AICN HORROR including an archive of previous columns on AICN HORROR's Facebook page!