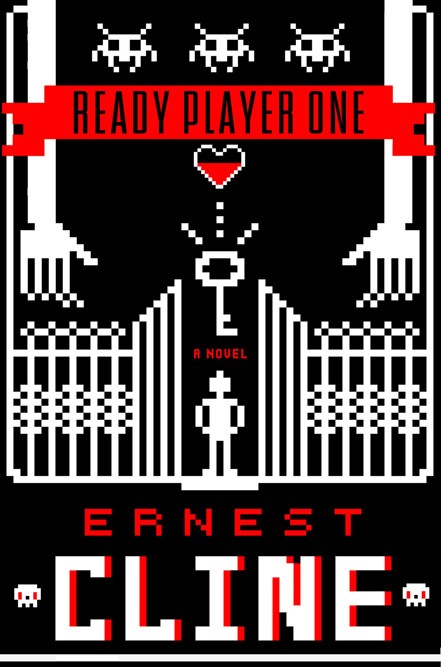 Yesterday, there was word that Warner Bros. had offered their golden boy, Christopher Nolan, the director's seat on their adaptation of Ernie Cline's New York Times Bestseller, READY PLAYER ONE.
Not only can we tell you that WB has indeed talked with Nolan, but we have some AICN EXCLUSIVE info on a few other big names being offered the gig…
We're talking MATTHEW VAUGHN, EDGAR WRIGHT, PETER JACKSON, or WB's dream pick, ROBERT ZEMECKIS.
Wanna go out and pick up that book if you haven't already, no?
Obviously, no one has actually signed yet, and these are just WB's top choices, but it certainly gives us an idea of what pedigree of director they want to direct this Zak Penn-written adaptation. While we swoon at the idea of Nolan, Vaughn, Wright, or Jackson directing this, Zemeckis is the ideal choice for WB (and Cline, I'm sure) because of how heavily his work is referenced in the book. It would be him revisiting the stuff from his hayday that we all fell in love with him for, and would probably the closest we'd ever get to a Zemeckis-directed BTTF 4.
But good god, the idea of any of these guys directing a READY PLAYER ONE movie is mega exciting. Aside from being a massive hit, the book is knowing, provocative, and consistently really funny, and feels contemporary in its "everything in a blender" depiction of pop culture. Just to give you an idea of how infectious the pixelled-out world Cline created is, I'll tell you my wife's reaction. My wife knows next-to-nothing about either '80s pop culture or video games, two subjects that the book leans heavily on. She read this thing cover to cover in the span of two days. She references the book the way some do 1984 or A BRAVE NEW WORLD. So don't think this is too "geeky" for you, or even your less-versed significant other; Cline's book is awesome, and WB would not be reaching out to these types of directors if it didn't have an infectious, cross-market appeal.
Nolan's name got me giddy...but knowing who else WB is looking at just gives me a perma-smile This is great news for gamers, fans of Cline's book, and I'm guessing Cline himself. We at AICN are all really happy that this project is getting the kind of attention we think it deserves, and pray that if one of those luminaries doesn't sign, that the job still goes to someone with the talent, energy, and imagination to do it justice.