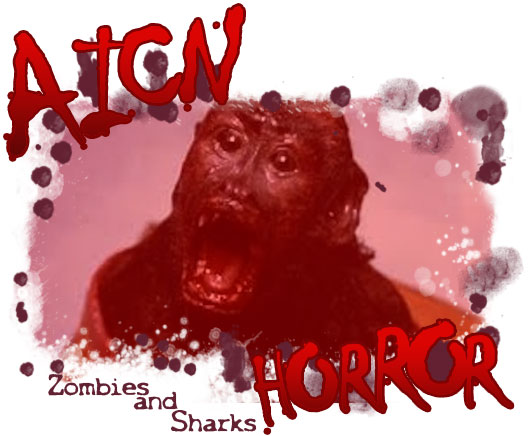 Logo by Kristian Horn
What the &#$% is ZOMBIES & SHARKS?
---
Greetings, all. Ambush Bug here with another AICN HORROR: ZOMBIES & SHARKS column. While you are slipping into a deep slumber after eating all of that turkey, here are some films that are sure to give you some nightmares!
Today on AICN HORROR

(Click title to go directly to the feature)
Book Creeport: THE WOLVES OF LONDON (2014)
The Boo Tube: PENANCE Episodes 3-5 (2012)
Retro-review: THE VINCENT PRICE COLLECTION II: THE COMEDY OF TERRORS (1963)
Retro-review: MONKEY SHINES (1988)
THE KILLER 4 PACK: JEZEBETH (2011)
ISIS RISING: CURSE OF THE LADY MUMMY (2013)
NIGHT TERRORS (2013)
THE CEMETERY (2014)
PHOBIA (2013)
HOUSE OF HIM (2014)
FEED THE GODS (2014)
Advance Review: YOU ARE NOT ALONE (2014)
And finally…Patrick Rea's COUNTER PARTS!
---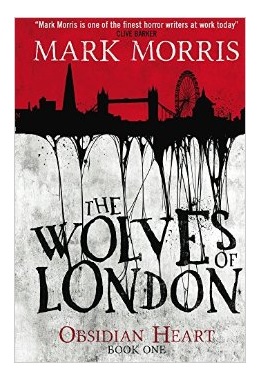 Book Creeport!
OBSIDIAN HEART BOOK ONE: THE WOLVES OF LONDON (2014)
Written by Mark Morris
Published by Titan Books
Reviewed by Dr. Loomis
THE WOLVES OF LONDON is a rousing start to the new "Obsidian Heart" trilogy by Mark Morris, who combines ingredients from a number of genre sources - crime, fantasy, time travel, horror - and blends them seamlessly in a fascinating, fast-paced piece of dark fiction.
The book opens with a relatively small-scale premise. Alex is an ex-con who has turned his life around after prison. When his oldest daughter's boyfriend gets in a pinch with a drug dealer, Alex calls upon an old contact from prison for help. That contact, Benny, sets Alex up with a woman named Clover, who sends Alex to retrieve an artifact held by her former employer, a reclusive millionaire named McCallum. All of this is straightforward stuff, right up until the moment Alex holds the artifact - a heart carved out of obsidian - in his hand. From that point on, things begin to accelerate in strange and dangerous directions: McCallum is dead, Alex's young daughter Kate is missing, and Alex is on the run, pursued by bizarre clockwork creatures, a strange kind of living darkness, and a terrifying man called The Surgeon.
When I tell you I'm just touching the tip of the iceberg here, I'm not exaggerating. There's a lot going on this book, and by the end of its 340+ pages there are far more questions than answers. But this is not something that feels padded out to reach trilogy length. Honestly, I'm wondering how Morris is going to wrap up what he's established here in just two books.
Despite the length and the huge amount of world-building in this book, it does not drag. Morris's prose has an engaging, almost lulling quality to it that makes it easy for the reader to get lost in the story. This is a fully-realized world he's created; he packs in details about the characters and their surroundings without slowing the story down. By grounding things in reality, the more fantastic elements and events - and there are many of them - become all the more vibrant. Best of all, amid all the madness and chaos, Morris never loses sight of the book's true heart: the love Alex has for his missing daughter, and his burgeoning relationship with Clover.
THE WOLVES OF LONDON is not an easy book to categorize, which should make it all the more appealing to readers looking for something new. The only downside is the long wait ahead for the conclusion of the gripping story Morris has created; THE SOCIETY OF BLOOD comes out in 2015, and the concluding chapter, THE WRAITHS OF WAR, is set for a 2016 release.
"Dr. Loomis" is Blu Gilliand, a freelance writer whose work has appeared in the fright-filled pages of DARK SCRIBE, DARK DISCOVERIES, SHROUD MAGAZINE, FEARnet.com and Horror World, among others. He also runs his own blog, October Country, devoted to horror and crime fiction. Feel free to stalk him on Twitter (@BluGilliand) at your own risk.
---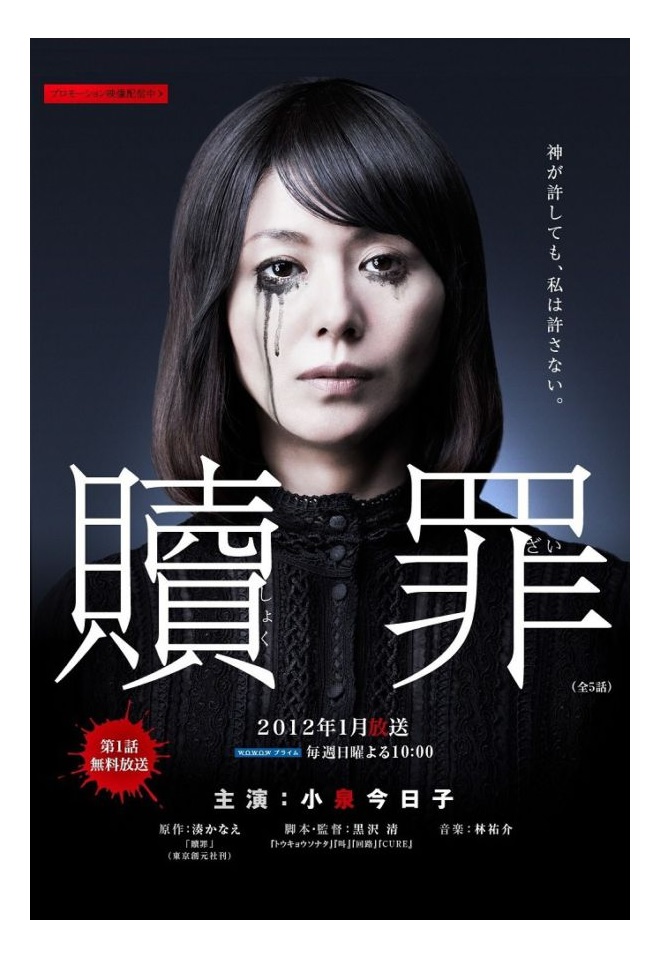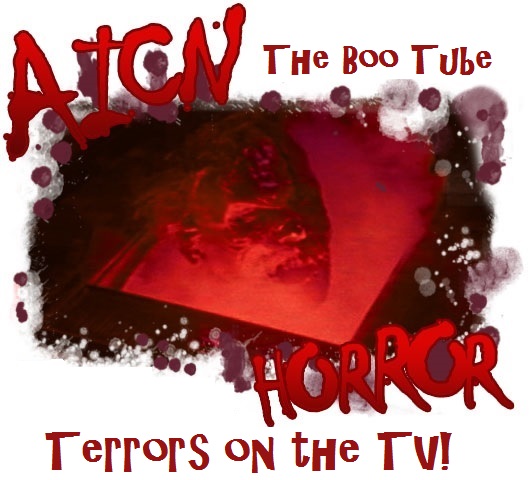 New on BluRay and On Demand from Doppelganger Releasing/Music Box Films!
PENANCE: Episodes Three, Four, & Five (2012)
Directed by Kiyoshi Kurosawa
Written by Kanae Minato
Starring Kyôko Koizumi, Yu Aoi, Eiko Koike, Sakura Ando, Chizuru Ikewaki, Ryo Kase, Ayumi Ito, Mirai Moriyama, Teruyuki Kagawa, Hirofumi Arai, Kyusaku Shimada, Kenji Mizuhashi, Tomoharu Hasegawa, Masaaki Akahori, Manatsu Kimura, Tetsushi Tanaka, Hazuki Kimura
Find out more about this film here
Reviewed by Ambush Bug
Last week, I checked out the first two episodes of the five part Japanese TV series PENANCE. The series reminded me of such intense crime dramas as TRUE DETECTIVE or THE KILLING in its focus on a single act of violence and how that act can affect those involved long afterward. PENANCE tells the tale of vengeance as a young girl named Emili is murdered and her four friends failed to identify the killer. Now 15 years later, Emili's mother continues to haunt the four friends' lives. Cursing them that until the killer is caught, they are to serve penance for their ignorance, each episode focuses on one of the girls and leads up one step closer to the identity of the killer. This week, I wrap up the series with the last three episodes.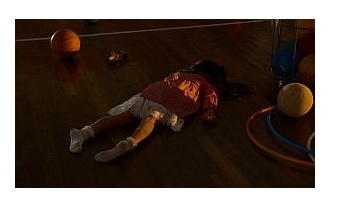 Episode Three, called "Brother and Sister Bear" is a haunting one that continues the trend of relying on uncategorizable and more invisible horrors than blood and guts. Never really growing up after Emili's death, Akiko still lives at home and is treated like a shamed family secret. When her protective brother returns home after an extended move to the city, she realizes changes in him. Due to the horrific events she witnessed when Emili was killed, Akiko begins to view her brother in a new light, especially when he is around his step-daughter. What transpired is as ambiguous as it is horrific as Akiko might be completely insane or she might be right on the money. Kirosawa isn't providing easy answers in this heartbreaking installment.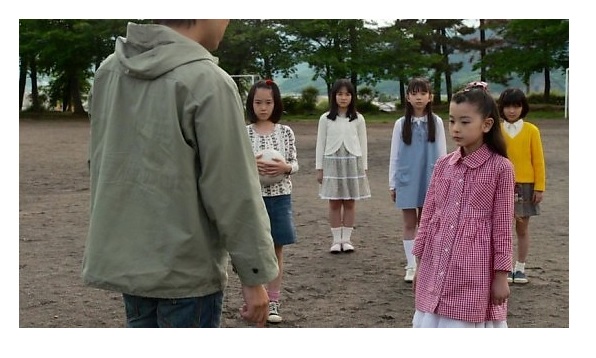 "Ten Months Ten Days" is the fourth episode and it's equally shocking. The episode really takes its time to unfold, but all the way through as it focuses on Yuka, the final girl in the group who called Emili friends, there's an air of danger going on. This time around, sibling rivalry is the ugliness delved into as Yuka and her sister Mayu are shown as children and adults, in a dangerous competition for attention and love. When Yuka finds out Mayu has married a policeman, all bets are off as Yuka's schoolgirl crush on a policeman opens old wounds. What has the makings of a catfight or some Lifetime-style drama morphs into something much darker. While the previous episodes show how much the death of Emili has affected the grown up girls, Yuka is much too selfish to be bothered with guilt. The scenes where an unremorseful Yuka is confronted by Emili's mother is engrossing and the final moments of this episode are absolutely powerful.
Finally, the series wraps up with "Atonement" centering on Emili's mother Asako. I'm torn with the way this series wraps up. Part of me is sort of annoyed that the story doesn't really function like a good mystery as the answers to the identity of the murderer are not really made evident until this last episode, so those who looked at this as a classical mystery will most likely find themselves disappointed as this really isn't much of a whodunit.
That said, as a statement about the futility of vengeance, this series works remarkably as a whole. Asako (Kyôko Koizumi) is quick to blame and curse the small children who witnessed the crime, when in the end, she herself is to blame for her daughter's death. There's a poeticism here that I appreciate and with the masterful way this series plays out, I am willing to forgive it for not giving me the clues in the first episode. PENANCE is a haunting look at real life tragedy filled with complex, yet unusual psychosis that spawns from one act of violence. Horrific at times, touching in others, PENANCE is a fantastic drama series that is definitely worth a look.
Check out my review of the first two episodes of PENANCE here
.
---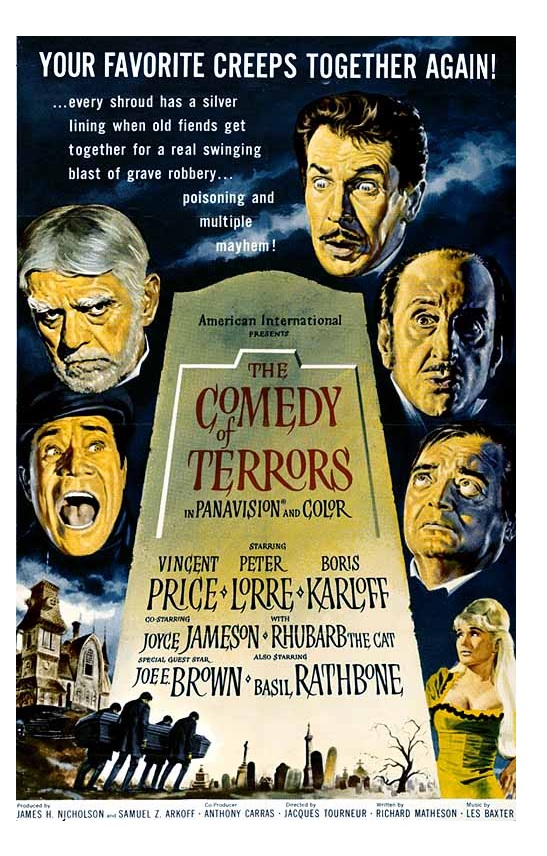 Retro-review: New on BluRay as part of THE VINCENT PRICE COLLECTION II from Shout Factory
THE COMEDY OF TERRORS (1963)
Directed by Jacques Tourneur
Written by Richard Matheson
Starring Vincent Price, Peter Lorre, Boris Karloff, Joyce Jameson, Joe E. Brown, Beverly Powers, Basil Rathbone, Alan DeWitt, Buddy Mason, Douglas Williams, Linda Rogers, Luree Holmes, & Cleopatra aka Rhubarb as Orangey the Cat!
Reviewed by Ambush Bug
Low on chills, but plentiful with slapstickery is THE COMEDY OF TERRORS, a film that highlights Vincent Price's talent for comedy rather than his ability to chill the soul. Pairing up with some of the most frightening faces in horror, THE COMEDY OF TERRORS is a treat for those who have enjoyed this cast in more frightening roles and seeing them shine in yet another genre.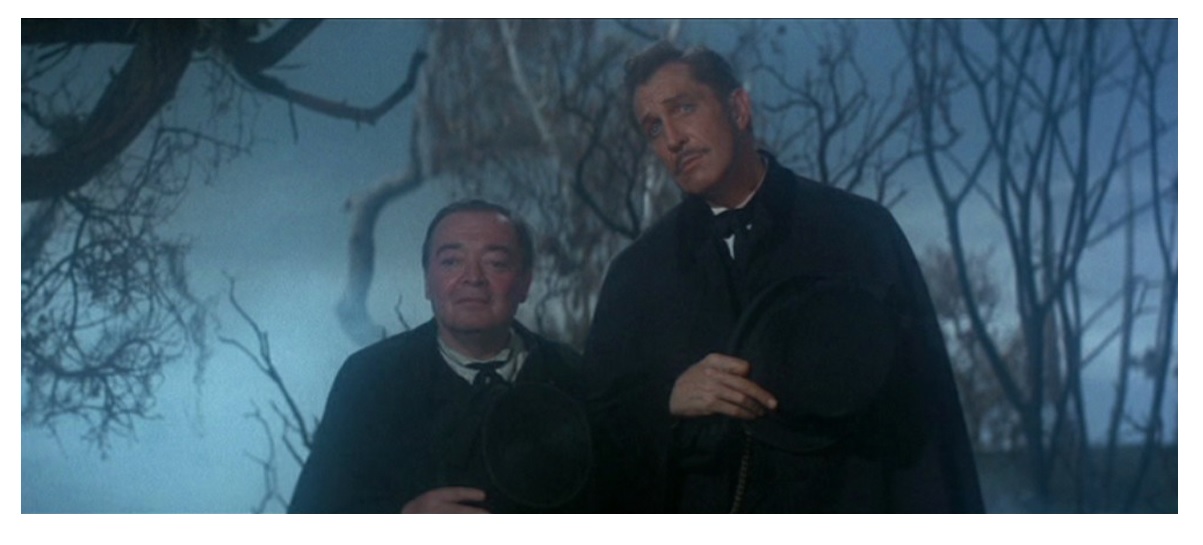 Vincent Price plays Waldo Trumbull, a down on his luck mortician/grave digger whose love of his tone-deaf singer wife Amaryllis (Joyce Jameson) is nothing compared to his love of the booze. Trumbull's underling Felix Gillie (Peter Lorre) longs for Trumbull's wife and spends the rest of the day being verbally abused by Trumbull. Meanwhile, Amaryllis' father Amos (Boris Karloff) is oblivious to all of the drama unfolding around him. Trumbull and Gillie make a habit of ripping off their customers, using the same coffin over and over and ripping off the corpses of their valuables. But when people stop dying, the two miscreants decide to take matters into their own hands and go on a murder spree to drum up some business. What proceeds is a pitch black comedy about death and those who benefit from it.
The brand of comedy used in THE COMEDY OF TERRORS is not only black, but it's pretty broad. Full of slapstick buffoonery, those who can't take physical comedy are not going to want to dive into this one. On the other hand, if seeing Vincent Price slap around Peter Lorre for an hour and a half sounds entertaining to you, then this is one you need in your collection. And while these actors have done a fantastic job in much more serious films, all of them really seem at home here as they make like the jester easily.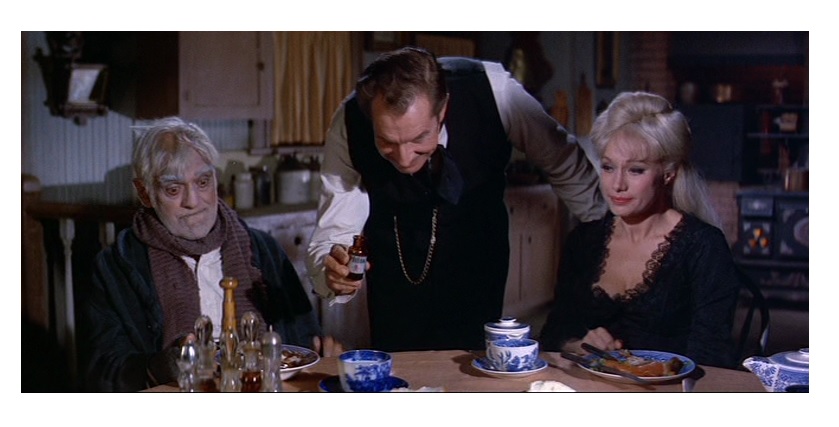 Price and Lorre are the highlights here. Both actors' timing is spot on. The ongoing mispronunciation of Trumbull's name by Gillie is funny every time. Watching Trumbull ordering Gillie to do the dangerous stuff while he berates him from a safe distance is amazing. And Sherlock Holmes himself, Basil Rathbone is fantastic as the unkillable Mr. Black who withstands numerous attempts at his life by Trumbull and Gillie.
THE COMEDY OF TERRORS is one of those films that takes everything you expect and turns it on its rear and while the actors involved had many good scares left in them, it was refreshing seeing these actors in such a fun light. The version of this film in the Vincent Price Collection II is accompanied by a documentary talking about Richard Matheson's screenplay as well as an intro and an outro from Vincent Price himself talking about this film in his own words. Price being the only member of the cast alive at the time the interview was taped, it was extremely touching to see him look back on working with his fellow actors of the macabre with such heart.
Previous Reviews of THE VINCENT PRICE COLLECTION I!
PIT & THE PENDULUM, THE HAUNTED PALACE, WITCHFINDER GENERAL, FALL OF THE HOUSE OF USHER, THE ABOMINABLE DR. PHIBES, THE MASQUE OF THE RED DEATH
Previous Reviews of THE VINCENT PRICE COLLECTION II!
THE LAST MAN ON EARTH, TOMB OF LIGIEA
---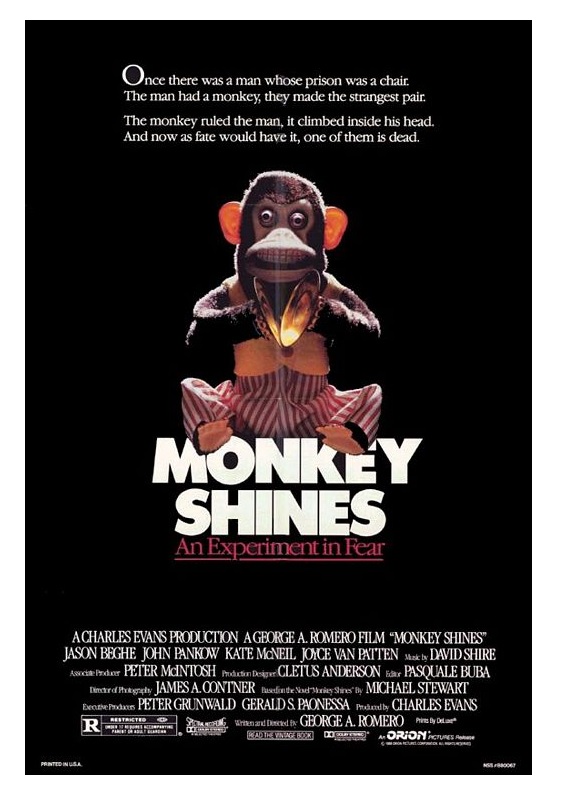 New on BluRay from The Shout Factory!
MONKEY SHINES (1988)
Directed by George A. Romero
Written by Michael Stewart (novel), George A. Romero (screenplay)
Starring Jason Beghe, John Pankow, Kate McNeil, Joyce Van Patten, Christine Forrest, Stephen Root, Stanley Tucci, Janine Turner, William Newman, Tudi Wiggins, Tom Quinn, & Boo as Ellie the Monkey!
Reviewed by Ambush Bug
I love monkey movies. There is something about monkeys that fascinate me. If there is such a thing as a spirit animal, I believe a monkey is mine. So, I guess it won't be a surprise to you to know that I have an affinity for the film MONKEY SHINES, one of the finer monkey horror films. I'd even dare to say that next to KING KONG, there isn't another horror film that comes close to the awesomeness that George Romero was able to tap in making this film. Because Stephen King's SKELETON CREW had a toy monkey similar to MONKEY SHINES' poster, I always thought King had something to do with this film. Even up until I rewatched the film for this review, I believed this was a King adaptation, given that Romero and King had collaborated so well in the past. Still, even without King's involvement, the movie is one of the more effective Romero films.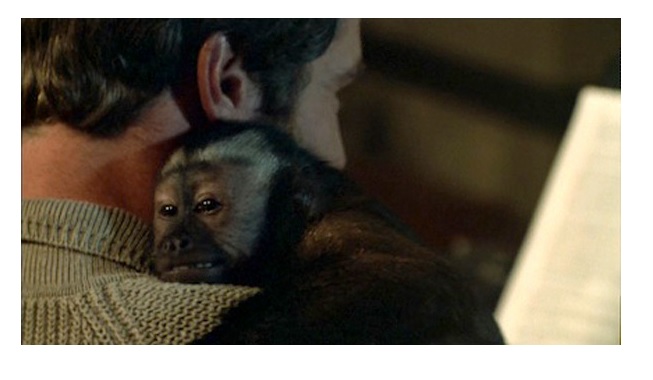 After a horrible jogging accident, the once healthy as an ox Allan (CHICAGO P.D.'s Jason Beghe) is rendered a quadriplegic. Returning home from the hospital, Allan is assigned a nurse, but his friend Geoffrey (John Pankow) who happens to work in a science lab developing a serum which amplifies the intelligence of capuchin monkeys, thinks he has a better idea in terms of assistance for his ailed friend. Trying to save his research from the hands of his greedy boss (the always amazing Stephen Root), Geoffrey takes his prize monkey Ellie and gives him to Allan. But this new treatment sparks a powerful link between Allan and Ellie and anyone who gets in between the monkey and her master are in trouble.
What I love about this film is that it is a love story between Allan and Ellie. In many ways, it's a reverse of King Kong in that Ellie's animalistic influence seems to bring out the beast in Allan, as his feelings of frustrations being trapped as a prisoner in his own body take shape in the actions of Ellie. A relationship between a monkey and a man can be laughable if done wrong, but Romero is able to finesse this into a believable and touching story. So first and foremost, the film is convincing in that you believe in this relationship between Allan and Ellie.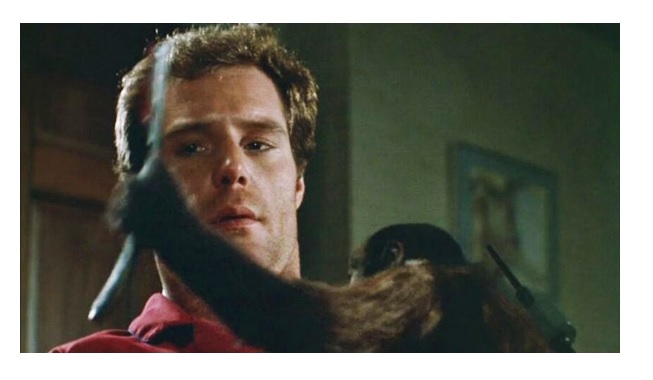 This is mainly due to some fantastically subtle acting by Jason Beghe as Allan. Only being able to move his neck and face, Beghe goes through a rollercoaster of trauma. From the shame he conveys in having to be washed by his mother as a grown man to the utter fear of being attacked by an angry parakeet, it's a wonder Beghe didn't take off after this film. It's cool to see the man has had a great career since then, but this is a really nuanced and complicated performance; one that you would think lead to much more leading man roles.
But of course, being a fan of the monkeys, what makes this film for me are the scenes of monkey madness. Sure the monkey killing spree is cool. But Boo, the monkey that plays Ellie is absolutely adorable from the feats she performs to the facial expressions she makes. The trainers of this film really got the best out of this monkey. My personal favorite scene is seeing Ellie cleaning every inch of the house and doing chores. For me, I could watch that over and over.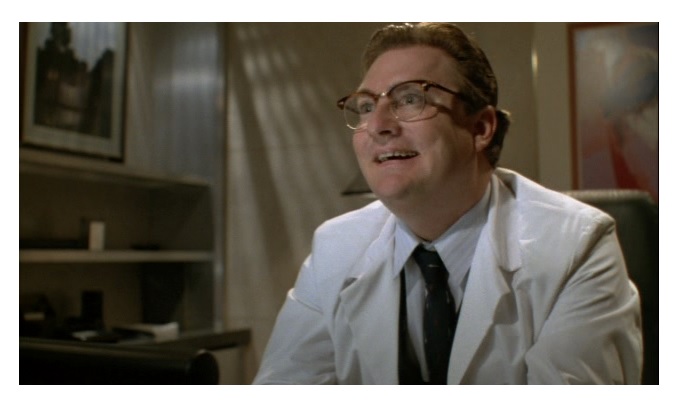 Romero is at his prime here, tapping into many subtle little terrors in the runtime. I talked about the bathing scene up above but the utter humiliation Allan feels having everything in his life taken away from him is heartbreakingly horrific. The same goes for the parakeet scene, which again, could really come off as goofy, but never does due to Romero's deft hand at tension. Realizing these terrors was Tom Savini and his effects team which consisted of WALKING DEAD director and KNB Effects alum Greg Nicotero, who seemed to have a blast making all of the monkey monstrosities. While Ellie's performance was awesome, the effects by these guys made the horrors come to life.
Bells and whistles in this BluRay come in the form of a pretty awesome and brand new Making of featurette looking at the effects and the performances from the film. There's also a lot of a deleted scenes, including a scene focusing on where the brain tissue Ellie is injected with comes from which really adds a lot to the story. There's also the original ending which Romero preferred which has Stephen Root's character taking vengeance against the world by developing his serum. While I enjoyed this ending, I found Root's over the top laughter towards the camera laughable cartoonish. Having not seen MONKEY SHINES in probably twenty years, I thoroughly enjoyed this revisit to the film and thanks to the Shout Factory, you can enjoy the monkey mayhem too!
---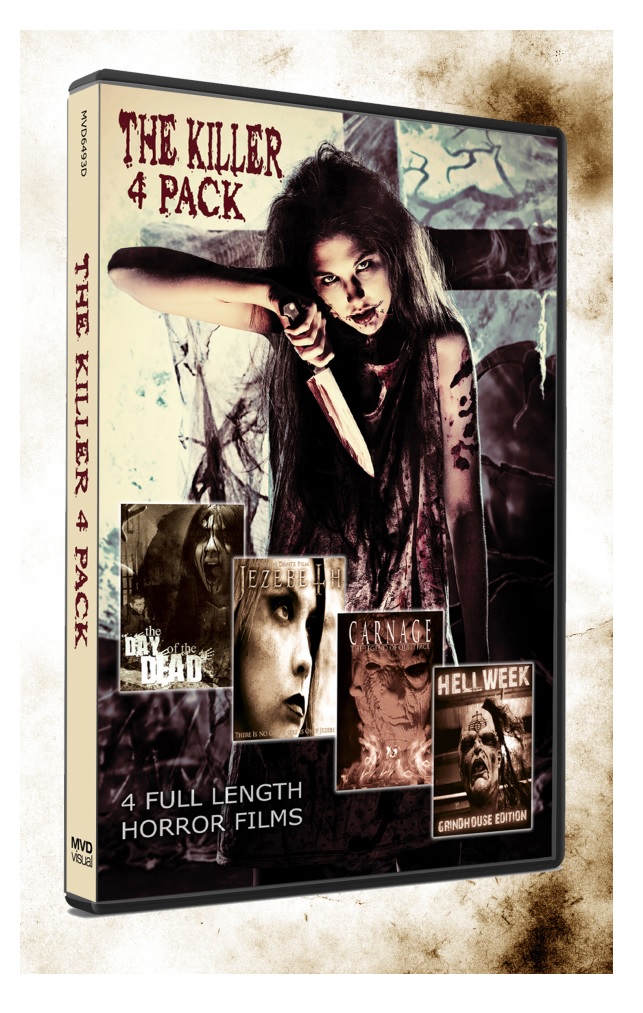 New collection of four films THE KILLER 4 PACK available this week from SGL Movie Store!
JEZEBETH (2011)
Directed by Damien Dante
Written by Damien Dante
Starring Bree Michaels, Katie Auerbach, Colleena Corrigan, Galina Emmerich, Madeline Maser, Amanda Jean, Kelsey Kozak, Baby D. Frost, Wolf McKinney, Drake Mefestta, Jeff Swan
Reviewed by Ambush Bug
For the next couple of weeks, I'll be checking out four low budget films that can be found collected in one disk called THE KILLER 4 PACK from SGL Movie Store. The films lean more on the DIY side and while I wasn't really excited to crack this one open, A href=http://www.aintitcool.com/node/69563#5 target=_blank>the first offering I checked out last week called EL DIA DE LOS MUERTOS proved to be much better than I had expected
. Here's what I thought of film number two in this set, JEZEBETH!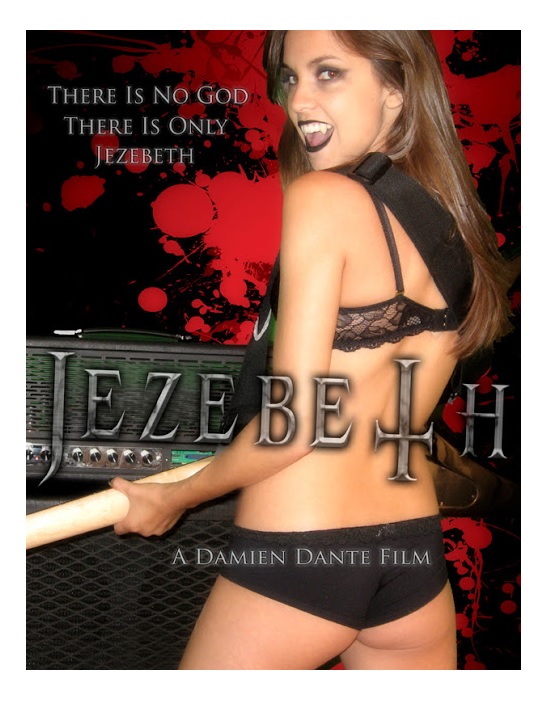 Beginning with a six minute power rock intro of a woman standing in imposing poses in a cemetery, I had a bad feeling that JEZEBETH was going to be one of those movies that puts my fast forward finger to the test. After this overly-long example of someone's riffing electric guitar riffing skills, my fears were verified as I was faced with bland delivery of overly-written and laughably serious dialog about a cursed child named Jezebeth whose ancestor (coincidentally named Jezebeth too) picks now for the perfect time for a black mass, making up a pentagram altar in her apartment and screaming incantations to devils and demons at all hours of the day. Jezebeth's sisters who share the house with her aren't cool with this and try to stop her. That's the bare bones story and it is thread bare, as most of that is established in the first five minutes.
The rest of the film is spaced out with more extended cuts of some metal bands greatest hits set to a fifteen minute scene in a strip club as we are treated to four different sets of strip club acts and then an extended cemetery scene of a bunch of biker types standing around a grave. Every ten minutes or so, someone barfs up dialog, but for the most part, this is an extended Guns N Roses video with all of the old school video shots of gothic atmosphere, dudes who use hairspray and wear sunglasses at night, chicks who like to wear leather vests and nothing else, and strippers, strippers, strippers.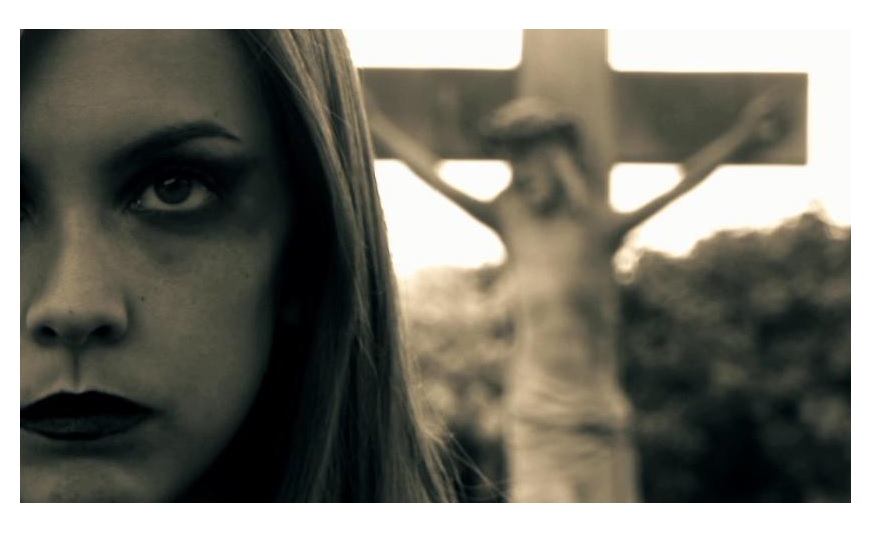 This isn't a film. It tries to be a film by having a very thin strand of plot lacing through the guitar solos, but for the most part, this is an extended collection of bad metal music. There's no interest in making the plot work. The film is cast with five girls with long dark hair who look almost identical, so you don't know who is who and given that none of the characters really have personality, it doesn't really matter.
So while this might have been a wicked cool video to play during Headbangers Ball circa 1988, now it feels like an antiquated oddity made by people who are trying to make an artsy horror film and failing miserably. Here's hoping the other two films on this disk are more like the surprising DIA DE LOS MUERTOS and less like JEZEBTH.
---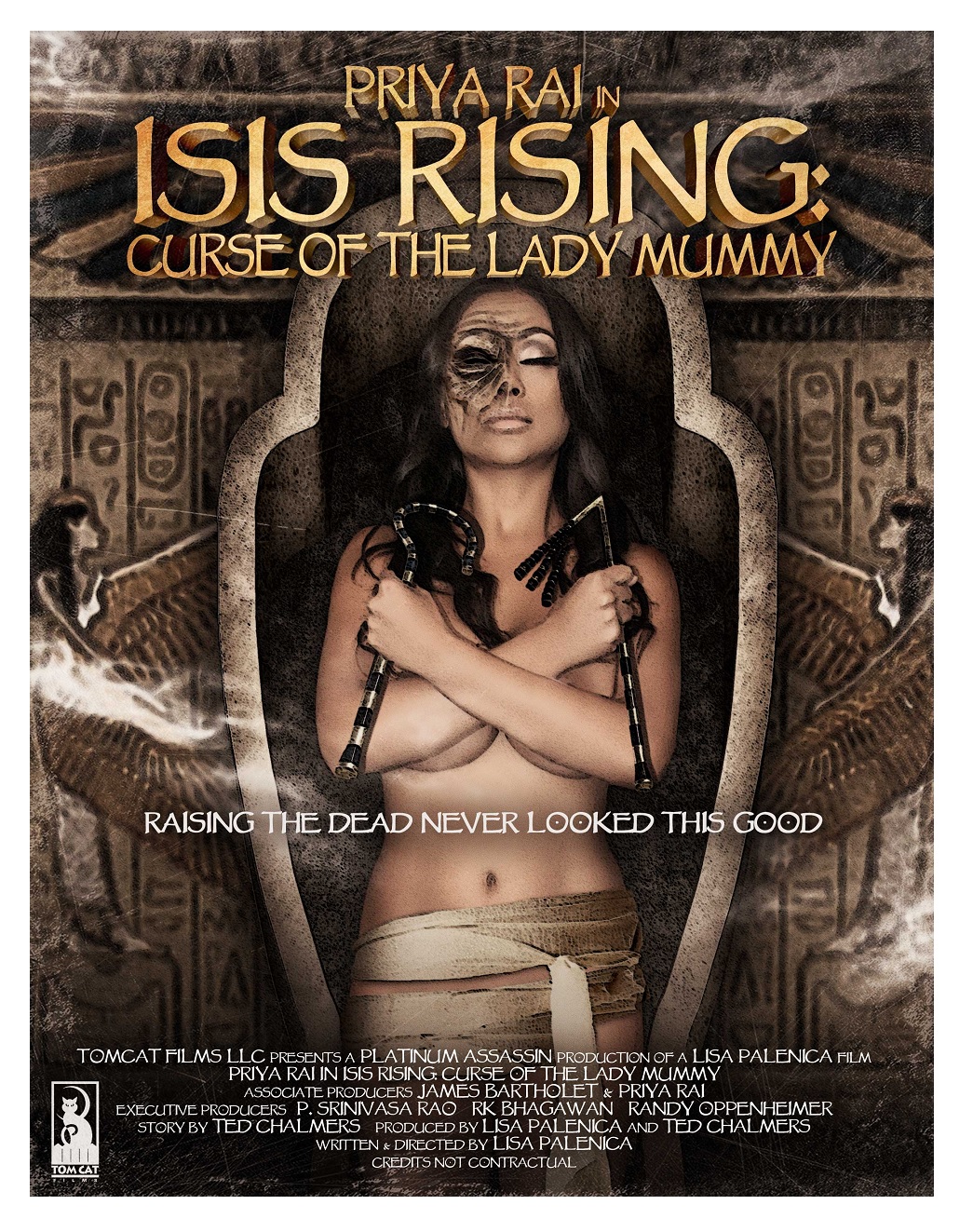 New on DVD from Tomcat Films!
ISIS RISING: CURSE OF THE LADY MUMMY (2013)
Directed by Lisa Palenica
Written by Ted Chalmers, Annie T. Conlon, Lisa Palenica
Starring Priya Rai, Aria Song, Lisa Palenica, Shellie Ulrich, Michael Alvarez, William 'Bill' Connor, Robin Daniel Egan, James Bartholet, Joshua DuMond, Seth Gandrud, Cameron Tevis, Wilman Vergara Jr.
Find out more about this film here
Reviewed by Ambush Bug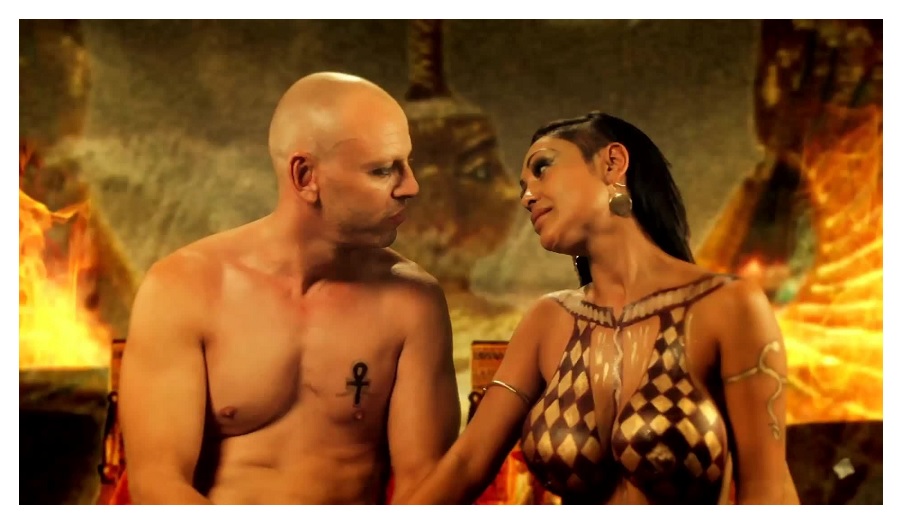 Here's another film I'm not going to waste too much time on as it's definitely one I sadly cannot recommend. The filmmakers seemed to do some of its research into rudimentary Egyptian mythology and rituals to make this film, but the only way I know that is the boring and ham-fisted way the actors fart out the clunky discourse laden dialog to communicate those fact. ISIS RISING: CURSE OF THE LADY MUMMY doesn't have a lot else going for it though.
Featuring porn star Priya Rai as the goddess Isis who rises as the titular Lady Mummy, this film focuses on her love affair with Osiris and betrayal by his brother Set. Skip awkwardly to the present and a bunch of archaeology students are pulling an all night study in a museum which just received Isis' sarcophagus. When the kids smoke some ancient marijuana incense, it awakens the busty mummy who goes around possessing and dismembering everyone in her path.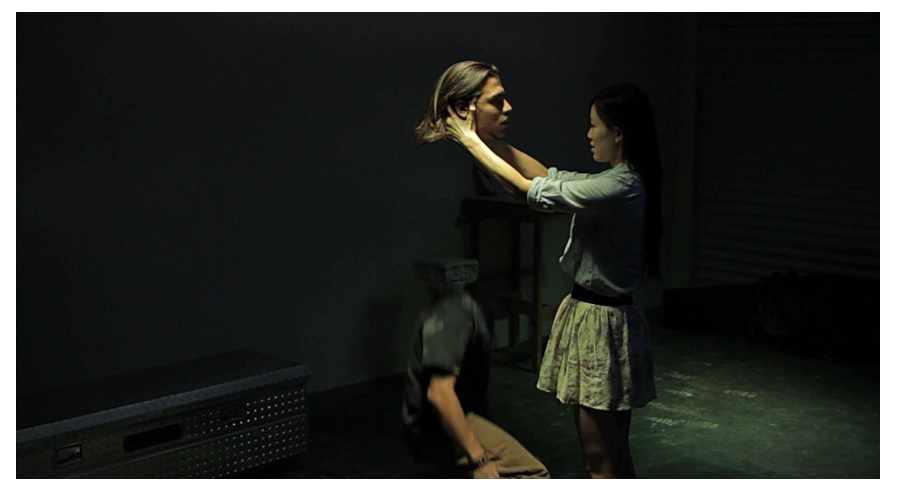 At first glance, this film feels like a Skinemax soft core porn film, where a very loose plot threads together one sex scene after another, but despite the fact that everyone talks about sex and all of the humor comes from the crotch, there's not really a lot of sex to be had. So while this film is bound to disappoint any horror fan looking for a mummy story, those who at least thought there might be a little T&A scrogging set to disco music will find themselves left limp here as well.
Poorly delivered lines and amateur acting makes it all feel very porn-ish, but this fails to deliver on all fronts. Shitty CG, bad acting, no real understanding of how to set up a suspenseful story of craft any kind of tale that excites any kind of investment add up to one bad movie. Tack on the fact that this film is unfortunately named after a terrorist organization that's in the news lately, and this is a film I recommend you avoid at all costs. I hate to be so rough on a film, but aside from Priya Rai's ample busom (which proves that not only did the Egyptians invent toothpaste, the plow, the calendar, and bowling, but they also must have invented the breast implant), there's nothing of import to see here.
---
New this week on DVD from Camp Motion Pictures!
NIGHT TERRORS (2013)
Directed by Alex Lukens, Jason Zink
Written by Alex Lukens, Jason Zink
Starring Alex Lukens, Richard Hackel, Asia Rain, Miranda Howard, Alyssa Benner, Holly McGraw, Sean Jones, Joe Bachan, Dominic Crawford, Brad Zink, Travis Manners, Phil Bontrager, Emmanuel Cervantes, Chris Copenhaver, Tyler Roos, Robyn Pierceall, Travis Mikels, Kelly Meyer, Charles Samuelson, & Brandon Edging as Santa Claus!
Find out more about this film here
Reviewed by Ambush Bug
Anthologies are almost always fun. If you don't like one tale, wait a tick and another will come that might be more to your liking. While I can' categorize all anthologies as winners, I do usually leave an anthology with at least one enjoyable little short under my belt. NIGHT TERRORS is not the best anthology, but it does offer up a trio of decently made chillers with DIY effects and an indie grunginess to it. The film also incorporates its own scratches and imperfections in the film to try to recreate that feeling of renting a well worn video from a not so reputable video store.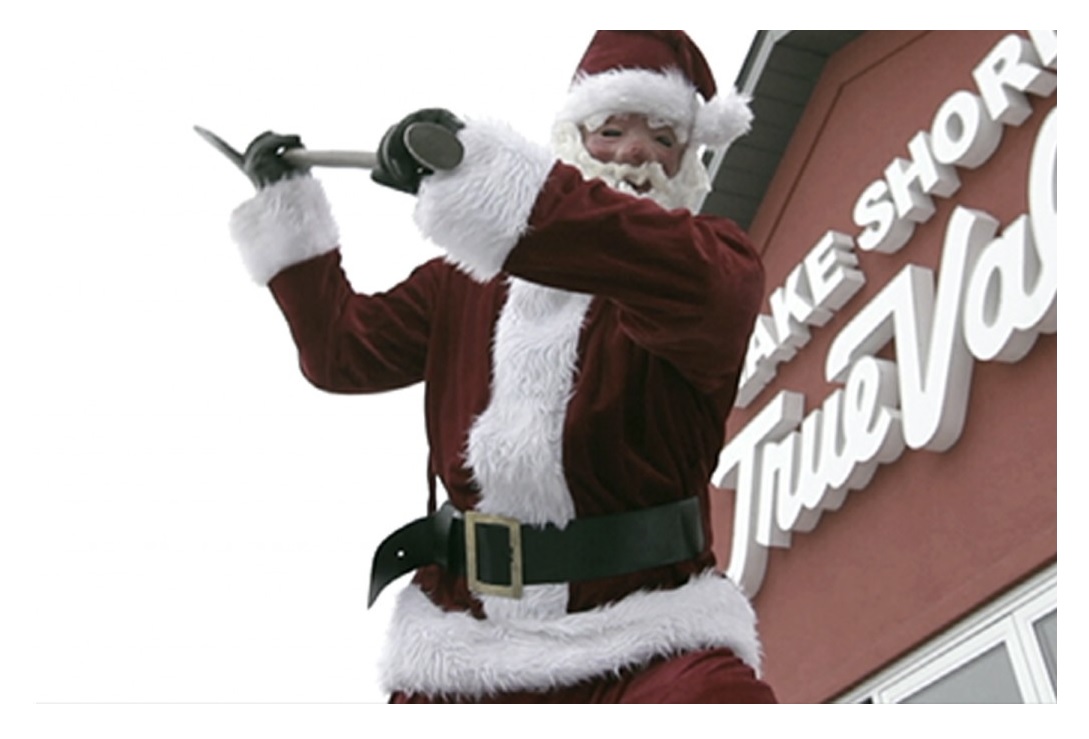 Segment one is called "The Massacre on 34th Street" and it's a good one telling a bare bones story of a man in a Santa suit on a rampage. Without much of an origin or explanation as to why Claus is so naughty, this one cuts to the gory bits and stays there for most of the runtime as Santa corners a bunch of punk rockers who live in a burned out building. While the acting is not very hot, there is a decent amount of pulpy gore as Santa takes his axe to town on the punks. The story seems to be following a well read textbook tale of stalk n' slash, but the tactile and repulsive effects give the film a grimy luster that cannot be denied.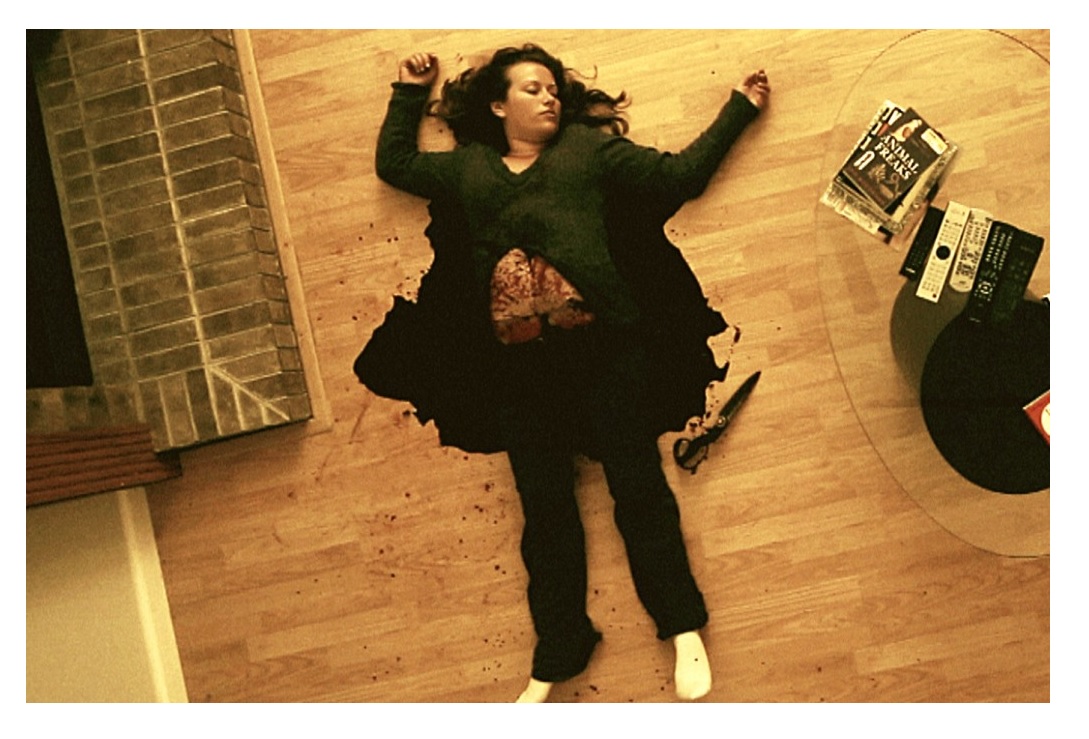 Story two, entitled "Baby Killer" is much more serious in tone as it focuses on a scientist who is banned from his research when he becomes obsessed with a cure for a disease his daughter is suffering from. Again, acting wise, things are not so good. But the story here is much stronger and again the effects are gruesome. Reminiscent of films like INSIDE and other baby horror films, this installment pulls no punches in terms of blood and gore.
The last installment is called "Abstinence" and is equally amateur in the acting department. Still, the story focuses on a pair of likable losers who are just trying to get laid in college coincidentally right around the time a contagious STD that turns its victims into zombies outbreaks. The two leads are fun to follow as they are so caught up with having sex and getting high that they don't know the world is falling apart around them. This one is ambitious, with shades of SHAUN OF THE DEAD going on and ends on a pretty cool note.
I don't want to oversell NIGHT TERRORS. It's pretty low fi; made with little care for how bad it looks or how unrealistic the actors come across as. Still, the anthology does some pretty gory and fun twists on age old tales, modernizing it in a DIY sort of way. The wraparound consists of a bored babysitter trying to scare the kid she's looking after with these tales. I doubt any of them would have scared me as a kid, but both my childhood self and my adult self were impressed by the fun, yet crude effects.
---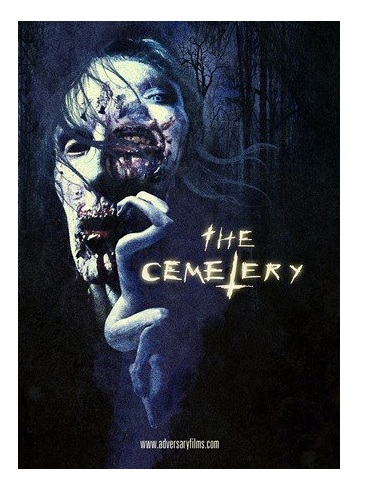 Available on DVD from Massacre Video!
THE CEMETERY (2013)
Directed by Adam Ahlbrandt
Written by Adam Ahlbrandt
Starring J.D. Brown, Natalie Jean, Adam Huss, Tim Cronin, Tabetha Ray, Halfbreed Billy Gram, Roberto Lombardi, Ruby Larocca, Victor Bonacore
Find out more about this film here and on Facebook here
Reviewed by Ambush Bug
Making up for its small budget with big chills, some tight editing, and some pretty gory effects, THE CEMETERY is the kind of old school horror I love.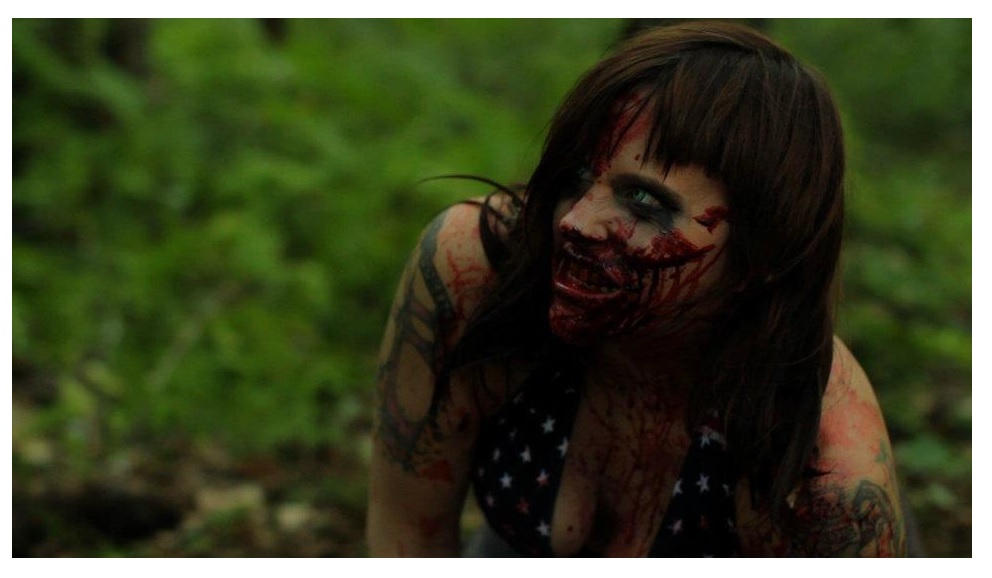 When a paranormal investigation television show team decides to check out the legendary haunts of a decrepit cemetery in the middle of the Pennsylvania woods, they stumble upon an ancient curse. Not the most original of stories, but while this one travels down well trodden roads, it does so with gusto.
What THE CEMETERY does well is rely on some fun performances with actors who don't mind getting themselves nice and gory. One of the leads, Natalie Jean has no problem smearing herself with blood and gore and really seems to enjoy tearing up her victims. She gives the type of performance that elevates an average movie to new heights. Taking some pages from the Book of the Dead itself directly from Raimi's EVIL DEAD movies, upon entering this cursed ground, half of the TV crew becomes possessed while the other half spend most of the movie running from them through the woods. And while this film does follow your typical campers in peril in the woods blueprint and the characters aren't really all that dimensional, THE CEMETERY keeps things interesting by putting these characters through sheer hell. Delving into satanic cults and Native American curses, the films origins go way back. There really is a detailed history going on in this film which is filled with creepy iconography and frightening images.
The gore in this film is amazing. Bones and guts are torn from bodies. Heads are lopped off. And no one really gets out of the woods unscathed and this film isn't afraid to splatter the red stuff all around, offering up one of the more gorier experiences I've seen recently. And this is not clean dribble of blood or fake looking prosthetic. The effects department really went out of their way to make this all look real and gross.
Sure there are some attempts at humor that fall flat and not all the actors are great. But THE CEMETERY offers up some chilling sequences of Native American possession horror and then covering it in guts and carnage. Those who appreciate 80's style horror will definitely dig the plot (and the rest of the movie itself) of THE CEMETERY.
---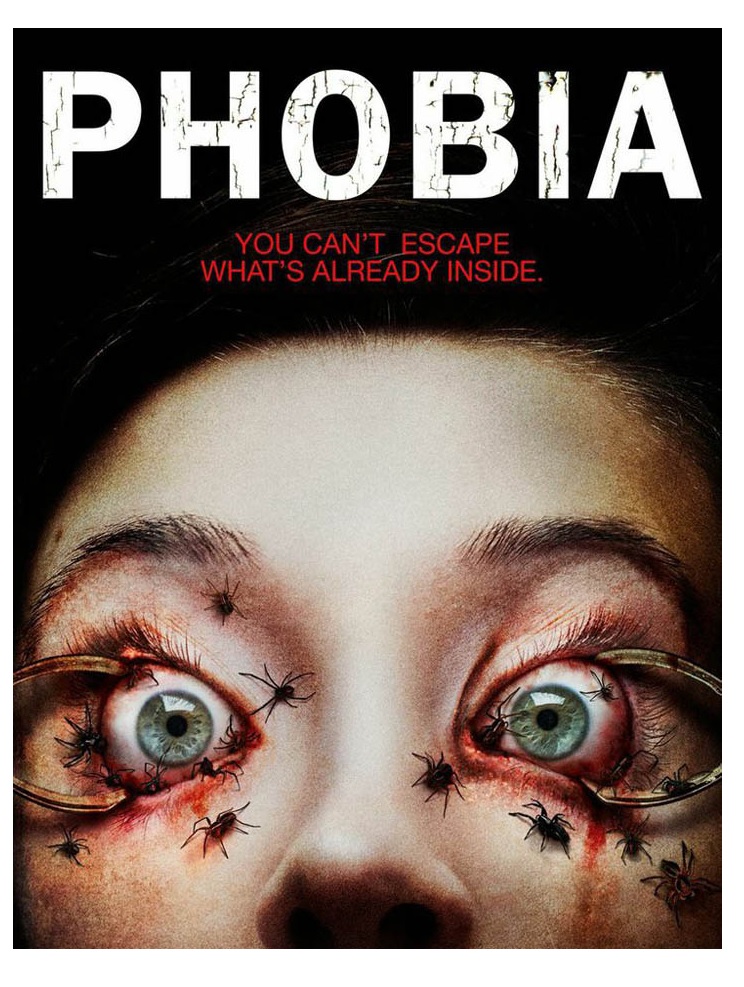 New this week on DVD and digital download from Image/RLJ Entertainment!
PHOBIA (2013)
aka ALONE
Directed by Rory Douglas Abel
Written by Rory Douglas Abel, Matthew Barnes
Starring Michael Jefferson, Emma Dubery, Sarah Schoofs, Peter Gregus, Andrew Ruth, Debbie Rochon, Sandra Palmeri, Jason Grimste
Find out more about this film here and on Facebook here
Reviewed by Ambush Bug
I'm a fan of low fi scarefests mainly because while often times low budget means you can see the seams to the creation of these films, it also forces those who make the film to be creative with what they have. Sometimes limitations are great because it forces the filmmakers to get tricky and clever with what they have. But what could a few more thousand dollars really achieve? Some shitty CGI? A bigger star? PHOBIA doesn't really need this, as the small budget seems to have made this film stronger, relying on things like script, acting, and simply pacing to deliver the thrills.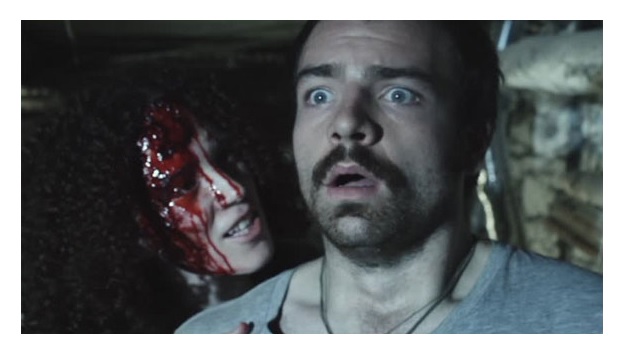 PHOBIA focuses on a fractured man Jonathan (Michael Jefferson) who, after a car accident which took the life of his fiancée, has become a recluse, overcome with agoraphobia every time he even looks outside of the two flat he inherited from his parents. Relying on deliveries from food services, the occasional visit from a close friend and house calls by his shrink, Jonathan gets by, though he is still haunted by nightmares reliving the incident and occasionally experiences hallucinations creeping in the hallways of his home. When Jonathan meets Bree (played by Emma Dubery), a spunky food delivery girl, he begins to think he may be able to move on and start down the road to recovery. But with this new promise of hope comes the intensifying of his hallucinations and hauntings.
What PHOBIA does right is a lot. The story is compelling and writer/director Rory Douglas Abel and co-writer Matthew Barnes do a great job of keeping us guessing whether Jonathan is losing his mind or if he is really being haunted by ghosts of the past. The way these specters walk in and out of Jonathan's life is subtly done, giving the viewer a sense of unease as to what to trust about what we are seeing in this film. The use of the single home with all of its corridors, closets, and hallways is also equally effective as it gives a claustrophobic feel to it all, as if you are trapped in the home right there with our "hero."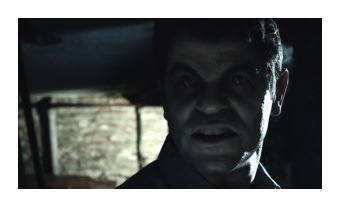 The effects here are pretty simplistic and crude. The drawn on black veins, simple prosthetic appliances, and some deft shadowing are not flashy or showing off, but they do the trick in heightening the creepy feel. Making up for that is some strong acting by the entire cast. Especially the lead Michael Jefferson who goes through a rainbow of emotions here as he struggles with salvation and his own sanity. Jefferson is really convincing as a man who desperately wants to start a new life, but his agoraphobia prohibits him to do so.
If you're looking for tons of empty jump scares, CG monsters, and big actors phoning it in for a horror film, look elsewhere. PHOBIA has filmmakers and a cast that are giving it their all and doing great things with the limited budget that they have. Filled with genuine scares, a chilling atmospheric setting, a sympathetic lead, and a conundrum that grabs you, PHOBIA is low budget filmmaking at its best.
---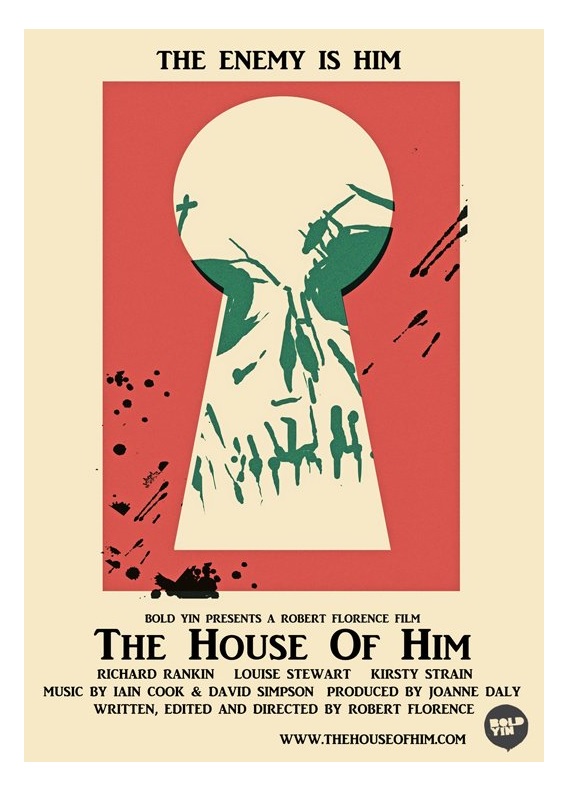 New On Demand on Vimeo here!
HOUSE OF HIM (2014)
Directed by Robert Florence
Written by Robert Florence
Starring Richard Rankin, Louise Stewart, Kirsty Strain, Amy E Watson
Find out more about this film here and on Facebook here
Reviewed by Ambush Bug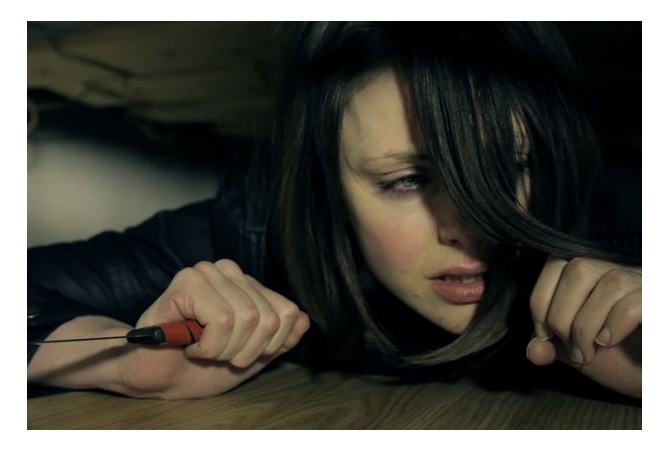 This micro-budget Scottish thriller chilled me to the bone with its completely unconventional approach. The story starts out right in the middle of the action as a typical stalk and slash type of film. But as the runtime goes on, it turns into something else. And then a little further into this rabbit hole of a film, it becomes something else. HOUSE OF HIM is a film that you will not be able to predict where it is going and what it has in store for you.
The film opens as if it is the ending of a typical slasher film. A woman is murdered in the kitchen by a skull-masked madman while another woman desperately fumbles with locked doors and bolted windows to get out of this place what has obviously been fortified by the madman. But just as the creep has the desperate woman at the end of his knife, he decides he is tired of killing at the moment, and decides to take a breather. Meanwhile, the radio which fades in and out is alerting people not to stay indoors, but leave their homes and go out into the streets until…something has passed over.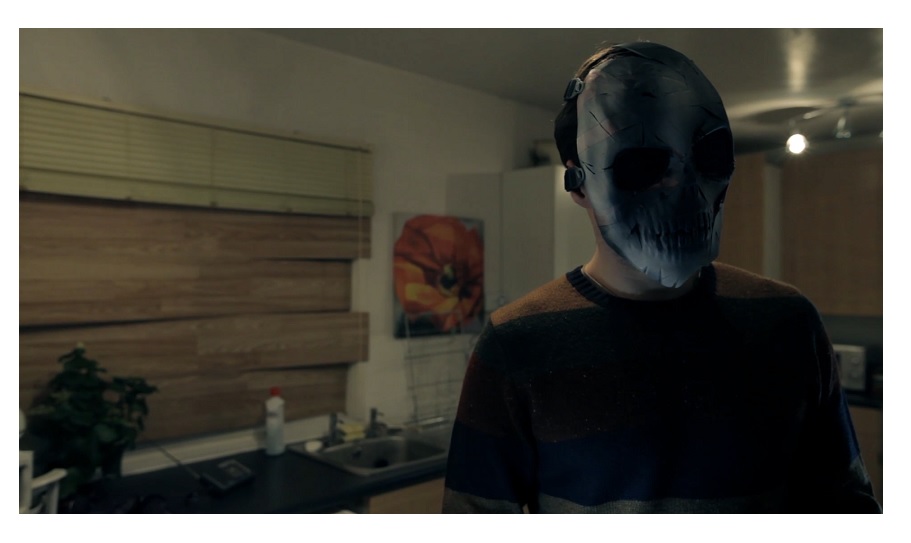 Everything from the killer's decision to take a breather to the weird directions from the radio plays with your expectations here. This film seems intent on zagging when a zig is expected, which gives this film a dangerous edge. I felt downright unsafe as the upper hand is switched back and forth as killer and prey are fighting for their lives while something odd is happening to the rest of the world around them. Without revealing what's happening any further, I'll just say that these twists and turns were both entertaining and completely original.
Director/writer Robert Florence is amazing at turning the world on its end in this little apartment the bulk of this film takes place in. With simple camera trickery and some strong performances by the killer and his prey (Richard Rankin and Louise Stewart, respectively), HOUSE OF HIM is a low fi film that works well beyond its budgetary limitations. Full of twists and turns, nightmarish visions, some pulpy gore, and a plot that sneaks up and grabs you, HOUSE OF HIM is an impressive film and makes me wonder what kind of horrors filmmaker Robert Florence could unleash with a bit more of a budget.
---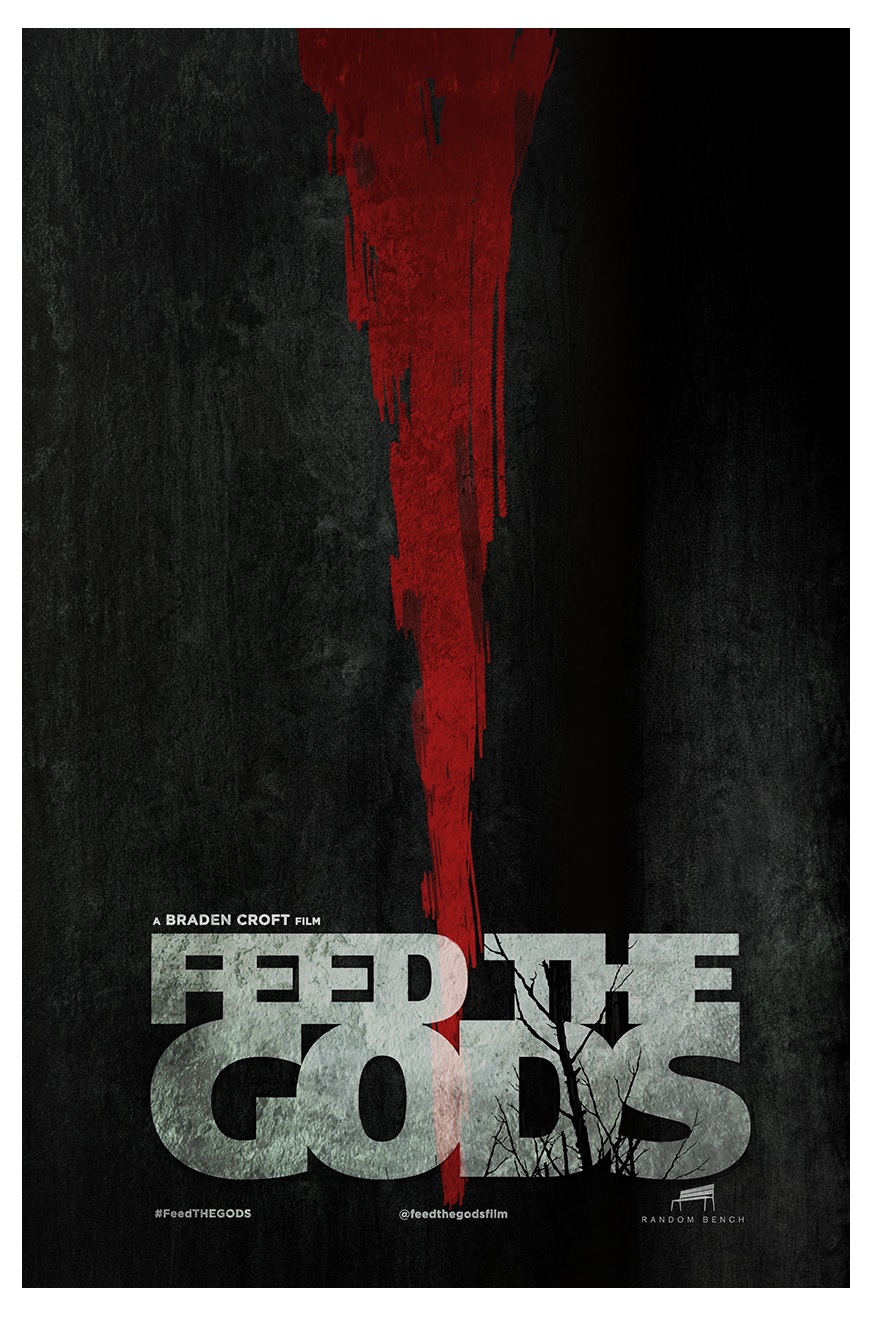 New this week On Demand and on DVD on January 27th from XLRator Media!
FEED THE GODS (2014)
Directed by Braden Croft
Written by Braden Croft
Starring Tyler Johnston, Shawn Roberts, Emily Tennant, Erica Carroll, Britt Irvin, Aleks Paunovic, Garry Chalk, Christine Willes, Tara Wilson, Lane Edwards, Jerry Wasserman, Eduard Witzke, Jonathan Alexander, and Rob Scratch Mitchell as the Bigfoot!
Find out more about this film here and on Facebook here
Reviewed by Ambush Bug
Always looking for a good Bigfoot movie, but as I've said before, finding a good Bigfoot film is almost as hard as finding Bigfoot itself. And while there is a lot going on that works with FEED THE GODS, it turns out to be just shy of greatness.
FEED THE GODS centers on two brothers Chris and Will (Tyler Johnston and Shawn Roberts), and Chris' girlfriend Brit (Emily Tennant) find some mysterious clues in their adoptive mother's belongings suggesting the identity of the brother's birth parents. Deciding to follow the clues, Chris, Will, and Brit make their way to the small town of Tendale which, by the opening segment, is not your typical town. Burdened by an age old ritual which keeps the upright apes of the forest placated by tossing a few sacrificial tourists their way for dinner, the townsfolk are more than happy to welcome the trio into their city limits, but they don't want to let them leave.
What I liked about FEED THE GODS was that it approaches the Bigfoot story from an angle that is pretty original. The knowledge of the existence of Bigfoot by a small town has been done before, but it's done well here as it delves not only into the lives of the people stumbling into the creepy town, but the townsfolk themselves. The story itself is expansive, and writer/director Braden Croft really seems to have developed a whole mythology around the town and its relationship with the Bigfeets.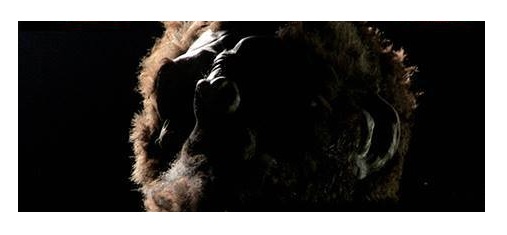 I also like how the real horrors are the humans and that Croft makes these horrors really dangerous here as town tradition seems to be the most prominent of responsibilities. Actor Aleks Paunovic is especially imposing as the lead abductor who chains people to a sacrificial altar to please the "gods." His imposing size and strong performance really makes you forget this is a monster movie at times as he is threatening himself here. RESIDENT EVIL actor Shawn Roberts and THE KILLING's Tyler Johnston do a good job here as siblings in search of their mother. The two brothers have the right sense of rivalry here and their relationship is written well.
The problem with FEED THE GODS comes during the last half hour of the film. There seems to be a large build towards something, but the payoff is rather weak. So while I admire the original setup and the decent performances by the cast, I kind of wish an equal amount of energy was put into the last act. Things seem to reach a predictable conclusion, but it feels the filmmakers and all involved were more interested in setting up for a sequel rather than make a compelling ending for the original installment. So while FEED THE GODS has a nice hook, it isn't a finisher.
---
Advance Review: Currently touring festivals!
YOU ARE NOT ALONE (2014)
Directed by Derek Mungor
Written by Derek Mungor, Chris O'Brien
Starring Krista Dzialoszynski, David O'Brien, Mary Mikva, Keenan Camp, Nikki Pierce, Eric Wood, Katie Johnston-Smith, Tony Rossi, Jonathan Pitts
Find out more about this film here and on Facebook here
Reviewed by Ambush Bug
This is the second film in what I hope is a trend of more creative ways in which to do a found footage-esque film. And while GRACE: THE POSSESSION (
reviewed here
) wasn't the best of films, it did do what YOU ARE NOT ALONE does and chuck the camera out the window and just tell the story in the first person POV, as if you are experiencing it through the eyes of the central character of the film. It's a subtle change, but it makes questions like "why didn't this person just drop the camera and run?" moot and lets you sit back and enjoy the movie instead of trying to find all of the inconsistencies.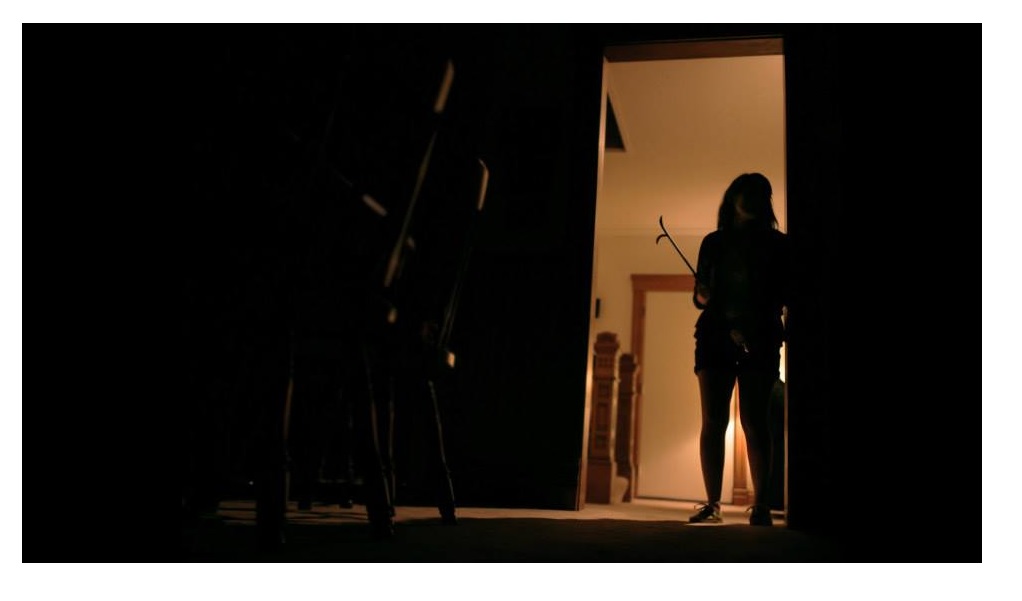 The story follows a young girl named Natalie (played by actress Krista Dzialoszynski) who we never see, but hear and experience everything through. She is home from the big city. Visiting her childhood home and being picked up by her brother on the night before the Fourth of July, which also coincides with a city-wide panic as a patient from a local mental institution has escaped and a curfew has been enacted. Still, that doesn't stop Natalie from enjoying herself, catching up with friends, and enjoying the fireworks. Stumbling drunk home, Natalie thinks nothing of walking home alone, forgetting about the lunatic on the loose. When she is woken up by knocking on the door though, it all comes back to her as she seems to have stumbled into the sites of the madman.
YOU ARE NOT AONE is an effective and downright scary film. Placing you in the head of the victim is a really strong way of making you both empathize and almost feel the fear in ways a cinematically filmed movie fails to do. Writer/director Derek Mungor and his co-writer Chris O'Brien do a fantastic job of making everything happen in a flurry of panic, whisking you right out of that comfortable chair and plopping you into the middle of this horribly frightening situation.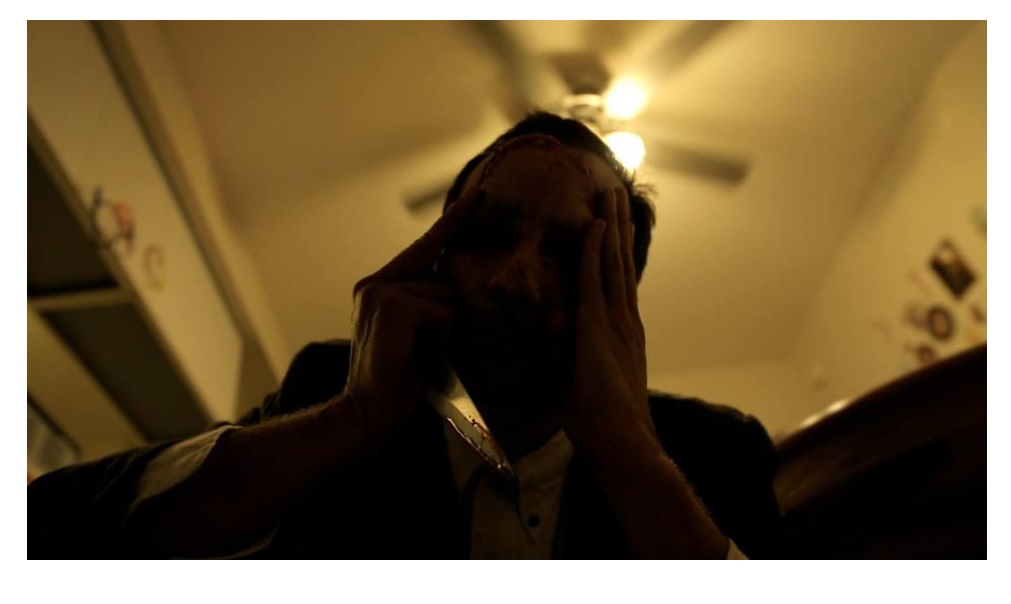 That said, the action in YOU ARE NOT ALONE doesn't really happen until the hour eleven mark which is entirely too long to be sitting and doing practically nothing with our lead. Huge chunks of this film (such as the pointless scene where the lead and her two friends go and visit a man named the Captain) should be chopped out as all it did was make my fast forward finger feel heavier and heavier. With a solid edit, though, this could be a really solid film, as there is about forty minutes after the action starts. If a half hour is edited from the front half, still keeping the little moments peppered in about the escaped lunatic, this could be a film that works.
I understand what the filmmakers were doing here. The slow burn works in some cases. Getting to know the lead character is important. And during that first hour and eleven minutes, there are some nice subtle things peppered in that gives a nice sense of foreboding dread. Plus the actors are really good here at making things seem unrehearsed and comfortable. But the pacing of this film is really off and most will not have the patience I had and stick around long enough to get to the good and scary stuff at the end. YOU ARE NOT ALONE is currently touring fests. Hopefully, an edit or two can be made in order to make this pretty strong film into a titan.
---
And finally…it's always awesome to see Patrick Rea (who directed the thrilling tornado monster movie NAILBITER – reviewed here -- which was released in the UK just last month on DVD) hard at work on a new chilling project. The man is a machine cranking out one quality scare fest after another. His latest is a short called COUNTER PARTS and it's another great one. Check out COUNTER PARTS below!
Counter Parts from Patrick Rea on Vimeo.
See ya next week, folks!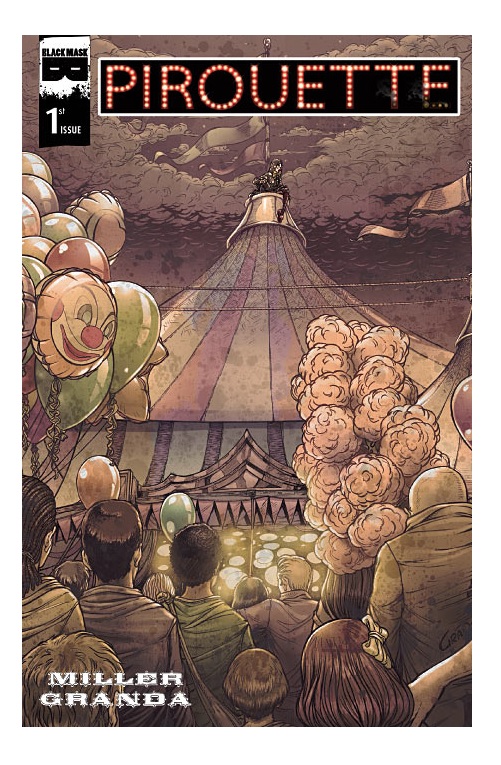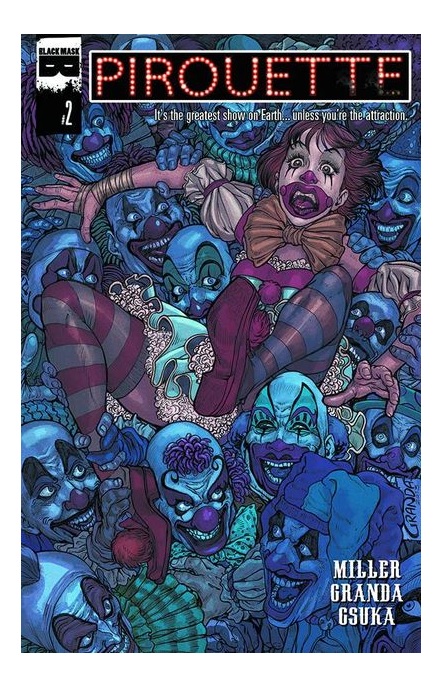 Ambush Bug is Mark L. Miller, original @$$Hole/wordslinger/writer of wrongs/reviewer/interviewer/editor of AICN COMICS for over 13 years & AICN HORROR for 4. Follow Ambush Bug on the Twitters @Mark_L_Miller.

Be sure to tell your comic shop to order his new comic PIROUETTE (out now!) from Black Mask Studios!
---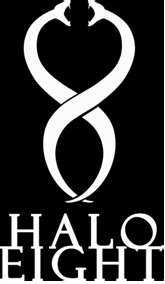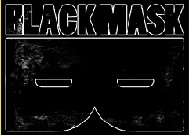 Find out what are BLACK MASK STUDIOS and OCCUPY COMICS here and on Facebook here!


Interested in illustrated films, fringe cinema, and other oddities?
Check out Halo-8 and challenge everything!
Look for our bi-weekly rambling about random horror films on Poptards and Ain't It Cool on AICN HORROR's CANNIBAL HORRORCAST Podcast every other Thursday!
---
Find more AICN HORROR including an archive of previous columns on AICN HORROR's Facebook page!