CLICK HERE TO GO TO PART 1 OF THE 2014 HOLIDAY GIFT GUIDE FEATURING BLUs, ART and GEEK APPAREL!
CLICK HERE TO GO TO PART 3 OF THE 2014 HOLIDAY GIFT GUIDE FEEATURING BOARD GAMES, VIDEO GAMES, TOYS, COLLECTIBLES and RICH STUFF!
Ahoy, squirts! Quint here with Part 2 of the 2014 Holiday Gift Guide. Below I cover Books, Music and Geek Housewares... keep your eyes peeled for a few contests as well.
BOOKS
Cheap ($24.99 and under)
Every year there are at least a dozen books vying for the "coolest on set documentation"award. There quite a few in the book category this year, but Kim Gottlieb-Walker's book chock full of her still photography from the sets of Halloween, Halloween II, Escape From New York, The Fog and Christine takes the cake for me. It's inexpensive and has commentary from John Carpenter himself as well as some of the cast and crew of the films. The Halloween stuff alone is worth the price of the book. Gottlieb-Walker has an amazing eye and the best compliment I can give to her is that there are at least 10 images in this book I'd buy large prints of if I could. Although it does weird me out seeing Snake Plissken in full regalia but without his eyepatch. Makes you realize just how young Kurt Russell was when he played that character. Highly, highly, highly recommend this one. $21.74.
Day of the Dead has a fascinating history and finally Lee Karr has published a book about the ups and downs of the production. What I knew going into this book was that Romero intended to make a bigger movie at first and the version we ended up seeing was the compromised cut down version of his vision. The book touches on where Romero was when he started the process on Day of the Dead and the bumps in the road as he scrounged every last resource he could into making the film we eventually have come to know and, if you're cool, love. Tons of behind the scenes photos, insight from Romero, Nicotero, Savini and many of the actors are included and perhaps the best thing about this book is that it doesn't shy away from portraying many of the players in a negative light. Let's just say there are some makeup dudes who didn't particularly care for Savini... Really good stuff for Romero nerds. $19.23..
This one I haven't read yet, but it came out earlier this year and word on the street is it's a hell of a read as it delves into the making of NETWORK. Screenwriter Paddy Chayefsky apparently was a bit of a handful, surprise surprise. Gotta make for some entertaining reading, right? $23.01.
I'm a big fan of Rocky Horror and I'm talking about the actual movie, not the cult that has popped up around it. I'm not the guy that likes to shout at the screen and throw rice and shit, I just dig the crazy-insane homage to B pictures Richard O'Brien crafted with the help of one of the most amazingly off-kilter leading performances in any film ever made courtesy of Tim Curry. Whether its the way I just appreciate the flick as-is or pretty much everybody else who loves this movie we can all agree this book from RHPS Fan Club founder Sal Piro loaded with factoids, stories and BTS pics from one of the most iconic films ever made. $20.53.
I think any movie nerd gets a little giddy when they see a movie studio, even if it's just driving by in the family truckster on vacation. Movies hold a bit of a religious verve for hardcore cinephiles and that makes these old studios kind of our cathedrals. Having been lucky enough to have visited many film studios over the years there's something incredible about stepping into a space like Pinewood or Warner Bros or MGM and thinking "This is where the Yellow Brick Road was," or "Luke and Han got their medals in this giant room," or "Nicholson said 'Here's Johnny!' in this room." So, I'm pre-disposed to enjoy a book about a studio backlot, especially if it's a place like Warner Bros which has been featured going back to the days of Casablanca. That's what this book is, a look at one of the busiest, more history-filled backlots in the world. $21.17.
Karina Longworth has a deep knowledge of golden age Hollywood (and just about any Hollywood, really) and she has compiled some great old Hollywood images in a hardcover book. It's not the typical BTS shots compilation book you've seen before, but one that focuses on photographer's contact sheets. So you not only get a look at icons in iconic shots, but also the half dozen clicks of the shutter before that and the half dozen that followed. Its in these frames that you see the person behind the icon. Featured in the book are images from the making of films like Silence of the Lambs, Some Like It Hot, Breakfast at Tiffany's and Taxi Driver. $20.56.
It's pretty well known that big actors in the Golden Age of Hollywood fought in WW2, but it's not as well known that some of the era's greatest directors did as well. This book showcases how the war impacted Hollywood and how Hollywood in turn impacted the war via five directors: John Ford, John Huston, William Wyler, George Stevens and Frank Capra. None of them were young men when Pearl Harbor were bombed, but they all enlisted anyway and Mark Harris chronicles their journeys in this book. Fascinating stuff for both WW2 geeks and film nerds. $19.70.
Here is nearly 500 pages of words about the life of Judy Garland from the mouth of Judy herself. Taken from many, many, many interviews over her lifetime Randy Schmidt has edited together a pretty definitive view of Judy Garland from her own words. $20.80..
David Fincher doesn't give very many interviews and when he does he doesn't junket them out in 4 minute bursts. My understanding is he's pretty picky on who he talks to and when he does commit to a chat he sets aside 20-30 minutes for it. Some damn fool convinced him I'd be a good person to talk to on a couple of occasions (once for Zodiac and once to try to get support for that Goon animated project he was producing) and in those instances he was never any less than open about himself, his career and whatever specific project we were supposed to be talking about. My point is the man gives good interview and this book compiles many of them to essentially have Fincher himself walk you through his career from his beginning video days up to where he is now, Alien 3 and everything. $22.50.
Woody Allen has become a bit more controversial over the last few years, but I'm not here to talk about that stuff. It bums me out, for one, and I've also been more of a guy to focus on an artist's work rather than his or her real life. And that's exactly what this book is. Author Jason Bailey goes through his filmography movie by movie, filled with essays, trivia and all that kinda stuff. $20.48.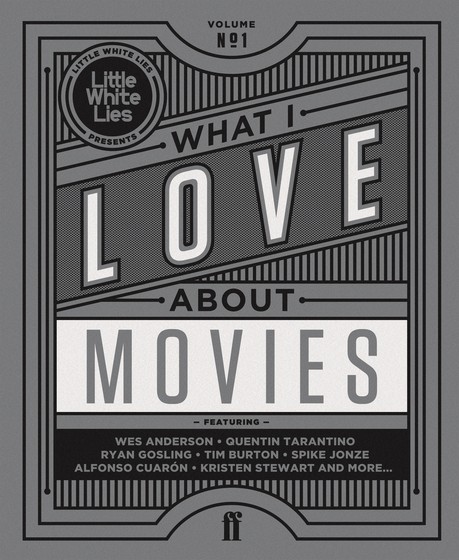 The folks at Little White Lies asked pretty much every actor, director and writer they interviewed at one junket or another over the years what they love about movies and the resulting answers are compiled here in this book. You have answers to that question from people like The Coens, Francis Ford Coppola, Quentin Tarantino, Daniel Radcliffe, Harmony Korine, William Friedkin, Park Chan-Wook and dozens more. Overall this book serves as a great reminder why the reader him or herself loves this crazy little artform. This is probably the safest book to gift the movie maniac in your life to guarantee a smile within 60 seconds of cracking it open. Makes me wish I kept on asking for favorite dirty jokes from my interviewees... that'd make a hell of a book! $24.05.
This is like that What I Love About Movies book above, but specifically about what makes horror work so well from the mouths of horror filmmakers and effects guys including Stephen Chiodo, Tom Holland, Larry Fessenden, Eduardo Sanchez and Alec Gillis. $14.40.
Maltin's yearly Guide was a staple in my house growing up... not having the most money in the world we were actually usually a couple years behind, but still. I may never agree with him, but in an era before IMDB this was a crucial resource to help me navigate video stores and look up the more obscure movies. The 2015 edition of Maltin's Movie Guide is his final release (thanks internet!) and contains nearly 16,000 entries. Holy moly! $8.59.
Eiji Tsuburaya: Master of Monsters – Defending the Earth With Ultraman, Godzilla and Friends in the Golden Age of Japanese Science Fiction Film. Whew, that's a mouthful. Previously only available in an expensive hardcover, now you can get this really cool book in softcover for less than half of the price. Mr. Tsuburaya brought big G to life and this book is filled with BTS images and his movie magic secrets. $21.43.
You see that steep lush green hill on the right of that cover photo? When this shot happened I was sitting up on top of that hill watching it unfold alongside my buddy (and awesome dialect coach) Leith McPherson. So trust me when I say how amazing the locations were on the Hobbit films and that you should probably blow your college fund travel around the north and south islands of New Zealand with this book as your guide to go visit every location you can. Some of them are crazy remote, but some of the prettiest ones are easy to visit, like Lake Pukaki (to be seen in the next film) and the aptly named Paradise, New Zealand about an hour outside of Queenstown, which served as the exterior for Beorn's house. I remember pouring over the LOTR version of this book and making sure to hit some of those locations when I first started going to New Zealand regularly and now being in the enviable position of having been to nearly all the locations from The Hobbit myself I can't recommend saving up for your own trip. Sorry for all the bragging. Moving along. $12.88.
This Art Of book covers both the surprisingly good Rise of the Planet of the Apes as well as this year's sequel, Dawn of the Planet of the Apes which was an even bigger step up than the super good first movie in this new chapter of Apes lore. I'm loving the direction of the series so far and the CG in Dawn still blows my mind. Such amazing, subtle character work in them pixels. $24.59.
I'm a sucker for movie poster art. Love it to death. I've loved seeing Drew Struzan realize how many fans he has. John Alvin is a brilliant poster artist who has sadly passed, but his work is still stopping breaths to this very day. Blade Runner, Gremlins, Empire of the Sun, Blazing Saddles and Beauty and the Beast to name a few. This book features his well known art as well as rare comprehensives, early sketches and alternate ideas. Books like this are crack for me. I assume some of you reading this love crack, too, and will want to know about this. Rob Ford? Are you out there? $22.23.
This is a good one for the kids. It's a little papercraft activity book that lets you punch out and create your own little paper Boxtrolls. And by "you" I of course mean your kids because you're an adult with adult responsibilities and would never ever in a million years play with paper dolls! $6.79.
I'd love it if some totally irresponsible uncle bought this book and slipped it into their young movie geek's room. Movies R Fun takes a children's picture book approach to some very R-rated movies and while it would make a fun curiosity on the shelf of a grown film fan, it'd blow the minds of a young movie geek in training. So, if there's a young film geek to be in your life, give 'em a little push and gift them this.. $4.91.
Unless I'm going crazy I think I missed this last year for some reason, so I'm making up for that sad fact by including it here. This is Tim Burton returning to Nightmare Before Christmas in order to present it in this picturebook format using his art. My understanding is that a good deal of this is the production art he provided during the making of the movie, but that he also drew up some new illustrations and included that in the book as well. His art for this movie in particular is amazing, so this is a must own for any Burton fan. $11.29.
This nifty little book tells the story of the original trilogy (A New Hope, Empire and Jedi) via Ralph McQuarrie's fantastic concept art. Most of us have seen these pieces, but I don't know if we've seen them gathered in order to tell the story of the holy trilogy in quite this way. The basic regular edition is an inexpensive $15.73, but if you want to pull out the stops you can get the limited edition, which comes in a nice hardcover (and slipcase), is signed by author Tony DeTerlizzi and includes 3 individual McQuarrie prints. That'll run you $63.64 .
I know. The last thing in the world we need is yet another "how they made Star Wars" book, but this one by Chris Taylor seems to be focused on the franchise in a different way than the usual tale of the creation of one of the biggest, most game-changing franchises that has ever hit cinemas. He's looking at the movie business and exactly what Star Wars did to break the mold and how it has existed in the new world since. So, it's a bit more of an adult look at the results of the impact of these films and a look forward at where it goes from here. $19.86.
Speaking of science fiction, here's some smarty pants TV tree-hugger who wants you to think we was born from a monkey! Has my grandpa skimmed past this entry yet? He gone? Good, let's talk about how awesome Bill Nye is and how amazing this world is that Bill Nye the Science Guy is all over the news standing up for, you know, science. I'd bet he had more fun talking to bratty kids than he does when he debates climate change deniers and creationists. This book is focused on the latter as he walks through the specifics of what science knows about the creation of humans and the universe itself. Great gift if you want to spark the imagination of a kid interested in science or get the stink eye from your religious Aunty at all the family reunions for the next decade. $16.43.
Full disclosure: I follow Megan Amram on Twitter, so that means we're pretty much best friends. I mean, I've never spoken to her and she doesn't follow me back, but I'm sure some Gamer Gate dude is trying to figure out why I'd feature a book about a woman talking about Science, so I wanted all my cards out on the table. If you're not familiar with Amram, she's a very funny writer who works on Parks and Rec and in this book she aims her snark gun at women's magazines and the way they lock in gender stereotypes. It's a different kind of book for the guide, but of the type I hope to feature more often in future editions. $15.81.
Speaking of Parks and Rec, how awesome is Amy Poehler. Talk about a personality that has really come into her own over the last few years... I remember liking her on SNL, but not nearly as much as I adore her work now. It's not her fault, I'm pretty slow. So this awesomely talented funny lady has a book out full of advice, insight into her career and even poetry about plastic surgery. Yep, instabuy material, right? $17.85.
The Daily Show's Aasif Mandvi wrote a book. Reviews are over the moon about how funny it is. Why are you surprised? Yes, you. I saw those eyebrows raise when I mentioned the reviews. Don't be a dick. Mandvi has been one of The Daily Show's best assets and now he has a book out. Now buy it so you don't piss him off for being surprised that his book is supposed to be good. $17.34.
If you had told kid me that Doogie Howser would grow up to be one of the funniest personalities in entertainment I woulda said... well, I probably would have said "No d'uh," because Doogie Howser was awesome. I mean, he was a kid doctor afterall. His autobiography is done in a Choose Your Own Adventure style, so that automatically makes it the best autobiography out this year. $15.60.
Jim Gaffigan is a comedian and a foodie, so here's his book that combines two of his biggest loves. Comedy and good eats go together very well and I bet this one will be of interest to most of you lovely people reading this guide. $15.60.
John Cleese wrote a memoir. You buy it right now or you're dead to me!$19.01.
Martin Short also wrote a memoir. I won't threaten your person if you don't buy it, like I did with John Cleese's memoir, but still don't count Martin Short out. That dude's still funnier than 90% of the comedians today. Plus he's Canadian, so he's super nice. $16.72.
So you want a Making Of book about The Princess Bride. Can't say I blame you. That movie's awesome and I'm sure there's some great behind the scenes stories to be told. How about it the Dread Pirate Roberts himself wrote it? That's exactly what this is. Cary Elwes tells of the making of the movie from his own personal experiences and also interviews Rob Reiner, Robin Wright, Mandy Patinkin. Wallace Shawn, Billy Crystal, Christopher Guest and William Goldman. There are a lot of heavy recommends in the book section this year, but this one is close to the top. $15.60.
I remember running into Shawn Levy at the Alamo when he was in town doing research on this book. He was very excited because for some damn reason De Niro donated a ton of his personal papers, props and costumes to UT for an exhibition. I could tell he had a sparkle in his eye and now, a couple years later, his biography is done and it takes a sharp no-holds-barred look at the career and technique of one of our greatest living performers and explores why he doesn't seem to take roles that challenge him the way the ones that made him famous did. $23.35.
One of my favorite set visit memories has nothing to do with the actual time spent on set, but of a hang out that happened that night. I was in New Mexico visiting Thomas Jane's Dark Country. One evening on that visit concluded with me, Jane, Tim Bradstreet and Ron Perlman sitting around smoking cigars telling stories as the sun set over the desert. One thing you can never say about Perlman is that he doesn't speak his mind. The man is about as open and honest as anyone I've ever met. I haven't had a chance to pick up his book yet, but I can't imagine the book is any less than 100% Perlman. The man never shies away from telling it like it is just like he never half-asses a performance. This one's high on my personal list to tackle this winter. $16.19.
We're lucky we still have Sophia Loren gracing the world with her presence and now we're even luckier in that she's decided to record her experiences in life, love and career for us. $19.09.
As a general rule I like memoirs and autobiographies more than regular biographies, but word is that Amy Pascale's biography of Joss Whedon is super well researched and highly entertaining, so it made the cut here. Plus Nathan Fillion wrote the intro. Bonus. $21.43.
It's all Stephen Colbert's fault this book is on my radar. I saw author Jill Lepore's appearance on the show to talk about The Secret History of Wonder Woman and she dropped a lot of science in that chat, stuff I had no idea about that ties this iconic comic character so strongly to the beginnings of the feminist movement. At once a history of the origins of the character and an expose on the insane life of her creator, this one is a must for any comic fan, WW fan or equal rights for ladies fan. $18.94.
Lovely: Ladies of Animation was a very successful Kickstarter that resulted in this book focusing on six female artists working in animation today. Lorelay Bové, Lisa Keene, Claire Keane, Mingjue Helen Chen, Brittney Lee and Victoria Ying are all represented. Many are artists who have worked on Disney Animated features (Lion King, Princess and the Frog, Frozen and more) and Claire Keane is Family Circus' Glen Keane's daughter. Needless to say, these amazing women are incredible artists and this book highlights their favorite work.. $15.78.
Pixar co-founder Ed Catmull has put together a book called Creativity, Inc. that chronicles the rise of Pixar while also detailing the particular brand of top-down creativity that makes Pixar so special. If you have an awful boss that's making your life hell, maybe get him/her this book and inspire them to greatness. Yeah... that'd be great. Did you fill out those TPS reports? $15.27.
If you were child in America anytime over the last, say, 7 decades you know Disney's Golden Books. They're in every nursery and playroom. Every. Single. One. Don't look it up, I swear it's totally true. The Art of Disney Golden Books collects some of the best art from these books, which have continued a similar theme over all these years. I recently picked up the Wall-E Golden Book for a friend of mine and was fascinated to see that the art is exactly in the same style that I remember growing up.. $24.43.
I'm a Disney Parks nerd. Call it nostalgia if you want to, but I'm amazed at the level of ingenuity and detail in every aspect of Disneyland and Disney World. I've yet to visit any of the overseas Disney Parks, but I can vouch for the US parks. This book focuses on the various windows that line all the Main Street USAs at all the parks. There are many different references in the names and illustrations displayed and this book goes window by window to tell you the story behind each one. A weird, but awesome gift option for the Disney fanboy/girl in your household. $21.56.
The Haunted Mansion is the best attraction to grace any amusement park ever of all time. Fuck you rollercoasters, you don't have singing ghost busts! I'm a little obsessed with this attraction and every time I find myself at Disneyland I tend to find myself pulled to the ride at least three or four times over the course of that day. So, naturally this book is high on my own personal X-Mas list. It goes into the history of the development of the attraction, scrapped ideas, previously untold stories of the operation of it and just how they pull off the gags. And not just at the original, but all the variations of the ride at every park. Oh yeah. $15.73.
The art of Studio Ghibli is beyond moving. Outside of Disney itself there's no other consistently gorgeous work in feature animation and this book centers on one of their more ambitious outings. Princess Mononoke. In this book you'll get looks at individual animation cels, concept drawings and sketches as well as interviews with those responsible for the picture. $24.62.
Speaking of awesome animation, here's a sweet book that takes you behind the scenes of Adventure Time. See how they plan out all that weirdness via reprinted storyboards, character sketches, background paintings and all the other fun stuffs that make AT so damn mathematical! $23.37..
If you haven't had enough of Pendleton Ward's unique lunacy, try this collection that arranges every title card from Adventure Time with work in progress glimpses and commentary by Ward and the artists on just how each title card came about. $13.67.
These Henson novelizations are crazy unpredictable. I'm not talking about in content, but availability. They seem to go in and out of print at a drop of a hat and then prices skyrocket. The Labyrinth novelization is out of print at the moment, for example, but you can still get The Dark Crystal. So you should do that. $17.22.
Voltron is 30 years old this year, so that means everybody my age is feeling really gosh damn old right now. This book celebrates Big V's birthday by looking at the making of the '80s toons, toys and the impact it had on pop culture. $22.67.
The Minecraft Handbook set is a great gift for people of all ages! For kids they'll dig sharpening their skills and diving further into the Minecraft world. For adults they can maybe actually figure out what the fuck to do in this game. So, win-win! This box set assembles all four Minecraft handbooks (Essential Handbook, Redstone Handbook, Combat Handbook and Construction Handbook) in a sweet gold foil collector's set. $19.18.
I'm the dude that took a couple years to catch up with The Clone Wars, so I'm not the most on the ball guy when it comes to animated Star Wars on TV. I haven't seen Rebels yet, but I've heard great things and considering Lucasfilm went out of their way to label this new show as official canon for the new movies I should get off my butt and figure out how I can watch this thing. In the meantime, this book is a visual companion meant for kids, but since all Star Wars lovers are kids at heart it's fine for us grown ups, too. $13.31.
PRE-ORDER, DECEMBER 8TH. Coming soon is this book... The cover says it all... If you want a book that'll kick up giant plumes of nostalgia dust (and are old like me) then this one is for you! $17.70.
From the modern American poet who brought us Go the Fuck To Sleep comes the next installment in the frustrated parent series YOU HAVE TO FUCKING EAT. I still like the idea of buying inappropriate kids books like this and slipping them into your nephew or niece's bookshelves and waiting for that particular time bomb to go off... If you like the idea of that, stick around for the next book... $9.04.
Nothing says I love you, son, like a book that crudely and vividly illustrates the history of Presidential Assassinations in the US. Not just the successful ones, mind you, but all the big attempted assassinations, too. $18.00.
Shouldn't this Steampunk book be made up of metal and gears and cogs and shit? What is this paper bullshit?!? I guess I'll give it a pass... this time. $19.68.
Everybody loves seeing cosplay or else you wouldn't see a hundred different online galleries of them every time any convention happens anywhere in the world. This book is about those cosplayers, why they dress up, how they build their costumes and how awesome they look when they're done. $22.30.
I guess Klingon isn't the only harsh-sounding fake language you're going to be hearing at Comic-Con anymore. Dothraki is going to be a thing you can actually do now, apparently. 128 pages of vocabulary and an hour long CD that helps with your pronunciation. Good luck, horse lords! $15.59.
The only people who don't love HBO's Game of Thrones show are people who haven't seen it. So naturally this book should be of interest to everybody. It covers the making of Seasons 3 and 4. $19.43.
I started getting back into vinyl this year, investing in a little AudioTechnica turntable and busting out all the records I collected in my teen years. I've also been hitting some local thrift stores and seeing what I can dig up for .99... when you pour through hundreds of old used records (especially cheap-ass old used records) you see some amazing record covers, so when I saw this book I knew it was going to be filled with some primo vintage awkwardness. There seems to be a balance of great art/famous covers and "of their time" weirdness from the previews I've seen of this book. At any rate, it looks like a fun thing to flip through, especially for people who love vinyl or remember it fondly. $15.41.
This Nathan Sawaya fella has made a career of taking Lego Bricks and making crazy art with them. This is the kind of stuff I thought I was building as a kid when I was really building up a slightly bigger rectangle than I started out with. Pretty interesting stuff in this one, I must say. $23.84.
It's a new year so of course there's a new Stephen King book for us! At the time of this writing I haven't gotten to dive into it yet, but he's been on a bit of a roll recently. Joyland, Doctor Sleep and Mr. Mercedes were all very enjoyable reads. All I know about this one is that religious tent revivals are in it... And that's all I need to know. King always has my buck. $17.04.
I haven't read Horrorstor yet, but my pal Peter Hall highly recommends it and the concept sounds good. Pretty much it's an Ikea that turns into Silent Hill every night. You want to read it now, right?!? I'll probably pick this one up after I finish Revival. $9.63.
Growing up I devoured anything by Stephen King, Michael Crichton and like anybody reading popular fiction in the early 90s even had a Grisham phase, but I just could never get into Anne Rice. I tried, believe me, but the romantic vampire stuff never appealed to me. However, I get the excitement that Rice has returned to that world after a long absence and that the Lestat books are crazy popular, so that's why this one's in here. Dig in, Ricians! Reviews are very positive on this one. $17.37.
So Gillian Anderson (yes, THAT Gillian Anderson) wrote a sci-fi end of the world style book. Crazy, right? I can't vouch for it personally, but I did look over some reviews before plopping it in the guide and it's almost all super positive. The description is intriguing as well... it's about a world where teenagers start acting weirdly (more than normal) and it's up to a child psychologist to figure out why kids from all over the world are going nuts. If the cover is any indication things aren't gonna go well for mankind. $19.00.
Paul Williams could possibly be one of the nicest guys I've ever had the pleasure to interview. The man has struggled with a lot over the years, but considering just how amazingly talented he is it's astonishing to me how humble he is. And giving. This book is all about trying to help those who are hurting and need a little guidance. A friend of Williams', Tracey Jackson, realized that although she's never been an addict the lessons Williams learned from his recovery could help her figure out her problems. So, Gratitude and Trust might not be the usual book I include in the Holiday Gift Guide, but Swan did write a self-help book and that means I'm going to plug it. Naturally. $20.93.
We live in a world where a long lost pulp novel written Samuel Fuller came out to relatively small fanfare. This is unacceptable. The story is about a mob bagman with a strict set of rules (and a rare brain disorder, hence the title) who breaks them for a lady. If you've ever read one of these you know that's not gonna work out well for the bagman. Another gem from Hard Case Crime. $10.21.
Famous pulp cover and movie poster artist Robert E. McGinnis had a massive impact on a whole generation of folks obsessed with storytelling. From James Bond posters to detective covers the man's work inspired a whole generation of dreamers. I've seen some of his work up close and they're even more impressive in person. Sadly the price tags on them are even more impressive. Dang old non-rich bank account. $22.70.
While I dug Andrew Stanton's John Carter well enough, I think one of the biggest dropped balls was with Dejah Thoris. Making her red with some tribal tattoos was a flawed decision from the get go and just looked weird onscreen. But her look is pretty difficult to adapt and not make look ridiculous, so I give Stanton points for trying something different. You can see in this book just how varied the Princess of Mars image can be interpreted. The only common theme seems to be that she be as nearly nude as possible. This book has a bunch of different comic and fantasy artists take a stab at not just Dejah, but all of the crazy elements of the universe Edgar Rice Burroughs dreamed up. White Apes, Tharks, Barsoom vistas, green men and all that. $24.99.
John Harris is known for his sci-fi work and has done amazing covers for Arthur C. Clarke, Ben Bova, Isaac Asimov and the Ender's Game books. Pulp and sci-fi cover art is yet another weakness of mine. God help me if I ever win the lottery. Sorry hungry/thirsty kids around the world. No fresh water or sandwiches for you! Daddy's gotta spend his lotto money on important things like John Harris art! Until that day, I'll settle for looking at it all pretty in a Titan Books hardcover like this one. $23.06.
Did you see Snowpiercer? If you did you probably love it because that's the only sane reaction to that movie. Were you aware that it was adapted from a graphic novel? Well, look at you, Mr. Smartypants. Okay, then did you know that the movie bears very little resemblance to the graphic novel? Didn't think so. Don't be all high and might next time, okay? You can check out the graphic novel and see the differences. Wouldn't that be fun? Size 10 chaos-level fun? Hell yeah! $12.64 for Volume 1 and $15.80 for Volume 2.
Star Trek Gold Key Archives V. 1 compiles the first six issues of the Star Trek Gold Key comics. It's a little something cool that the serious Trek fan might not be aware of, so there you go. Live long and things and stuff.. $18.74.
Brian Michael Bendis wrote up a little guide for aspiring comic writers about how to rite gud for them pitcher books. I, obviously, don't need to read it, but some of you might need some tutelage. Even if you are just a fan of his work and don't have any interest in ever writing a comic this book gives you an insight to his process. $15.80.
If you haven't been reading DC for a while you might now know they cut off Joker's face a while back. Gross, right? Well, now he wears other people's faces all Hannibal Lecter/Leatherface style and that's pretty goddamn awesome. If that doesn't make you want to jump back into the Dark Knight's books then I don't know what else would! Why not start here in this set that includes the Death of the Family saga compiled into one graphic novel and also comes with a Joker mask? $24.51.
If you like your Joker with his face still on, then why not take a look back at Grant Morrison and Dave McKean's Arkham Asylum. That storyline celebrates its 25th Anniversary this year and they've put out a Deluxe release of the book which has the villains taking over Arkham and demanding Batman come out to play. You've played the video game... this is the more fucked up version of that. $19.34.
Back in the '50s comics scared the hell out of parents and stuff like the stories collected in this tome is the reason why. EC wasn't the only game in town. There were even more fucked up books out there and this book collects some of the more grisly, demented and rare '50s horror comics out there. $18.62.
How gnarly is that cover?!? The Worst of Eerie collects even more pre-code horror comics, back when pushing the envelope was really pushing the damn envelope. $20.50.
Preacher's not new and this isn't even a new edition, but I figured now's a good time for some of you to either catch up and dive in for the first time since Seth Rogen and Evan Goldberg are in the process of bringing Preacher to AMC. I recently reread the series and it's even more badass and messed up than I remembered it being. Brutally violent, constant nudity, filled to the brim with gallows humor and dangerously blasphemous, this is one of the craziest narrative comic stories ever told and if Rogen and Goldberg can even get a quarter of the quality of these books on the screen then we're in for some great television. There are six total volumes. Volume 1 is pictured above. $11.62 for Volume 1, $15.66 for Volume 2, $15.92 for Volume 3, $15.92 for Volume 4, $12.56 for Volume 5 and $15.92 for Volume 6.
Moderate ($25.00-$70.99)
Wait a goddamn minute here... Someone wrote an in-depth book about the making of Steven Spielberg's Duel and I didn't find out about it until I was researching this Guide? What the fuck, guys? I thought we agreed that you were supposed to always tell me of anything Spielberg related the second it was announced? So this Making of book is legit, filled with exclusive interviews with the key players, including Spielberg, Matheson and Sid Sheinberg, and Spielberg-granted access to early drafts of the teleplay and other research and production materials (like storyboards, BTS shots, etc). If you love Steven Spielberg (and who doesn't?) then this has to be high on your list this year. Spielberg did TV work before Duel, but it was Duel where he first clicked as a filmmaker. There are hints at his eye and style in his previous TV movies, but Duel is the first REAL Steven Spielberg movie. $36.10.
Believe it or not I'm not including the wonderful Jaws: Memories From Martha's Vineyard book in the guide again just because Jaws is my favorite movie ever or just because it's one of the most comprehensive, in-depth gorgeous Making Of books ever published. No, sir. Although I wouldn't put it beneath me to ram my personal fetishes down your throats at every possible opportunity, the reason you're seeing this book in the Guide again is that it's the newest revised edition of the tome. New material added to the already amazing book full of anecdotes, amazing behind the scenes photos and copies of production documentation that makes me giddy just typing about. Lord, I need to take a break and flip through that sucker or I'll have great white blue balls for the rest of the book section... $34.64.
Look at that book cover... you want it, I know you do. You're safe here, don't hide your true self. A book that chronicles Martin Scorsese's career movie by movie? You drive a hard bargain, book publisher, but sold! $27.42.
I know he's a controversial figure, but I adore his films and am equally fascinated by his voice as a man and as an artist. This book collects over 300 pieces of correspondence going back to his pre-Hollywood days and on through his rising career, including his fights with studio moguls and the fall out from his testimony before the House Committee on Un-American Activities. Kazan isn't as well known to the casual movie-goer as people like Kubrick. He's a little bit of a deep cut cinephile guy, but his work is incredible so this book would make a great gift for anybody that's really deep down the movie rabbit hole or perched on the edge. If just one person starts watching Kazan's films because I included this in the guide then the whole damn thing is worth the aching fingers. $28.83.
While we're in serious movie geek mode, it's time to feature the newly released Criterion Designs book. It's exactly what you think it is, a giant coffee table book that contains 30 years worth of art from Criterion's film releases. Their crazy inventive cover designs have made them stand out for decades. Not only do you get every single Criterion cover going back to their first laserdisc release in 1984, you also get a look at supplemental art, design sketches and commentary. Probably the best gift in this guide for the film school snob in your life! $65.71.
Did you notice that super nerdy transition I just did that? From Criterion to RoboCop? 'Cause RoboCop had a sweet Criterion release with an awesome commentary track from Paul Verhoeven and... never mind. Sorry, had to pull myself outta my own ass there. This book promises to tell the whole history of RoboCop, from first film on through the shitty sequels (although I have a soft spot for 2 and the creepy Rob Bottin robot ninjas in 3 still draws my attention), the shitty TV shows and the shitty-shitty-shitty dull stupid pointless remake. New interviews with those who have been in and out of RoboCop's life and all that kinda stuff included. $26.49.
***********CONTEST**************
Contest time! Titan Books is allowing me to give away one of these here RoboCop books to a lucky guide reader! To enter all you have to do is send an email to this account with the subject line CAN YOU FLY, BOBBY and include your mailing address, phone number (for mailing purposes, should you win) and your favorite RoboCop series quote. I'll pick a winner at random between right this very second to 11:59pm CST Saturday, November 29th. The contest is only open to the US, Canada and the UK. Good luck!
The Dredd Illustrated Screenplay not only has Alex Garland's screenplay, but also features a ton of Jock's pre-production design work and concept art. Don't make Karl Urban hunt you down like the criminal scum you are. Order this now! $30.12.
Now this looks gorgeous... It's a two book slipcased set that celebrates the achievements of both Weta Workshop and Weta Digital over the last 20 or so years. As you'd expect with a big fancy (and probably super heavy) release like this you'll get an as yet unprecedented look inside both companies, with never before published production design work on some of the biggest and best geek movies of the last couple decades. It is the precious and we wants it! $62.92.
I quite adored The Boxtrolls. It's a very strong era for kids movies. They're not just made for children, but also with an eye towards the grown ups in the audience as well. Laika in particular has an amazing style they've cultivated over the course of only a few movies. It's quickly becoming one of my favorite houses out there, producing weird, but emotionally touching family fair time after time. $26.40.
Another solid animated movie to hit screens, albeit with less fanfare, was the Guillermo del Toro-produced The Book of Life. Taking its cues from Mexican culture, this one was beautiful in a way that no other animated film was this year and I'm sure this Art Of book only makes the process of coming up with that look even more impressive. Plus maybe Guillermo says "motherfucker" in there somewhere and some unexpecting kid is going to have their vocabulary broadened. $28.47.
Here's a big ol' showcase of Blue Sky Studios, who do those Fox animated flicks that I don't really enjoy all that much. But I know Ice Age has a ton of fans, so I won't stand in the way of you people who like that little squirrel dude squeeing over a bunch of development images of him. $38.70.
This isn't a Harry Potter story written by Rowling or a new movie's making of, but it is a book about the creatures and plants that were featured in the films, including a creature by creature breakdown with concept art, various alternate designs and photographs of the finished version. Dementors, dragons, house elves, gingers, Hermione's eyebrows... all the fantasy creatures from the Harry Potter films explored in detail. $27.00.
PRE-ORDER, DECEMBER 17th. No matter which side of the coin you fall on when it comes to Peter Jackson's LOTR prequel series I think we can all agree the design process from the folks at Weta is always fascinating to see. The final Hobbit film gets a book on the incredible art and design work done on this film. Having seen some of it up close, the level of detail is outstanding and I imagine this upcoming book will blow some drawf-loving minds. $28.46..
I seem to be in the minority on Interstellar in that I liked it a lot and didn't dislike it a little or whatever mixed-negative cloud seemed to hang over most other critics. This book looks to have everything you'd come to expect in an on release Making Of book including interviews with the cast and creative team behind the film, but it apparently also delves into the science and philosophy as well. Even Neil Degrasse Tyson said the actual science of the movie was mostly spot on, so suck it "10 Things Wrong With Interstellar" article writers! $29.21.
I've been yelled at by fellow movie geeks for not adoring Gone With the Wind. I've tried, Ringo. I've tried reaaaalll hard. I love the look of the movie, but I hate every single one of the leads and it's also just about short coma in length. Maybe one of these years when I go back to it for the third or fourth time it'll click with me and I'll appreciate it like most everybody else on this planet does. I definitely respect Gone With the Wind for its importance in cinema history, which is why I'm including this rather impressive looking book put out by UT, which houses many of the original costumes and designs from the movie. Love the movie or not, frankly my dear you should give a damn about this book. $36.99.
What's that you say? A Planet of the Apes book that covers the franchise from 1968 to 2014 with recently unearthed concept illustrations, rare BTS pics and candid stories from those involved in the evolution of this franchise over 40+ years? Sweet! Someone get Devin Faraci on the phone and tell him he's got some winter reading to do. $29.51.
***********CONTEST**************
Contest time! Titan Books has offered up one of these Planet of the Apes books to a lucky guide reader! To enter all you have to do is send an email to this account with the subject line WHY COOKIE QUINT? and include your mailing address, phone number (for mailing purposes, should you win) and a brief blurb telling me about your favorite Apes saga film and why. I'll pick a winner at random between right this very second to 11:59pm CST Saturday, November 29th. The contest is only open to the US, Canada and the UK. Good luck!
I don't know why I'm bothering to type anything here. I know you've already clicked through and bought this book. Now I'm just wasting time telling you about how this 320 book examines all the Alien flicks and has new retrospective interviews with Ridley Scott, Sigourney Weaver, HR Giger, etc etc etc. I guess I'll move on since by now you've probably now bought two copies of this in case something happens to the first one you ordered... $32.72.
***********CONTEST**************
Another contest so quickly? Yep! Titan Books is offering up one of these Alien Saga books to one of you lucky SOBs! To enter all you have to do is send an email to this account with the subject line I SAY WE NUKE THE GUIDE FROM ORBIT and include your mailing address, phone number (for mailing purposes, should you win) and tell me about which of the four Alien films is your favorite (I promise not to automatically exclude you if pick 3 or 4). I'll pick a winner at random between right this very second to 11:59pm CST Saturday, November 29th. The contest is only open to the US, Canada and the UK. Good luck!
Since I am unoriginal, I'm following up that Alien Archive book with this Art of Alien Isolation, the new video game that goes for survival sci-fi horror instead of the guns a-blazin' shoot 'em ups that have come before it. Mostly because I've been hard at work on this thing I haven't had a lot of video game time, so I've only played about an hour of the game and no matter how frustrating it becomes when you die for the 73,432nd time the world they built is flat out incredible. You play Ripley's daughter who finds herself on a space station searching for evidence of her mother's doomed voyage on the Nostromo. Of course there's a xenomorph that pops up to ruin her day... plus some revolting space crazies and glitchy androids. The gameplay wasn't my favorite, but the atmosphere and level design was incredible, which leads me to the conclusion that this Art Of book is what the more professorial of us would call "the fucking tits." $26.49.
PRE-ORDER, FEBRUARY 10th. Those folks at Bungie know how to world build, I'll give 'em that. Destiny is a gorgeous universe and one I can't wait to see expand even more in the coming months. $31.21.
I hate to disappoint you, but the above Art Of book does not actually feature any naughty dogs. That's just the name of a game company... but that game company tends to make really damn beautiful games (like The Last of Us and the Uncharteds). Here you get a lot of in-studio art, interviews with folks within the studio and even fan art submitted over the years by those crazy passionate gamers that went gaga for Naughty Dog's particular brand of sweetness. $25.68.
Man, Ubisoft's sure churning out these Assassin's Creed games, huh? This one's been described as a crazy bloody sci-fi tinged Les Mis. Taking place in Revolution-era Paris, this game is the first of the series built with next gen consoles in mind. Once again it's on a stack of stuff for me to dive into this holiday season, but I haven't gotten around to it yet, but I can tell from the bits and pieces I've seen the that production design is impeccable, as always. I'm sure this book is filled with gorgeous imagery. $25.13.
If you'd rather have a video game Art Of book that's full of gross crazy shit instead of epic Parisian vistas, then Bethesda's The Art of Evil Within is for you. Their survival horror game is about as dirty and grungy and gross and fucked up as you'd want from the guy who came up with Silent Hill. $30.14.
Speaking of gross shit, how about an oversized coffee table book that compiles every one of Fango's covers as well as an overall look at the horror genre as it has evolved since Fangoria debuted in 1978? I don't know if there are many of us my age that weren't pulled into horror because of those graphic covers. $44.96.
So you get 22 Lovecraft stories in their entirety (his Arkham tales), over 300 illustrations inspired by his work and more than 1,000 annotations by Leslie Klinger that give you a sense of the man and his particularly iconic brand of madness. Very intriguing release, this. Or is that the Old God whispering in the back of my mind? You can never tell. $25.27.
We've always known that the Brothers Grimm stories were dark, but I had no idea how watered down they were by the time my generation got to them. Did you know that Snow White's evil step-mother was actually her real mother in the original text? The lady that wanted to cut out her heart and eat it? Yeah, Mama White. Also, did you know that Cinderella's mom really wanted the ugly sisters to fit into the glass slipper so she made them cut off pieces of their feet to fit? This release goes back to the very first versions of their fairy tales... a 156 in all, originally released in 1812 and 1815. Super, super cool for sickos like me. $25.24.
With Maleficent hitting screens this year, Disney Editions has put a big hardcover book chronicling the history of the Sleeping Beauty legend from Charles Perrault's 1690s original story all the way through to Disney's take, both animated and live action. See how the fairy tale changed over the years from iteration to iteration! $25.30.
Mary Blair's art shaped Walt Disney animation as we know it. I've been lucky enough to have had the chance to see some of her work up close at Disney's secretive Animation Research Library and it's flat out incredible. She used all sorts of materials to make her art. The pieces I saw, concept art for Peter Pan, looked like they were made with colored chalk on black paper. This book focuses on her art, pre-Disney and through her famous work on the animated films. Any Disney fan needs this.. $30.80.
Marc Davis is kind of a hallowed name amongst Disney freaks. The man rose through the ranks at Disney animation going back to the beginning with Snow White. He caught Walt's eye and was constantly promoted until Uncle Walt got the bug up his butt to open up a theme park called Disneyland. He then transferred Davis over to the Imagineering department and his unique style is still felt in the park today. Pirates of the Caribbean, Haunted Mansion and The Jungle Cruise are some of the park's oldest attractions and Davis' eye for iconic imagery is a huge reason for their continued popularity. This book celebrates the man, his influence and his art. Much of the art in the book has never before seen print. $25.80.
This is a must-see book for Disney crackheads like me. Herman Shultheis was a technician in those early days of Disney animation. He helped make Fantasia, Pinocchio, Dumbo and Bambi and as he did so he kept a journal of his tricks. Sadly, Mr. Shultheis disappeared in the Guatemalan jungle (holy shit, what is THAT story?!?) and when he stayed missing everybody thought his journal was gone, too. That journal was found among his possessions in the '90s, but this is the first time the contents have been printed. It's a unique sort of BTS book that will drive any Disney fan nuts. $47.19.
There's something both deeply disturbing and hilariously awesome about the propaganda work Disney did during WW2. Der Feehrer's Face is one of the most F'd up toons to ever be produced (Donald Duck has a nightmare that he's a Nazi soldier working for extreme caricatures of the Third Reich's top brass) and that's the one that everybody knows! Disney was patriotic to a fault (his work with the HUAC and Joe McCarthy is ANOTHER conversation) and this book details the sacrifices the studio made, both publicly and privately, as America entered the war. Part history book, part accounting of the work produced during the war years, this one is not the most obvious gift for a Disney fan, but one that should fascinate them. $25.30.
Marvel's Art Of books are the best. High quality hardcover, slipcased documentations of their crazy fun movies as each one rolls out. You know you want to know what happened behind the scenes of this one and how they came up with all the crazy imagery in the flick. This one's an easy guarantee to make any Marvel nerd happy this holiday season.$38.46.
The Winter Soldier was awesome and so are every single one of Marvel's Art of books to date, so it stands to reason that The Art of The Winter Soldier will be awesome x2. That's just math. This book comes in a lovely hardcover and slipcased edition that'll look damn fine on your bookshelf. Not like those pansy-ass soft cover/non-slipcased Art of books! $35.12.
This big sucker features a detailed behind the scenes look at Season 1 of Marvel's Agents of SHIELD. I have a few issues with the show, but I'll be damned if I didn't watch it all the way through to the season finale. Still don't really connect with Skye despite the showrunners doing their damndest to give her an interesting backstory. But I do love Fitz and Simmons. My DVR decided for me that I wasn't going to continue watching the series, but I hear season 2 is a big step up. Anyway, I'm rambling. This is a book. Buy it. Or don't. I'm not your boss. $35.48.
I was blissfully ignorant of Big Hero 6 until I saw the movie, so I can't speak to how well it follows the comic, but I can say that the movie is ridiculously fun and cute and emotionally engaging and cool and did I say fun? Because it totally is. The movie is technically more Disney Animation than Marvel movie, so it doesn't get the full on Art Of fancy slipcase treatment here, but it's still a good look at the evolution of this film with tons of behind the scenes material. $26.48.
Marvel: 75 Years of Cover Art. Now, that's not all the Marvel covers from over 75 years. You'd need about 4 houses for a book that big. What this one does is focus on the best of the best, blowing up the art so you can soak in all the amazing detail while learning a little bit more about the artists. Pretty cool... It was some of these X-Men and Spider-Man covers that pulled me into the comic book world back in the 1980s.. $34.14.
I've long liked the character of Deadpool, but only in the last year have I really brushed up on him and I'm pretty much a full on drooling fan now. This would usually be called an omnibus, but since it's Deadpool it's a "minibus" that collects a few really cool Deadpool limited series including Deadpool Kills the Marvel Universe, Deadpool Kills Deadpool, Deadpool Killustrated, Deadpool Vs Carnage and Night of the Living Deadpool. Since Deadpool is the only character aware he's in a comic book he decides the only way to find peace is if he kills off every character in the Marvel U so everybody stops reading and he can finally die (Deadpool Kills the Marvel Universe). He also goes after the classic literary inspirations for Marvel characters (Deadpool Killustrated) and even all the Deadpool across every universe (Deadpool Kills Deadpool). I haven't read the others yet, but those storylines I mentioned above are crazy fun. $40.43.
Growing up the only thing I was more obsessed with than the Ninja Turtles was Star Wars. Needless to say, I'm really interested in this Complete Visual History book, especially since it covers every aspect of the Ninja Turtles. Eastman and Laird took part, so did Frank Wolf (animated series) and Brian Henson (feature films). Hell, Vanilla Ice even gave an interview for this book. Yeah, Imma get me some of that. Go Ninja, Go Ninja, Go Ninja, Go!. $32.26.
At over 1300 pages, the Big Damn Sin City book really lives up to its name. This big mamajamma contains all 7 of Frank Miller's Sin City stories. No worries if you didn't dig the latest movie. The original stories will never stop being awesome. $63.60.
DC Comics: A Visual History has been re-released in this updated, fancy new slipcased edition that has 16 new pages covering 2010-2014 and comes with 2 additional new prints. This big ol' book takes a trip from the very origins of DC to modern day, touching on every major landmark (both in comics and in real life) on the way. $34.36.
Batman turns 75 this year, the old grumpy bastard. In celebration of that milestone DC has put out a little box set of three big Bat tales: Hush, The Dark Knight Returns and The Court of Owls. And that's what you see above. Because this is a guide filled with geeky things for you, the geeky reader and three TPBs collected in one place to celebrate a man who dresses up like a bat's fake birthday is kind of the thing that belongs here. $31.61.
Speaking of The Court of Owls, there's also this version, part of DC's "Unwrapped" line of books that shows off the illustrator's raw pencil work without all the bells and whistles of coloring. You get the full Batman 1-7 storyline, but the illustrations are only in this sketch form. Very cool idea and a great way to see the process. $29.06.
Batman's not the only one who gets a fancy "stripped down release." Charlie Adlard's The Walking Dead work gets down and dirty in this "Artist Proof" release of the All Out War storyline. I actually own a few Adlard Walking Dead pages and they're amazing in their starkness already in inked form, but to see his visual storytelling work only in pencils has got to be something even more amazing. Collects The Walking Dead 115-126 in this form. $25.81.
PRE-ORDER, DECEMBER 2nd. The latest in those big hardcover Walking Dead collections. I could actually use this since I stopped keeping up with the series around issue 100. I'm way behind and this one covers WD 97-120. But these giant Omnibuses are my favorite ways to archive a comic series you love. I totally feel like an old wise wizard or something when I pull one off the shelf and I blow dust off it even if there's no dust on it because that's what you do with giant books. Everybody does that, right? It can't just be me... $59.48.
PRE-ORDER, DECEMBER 30th, 2014. Usually when Amazon lists something as a pre-order for December 30th that means "we don't know when it's coming out, but we don't want to say that." However, when it's a book about painted comics (be it covers or the actual panels themselves) that features the work of folks like Alex Ross then you might as well click the pre-order button and just surprise yourself whenever the thing actually ships. I remember Ross' Marvels series really blowing my mind as a young man. Realistic paintings of these characters really let that universe click in my mind in a way it hadn't before. I'm a sucker for stuff like this, so I'm really curious to see how this comes together since Ross himself is editing and overseeing this big coffee table book. $34.35.
Marvel has taken some off-kilter rarities from their '60s output that include characters Dr. Doom, Dr. Droom (not a typo... that character is a mystic that was later changed to Dr. Druid to avoid confusion once Doom became a big deal when Fantastic Four launched) and The Watcher. Collected here are Amazing Adventures 1-5, Tales of Suspense 49-58, Silver Surfer 1-7, Marvel Superheroes #20 and #23 and Astonishing Tales 1-8. Holy shit that's a lot of Lee, Ditko, Kirby, Thomas and Colan! $51.82.
This nearly 400 page hardcover book is gonna make old school comic fans' heads explode. Jack Kirby and Joe Simon made comic history and their influence is felt even now as their iconic style and characters are becoming the next big thing in Hollywood. This book gets up close to their original art, showing their work in a way that only very rich (or very lucky) original art collectors have been able to do, with high resolution scans of some of their original covers and interior work. $42.28.
There are comic books and then there are comic strips. These are the funnies, the quick serial-style cliffhanger multi-part stories in the Sunday papers. I've included these kind of collections in previous guides and this time there's a new book collecting Superman strips from 1946-1949. See what post-war Superman was up to in 170 consecutive strips. $35.03.
Nerd confession time: I've never read Brian K. Vaughn's SAGA. Don't hate me too much! I know it's popular because this title was one of the more consistent suggestions when I called out for readers to tell me what they were looking forward to this holiday season. While I don't know much about the story, I totally read up on this release and can tell you that it collects the first three TPBs, Saga 1-18, in one hardcover special edition that also includes sketches, interviews and other special features. And a little horned baby breastfeeding, apparently. $31.61.
Lucasfilm historian JW Rinzler has made a comic book series out of George Lucas' original draft of "The Star Wars," where all sorts of nutty shit was included that didn't make it to the shooting script. I must say that I can't help but hear Craig Robinson say "The Star War" every time I see the title and it makes me laugh a little bit, but it's still a hell of an idea for a comic series. $27.78 for the hardcover (pictured above) or $12.43 for the softcover.
How about some more JW Rinzler Star Wars awesomeness? Star Wars Storyboards: The Original Trilogy is so damn cool. Joe Johnston's boards from A New Hope all the way through to Jedi are represented here in this 350+ page book. Also included are boards from Ralph McQuarrie, Alex Tavoularis, Ivor Beddoes and Roy Carnon. Rinzler's behind the scenes stuff is always top notch and this book is no different. $26.56.
Here's Rinzler's companion book, covering the Prequel Trilogy. Just because they didn't quite turn out as good as the original films that doesn't mean a great deal of imagination and artistic talent didn't go into their conceptualization. I wouldn't make this one as much of a priority as the OT book, but a casual flip through shows some amazing ideas at play for certain shots, especially the Obi-Wan/Anakin duel from Sith.. $29.17.
You'd think a book about the posters of Star Wars would be super short, but this one pushes 200 hardcover pages! Their secret is they not only take a close up look at the amazing theatrical one-sheets for all the Star Wars movies, but also the many limited posters that have been done over the years, including Mondo's iconic work a few years back. $29.42.
Straight from the Lucasfilm archives! They pulled out all their iconic wardrobe from the Original Trilogy and got high res photos of them as well as nifty vintage photography of the actors actually wearing them. Super cool book to get the Star Wars nerd who has everything. And yes, there's a whole chapter on Leia's metal bikini, you pervs. $37.95.
Every year there's a special Star Wars book that they go all out on. It's not just pieces of paper bound together. They include moving parts, mechanical contraptions and little special bits and pieces. Previously they've done a Boba Fett one, a Jedi one and a Sith one. Now it's the Imperials turn. This nifty contraption stamped with the Imperial symbol opens up and reveals what's essentially a training manual for new recruits explaining their routine, what the Empire expects of them and the rankings of the system. Yep, super nerdy which means it fits in here perfectly. $67.40.
Now that the kitchy, but strangely intriguing William Shakespeare's Star Wars books have all come out (Verily, A New Hope, The Empire Striketh Back and The Jedi Doth Return) they've assembled them all in this boxed set that is not only a few bucks cheaper than buying them individually, but also comes with an 8x34 fold out poster. Alas, poor Yoda. I knew him, Obi-Wan... $26.91.
A Game of Thrones Pop Up book? Oh, hell yes! Sadly no nudity, but we can only hope for the "wiener and boobies" sequel if this one sells enough. So, everybody buy one. Right now. Thank you. $40.99.
Now this is cool. George RR Martin teamed up with Weteros.org founders Linda Antonsson and Elio M. Garcia Jr to give us this book, which breaks down each of the 7 kingdoms, clarifies histories, rivalries, family trees and even songs. Martin wrote half the material in the book and it's his definitive history of his universe. So, buy it or I'll poison your wine and/or make you have sex with your sister. $29.98.
While we're on a fantasy kick here, how about this book featuring the fantasy art of Boris Vallejo and Julie Bell? I'll always have a soft spot for Vallejo since his Marvel Masterpiece cards were probably the coolest thing 10 year old me had ever seen in his life. The book contains their art and also comes with 10 prints exclusive to this book that can be removed and framed to show how badass you are for all the lady or menfolk who come over to your pad. $25.06.
PRE-ORDER, NOVEMBER 27th. Here's the second volume of jaw-droppingly awesome Frank Frazetta sketches (Volume 1 is available at $19.97). Frazetta's work is so striking that I'd highly recommend any of his sketch books for folks interested in art... fantasy art, sure, but any kind of aspiring artist can get lost in Frazetta's amazing work. $29.56.
Bill Campbell is an illustrator whose Weird Ohs model kits blew the minds of a whole generation of young geeks in the 1960s. Even if you don't know his name I'm sure checking out the cover above tickles some memory for you. His work on editorial cartoons and ad campaigns as well as the model kits were not only widely seen but majorly influential. Some really cool stuff in this one. $30.25.
Eighties kids will get a kick out of this one. The only thing cooler than the actual transforming toy was the sweet packaging it came in. This book acknowledges that and features the original paintings responsible for the packaging art. How badass is that? $25.86.
This is a little bit of a departure from the typical geek book offering, but I'm interested in the first and second world wars, so this one jumped out to me. Maybe some of you will dig it, too. While color photography was rare in the 1910s, it did exist as a process called autochrome. That's exactly what is compiled here. It takes The Great War from being just something old and historical to something fresh and alive and real. See, I'm right! This stuff is really interesting! $..
There's a couple film noir poster books out this year. This one gets listed first only because William Friedkin wrote the introduction. Film noir is a bit of an addiction for me. During my run of A Movie A Day I'd get excited when I was coming up on a string of noir films because I knew no matter where it fell on the quality scale it was at least going to offer up something dark and interesting. As a fiend for poster art and a big softie for the films themselves this book looks as attractive to me as the troublesome femme fatales do to the countless saps that fall under their spells in these films. $26.27.
I don't know how many posters overlap between this book and the one I listed above it, but I do know this one promises 300 noir posters and the last book was just 101, so worst case you have 199 different posters in this one! $26.27.
I'm rounding off the movie poster book selections with this lovely tome that highlights adult film posters from 1970-1985. People these days forget that pornos played in theaters back before VHS hit the market and they were marketed just like regular movies, with crazy art posters and the works. Problem is they didn't spend a whole lotta money on these things (generally), so some of these posters are pretty cheap and some are surprisingly well drawn. I'm a poster collector so I've come across many posters of this era (not that way, get your mind out of the gutter) and I'm always fascinated by the history behind these things. Definitely not the book to get dear ol' granny, but it's bound to illicit a reaction from whomever you may gift it to. $27.31.
Expensive ($71.00-$249.99)
When you see Taschen associated with a book release you can assume two things will be true. One, it will be expensive as fuck. Two, it'll be oustandingly put together. Pin-Up art has always drawn my eye. Yeah, there's the sexy stuff, but there's also something weirdly wholesome and old fashioned about it. I guess it's the difference between a burlesque show and a strip joint. Taschen went all out and profiled the top ten pin-up artists of all time, including Alberto Vargas and Gil Elvgren, feature their work as well as the work of 85 other pin-up artist. This thing is crazy big, weighing in at 16 pounds and a whopping 546 pages. It's high brow artistic erotica, which is the absolute best present to gift a loved one this Christmas season. Right? Or am I just weird? $132.49.
Here's another Taschen book! Prepare your wallet, this one involves Marvel! Surely to be one of the most in-depth accountings of Marvel's history to date, this massive mamajamma is over 700 pages, starts with Marvel's first published comic in 1939 and doesn't stop until it gets to modern day. Original art is presented, in-depth profiles of the biggest and best who have worked at the company over the years and just about anything the hardcoriest of hardcore Marvel true believers could want. $115.87.
If you don't want to be lost over the next 2-3 years of Marvel movies, it might be a good idea to pick up this Infinity Gauntlet Omnibus. Thanos is a bad mofo and by now you are well aware that he was that weird-chinned dude in the Avengers post-credits sequence and that they're introducing the Infinity Gems through the individual MCU stories. It's a hell of a series and it's going to be awesome when they finally get Thanos his gauntlet circa in Avengers 3 and 4. In the meantime, here's the 1200+ page Omnibus to give you an idea where the MCU is headed. $84.27.
2014 was my year of Deadpool catchup and a great many of the issues I read were the Deadpool and Cable. Whoever thought about this particularly odd Odd Couple pairing deserves all the tacos in the truck because you have the stoic leader Cable and dipshit McGee with a healing factor trying to save the world in their own ways and that leads to some hilarity. Time travel, giant mech island paradises, crazy cults... This run is a lot of fun. The Omnibus covers Deadpool and Cable issues 1-50 and a couple other odds and ends in its 1200+ pages. $76.47..
Remember when Frank Miller was all over RoboCop? He wrote the screenplays for the sequels (the second one especially feels Miller-esque) and also a bunch of Dark Horse RoboCop comic books including the big RoboCop/Terminator crossover. Acclaimed illustrator Walter Simonson did the art for that cross-over and now they've done put out the entire thing but without the bells and whistles of color. Taken directly from his pencils and inks, the story is shown as it appeared on Simonson's drawing board. $85.93.
This is just like the hardcover I listed in the "Moderate" section, but more fancy! The Deluxe Edition of JW Rinzler's The Star Wars entails a clothbound clamshell and three foil stamped hardcover books that bring comic book life to the earliest version of Star Wars that kicked around in Lucas' head, that included Luke Skywalker as a wise old Jedi, Annikin Starkiller as the young hero and Han Solo as a big green alien. For the classy nerd who demands quality paper product for his funny books. $78.64.
PRE-ORDER, JANUARY 27th, 2015. We can't have expensive Star Wars Comic Books in the Guide this year without looking forward to the big ol' Omnibus release of the early Marvel Star Wars books. If you're too young to remember these books, Marvel got to not only retell Star Wars they also told brand new stories that all took place in the A New Hope and Empire Strikes Back timeline. The Omnibus will collect Star Wars issues 1-44 and Annual #1. $95.00.
MUSIC
Cheap ($24.99 and under)
PRE-ORDER, February 3rd, 2015. New music by John Carpenter. I repeat: New music by John Carpenter. I don't think the world can possibly get excited enough for that fact. One track can be heard at this official site and if you listen to it and don't immediately pre-order this album then you either have no ears or died of excitement before entering your credit card information. $20.98 on vinyl and $14.98 on CD.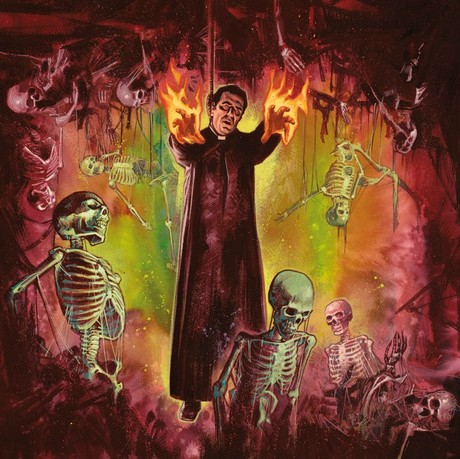 My favorite Lucio Fulci movie, City of the Living Dead, gets the Death Waltz LP treatment very soon. Look at that cover! It's a thinga beauty, I tells ya'. Fabio Frizzi's score to City of the Living Dead is just as batshit insane as the film itself. Very, very cool release. . $22.00.
Ti West's House of the Devil is more of a Grindhouse movie than any of the Rodriguez/Tarantino-inspired bullshit out there. It's a real throwback to a very specific kind of late '70s, early '80s style and it's pretty damn awesome. Death Waltz has put out Jeff Grace's score on vinyl and at a pretty reasonable price, too. $22.00.
The Deluxe Edition of the Guardians of the Galaxy Soundtrack includes both the Awesome Mix songs as well as Tyler Bates' score. Double the awesome! Plus you have a plethora of ways to listen to this awesome collection! Old media, new media and newest media! $14.88 on CD, $22.99 on vinyl and $7.99 for MP3.
I really loved Captain America: The Winter Soldier. The decision to go political thriller was genius and the movie is just so damned fun. The first Cap film and The Avengers probably have the best scores of any of the MCU films, but this score by Henry Jackman is definitely a great companion to the film. $19.99 on CD or $9.49 for MP3.
Hey, another Marvel superhero score by Henry Jackman. Big Hero 6 was awesome, so was the score and the only thing that would make this music cooler is if you had your own Baymax to act as a speaker. $10.00 on CD or $9.49 for MP3.
Michael Giacchino always brings it and man did he do some good work with the new Apes movie. Tense, foreboding stuff here. $11.88 on CD and $9.99 for MP3.
Christophe Beck did a bang up job with the score for Edge of Tomorrow (aka the best summer movie not supported by the masses in this year of our lord, 2014). It's a pumping score that matches the exciting, yet borderline humorous tone of the film itself! This one's gonna get a lot of play over the years from yours truly. $9.99 on CD and $8.99 for MP3.
Hans Zimmer's Interstellar score is hated by many only because it Nolan mixed it louder than most filmmakers do. I didn't have a problem with that or the score itself. It's a bold, beautiful series of cues, so there. (Sticks tongue out). $10.00 on CD and $14.49 for deluxe digital album.
PRE-ORDER, December 2nd. This 2-disc CD set features music composed by Murray Gold. Disc 1 is the soundtrack to the big 50th Anniversary episode that had John Hurt and bunch of older Doctors come to play and the second disc features cues from the 2013 Christmas episode that was Matt Smith's final episode as the good Doctor. $22.98 on CD and $17.49 for MP3.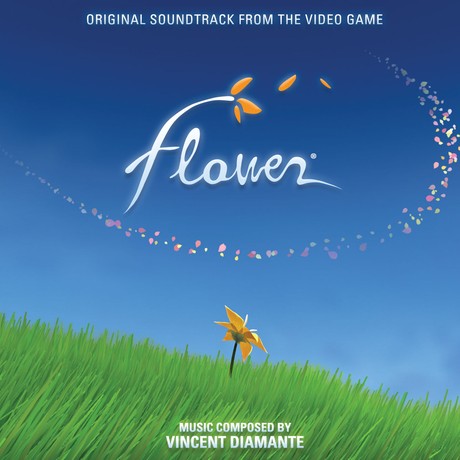 Lala Land is putting out Vincent Diamante's score for Flower, the popular Playstation game that's about controlling the wind, not shooting a ton of alien assholes like most video games. The game is relaxing and different and so Diament's score. This limited edition release (1500 total copies) is now on sale and if you order now you can still get your copy signed by Diamante for free. $15.98.
Halo 2 celebrates a birthday this year and Microsoft is going all out. They've released the big old up-rezed Xbox One version of the game and they've also got this fancy soundtrack hitting stores. A whole team, including Steve Vai, came in and re-recorded Marty O'Donnell's legendary Halo 2 score and even have a few original tracks inspired by the game. 35 tracks in all and a must have for any Halo nerd. $16.88 for CD and MP3, $15.49 for MP3 only and $18.98 on vinyl.
PRE-ORDER, December 15th. Battle of the Five Armies marks Howard Shore's final Middle Earth score. While his Hobbit scores haven't been as instantly iconic as this LOTR scores I've listened to cues from the last two films a lot over the last couple of years. Shore knows how to make big, resonating music and considering that a full third of the final Hobbit film is the battle, which claims the lives of more than a couple of familiar faces, I fully expect this to be the best music of Shore's Hobbit scores. $19.88 on CD and $17.98 for MP3.
We all agree that John Wick is awesome. Some dumbass was quoted saying it was Keanu Reeves' best movie since The Matrix... oh wait, that dumbass was me... But it's true. Because John Wick has zero fucks to give and will shoot you in the face. And your friend in the face. And your mother in the face. That's what he does. He'll definitely do it if you don't buy Tyler Bates and Joel L. Richards' score for the film. Don't risk it! $13.99 on CD and $11.49 for MP3.
James Newton Howard delivered a nice, creepy score for the absolutely great slow burn thriller Nightcrawler. Another great, adult movie this year with yet another memorable score. $18.98 on CD and much much cheaper digitally, $8.99 for MP3.
Laika's newest, The Boxtrolls, keeps up their tradition of making bizarrely rad stop motion animated films. Dario Marianelli's score for the film is just as wonderful as the animation. Light, playful and weird... just like the title characters! $12.99 on CD and $8.99 on MP3.
Earlier this year Disney is kicked off a series of anniversary related scores with this Lion King release. Called The Legacy Collection, the soundtracks will feature special goodies never released. For The Lion King there's 30 minutes of never before released score. The two-disc set includes the music numbers and the actual orchestral score! $14.88 on CD and $7.99 for MP3.
Continuing the Legacy collection from Disney is this brand spankin' new release of the Howard Ashman and Alan Menken music for The Little Mermaid. Music is on two thingamabobs that feature all the songs and music you want and you also get stuff never before released, like work tapes and demos. $14.88 on CD, if ordered from Amazon you get a free MP3 version of the album as well.
More Disney Legacy! This time Sleeping Beauty is given the fancy treatment. Like the previous releases there is never-before-released demos and tracks on this 2 disc set. $13.88 on CD and $13.49 for MP3.
Slightly more expensive than the rest, but to be fair you get a whole extra CD filled with awesome pure Disney Sherman Brothers music. Not only do you get a bunch of the recordings of the Shermans singing their songs you also get snippets from the now infamous PL Travers story meetings, which were all recorded. This is some of my favorite movie music ever recorded. $21.88 for CD and $15.49.
PRE-ORDER, December 15th. I don't know shit about Stephen Sondheim's Into the Woods other than it has something to do with fairy tales and all my NY critic friends went ballistic over the trailer, but then saw the movie and dug it. I like musicals, so I'm sure I'll dig this one. Here is the soundtrack. $15.88.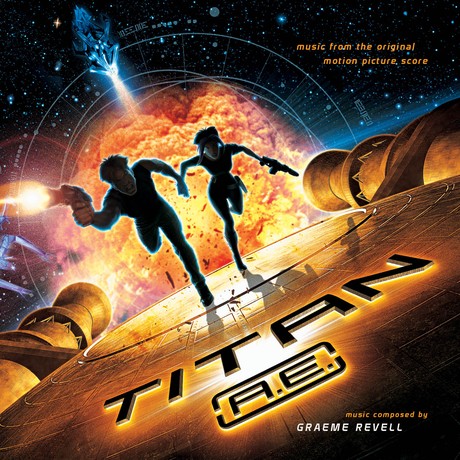 I didn't care much for Titan AE when it came out, but I've been seeing some love for it popping up here and there recently, so maybe it's due for a revisit. Then again, I've seen a lot of love for fucking Space Jam, too, so... Anyway, Lala Land has out a limited edition release of Graeme Revell's score. Limited to 1500. $19.98.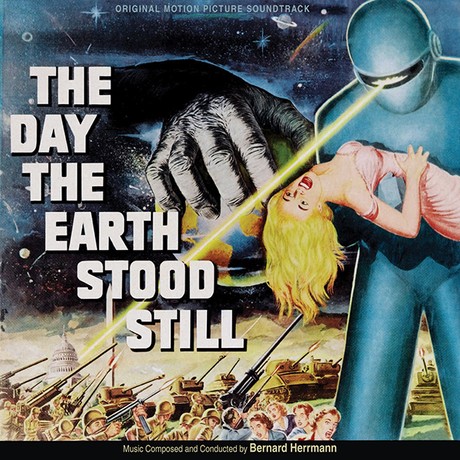 PRE-ORDER, early January 2015. Bernard Herrmann's DAY THE EARTH STOOD STILL score is not only one of the most iconic scores of all time, it's one of the most influential, setting a standard for all sci-fi scores that followed. This limited release brings the entire score out of print for the first time in a long while. Not only that, but they remastered it and promise it's the best the score has ever sounded on CD. $19.98.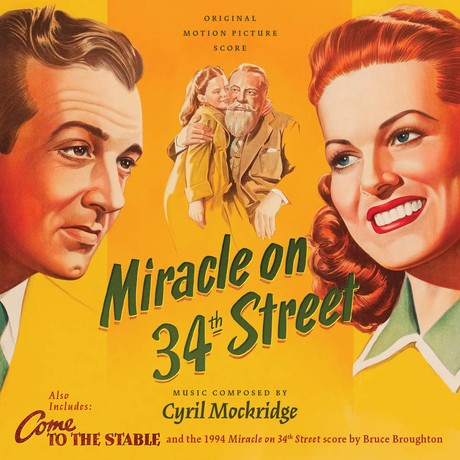 What's cool about this La-La Land release is they've included the scores for both versions of Miracle on 34th Street. There's the original 1947 score by Cyril Mockridge and then the 1994 remake, starring the late, great Sir Richard Attenborough, done by Bruce Broughton. And as an added bonus they threw in music from Mockridge's work on Come to the Stable. Christmasy! $19.98.
This is an older La-La Land release, but I included it here because this Caddyshack soundtrack CD featuring cues from composer Johnny Mandel and Kenny Loggins' iconic songs is on sale. Like super cheap. How cheap? This cheap: $4.98.
The full score from the first Police Academy film has been released. That's one memorable score. Don't get too many comedy scores you can hum on cue anymore. MOVE IT, MOVE IT, MOVE IT on over to Lala Land and pick it up for $19.98.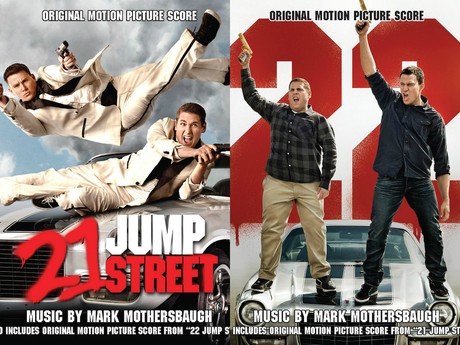 La-La Land has a two-CD set collecting Mark Mothersbaugh's scores for both 21 and 22 Jump Street! Action comedy is an interesting sub-sub-genre and Mothersbaugh's the perfect composer to really dive in and deliver a big, intentionally over the top score to match this series' tongue in cheek tone. $19.98.
How Weird Al can be the most consistent artist of our time is something I'll never be able to fully wrap my head around, but his newest album, Mandatory Fun, is so damn good. In particular his take on Royals (Foil) is roll on the floor funny. So many good tracks and he once again has established his versions of popular music will be what I think of first every time I hear the originals. $11.96 on CD and $6.99 for MP3.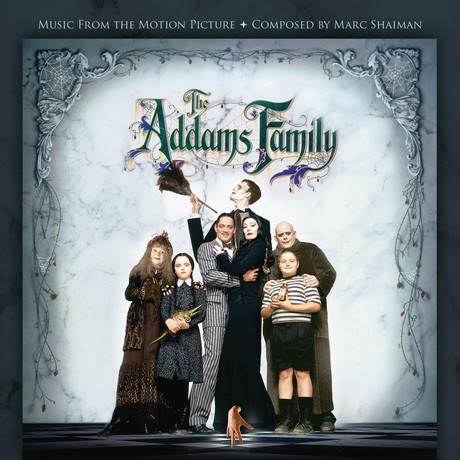 Man, I had such a crush on Christina Ricci's Wednesday Addams... and it's not creepy because we're the same age. I don't have a crush on Wednesday Addams NOW, so put the phone down. Marc Shaiman's Addams Family score is a great one and sees this super fancy Lala Land release. Limited to 3000 units, this score is remastered and even includes never before released tracks that were recorded but cut from the film. $19.98.
For the first time Howard Shore's complete score for David Cronenberg's Naked Lunch is being released. The music is remastered and features cues that have never seen the light of day. Very cool release that I didn't see get much fanfare. So let's fare them fans, people! $14.99 on CD and $9.99 for MP3.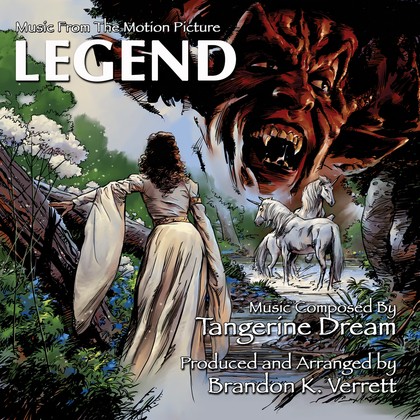 I'm one of those rare film geeks that prefers the original (and admittedly cheesy) Tangerine Dream score for Legend over the nixed Jerry Goldsmith score. Goldsmith is one of my all time favorite composers, so it's not easy for me to say that, but watching both versions of the film on DVD I found the Tangerine Dream score fit the movie more. BSXdigitalmusic did a new recording of Tangerine Dream's score with composer Brandon K. Verrett. I'd much rather just have a beautifully remastered version of Tangerine Dream's original score, but listening to some of the tracks I gotta say I'm pretty impressed. Only available as a digital download and you have the option of downloading wav or mp3. Both cost the same, a low $8.99.
Moderate ($25.00-$70.99)
Volume 3 of Lala Land's dedicated releases from Batman: The Animated Series featuring music from Shirley Walker and almost a dozen other musicians. This 4-CD set covers big episodes like Mudslide, Robin's Reckoning and The Clock King. $59.98.
***********CONTEST**************
Contest time! La-La Land Records has offered up a Batman: The Animated Series v.3 soundtrack to a lucky guide reader! There's also a second place prize, which is a copy of Steve Jablonsky's Transformers: Age of Extinction score. To enter all you have to do is send an email to this account with the subject line I'M BATTY FOR LALA LAND and include your mailing address, phone number (for mailing purposes, should you win) and tell me about your favorite episode and why it's your favorite. I'll pick a winner at random between right this very second to 11:59pm CST Saturday, November 29th. The contest is open to anyone around the world, so have it. Good luck!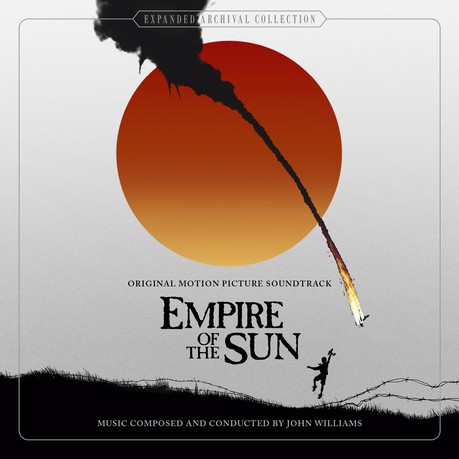 This is one of the most exciting soundtrack releases this year. John Williams' Empire of the Sun score is incredible and Lala Land looks to have done it up right! You get the full remastered score, including never before released cues, as well as a second disc filled with alternate cues and unreleased music. Supervised by John Williams and the Beard himself, this is a must own for any Spielberg fanatic (ie everybody drawing breath on this earth). $29.98.
Paul McCartney's got a new album out and he's releasing it in this nifty multi-disc mini hardback book. I'm a massive McCartney fan and even I have been lukewarm on his recent stuff, but there are some really good tracks on this one. Save Us has a Wingsy vibe and On My Way To Work feels like a callback to his bit in A Day In The Life. Multiple options for you if you want to check this out, the most expensive being the collector's book CD set. $30.88, $13.49 for MP3 and $21.45 on vinyl.
Pink Floyd's David Gilmour and Nick Mason have gotten together again and sneakily released a new Pink Floyd album utilizing hours of jam material with the now late keyboardist Richard Wright to essentially have as complete a band as they did when they released The Division Bell in the early '90s. I had no idea a new Pink Floyd album was in the works until it came out. I still haven't had a chance to listen to it yet. Maybe it'll be good writing fuel for the rest of the guide... hrmm... Available on vinyl, CD and MP3. If you buy either the vinyl or CD via Amazon you get the MP3 version free. $29.39 on CD, $32.99 on vinyl and $14.99 for MP3.
Wendy Carlos' iconic Tron score has hit vinyl in this limited edition transparent blue 2XLP set from Audio Fidelity. Yes, it includes Journey's "1990's Theme." Any movie geek/vinyl collector will want to jump on this release forthwith! I spin for the users! $39.99.
PRE-ORDER, January 6th. Alejandro Jodorowsky's The Holy Mountain is a notoriously weird movie and now it's getting the full on vinyl soundtrack release. Also CD, but vinyl feels a lot more Jodorowsky's style, doesn't it? $34.99 on vinyl and on CD.
PRE-ORDER, January 20th. If you would care to have Trent Reznor and Atticus Ross' Gone Girl score on an LP then there here item is for you. I'm kinda shocked at how divisive the movie ended up being, but not at all surprise that it hit people deep down emotionally. It's a messed up, unconventional ride and once again Ross and Reznor elevate David Fincher's storytelling with their crazy good score. $27.98 on vinyl and $11.99 for MP3, available now.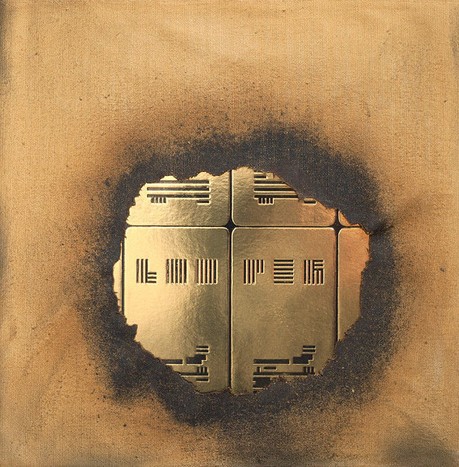 Mondo doesn't fuck around with their LP releases. Case in point, Nathan Johnson's Looper score. Not only do you have Jay Shaw doing the art, they make it a multi-layered experience. There's gold foil bricks under a burnt canvas bag which serves a sleeve for the double LP set. Cool music, badass special edition design... a must own for any vinyl collector out there. $60.00.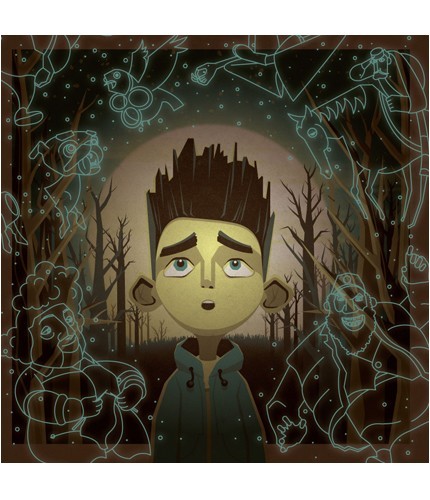 Paranorman has already been growing in popularity since release. It's a bit ahead of its time (the gay character in the movie doesn't cause anyone to bat an eye, for instance) and features gorgeous stop motion animation. And a fantastic score, which the folks at Mondo have put out in this limited vinyl pressing! What's double cool about these Mondo releases is that they randomly insert their variants. Here you can either get the regular black wax or transparent highlighter yellow variant. You can spin Jon Brion's great score for only $30.00.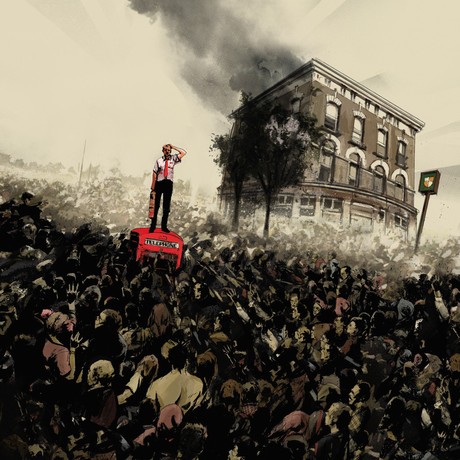 Shaun of the Dead has been out 10 years now (holy shit, right?) and Daniel Mudford and Pete Woodhead's score for the movie has never once been released in any format. How nuts is that? I know the needle drops are the more obvious things to put out on CD and there are some spectacular ones in Shaun, but it's nuts that nobody has released the actual score. Well, now Mondo has righted that wrong with the help of art by Jock and liner notes by Edgar Wright hissownself. Winchester Ale Colored Vinyl are randomly inserted, so you might even get the extra special one. $25.00.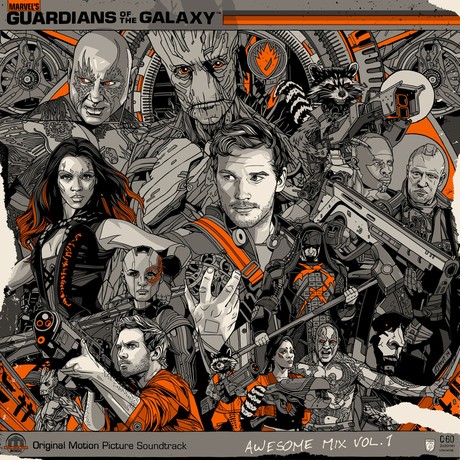 PRE-ORDER, Q1 2015. Mondo's LP aren't like their posters. They don't usually all sell out at once. But some don't stick around very long either. I'd be willing to be a Buffalo Nickel that this Guardians vinyl will be one that doesn't stick around long. It's a limited pressing of the Awesome Mix Tape songs pressed into 180 gram Purple Infinity Stone colored vinyl with cover art by one of the biggest artists in Mondo's stable: Mr. Tyler Stout. On top of that each album will have one of nine limited screen printed handbills inserted. So, let's run that down. Awesome artist? Check. Awesome random lottery thing? Check. Badass classic rock? Check, check, check. Pre-order this sucker now! $50.00.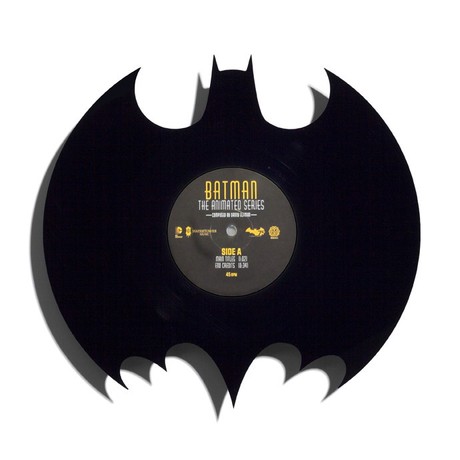 PRE-ORDER, Q1 2015. Mondo's also got this limited edition die-cut 12" single up for pre-order. As you can see it is in Bat-shape and thus super rad. The single features Danny Elfman's main titles and closing credits score for the Batman Animated Series and is cased on a small gatefold designed by Phantom City Creative. $25.00.
***********CONTEST**************
Contest time! Mondo is allowing me to give away one of these fancy die-cut Batman LPs to a lucky guide reader! To enter all you have to do is send an email to this account with the subject line I PROMISE NOT TO USE THIS MONDO LP AS A BATARANG and include your mailing address and phone number (for mailing purposes, should you win). I'll pick a winner at random between right this very second to 11:59pm CST Saturday, November 29th. The contest is open to the whole wide world. Good luck!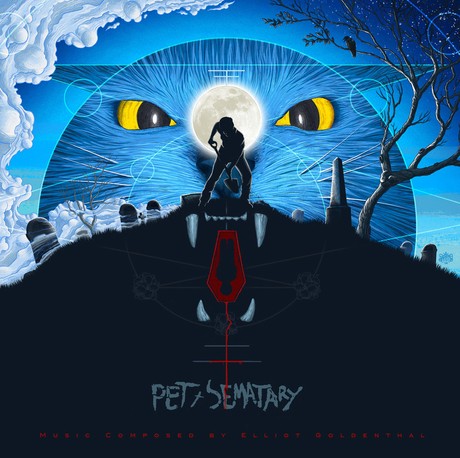 I'm a big fan of Pet Sematary. It's a great adaptation because Mary Lambert was able to transfer the omnipresent creepy tone from the book to the screen and she had a lot of help from composer Elliot Goldenthal. Mondo has released the most complete version of his score to date in this double LP set, which does include The Ramones' Pet Sematary and Sheena Is A Punk Rocker, by the way. Very cool. $35.00.
Friday the 13th soundtrack on vinyl. Waxwork has put out this cool pressing of the iconic horror score by Harry Manfredini. Comes with a 12x12 piece of artwork by Jay Shaw. $27.80.
Of all the movies to get a special vinyl release for I never in a million years would have guessed Chopping Mall. Don't get me wrong, I adore Jim Wynorski's movie, I'm just shocked is all. It has a slasher title, but it's really a weird-o sci-fi horror movie about malfunctioning robots in a mall. The original title was Killbots. Waxwork has gone and done a fancy soundtrack release, pressed on pink vinyl and with art from We Buy Your Kids. If you dig random '80s horror synth scores you may have a very happy Christmas indeed. $29.99.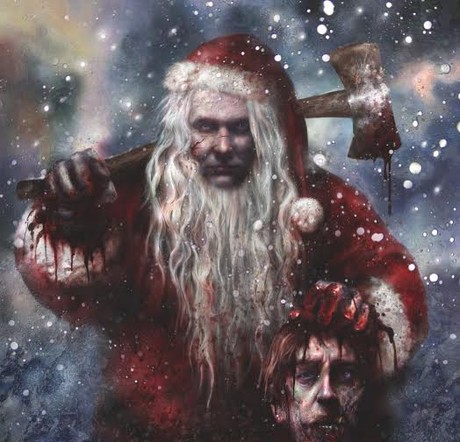 PRE-ORDER, December 9th. Limited edition Death Waltz import of one of the nuttiest Christmas movies ever made, the controversial slasher Silent Night, Deadly Night. This release is actually kind of groundbreaking because it's the first time all the Christmas music in the movie is available to fans of the movie. And the crazy thing is the Christmas music in here is actually good. Yes, it's creepy, but so is pretty much every Christmas song when you listen to it alone in a dark room. This double vinyl is being released in a relatively small edition of 500. If you're even thinking about it, jump on it. They'll be gone fast. $42.98.
Warning, this is stupid overpriced. That's not the full Ghostbusters soundtrack on vinyl. That's a 12" single that has Ray Parker's Ghostbusters and Run DMC's Ghostbuster's Rap on it and that's it. You're paying for the Staypuft Marshmallow Man packaging and goodies, including three lenticular 12x12 pictures and is pressed on white vinyl. This would be an instant must buy if it was the full soundtrack or the score, but right now it's just cool looking enough for me to include, but not recommend unless you're the world's biggest Ghostbusters fan and have money burning a hole in your pocket. $40.95.
As part of Record Store Day a limited gatefold 2LP vinyl release of the American Hustle soundtrack is being released that includes 6 songs from the movie that wasn't on the CD. The LPs themselves are red and blue vinyl and it's an overall cool limited release that can only be gotten on Black Friday Record Store Day for a sum of money I don't know. You can click the image above to find out what local store might be participating in Record Store Day oooooooorrrrrrr....
***********CONTEST**************
Yep, I have two copies of the American Hustle Limited Black Friday Record Store Day Exclusive to give away! To enter all you have to do is send an email to this account with the subject line I WANNA HUSTLE and include your mailing address, phone number (for mailing purposes, should you win) and a quick not-massive picture of your favorite record in your collection. I'll pick two winners at random between right this very second to 11:59pm CST Saturday, November 29th. The contest is only open to North America, sorry! Good luck!
Expensive ($71.00-$249.99)
I know there are better turntables out there, but if you're on the fence about jumping into vinyl for the first time or returning to it after decades of easier music options then this is probably the best option for you in terms of price, ease of use and quality of audio. The only other thing you need are a decent pair of computer speakers and you're ready to go. With all the cool LPs hitting now from a myriad of different nerd sources it's a great time to invest in a turntable... plus now you can play all those crazy oddities you find for .99 at thrift stores... I picked up some Burl Ives sings Disney songs to scared-looked kids record at a Goodwill and it gives me so much joy! Oh, and this model also has a USB port so you can digitize whatever music you find on vinyl in one easy step. Cool, eh? $103.98.
PRE-ORDER, December 9th. For my video game readers out there If you're tired of blowing up police choppers with missile launchers or having to do an annoying timed chase missions, but still want to feel the aura of Grand Theft Auto around you, then this one's for you. Linked above is the limited edition vinyl release of the music of Grand Theft Auto V and there's also a CD set as well in case you're not into the whole old media thing. $74.98 on vinyl and $54.98 on CD.
Bob Dylan is widely credited at making bootleg tapes mainstream. At the height of his popularity he got in a motorcycle accident and disappeared from public view. Turns out in 1967 he recorded a ton of stuff with his buddies in the basement of a house called "Big Pink." They jammed, did covers and wrote original music. Tons of recording happened, but very little of it got out. When a little snippet did get out the fans were clamoring for more, but they only way they could hear any of it was on a copy of a copy of a copy. Over the years some of that stuff was released officially, but now the complete collection of what Dylan recorded in that basement is available via legit means, including tapes that were only recently uncovered. Six discs, 138 tracks, two books and all wrapped up in collectible packaging. If you buy from Amazon they give you the entire contents as MP3s as well, so you can start listening right away. $92.41.
For The Super Rich Only ($250.00 and up)
I somehow got my hands on this set and it has singlehandedly made my recent dive back into vinyl worth it. These suckers have been fueling me as I hunch over this computer and bang out this massive Guide for all you fine folks. But wait a minute, you say. Didn't they make a big deal about the Mono versions when they did those CD releases a few years ago? They sure did, but this vinyl set is something wholly different. The releases a few years back were off of digital masters and this limited LP box set was remastered from the original analogue source. The records were created without any digital intermediate, using the very same techniques they would have in the '60s and even cut the records using a 1980s-era lathe. The aim was to really blow the socks off audiophiles and if you're going to do that with any group then it has to be The Beatles. The box set comes with 11 full records on 14 LPs and an exclusive hardbound book. Included are Please Please Me, With the Beatles, A Hard Day's Night, Beatles For Sale, Help!, Rubber Soul, Revolver, Sgt. Pepper's, Magical Mystery Tour, The Beatles (aka The White Album) and the 3-LP Mono Masters.Yellow Submarine, Abbey Road and Let It Be were recorded in Stereo and are available individually. Still need to pick those up to complete the set. $336.49.
GEEK HOUSEWARES/ELECTRONICS
Cheap ($24.99 and under)
R2D2 has been many things in the world of Star Wars merchandise, but a series of measuring cups... that's something new. And strangely attractive to this homeowner who fancies himself a minor (very minor) cook. R2 breaks down into four different measuring cups. 1 cup, ½ cup, 1/3 cup and ¼ cup. Oh, and he'll project the Princess Leia message if you get the recipe just right. I might have made that last one up.... $19.99.
So this is why 3PO was always pissed off at R2. He was a robo-wino and R2 was constantly keeping him from hitting the bottle! #starwarssecrets I love that wine is the classy way to get shit-faced and now you can use something nerdy as hell to keep your classy booze fresh. What a world we live in. $12.90.
Have you ever been cutting your pizza and said, "You know what this experience is missing? A beeping R2D2!" Well, then I have the item for you! This R2 pizza cutter knows when you're pressing down on the blade (like when cutting that pizza we were talking about earlier) and will talk you through the process. Pretty neat. $17.17.
Now you can bake cakes that'll make you most popular DM at the next D&D game. 20 sided dice cakes? I'll allow it. $12.99.
And some geeky ice cubes to go along with you nerd cake. $11.99.
If cookies are more your speed then how about this Batman symbol cookie cutter? Easily the most delicious way to signal the bat. Why didn't Gordon think of this first? It would have saved him a fortune on his electric bill. $7.81.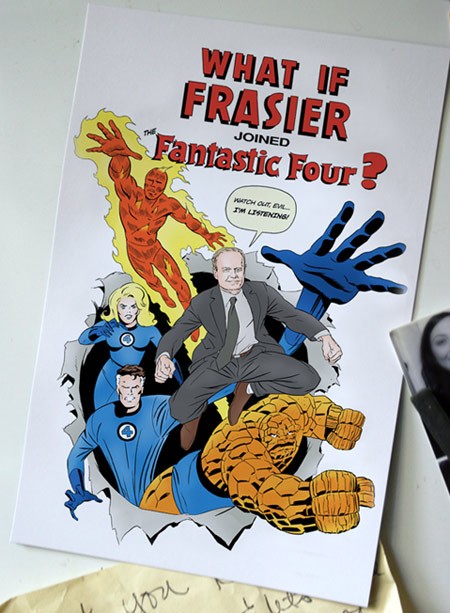 As far as fridge magnets go, this one is definitely up there on the awesome scale. Frasier + the Fantastic Four = nerdy genius. From talented artist and friend of the Guide Brandon Bird. You can't beat the price, either. Perfect stocking stuffer. $3.00.
For fridge poets out there who also happen to be dedicated Browncoats I have the perfect item for you. Fridge magnet words from Firefly! Use words like Cap'n, shiny, tightypants and 425 others (no joke, 428 total words come in this pack) to make your food cooling appliance a surface for Firefly fan fiction. $9.99.
There's a whole series of classic arcade marquee fridge magnets out there. Super sweet! Above is Tron, but there's also Galaga, Centipede, Super Mario Bros, Donkey Kong, X-Men Vs Streetfighter, Rolling Thunder, Teenage Mutant Ninja Turtles, Dig Dug and Space Invaders to list a few. All those and Tron can be had for $6.50 each.
Do you have any bottles that need opening? This Xenomorph can help! Contrary to popular belief, not all Aliens are evil. Some just want to make an honest buck at an honest job, like popping bottlecaps off your beers or Mexican cokes.. $15.21.
YES! I love this so much. Somebody sat down one day and said, "You know what would nice for my kitchen? A shark that holds my salt and pepper shakers..." and that thought turned into beautiful reality. $17.99.
Add the Darth Vader and Stormtrooper Salt and Pepper shaker set to your kitchen and your transition to the culinary dark side will be complete! Search your feelings, you know it to be true.. $17.06.
If you don't find the concept of Ian McKellen and Christopher Lee ceramic salt and pepper shakers kind of amazing then you and me probably can't be best friends. Friends, sure... they're just salt and pepper shakers, after all, but the BFF charm bracelets won't happen, sad to say. Or should I say, they... shall not... come to pass!!! I'm so sorry... $19.50.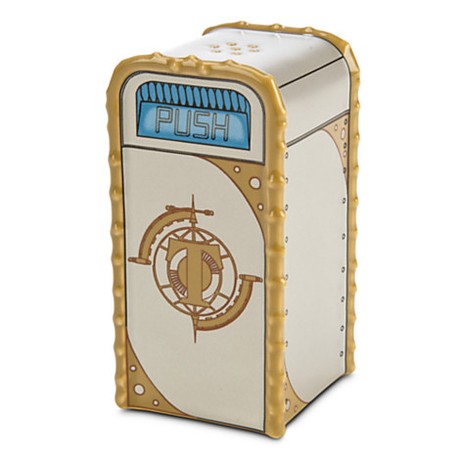 As an unapologetic Disney Parks geek this kind of tchotchke is right up my alley. Each different land has its own style of trash can and now Disney has decided to put out Salt shakers for each land. Tomorrowland is the coolest, so I featured that one here. Because I look forward not back. YOLO or something, I don't know. $9.95.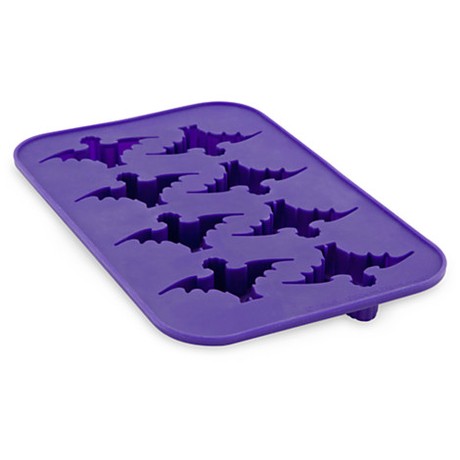 You're going to see a large Haunted Mansion presence in the guide this year, mostly in this section, thanks to an influx of HM merch that hit the Disney Store. I'm obsessed with that attraction and now you have to put up with me putting random stuff like these Bat Stanchion ice cube molds. $9.95.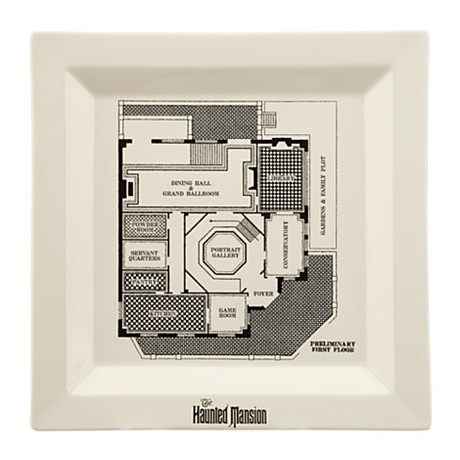 Fancy Dinner Plate that just happens to have the Haunted Mansion's blueprint on it instead of some weird Asian pattern or whatever the hell is on my grandparent's dinnerware. There's also app and dessert plates, but I figured it would be overkill to feature those as well. Only so much Haunted Mansion before things start getting weird... $14.95.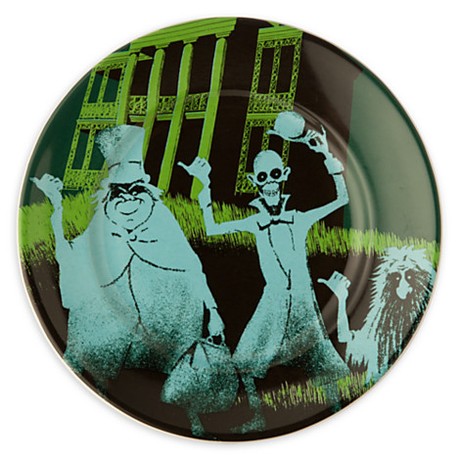 One more Haunted Mansion thing (for now). It's a small 7" ceramic plate featuring the iconic park poster for the attraction. It's a little expensive for a small plate, but IT'S HAUNTED MANSION SO YOU BUY IT. Okay? $12.95.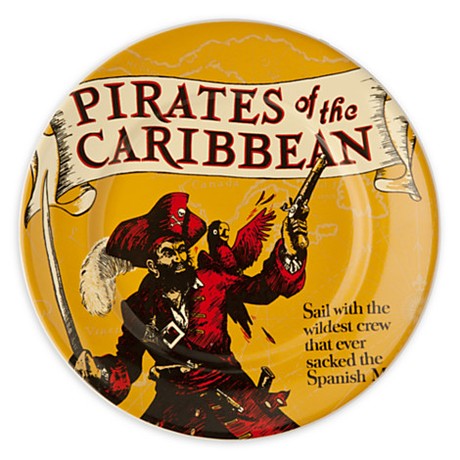 Never let it be said that I show affection only to Haunted Mansion. I love many of my Disney rides equally... but it's just that Haunted Mansion is better than every other one by a long mile. Why aren't you more together than your older brother, Star Tours?!? Keeping with the ceramic 7" small plate line is this cool Pirates of the Caribbean poster plate. Arrrr, it's holdin' me nuts. $12.95.
Teeeeeccchnically these are pet bowls meant as non-human food containers, but I won't tell anyone if you want to eat your cereal out of this Original Series inspired Star Trek bowl. You have your choice of Yellow Command, Blue Science or Red Shirt Uniform styles. I think it's dangerous putting food into a Red Shirt bowl, but if you want to live dangerously and risk your pooch's life then go for it. $12.99.
Let your pets have those Star Trek bowls. This shark bowl is for us superior humans. Fill it with soup, cereal, snack, Wheat Thins... sharks will eat anything. I saw one eat a rockin' chair one time... $12.99.
I don't know why put anti-freeze in that shark glass picture, but it does look cool. Don't drink anti-freeze, kids. Shark in a glass. You know why this is in here. $9.99.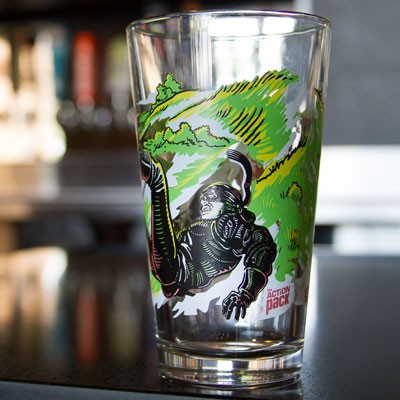 The Alamo Drafthouse is putting out pint glasses that are a throwback to the old school promotional glasses studios used to make all the time. I still have some Star Wars, Temple of Doom and ET glasses. I can't drink out of them because of the lead paint they used, but they are beautiful! Anyway, the Drafthouse is putting out a line of limited edition Princess Bride glasses. This first one is called "As You Wish" and features Wesley and Buttercup taking a tumble down a hill. $15.00.
Here's a nice discounted set of Doctor Who pint glasses. You get the TARDIS, that Exterminate thing... Dalek, right? And that quiet alien dude and the robot guy. I obviously know my Doctor Who. $17.98.
I've included this mug in the guide before, but it's just too damn sweet not to bring back. There are a few cool mugs out there (many are listed below), but this is the only one you can build on as you drink your hot beverage of choice. Lego Mug FTW. $19.99.
Gamers are getting old. Let's face it. We're now our dads reading the newspaper in the morning and sipping coffee. Except instead of boring old World's Best Dad Coffee Cup we can now drink out of this that reminds us of our younger, happier days before you knocked your girlfriend up and had to go into accounting to support you new family. And don't even get me started about the skyrocketing rent! Get off my lawn, you damn kids!. $12.99.
Another old school gamer mug. Just don't try to squat on it. You won't be taken into a room with a shitload of gold coins. Trust me, I've tried. A lot. $12.99.
I'm gonna be honest here... I find that to be more than a little creepy. But I'll be even more honest and admit that is one of the reasons I like it so much. Sure, drink out of Steve Rogers' Kill Bill-style sliced off skull. Lovely. $14.14.
See, this works better than having half of Cap's head cut off and drinking from it. You expect that from Venom, not from Captain America. $16.95.
A ceramic Cthulhu mug. Let me ponder how fantastic this is for a bit. Yeahhhh. I hope someone starts slowly replacing their religious parents or grandparents' cat and/or Jesus mugs with these bad boys. Gonna be some Exorcist level hysteria! $12.99.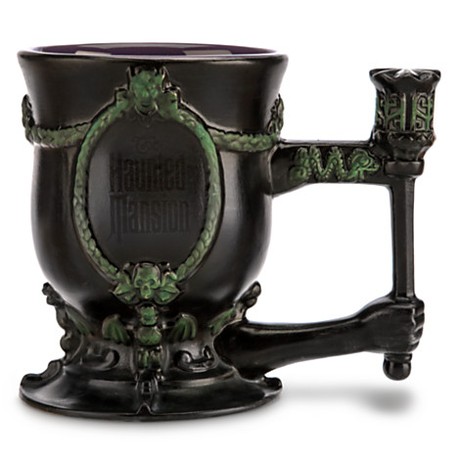 A gorgeously produced Haunted Mansion mug, featuring all the right colors and imagery. And probably a hitchhiking ghost or three, so be careful with that. $18.95.
This ain't no mug. This is a stein, my friends. It is, afterall, a Game of Thrones map printed liquid container, so it has to be able to carry mead and beer and... well, it's Game of Thrones, so probably poison and some VD, too. $19.99.
Wax seal Game of Thrones coasters! Rest your goblet on any of the house sigils you wish, although I wouldn't trust the Lannister coaster for your wine and the House Stark sigil isn't the best for your beer unless you like it without its head. See what I did there? $19.99.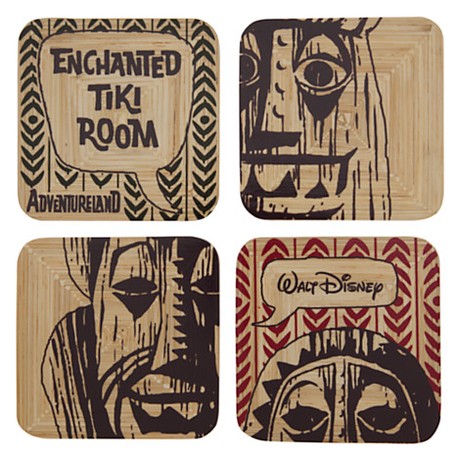 Disney Parks Authentic merch! Tiki Room Coasters made of bamboo. BYODW (Bring Your Own Dole Whip). $12.95.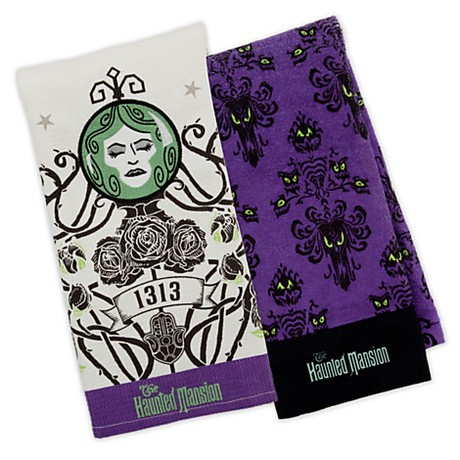 Madame Leota has a premonition... that you're going to buy some Haunted Mansion dish towels! Why? Sorry, she's losing connection to the spirit world... But I think I heard her whisper "because I said so" right before she cut off. $19.95.
Say what you will about the Dark Side, it does promote fast learning and intense focus. That's why this pencil case/sketchbook case is a good call for all your school aged padawans. That is if there are any school aged padawans left after Darth Grumpyface had his little tantrum. $10.99.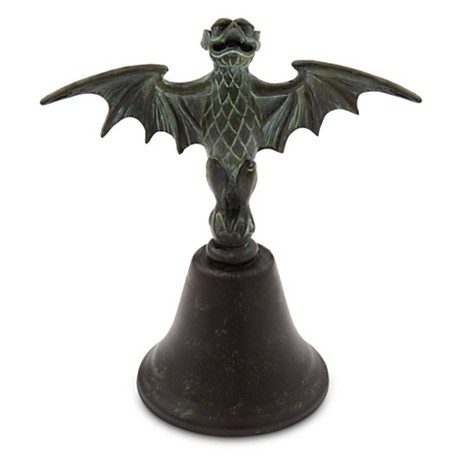 I honestly don't know what you'd do with a Haunted Mansion bell. Hell, I don't know what I'd do with it and I'm the biggest Haunted Mansion fan in my neighborhood, probably. But I do know that I saw it and I immediately said "This must be in the Gift Guide!" And so it was. And so it was. $14.95.
This 8-Bit LED Wreath is an oldie, but a goodie. Cheap, it lights up and totally tells your mailman that a dork lives at your address. In other words, it's pretty rad, you guys. $19.99.
Rampaging Kaiju Gnome Killer! Plant it in the front yard and make sure those damn garden gnomes know what's up and that you're sick of their shit. $17.99.
Why use a boring old USB charger for your iPhone 5/5S/5C when you can be all festive and use this charge cord that also happens to be a string of light up LED Christmas lights? That's a good question. Thank you. You're welcome. $14.99.
Thank God! The USB hub/desk nicknack container I've always wanted! A crushed skull! Now I can pretend to be a T-800 during the future war during my once weekly unexplained Time-Warner internet outage. $18.99.
Sure, the main purpose of this Flux Capacitor is to work as a USB charging station in your car. You can charge two USB devices at once via the cigarette lighter port that nobody uses anymore except for truckers and John Carpenter. But the real reason to get it is not to charge shit. It's to have a mini flashing Flux Capacitor in your car. The charging thing is just a bonus at this point. $24.99.
These are coasters, but for your car. You know how often them Big Gulps spill over in the cup holders. Well, these Marvel coasters help protect your car from such things happening and fit into your cupholders. You have to choose which you want, you don't get all three. Pick one design (Hulk, Iron Man or Cap) and you get two of whichever hero you go with for your car. Are we clear? Clear. $9.99.
Car window shades aren't much a thing today, are they? They used to be all over the place when I was a kid. I think it's time for them to make a comeback. Episode 7 is around the corner and there's no better excuse to dust off this old constant and get ready for the continuation of events in a galaxy far, far away. Don't get cocky, but it's only $14.99.
Ladies and gentlemen, the Han Solo in Carbonite Shower Curtain. I like to think Jabba the Hutt had a similar arrangement for Han when he was first delivered to the Palace. Thankfully we all know that you can't see anything when you're encased in carbonite. I assume that also goes for smell, but don't know for sure. That might explain why Han was so out of it when he was thawed out. $24.99.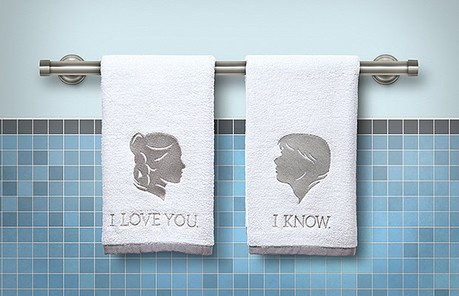 You can not get that shower curtain without then buying these hand towels. I don't care what your financial situation is, you buy those as a pair or the whole thing's off! His and Her Hand Towels with the I Love You/I Know exchange is one of the best Star Wars merch ideas I've ever seen. $19.99.
I didn't see any IG-88 toothbrush holders, so your sci-fi bathroom will have to settle for a ceramic TARDIS instead. $21.99.
Alien on your Christmas tree! The Big Chap clear-domed full-on Giger (rest in peace) designed Alien. He doesn't make any sounds or anything, but that's as it should be. That mofo's silent and scary and will pull you into vent shaft if you don't put him on your tree! PS, if your cat is orange, don't buy this. Trust me. $17.95.
Let's keep the inappropriate ornament theme going, shall we? ThinkGeek has a set of zombie Christmas ornaments out this year. It's got an elf, a snowman (wouldn't he just be hungry for more snow, not humans?), a reindeer and Santa himself. $19.99.
Christmas, it is. Open your presents early you will not. Whoop your punk ass if you peek I will. $24.35.
Marty Moose talks, informing you the park is closed. The only way this Vacation themed ornament could be any cooler is if you could indent the moose's nose and pop it back out again. And if John Candy were still alive. Awwww. $19.95.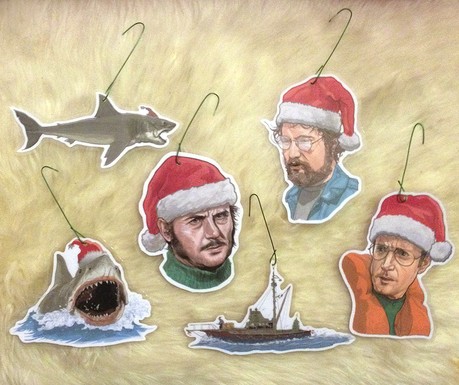 Last year I featured a little Santa Hat-wearing Quint ornament by an artist named PJ McQuade. He's back in a big way this year with a ton more Jaws ornaments. You can see them all above. Click through to visit his page and pick which ones you actually want to put on your tree (his Etsy page also has Breaking Bad and Game of Thrones ornaments in the same style, by the way). $7.50 each.
Moderate ($25.00-$70.99)
He plays the Jaws theme, folks. Right from your damn tree. If you want this Jaws Hallmark Ornament (and you better goddamn want it or there's going to be trouble), you need to get off your butt and hit up the local Hallmark store as they're not selling it online. If you are lazy and don't mind paying a $10 convenience upcharge, you can find it on the Amazon Marketplace for $27.95.
Again, cheaper in the Hallmark store if you can find it, but easy one click buyable for a little more. I got this one because it lights up green and I'm easily swayed by things that light up. Nightmare Before Christmas stuff was made to decorate your tree with. $27.34.
Star Wars Cantina Band playing Star Wars Cantina Band Music! I have the Han and Greedo Hallmark ornament from a few years back, so I think I'm contractually obligated to fill out the rest of that scene on my tree this year... God help me if Hallmark releases that grumpy ass bartender as a Keepsake ornament next year... $35.05.
This AT-AT lawn ornament is a perfect item as we head into the blistery winter season. Not in Austin, we don't get snow, but if you do then this is going to look doubly badass in your front yard. The Battle of Hoth recreated in your garden! $39.99.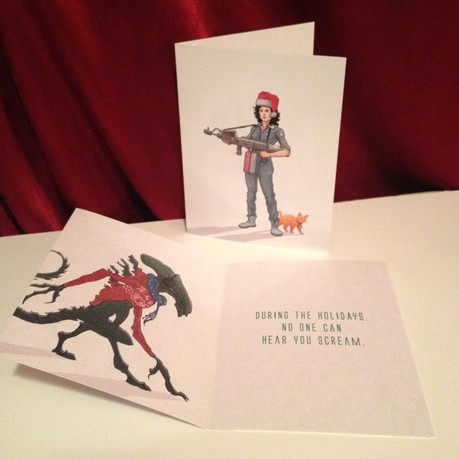 Nothing says Merry Christmas like Ripley, Jones and a sweater-wearing Xenomorph. From PJ McQuade, the guy who did those Jaws ornaments I listed. Ten pack for $35.00.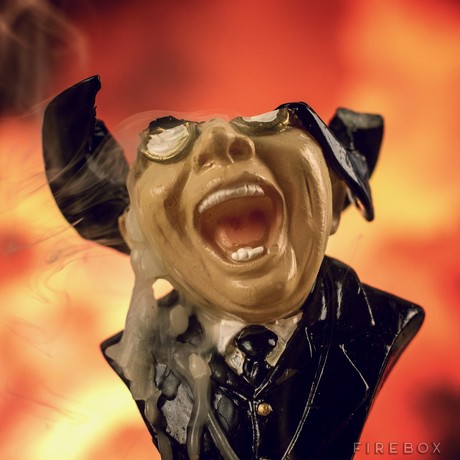 If you've been on social media at all over the last week you've already seen this guy. I was secretly hoping he'd stay under the radar until the Guide published, but sometimes there's an item just so damn explosively cool that it spread across the four corners of the Earth. Melting Toht from Raiders of the Lost Ark is one of those items. Expensive, but amazing. Sadly the real bummer of the world finding out about him so quickly is that the next batch of Melting Tohts won't be shipping until 2015. $31.29.
That there's an alarm clock shaped like the USS Enterprise. It has that little digital read out on the side, but it also projects the time on the ceiling when the alarm goes off. And yes, the alarm is old Star Trek sounds. $47.99.
Okay, those mad geniuses at ThinkGeek have outdone themselves this time. This little R2 unit fits into your car's cup holder and plugs into your lighter socket so you can charge two USB style devices (smart phones, tablets, GPS, whatever) at once through R2 himself. His eye lights up, his head spins and he happily beeps when given power and when you connect your battery-drained device to him! I think we can all retire from trying to invent cool fun new things because this is about as awesome as we get as a species. $39.99.
A 28" tall light up Santa hat wearing tinsel R2-D2? This is one cheesy holiday decoration I can get behind! Please tell me Kenny Baker has a whole fleet of these in his yard every Christmas! $56.23.
So, you have some options here. Darth Vader is featured above. He lights up red. There's also a Stormtrooper head as well that glows white. Yeah, we all know Vader's cooler. You can also get a smaller nightlight version of the Stormtrooper, but the small Vader is sold out. Big the large Vader lamp is still available for $49.99.
Star Wars Lava Lamps. Is this really the first time someone thought of that? Surely not, right? As of the writing of this column, the Vader one was not available, but if you want Luke's admittedly less cool lava lamp then by all means... $29.99.
Do you love lamps in general? Yes, Brick... I know you love lamp, but I'm talking to the rest of the good people out there. Then you'll love this lamp. Why get in the middle of that war for the Iron Throne when you can just bring that throne to your house and have it light up your living room? This is a super cool and super geeky lamp.. $69.95.
Lego Batman lights up your room with his feetsies! It's a sweet little light for the kiddos or if you have a particularly dark, scary mancave. Or a Bat Cave. Or a Man-Bat Cave. $32.50.
This Rubik's Cube lamp lights up your room... and also kinda works like a real Rubik's Cube. Meaning you can twist the sections and thus light in weird ways, which sounds cool. $37.75.
Holy crap these are awesome. I would have flipped out big time if I got one of these for Christmas when I was kid. Partly because they're obviously from some crazy sci-fi future world, but mostly because they're just awesome. These are Marvel Superhero Wall Lights. The Spider-Man one is great, but there's also Thor's Hammer, Cap's shield, Hulk's fist, Hulk's head, Iron Man's Hand, Iron Man's head and Spider-Man's head as options. Go nuts and make it look like Avengers 2 is happening in your kids' room. $29.99 each.
Planet plates! All eight of the planets in our solar system are represented, although I still think they should have given Pluto like a side plate or something. I mean, I just feel bad for the little guy. It's one thing to have never been a planet, but to have the title stripped just kind of breaks my heart. Still, respect to the actual planets for being cool enough to be served at nerdy dinner parties.. $42.95.
Four Alien Pint Glasses in one set, done up all vintage style like you'd get at Burger King. These collectible glasses are pretty pricey most places, but I was able to find them at ThinkGeek for a pretty decent price. $29.99.
Stackable Star Wars mugs. You can build 'em up however you want. Luke's feet, Han's pelvis and a Stormtrooper head or full up and down Skywalker, Solo or Trooper. Your call. $27.95.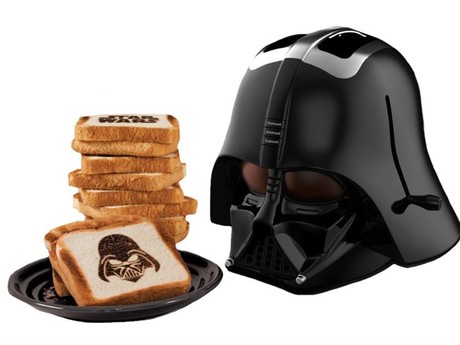 Think about this for a second. We live in a world where you can feed bread into Darth Vader's head and after a minute or two you get his image toasted on it. We invented that, as a species. Why the hell haven't we cracked this DNA therapy thing so we can all live for ever? This guy sold out most places over the summer, but I found a site called ToyWiz where they claim to have some that ship this month. Click the picture above or the price below to scope it out. $39.99.
Huh. I never thought Legos and cooking could go together, with that whole heat melting plastic thing, but it seems like this would actually work... Cook, clean and then lego-stick your utensils safe and sound. A place for everything and everything in its place and all that. $34.82.
What have they not slapped the TARDIS on yet? I know, a tea tray! Yeah, that's like super British, too, so double points! $27.99.
Imagine it now... that ugly ass dining room table you got off of Craigslist suddenly turned into a TARDIS just in time for the relatives to come over and sing carols or whatever it is normal people do with families over the holidays. It's pretty much just a TARDIS tablecloth, but you get my point, right? $29.99.
TARDIS bookends! Time and space is no match for this split up phone box! Nor is your collection of DVDs/Blus/Books/Pasta Boxes or whatever you'll use them for! $59.54.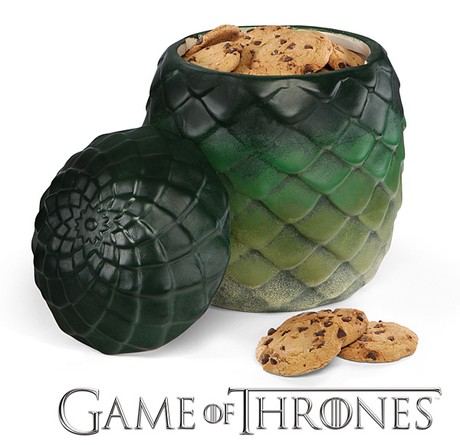 DRAGON EGG COOKIE JAR! Dragon. Egg. Cookie. Jar. Why are the Gods so good to us?. $29.99.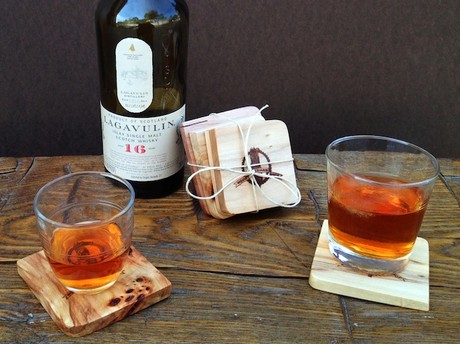 I'm sure you're wondering what you're looking at there. You're looking at wood coasters, intended for use with whiskey, but can keep your countertop safe from any sweating beverage container. The wood is North American Cherry, but it's not the quality of the materials that gets this a spot on the guide. It's where it comes from. Nick Offerman is well known for having a way with wood... wait a minute, that came out wrong. He like to turn trees into other stuff, how about that? These coasters come from Offerman's own Wood Shop. There's no guarantee he makes these himself, as he does have a team, but it's close enough that his radically cool essence will partially transfer to this product. Sold as a set of 4 coasters for $36.00 (+$26.00 if you want personalized initials burned into the wood).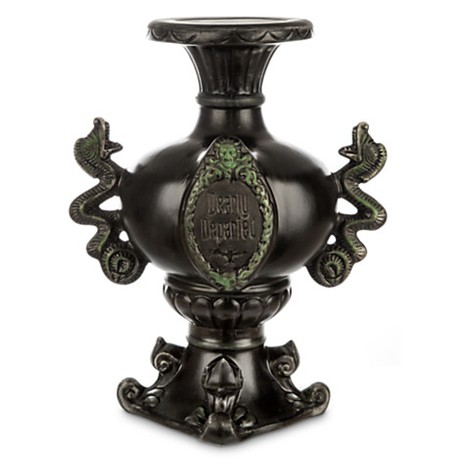 One more Haunted Mansion item snuck in there! No, that's not an Urn, but if it was it'd be the coolest ever possible way to display a beloved's ashes. No, it's a vase. Like the opposite of an urn. It holds life, like flowers and shit, not some old dude's ashes. $59.95.
Mr. Spock's little hand, bronzed and in the famous Live Long And Prosper gesture, thumb perfectly positioned to hold business cards. Tell me that if you went in to buy a car and the salesman had this on his desk that you wouldn't be more inclined to make a deal with that guy. I know I would be. $33.96.
I can't lie, it cracks me up some sculptor had to make this Star Trek Logo bookend set and sculpt the little TM at the bottom. It's a bookend set that says Star Trek. Don't know what else there is to say about this one. $69.99.
It's only fair... I had Star Wars bath towels earlier, so I have to include these admittedly pretty snazzy Star Trek bath towels. I like the subtlety of them. You could almost get away with your parents-in-law coming to visit and not judging you for being a total fucking nerd. $49.99.
What? Now we have include Doctor Who bath towels because we featured both Star Wars and Star Trek bath towels? Damn PC police! This isn't my America! Okay, yeah. I kinda wanted to put these in anyway and it was just convenient, but don't tell everyone else. I want them to think I'm outraged. $49.99.
You got them nice bath towels so now you have to completely transform your bathroom into a Doctor Who convention. Oh yeah, and there was that TARDIS toothbrush holder above, too. Don't forget that. $29.99.
This is quite possibly the nerdiest thing you can have in your bathroom, including all the bullshit I listed above, and I love it. A TARDIS shower rack. Gotta admit, that actually looks pretty useful. Lots of storage space... $49.50.
Expensive ($71.00-$249.99)
There's a mini-TARDIS fridge out there that's $40 cheaper, but it only holds, like, 6 sodas. This large mini-fridge holds 18! Plus it has a light on top of it! It also heats up or cools down depending on what you want to use it for, but in my experience warm fridges are no bueno. $149.99.
I got that beat... Okay, the Borg Cube mini-fridge is smaller than the TARDIS one above, but it's the Borg. And it lights up green. I like green. $149.99.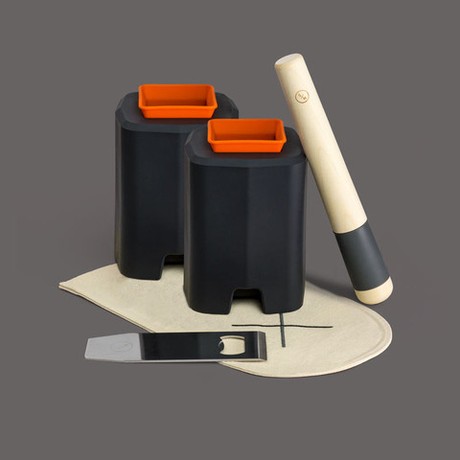 What in sweet Jesus is that thing?!? Lucky for you I'm really ultra fancy and can tell you exactly what that is. You know how I listed ice molds above that form into geeky stuff? This is the for real Ice Kit that'll give you cubes like the bars at fancy five-star restaurants. You get two molds (they freeze the ice in a solid block in a way that forces air bubbles and impurities down so half of each mold is crystal clear ice), an ice chisel, a crusher and a bag specifically designed to help you make crushed ice without a mess. If you like the expensive stuff, but are tired of your regular auto-ice cube maker then you might want to try these guys out. $80.00.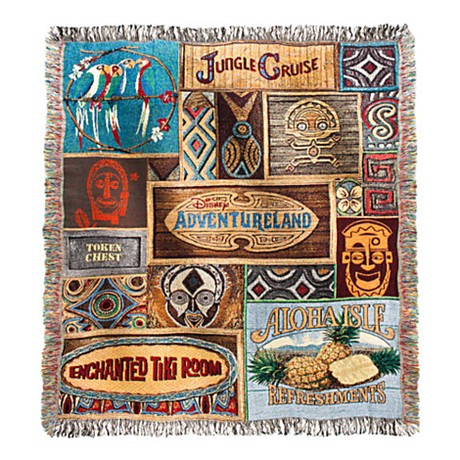 Jungle Cruise, Tikki Room, Indiana Jones ride... Adventureland is always a favorite stop on my Disneyland trips and now I don't have to fly west for 3 hours to visit. I can have this Adventureland Tapestry hanging on my wall! Woven design, 50"x60" and full of fond memories for any Disney Parks enthusiast. $74.95.
Don't worry, Mjolnir will hold you comic books in place! It's not like it has anything more important to do, like protect the realms or anything, but it's cool. That TPB collection must be worth, like, $80. Man, Mjolnir's a passive aggressive asshole, isn't he? Mew-Mew is hand painted in a limited edition of 1200. $99.99.
I swear this belongs in the Geek Housewares section... and no, not for home defense. That is a replica phaser from Star Trek: The Original Series, but it is also a universal remote control. Yep, you can program that thing, aim it at the cable box/tv/receiver and fire your ass through TV Land. It also uses gestures in some weird sci-fi way I don't understand. It also comes with that metal base that it sticks to with a gosh-darn magnet in its hilt! Magnets! $149.99.
Aww, a little Captains Chair pet bed for your little Captain Bark of the Starship Enterprise. Lt. Woof can sit it in sometimes, too. I won't tell anybody he's not a captain... $77.96.
Are you tired of globes that just sit there until you exert considerable force to make them spin? Me, too! Our troubles are over. Here's a multicolor, gorgeous representation of our home planet that uses low light solar cells and the magnetic field to rotate itself. Or God does it, depending on which state you live in. $144.99.
This is the droid (carry-on suitcase) you're looking for! R2 here fits comfortably within the carry-on limitations for most airlines. 360 spinning roller wheels, telescoping handle, fully lined interior and a special slot for secret stolen data plans. $79.99.
The Japanese thought it would be a good idea to make an R2-D2 trash can and here we are. Thinkgeek have exclusive rights to sell Trashy-D2 here in the States and I gotta admit it's kinda cool. He's knee-high to an average adult person and when you step on his center foot his dome opens and invites you to dispose of your blue milk carton. $129.99.
The knife block is just about the only thing Star Wars hasn't touched in geek kitchens. Well, was. Now there's a stainless steel X-Wing Knife Block that includes cook's, break, carving, utility and paring knives. Don't use the force when cutting veggies, though. That shit only works in the movies. Trust me on this. $109.95.
CHEWY, NOOOOOOOOOOOOOO! Okay, I swear this isn't a spoiler for The Force Awakens (that I know of). This is faux-wookie fur or so they claim. What you got there is a wookie rug. Comes in two sizes. Small is 6'x3' and large is 8'x4'. $99.99-$149.99.
For The Super Rich Only ($250.00 and up)
I don't usually feature TVs in the Guide, but I'm making an exception to that this time because we're probably a year or two away from plasmas going away forever. They lost the TV war, which sucks for future generations who like deep black levels, but rules for us because the almighty plasmas are getting cheap... for plasmas.
My 5 year old Samsung LED is starting to crap out on me, so I've been longingly looking at a few plasma models (which is easy considering only two companies are putting them out anymore, Samsung and LG), reading reviews and shopping around for prices.
It's important to note that my primary interest in upgrading is in picture quality for Blu-Ray watching and gaming. 4K or UHD TVs are still young and I've been reading they're off to a rocky start. I'm no expert on this stuff, but I do tend to heavily research specific items when I'm in the market to purchase a high price item. Nothing worse than buyer's remorse on a big ticket thing.
Here's the plasma that caught my eye:
This is the one I think I'll eventually take the plunge on. The Samsung PN64H5000. 64" plasma that looks sleeker and is a considerable size upgrade from my current LED. The drawback is that it's not a smartTV, but I really don't care about 3D and have all my important apps (Hulu, Netflix) on my consoles, so paying an extra grand for that stuff doesn't interest me much. I have a good Onkyo receiver, so the audio quality of the TV and the fact it only has 2 HDMI inputs doesn't bug me. And a 64" perfectly fits my wall (I measured). For the price and for what I want (quality picture) this seems to be the not too hot, not too cold, just right one for me. $1,297.99.

There are smaller plasmas available if you don't have as open a living room floor plan as I do, but if you're in the market for a new TV I highly recommend giving plasmas a look. They're an endangered species and at their price point right now you might be kicking yourself for letting them pass you by.Click here to see the best selling Plasmas right now and find the one that's right for you.
If you have any suggestions, I haven't made the plunge yet, so feel free to drop me an email or leave a talkback below.
CLICK HERE TO GO TO PART 1 OF THE 2014 HOLIDAY GIFT GUIDE FEATURING BLUs, ART and GEEK APPAREL!
CLICK HERE TO GO TO PART 3 OF THE 2014 HOLIDAY GIFT GUIDE FEEATURING BOARD GAMES, VIDEO GAMES, TOYS, COLLECTIBLES and RICH STUFF!