I'll be updating the top of this article over the next few days with Blu deals as I spot them, so keep checking back!
Updated 3:30pm CST, 11/28
-The World's End Blu $7.99
-House of Cards S.2 Blu $14.99
-The Avengers 2-Disc Blu $9.99
-Star Trek: The Next Generation S.1 Blu $19.99
-No Country For Old Men Blu $4.87
-Spaceballs: The Blu-Ray $3.99
-The Terminator Blu $3.99
-X-Men: First Class Blu $3.99
-X-Men: Days of Future Past Blu $9.99
-Prometheus Blu $3.99
-Inside Man Blu $3.99
-Rain Man $3.99
-Breaking Bad: The Final Season Blu $14.96.
- Rise of the Planet of the Apes (Single Disc) Blu $3.99
-Band of Brothers Blu $22.99
-Raising Arizona Blu $3.99
-The Purge Blu $8.00
-Lord of the Rings: Extended Edition Blu Set $29.99
-Complete Twilight Zone Blus $113.00
-The Last Stand Blu $5.99
-This Is The End Blu $8.96
-Bridesmaids Blu $7.99
-ParaNorman 3D Blu $9.99
-Taken Blu $3.99
-On Her Majesty's Secret Service Blu $3.99
-You Only Live Twice Blu$3.99
-The Princess Bride Blu $3.99
-Scott Pilgrim Vs. The World Steelbook Blu $6.96
-The Walking Dead S. 1 Blu $9.99
-John Adams Blu $14.99
-Back to the Future Trilogy Blu Set $22.99
-Super 8 Blu $4.99
-Good Will Hunting 15th Anniversary Blu $3.99
-American Hustle Blu $6.00
-The Great Gatsby Blu $6.00
-The Girl With The Dragon Tattoo 3-Disc Blu $6.00
-21 Jump Street (movie) Blu $6.00
-Oblivion Blu $7.99
-Marvel Cinematic Universe Phase 1 Teseract Blu Box Set $99.99
-Ender's Game Blu $6.99
-Anchorman Blu $3.99
-Anchorman 2 Blu $7.99
-Gangs of New York Blu $3.99
-You're Next Blu $5.99
-Godzilla Blu $7.99
-American Hustle Blu $6.00
-Gravity Blu $7.99
-The Lego Movie Blu $8.99
Aho-ho-hoy, squirts! Quint here. It's time for the 2014 Holiday Gift Guide. As usual I've spent the better part of last year tracking geek items of interest, making notes, keeping up a jolly fat man's list much like the dude at the North Pole. Which geek treasures are must includes and which get coal in their stocking, stuff like that.
I'm going to assume the regulars have seen the craziness of this monster gift guide over the last decade or so, but if you're new to the Guide, welcome. Always good to see a new face. I hope you have some time to kill or an inattentive boss because there are going to be a ton of items for you to take a gander at.
Here's what you need to know: I break down all the cool geek stuff out there into categories (like Blu-Rays/DVDs, Books, Music, Toys, etc) and then further break them down by price: Cheap ($24.99 and under), Moderate ($25.00-$70.99), Expensive ($71.00-$249.99) and For The Super Rich Only ($250.00 and up).
You're in Part One of a Three Part Guide. Congratulations! It's your first step into a new, geekier world. Tuesday Part Two will post and Wednesday Part Three will go up. Take it category by category, day by day and you'll be fine.
This guide not only reflects what's out there, but it also reflects a little bit of my goofy personality (especially when it starts getting late and I tend to be a little silly with the descriptions). I personally curate the entire thing, picking stuff I'm interested in or know will be of interest. I don't have outside help with this thing and I've chosen to make it hard on myself so I can keep that aspect intact, but as usual I couldn't do it without the kind words and item suggestions thrown out by you guys every year. It does my nerdy heart good, I tell you.
Some of these links do carry an affiliate tag, so if you click through and buy something for you or a loved one I get a little cut. Thanks in advance if you do just that. It really helps every year and I really do appreciate it.
There will be a few contest sprinkled throughout the guide, so keep an eye peeled for those... and I think that's about enough preamble, don't you?
BLUS/DVDs
As usual, the week leading up to Black Friday is rife with killer Blu-Ray and DVD deals. Prices do tend to fluctuate from when I initially wrote this list to when it posts, so apologies if there are any inaccuracies in the prices below. I'll do my best to fix giant leaps in prices listed.
Also, I'll make sure to update the top of this article with a straight list of Blu-Ray deals as new titles get crazy cheap over the week, so keep checking back for that.
Let's get this show on the road, shall we?
Cheap ($24.99 and under)
It seems only right that Swan kicks off the 2014 Holiday Gift Guide. There are many amazing films that have hit DVD and Blu-Ray this year, but Scream Factory's release of Brian De Palma's Phantom of the Paradise is the one I want every single one of you fine, lovely people reading this to own. The disc is great, tons of docs, multiple commentaries and, most importantly, a great transfer of one of the best, weirdest awesome movie musicals ever made. $18.99.
William Friedkin has made this release and restoration a personal crusade for years and this amazing transfer is the final result. Released in digibook form, Friedkin's often overlooked masterpiece Sorcerer finally has its day in the sun. Featuring post-Jaws Roy Scheider, sweating dynamite and the most fucked up bumpy roads that exist on God's green earth, this is one of the most intense films ever made. This is a must own for any self respecting movie geek. $19.59.
Weird Al's UHF was a staple of my childhood and now that it's out on Blu-Ray we can pass on that experience to a younger generation! And this movie is still awesome. There's the crazy dated CG "Beverly Hillbillies" musical number, the sweet Raiders spoof, Conan the Librarian, "Supplies!" and the Rambo muscle suit that actually looks remarkably close to modern day Stallone. Oh, man. I love this movie! $20.67.
The good news is The Complete Al, a quasi-true documentary about Weird Al Yankovic, is now available. The bad news is that it's only out on DVD. Boo, but still... this is now something you can easily acquire, which wasn't the case before this release. Also included are 8 full music videos including Eat It, I Lost On Jeopardy, Ricky, I Love Rocky Road, This Is The Life, One More Minute, Like A Surgeon and Dare To Be Stupid. It's a good year to be a Weird Al fan! $14.99.
Unless you're one of the lucky handful of people on this giant blue ball flying through space to happen to see the reunion show that Monty Python put on this year then all this will be new to you. The surviving members of Monty Python gathered together for, presumably, the last time to celebrate their greatest hits and give us some new Python-y things to enjoy. It's a real treasure and now it can be yours forever in 1080p! $14.99.
Plastic Galaxy: The Story of Star Wars Toys is exactly what you'd think a doc with that title would be. I'd wager this one will strike a powerful nostalgia chord with most of you guys reading this. Filled with interviews with fans, professionals and the folks who were at Kenner during the summer of '77, this DVD is gonna be right up the alley of 99.9999999% of the people reading this.. $21.00.
PRE-ORDER, DECEMBER 9th. I don't think it's much of a stretch to say that Marvel's Guardians of the Galaxy is going to be tops on most movie geeks' Christmas lists this year. The film is one of the most rewatchable outings Marvel has put out to date (maybe behind The Avengers), so it's safe to say that this one will be getting a lot of play, not just holding a spot on the Blu-Ray shelf. $24.99.
X-Men: Days of Future Past was super solid. The future war stuff looked kinda silly in the trailers, but the action and mutant powers on display was pretty righteous, I gotta say. I'll never get a straight up comic adaptation, but this ain't a bad consolation prize. Just goes to show you Fox can pump out quality superhero movies if they want to... $14.99.
When all is said and done for 2014 you'll probably find Snowpiercer near the top of my Top 10 list. I love this movie a lot. It represents one of the best jumps from Korean to English language I've seen from any of the recent exports. The movie is weird like Korean film, but also streamlined with great performances. It's a minor miracle of a movie, a smart and dark apocalyptic sci-fi tale with a major Hollywood actor at its core... and it's good! I'll be watching this one a lot and I reckon I'm not alone there. $14.94.
Another minor miracle in sci-fi this year was Edge of Tomorrow (let's ignore that Live. Die. Repeat. nonsense, shall we?). Despite a minor issue I have with the last 5 minutes of the movie, I found it to be one of the best straight up summer blockbuster type big Hollywood movies I've seen in years. Heady, but not up its own ass. Funny, but not at the expense of the tone. Strong characters, fun premise, awesome flick. And Bill Paxton! Damn, now I want to watch it again... $19.96.
Here's another great action-y release this year. The Raid 2 is so damn good. When I reviewed it out of Sundance I said that if the first Raid was Assault on Precinct 13 then the follow up was The Godfather 2. Gareth Evans totally widened the scope, making Raid 2 bigger in every possible way. The story is a crime epic, the action is more diverse and insanely choreographed and the emotion is cranked up to 11. It's one of the most fun I've had in a theater this year.. $14.99.
Burt Reynolds was the king of the sweaty southern fried exploitation film and my two favorites from that era have hit Blu-Ray recently. First up is White Lightning, where Reynolds plays Gator McKlusky, a moonrunner who goes up against the crooked Sheriff that killed his brother. Joseph Sargent directed and Hal Needham did 2nd unit. I like this movie so much, I bought Tom Jung's original one-sheet art (this one right here)! The movie's so damn fun and way underseen. Give it a try if the mood strikes you. $19.99.
Next up is Gator, the sequel to White Lightning. Burt Reynolds himself directed this installment and brought along his Smokey and the Bandit co-star Jerry Reed to play Gator's childhood friend who is now a crime boss. This is such a fun series of films. Very happy to have them available in high def. $19.99.
Donald Sutherland, Sean Connery, Leslie Anne-Down, 2001 DP Geoffrey Unsworth and Michael Crichton teamed up in 1978 to make a period heist flick and while they made a damn good one it doesn't seem to be one of the more talked about films of the era. Beautiful, fun and thrilling all at once. Definitely give this one a spin if you haven't gotten to check it out yet. $18.99.
The folks at Warner Archive have rescued this long out of print DVD and made it available via their burn on demand service. No, this isn't the Robert De Niro/Wesley Snipes movie, but it's pretty much the same kinda movie. There's a superstar (in this case an actress, played by Lauren Bacall) who has a crazed fan... what makes The Fan (1981) interesting is that the crazed fan is a very young Michael Biehn. Yep. $14.95.
If you look at that cover and aren't interested then I'm going to have to put you in movie geek time out. Roy Scheider in a thriller directed by Jonathan Demme? If you're not sold, let me throw in a few more names. John Glover. Mandy Patinkin. Christopher Motherhumpin' Walkin. (drops mic) $21.06.
PRE-ORDER, DECEMBER 9th. No, this isn't that awesome and underseen weirdo Paul Walker movie. Sorry. But it is pretty crazy in its own right. If you ever wanted to see Billy Crystal team up with Gregory Hines to fight Jimmi Smits in a movie directed by Peter Hyams, then this is the Running Scared for you! If you want to see a fucked up fairy tale thriller then go with that other Running Scared. $16.99.
Black and white in HD is one of my favorite things about living in the future. Sure, smartphones are rad and it's cool that we can cut into eyeballs with lasers to correct vision, but black and white in HD is really the pinnacle of our technological advancement. Case in point Jacques Tourneur's fantastic noir Out of the Past on Blu-Ray. Robert Mitchum goes up against Kirk Douglas in this noir to end noirs. You'll find this movie in the top ten of pretty much every "Best Noir Movies" list and for good reason. It's a must see for any cinephile and will likely lead you down the awesome rabbit hole that is film noir. $16.99.
Roger Corman had a run of crime thrillers in the '70s that are pretty righteous. Bloody Mama is one of them and if you don't crack a smile seeing Shelley Winters rocking a tommy gun in one hand and a cigar in the other then you are probably in the wrong place. A very young Robert De Niro shows up in this one as well as Bruce Dern and great character actor Pat Hingle. $18.49.
PRE-ORDER, DECEMBER 2nd. Robert Culp and Bill Cosby made a helluva team on I SPY, but a lot of people don't know they teamed up again for Walter Hill in a '70s neo-noir called Hickey & Boggs. This is a really sweet overlooked flick and has a very young James Woods popping up in it. It's tough watching anything involving Cosby these days, but this is still a great movie and a different kind of part for him. $16.99.
Now I've never seen this Thieves Like Us flick, but it caught my eye when I was compiling this list... a period bank robber flick directed by Robert Altman and starring Keith Carradine, Shelley Duvall, Louise Fletcher and Tom Skerritt? Sold! $18.49.
Now this is a badass Robert Altman crime movie I have seen. The Long Goodbye is one of the few color films that I believe deserves to be called neo-noir (another is Brick) and not just sleazy-throwback or whatever. The Long Goodbye has a lot of the DNA of The Big Lebowski in it. It's a convoluted crime tale with a lot more humor thrown in than you'd expect. Elliot Gould is a straight up badass in this movie. Damn, I can't stress how sweet this movie is! Check it out! $18.49.
Cold in July fits in well with these crazy crime films I've been listing here. Dexter Morgan shoots a home invader and has to come to terms with taking another man's life while that dude's ex-con dad (Sam Shepard) comes in to settle the score. You think you know where this movie is going, but then Don Johnson shows up being awesome and the film spins off in exciting new ways. Was a big fan of this one when I saw it at Sundance. $14.99.
Alright, you need a sick sense of humor to dig on this movie, but if you have that then this will likely be one of your favorite movies released this year. Pat Healy is outstanding as an average Joe down on his luck who is sucked into a rather cruel game by a loud, obnoxious rich asshole and his trophy wife. Ethan Embry is along for the ride as well, playing a blue collar roughneck that is competing against Healy for the money as its parceled out by the rich folks as rewards for increasingly horrible objectives. It starts harmless, so much so that by the time we're getting into self-mutilation and figuring out the price of one's own morality we don't realize it's gone so far so fast. It's a great flick. Highly, highly, highly recommend it. $21.21.
Another Drafthouse Films release. Nothing Bad Can Happen is slightly less... fun... I guess, than Cheap Thrills. It's a rough movie about breaking down an innocent's spirit... There's no big bad guy in a mask and cape, but what there is more real life horrible people being horrible to each other. Not the cheeriest of all holiday releases, granted, but it's a pretty incredible drama that'll touch you deep down. Spoiler alert: Something bad does happen! A lot of somethings, actually. End spoiler alert. $18.99.
Mood Indigo feels like Michel Gondry's audition to direct a live action Pee-Wee's Playhouse movie and that's the best possible compliment I can give to this insane little love story. There's a big tonal shift in the third act that lost a lot of people, but I dug this one a lot. Another Blu put out by the folks at Drafthouse Films. $19.99.
The first 21 Jump Street was a miracle. How that movie turned out not just watchable, but actually fucking awesome will be studied for decades. Same goes for the sequel. That mountain was even tougher for Lord and Miller to climb, but somehow they did it. They made a crazy funny movie that at the same time commented on the trend of shitty comedy sequels. These guys are the best. $19.98.
Speaking of movies that should have been awful, but were great thanks to Lord and Miller! The Lego Movie is so damn good and counter culture that I can't believe it exists. The twist it takes in the third act is next-level awesome. This one will be getting many, many, many revisits on Blu from me. Probably you, too, since you are cool like me.. $17.96.
Bedknobs and Broomsticks was a childhood favorite of mine. Disney of this era hits all the right nostalgia triggers in my brain. Sherman Bros Music, animation mixing with live action, David Tomlinson... you know, the Disney landmarks. After all, ordering this blu-ray is a step in the right direction. It's a step in the right direction after all. $18.75.
This one's for all the '90s kids who may be reading. I was a bit too old for Hercules to hit me the way it did many in my little brothers' generation. But I can totally get behind Hades James Woods. Hades James Woods all day and all night! Hades James Woods for pope, president, governor and senator! $18.75.
I remember early on in AICN history getting a glimpse at a pencil-animated version of this movie and it was one of the coolest things I've ever seen. The finished film is fine, definitely lesser Disney, but seeing a whole Disney animated feature moving in just pencils is incredible. They need to release that version stat! $18.75.
Sleeping Beauty is one of Disney's most gorgeous animated films, so naturally it's a must own in HD. There was a previous Blu-Ray version released that is out of print now, but I think most if not all of the extras are included on this Diamond Edition. As with other Disney titles, they like to pull them randomly and shut them away for a few years, so if you really want it and don't want to wait for the Holo-disc version in 2024 then go ahead and pick it up. $23.52.
I feel bad for not having seen this one yet, but I heard surprisingly good things about Maleficent. I actually have this Blu sitting in my "to watch" stack, but all that stuff is on hold until this here guide gets finished up. All I know is that Jolie looks creepy as hell and Sharlto Copley is in it, so it must be better than average. $19.99.
A lot of Miyazaki is hitting Blu this holiday season and that's a good thing for lovers of animation and Japanese bizarre fucked up trippy-ass shit. I came to Miyazaki relatively late (20s), so I don't have the deep childhood connection most fans have to it, but I'm kind of glad I saw his films when I did because I think as a kid I would have taken the weirdness for granted. Mononoke was one of the first of his flicks I saw and helped hook me into the cult of Miyazaki. $22.99.
Another Ghibli classic on Blu! It's like The Worst Witch without Tim Curry singing about Halloween! $24.99.
Halloween has It's The Great Pumpkin, Charlie Brown and Christmas has the Rankin-Bass stop motion films. Rudolph the Red-Nosed Reindeer was my family's go-to films every year, so it just screams "Christmas!" to me. I hear there's some questionable editing by Sony in this release, which sucks, but it also comes with Movie Cash for that Penguins of Madagascar flick, so it's pretty much free if you use that...$9.96.
I have not seen this movie and it might be crap, but it's still one of Robin Williams' last movies and that means I'll watch it. I'm sure it'll be bittersweet no matter how good or bad the movie turns out to be, but it's a dark Christmas movie with Williams, so it's worth time in front of my eyeballs. $14.99.
Ah, Michael Curtiz's WHITE CHRISTMAS. Bing Crosby, Danny Kaye, Rosemary Clooney and Vera-Ellen sing their way through this Irving Berlin Technicolor wonderland. The look of these kinds of movies just makes me feel all warm and fuzzy inside. A good HD transfer on a Technicolor movie is nothing less than breathtaking. It's a nice, wholesome Christmas movie... unlike the next title... $14.99.
The film that proves Christmas is the scariest damn day of the year! Anchor Bay put out this release that features the Unrated Cut of this disturbing, gritty and kinda mean, but also kinda awesome killer Santa flick. Words is they didn't do much work to integrate the cut out footage in terms of image quality, but the up side of that is you'll know what wasn't in the theatrical cut without having to make a study out of it. The blu is pretty cheap and the movie is pretty rad. Merry Christmas! $12.49.
Texas Chain Saw Massacre celebrates the big 4-0 this year and Dark Sky is celebrating by putting out a new Blu-Ray packed to the gills with special features. Three feature commentary tracks, tons of interviews, old and new, docs, blooper reel, outtakes, stills and don't forget the color TV. It's the horror movie that changed the entire genre is getting its due and now you can have Leatherface under your tree. $22.99.
Shout's finally brought Stuart Gordon's DOLLS to Blu-Ray. What a weird movie. Creepy old people? Check. Punk rockers? Check. Living dolls? Check, check check. In short, this movie has everything. $19.99.
If I'm not mistaken (and I usually am), this marks the first time Demons has been available on Blu without having to go through the trouble of importing it. I know Anchor Bay released a limited DVD of it back in the day, but I'm really looking forward to upgrading to 1080p. Demons is a crazy entertaining '80s horror flick that takes place almost entirely in a movie theater. If you've ever wanted to see a smart-ass pimp kill some demon-possessed dudes then this one's for you. Some day I'd love to program a double feature of Demons and The Purple Rose of Cairo. Nobody would ever do that, but it's genius, I tells ya'! What happens on screen impact our reality! See? I'm a good programmer! $18.71.
Demons 2 is kind of a brilliant sequel. Lamberto Bava pulls a Sergio Leone and casts many of the same actors from the first one as different people in his sequel. This time we're in an apartment building when the Demon outbreak happens. It's the rare sequel that doesn't really require you having seen the first one at all. Totally works on its own and it's just as fun as the first movie, but in a slightly different, slightly bigger way. Also, a super young Asia Argento makes her feature film debut. Synapse always goes all out with their stuff and I hear the new transfers are gorgeous. $19.96.
Remember Edgar Wright's Grindhouse trailer? DON'T! Amazing, right? There's a very specific type of film he's nodding to with that bit of fun and one of the best in that sub-sub-genre is The Legend of Hell House. There's all sorts of haunted house movies, but the entity in this one is one of the most vindictive and dickish. Another great Scream Factory release (and one I'll be covering in my regular column on their releases called Scream and Shout) that has a new transfer and a commentary with actress Pamela Franklin. $15.89.
PRE-ORDER, DECEMBER 2nd. One of the most influential genre films of its era, The Quatermass Xperiment (aka The Creeping Terror) is a sci-fi horror film from Hammer. Rated X upon initial release, the flick scarred a whole generation of filmgoers on both sides of the pond. One of its biggest fans is John Carpenter and when you watch it you can see some of where Carpenter's macabre leanings come from. $16.99.
PRE-ORDER, DECEMBER 2nd. I don't know who decided December 2nd is going to be horror blu-ray day, but there's another good set coming out, this one Scream Factory's release of Tales From the Crypt and The Vault of Horror on a double bill Blu-Ray. These two decidedly British anthology horror movies go great together (as they should, since Vault is a sequel to Crypt). Both feature unwitting folks who find themselves in one location (a crazy crypt and a vault... I'm sure you can figure out which is in which movie) and where a sinister figure tells them different stories that might or might pertain to their own lives. These films feature the best of the best of British stage and screen, including Peter Cushing, Patrick Magee, Joan Collins, Sir Ralph Richardson, Tom Baker, Curt Jurgens and Marcus Brody himself, Mr. Denholm Elliott. $19.99.
Combat Carl says Toy Story of Terror is super fun. Combat Carl also says that this is a perfect (and safe) intro to horror for your little ones! And Combat Carl is awesome. So says... Combat Carl!$12.96.
I thought I was the only one who adored Wes Craven's The People Under the Stairs, but my heart was done well when this hit Blu and I saw some love for it on social media. I'm not alone, y'all! A young kid named Fool helps Ving Rhames break into the home of a pair of rich assholes who are about to evict Fool and his family from his apartment building. There's rumor of treasure in the house, but what they find instead is a bunch of fucked up scary folks under the stairs and an even scarier private side to the rich assholes, a brother and sister team who call each other "Mommy" and "Daddy." Everette McGill is reason enough to buy this movie. He's so off his rocker in this flick! $12.19.
If I was shocked at the surprise following The People Under the Stairs had, count me straight up flabbergasted that there are others that dig Monkey Shines. Everybody hates this movie when it came out! I thought the only reason I dug it was because I'll like anything with a killer monkey in it. The movie is basically a love story between a paraplegic and his helper monkey. The monkey is protective of her man and violently murders people that annoy him. Definitely lesser Romero, but damn do I love this movie. I just simply can't believe it exists. $22.47.
Scream Factory is at it again, this time giving the A+ treatment to the super awesome Motel Hell. Pig masked men fighting with chainsaws? Yep, that's in here. People farmed like plants? Gotcha. This is like Texas Chain Saw Massacre's goofy, flamboyant brother-in-law. Scream Factory put a ton of extras on this as well, including a new commentary by director Kevin Connor, a new making of doc and much more. It takes all kinds of critters to make Framer Vincent's fritters... $18.99.
Nazi zombies didn't start with those awful CGI-crapfests that are pumped out today. Hell no! Back in the day Peter Cushing, Brooke Adams and John Carradine found some off the coast of Florida and this movie documents that. I'm now told this is a fiction film, not a documentary. I still hold that it is sweet as hell. $17.29.
You know, I don't think I ever saw this movie... If I did it was probably on USA Up All Night or something, but I think I'd remember killer earthworms. There were plenty of evil slug movies I loved (including Night of the Creeps and... well, Slugs), but I don't recall evil worms. That will change sooner than later, especially since Scream Factory has done up a nifty special edition of this Squirm flick. $18.99.
PRE-ORDER, DECEMBER 16th. I never in a million years would have expected Werewolf Woman to come to Blu-Ray. I saw this flick as part of one of the Quentin Tarantino Film Fests he used to do in Austin way back when and this is a weird movie... even by QT standards. I can't in good conscience recommend this film to everybody, but if you love weird, slow, nudity filled European style experimental horror movies (a very, very specific subgenre), then this one's for you. $24.99.
Mario Bava's sci-fi horror that was directly influential on pretty much any great sci-fi horror movie you love, including Alien. There's beautiful technicolor filmmaking plus you can see where Bryan Singer ripped off the X-Men costumes from! $19.99.
Speaking of influential genre movies, how about this pretty tempting offering from Kino? The Cabinet of Dr. Caligari underwent a 4k restoration for this release. Madness has never looked so pretty! $18.49.
This one never grabbed me the way it seems to have a lot of others. I've tried giving Nightbreed a shot more than once and even watched the rough cut of the Director's edit back a couple Fantastic Fests ago. I can appreciate the weirdness, but it never really clicked with me. Luckily there are many others with much better tastes out in the world, so for you I've included this nifty release from Scream Factory. $19.99.
For further proof that Scream Factory is after my heart, they've put out the not-talked-about-enough killer croc black comedy LAKE PLACID. Oliver Platt, Bill Pullman, Brendan Gleeson and post-Jackie Brown Bridget Fonda all are after a huge croc and on the way they capture our hearts. Or at least my heart. I'm a weirdo. A-class choice bickering, some really tense underwater terror and the movie that made us acutely aware that Betty White was a filthy old broad. $18.99.
Yeah, it's more of a Halloween movie than a Christmas movie, but the '80s loving horror nerd in your family will be psyched to find this sucker in his or her stocking. Pumpkinhead is one of the best creature designs of the last 30 years and he's executed perfectly in this disturbingly dark fairy tale from the late, great Stan Winston. $18.99.
Forgive a little nepotism here. That goofy looking bastard up there is my little brother, who starred in a very sweet coming of age indie flick called Grow Up, Tony Phillips. It's about a teenager who refuses to give up dressing up for Halloween and it co-stars one of my favorite people in this world, Mr. AJ Bowen. You might also see a portly seaman make an appearance in a poker scene. Anyway, I'm very proud of my brother and his performance in this flick. If you should want to give a sweet little indie film some love this holiday season then I'd humbly suggest this film is worth a shot. $9.79.
My buddy AJ Bowen didn't just appear in that cute coming of age movie this year, he also did a slightly less cute movie about a VICE reporter investigating a cult. Ti West directed it, so you know things aren't going to end well for most of the folks you see. A very smart example of the "found footage" technique because they answer the question of who edited together the footage we're seeing... and no footage was actually lost. Tense, creepy and full of that good acting thing that makes movies so gosh-darn fun to watch. $16.49.
This shoestring lo-fi post-zombie apocalypse movie was a nice surprise this year. The Battery is about two buddies pretty much just wandering around the wastes trying not to get eaten while they talk shit out. If you think the character-building episodes of The Walking Dead are boring then this movie isn't for you, but if that's exactly what you love about that show, then I think you should give The Battery a shot. $13.59.
Life After Beth either slipped past a lot of people's radars or I'm going to end up being one of the only people who liked this movie. Dane DeHaan is a grieving boyfriend who is shocked to find his dead girlfriend is seemingly still alive. Aubrey Plaza plays the resurrected girlfriend in this dark romantic comedy. The movie alternates between silly and dramatic and creepy scene to scene. I dig it, plus it has great turns from John C. Reilly, Molly Shannon, Anna Kendrick, Paul Reiser and Gary Marshall (!!!). $16.16.
Keeping the zombie theme... I was going to say alive, but that was too corny, even for me, so let's go with "keeping the zombie theme going." Here we have the crazy Cuban zombie flick that takes the kinetic filmmaking style of Edgar Wright and the social commentary of George Romero and mixes them up together for a unique zombie comedy that also serves as a commentary for life in modern day Cuba. It was a film fest favorite finally out on Blu. $8.69.
I somehow found myself at three different film festivals showing Jim Jarmusch's vampire flick Only Lovers Left Alive this year and couldn't make ANY of the screenings of the film. After hearing everybody rave about how awesome Tom Hiddleston and Tilda Swinton are in the movie I've decided that you guys may want to purchase it this holiday season for either your own home video collection or for a loved one. $24.99.
I did see Housebound, a nice little horror comedy out of New Zealand, and I can definitely recommend it. It's about a woman who is under house arrest at her mom's creepy old house. Her mom believes the house is haunted and Kylie starts to think she may be right. Unfortunately for her her ankle bracelet will land her ass in jail if she leaves the house, so she's stuck trying to figure out why creepy shit is happening. Very smart, super fun Kiwi horror and available on Blu-Ray exclusively through Amazon right now. $16.79.
If Rose Byrne was the only thing that worked in this Neighbors movie it'd still be one of the funniest films this year. Thankfully everybody does well in this movie, especially Zac Efron. Make fun of me all you want, but I think that dude really has some good comic chops and I fully expect him to follow the Rob Lowe career path and be awesome in 10 years. $19.99.
You could buy this romantic comedy satire for the great comic talents of Paul Rudd, Amy Poehler, Bill Hader, Jason Mantzoukas, Melanie Lynskey and Ed Helms or you could buy it because it's a rare Blu-Ray that has the name "Eric Vespe" on it as well. That's right, put another notch on the Quote Whore list under my name! I mean, it wasn't a good enough quote to get front of the Blu-Ray, but I'm not a very good writer, so I'm just psyched to be involved. Seriously, though, this movie will either tickle your funny bone something fierce or you're going to hate it. Just go in knowing it's a spoof movie and you should be in the right mindset. $15.96.
PRE-ORDER, DECEMBER 16th. The Skeleton Twins is a slightly less goofy movie than They Came Together, but no less funny. We've come to recognize Paul Rudd as a national treasure and that's a great victory, but now it's time to make sure Bill Hader gets the same level of love. This dude is so good at what he does. We know he can crack us up, but he shows a very serious side in this movie without going full on "I'm serious now." Such a great, delicate balance that results in a very recognizable, real character. The movie is basically a dysfunctional family flick with Kristen Wiig and Hader playing siblings that both annoy the shit out of each other and depend on each other. $17.99.
This is Jon Favreau in top form, going back to his low(er) budget roots and making a deeply personal film. While he only wrote Swingers, I'd say Chef is a great B side to that film. Swingers very much felt like Favreau telling us his passions, fear and hopes at that age and Chef feels like he's telling us what his life is like at middle age. It's about as honest a movie as you could want, but not at the expense of entertainment value. Plus it's porn for foodies, so bonus. $19.99.
I followed Drunk History when it was an online thing and loved the hell out of it. We live in a world where cable TV now has multiple seasons of a show where comedians and historians get shitfaced and tell historical stories. God bless America. Both Seasons of Drunk History are available bundled together for the low, low price of $19.99.
I'm pretty sure my cable box hates me. I mean, I'm good to it. I pay a lot to keep it around, but still it decides I don't need to watch certain shows anymore, like this season of South Park, which is supposed to be crazy good. I know it must be my cable box because Time-Warner is an infallible corporation that always puts its customers first and would never be a complete dick renting me faulty equipment. While I haven't gotten to see the new season, I did watch every episode of Season 17 and it's awesome. Princess Kenny and the Black Friday/GoT epic trilogy of episodes are worth the price of the set just by themselves. $19.99.
Listen, I like Community a lot. But if I could guarantee 10 seasons of Rick and Morty by sacrificing this new season they're getting I'd do it in a heartbeat. Rick and Morty is one of my favorite new things in 2014... You can call it a sci-fi comedy if you want, but it's so much more than that. It's so vulgar, so wrong, yet still so touching. The referential humor that's there are actually smart, the episodes have a little heart hiding underneath the dark, dark comedy and damn it I just love this thing. Rick and Morty forever! 100 seasons, Rick and Morty! $23.19.
Funny internet show Red vs Blue from the good folks at Roosterteeth is still going strong. Season 12 is out now. If any of that made any sense to you then you'll be clicking through and picking it up. If not, then you're missing out, but it's cool. You live your life, I ain't gonna force you to do anything you're not comfortable with. $19.99.
PRE-ORDER, DECEMBER 9th. RWBY is another show from the Roosterteeth guys. I'm not much into anime, but many, many, many are, so here you go. This is volume 2, but you can get v. 1 for $15.79. Volume 2 runs ya' $14.99..
PRE-ORDER, DECEMBER 2nd. What is this?!? They did new Mickey Mouse cartoons with an old school Mickey design and nobody told me about it? How dare you? I thought you guys had my back! $14.99.
Miyazaki's latest film is an absolutely gorgeous drama that I had the pleasure to see with an audience that was soooooo conflicted feeling good about watching young committed Japanese pilots and plane engineers in a WW2-era setting. Slightly mixed emotions there, but it's a testament to Miyazaki's talents as a storyteller that that particular aspect of the movie isn't a sticking point for more people. The movie was beautiful in the theater and I can't even imagine how pretty it looks on blu. $22.98.
The How to Train Your Dragon films have been a high water mark for Dreamworks Animation. While Pixar was treading water, Dreamworks finally decided to tell a movie that could exist comfortably outside of the year it was released. Dragon 2 is a little less focused than the first one, but there's more emotionally at stake, so I ended up digging it quite a bit. Kids eat this shit up and adults can like it, too. Funny how that works, isn't it Dreamworks? ISN'T IT!?! I'm sorry I yelled at you. I've just got a lot going on right now and I'm taking it out on you. $22.99.
The fourth Betty Boop cartoon collection is newly out as well. These collections are always worth a look, especially for the strange and unusual folk out there. Not like me, of course. I'm totally into football and the army and tailgating and beer and stuff. But if I were an awesome geek that loved vintage animation I'd be totally into this. $17.55..
Marty is a very sweet little character drama that shows us a much softer side of Ernie Borgnine. He won an Oscar for this movie, actually, and it's well-deserved. He turns in a sympathetic performance for the ages in this one. $19.31.
PRE-ORDER, DECEMBER 2nd. Ah, the Frank Capra classic about a man whose name I can't remember at the moment going somewhere important... It's been a while, so I'm sorry I'm vague on the details, but I'm pretty sure Mr. Whatshisname goes to... someplace... This new transfer was mastered in 4k and comes in a cool digibook format that makes you feel really super elegant when you put it next to the stupid old regular plastic cases. $14.99.
Yeah, it's a double-dip, but at least it's a cheap double dip! If you've been putting off owning Young Frankenstein... well, firstly, shame on you. But it's super cheap now, so there's no excuse. It is one of the funniest movies of all time and every household should have a copy readily available. PUT. THE CANDLE. . . BACK! $8.99.
You now how blockbusters come in cycles? We're in the superhero cycle now, for instance. Once upon a time the cycle was 3 hour long madcap road movie comedies. It's A Mad, Mad, Mad, Mad World is more remembered today, but there's also this crazy goofy, but super fun farce starring Tony Curtis and Jack Lemmon (among a huge all-star cast) and directed by Blake Edwards. $16.99.
Speaking of Blake Edwards, here's another goofy flick from him. Not as talked about as his Pink Panther collaborations with Peter Sellers, this one is nonetheless notable for it's insanity. Yeah, it puts Sellers in brownface, but god help me, he's funny playing Hindu, so I can't get outraged by it. There's a soft spot in my heart for movings about making movies, so this one was right up my alley when I first gave it a spin a few years ago. $18.99.
Hey, '70s and '80s kids... I bet you didn't know the bad guy from The Black Hole was like totally smokin' hot when he was a young man. It's true and exhibit A in my case is Topkapi, a gorgeous Technicolor heist flick starring Maximilian Schell. Peter Ustinov and Melina Mercouri. It's a very fun flick about really smart thieves having to work with some not so smart accomplices to pull of a heist in Istanbul (Not Constantinople). Another prim-o classic that hit blu this year for the first time. $22.41.
Remember that awful initial Ghostbusters blu-ray? This one's better and as a bonus you get the flawed, but still unfairly crapped upon sequel both mastered in 4k and wrapped up in a digibook packaging. Buy this and make sure to put it next to your collection of spores, mold and fungus. $16.67.
Jodorowsky's Dune is a fantastic look at the batshit crazy movie we almost got when surrealist Alejandro Jodorowsky came within an inch of making DUNE in the '70s. Jodorowsky himself is a fascinating interview and as someone semi-obsessed with movies that didn't happen this doc is like catnip. If Jodorowsky had actually made this film, it would have been spectacular... either a glorious trainwreck or a masterpiece. Great doc. $24.96.
Here's another good doc, this one focusing on the life of Star Trek's George Takei. He's been out promoting himself and the film a lot, so I'm sure you've heard much about his life recently, but that still only scratches the surface. You have his childhood trauma of being put in an internment camp after the Japanese bombed Pearl Harbor, his Trek years, his closeted years, his coming out and now his advocate years. Sprinkled throughout all that is a frank look at his kind of Odd Couple-ish relationship with his husband, Brad. These two bicker like an old Italian couple and it's really fun to watch. The doc is only available on DVD and then only on Amazon, but it's pretty inexpensive. $10.49.
I'm a bad, bad, bad geek. All That Jazz is one of my embarrassing "never seens" and I apologize for that. I actually ordered this Blu before starting the guide and have it sitting with a few other newly acquired Criterions. Once this guide is finished I'll make up for my transgression against Roy Scheider, I promise. $22.49.
Alfonso Cuaron directed this movie. He also directed a Harry Potter, so by that logic I think it's pretty safe to gift to your nieces and nephews. No, seriously, it's totally appropriate. Please, please, please someone believe me! If I don't get an angry email over this one I'm gonna be pretty sad... $22.73.
For one low price you get three all-time classics that just happen to star one of the most adorable women to ever grace the silver screen. In this Audrey Hepburn Collection you get HD transfers of Sabrina, Funny Face and Breakfast at Tiffany's. That's a lot of cuteness and great filmmaking for one box set. I hope you can handle it... $21.29.
Listen, I understand this movie isn't as immediately iconic as Sergio Leone's other westerns at the time like Once Upon A Time In The West or the Man With No Name films, but this black sheep of that bunch would still be any other western filmmaker's best film. That's how amazing Leone was. Duck You Sucker (aka A Fistful of Dynamite) has James Coburn as an explosives expert that ends up wrapped up in the Mexican Revolution. Yep. Like I said, the movie's amazepantsballs. New word. I invented it and you're welcome. $13.39.
Paul Verhoeven! Rutger Hauer! An uncomfortably young and exposed Jennifer Jason Leigh! Man is this a dirty, gritty, unapologetically B-movie. It's been years since I've seen it, but I very vividly remember a few key scenes and suddenly feel the need to take a shower again. $18.99.
If Krull had a more charismatic lead, a less silly final monster and actually made using the Glaive as badass as it looked then people wouldn't shit on the movie so much. I really dig it myself, warts and all. It has a great score, great vistas, fantastic actors, a nice bunch of crazy characters out on a mission all Fellowship of the Ring style. If you need me I'll be sitting all alone in my Krull Fan Club Treehouse. $8.49.
Matt Reeves did a bang up job directing this new Apes film. Andy Serkis is once again showing he's the best actor working even if his face is made of pixels... and also an ape. The inevitability of war hangs over this whole movie and it's so interesting to see every character given depth, be they bad guy human Gary Oldman or good guy ape Caesar. Koba is definitely in my top 10 favorite villains of 2014, though. I know that much for sure. $19.99.
Think of Ragnarok as a Norwegian Amblin film. High production value, family drama and a supernatural element... You can feel Spielberg's influence all over this film... not directly, of course, but you can tell the filmmakers were going for that feeling. So, naturally, I liked this film. Plus, if you have this on your shelf you might fool your Marvel-loving buddies that you somehow got the new Thor movie years early, so that's always a plus. $20.99.
I didn't out and out love this Godzilla flick, but I think Gareth Edwards did a hell of a job directing it. When the film kicks into high gear in act three I just about lost my mind. I'm really hoping the sequel helps make the human characters a tad more interesting and/or gives Big G a tad more screen time. One or the other. But still, this is by far the best our giant Japanese lizard friend has ever been treated on American soil. $22.96.
A ton of Godzilla movies hit Blu-Ray this year. So many, in fact, that if I listed them all they'd pretty much be their own section of the Guide, so I've picked a couple that represent the ones I watched the most as a kid. King Kong Vs Godzilla is definitely not one of the best, but damn it if I didn't see it more than any other (save the one below) when I was younger. $7.50.
As a total passive sorta fan of Godzilla and not the hardest of hardcore, my personal choice for best Godzilla movie is this one because it's less Japanese scientists sitting around talking about radiation and more giant monsters fighting. In short, it's the most fun. So that's why it's here. You might not agree with me and you'd probably be right not to, but it's my favorite. $13.58.
Moderate ($25.00-$70.99)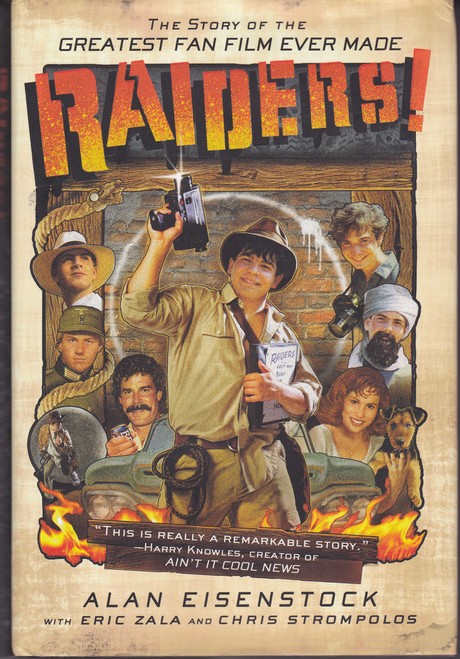 You know that much talked about Raiders of the Lost Ark Adaptation that a bunch of kids shot over many years starting in the early '80s? There's been books, movie deals and lots of online chatter about it, but I don't believe it's ever been officially available to buy... until now. The guys are doing the airplane/bald nazi boxing scene now and have raised a good deal of their money to pull it off via Kickstarter, but they're open to further donations and one of the perks of donating $25 is you get a digital download copy of the original crazy Raiders Adaptation. It's great and will make you fall in love with the film in a whole new way. $25.00.
Criterion's release of The Beatles' A Hard Days Night is one of my favorite blus to come out this year. This movie is a miracle. How many teen sensation rock group movies have there been since the '50s? A lot. How many have been good? Very, very few. What makes A Hard Day's Night even more miraculous is that it's filled to the brim with counterculture humor well before the public knew how weird the Beatles were. This is pre-open drug use, pre-Ravi Shankar, pre-Yoko and yet this film is flat out hilarious, off-kilter and filled with humor just subtle enough to slip by the ratings board, but broad enough to be plainly obvious if you're paying attention. For instance, did you ever notice what John Lennon does with the bottle of Coca-Cola he's handed on the train? He mimes sniffing it! It's a great film filled with great music and now I have to watch it again. Thanks a lot. $26.99.
More Frank Capra Blu-Love-Ray-Spectacular! Just roll with it. One of the greatest gifts the wonderful artform of cinema has ever given us is the screwball comedy. I think the best guy to ever attempt Screwball was Preston Sturges, but it all started here with Frank Capra's It Happened One Night. Clark Gable could kind of come off as a stuffy dickhead in his movies (but he played them soooo well), but that's not the Gable on display here. Criterion's new Blu features a 4k remaster of the feature and a 2k transfer of Capra's very first short film, 1922's The Ballad of Fisher's Boarding House. No brainer pick-up this holiday season. $26.71.
PRE-ORDER, DECEMBER 16th. Tootsie was a favorite in the Vespe household growing up. I don't know what it says about my parents that they loved a dramatic comedy about a crossdresser so much, but it got a lot of play. I dug it early on because Peter Venkman was in it and then later because it's a pretty awesome movie. Criterion is giving the flick a makeover with a 4k restoration. As far as bonus features, they're porting over director Sydney Pollack's commentary from the laserdisc release and some other older features. $34.99.
Last time I saw F For Fake was when Criterion released their regular boring old DVD a few years back. I must admit I was a bit lost. It's a documentary and it's a comedy. Unique to say the least and I have a feeling that I may get something more out of it now that I've done growed up a bit. This was one of Orson Welles' last completed works and it's an examination on the art of the con and forgery. $27.99.
David Lynch's Eraserhead on Criterion Blu-Ray! Rejoice, movie-nerds and weird-lovers of all ages, genders, creeds and sexual orientations! The flick gets a 4k restoration, an uncompressed stereo audio track and other bells and whistles, including 6 remastered David Lynch short films. $27.59.
Criterion Scanners! Holy shit! The flick gets a David Cronenberg-supervised 2k transfer, a new documentary about the film's groundbreaking physical effects (wait until you see how they made that head explosion look so realistic) and even a new chat with man-god Michael Ironside. Does this mean we're not that far away from a Criterion release of The Dead Zone? One could only hope... $26.75.
The original Dutch thriller, The Vanishing, has been released by Criterion. You might have seen the Jeff Bridges/Sandra Bullock remake, but if you're not familiar with the story it's a pretty damn scary concept. A couple on a road trip stops and gets gas. The wife goes into the convenience store and disappears. The way the story is told was unconventional at the time and while more recognizable today, still bloody effective. $26.99.
Criterion took the great 1961 ghost story THE INNOCENTS, a retelling of the classic, much-adapted, story Turn of the Screw, and have pampered it with a 4k restoration. This is an amazing film and I've only ever seen in boring old 480p. What struck my on my first viewing was just how modern the filmmaking felt. Lots of moving camera and visual storytelling going on in this creepy, atmospheric gothic tale. I have the Criterion Blu waiting patiently for me to finish up Guide duties so I can give it a spin. $26.99.
La Dolce Vita is film school in 174 minutes, for good or ill. I've never fully embraced Fellini's movies on more than an academic level personally, but I have a weird feeling that as I get older his films will become more and more relevant to me. Or maybe I'll just continue watching stuff blow up real good and be happy with that. Who knows? $26.84.
A new 4k restoration of the John Ford Henry Fonda flick MY DARLING CLEMENTINE comes in this Criterion release as well as an HD version of the longer pre-release edit. In this film Ford takes on the Wyatt Earp legend (the weird twist that he actually knew Earp in real life). It's not as raw and brutal as Tombstone, but it's John Ford's take on the OK Corral shootout with Henry Fonda as Earp and Victor Mature as Doc Holliday. I'm gonna go out on a limb here and say I think that Ford guy knew what he was doing making these westerns. $25.68.
The Big Chill works magic. I'm living proof. I showed the movie to the girl I would end up losing my virginity to on one of our first hang outs. If that's not proof of this movie's ability to work miracles I don't know what is. I know a lot of people write this one off as privileged rich white people problems. It might be my inner rich white person (my outer person certainly doesn't have much money), but I connected with this one immediately, even as a young man. It was one of the first dramas I watched in my preteen years that showed me that a serious movie can still be laugh out loud funny, too. Plus, what red-blooded heterosexual male isn't ridiculously attracted to Meg Tilly in this movie? I'm sure that helped my younger self invest in this one, too. Anyway, it has one of the great film soundtracks and some of the most charismatic actors of a generation being charismatic with each other. Kevin Kline, Jeff Goldblum, Glenn Close, William Hurt, Jobeth Williams and Kevin Costner's hairline (he's the dead guy in the opening credits). Criterion's got new interviews and Lawrence Kasdan supervised 4k transfer. $26.99.
PRE-ORDER, DECEMBER 9th. My favorite Gilliam film is getting the full on Criterion High Def treatment next month and that makes happy. The only way I'd be happier is if the time traveling dwarves were real and my best friends, but that's not a realistic expectation, is it? $34.99.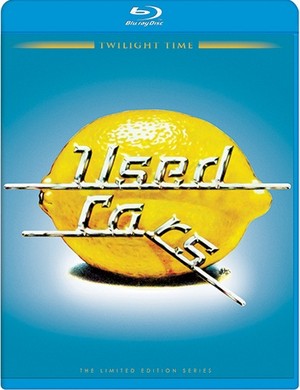 I recently revisited Used Cars in the lead up to that crazy epic AICN Legends interview with Kurt Russell. Early Zemeckis/Gale with a full bore shot of charismatic Kurt Russell leads to this incredibly funny zany piece of entertainment. This Twilight Time edition is the only available HD version of this title, limited to 3000 copies and it comes with two isolated score tracks (the one used in the movie and a rejected score) as well as a port of the absolutely fantastic commentary from Zemeckis, Gale and Russell from the DVD. $29.95.
I linked the Dark Sky 40th Anniversary 4k remaster of Tobe Hooper's game-changing Texas Chain Saw Massacre above, but that's the normal not totally cool special collector's edition. If you want to spring for more cool stuff then go for this set, which gets you the movie and all those special features as well as a blood spattered Leatherface apron you can wear around your kitchen and/or meat hook room, a cool Semi Truck package, a sweet Jason Edmiston poster limited to this release and a fifth bonus disc that has something on it I don't know because I don't own this set and I'm too lazy to look it up. $68.99.
Sure, you really only want/need Exorcist and Exorcist III (which we all now agree is amazing, right?) out of this set, but it's interesting to me as a movie freak to see a series like this evolve. Had that experience watching all the Halloween movies this fall... even the shitty ones became interesting when watching them in context of an evolving series trying to find its way. But still, yeah... you want the two good movies that this franchise pumped out. The rest is just "product of their time" interesting. $32.00.
I'm a little afraid to revisit Monsters because I'm sure this series is quaint and cheesy now, but damn did I love it when I was a kid. I watched Monsters religiously when I was growing up. After many years, the Complete Series of Monsters has been released to DVD. That's over 1500 minutes of genre TV on 9 discs. Ah, screw it. I'm sure a revisit will at the very least be nostalgic fun, like when I went back through Tales From the Dark Side. $57.49.
I'm about to get LASIK so that cover is officially unzen for me. Eye trauma of any sort isn't cool with me now. Guillermo del Toro's The Strain book series began life as a pilot that never happened, so it's only fitting that FX finally stepped up and let Guillermo have a shot at bringing this Vampire apocalypse tale to TV. The series runs hot and cold with me so far, but when it's great I'm super into it. David Bradley is my favorite part of the series... him and Corey Stoll's bizarrely obvious hairpiece. $34.96.
I haven't seen Penny Dreadful because I'm too poor to afford both HBO and Showtime, so I went with Dragons and Bill Maher over this and whatever the hell else Showtime has. But I've heard too many good things about this show to not include it in the guide. It certainly interests me and the fact that Eva Green and Josh Hartnett anchor a supernatural drama is a big part of that interest. $27.99.
This is yet more genre TV I'm pathetically behind on. Everybody and their mother says Hannibal is crazy awesome. The concept should have sucked, but it seems like they actually pulled off a quality show. I'll likely marathon on Blu now that Season 2 is out. The first season can be had for $17.73 and the newly released Season 2 is $25.83.
I still love this show and probably for the same reason it has lost some folks. The slower episodes focused on character seem to get a lot of complaints, but that's kinda the comic, folks. Building up these characters as real, complex and flawed people is why you really love those episodes when the zombie action gets crazy and people are in jeopardy. At this point I feel like I'm invested in this world and enjoy coming back to it, seeing what new challenges face our ever-changing rag-tag group of survivors. $37.00.
Volume 2 of Scream Factory's Vincent Price collection just hit. By now you should have Volume 1 (collecting Fall of the House of Usher, The Haunted Palace, The Masque of the Red Death, The Pit and the Pendulum, Witchfinder General and The Abominable Dr. Phibes), but if you don't it's $52.99. Now you're ready for Volume 2, which has even more Pricey awesomeness: House on Haunted Hill, Return of the Fly, The Comedy of Terrors, The Raven, Last Man On Earth, Tomb Ligeia and Dr. Phibes Rises Again. The price is right (I'm sorry, I couldn't help it) at $59.86..
Not only do you get 26 different B-movies in this coffin-shaped Elvira set, you also get them introduced by the buxom ghostess... That's "ghost" and "hostess" mixed together. I'm pretty clever, aren't I? Most of these are public domain titles, but that doesn't mean they're not worth getting. Bucket of Blood, Don't Go In The Basement and Night of the Living Dead jump out as decent flicks. The reason to get this isn't for the pristine quality of the presentation or the well-currated collection of titles, but to relive those TV days of our youth, staying up too late and watching a corny horror host introduce and comment on genre trash. $55.72.
Hey, MST3Kers! Here's a new tin celebrating a funny series that had awful repercussions by making everybody think they were as funny as Joel and the robots on this show so they heckled old movies when they go see them. The four movies featured in this fancy tin are Jungle Goddess, The Painted Hills, The Screaming Skull and Squirm. $49.99.
Yes, it sucks that Universal didn't go full on Blu-Ray with these, but the trade off is that you get 30 Universal Horror films instead of the just the usual 8-12. All the big boys are included (the Frankensteins, Draculas, Creature, etc), but you also get some of their sequels that don't always get the same amount of attention. And some of the sequels are better than the originals! The Mummy's Hand is a good example. If you haven't gotten to dive into some of these sequels and spin-offs, but love the look and feel of the classic monster movies then you're in for a very pleasant surprise. Click the image above to get a full list of titles included in this massive set. Get them now before Universal decides they don't anybody to remember that these were once moody horror films, not big action blow-em-ups. $87.58.
If you need a starter set of film noir titles to hook in a friend, family member, child, creepy neighbor or other loved one then this is the one to get. Included are Double Indemnity, Touch of Evil, Criss Cross, The Killers, The Big Clock, Black Angel, Phantom Lady, The Blue Dahlia, This Gun For Hire and The Glass Key. Great stuff in there! $43.99.
Pre-Code Hollywood just means that these were movies made before a full on ratings system was in place. People were hurting in this era and the art of the time reflected that in more risque material. These flicks are often shockingly violent and sexy. We're up to number 8 on these pre-code collections and this one's a doozy. There's James Cagney and Joan Blondell in Blonde Crazy, Norma Shearer in Strangers May Kiss, Paul Muni in Hi, Nellie and Edward G. Robinson in Dark Hazard. $43.19.
Cinerama was a multi-projector way of showing films. They pretty much stitched three film cameras together and shot, then synced up three projectors in just the right way to make a crazy wide image. It's one of the most interesting moments in theatrical distribution. One of the show off pieces for this format was this travel documentary as adventurer Lowell Thomas travels around the world in his converted B-25 to seek out the then modern day locations of the Seven Wonders of the World. It's a rarity that has been remastered in high def. I guess that's why it's so expensive... $44.96.
This is another Cinerama travelogue following Lowell Thomas as he traces Marco Polo's steps. At the time it was both a show off of the Cinerama technique as well as a thrilling look at another side of the world in a time when it wasn't as easy to travel around the world as it is today. Now it's an interesting historical document. The world has changed a lot since 1957. $49.95.
Here's a whopping 90 episodes of The Red Skelton show. $42.99.
Remember when they used to do a few of these big box sets a year? I'm starting to get nostalgic for them, which I guess makes me a consumer whore. For the 75th Anniversary of Gone With the Wind they went ahead and did one of those big box sets. You get a music box, a handkerchief, a little book and the Blu of the movie which isn't really my jam, but I still acknowledge as one of the most influential and important movies of the era. $35.69.
Sergio Leone's crime epic Once Upon A Time In America famously had extra footage that was only recently reassembled with the help of Martin Scorsese, if I'm not mistaken. I saw this cut at Cannes and it's definitely fascinating. The new footage is a little rougher than the restored stuff in the theatrical, so you can always tell when the new footage is on, but I kind of liked that about it because then I didn't have to guess at it. $26.49.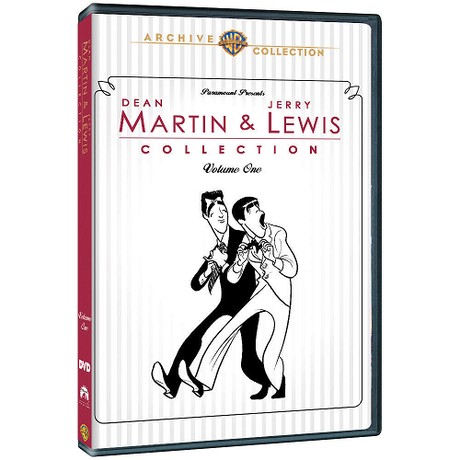 Warner Archive is re-issuing this set of Dean Martin and Jerry Lewis films that went out of print and thus is selling at ivory prices on the DVD black market (aka Amazon Marketplace). Films include My Friend Irma, My Friend Irma Goes West, That's My Boy, Sailor Beware, Jumping Jacks, The Stooge, Scared Stiff and The Caddy. That's almost 800 minutes of Jerry Lewis. I hope you are stong enough to handle that. $39.95.
I don't watch much anime, so I know very little about this series, but I do know that it's loved to death by every single person who lays eyes on it. This complete series collection contains all 37 episodes on 9 DVD discs! $29.99.
The Clone Wars animated series done a lot to heal the damage the prequels did to this die hard Star Wars fan. The character work, idea exploration, iconic baddies and pure old unadulterated fun captured in the series has won me back. So of course they cancelled the show. But Netflix came in and gave us the 13 episode final season that wrapped many loose ends up. They're calling it "The Lost Missions", but it's really Season 6. There's a three-part arc for Yoda in this thing where he explores the force that is probably my favorite Star Wars anything that has been produced since 1983. $34.99.
PRE-ORDER, DECEMBER 2nd. This was a big year for the Simpsons... with them marathoning the entire run on FX and that internet game thing that I refuse to be sucked into going strong. Simpsons is as popular as ever and now they've just gotten to Season 17 (out of 25). Pick up the pace, Fox! Damn! $50.98.
We're living in such a brilliant era for TV right now. HBO is still at the forefront of the longform series with stuff like Game of Thrones and True Detective. Matthew McConaughey and Woody Harrelson make the best not-really buddy cops ever here in this wicked little story that covers the gray area of human nature... There's some pretty dagnasty evil fuckers in this, don't get me wrong, but there are no cowboys in white hats. The heroes are diiiiiiirty. Great TV and I can't wait to see what direction they end up going with in next season. . $39.96.
Is it sacrilege to say I like the Fargo show more than I like the Coen Bros movie? It is, isn't it? Well, it's true. This show is amazing. It will remind you why Billy Bob Thornton is one of the best actors out there right now. And it's also interesting in that it's essentially a full on sequel to Fargo in tone and feeling (and a certain carry-over from the movie, but I won't mention that specifically to save a newbie the thrill of seeing it in the series), but not in most traditional senses. Martin Freeman, Colin Hanks, Keith Carradine, Bob Odenkirk and Alyson Tillman are all fantastic. Freeman in particular plays the best slimey cocksucker/human rat in recent memory. More people need to be screaming from the mountains how good this series is. $29.96.
They've repackaged the big ol' complete Family Ties collection and cut the price by more than half, so if you want a massive amount of young Michael J. Fox and overload of '80s imagery then this one's for you! $55.29.
Hey, the Peter Capaldi Doctor Who seasons is coming to Blu-Ray! And... you will probably buy it because Doctor Who fans buy everything because they are THAT devoted. $64.96.
More British stuff! Downton Abbey Seasons 1-4 in one big Blu set. The Guide suddenly feels more proper and classy. $49.99.
If you bought Seasons 1 and 2 of Game of Thrones on Blu right now it'd cost you about $100. So buying them bundled together in this new release saves you thirty bucks, which is good because you're going to need it for your gas bill soon... because... wait for it... winter is coming. BOOM! (drops mic) $69.99.
It's a new year, so there's a new Extended Edition of a LOTR-U movie! I seem to dig these new Hobbit films more than most, but I'm super biased. I haven't gotten to check out this EE yet, but Peter Jackson and his BTS team always deliver on in-depth extras with these sets. Honestly, I'm more excited to watch the docs than I am the new footage. $35.96.
I love me some Cap 2. The Russos really stepped up to the plate here and delivered a political thriller superhero movie that would have been at home in the 1970s. It's the most cinematic of the recent Marvel movies and was able to find a way to make the threat personal enough so it didn't feel like a wet firecracker after the nuclear explosion that was The Avengers. This Blu comes with the 3D extras and all that crap, but the movie's the most important thing and it is sweet-as, bro. $29.96.
Hey, look! That Agents of SHIELD show! Fitz and Simmons are the big reasons to give this one a run in my opinion. This first season was done very cheaply and without the fun I was hoping for. It feels like '90s show that lasted one season, but I hear season 2 is picking up, so I'll probably jump back in here soon-ish. I'm good at selling this, aren't I? $49.99.
Great Disney Animated shorts are assembled here, including one of my earliest terrifying memories... the headless horseman throwing the flaming jack-o-lantern. Mickey and Beanstalk creeped me out, too, but man did I love it. People forget that kids like to be scared. The ones in my basement are scared all the time and are still able to do all the coding for this Gift Guide for me. $25.21.
What's up, Doc? I love these Looney Tunes remastered sets. The newest volume is out now and features 50 theatrical toons and over 6 hours of extra materials including commentaries, docs and rare shorts. $34.49.
Expensive ($71.00-$249.99)
There a few must own big ticket Blu sets this year, but of course I had to prioritize Spielberg. You're all good geeks, so you all have the immaculate Jaws Blu and Jurassic Park. So it's going to suck to buy them again because you want the rest of these movies, but sometimes you gotta do the right thing and support a studio when they go do something silly like give us Blu-Rays of 1941, Duel, Sugarland Express and Always. All of which are fucking great movies, by the way and screw anybody who has a negative thing to say about Always. I will fight them! The only flop in this whole set is The Lost World and you're probably like me and check back in on that film every few years to see if you like it better. That hasn't worked so far for me, but I'm a true blue fan, so I'll keep on tryin'. Still, a powerfully amazing collection of great films from one of our greatest living visual storytellers. $90.99.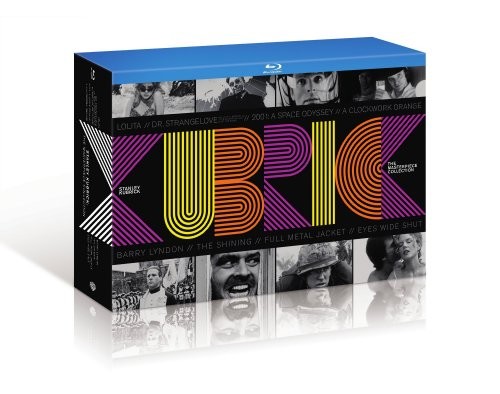 Here's another set that requires not having bought any of a big director's titles on Blu to get full value. This Kubrick set (Exclusive to Amazon) includes Blus of 2001, Lolita, Dr. Strangelove, A Clockwork Orange, Barry Lyndon, The Shining, Full Metal Jacket and Eyes Wide Shut as well as two brand new docs, Kubrick Remembered and Stanley Kubrick In Focus. It also comes with a 78 page hardcover collecting "film archive photos," whatever the hell that is. At this price it's still about $20 a movie but with that you get 9 Blu-Ray films, multiple docs, including new ones not available anywhere else, and that book... and a cool trippy box set. Your call. $179.99.
Shout Factory has this limited edition Werner Herzog Collection which gathers together 16 Herzog films, many of which have never reached Blu-Ray before, in one spot. Titles include Even Dwars Started Small, Land of Silence and Darkness, Fata Morgana, Aguirre, the Wrath of God, The Enigma of Kaspar Hauser, Heart of Glass, Stroszek, Woyzeck, Nosferatu, Fitzcarraldo, Ballad of Little Soldier, Where the Green Ants Dream, Cobra Verde, Lessons of Darkness, Little Dieter Needs to Fly and My Best Friend. That's a lot of fucked up shit in one little set. $101.19.
Criterion went all out to restore and release all of Jacques Tati's films on Blu. These films are Jour de fete, Monsieur Hulot's Holiday, Mon oncle, Trafic and, of course, Playtime. You don't just get those movies and a smattering of extra features, you also get various alternate version of those movies, like the English version of Mon oncle (My Uncle) Tati made specifically for English audiences and the partially colorized 1964 version of Jour de fete. For a film lover this is one of the most complete sets you can get this year. $119.99.
It was pretty amazing going through the Halloween films one by one (I still owe you guys some more coverage from it in my Scream and Shout column, which I'll get to after I pump this guide out and rest my tired fingers for a day or six). There's something very special about watching a franchise evolve with the era each film is made in. It puts the swings of the genre into a kind of perspective you don't really see when watching random movies from different times. All the Halloweens are here, 1-8 and the Zombie films, plus you get the legendary "producer's cut" of Part 6. It's not much better, but it's still worth watching to any fan of the series. Lots of extras and all these movies in one place runs you $112.11.
With a new series in the works now's the time to catch up with Twin Peaks. The Blu-Ray box set includes 10 discs, every episode of the show plus Fire Walk With Me as well as 90 minutes of extended and deleted scenes from that film. There's also new material with David Lynch reminiscing about the series as well as Log Lady introductions to each episode. Jam packed, no?. $84.96.
This is a limited gift edition of that Ghostbusters/Ghostbusters 2 Blu. That little Slimer Statue is cool. Is it worth spending an extra fifty bucks on? It's your money, you do what you want! $73.23.
PRE-ORDER, DECEMBER 2nd. Why settle for boring plastic cases when you can store your Blu-Rays in a pissed off ape's head? This special edition not only comes with a nearly 15" tall Caesar bust, but it also comes with Blu/DVD combos of both Rise and Dawn of the Planet of the Apes, some "character cards" and a 32 page booklet. If you buy this promise me you'll learn to sign "Why cookie Rocket?" and sign it at Caesar every time you pass him. Pretty please! $116.89.
PRE-ORDER, DECEMBER 9th. It's always interesting when these studios put out these big anniversary sets. Which movies will they pick? I guess Fox Searchlight isn't like Universal where they have, like 8 decades of movies to pick from, but still. Here are the Blus that come with this big Fox Searchlight set: 127 Hours, 28 Days Later, (500) Days of Summer, Beasts of the Southern Wild, The Best Exotic Marigold Hotel, Black Swan, Boys Don't Cry, The Brothers McMullen, Crazy Heart, The Descendants, The Full Monty, Garden State, Juno, The Last King of Scotland, Little Miss Sunshine, Napoleon Dynamite, Once, Sideways, Slumdog Millionaire and 12 Years A Slave. That's a lot of awards-y flicks! $172.59.
That's a lotta fuckin' discs, see. I'm a ganster, see. I speak like this to all the goons and dames, see? See? Wait, what do you mean that's the wrong kind of gangster? I give and I give and it's never good enough! Okay, basics: All the Sopranos on Blu-Ray. Every episode, plus 25 episodes have commentaries and there are docs and stuff on the discs. You happy? $179.84.
Okay, this is expensive, but what you get is all three seasons of Sherlock in both Blu and DVD and all the special features previous releases had. You also get brand new commentaries, new outtakes, some art cards and, most amazingly, mini-busts of Benedict Cumberbatch and Martin Freeman. Let me repeat: you also get mini-busts of Benedict Cumberbatch and Martin Freeman. Yep. $136.29.
Those Walking Dead folks always put out the coolest Special Edition Blu sets. For Season 4 they've put out the moss zombie and the damn thing MOVES when you take the blu-holding tray out or put it back in. The head turns and the arm goes up and down. How cool is that?!? $75.99.
True Blood fans can now get all seven seasons of this graphic, nudity-filled HBO show in one complete collection. Not my jam, but it's a whole lotta people's jam. I know this because every time I mention I'm not a fan of the show I hear about my "wrong" opinion from a lot of people. Glad for you guys. Enjoy your show! $197.99..
I'm a bit conflicted including this mega box set because it's putting all the Twilight Zones that are already out on Blu into a standard def DVD set. The reason I'm bending on it is because they're bundling ALL the Twilight Zones together for the first time, both the classic series and the 1980s relaunch. If you don't care about the extra resolution (you should, the originals that were shot on 16mm look great on Blu) and don't own any of the Twilight Zones then this is definitely a pretty looking set that has every single Twilight Zone ever made. $194.99.
PRE-ORDER, DECEMBER 2nd. Here's all five seasons of Sliders, which was a bit of a joke when it was airing (even though I kinda liked it), but now seems to have a pretty loyal fanbase. Jerry O'Connell, Sallah, Sabrina Lloyd and Cleavant Derricks "slide" around alternate dimensions... think Quantum Leap, but not as awesome. $152.98.
Everybody's sad Matt Smith is gone. Not me, but that's because I'm still on the Doctor Who that was that dude in Heroes. I know, I'm slow, but in my defense there is about 680 hours of Doctor Who to get through. I'm sure I'll be sad to see him go once I meet him. This set gathers every one of his Whos and all the special features that came with those original blus plus some extra exclusive docs and some cool packaging. $134.04.
PRE-ORDER, DECEMBER 16th. Anime favorite Cowboy Bebop is getting Blu-ified next month and Amazon has an exclusive limited edition version that comes in a cool clamshell packaging and has two different art books. So, you know, if you like the show you might want to splurge. Or get the regular Blu set ($49.99). You know what you'd like more better than I would. Why do you keep asking me about it? $89.98.
If you've been cursing the TV gods that you don't have 3600 minutes of Phil Silvers at your fingertips then I've got something for your! Weighing in at 20 discs and containing a ton of bonus features, including commentaries with George Kennedy and Dick Van Dyke, is Shout Factory's release of the complete Sgt. Bilko! This one wasn't in common rotation for me as a kid, but I did watch a ton of older shows thanks to Nick at Night. One older show I was obsessed with in particular is coming up next, but if Sgt. Bilko is your shit then here you go. $116.99.
PRE-ORDER, DECEMBER 9th. I couldn't get enough Mister Ed when I was a kid. I loved this show so much. I probably perplexed my parents. The culture back then wasn't what it is now. Nobody would blink an eye at a kid loving Ninja Turtles of He-Man, but they didn't reappropriate things in the '80s as much as they do now. Anyway, culture observation aside, Mister Ed is the best. A talking horse sit com? Yes, please. $94.99.
PRE-ORDER, DECEMBER 9th. It's going to be a little bittersweet revisiting Mork and Mindy, but this was another show I adored growing up. If you need to be reminded just what a force of nature Robin Williams was, especially in his youth, then this'll be a good refresher course. $106.18.
PRE-ORDER, DECEMBER 9th. Damn, every single show that came out in the '70s or '80s seems to be releasing that week in December! Here we have The Jeffersons. It might make you laught, Sherman Hemsley and this show really helped race relations. My racist grandparents adored him, Bill Cosby (whoops) and Sammy Davis Jr. Love them to death. There's my personal anecdote. Now here are the details: 33 DVDs and over 4400 minutes of Jeffersons here, featuring every episode of the show as well as the E/R pilot starring Elliott Gould and co-starring Hemsley. 256 episodes in 10 seasons. Now move it on up your Christmas list. See what I did there? $155.99.
The Carol Burnett show was crazy funny. Did you know she once did a Jaws sketch with Harvey Corman playing Quint? No shit! Anyway, this Ultimate Collection packages together 54 episodes on 22 discs plus many hours of bonus materials and a little book. I'm done, so... ::tugsonear::. $149.49.
I love these old Dean Martin Roasts. One, everybody is drunk as fuck and smoking up a storm and two you get a real feeling of friendship from a bunch of old Hollywood faces. And these are big people, too. Ronald Reagan, Kirk Douglas, Truman Capote, Don Rickles, Jackie Gleason, Jimmy Stewart, Sinatra and even Mr. T. Very, very cool that these are all available in one place after all these years. $149.49.
After a long, long, long wait, the 1966 Batman show is finally available. Man, this is a cool-ass show, another childhood favorite done up all purty like. It's a little out of my price range, so I haven't seen it with my own eyes, but have talked to people who have it and they have kind of a religious awe tone in their voice when discussing the transfers and the quality of the shows. Does that mean Adam West is the new prophet? I'm not saying yes, I'm not saying no. $174.99.
I've talked about loving a lot of TV in this section so far and I haven't been bullshitting you. I watched a ton of stuff, old and new, growing up, but Pee-Wee's Playhouse goes past love and adoration. I was borderline obsessed with this show. Pee-Wee Herman spoke to me and I wanted to live in his Playhouse so bad! A few years back I got to moderate a panel with Pee-Wee and it was one of the highlights of my life so far. I met both Paul Reubens and Pee-Wee Herman. Paul was backstage and Pee-Wee came out onstage. I'm just super glad they didn't realize there were a million other people better at moderating panels than me that year and I got to do it. Anyway, this Blu set I have seen and even had on as I've been writing up chunks of this guide and it's gorgeous. In high def it's just as vivid and colorful as my childhood memories of the show were. Although I'm getting to an age where Miss Yvonne isn't looking mom-age old anymore and it's freaking me out. $83.82.
APPAREL
Cheap ($24.99 and under)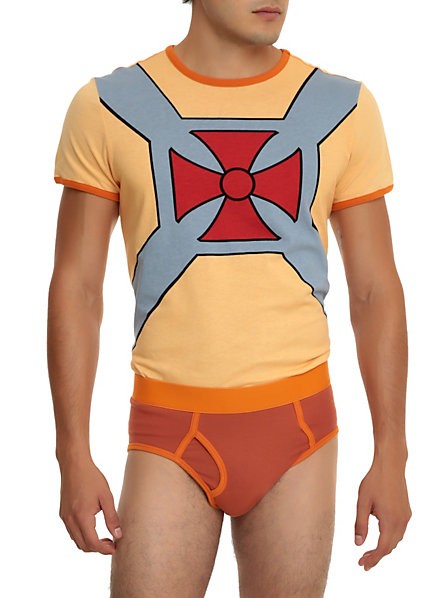 Ahahahahah. Yes! Underoos are coming back! I mean, I'll never wear that because I can't possibly think of a sadder image than a fat dude like me trying to rock the underoo/tee combo let alone one that's supposed to make me look like He-Man, but I strongly encourage everybody else out there to try it out. And take pictures. And post them to the internet. $24.50.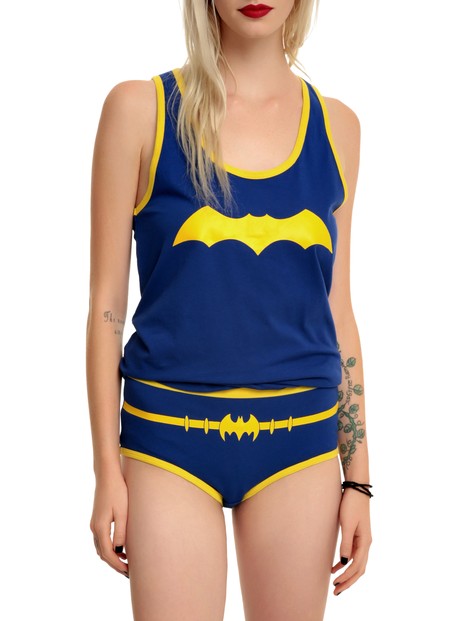 I take back my joking about underoos. We're cool again. $24.50.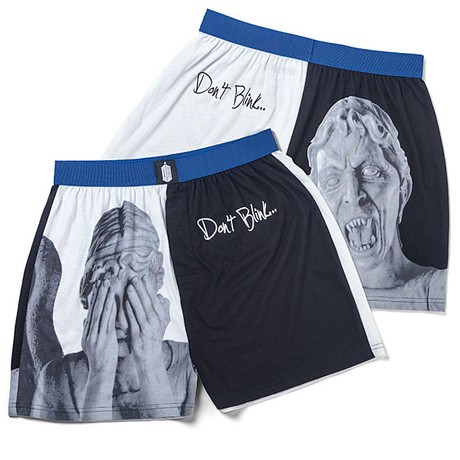 Keeping with the underwear theme, how about some Weeping Angel Boxers? I assume scary face is on the butt because it's funnier when you fart, but I'm no fashion designer. $17.95.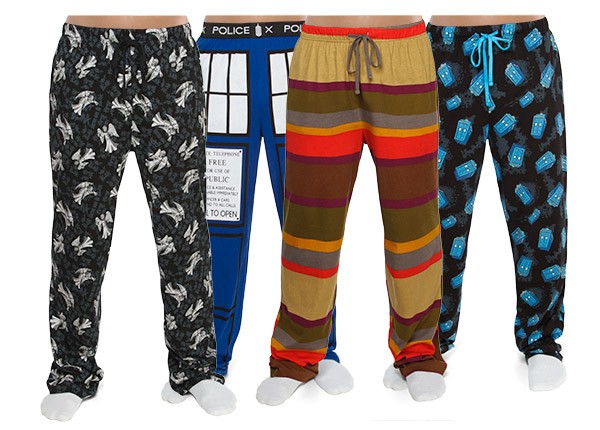 Slowly getting out of Creepyville and getting to outerwear. Here are some Doctor Who PJ pants for in all sorts of comfy designs. Most of these designs are available in XS-3X. $19.99.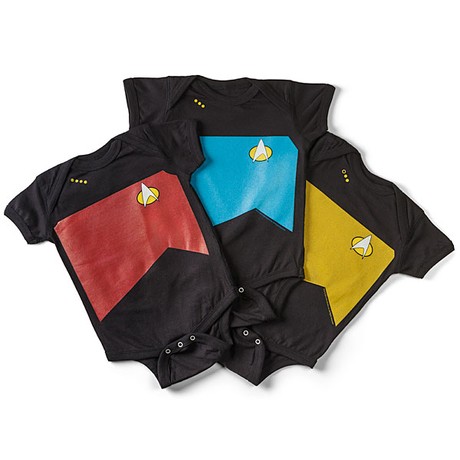 If you're expecting a future nerd or just popped one out then how about these Star Trek: TNG Uniform body suits? It's always good to get 'em started young. $19.99.
I'm going to recommend these only because it's a neat concept that comes off as both cute and serial killer-ish. As a general rule I don't endorse any male over the age of 14 wearing flip flops out in public. At best it screams fratboy, at worst it shows off some wildly ugly, unkempt gnarly toenails. Ladies care about their foot appearance, so I don't have a problem with them wearing flip flops, but dudes... keep it at the beach and pool areas, please. Thank you. $9.79.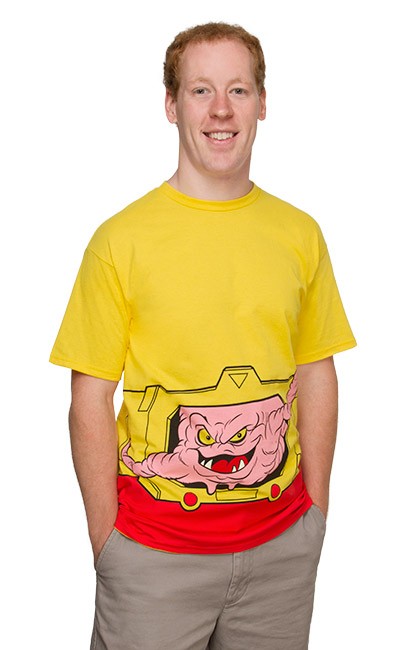 Yes! Yes! Krang Tee-Shirt. How was I so blind for so long? This design was right in front of us for over 20 years and we didn't see it! But now you can show off the brain in your tummy, so we're all good. $18.95-$24.95.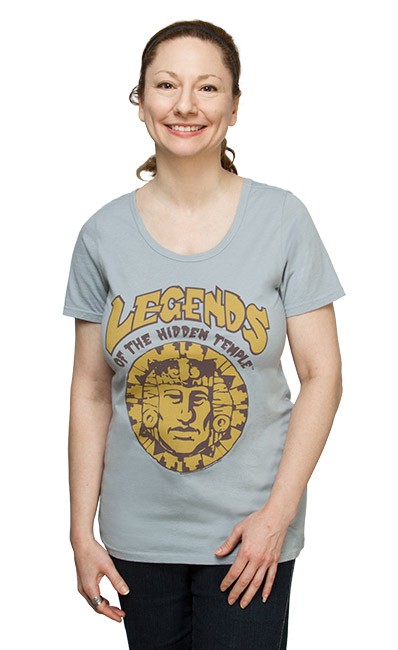 If you know why this shirt is awesome then you and I can be besties. Probably not in real life because we don't know each other, but if we should ever happen to meet there's something we can talk to each other about. $24.99.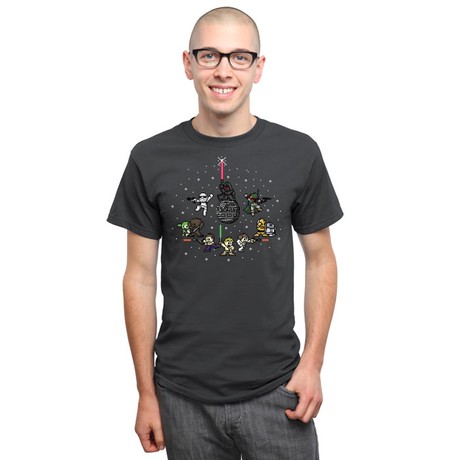 Two nerd nostalgia boners collide with this Star Wars 8-Bit tee-shirt. Keep all the unworthy non-nerd chicks away for the low, low prices of $19.99.
I dare you to buy these Darth Vader slippers for your dad or father-in-law. Or yourself. Or your neighbor. Anybody, really, but the point is you need some Darth Vader slippers in your life. Size "large" is linked above, but also available in Small for the teensy weensy feetsies. $21.99.
Must. Resist. A. "I thought they smelled bad on the outside." Joke. Wampa Slippers! Almost cooler than the Darth Vader Slippers, but don't tell Darth Drama I said that. $24.99.
Look at that nice SHIELD logo. You know, it brings me great piece of mind knowing they're out there, watching over us and making sure we are safe, snuggled safe in our beds and OH MY GOD IT'S REALLY HYDRA WHAT THE FUCK OH SHIT NOTHING MAKES SENSE ANYMORE THE WORLD IS CHAOS. Glow in the dark tee available in sizes M-3X. $19.99.
Deadpool is not content to exist only on a shirt, so he's all up in that shit. Since he's all about breaking the fourth wall, I think this shirt is appropriate. Bea Arthur and this Blind Al approve. $19.99.
Who is Darkman? That's the question of our time... if our time is 1990. But seriously, this is a super cool shirt and you should get it because... because... Half-face Liam Neeson wants you to. $19.99-$22.99.
Cafe 80s: the tee-shirt. What a great reference shirt. You can tell the hardcore Back to the Future II fans who throw you a thumbs up at the Sam's Club. Someone please, please, please buy one of these for Elijah Wood. Fuck, I may do that. Nobody tell him... $14.99.
"That's some bad shirt, Harry." - Things you will never hear if you wear this shirt and your name is Harry. Unless they mean bad as in good and not bad as in bad. Because this shirt is cooler than Ann Coulter's icy heart. $19.99.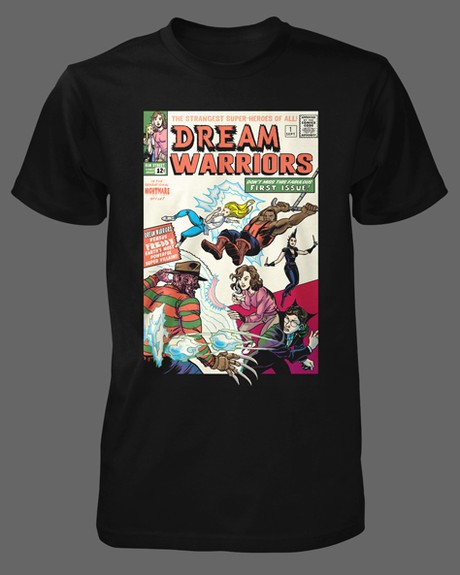 First of all, Dream Warriors is awesome and doesn't get as much merch love as you'd expect from the best Nightmare sequel ever. Secondly, mashing up Dream Warriors with the X-Men #1 cover is some crazy genius idea. Look how well that works! Good going, Fright Rags! $24.00.
Hahaha, yes! On sale, too! It's-a totally you! $24.99.
I love it! If I was going to Sundance this year I'd totally buy this to keep my earsy-wearsies warm. Or if I ran a meth lab I'd buy it, too, and just walk around the police station all the time hiding in plain sight because surely a drug boss wouldn't be so obvious. $19.99.
Hold on, guys. This one isn't for your big-ass adult head. Kids only... or if you have a child-sized head, like Jeff Mahler. I guess then it's okay. But if you are an adult and have an adult-sized head then you can't wear a Batman cap with extendable wings. That'd just look silly. $22.99.
These Game of Thrones scarves are in order. You have your choice between House Targaryen and House Stark, although I wouldn't trust anything with House Stark's sigil on it to protect your neck from anything if you catch my drift. $24.99.
I don't recommend this apron if you're a vegetarian household. The only way having a Walking Dead apron is acceptable is if there's the possibility of red meat juices splattering on it. Right? Okay, vegans I guess you can have one, too. Just cut up lotsa tomatoes or something. $24.95.
Look, an empty Firefly wallet! If you're a Browncoat, get this thing and get used to it being empty because there's always some crazy expensive Firefly/Serenity related shit out there that you just have to have. You'll always have the sky and they can't take that away from you. $20.99.
Curious. A Star Trek wallet for something as outdated as paper money. Spock doesn't understand... at least until he has to come back and save some whales. Okay, I've referenced The Voyage Home, so I'm done here. $28.98.
I originally had some TARDIS cufflinks in this spot, but then read a ton of 1-star reviews and kicked its ass out of here. Luckily there are these cool 11th Doctor Sonic Screwdriver cufflinks to fill that awful void. You almost didn't have any nerdy shit to accentuate your expensive suit. $19.99.
If your keys are on a regular boring old keyring, then spruce them up with this Borg Cube keychain that lights up at the press of a button and looks like it'll dig into your leg every goddamn time you sit down. $15.07.
Moderate ($25.00-$70.99)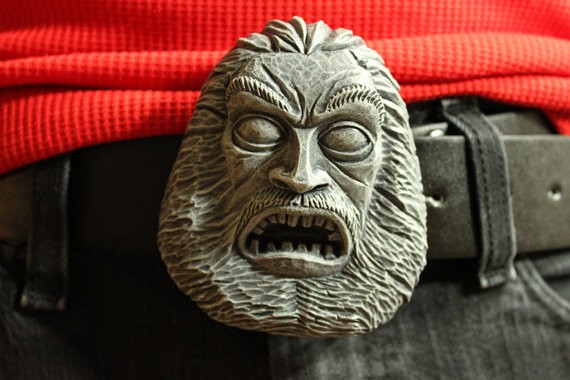 Possibly the coolest item in this guide and the coolest item that exists for purchase on planet Earth. This Etsy find is indeed a Zardoz-inspired belt buckle. Each one is made to order, and will instantly make you cooler while wearing. Unless you're wearing a red haphazardly wrapped around you like Connery in Zardoz. Only he can pull that look off. $55.00.
Cap's shield: the necklace is sadly not made of vibranium, but it is stainless steel so it's super shiny and impressive. I guess this is more for the ladyfolk, but geek guys who wanna rock this necklace don't let society tell you how to fly that geek flag of yours. $36.99.
This is a Darth Vader Mod Ring. When I first saw it I thought it said "Darth Vader Mood Ring" and got stupidly excited. But no, it's not a mood ring... I don't think the world is quite ready for a Vader mood ring. I don't exactly know what a mod ring is and I'm too lazy to google it, but I do know you can get this from the nice folks at HerUniverse for $40.00.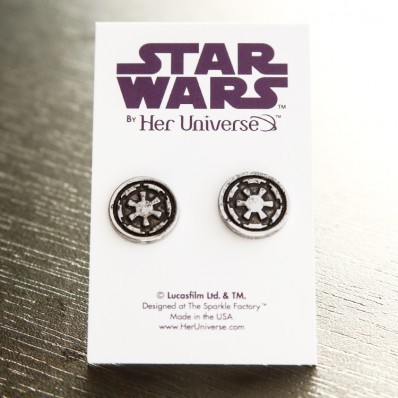 Imperial Earrings for the Empire-loving lady friend in your life! We all know the Dark Side can be attractive and these prove it. Okay, that was stupid and cheesy and I'm tired and don't know what day it is I've been writing so long. Who are you people? $40.00.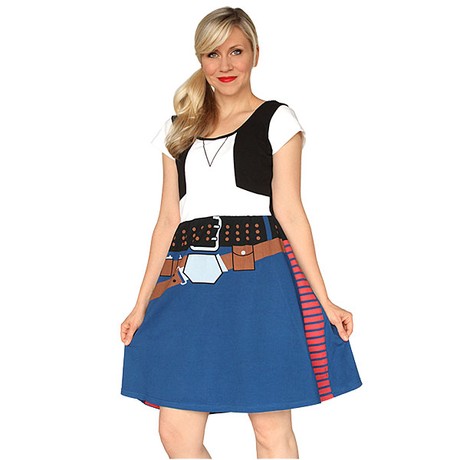 That dress causes so many conflicting emotions within me. I go from "That's kind of cheesy" to "But I like it" to "I reaaaalllly like it" to "But it also kinda reminds me of Harrison Ford" and back to "but it's adorable." I think I settled on adorable. $34.50.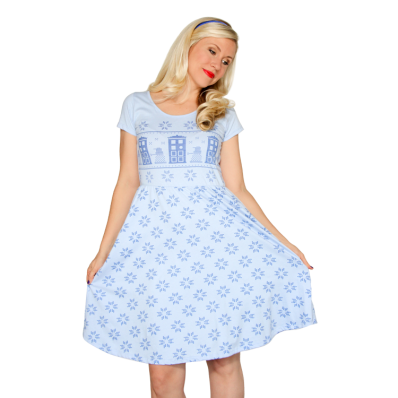 A different sci-fi dress, this time for all the lovely Whovian ladies out there. And Eddie Izzard. $40.00.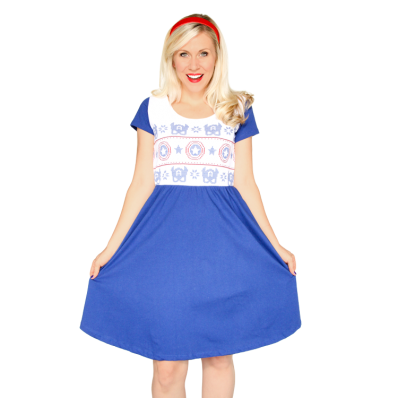 Miss America? Is that too corny to lead with? Fuck it, I'm sticking with it. Another HerUniverse knit dress that'll tickle the geek fancy of the lady nerd in your family. $40.00.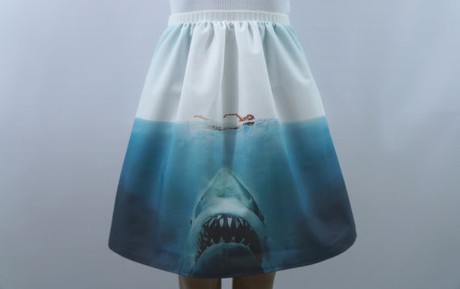 I hereby declare that I will say yes to the first lady to propose to me wearing this Jaws skirt because that woman is obviously my soul mate. No "you're going to need a bigger..." jokes in talkback, please. $45.00.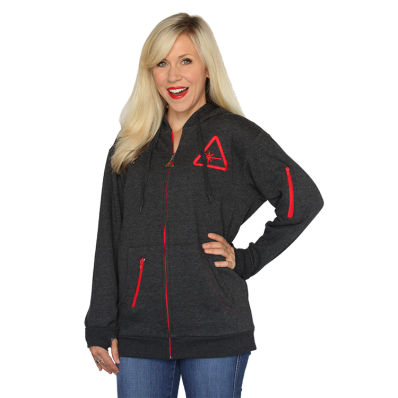 No, that's not just a Nerdist hoodie. Nay! It is a secret garment designed to be the ultimate convention accessory. It has all sorts of pockets... back pockets for poster tubes, sleeve pockets, a side pocket that is comic-book sized... It's like Walking Dead survival gear, except for nerd gatherings. $65.00.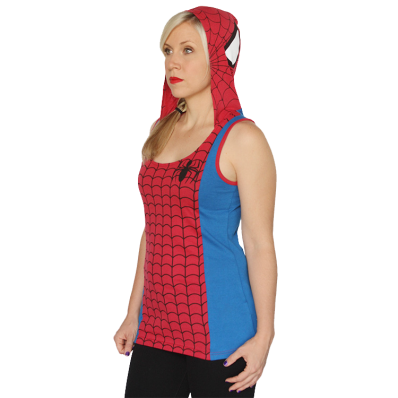 A hoodie tank top... that also happens to be Spider-Man. If that don't just beat all. $35.00.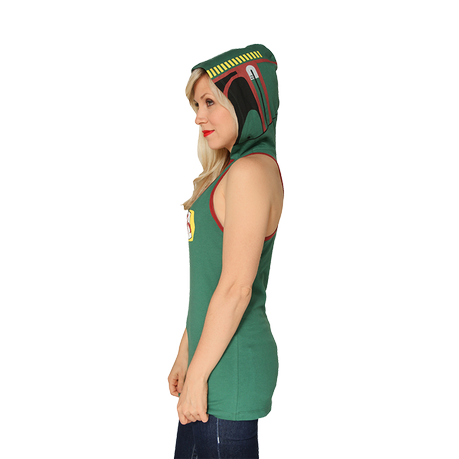 Here's another one of them fancy hooded tank top things, this time with a cool Boba Fett motif. Just watch out for the hooded tank Sarlaac when wearing this and you'll be all good. $39.50.
A rainbow cloud purse that is so cute it makes me want to puke. In a good way. A Thinkgeek exclusive! $39.99.
Here's a messenger bag that totally not an unofficial replica of cool shit you see in Stanley Kubrick's 2001. That's why it's called the Space Odyssey Bag and not a Stanley Kubrick Bag For Things From 2001 And Stuff... I'm not good at coming up with names, but you know what I mean. It's pretty rad for a shoulder strap bag. It can carry a laptop and moon rocks and the original tape that Kubrick made of the fake moon landing! $54.73.
That's an eerily accurate representation of a Gameboy in backpack form. The buttons and D-pad are raised, too. The only way this backpack could be more authentic would be if the screen cracked the first time some pissed off flight attendant shoved a heavy suitcase into it while trying to make full use of the overhead space. $39.99.
You didn't know that you needed a Star Trek duffel bag, but now that you've seen this beauty you have to own it. It's only logical. $49.99.
That, my friends, is a replica Tricorder messenger bag. 9 inches tall, 7 inches wide and 2 ¾ inches long. I can feel your nerd boners from all the way over here. Calm down! $39.95.
If you secretly wished you could be Wesley Crusher then boy do I have the hoodie for you. It's possible wearing this could make people hate you for a decade, but the trade off is that you'll become king of the internet and make your own beer and have millions of twitter followers. $59.99.
They've slapped a TARDIS on everything by now in hopes that Who fans will buy it, so why not actually slap that TARDIS on the Who fans themselves? Good call. S-XXXL available. $49.99.
Here's a good way for lady DC or Harley Quinn fans to keep warm this winter. Or rob a bank. Or play tricks on the Bat... you know, whatever makes Mister J happy. $49.05.
Yeah, I put a Sriracha Hoodie in the Guide this year. And I'm proud I did! Who doesn't like Sriracha? It's the best thing I didn't know I missing out on until about 2 years ago. Now I put it on everything. Pizza, tacos, Cap'n Crunch, ice cream. Everything. And now I can even put it on my person. On sale for $39.99.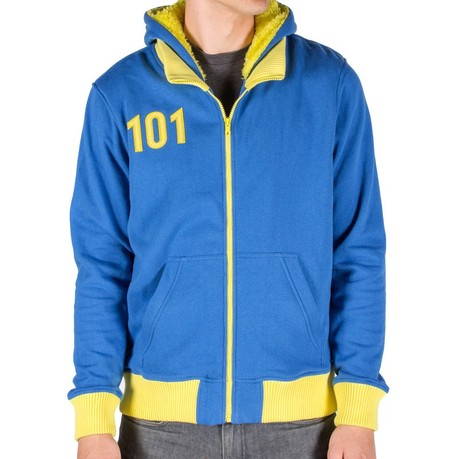 It's about time I've included some Fallout clothing. Doesn't this hoodie look comfortable? Fully-lined body, soft yellow sherpa, The perfect piece of clothing to help you survive a nuclear winter! $68.00.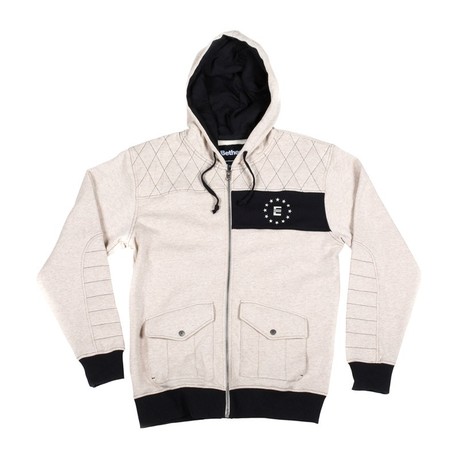 One more Fallout hoodie. Last one, I swear. Bethesda also has an Enclave Officer hoodie out this wintery season. On the minus side you're pretty squishy without any power armor, but if someone does take you out you'll drop some sweet plasma weapons. Okay, I just out-nerded the internet. I'm sorry. Moving on... $60.00.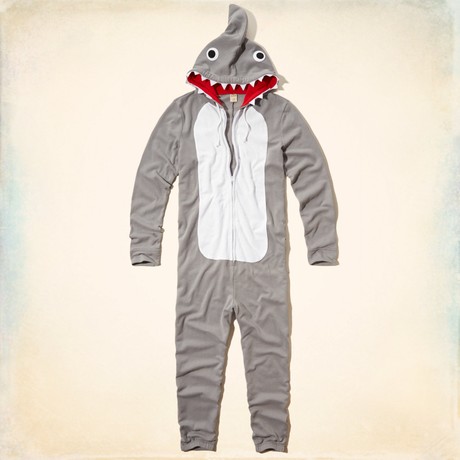 That onsie, swallow you whole. A little shakin'. A little tenderizin'. Down you go. Great White Shark sleepware. Thank God these people don't make this in fat people sizes (only goes up to XL) or I know I'd be joke gifted this thing a dozen times over. Site has a 25% off coupon and free shipping on orders over $50 right now, so if you take the plunge make sure to take advantage of that. Pre-discount, this onesie is $59.95.
If you're a great cook then you can't do without this Los Pollos Hermanos apron. I said "cook." Get it? (Lucille Bluth exaggerated wink .gif here). $25.99.
This ThinkGeek Magicka Robe is perfect for LARPing around the neighborhood or just kicking back and relaxing around the castle. Don't worry. I'm like 80% sure it doesn't turn your face into a black void like in the above picture. Available in S-XL. $69.99.
Adventure Time Bathrobes make being adult more awesome than being a kid. Because these are for adult people, not little children people. Eat that, kids with your whole lives ahead of you! I may die first, but I can look like Finn and/or Jake. $44.99.
These TARDIS boot slippers look crazy warm and comfy, don't they? For a tie-in apparel item they also look really well made. Available in S, M, L, XL and XXL, but remember they're going to be bigger on the insideohforgetit. $55.99.
Have you ever thought to yourself that slippers are cool and all, but just don't make enough noise? Well, then these robot slippers are for you. Pretend you're the Terminator stalking Sarah Connor while on your way to the fridge or that you're Ripley confronting the Alien Queen when you go up to tuck the kiddies in for the night. Vrrrrr-clunk, vrrrr-clunk!. $29.99.
Fancy dress doesn't mean you can't still get your geek on. Here are a couple of different designs featuring Zelda symbols for the next outing to the country club. If you wear this and whack at some bushes gems and hearts and shit pop out. That's what I heard, anyway. Both the Hyrule emblem and shield emblem versions are available in S-XXXL. $29.99.
If you want to be sneakier with your nerdy polo shirts then this crossed lightsabers polo is the one for you. Search your feelings, you know this polo is the one for you! Get one for you and one for your... sister... Your twin... sister... $29.99.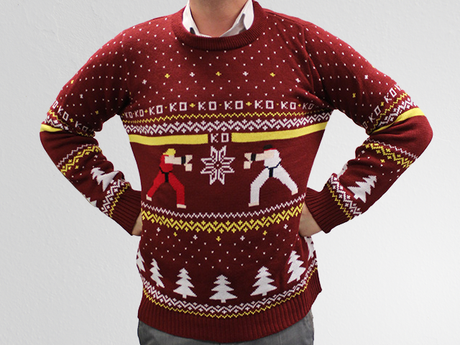 Geeky Christmas Sweaters a thing now. You'll see a few in this Guide, but this is the first! From a website in the UK comes this sweet-ass Street Fighter Christmas Sweater that's actually design knitted, not printed on all cheap and stuff. Available XS-3XL. $55-ish USD.
Now I have a lightsaber, too. Ho. Ho. Ho.$54.99.
No, the next item in the guide isn't Ashley Eckstein, but that cool Star Wars Infinity Scarf she's wearing. You can't buy people. This isn't The Toy and you're not that kid from A Christmas Story who ended up doing porn, so don't even try it! The Infinity Scarf comes decked out with Rebel and Imperial symbols. Thumbs up. $34.99.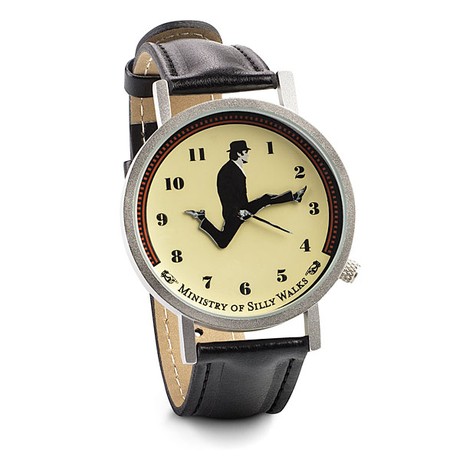 Great idea for a watch or GREATEST idea for a watch? Having John Cleese on your wrist is awesome in the first place, but to have his Ministy of Silly Walks legs be the clock's hands? Brilliant! $42.95.
From the fine folks at ThinkGeek comes this Classic Arcade Watch. Wear a vintage arcade cabinet on your wrist! Asteroids are the dials that tell you what time it is, the fire button lights up the watch and the joystick does... well, nothing, but it's there.. $49.99.
Are you telling me you made a time machine... out of a Casio!?! Thinkgeek have come up with another nutso crazy awesome nerd watch, this time a Flux Capacitor watch that tells time (via blinking lights in the Flux Capacitor) and the date, which is the LCD readout at the bottom. As a bonus, you can hit a button to make the date randomly switch to some point in the past or future! I still am not clear how the blinking lights/reading time thing works, but damn if it doesn't look cool! $49.99.
Expensive ($71.00-$249.99)
Fancy Doctor Who watch. This thing really is pretty. Blue leather band, stainless steel and the hands are even modeled after the Doctor's pocket watch. $199.99.
Here's another high quality cool looking geek watch. Modeled after the style of Star Trek: The Original Series comes this NCC-1701 watch that is elegant in its simplicity. Very sharp piece. $119.99.
Should you want your own Chell jumpsuit from Portal then don't you worry. I've got you covered. I don't have the cake, though. That's GLaDOS' department. XS-2XL available. $72.98.
Here we have a couple of World of Warcraft bathrobes to choose from. You can pick Priest or Paladin. Both robes are made up of cotton with satin detailing and are officially licensed WoW merch. $149.99.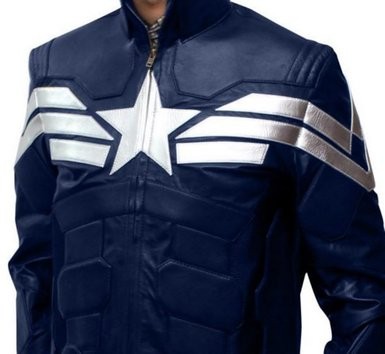 If your greatest dream in life is to have a faux-leather Captain America: The Winter Soldier-inspired jacket then your dreams are about to come true! Sporting extras like "stand-up collar" and "durable stitching throughout" how could you not want this jacket? Available XS-3XL. $129.00.
Oh no! Oh yes! Rocket Raccoon: The Hoodie. I expect a lot of posts on Facebook with jackasses hanging around trees wearing this and making some Groot joke. And by jackasses I, of course, mean awesome people. XS-2XL available. $79.99.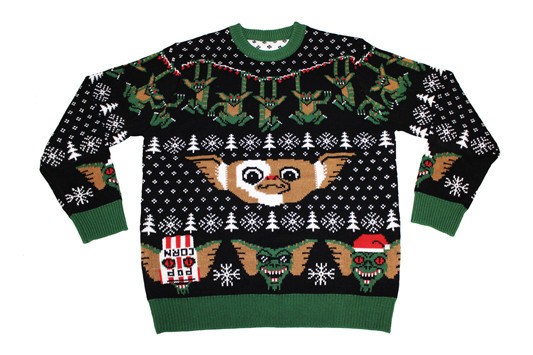 Mondo's getting into the Ugly Christmas Sweater business and we're all the better for it. They have two available for pre-order that will ship this December. First up is my favorite... Gremlins is one of the best Christmas movies ever anyway and now you have this awesome sweater. Unlike Mondo posters you order early and are guaranteed one. You don't have to fight the internet for your chance to be the stand out at this year's holiday social functions. XS-3XL available. $85.00.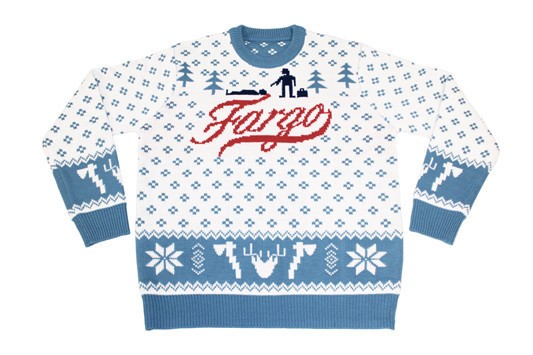 Christmas Sweater with murder on it! Sweet, sweet Coen Bros murder. Same deal as the Gremlins one above. You pre-order now and get it in December. Heavy knit, available XS-3XL. $85.00.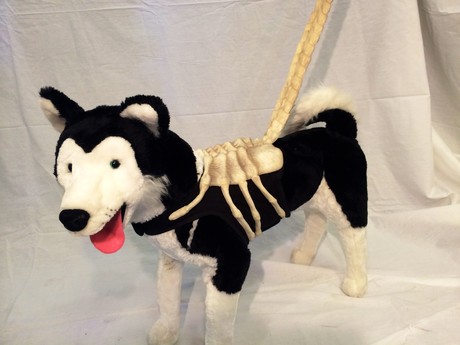 I wasn't exactly sure where to put a Facehugger Dog Leash, but it looks like your dog wears it so I chose apparel. If you disagree, feel free to email complaints@makequintsad.com. How sweet is this thing, though? Designed for dogs 15-35 pounds and/or children named Newt. But mostly for dogs. Mostly. $150.00.
For The Super Rich Only ($250.00 and up)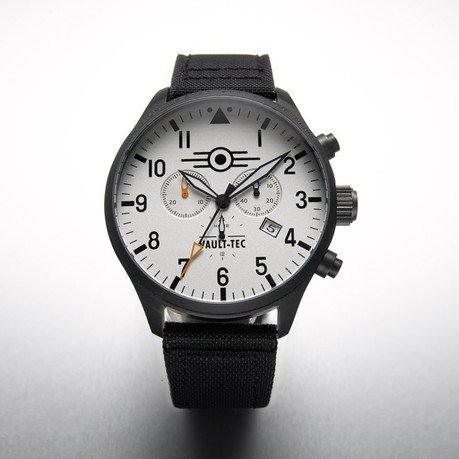 If you want your nerdery to be a little more subtle, I provide you this high quality Fallout-inspired watch from Bethesda. The only branding is Vault-Tec, which is the company that made the vaults in the game. Otherwise it looks like a snazzy high end watch. Made of NASA grade steel and it comes with a sweet little Vault Tec box. No word on if it can survive a Super Mutant licking and keep on ticking, though. $265.00.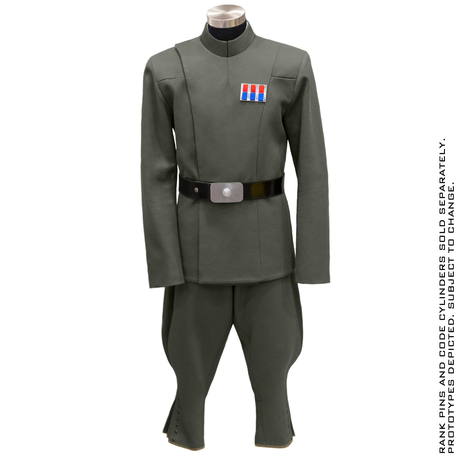 These guys went all out on this Imperial Officer Uniform recreation. They studied the original costumes at the Lucasfilm Archives and in private collector's hands and have used the same kinds of fabrics available to the wardrobe folks in 1976 when they first built these up. Outfit comes with the jacket, pants and little hat. Sadly only available to North America at the moment, which is especially dickish since almost everybody that appeared in one of these in the original films were British. But I guess it's a step. Doesn't ship until July/August 2015, but that'll be in plenty of time for your Star Wars: The Force Awakens-themed parties and theater line-ups. $1,350.00.
ART
Cheap ($24.99 and under)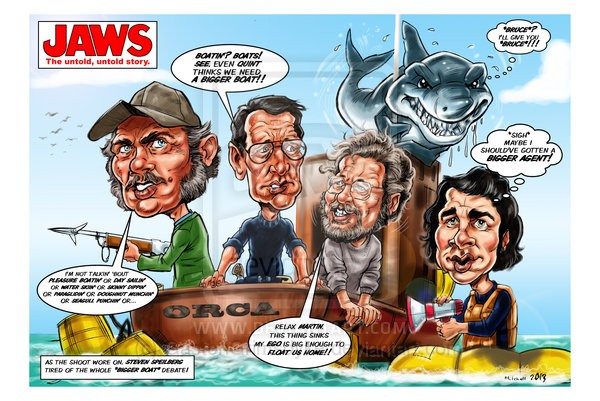 Hey, Jaws art! You'd almost think that's my favorite movie! I really dig this caricature version of Jaws... it's like having a Mad Magazine panel up on your wall. You can get this DeviantArt print 12x18 for only $17.10.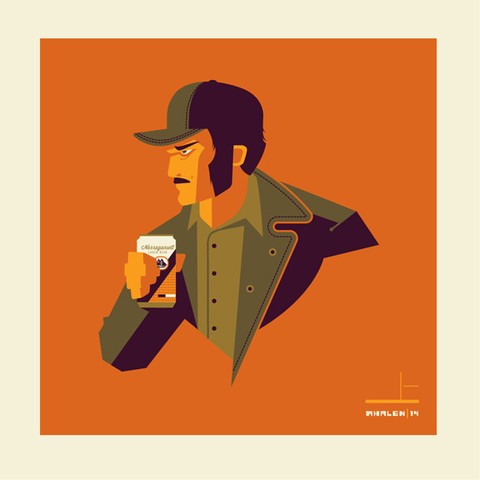 Tom Whalen is a very sought after pop culture poster artist and he went and did this small Quint print for Gallery 1988 and 2,000 some miles away I smiled knowing it existed. It's a tiny print, at 8x8, but that's why you only pay . $20.00.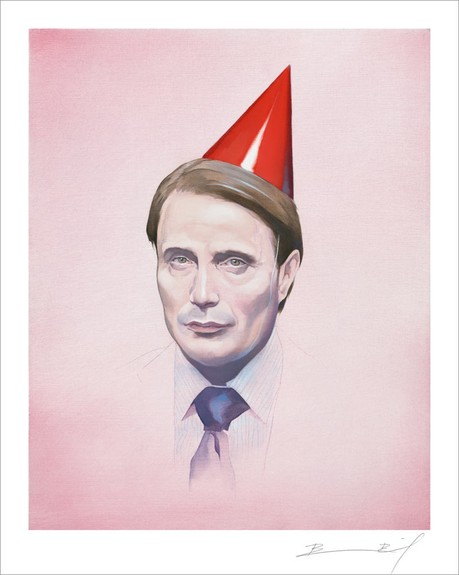 Brandon Bird has done a lot of great work that has ended up in this Guide over the years and here's a new print from him, simply titled "Party Animal." 8x10, limited to 50 and signed and numbered and stuff. $20.00.
Moderate ($25.00-$70.99)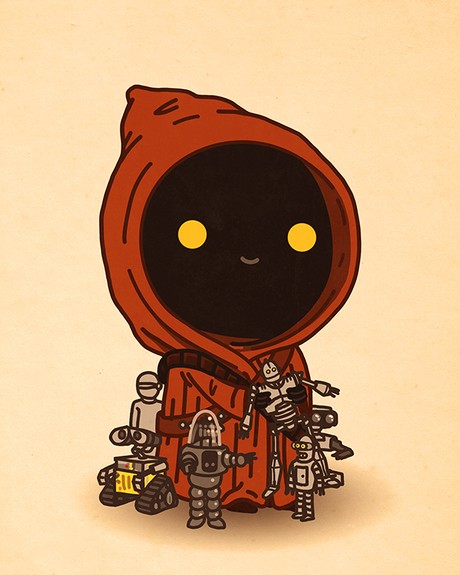 My buddy Mike Mitchell is like a pop culture print superstar. Women want him, men want to be him. Because he makes geeky cool shit like the above print he is calling "The Collector." That one (along with three others) can be ordered right now. They're in timed editions, but that time runs out tonight at midnight (I assume CST since he lives in Austin). Once the clock strikes midnight then you're SOL or paying a ton more on eBay. I also happen to know that you should keep an eye on his site (click the Jawa above to go) this Black Friday. He's doing going to be dropping at least 5 new prints on Friday and all have very low run numbers. Mike's stuff is popular, so prepare yourselves. If you don't want a fight, The Collector can be had for $35.00.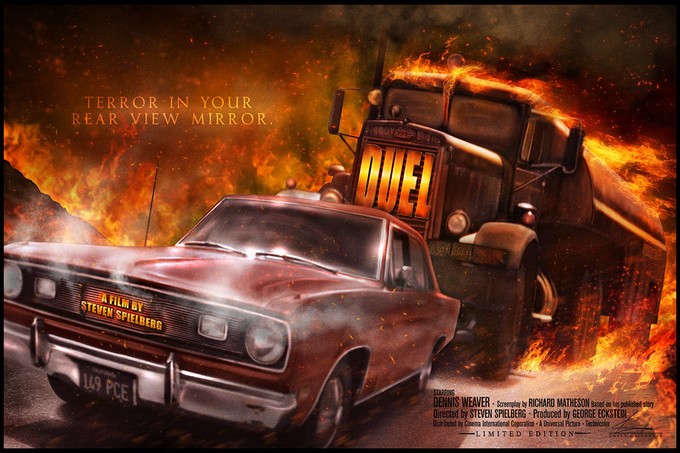 There was quite a lot of Spielberg-influenced art this year, but the one I was most shocked to see was a piece on Duel, done by Casey Callender, who has done some great Jaws art in the past. This is a hell of a print put out by the guys at Hero Complex. In an edition of 150, measuring 36x24. $55.00.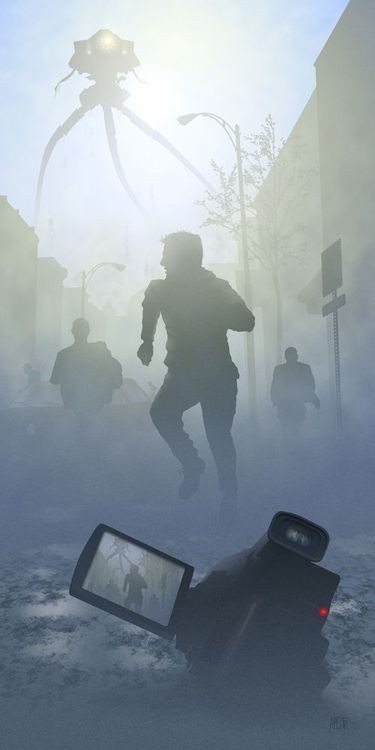 The tide is slowly turning around on how great Spielberg's War of the Worlds is. There are a few points in the movie where it seems to throw people and even I think the ending isn't fully earned, but it's definitely darker Spielberg tapping into the energy of his earlier films. Check out this sweet War of the Worlds print by Kevin M. Wilson measuring 12x24 and limited to only 50 pieces. $45.00.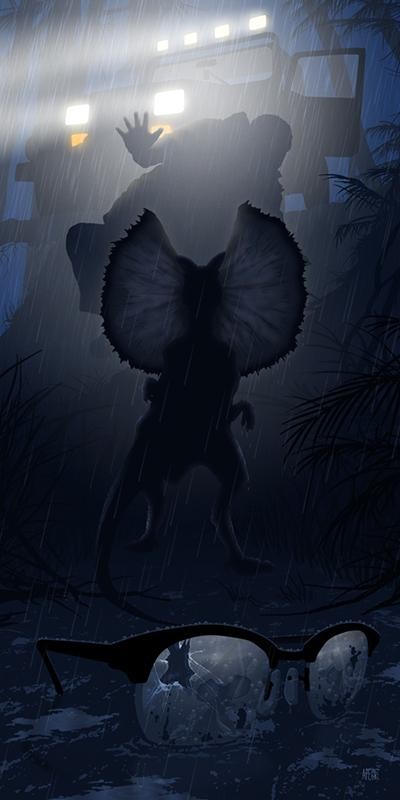 Wilson also has this really badass Jurassic Part out there. It hasn't sold out yet, but it is limited to only fifty 12x24 giclees, so if you want it don't dilly dally. $45.00.

Scott Hopko did a pretty badass Close Encounters print this year and it's still available. It's a giclee limited to 100 pieces and measuring 36x12 depicting Richard Dreyfuss hanging out with his new alien friends that are much cooler than his stupid boring family, obviously. They're kind of dicks, so I understand why he takes off, but maybe that's just me. $35.00.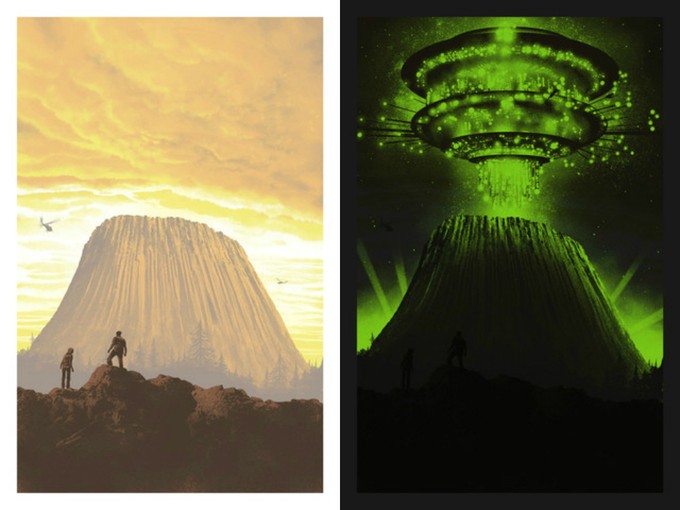 That is one print, by the great Mark Englert. The left is how it looks in the day time and the right is the glow in the dark effect that happens when the lights go out. How sweet is that? It's like two prints in one! Limited to 200 signed and numbered prints measuring 20x30. Makes me want to go listen to John Williams' Close Encounters score right this minute! $60.00.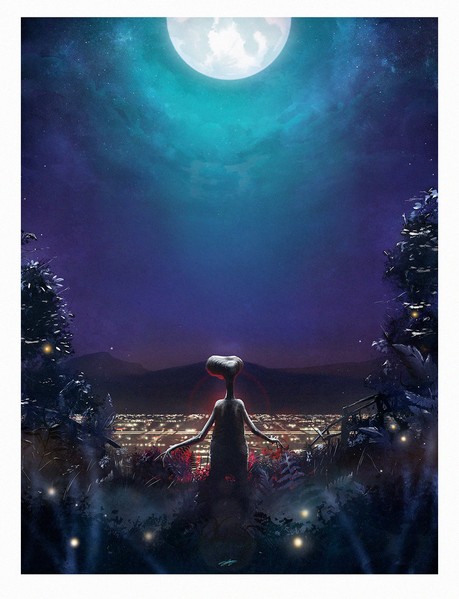 Andy Fairhurst's "Left Behind" is a gorgeous ET print that I'm sure Nordling is drooling over at this very moment. He captures the mystery of the movie, the color palette and the tone in one striking image. The print is limited to only 40 pieces, 18x24. $35.00.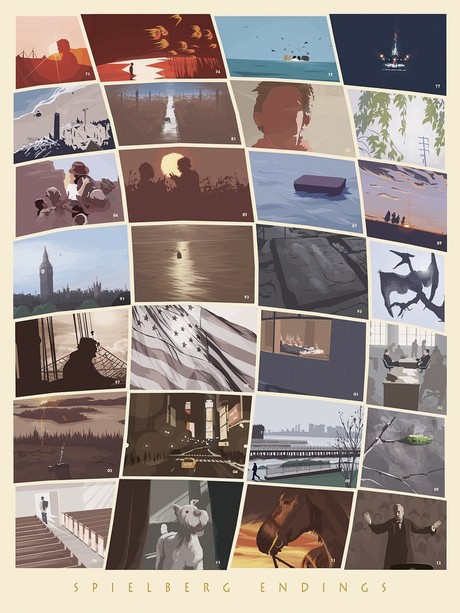 What a great idea for a print! I only knock off points for excluding Always for some reason, but I guess artist Orioto wanted a nice even amount of squares in columns, but still. This piece is awesome. Limited to 50 and measuring 18x24. $45.00.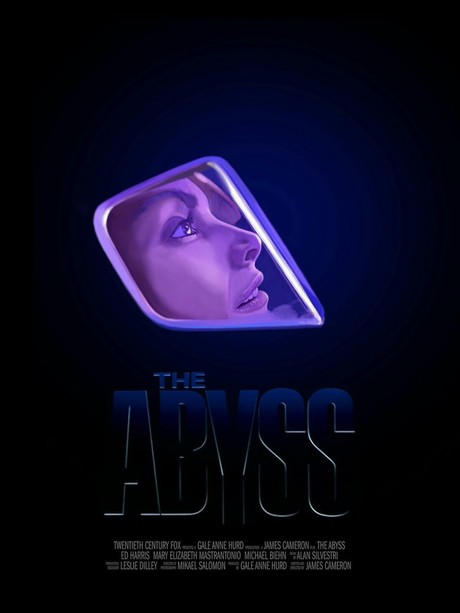 Man, what a flat out beautiful print by Roby Amor. It helps that I love The Abyss a bit more than most, but that's a hell of a design and would have been an awesome teaser poster. It's that good. Only 10 of these exist, by the way, but you can still get your hands on one if you hurry. $50.00.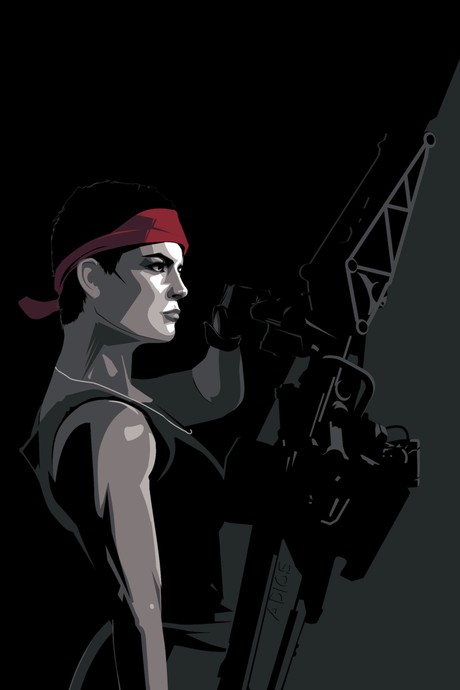 Craig Drake has a distinct style and his usage of lines is done extraordinarily well with this Vasquez print. I've seen one of these up close and it's hard to tell in a .jpg, but the metallic inks really make this one pop. It also didn't escape me that a guy named Drake did an awesome Vasquez print. Next you'll be telling me an asshole named Gorman is the one packing it for shipment... 24x36, edition of only 85. $55.00.

If you believe the only good bug is a dead bug then show your patriotism with this limited edition Rhys Cooper print. 12X36, limited to 150 prints. $50.00.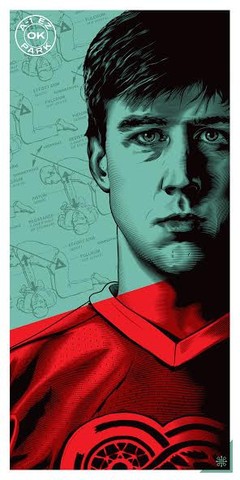 Cameron from Ferris Bueller gets his own print? Oh hell yeah! Jeff Boyes is the artist, the edition is 50 signed and numbered prints measuring 12x24. When Cameron was in Egypt's land... let my... Cameron... goooooo. $40.00.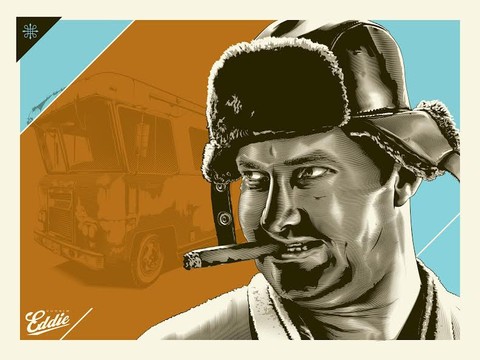 It is the Christmas Season, so why not include this Jeff Boyes Cousin Eddie print? Shitter's broken, FYI. 24X18, limited to only 50 pieces. $40.00.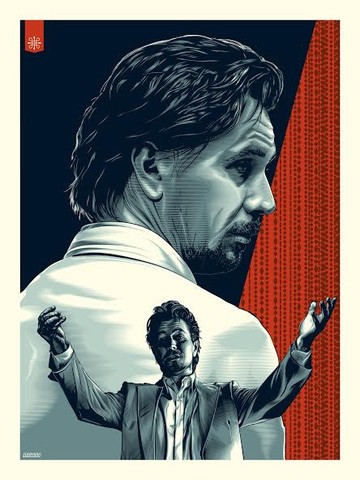 Hey, look! One of the few prints celebrating Leon: The Professional that you can actually hang up and not feel uncomfortable displaying sexualized preteen Natalie Portman! This is another Boyes print, 18x24, limited to 50 pieces. $40.00.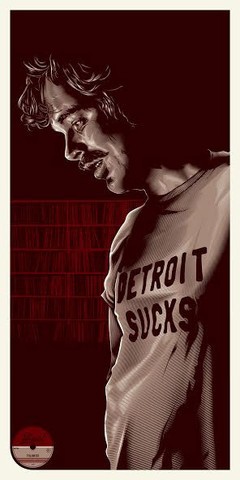 Lester Bangs was a great character in Almost Famous and Philip Seymour Hoffman's portrayal of him spoke to a lot of us. It's a little bittersweet being able to pick up this print now, but it's another beaut from Jeff Boyes. 12X24, limited to 50 pieces. $40.00.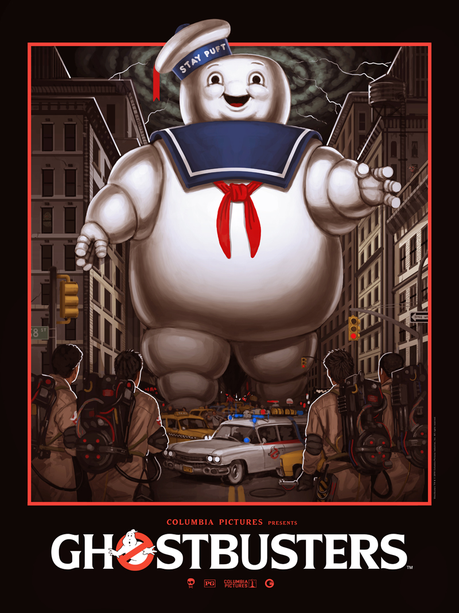 Here's another rather awesome piece Mike Mitchell did, this time for Gallery 1988's Ghostbuster show. Mr. Staypuft is 18x24 and limited to 100 prints . $65.00.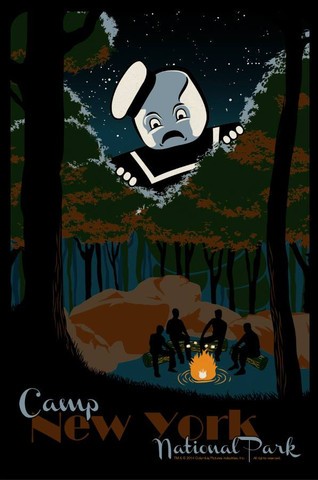 This one is a little more sadistic towards Mr. Staypuft. The Ghostbusters are taking some time out roasting marshmallows over a campfire, but from Staypuft's point of view that's pretty fucked up. Artist Jason Liwag created this print, limited to 50 pieces and measuring 12x18. $35.00.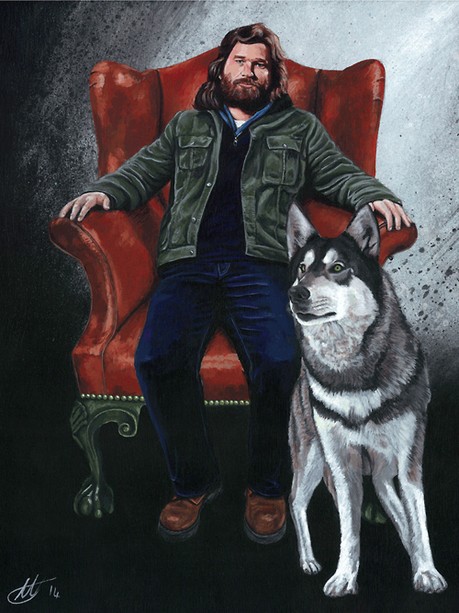 I'm crying that is so beautiful! MacCready and man's best friend... well, worst friend in this case, but still. If I had a fireplace I'd buy this and put it above it. Then I'd pour some booze into my computer and then throw a wink to the print. Only 30 of these bad boys from artist Tony Hodgkinson exist and they measure 12x16. $35.00.
AJ Masthay tried his hand at Dark Crystal and this pretty print is the result. Only 45 signed and numbered of these exist, measuring 14x23 and apparently "linoleum block print on Canson paper," whatever the shit that means. But still, good job. $30.00.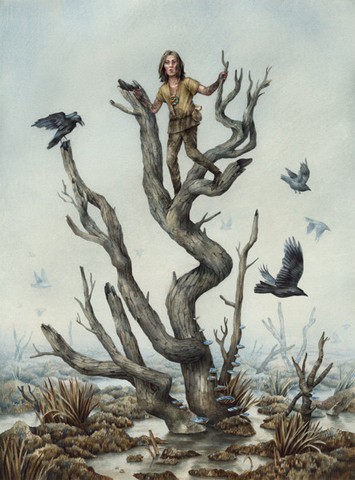 Let's keep the '80s children's fantasy theme rolling with this neat print by Byron Eggenschwiler of Atrayu in a tree. In this scene he talking to a giant turtle, but I guess since he's looking at we're really the giant turtles in our own Neverending Stories. That doesn't matter. Anyway, 25 signed and numbered prints in this run, 12x16. $65.00.
Fallout art! Power Armor is essential to survive the Capitol Wasteland and while you don't have your own set of Power Armor (probably) this might be good to put up around the house in case the bombs drop and Super Mutants come sniffing around. They'll see this guy and decide not to mess with your place... or whatever remains of it after the nuclear war. Artist: Andrew Thompson, 18x24, limited to 500 and can be gotten directly from Bethesda. On pre-order now, ships December 19th, so it shoooould get to you by Christmas maybe. $40.00.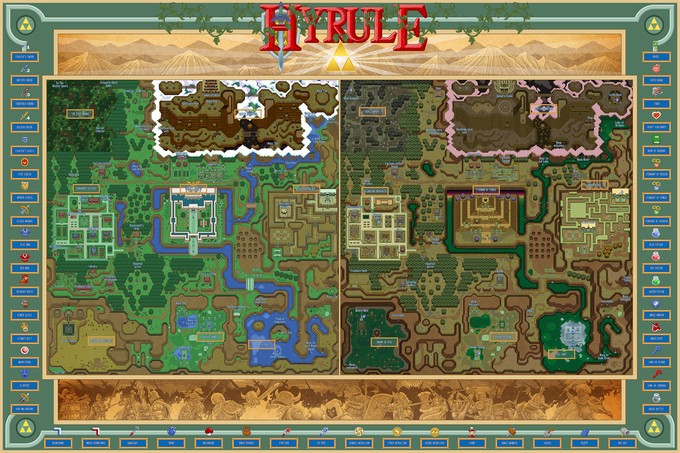 This one's for all you old school video game fans out there. It's a 24x36 print of the map of Hyrule as seen in A Link to the Past. Very neat! Now they just need to do one of these for Fallout 3 and I'll just paper my walls with them. $45.00.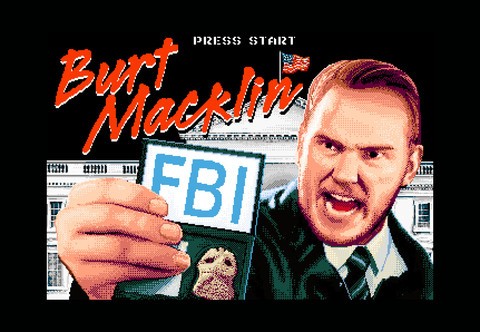 The pixel art style isn't for me, but I have to say I'm just tickled that there's Burt Macklin art out there. Not just Andy from Parks and Rec, but his crime fighting super cop alter ego. Aled Lewis' print is 3D lenticular (!!), 15x11 and limited to 30 pieces. $50.00.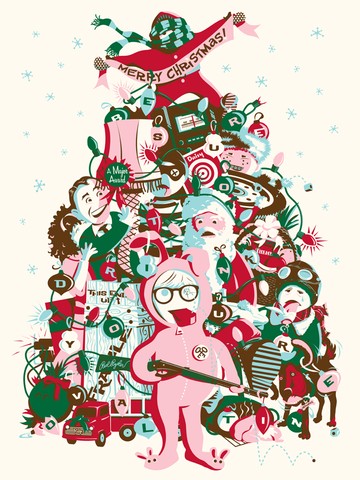 I couldn't let a year go by without including some Christmas Story element in this guide, so here it is. This A Christmas Story print is 18x24 and limited to 50 pieces. He looks like a deranged Easter Bunny... $45.00.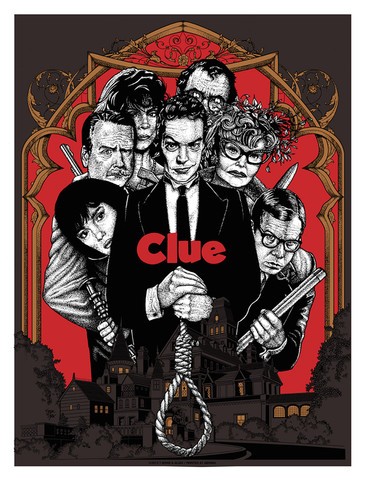 If there's a lack of Clue: The Movie representation in your house then here's something for you. One of the best '80s comedies and one of the best comedic casts ever assembled. Who doesn't love this movie? This print is 19x25 and limited to 100 copies. $30.00.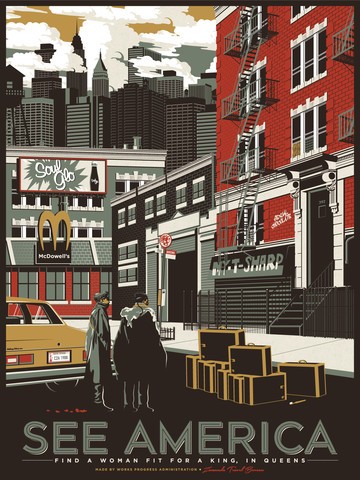 Another '80s favorite! How many Coming to America prints are there in the pop culture art world? Not nearly enough, I say. Anthony Petrie did this 18x24 print for Gallery 1988. Limited to 100. Sexual Chocolate! (drops mic). $25.00.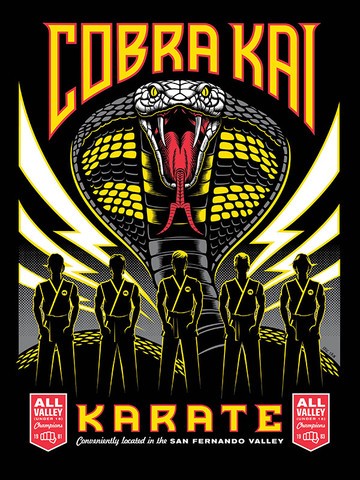 Eric Tan took on the Cobra Kai from Karate Kid in this sweet silkscreen print. Limited to 100, 18x24 in size. Show now mercy, sweep the leg and pick this sucker up for $50.00.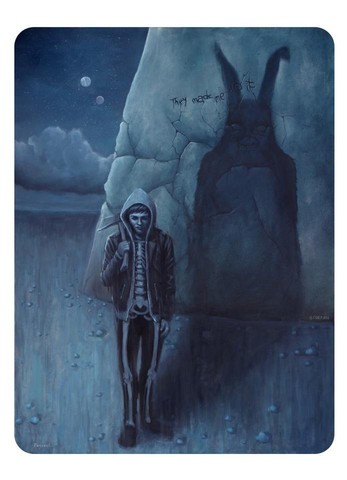 I had to follow up the Karate Kid print with a Darko print because of the Skeleton Halloween costume connection. It was too good to pass up! I'll forgive that it's a throwback to the Phantom Menace teaser poster because the idea behind the poster was good, it was just the movie that farted wet poo-pee into my face. Art by Graham Curran and Ruel Pascual, 13x18, limited to 50. Bam, info drop! $60.00.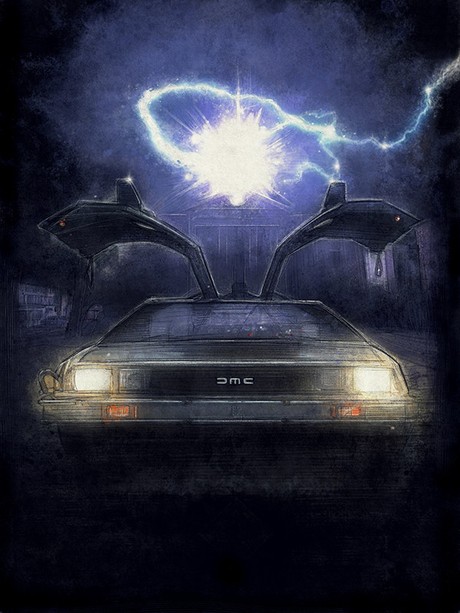 I'm a fan of Paul Shipper's stuff and this above print is one example why. Such great tone and execution of image here. It reminds me unused Drew Struzan poster art concepts and that's a very good thing. Edition of 55, measuring 18x24. Great Scott! $50.00.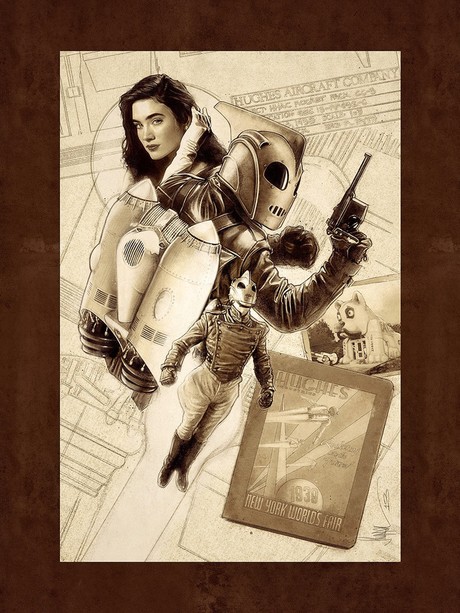 Man, this print does a lot for me. Great movie, beautiful design, Jennifer Connelly giving me a sexy glare. It's almost too much awesome in one place. Another great piece by Paul Shipper. Easily framable at 18x24 and limited to 100. $50.00.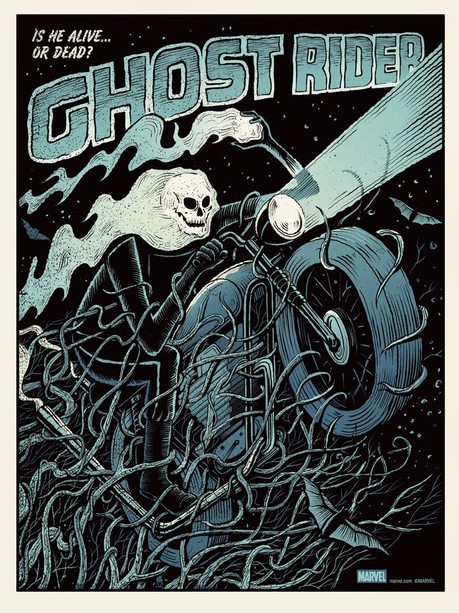 On this little print safari we're going on, I'd like to pause and tell you to keep your voices down because we're about to see something very rare: a couple Mondo prints you can still buy and not fight the entire internet for. First up is this nifty Ghost Rider print from Methane Studios. 18X24, limited to 240. $40.00.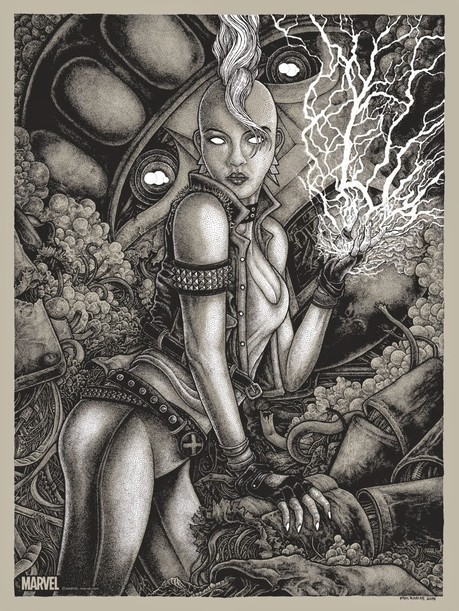 Lots of great detail work in this Neal Russler Storm print from Mondo. Plus it's Mohawk Storm, which is the coolest of all the Storms. I think we can all agree on that. 18X24, limited to 225 pieces. $40.00.
Andrew Degraff does a very specific kind of pop culture art and this is one of my favorites... The Paths of the Torrances shows you just where the character went around the grounds in that movie! Love the detail in this piece. 16X20, limited to 100. $70.00.
Expensive ($71.00-$249.99)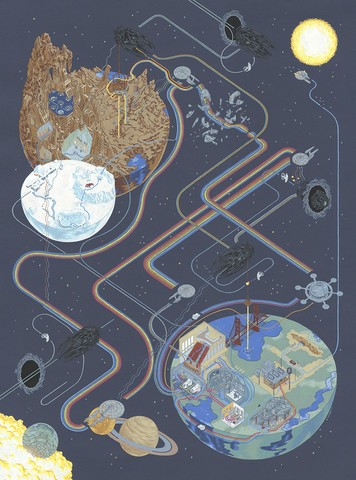 Not sure why this Degraff is more expensive than the Torrances one, but it probably has to do with the fact that Trek fans buy everything and spend a shit ton of money all the time. Or it's way more complicated. That, too. 18X24, limited to 50. $85.00.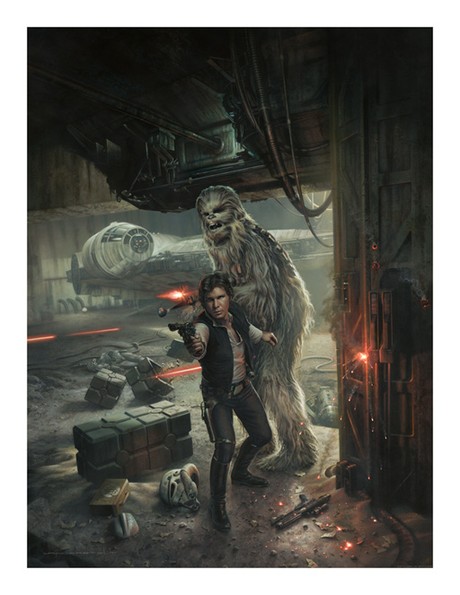 Just looking at that gets me excited for Episode 7. More Han and Chewy action is on the way! Come on, Harrison! Please be awake in the new one! Please, please, please, please! Gorgeous print from Acme, art by Jerry Vanderstelt, edition of 95, 17x22. $165.00.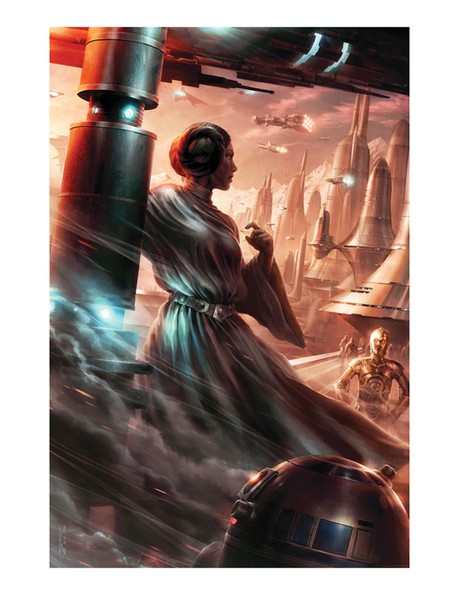 The face work on Leia isn't the best, but Raymond Swanland captures the look and feeling of Star Wars so well with the rest that it's easy to overlook for me. 150 pieces, 17x22 and $165.00.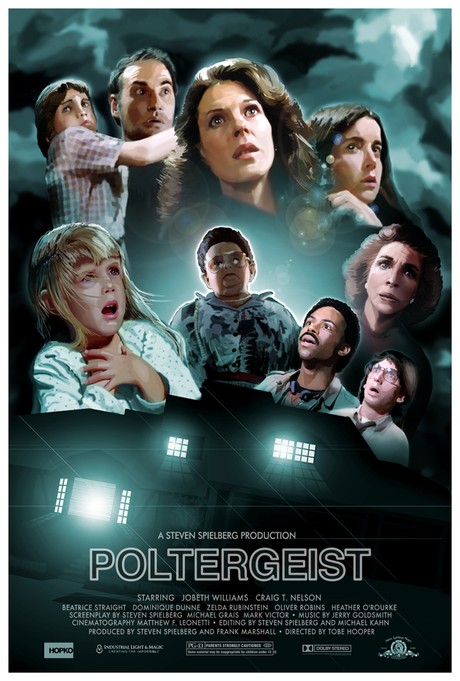 There's not a whole lot of great Poltergeist art out there. Many have tried, many have failed, but Scott Hopko did a pretty great job with his. God, I love this movie! 24X36, limited edition of 75. $75.00.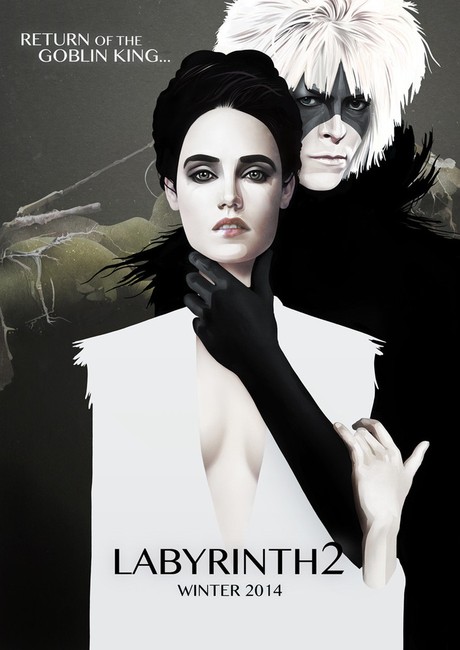 Iam8bit did a Sequels That Didn't Happen show and this Labyrinth 2 poster was one of my favorites. There was also an awesome Hellboy 3 poster, but it sold out. Sad face. But you can still get this one. Art by Ruben Ireland, edition of 100 and dimensions of 24x36. Now I'm going to magic dance with a power babe. $80.00.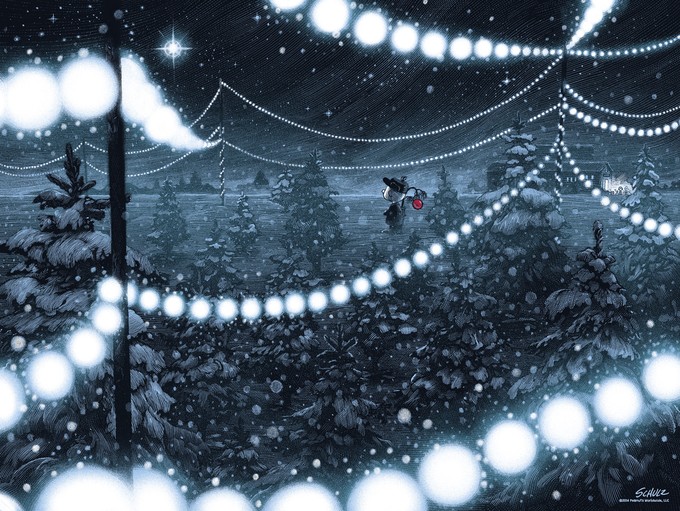 Dark Hall Mansion is offering up a licensed print celebrating A Charlie Brown Christmas done by Nicolas Delort. Pictured above is the variant, which is the best looking one. Says who? Says me, that's who! It's 24x36 and in an edition of only 80. They go on sale tomorrow, so stay eagle eyed! $100.00.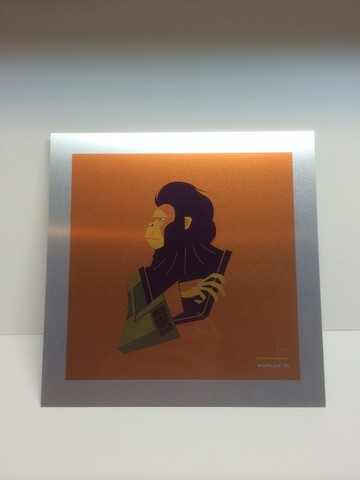 Remember that Quint thing Tom Whalen did waaaaaaay back at the beginning of this section? Well, from that show he also had exclusive Editions of 1 printed on metal variants of his portraits. Most of them got bought up, but there's still this sweet one of an OG Apes Scientist from the Planet of the Apes movies. Only one that exists, 8x8, shiny, can cut you. $150.00.
He ees Vigo! That, my friends, is a 1:1 replica print of the Vigo the Carpathian painting from Ghostbusters 2. 1:1, meaning it's 4.3ft by 7ft. This is massive and the absolute perfect addition to any nursery or child's room you may have. No guarantees Vigo won't possess your baby. Thank you, Etsy stranger, for doing this for the world. $135.00.
For The Super Rich Only ($250.00 and up)
Welcome to the richie rich section! What you're going to see down below are mostly original art pieces... that's why they're so expensive. Actually all but one of the below is original paint/pencil to paper art, so get your eyeballs ready for an attack of awesome!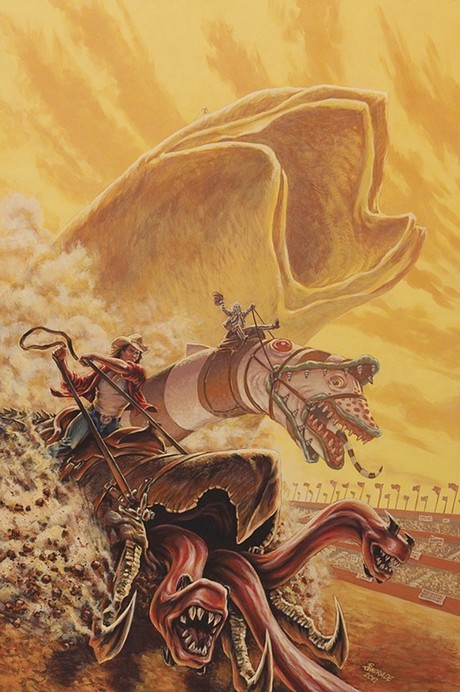 Da Vinci painted Christ and his Disciples, our artists are busy creating Sandworm Races using mashups from three different genre films. I think Stephen Andrade got Da Vinci beat because this thing above is a thing of true beauty. Kevin Bacon riding a Grabboid, Beetlejuice has his Mars sandworm and, of course, the Sandworm from Dune looming above them all. Looks like Bacon's got the lead. Go, Val! Art is 16x24, comes framed and was executed with acrylic on masonite. $1,150.00.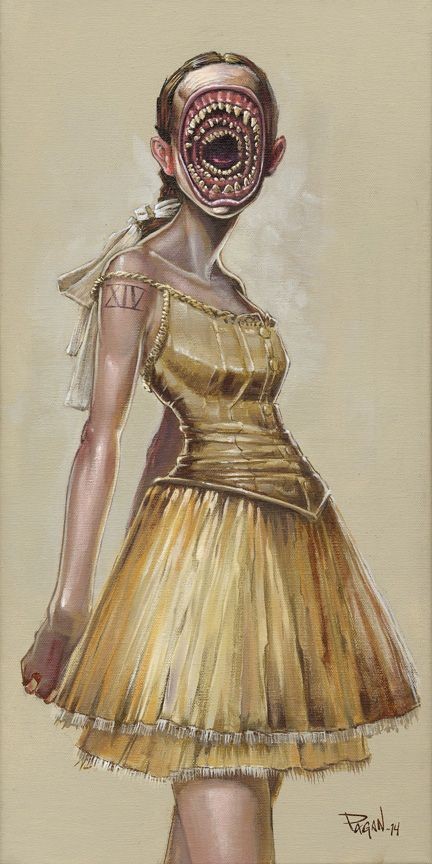 Fuck your dreams forever! Augie Pagan decided to give some unlucky bastard permanent nightmares with this crazy piece inspired by the ballerina dancer in Cabin in the Woods. 10X20 inches, acrylic on canvas... and probably some virgin blood and chicken bile or something else messed up. $500.00.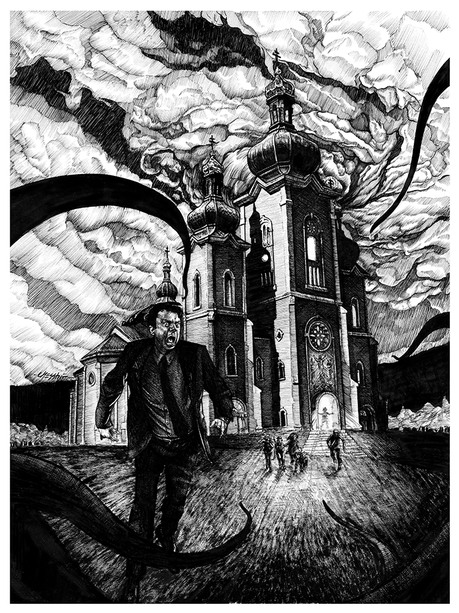 Nathan Chesshir decided to make a piece of art inspired by In The Mouth Of Madness, so I had to include it because that movie is awesome and nobody else gives it any love. It reminds me of the in-book art you'd find in some Stephen King novels. In short, I think it's totally great and stuff. Ink on paper, 12x16, framed by the artist. $400.00.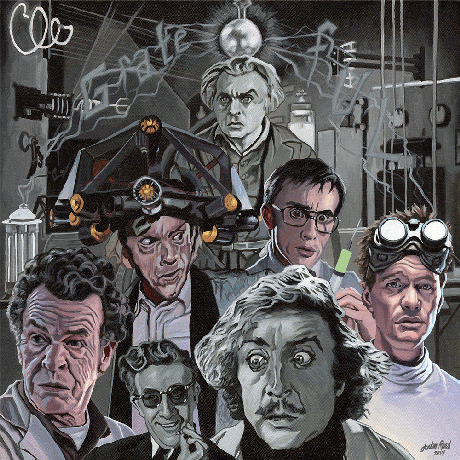 Justin Reed is an artist we've liked around these parts for a while. A few years ago I featured some of his work and mentioned he was available for commissions (and even commissioned something for Harry's birthday). His rates have gone up considerably, but he's still pumping out great art. If you want a deal on one of his originals, he has this great Mad Scientist collage out for about 2/3 what a comparable commission costs. 19 ¾ x 19 ¾ , acrylic on canvas. You can enquire about commissions and check pricing at Reed's site by clicking here. If you want to scoop up that sweet piece above it'll run you $800.00.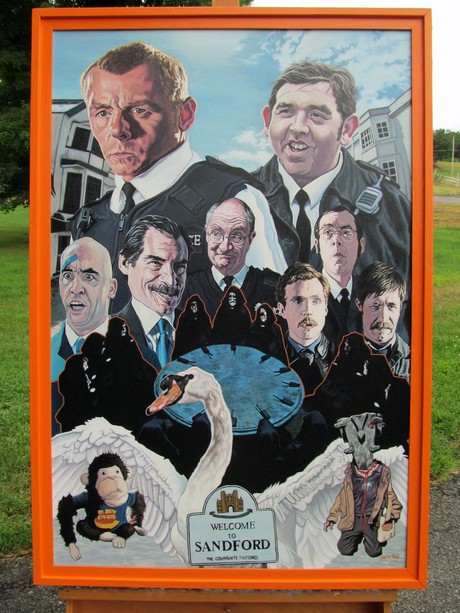 Reed did another piece, this one considerably larger and considerably more expensive, based on Edgar Wright's Hot Fuzz. At 24x36, this is a pretty substantial original painting... Somebody out there needs to suck it up and buy this... for the greater good (the greater good). $4,600.00.

A T-Rex steering the Orca. Why the fuck not? Appropriately titled "Jawsrassic Park" it's like artist Mike Lucido wanted to do something that was a shoe-in for inclusion in this Guide... 24x8, acrylic on canvas, framed by the artist. $500.00.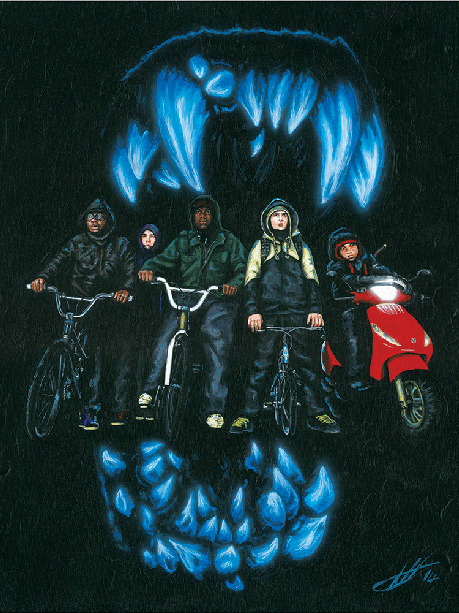 This one's probably the best value and a great piece at that. With "Big Alien Gorilla Wolf Motherfuckers" Tony Hodgkinson paid fitting tribute to the great Attack the Block. I'm just lucky the original of his MacReady and Dog print was sold out when I stumbled across it because I can't really afford that right now, but would have bought it because I have no self-control. The art is a nice size, 14x18, and achieved with acrylic on canvas. $300.00.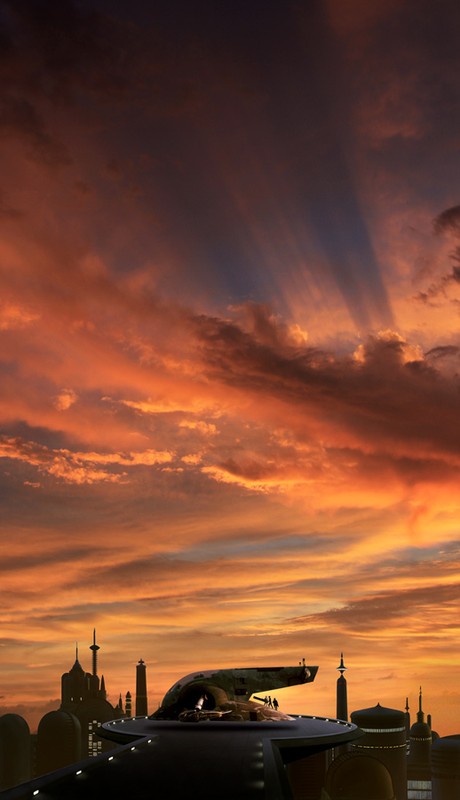 This is a giclee, not original art, but holy crap is a gorgeous. Acme is releasing this limited giclee on canvas (not paper) from artist William Silvers. Limited to 95 pieces, signed by the artist and measuring 15x26. $345.00.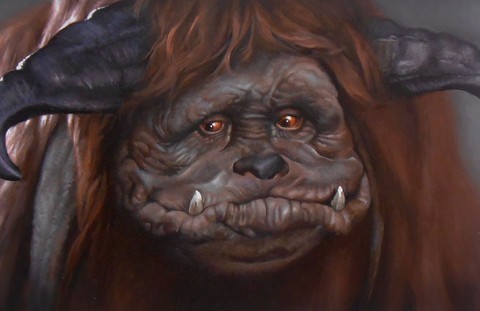 Ludo! He was Sarah's friend, but now he can be your friend! Acrylic on board by Ashton Gallagher, measuring 13x9 and framed. $650.00.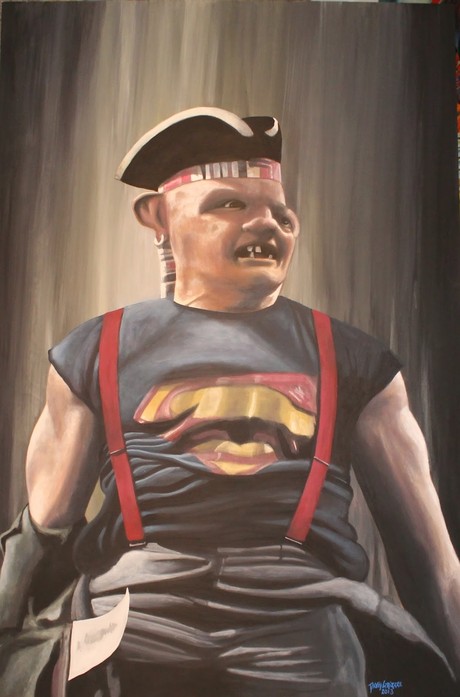 Here's another big original art piece. David Grizzle made super Sloth with acrylics on wood and it measures a big 24x36! $800.00.
I'm a big fan of Jason Edmiston's art and this Slimer original shows you why. The dude somehow blends cartoony and nearly photoreal level detail. I always love his art and this one is super badass. God help me if I ever get a windfall of fat cash. Slimer is acrylic on wood, framed and 12x16. $2,700.00.
CLICK HERE TO GO TO PART 2 OF THE 2014 HOLIDAY GIFT GUIDE FEEATURING BOOKS, MUSIC and GEEK HOUSEWARES!
CLICK HERE TO GO TO PART 3 OF THE 2014 HOLIDAY GIFT GUIDE FEEATURING BOARD GAMES, VIDEO GAMES, TOYS, COLLECTIBLES and RICH STUFF!