Hot Toys, the incalculably cool company who've released more amazingly badass figures than can even be estimated, are now bringing forth their RoboCop Sixth Scale figure via the excellent team over at Sideshow. And it's a thing of wicked beauty.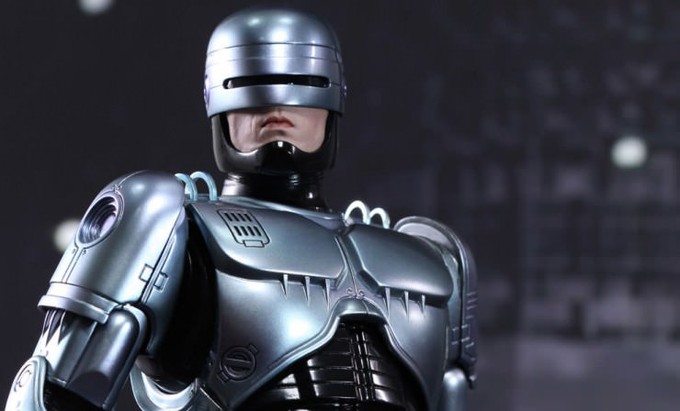 Based on the titular character of Paul Verhoeven's still staggering and hugely influential 1897 franchise launcher, the new figure is largely (but not entirely) die cast. The two mediums merge and conform very nicely here however - I had to squint or thump to tell the difference between the die cast and the plastic components at times.
The Robo set includes two interchangeable hands (data spike, standard hand). At first glance the standard hand appears a tad odd and stiff? Flat? Then one realizes that it its fingers are impressively articulated. Holding guns isn't quite as smooth a process as, say, shoving a pistol grip into a pre-molded "shooting" hand - but it's still hard not to admire the trickery and minutiae on display here.
One of the afore-mentioned guns is plastic (with positionable slide) - the other is die cast and feels most at home inside of Robo's openable holster-leg. Pistons connecting Robo's heel to his calf slide appropriately as the foot is positioned. A nice detail I was hoping would be landed, but wasn't necessarily expecting.
The set also includes an OCP-themed display stand/support neck, batteries for the remote control which activates voice functionality (though batteries are not included for Robo himself), interchangeable helmet (standard or damaged), three mouth plates (different expressions), interchangeable chest armor (standard and damaged), two sidearms (one plastic, one diecast - on the plastic version, the weapon's slide can be positioned), and a nifty OCP-branded magnet wand to remove the metallic access port camouflaging Robo's battery compartment.
Said batteries empower Robo to utter one of six Peter Weller delivered phrases from the film: "Serve the public trust, protect the innocent, uphold the law…" "Come quietly or there will be…trouble," "Drop the gun, you are under arrest," "Stay out of trouble," "Dead or alive, you're coming with me," "Thank you for your cooperation…Good Night." Sound reproduction is crisp - the speaker is positioned immediately behind Robo's chest armor and is facing forward, which likely aids the projecting and clarity of sound. My understanding is that there were a number of complaints surrounding the voice feature on Hot Toy's recent ED-209 releases - I can't speak to this as I haven't heard that product in person.
The only substantive misstep I've noted so far is that the paint job on this figure - while impressively sharp and metallic - doesn't capture the subtle opalescence of the source material, a feature of the original screen-used suit notable on this vintage Entertainment Tonight report:
This grumble not withstanding, Hot Toy's RoboCop is easily the best reproduction of the iconic character that I've come across. Articulation isn't hugely detailed here, but it's sturdy and more than enough - as it's not like the original RoboCop was a ballet dancer or Ninja anyway.
RoboCop is up for pre-order HERE through Sideshow, with monthly installment plans still available.
————
Glen Oliver
"Merrick"
- e-mail
- Twitter