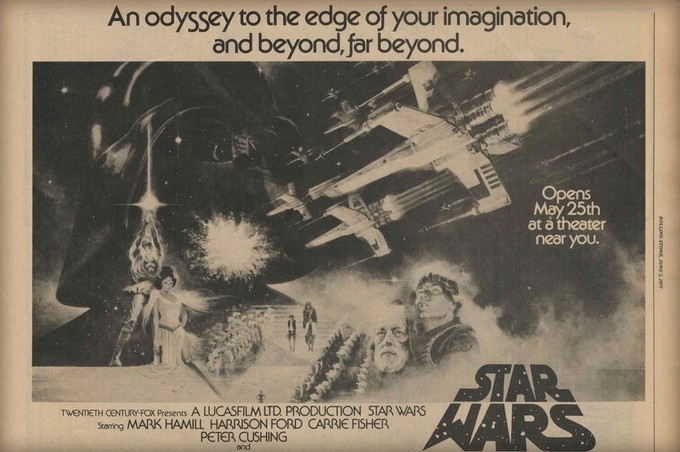 On Monday, Devin Faraci at Badass Digest posted a possible description (based on what he'd heard from "mighty reliable" sources) of the first teaser for STAR WARS EPISODE VII. He supported the rumor that Lucasfilm and Disney were rushing to get a trailer out for the holidays, and proposed that it would probably premiere on Disney's ABC network.
However, StarWars7News.com has heard that the House of Mouse is attaching the premiere piece of marketing for their new trilogy to the tail end of a trilogy capper: THE HOBBIT: BATTLE OF THE FIVE ARMIES.
They allegedly heard the rumor from a theater manager who's been assured that the trailer will be attached to THE HOBBIT when it releases on December 17th. There's also the matter of a tweet, from an already-deleted, yet verified account, that references THE FORCE AWAKENS' first A.D., Thomas Gormley: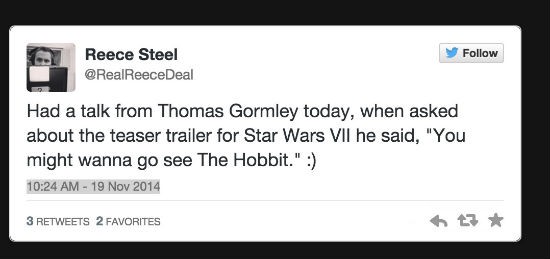 THE HOBBIT is a WB film, and studios are only allowed to attach two of their trailers to competing studios' films per year, but it's not a stretch that Disney would hitch their wagon to the one assured billion-dollar hit of the holiday season. If they kept the teaser off Youtube and Apple for even a week, most people would get their first exposure to EPISODE VII on the big screen, maybe even in premium formats like IMAX or 4DX. I'd imagine that'd be way preferable to JJ and Disney than people seeing Han, Leia, and Luke for the first time in 30 years on their laptops or (*shudder*) their phones.
Obviously, this is far from official confirmation, and Disney and Lucasfilm haven't commented on this either way (though that very well may change sooner than later), but it certainly doesn't seem that implausible. THE HOBBIT overlaps with STAR WARS thematically and demographically way more than Disney's own holiday flick, INTO THE WOODS, and teasing the start of a new magnus trilogy before the end of another trilogy seems like it could make a serious impact on scores of fanboys/fangirls.
Stay tuned, but if you weren't already set to see BATTLE OF THE FIVE ARMIES in a month, methinks you might be seriously considering it now.

Episode I Teaser Trailer on Disney Video
THE HOBBIT: BATTLE OF THE FIVE ARMIES duke it out on December 17th, while STAR WARS EPISODE VII: THE FORCE AWAKENS rises on December 18th, 2015.