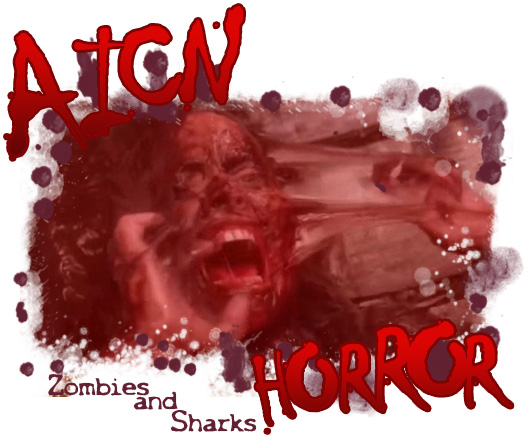 Logo by Kristian Horn
What the &#$% is ZOMBIES & SHARKS?
---
Greetings, all. Ambush Bug here with yet another AICN HORROR: ZOMBIES & SHARKS column. This one focuses on some films worth noting that recently played at this year's Toronto After Dark Film Festival, affectionately nicknamed TADFF! This fest is always the one that seems to collect the best horror out there at the moment and this year was no exception. Check out some of the films that played the fest below.
Today on AICN HORROR

(Click title to go directly to the feature)
ABCS OF DEATH 2 (2014)
HOUSEBOUND (2014)
Advance Review: ZOMBEAVERS (2014)
Advance Review: REFUGE (2014)
Advance Review: WYRMWOOD (2014)
---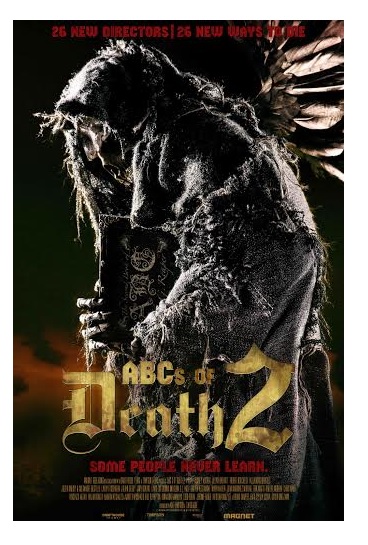 Recently played at the Toronto After Dark Film Festival (TADFF) and available On Demand and in select theaters October 31st from Magnet Releasing!
THE ABCS OF DEATH 2 (2014)
Reviewed by Ambush Bug
So as I did with the first
ABCS OF DEATH anthology
, I'm writing the reviews directly after viewing each installment, so I can give my immediate reaction to the short based on each letter of the alphabet. At the end, I'll chime in on how it compares to the original and how it is as an overall piece of entertainment. Here we go!
A is for Amateur
Directed/written by E.L. Katz
CHEAP THRILLS director E.L. Katz starts us off with a tale of a would-be assassin. The story walks us through the perfect crime and then shows us how it really goes down. This one is light in tone, but dark and gory as all get out as it's never as easy as it looks in the movies. Great music. Fun gore. Good installment.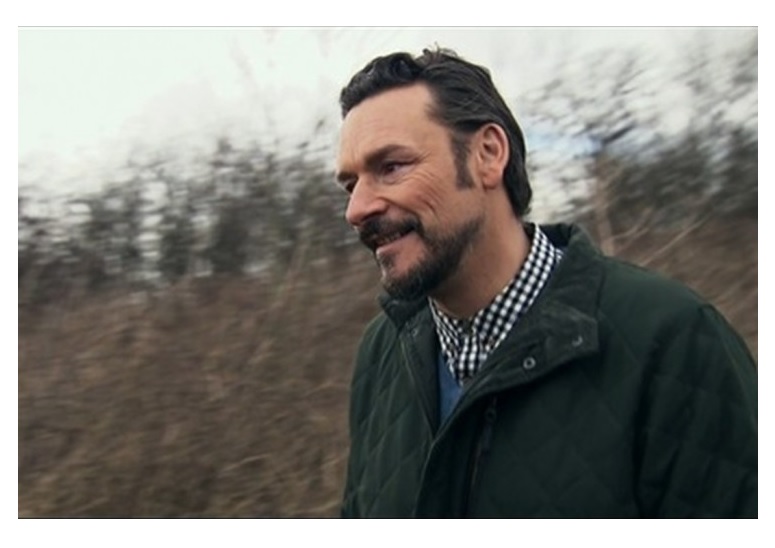 B is for Badger
Directed/written by Julian Barratt
This one follows a wildlife documentarian (played by THE MIGHTY BOOSH's Julian Barratt, who also directs the installment) investigating the disappearance of the badger population due to the species proximity near a nuclear power plant. The highlight is the hosts berating of his crew and what happens when he finds out that the animals he thought were extinct have actually survived and evolved. Filled with "biting" humor, this one is another fun one that ends a bit too soon for me.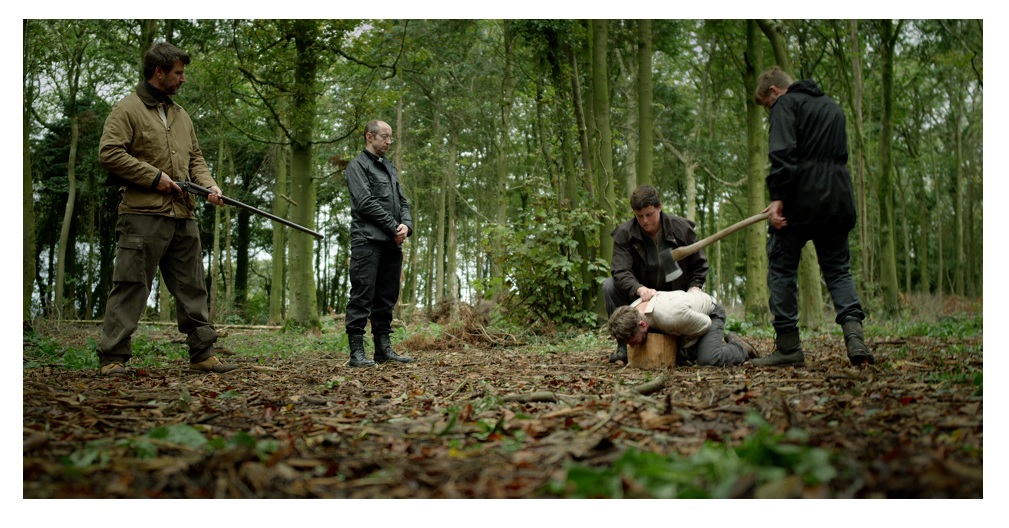 C is for Capital Punishment
Directed/written by Julian Gilbey
From the director of PLASTIC and A LONELY PLACE TO DIE comes a gory look at punishment. While there might be a bit of humor in this one, it's of the gallows type—literally. This one's got one of the gorier executions I've ever bore witness to in film, making it much more grueling than some of the other lighter installments as it focuses on a man wrongly accused of murder and a race against time to stop the execution. Intense and horribly gory.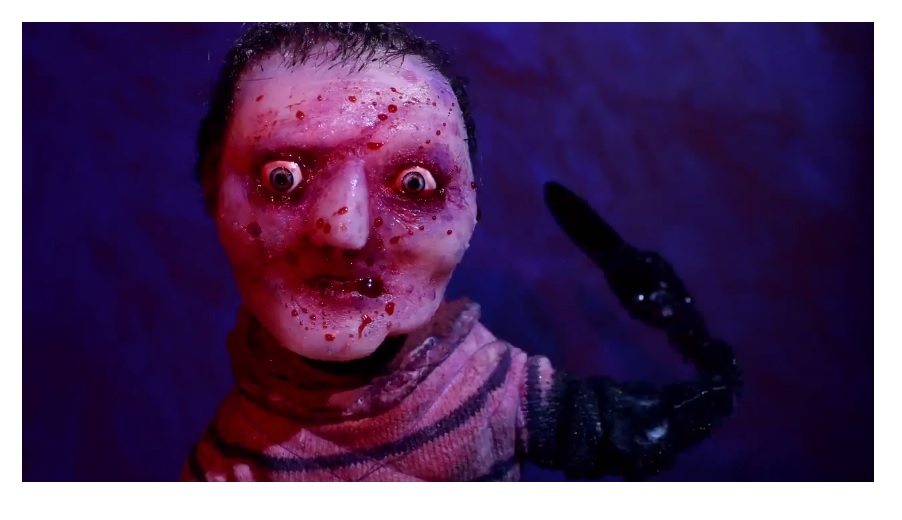 D is for Deloused
Directed/written by Robert Morgan
Animator Robert Morgan offers up a surreal masterpiece that is utterly fascinating and horrifically disgusting all at once. Nothing really makes a lick of sense here, but there are tons of insects, severed heads, demon bears, and one giant louse. Those who loved those old Tool videos are in for a treat here as Morgan uses all kinds of grungy materials for this stop motion messterpiece.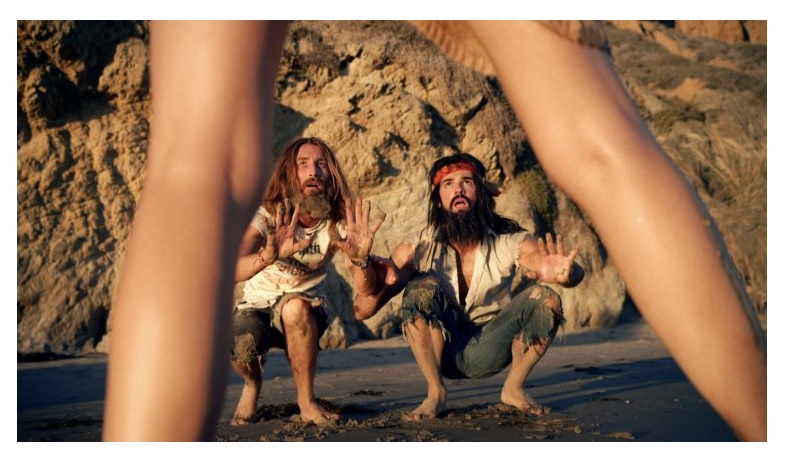 E is for Equillibrium
Directed/written by Alejandro Brugues
JUAN OF THE DEAD filmmaker Alejandro Brugues helms this one that feels more like a Bud Light commercial gone horribly, horribly wrong as two men stranded on an island think their prayers are answered when a woman washes up on shore. But that only fuels the fire of combat between the two. This one felt a lot like a Loony Tune episode with all sorts of cartoonish violence and music. Fun stuff and sure to shock those not prepared for the goofy gore.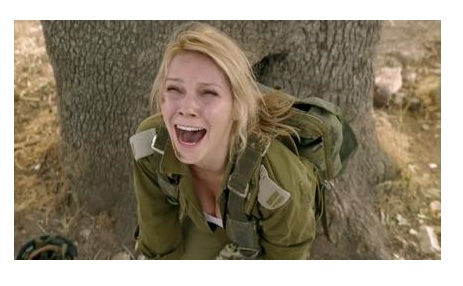 F is for Falling
Directed/written by Aharon Keshales & Navot Papushado
The directing/writing team behind BIG BAD WOLVES offer up this poignant and touching little number that almost seems out of place in this satiric and gory anthology. In such little time, you get to actually care about these two characters, one a female soldier from Israel, the other a young Palestinian militant. It's a testament to Keshales and Papushado, who often put politics in their work, but in unconventional ways, that they are able to say so much in such a small screen time. If anything, this little snippet of violence and beauty has me chomping at the bit for what's next by these two talented filmmakers.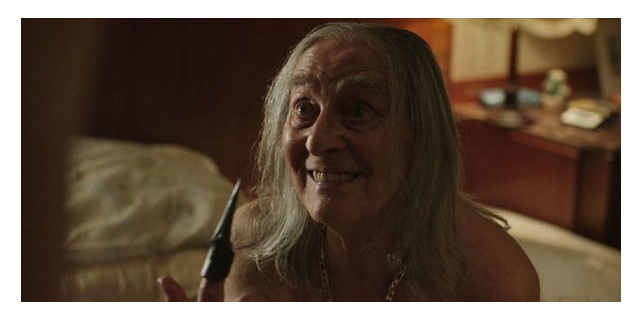 G is for Grandad
Directed/written by Jim Hosking
Well, this is one out of the ordinary little ditty about an ungrateful young man who is staying at his grandfather's place. From start to finish this is comic and weird and bizarre and utterly unpredictable. You've got finger knives and secret compartments in beds and teeth brushing. It's a short you have to see to believe and even after that, I don't think you'll believe it. Truly odd indeed and I loved it.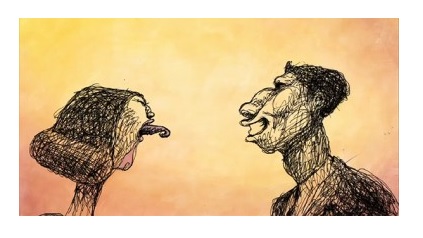 H is for Head Games
Directed/written by Bill Plympton
And this ain't no Foreigner song, that's for sure. It's a vivid and violent battle of the sexes between a man and a woman whose faces become all out arsenals against one another leaving both of them worse for wear. Anyone who has seen a Plymptoon knows that the man goes dark often and well and this installment is a prime example of what he can do without a net. Plympton does his animation like no other and this is exactly the type of oddball face off that was made for THE ABCS OF DEATH series.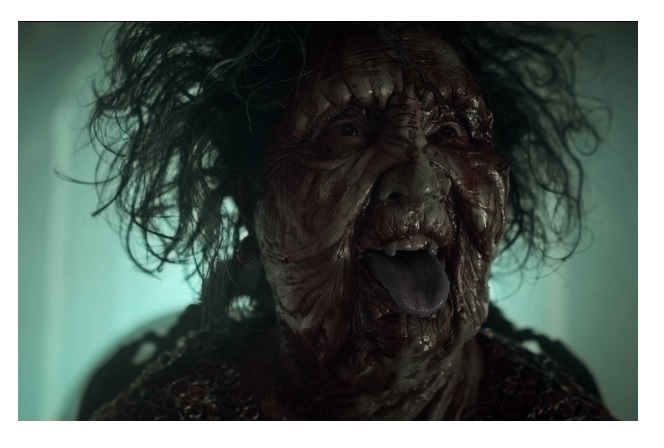 I is for Invincible
Directed/written by Erik Matti
Filipino filmmaker Erik Matti drops us off towards the end of an inheritance gone horribly wrong as a seemingly unkillable old lady mocks her captors who seem to have tried everything in the torture handbook to kill the old broad, but nothing seems to work. While the violence is cartoony, the gore is rather gruesome as the wear and tear of each attempt looks all too real and while there is a lighter tone to this one as the ungrateful inheritors continue to hack away at their matriarch, the reality of it all gave be a bit of a shutter. Nice effects work all around and a fun little twist of an ending makes this one of the ones that's going to stand out at the end of this alphabetical anthology.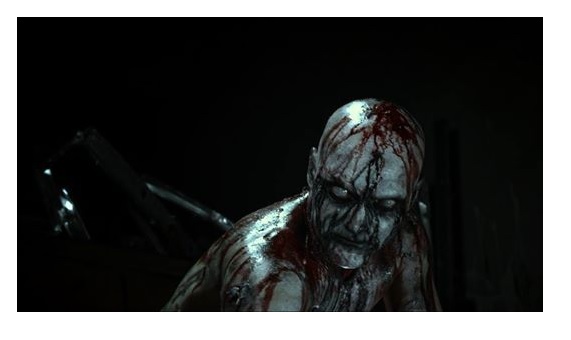 J is for Jesus
Directed/written by Dennison Ramalho
Shifting the tone to deathly serious is short film director Dennison Ramalho who takes the horror into brave and bold new places with this bloody little bit of torture porn which delves a bit into MARTYRS territory as a homosexual man is bound and tortured by thugs hired by his disapproving father. While it is definitely uncomfortable to watch, the way this one plays out is rather fascinating especially when the stigmata begins to appear. Full of holy and unholy retribution the imagery in this one is tops and sure to leave a deep mark in your psyche.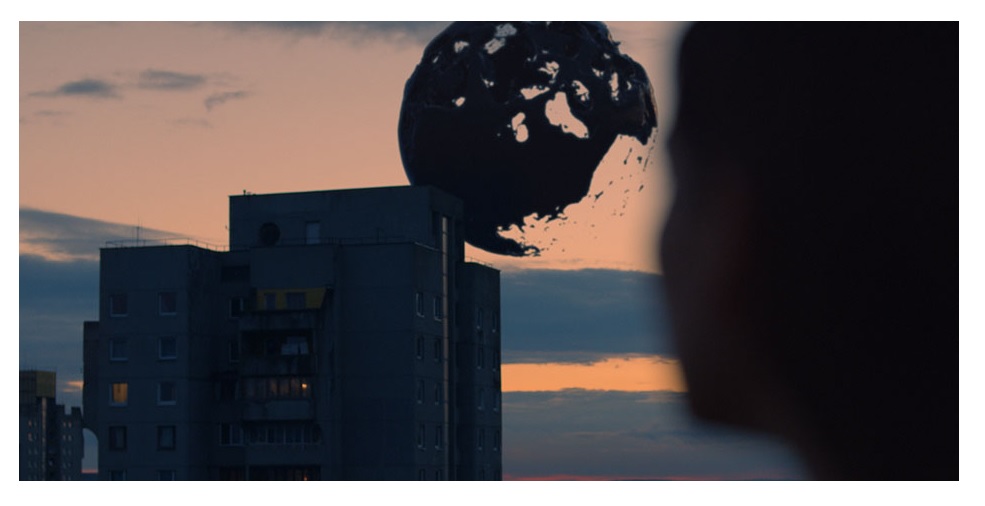 K is for Knell
Directed/written by Kristina Buozyte & Bruno Samper
I absolutely loved this one which is filled with all sorts of terrifying moments from start to finish as a woman sees a swirling blob in the sky hovering over a neighboring apartment complex from her own balcony. Soon after all of the residents begin to murder one another and when most are dead, those left turn and see our heroine across the way. As the black swirl makes its way to her own apartment, the tension rises to a fever pitch and I couldn't help but be swept away by the amount of primal fears twanged by the deft direction and suspense filled moments of this one. This one is absolutely horrifying stuff from the team that brought us last year's surreal VANISHING WAVES.
L is for Legacy
Directed/written by Lancelot Imasuen
Nigerian director Lancelot Imasuen offers up a story of curses and duty set in against the backdrop of tribal conflict. While the effects here are rather rudimentary, I can't help but be in awe of this new find of horror unleashed upon a tribe who fails to follow through his the orders of its king. The man-sized rat demon is a thing to behold as is the hell it unleashes upon the tribe. While it might read like a 50's monster movie, there's a rawness to this short that cannot be denied.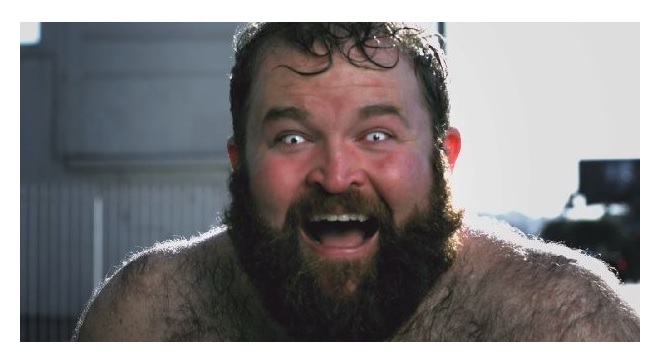 M is for Masticate
Directed/written by Robert Boocheck
This one got a lot of press because M was the open ticket for this ABCS OF DEATH feature and while I saw quite a few of the M tryouts, I do agree that this slo mo sequence involving a sweaty madman on a rampage in his underwear is the best of the best. Sure it ends on a rather predictable note, but the entire rampage itself is done in a manner that makes it all worth while. While watching undulating rolls of a fat dude is not necessarily towards the top of my must see list, this short makes it all feel like poetry.
N is for Nexus
Directed/written by Larry Fessenden
I was blown away by this RUN LOLA RUN-esque fast paced shortie from BENEATH director Larry Fessenden. As a man and woman rush to meet on a date, fate seems to have other things in store. Filled with memorable iconography that is steeped in reality, yet bizarre when set upon the backdrop of Halloween in the big city, this one is fun, yet tension filled from start to shocking finish.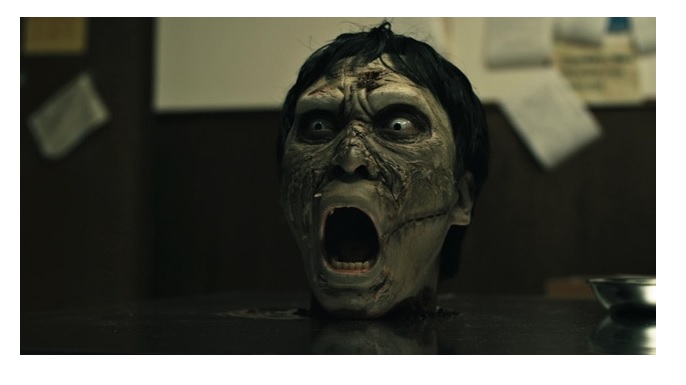 O is for Olocracy (Mob Rule)
Directed/written by Hajime Ohata
The director of the mesmerizing HENGE brings a twisted tale of a world made of those who survived the zombie plague who are trying and sentencing those who killed zombies to death. One mother pleads her case in front of a zombie court. It all seems very silly but this takes a pretty dire twist in the latter minute which makes it all a bit more substantial than just a goof. The ending is pretty powerful as well as it proves the old adage "what goes around, comes around" to be correct.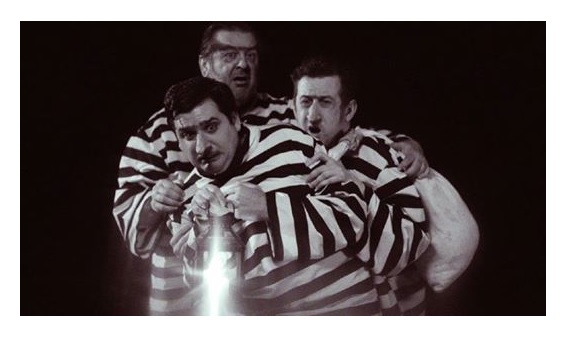 P is for P-P-P-P-Scary
Directed/written by Todd Rohal
An old timey nightmare that melts into an acid trip. That sums up this installment up in a nutshell as three cartoonish convicts make their way through the dark as they escape from prison. They walk through a pitch black void until they happen across a man in a chair holding a baby. What happens next is something you might find in the most twisted episodes of the TIM & ERIC AWESOME SHOW GREAT JOB!, but set against the dark and filmed in black and white and you will be shivering more than laughing at this one. I couldn't get enough of every creepy second of this one.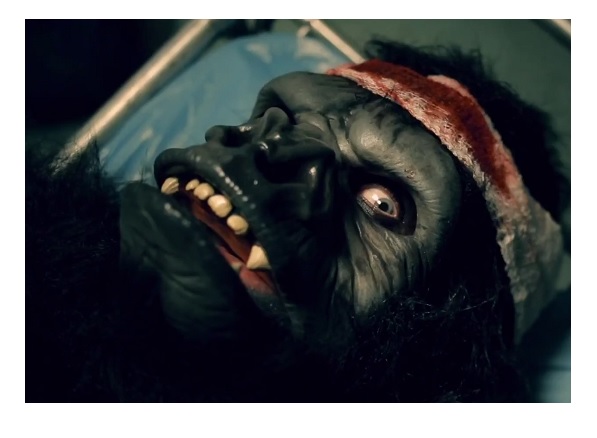 Q is for Questionnaire
Directed/written by Rodney Ascher
Rodney Ascher, who directed the conspiracy theory laden ROOM 237, has fun with this wonky little number about a man taking a test cross-cut with the gory consequences of said test. It's a pretty simple little story made fun by some extreme angles and gross-out operation room antics. There's nothing here that'll make your jaw drop, but it's still light and fun. It doesn't help that there's a man in a pretty cheap looking monkey suit trying to make like a gorilla.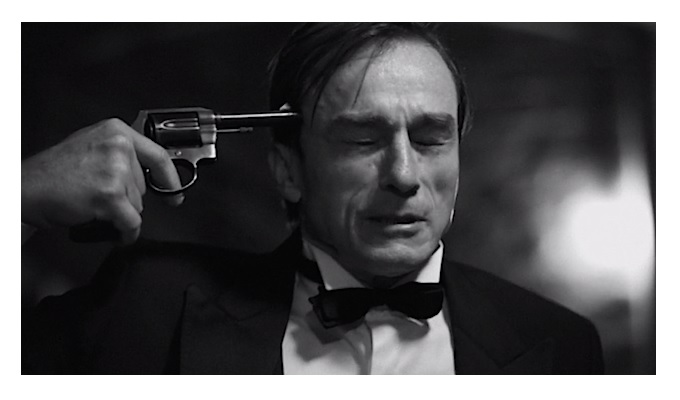 R is for Roulette
Directed/written by Marvin Kren
RAMMBOCK and BLOOD GLACIER's Marvin Kren offers up a not-so-typical Russian Roulette game that doesn't really show its cards until the end. I was on the fence on this one until the end, but the way things wrapped up made it all the more fun. Kren plays with expectations here really well showing a lot of promise and while 90% of this short is something you may have seen a dozen times before, the ending is 100% unique.
S is for Split
Directed/written by Juan Martinez Moreno
This one was riveting from minute one. A man calls his wife on the phone just when someone is attempting to break into her house. As the wife hides, the intruder scours the home for her with the man on the other end forced to listen as his wife fights for her life. The whole thing is told in split screen, hence the title, and it's done in a manner that would make DePalma proud. This one is raw and fierce, taking no prisoners and offering no apologies.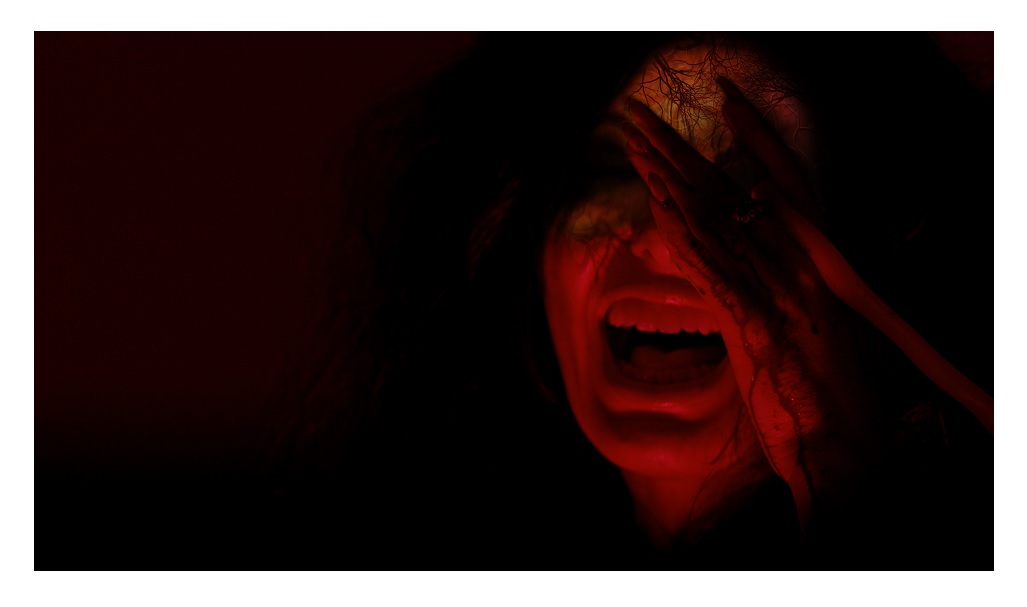 T is for Torture Porn
Directed/written by Jen & Sylvia Soska
While it lacks the dramatic punch of AMERICAN MARY, Jen & Sylvia Soska packed a whole bunch of perversity into this little short. There is a nice little build to the big reveal here as a woman is degraded and berated by men around her on what appears to be a porn shoot. Then things switch gears rather dramatically resulting in a barrage of sights and sounds that can only be described as unnatural. From the beginning, this one seems like it's got something evil and menacing coming up, but I don't think anyone would be able to predict where this one goes. Fun and horrific stuff.
U is for Utopia
Directed/written by Vincenzo Natali
This one brings forth a perfect future where everyone is beautiful and pristine…except for one chubby guy who happens into the joint. While this one is pretty predictable, it still makes for a powerful statement on how fortune favors the beautiful. Still, this one isn't without a bite as I loved the bit at the end with the clapping kids. Not as visionary as SPLICE and CUBE, director Vincenzo Natali still manages to keep this one entertaining from start to finish.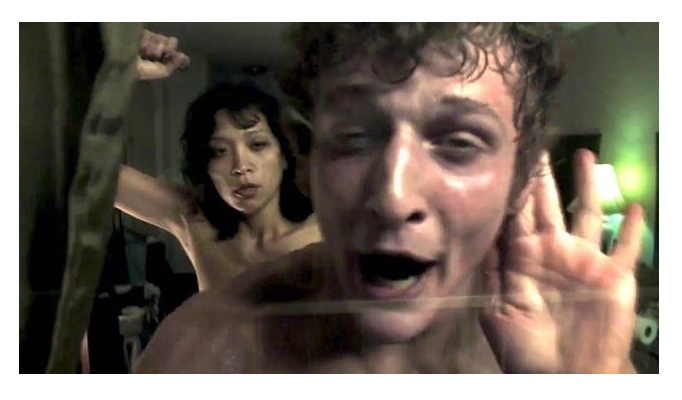 V is for Vacation
Directed/written by Jerome Sable
This one seems a little more at home in a V/H/S/ film rather than this anthology as it takes place solely during a facetime call between a dude on a mancation and his girlfriend back home. When his tweaked out bro snags the phone, the caller is shown what the guys really have been doing. But that's just the tip of the depravity iceberg as this one snowballs into something dark and ugly quickly. This one has a cruel streak to it that really packs a punch by the end. It's not going to be a favorite with the ladies watching this one and this one is going to rank up there as being a guy's worst nightmare. Even though it feels a bit out of place here, it's still dark and entertaining. This one is directed by STAGE FRIGHT director Jerome Sable and continues to show that the director does macabre really well.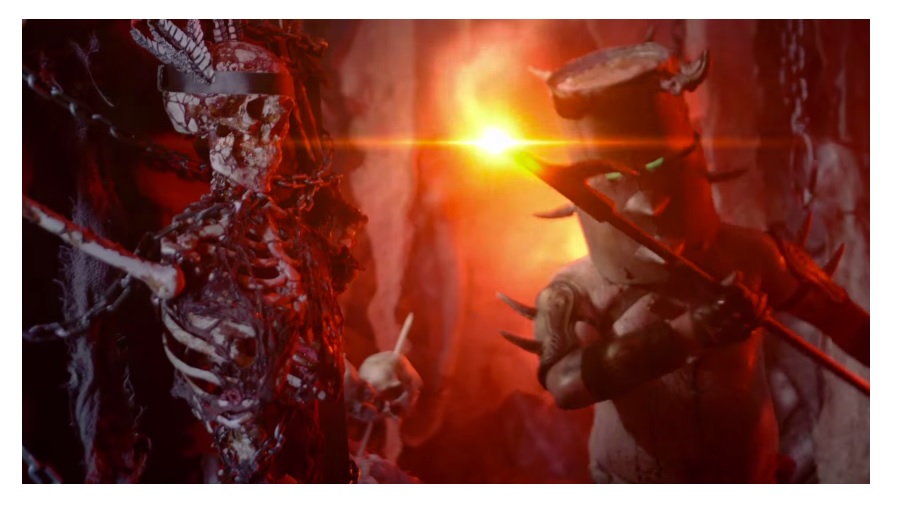 W is for Wish
Directed/written by Steven Kostanski
In the original ABCS OF DEATH, the latter few letters were by far the most bizarre and outrageous and it appears they did the same with this one as well. This one has a pair of kids wishing they could live in the toy fantasy land they love playing with, and sure enough, their wish comes true. You will see skeletons getting tortured and an old guy wearing a Speedo named Fantasy Man who rides a giant beetle and Jen & Sylvia Soska punching a hole in a guy. All of it brought to you by the twisted mind behind MANBOG and FATHER'S DAY, two films I revere. Here's another winner of a short from Kostanski who I hope goes nowhere but up and up after this, another fantastically twisted little short.
X is for Xylophone
Directed/written by Julien Maury & Alexandre Bustillo
Wow this one was pitch black and bloody. While the choice of xylophone for the word used for this short is somewhat uninspired, the story itself, about a babysitter driven nuts by a little girl playing a xylophone, is something to be admired. This one is gutsy and will surely offend, but there's an absurdity that made me laugh even though I was cringing as the ending is something so very, very horrible. This one looks fantastic and utilizes sound in a way that would drive anyone insane. Brilliant stuff from Julien Maury & Alexandre Bustillo, the deviant minds behind INSIDE.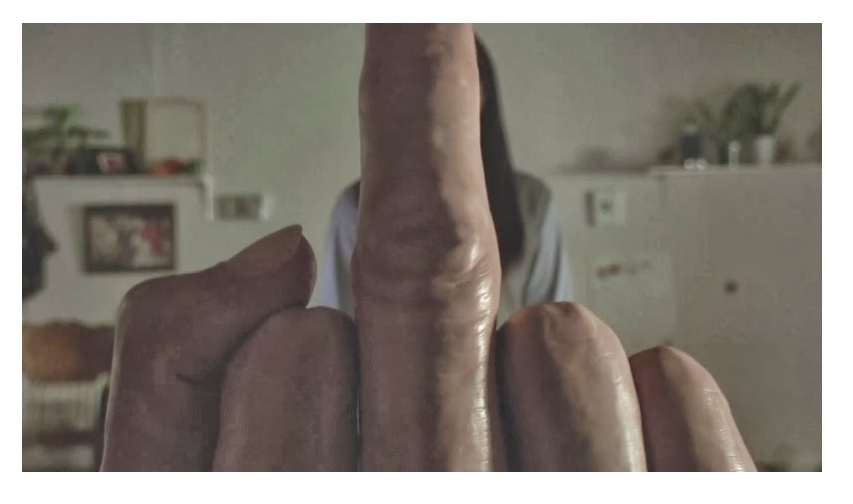 Y is for Youth
Directed/written by Soichi Umezawa
Yet another batshit crazy one as a girl's metaphors come alive as she is texting on the phone. People turn into dogs, vomit guitars, and battle giant hamburgers and penises. It's fantastically warped stuff from an uncapped mind. This one completely encapsulated the rebelliousness and angst of youth. It looks as if Umezawa originally called this one M is for Middle for the M category, but with a little rejiggering it ended up fitting in nicely here towards the balls out end of the anthology. Fantastically surreal and utterly unique stuff in this one.
Z is for Zygote
Directed/written by Chris Nash
Well, they saved the most depraved and twisted for the end as a woman takes a special root in order for her to keep from having her baby until her estranged husband will return. How long can she keep the baby inside? Therein lays the horror as it appears this root guarantees that the birth won't be for a long time. Soon the woman begins talking with the baby, now a grown child, inside of her and then it gets really fucked up. Lots of gore and grue ensue. I can't believe how gross this one gets, but I'm glad they saved it for the end because it really is a show stopper.
While I liked the original ABCS OF DEATH, I have to say, I think as far as a consistently entertaining anthology, this sequel is much stronger. The first anthology seemed to have a lot of big names, but not a lot of them took things seriously enough to offer up anything but goofy, grossout scares. In this one, there are some goofy letters, but they are mixed with others that are deathly serious or utterly disquieting. All in all, as far as anthologies go ABCS OF DEATH 2 has so much variety, you're sure to find something that scares, shocks, or tickles you. And if you don't like one, the segments are short enough that the next may be your cup of blood.
BEWARE: The trailer below is extreme and red bandy and definitely not safe for work!
ABCS OF DEATH 2 Extreme Red Band Trailer from Magnolia Pictures & Magnet on Vimeo.
---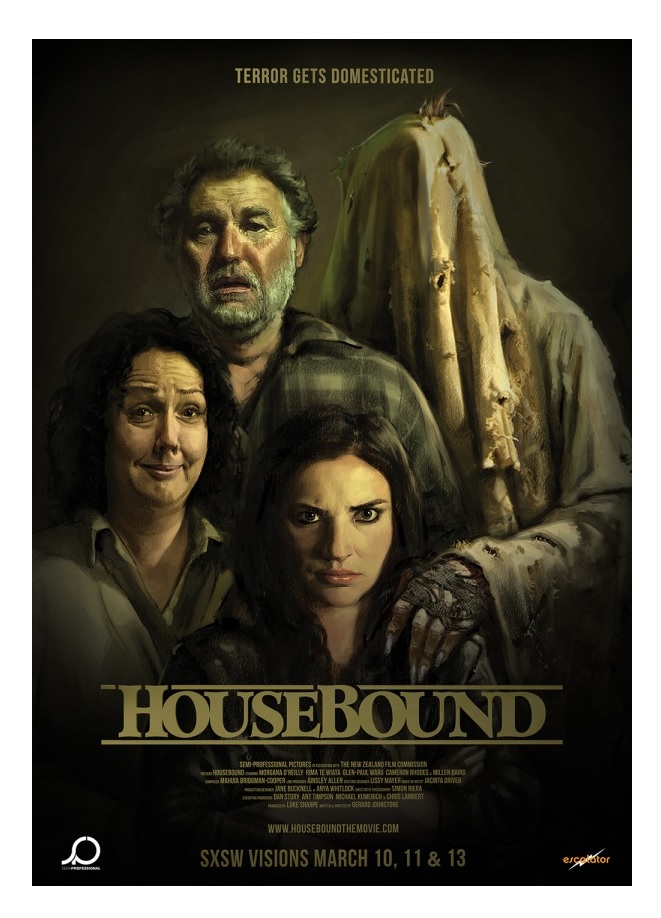 Recently played the Toronto After Dark Film Festival (TADFF), available now in select theaters, On Demand, and iTunes!
HOUSEBOUND (2014)
Directed by Gerard Johnstone
Written by Gerard Johnstone
Starring Morgana O'Reilly, Rima Te Wiata, Glen-Paul Waru, Cameron Rhodes, Millen Baird, Ross Harper, Bruce Hopkins, Ryan Lampp, Ian Mune, Wallace Chapman
Find out more about this film here and on Facebook here
Reviewed by Ambush Bug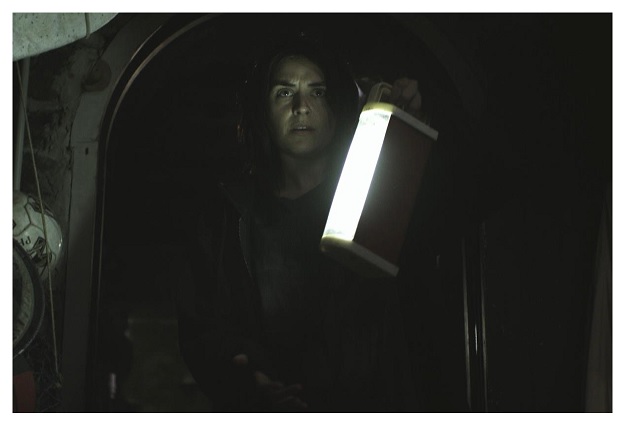 Reminiscent in tone (not gore) of Peter Jackson's early work, HOUSEBOUND is an absolute treat filled with all sorts of things that go bump in the night.
The story is an original and compelling one. A young woman named Kylie (Morgana O'Reilly) who is akin to breaking the rules since she left her home as a teenager is caught during a botched robbery in the opening minutes and sentenced to a year in her childhood home with her mother Miriam (Rima Te Wiata) wearing a anklet alerting the police if she leaved the premises. The problem is that the house Kylie is bound to stay in appears to be haunted. Trapped in the house by law, Kylie is forced to deal with her childhood fears and find out just what is going on in the dark hallways and even darker corridors of her home.
Sure this is a contrived concept; chaining a main character into a haunted house, but it's also a creative and original one. Part of the fun here is watching Kylie at first try to save herself from the restless spirits of the house without setting off the alarm and then seeing her try to do a full fledged investigation while bound to the place as well. It's this contrivance that makes for an endearing and fascinating hook and it's one that reeled me in from start to finish.
There's a morbid sense of comedy at play here. Kylie is as obstinate as they come, hating the fact that she must return to live with her house marm mother and her new husband. The snotty remarks are often hilarious delivered by actress O'Reilly, who delivers a star making performance here as she shows great skill at both comedic timing and dramatic bits. While playing an absolute snit, O'Reilly shows a lot of skill still winning me over as a character to root for despite the fact that she's a horrid ass to her mother and stepfather. It's that bratty nature of an adult regressing back to teenage years once they step foot in their childhood home that O'Reilly does so well that makes it all a fun and likable thread to follow.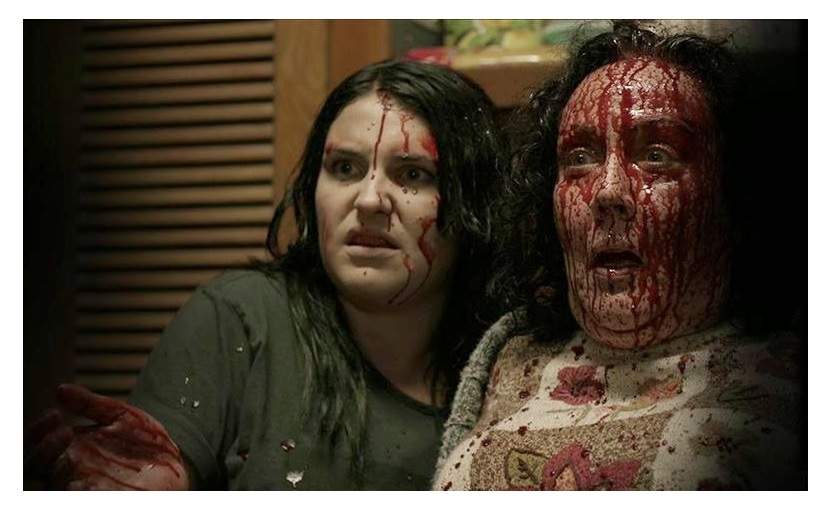 Honorable mention goes to Ross Harper as Graeme, Kylie's social worker who just so happens to be an amateur ghost hunter in his free time. The way Harper plays Graeme as an overly serious investigator, taking EVP's and all of the other ghost hunting techniques with utter seriousness is fodder for some great comedic bits.
Not without it's gory moments, HOUSEBOUND shines brightest when it is a spooky comedy more in the vein of THE FRIGHTENERS than THE OTHERS. Sure there are some fun scary bits, but it is the capable and effective laughs in between them that make HOUSEBOUND such a joy to watch. While not too scary, writer/director Gerard Johnstone does set up some amazingly kinetic sequences as the ghostly shit hits the fan in the third act and all is revealed in terms of what secrets this house holds. With an endearing concept, some well timed scares, and loads of laugh out loud moments, HOUSEBOUND is bound to please all who take a chance on it.
---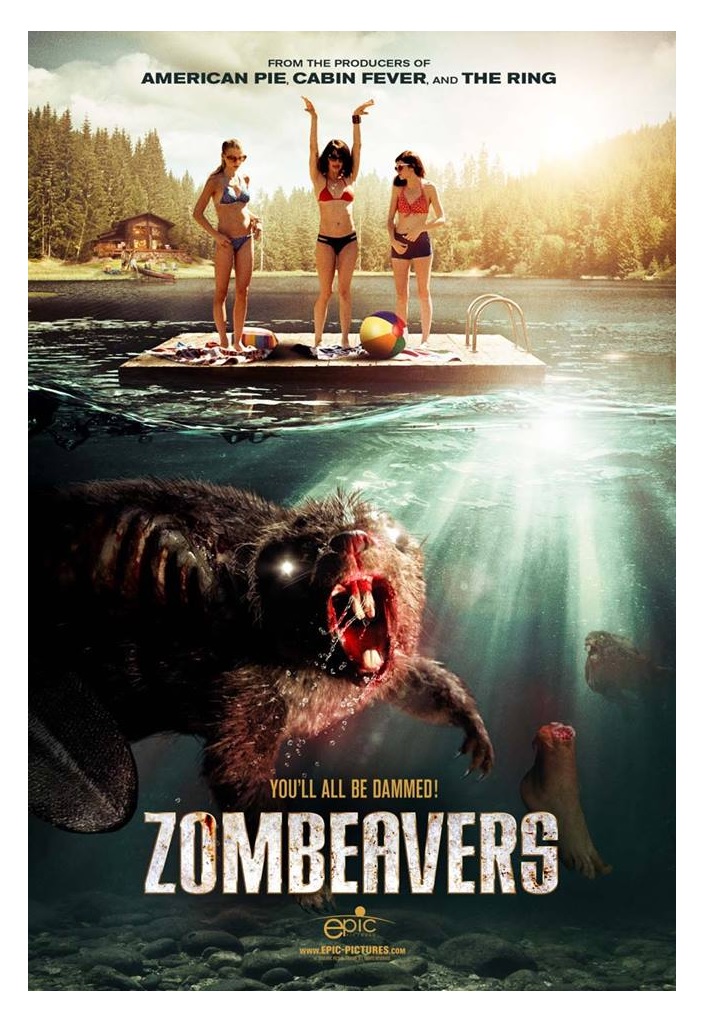 Advance Review: Recently played the Toronto After Dark Film Festival (TADFF), set for release in March 2015!
ZOMBEAVERS (2014)
Directed by Jordan Rubin
Written by Al Kaplan, Jordan Rubin, Jon Kaplan
Starring Rachel Melvin, Cortney Palm, Lexi Atkins, Hutch Dano, Peter Gilroy, Jake Weary, Brent Briscoe, Phyllis Katz, Rex Linn, Chad Anderson, Bill Burr, Jordan Rubin, Robert R. Shafer
Find out more about this film on Facebook here
Reviewed by Ambush Bug
I can't help myself. I have to say it.
I loved every DAM minute of ZOMBEAVERS!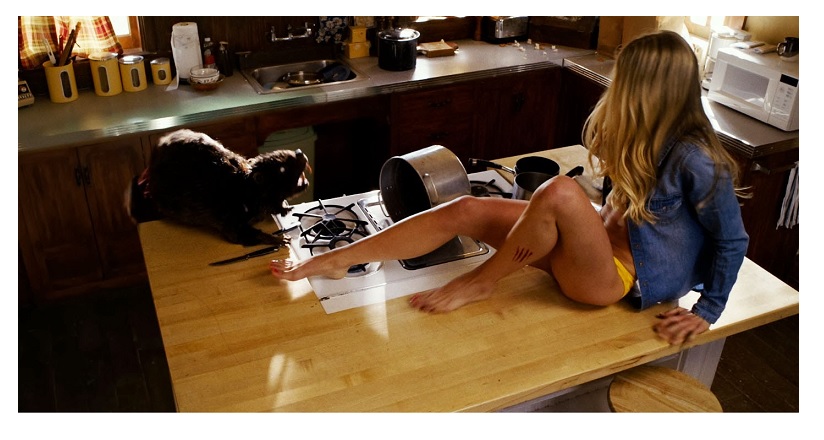 Sure there are going to be some of you who like your horror drop dead serious who will turn their noses to this type of farce which more often than not goes for the lowest common denominator, but I couldn't help but fall in love with this goofy little film. In terms of comedy, it is very broad. There is potty humor galore. Beaver jokes are lobbed in our faces like dodge balls at a fat kid in gym. Crude humor is the flavor, but when done well, as this film does, I don't mind it at all. I can't count the times I laughed out loud at this bawdy and rowdy comedy.
In the opening scene, a pair of dimwit truckers accidentally lose a tin of radioactive waste, which bounces from the truck, into the river, through the rapids, and sloshes all over a beaver dam which according to all of the horror movie science books always results in radioactive monsters. The film follows a trio of cute girls (Rachel Melvin, Cortney Palm, and Lexi Atkins) that they attempt to have a girl-cation at a country cabin away from their boyfriends. While they are mildly annoyed that their boyfriends have followed them up there, the real problem comes when radioactive undead and unkillable beavers show up on their cabin doorstep.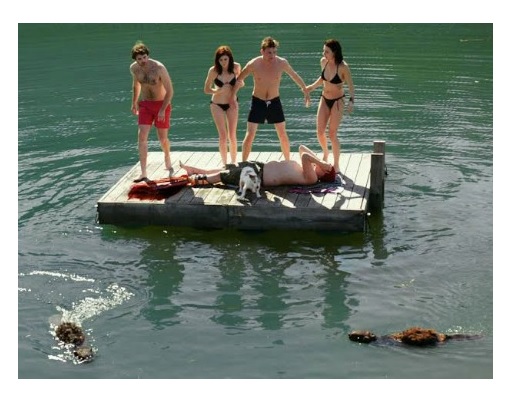 What this film has going for it is that it has a talented cast. All three girls not only look damn scrum-dilly-icious, but shockingly show some personality here. I stress this because too often than not, looks almost always come before talent in these types of films, so seeing some sort of personality and spunk in the main three characters (especially Cortney Palm who blesses us with a topless scene to boot) is refreshing. On top of that, they are funny as hell, with some of the best lines coming from the opening moments when it's just the girls. Add three douchebag boyfriends, a horndog hunter, and some nosey neighbors and you have a lot of people for these cannibalistic critters to gnaw on. Again, none of these additional characters are talentless and forgetful fodder either. With Hutch Dano and Jake Weary doing their best macho asshole routines (Dano being the most hilariously douchey of the two) and sketch comedy actor Peter Gilroy offering up some of the most crass, but most gut-burstingly funny moments in the film.
Things go from ridiculous to "you've gotta be fucking kidding me" pretty quickly with ZOMBEAVERS as the critters somehow know how to cut phone lines and think strategically with their attacks. Still there's an overall sense of fun that permeates every moment of this film making it much more fun than any of the Asylum amalgam monsters we've seen in the past. The effects are actually pretty outstanding from the white-eyed beavers themselves to the"transformations" those infected with a beaver bite undergo. While some are puppets and some CG, it's all incorporated much better than what we are used to on ScyFy.
So sure, if you're one to be too scared to laugh at your horror and dive into a pool of goof in your films, ZOMBEAVERS is not for you. But if you do have a sense of humor, it's bound to be stimulated with this film. Not too high on scares, but ZOMBEAVERS makes up for it with wit, off color comedy, and gore.
---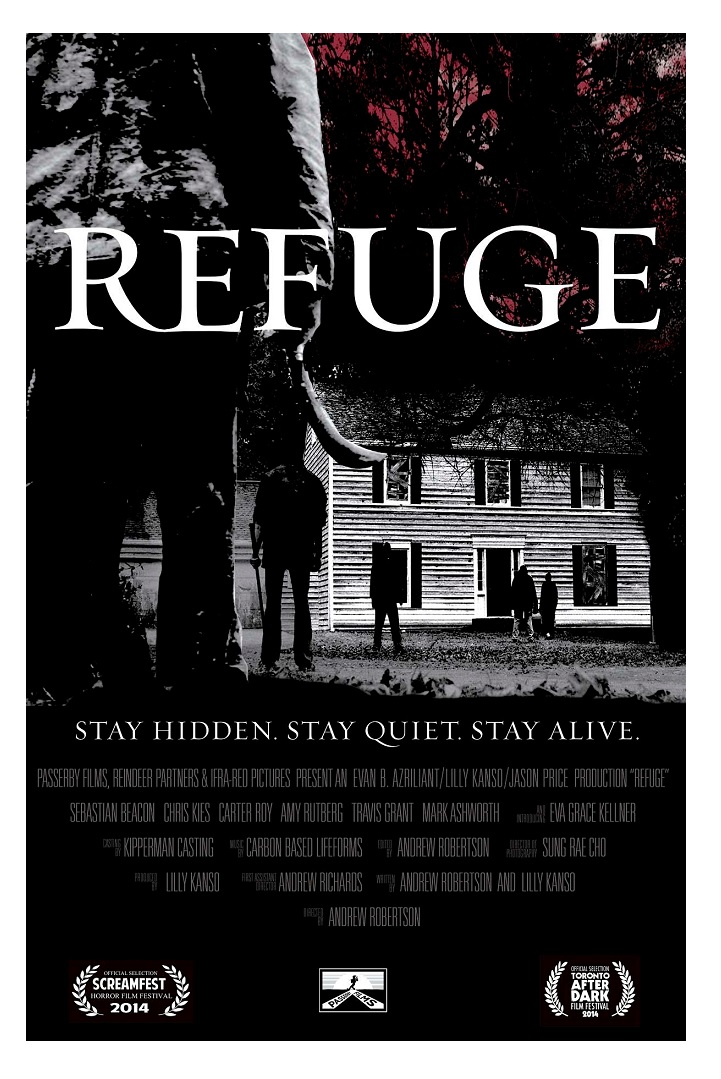 Advance Review: Recently played the Toronto After Dark Film Festival (TADFF)!
REFUGE (2013)
aka THE MANSION
Directed by Andrew Robertson
Written by Lilly Kanso, Andrew Robertson
Starring Sebastian Beacon, Chris Kies, Carter Roy, Amy Rutberg, Eva Grace Kellner, Travis Grant, Mark Ashworth, Joe Manus, Anthony B. Harris
Find out more about this film here and on Facebook here
Reviewed by Ambush Bug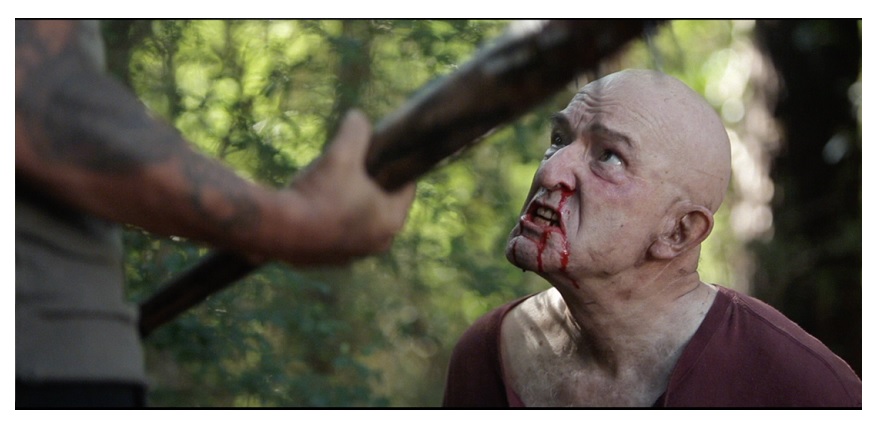 Kind of like THE WALKING DEAD without those pesky zombies, REFUGE is a somber but effective experience in survivalist horror. After a plague ravages the world population, people are forced to take refuge in their homes in fear of the ever-spreading disease and the threat of survivors who have lost their own humanity and look to destroy any that is left in the world. The film follows a small makeshift family as they attempt to forage for food and supplies, defend their territory, and seek out a place of safety in a world upended by plague.
While a lot of this film feels like familiar territory covered in films like THE ROAD, THE DAY, and THE WALKING DEAD, with a focus mainly on humanity's struggle with the fall of society as we know it, it treads through this territory confidently and effectively. And while some might see fault in this film for being so much like those other films, everything is done in a manner that is absolutely entertaining. The film is full of thrilling scenes of survival, shot in a manner by director Andrew Robertson that highlights the action creatively and heightens the dangers outside of the false safety of the survivor's homes. Robertson does a very cool thing with the marauders by rarely showing their faces, dehumanizing them and often showing them from behind or out of focus in the background. In doing so, though they are very much human, they become something inhuman and monstrous. It's one of many thematic decisions that make this film so effective.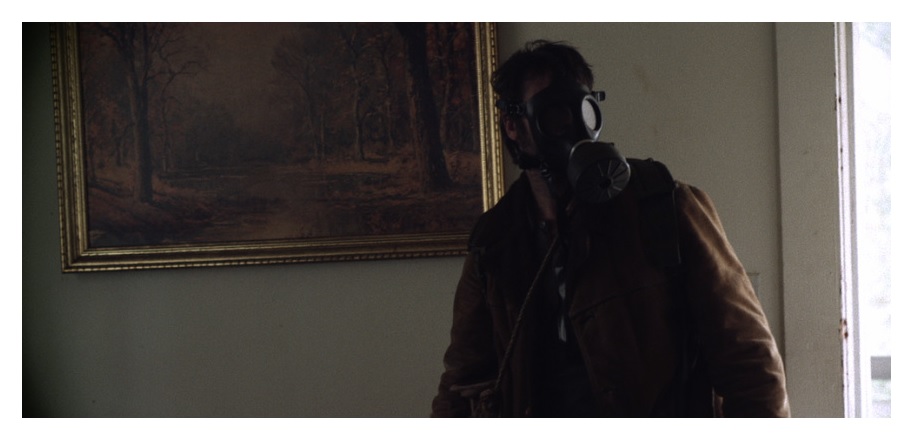 If there's a fault in this film it's that there might be one too many characters in the survivors party. Especially since at first glance, a few of the actors look close to one another. Then again everyone looks grungy and the color palette is intentionally bleak, but there are enough distinguishing features to tell people apart. It's just in the close-ups, it took me a second to distinguish one dirty white guy from the other one.
That said, REFUGE is as timely a movie as you can get as it really does offer a compelling and heart-wrenching look at a society overcome by a super-plague. It realizes our fears of disease effectively with slow boiling, yet intense action and offers up a makeshift family in crisis that you really care for. Looking for that same kind of investment in a group of survivors and not really wanting to commit yourself to 13 hours of a season of THE WALKING DEAD? REFUGE fills that void quite well.
---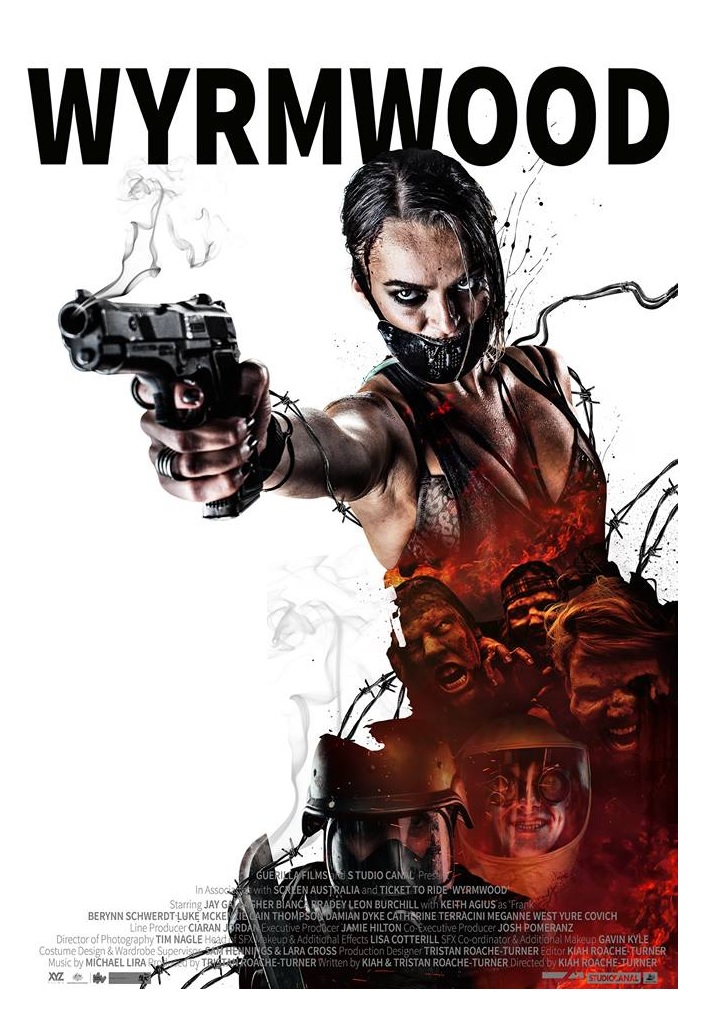 Advance Review: Recently played the Toronto After Dark Film Festival (TADFF)!
WYRMWOOD (2014)
Directed by Kiah Roache-Turner
Written by Kiah Roache-Turner & Tristan Roache-Turner
Starring Jay Gallagher, Bianca Bradey, Leon Burchill, Luke McKenzie, Yure Covich, Catherine Terracini, Keith Agius, Meganne West, Berryn Schwerdt, Cain Thompson, Beth Aubrey, Sheridan Harbridge, Damian Dyke
Find out more about this film here and on Facebook here
Reviewed by Ambush Bug
Rarely do I see a movie which is entertaining from the very beginning up until the very end, but I saw just that with WYRMWOOD, a new zombie film from Australia. But before you scroll past thinking this is just another run of the mill zombie film, give me a minute to convince you that this if you think you've seen it all in terms of zombie films, this film is bound and determined to prove you wrong.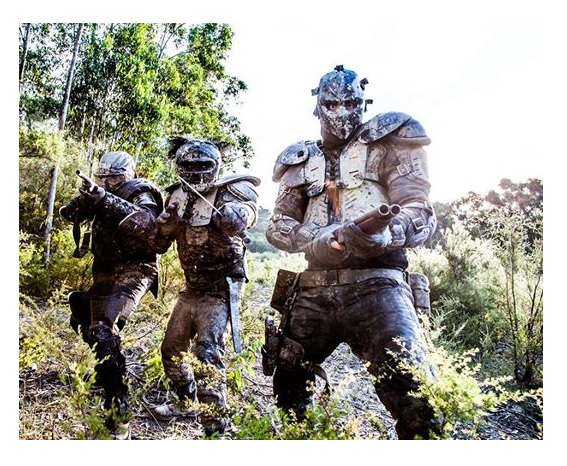 There is not a second of WYRMWOOD that isn't in your face and running on all cylinders. Jutting from one catastrophic incident to another, the film follows a handful of survivors that haven't fallen victim to a sudden outbreak of zombie fever after a meteor shower. The how's and why's explaining the cause of this outbreak are left vague. All we know is that there are zombies and there are only a few survivors fighting their asses off to survive.
Unlike most zombie films, which either follow the Romero Way or the newer Zack Snyder fast zombies way, WYRMWOOD feels more like the Sperig Brothers' UNDEAD which offered up an unpredictable and boldly different take on zombies. Minor details are added to the mythos. The zombies' blood is combustible and can be used as fuel, but this only occurs by day as they shamble slowly at night. One of the characters develops the power to control zombies' actions telepathically. These new details make this film feel bold and new, making it more likely to surprise and less likely to become bored.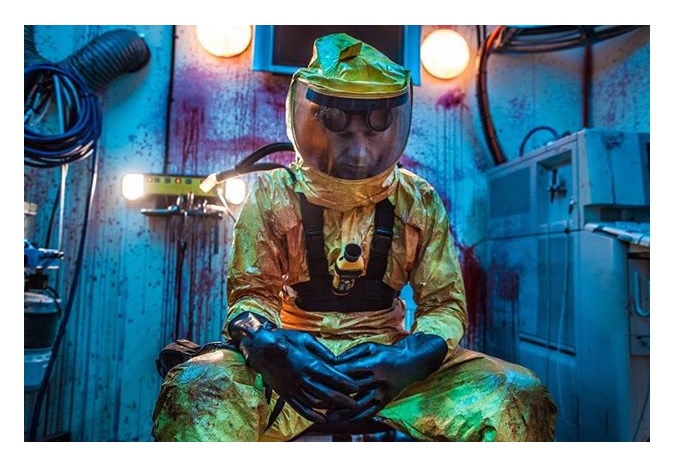 But the true highlight of WYRMWOOD is that it hits the ground running and never, ever stops for a breath until the end. Filmmakers Kiah Roache-Turner & Tristan Roache-Turner keep the action fresh and creative with one imaginative scene after another that you've never seen in any film before, let alone any zombie film.
WYRMWOOD is the type of film that could inject new life into the zombie genre. It's bold and ballsy. The film tears down the road like a runaway truck off of the ROAD WARRIOR set without breaks or respect for road signs. And while zombie purists might flinch at the embellishments the Roache-Turners made to the zombie mythos, this film may prove those who rip on the zombie genre for being stuck on repeat for the last ten years that there's some blood in the old genre still. Full of action that'll make your heart flip and gore that'll do the same to your stomach, WYRMWOOD is the next great thing in zombies.
See ya with another batch from this year's Toronto After Dark Film Festival next week!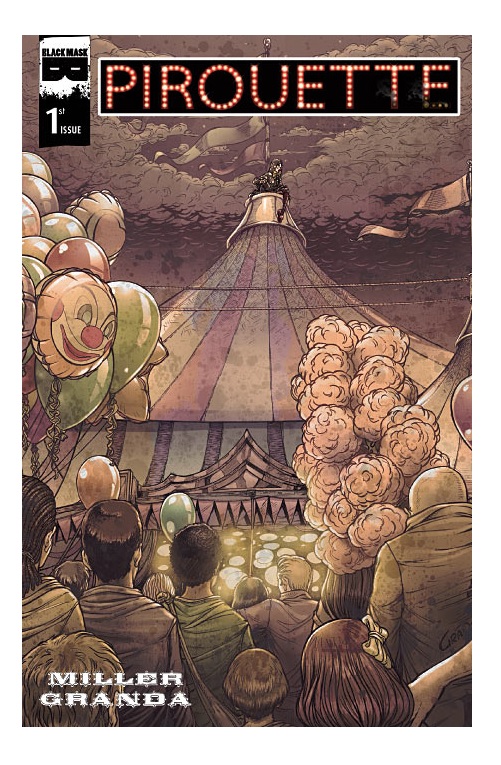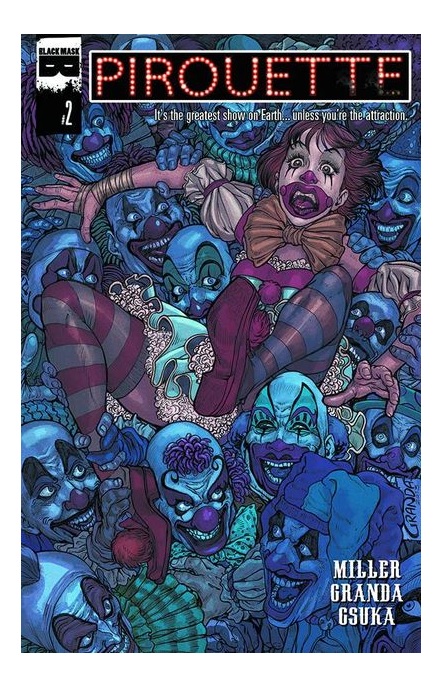 Ambush Bug is Mark L. Miller, original @$$Hole/wordslinger/writer of wrongs/reviewer/interviewer/editor of AICN COMICS for over 13 years & AICN HORROR for 4. Follow Ambush Bug on the Twitters @Mark_L_Miller.

Be sure to tell your comic shop to order his new comic PIROUETTE (out now!) from Black Mask Studios!
---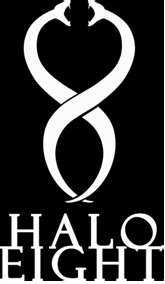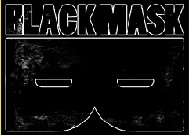 Find out what are BLACK MASK STUDIOS and OCCUPY COMICS here and on Facebook here!


Interested in illustrated films, fringe cinema, and other oddities?
Check out Halo-8 and challenge everything!
Look for our bi-weekly rambling about random horror films on Poptards and Ain't It Cool on AICN HORROR's CANNIBAL HORRORCAST Podcast every other Thursday!
---
Find more AICN HORROR including an archive of previous columns on AICN HORROR's Facebook page!