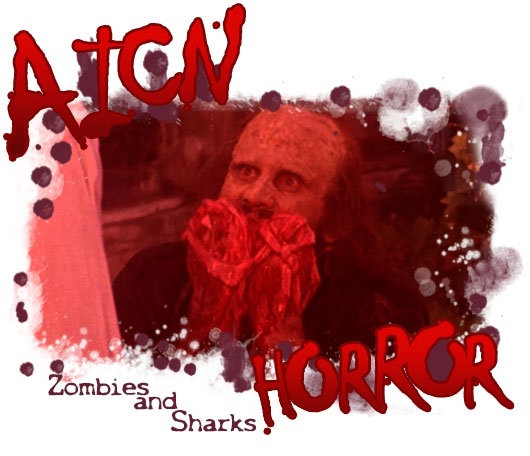 Logo by Kristian Horn
What the &#$% is ZOMBIES & SHARKS?
---
Greetings, all. Ambush Bug here with another AICN HORROR: ZOMBIES & SHARKS column. This week be on the lookout for an actress who will do anything to get a part, a pesky cat, a creepy old lady, some famous serial killers, clown puppetry, devilish toys, ghosts, cannibals, grave robbers, vengeful divas, our final batch of MONSTERS episodes, and dogs in costumes!
On with the horror reviews!
Today on AICN HORROR

(Click title to go directly to the feature)
The Boo Tube: MONSTERS Season 3, Episodes 19-24 (1991)
Retro-review: THE KILLER SHREWS (1959)
Retro-review: THE VINCENT PRICE COLLECTION II: THE TOMB OF LIGEIA (1964)
Retro-review: THE DOCTOR & THE DEVILS (1985)
Retro-review: DOLLS (1987)
Retro-review: IN THE LAND OF THE CANNIBALS (2004)
THE BUTCHERS (2014)
THE HOUSE AT THE END OF TIME (2013)
GINGERCLOWN (2013)
THE TAKING OF DEBORAH LOGAN (2014)
STARRY EYES (2014)
Advance Review: SCAREHOUSE (2014)
And finally…Matthew Forte's WEDNESDAY'S CHILDREN!
---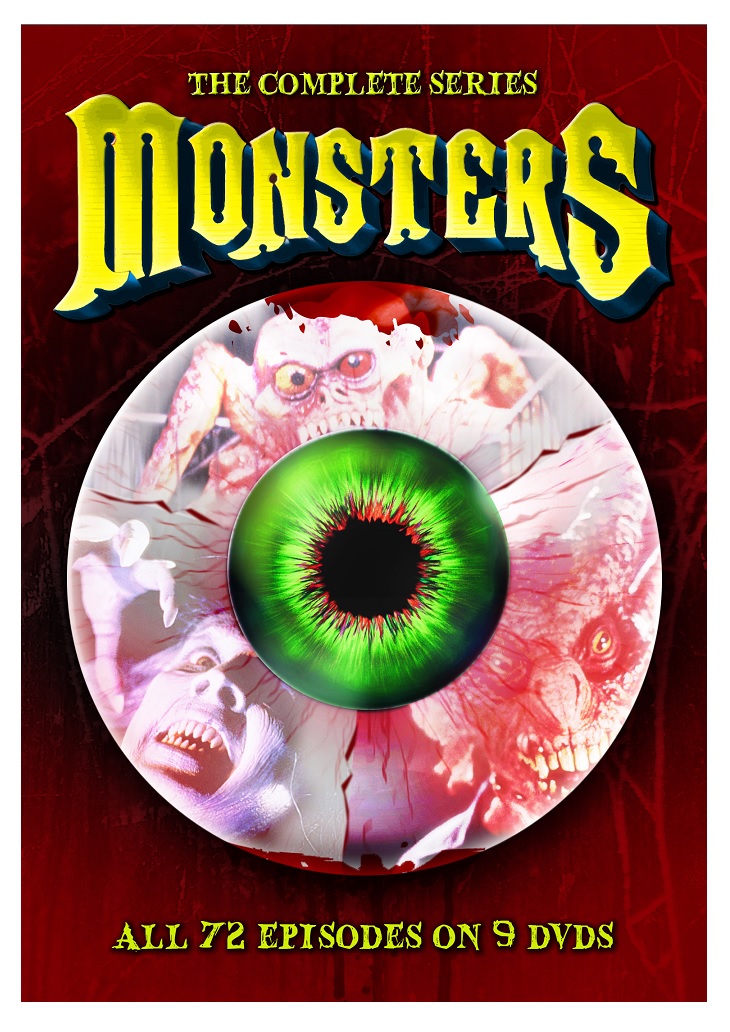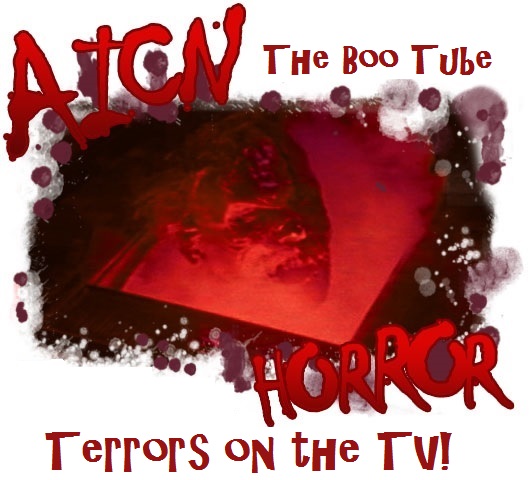 The Boo Tube: Collected DVD Box Set new this week from eOne Entertainment!
MONSTERS: THE COMPLETE SERIES Box Set
Season Three: Episodes 19-24 (1990-91)
Retro-reviewed by Ambush BugAhhh, MONSTERS. It's one of those TV series that warms my heart. Back in the late 80's when practical effects were king, Mitchell Gallin and Richard P. Rubinstein, the producers of TALES FROM THE DARKSIDE TV series, decided to put together a show which highlighted a different story about a different monster every week. In my region the show was broadcast late at night, and it was a thrill to be able to stay up late and watch it. Now, given the amount of years since I've watched it, I'm bound to be disappointed at the way some of them present upon reviewing. But still, this was a fun series deserving of this look back, episode by episode, at this quaint little shock series. We're getting to the end of this MONSTERS collection. Here's how the final episodes of the series stacked up!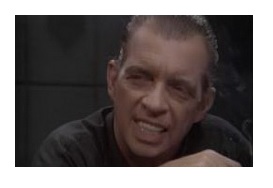 Episode 3.19: A Face for Radio
Directed by Bruce Feirstein
Written by Bruce Feirstein
Starring Morton Downey Jr., Laura Branigan, Lori Krebs, Philip Stewart, Julie Wilson
Bruce Feirstein, who wrote all of the Pierce Brosnan 007 films, wrote and directed this episode featuring the late talk show personality Morton Downey Jr. and "Gloria" and "Self Control" singer Laura Branigan. Downey plays an obnoxious DJ (I know, it's a stretch, right?) of a late night radio show. When a mysterious and sultry woman (Branigan) enters the studio claiming to have been abducted by aliens, Downey's interests are piqued. Both Downey and Branigan give decent performances here, but there's little by way of motivation as to why this woman would seek out a radio DJ for her master plan. The alien is impressive to look at as long as it doesn't move, but as soon as it does, the lack of articulation is distracting. And while the li'l guy is rather creepy, this turns out to be a rather lame episode.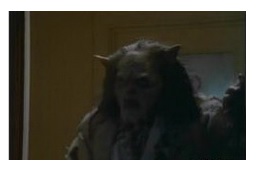 Episode 3.20: Werewolf of Hollywood
Directed by Thomas J. Whelan
Written by Ron Goulart
Starring Richard Belzer, David Leary, Geraldine Leer, Shelley Berman
LAW & ORDER's Richard Belzer plays a screenwriter who must put up with nagging producers (one of which is played by Shelley Berman, who played Larry David's dad in CURB YOUR ENTHUSIASM) and interns looking to use him as a rung on the professional ladder--but those are the least of his worries in this decently paced werewolf yarn that slices a gouge in the entertainment industry. The werewolf effects are rather fun, and there's a nice sense of mystery--plus I must admit seeing Belzer fight a werewolf is rather amazing in itself.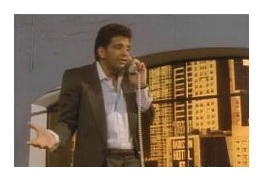 Episode 3.21: Talk Nice To Me
Directed by Ernest D. Farino
Written by Paul Dini
Starring Ed Marinaro, Teri Ann Linn, David Spielberg
HILL STREET BLUES' Ed Marinaro stars as a playboy newspaper reporter who is tormented by an obscene phone caller with a female voice. I've always been creeped out by phone horror films, and this one does a lot right in terms of building the mystery of who or, since this is a MONSTERS episode, what is on the other end of the line. And while the lead up to the big finale is nicely paced by director Ernest D. Farino, who did FX for films like THE THING and THE TERMINATOR, the ending is rather lame. Sure it's a shockeroonie, but it's so out of the blue with no lead in that it really isn't as effective as it should be. I'm sure the mad mind behind BATMAN: THE ANIMATED SERIES, Paul Dini, wasn't giving his all in writing this episode, but I think adding some simple tidbits like having Marinaro's character investigating spores, molds, and fungus in common household appliances would have made things make more sense in the end. Still, the monster is effective, and Marinaro is pretty good here in this above average episode.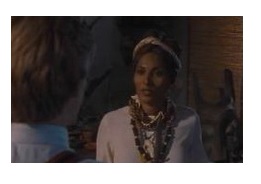 Episode 3.22: Hostile Takeover
Directed by Randall Moldave
Written by Jonathan Valin
Starring Dennis Christopher, Tracey Walter, William Lanteau, Pam Grier
BREAKING AWAY's Dennis Christopher (aka the guy I always confuse with Roddy McDowall) stars as an opportunistic businessman who makes a deal with a voodoo woman (Pam Grier, still gorgeous as ever) to make some lucrative business decisions. Of course, it comes back to bite him in the ass. The Joker's henchman Bob from BATMAN, Tracey Walter, co-stars as a janitor, but Walter really gets more of a chance to shine here than usual, which is nice. The story is pretty by the numbers and the monster of the week is just a big demon mask, but still it looks pretty impressive despite the horrible articulation.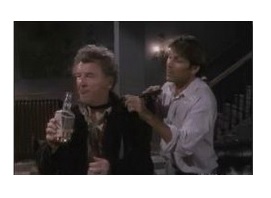 Episode 3.23: The Maker
Directed by William Wesley
Written by Michael Kimball
Starring Eddie Bracken, Philip Anglim, Carla Herd
The director of SCARECROWS, William Wesley, tells a bizarre tale about a man who can make wishes come true (Eddie Bracken, who has been in everything from HOME ALONE 2 to MIRACLE AT MORGAN'S CREEK, but may be recognized by most as Roy Walley of WalleyWorld in NATIONAL LAMPOON'S VACATION). While the story on the surface is simple—it's just a guy trying to take advantage of this human genie--Bracken is drunk off his ass the whole time, so all of the wishes are slightly off. This makes for some fun comic moments that culminate in a pretty haunting ending. I'm not saying this episode blew me away, but I like the idea of our own wishes and perceptions being off due to the influence of alcohol. It's a fun but small twist that makes this typical episode a little more interesting than most.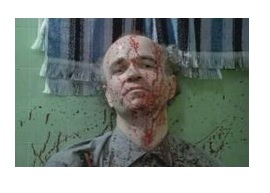 Episode 3.24: The Moving Finger
Directed by Kenny Myers
Written by Haskell Barkin, Stephen King (story)
Starring Tom Noonan, Alice Playten, Sharon Cornell
The series ends with a bang and one of my favorite episodes of the week. Kenny Myers, who worked effects for everything from THE FINAL TERROR to JOHN CARTER, directs this offbeat tale adapted from a Stephen King story about a man (MANHUNTER's Tom Noonan) who discovers a finger in the drain his bathroom sink that appears to be alive. The rest of the episode has Noonan fumbling around his apartment trying to do away with the finger with everything from Drano to a chainsaw. The ending is as gory as it is offbeat, and everything from the directing to the oddness of the story hit me in all the right places. Noonan is always great playing oddball characters and he does so here, but Myers directing, bathing the apartment and bathroom with odd dramatic lighting, makes it all feel off kilter and fun. Out of all of the episodes I saw this week, this one is the best and a hell of a positive note to end this fun anthology series.
Well, that's it for MONSTERS. It wasn't always the best place to go for great stories, performances, or effects, but there are some diamonds in the rough. My personal favorite episodes were Season One's "
Holly's House
", "
Taps
", "
All in a Day's Work
", Season Two's "
A Bond of Silk
", "
Jar
", "
The Mandrake Root
", "
The Offering
", and Season Three's "
Stressed Environment
", "
Bug House
", "
The Waiting Game
", "
Sin-Sop
", "
Malcolm
", and the aforementioned "The Moving Finger." But for every great episode, there's a "
Zombie Lover
" episode that almost kills any and all enthusiasm I had for the series. Still, it had a fun run and that opening theme with the family of monsters getting ready to watch the show will always bring a warm feeling to my heart.
Previous MONSTERS Episode Reviews!
Season 1: Episodes 1.1-1.6, 1.7-1.12, 1.13-1.18, 1.19-1.22, 1.23-1.24
Season 2: Episodes 2.1-2.5, 2.6-2.10, 2.11-2.17, 2.18-2.24
Season 3: Episodes 3.1-3.6, 3.7-3.12, 3.13-3.18


---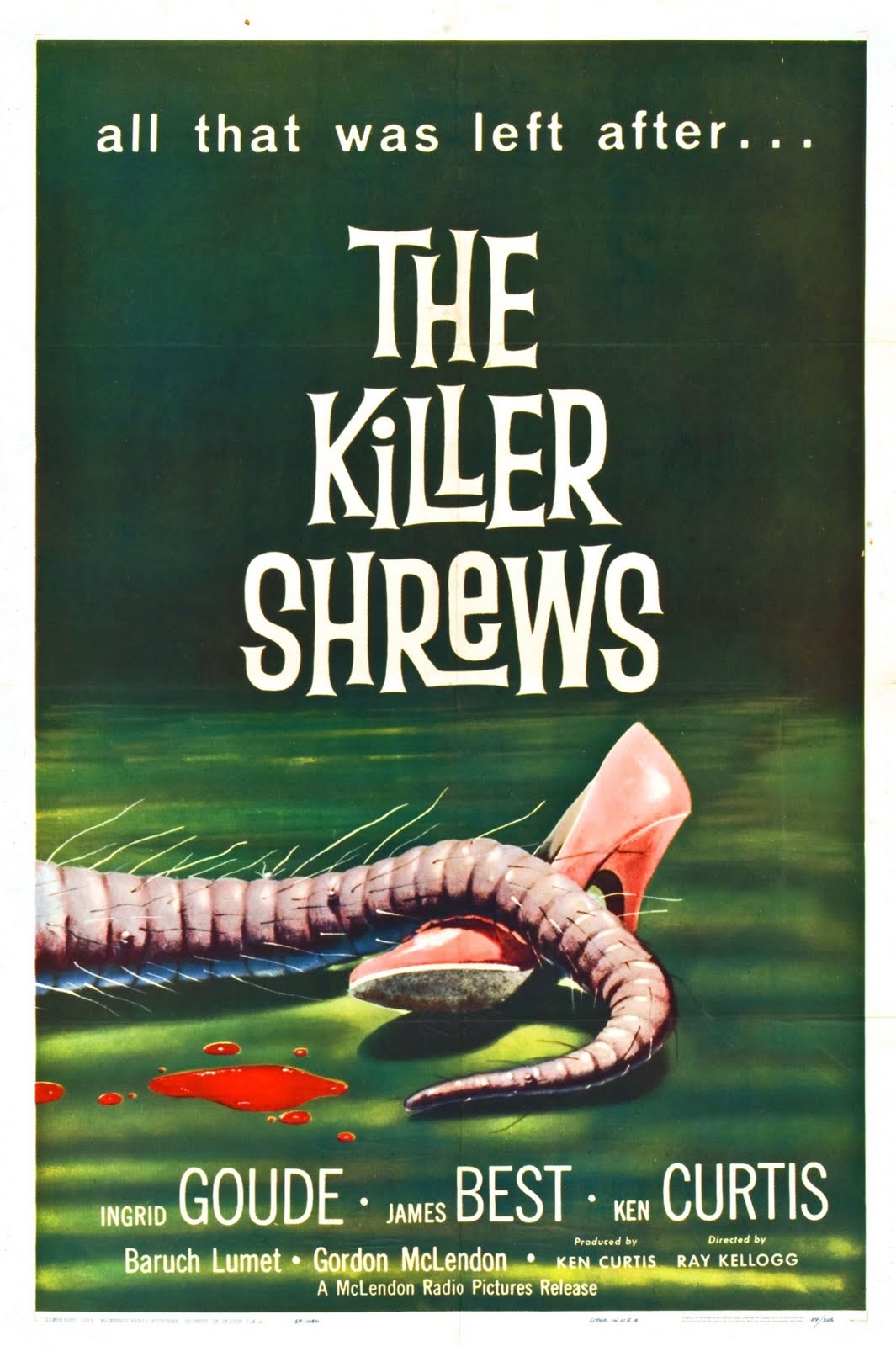 Retro-review: New this week digitally restored and available on DVD from Film Chest Media Group!
THE KILLER SHREWS (1959)
aka THE ATTACK OF THE KILLER SHREWS
Directed by Ray Kellogg
Written by Jay Simms (story), Jay Simms (screenplay)
Starring James Best, Ingrid Goude, Ken Curtis, Gordon McLendon, Baruch Lumet, Judge Henry Dupree, Alfredo DeSoto
Retro-reviewed by Ambush Bug
I think I first saw THE KILLER SHREWS when it was featured on MST3K, and while that show is often genius, it also sort of casts a pall on the movies it focuses on. Yes, those films are worthy of mockery, but it also opens the door to dismiss it and I think for what it is, THE KILLER SHREWS deserves a little more respect than that.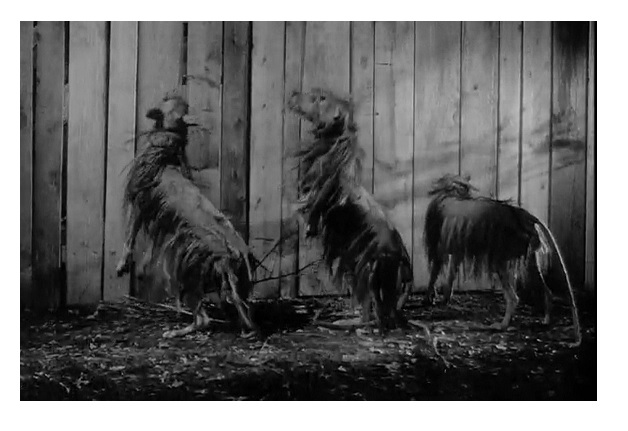 Filled with goofy science, THE KILLER SHREWS tackles a theme that is presented in an utterly serious manner. Addressing concerns of overpopulation, an island in the middle of the ocean seems like the perfect place to hold an experiment in an isolated environment. Testing on the shrew population on the island, Dr. Marlowe Craigis (Baruch Lumet) tries to study the rapid evolution of the common shrew as he and his team of scientists attempt to tweak nature in order to see how long they can survive. Of course, this is a "don't mess with Mother Nature" story, so the experiments result in horrors as the shrews grow to the size of dogs and become not only hungry for human flesh, but also possessing a venom that is death to anyone who receives a bite. Arriving on the island at the nose-end of a hurricane, a macho sailor named Thorne Sherman (THE DUKES OF HAZZARD's James Best) is stranded with the science team until the storm passes over. But the shrews are hungry and commence on the facility, forcing the survivors to make their way back to the boat to escape.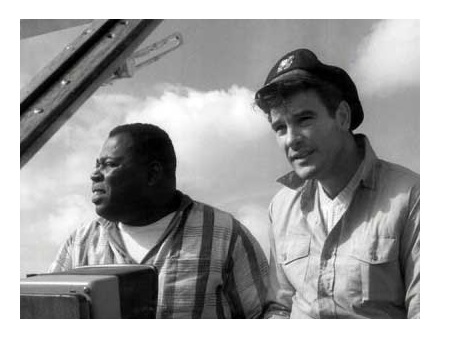 I don't care what you say. Seeing the dogs in shrew costumes is entertaining beyond belief to me. Done later in DEADLY EYES (as they dressed dachshunds up in rat costumes for that one,
reviewed here
), seeing these creatures run around after the actors in this film gives me shivers I can't explain. Something about them being in the same frame with the actors really captures the danger of the beasties. Sure, upon close inspection, it's obvious these are dogs in costumes, but director Ray Kellogg makes these shots quick, making them all the more suggestive and scary as it forces us to put two and two together and if you're in the right mindset, these goofy things are downright scary as they scratch and gnaw their way closer to our heroes. Personally, I think it's a rather ingenious way to make the effects practical and utterly effective.
James Best is amazing as the lead here. He's a no nonsense tough guy with a Southern drawl and a penchant for the drink and the smoke. It's fun watching him fight over the doctor's daughter with drunk coward Jerry Farrell (GUNSMOKE's Ken Curtis). The doctor's daughter herself is a sassy little number played by Ingrid Goude who quickly jumps into Best's masculine arms, which raises the ire of Jerry and adds some human drama among all of this shrew chasing.
Filled with a lot of fun and goofy scenes (the great escape involves some upside down barrels and duck walking to safety), I can't think of a more fun "science gone wrong" film that deserves to be seen by anyone calling themselves a horror fan. This version is short on bells and whistles, but the picture quality is mighty nice.
You can also pick up the double feature of THE KILLER SHREWS and its recent sequel which also stars James Best on its website here
. And check out
my interview with Best about the making of THE KILLER SHREWS here
!
---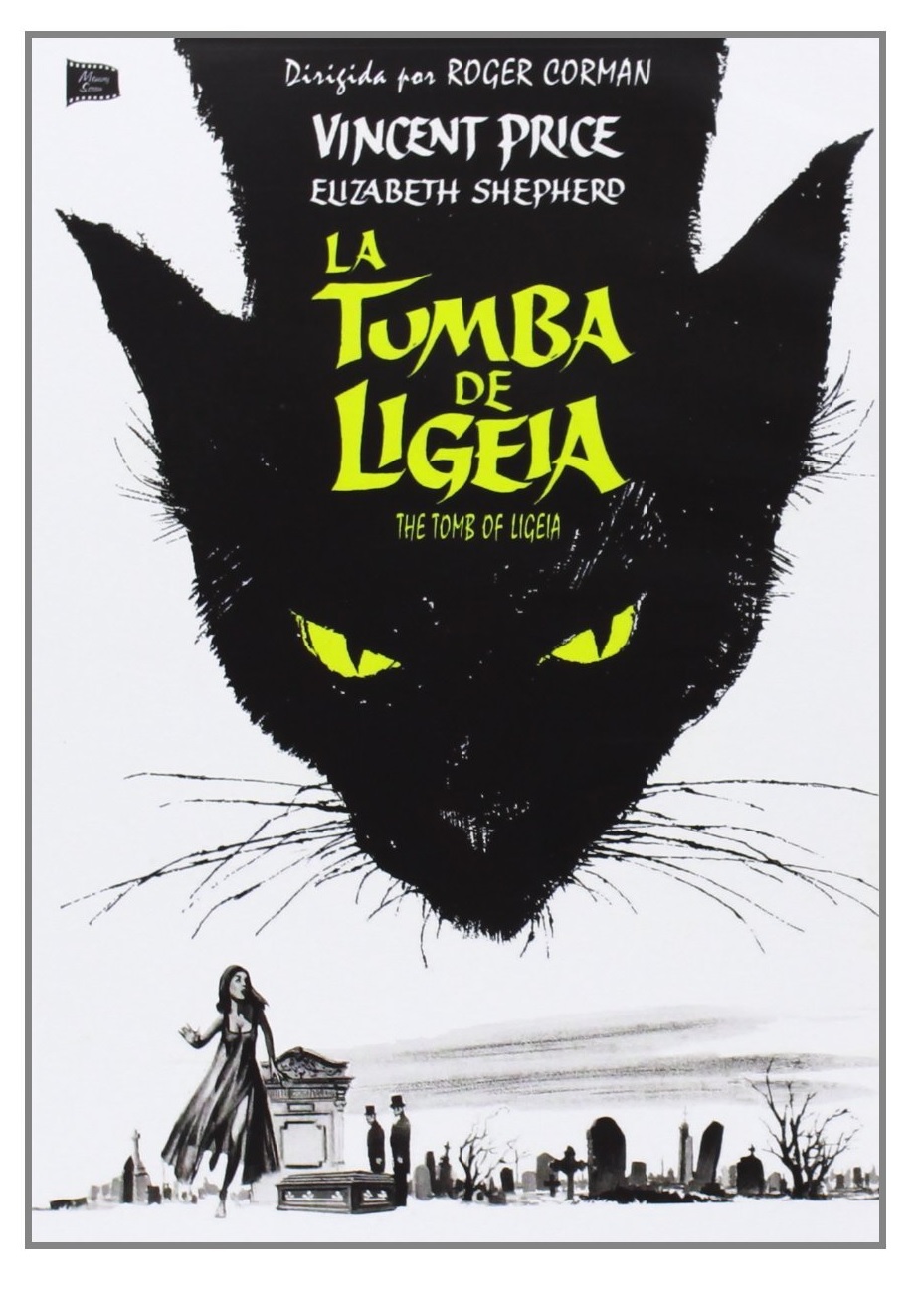 Retro-review: New on BluRay as part of THE VINCENT PRICE COLLECTION II from Shout Factory
THE TOMB OF LIGEIA (1964)
aka HOUSE AT THE END OF THE WORLD, THE LAST TOMB OF LIGEIA, LIGEIA, TOMB OF THE CAT
Directed by Roger Corman
Written by Edgar Allan Poe (short story), Robert Towne (screenplay)
Starring Vincent Price, Elizabeth Shepherd, John Westbrook, Derek Francis, Oliver Johnston, Richard Vernon, Frank Thornton
Retro-reviewed by Ambush Bug
One of the very last Corman Poe adaptations with Vincent Price was THE TOMB OF LIGEIA, which brandishes a lot of Poe themes he often visits, and yet out of all of Price's performances, his role in this film as Verden Fell is by far one of his most complex and diabolical.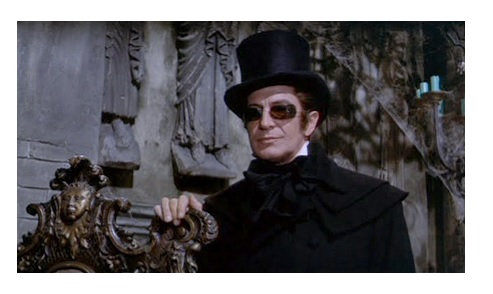 The story opens with a funeral of Fell's wife Ligeia, which is full of all sorts of foreboding details. A black cat follows the procession and rests on Ligeia's grave. The priest protests that Ligeia is not a child of God and therefore cannot be buried in consecrated ground. And what's up with that little window in Ligeia's coffin? And how the hell did her eyes pop open like that?!?
Flash forward a number of years, and Fell still lives in the rundown ruins of the castle with one manservant and a pesky cat hissing about. When a brassy young noblewoman named Rowena (Elizabeth Shepherd ) enters the castle grounds, she is captivated by Fell. Soon the two marry, but Fell and Rowena seem to be haunted by Ligeia's ghost (Ligeia is also played by Shepherd).
As explained in the foreword by Vincent Price himself taken from a PBS special which featured a new Price movie every week hosted by the aged actor looking back and sharing haunting anecdotes about each film, TOMB OF LIGEIA was filmed differently than Corman's previous Poe outings as it was more expansive. Corman soaks in various locales such as the moors, the ruins, English countrysides, and Stonehenge itself. In taking the cameras out of the castle, which often played as if it were a stage play, this film seems much bigger and extravagant than most. And while that claustrophobic feel might be lessened by these distanced scenes, the Poe themes of premature burials and palpable guilt are ever-present.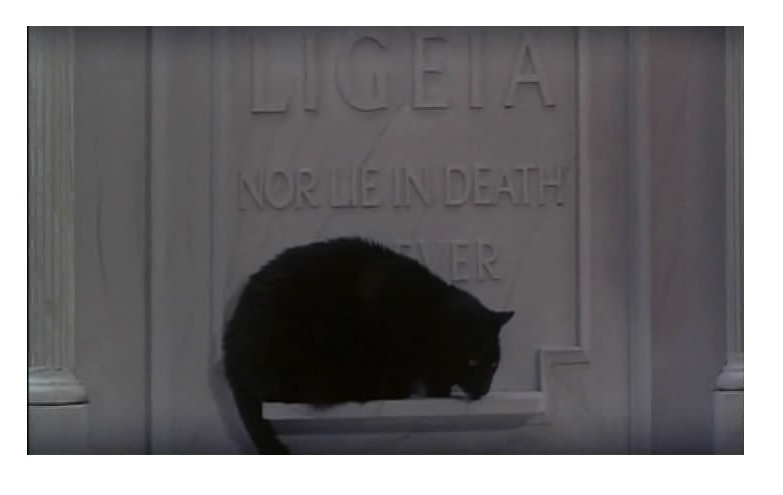 Price seems to be giving it all here, as he always did, as Fell manhandles Shepherd's Rowena quite roughly. Still, she seems to like it as it only makes her fall for him more. Price offers up a great sense of intensity here as a man haunted, and Shephard matches him every time as someone who seems compelled to fall for him. Both play off of each other well, making the whole relationship feel genuine. As Ligeia, Shepard is given little more to do than look dead and ghostly, but still, she does that well here.
There are some truly intense moments in THE TOMB OF LIGEIA throughout the film, be it the scenes in the bell tower or the burning façade of the castle, and while this might be a film that makes the feminists among you wince a bit at the way Rowena is played, Price's performance and the ever-present specter of the cat makes it all feel spookily authentic. Low on special features, the intro and outro of the film hosted by Price make this feel all the more special to have Price talk about the film in his own words. This is yet another fantastic film in this amazing collection of Price's best work.
---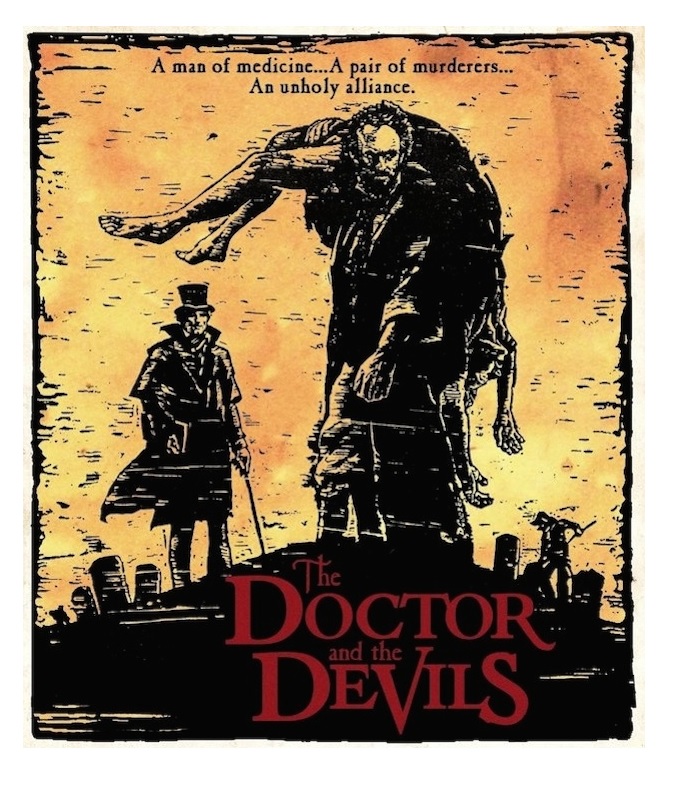 Retro-review: New on BluRay from The Shout Factory!
THE DOCTOR & THE DEVILS (1985)
Directed by Freddie Francis
Written by Dylan Thomas & Ronald Harwood
Starring Timothy Dalton, Jonathan Pryce, Twiggy, Julian Sands, Stephen Rea, Phyllis Logan, Lewis Fiander, Beryl Reid, T.P. McKenna, Patrick Stewart, Siân Phillips, Philip Davis, Philip Jackson, Danny Schiller, Bruce Green
Retro-reviewed by Ambush Bug
While the story is a bit bland and predictable, you can't beat this cast, which makes THE DOCTOR & THE DEVILS definitely worth taking a chance on.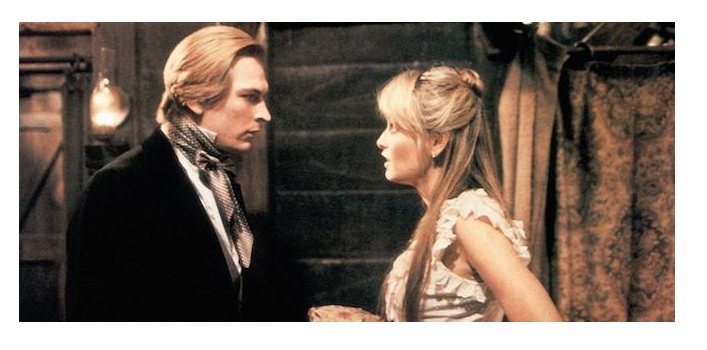 I've seen a ton of films in my day, so when an oldie comes along that I haven't seen I usually take notice and that's what I did with THE DOCTOR & THE DEVILS, a grave-robbing and doctoring tale not unlike the similarly themed BURKE & HARE. The film feels very Hammer-ish, with large gothic sets, English folk screaming and splashing ale onto each other, and puffy shirts galore. There's also that Hammer-ish pitch black theme as this one swipes a bit from the God complex suffered by Dr. Frankenstein and elaborates on the Igor character's role to supply the bodies. Timothy Dalton plays the esteemed Dr. Rock, lector at the local college of anatomy and high-class surgeon. Not satisfied with the quality of the cadavers he receives at the school, in the name of science Rock enlists gravediggers to dig up freshly buried corpses and pays top dollar for their illegal deeds. Witnessing one such grave robbery, two miscreants by the name of Fallon and Broom (Jonathan Pryce and Stephen Rea) decide to one up the robbers and opt to sell the freshest cadavers possible to the doctor by robbing and killing random folks in the back streets and alleys. Meanwhile, a young doctor named Murray (Julian Sands) falls for a prostitute with a heart of gold named Jennie (Twiggy) whose occupation puts her directly in the sights of Fallon and Broom. Also meanwhile, another professor at the school (Patrick Stewart) is appalled by Rock's endeavors and sets to crack the whole cadaver controversy wide open.
There are a lot of characters at play here, but because these guys are all notable stars today, it's never difficult to follow it all. And while there are some fascinating themes at play here in terms of the lofty aspirations of doctors, the main conflict is how Fallon and Broom can kill enough folks to keep their coin purses full, as they have a tendency to drink and bet their earnings away as soon as they get them. If anything feels as if it is receiving the short end of the attention stick it's the love story between Murray and Jennie as Jennie fits into the plot, but not until the predictable final act threat. I'd complain about that, but it's just too damn much fun to see Pryce and Rea live it up here.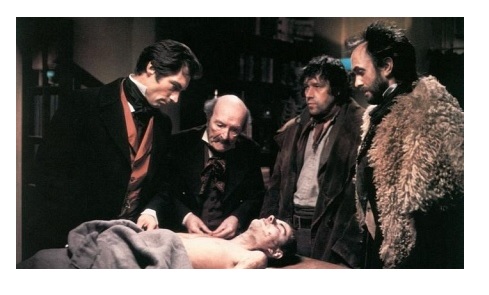 Pryce and Rea are fantastic as the grave robbers. Their descent from harmless regulars at a bar to murderous monsters is believably realized here as both show nuanced changes to the characters as they get swirled into this devilish story. Pryce in particular is fascinating to watch as right up until the end of the film, he blames everything else for his problems and while he starts out as the more endearing of the two, the monster he becomes is definitely the worst of the two. Dalton delivers his role with the dignity it deserves, stating that in order for advances in medicine to occur, rules must be broken. This easily could have been a hammy motto but Dalton sells it. And while the film attempts to give Twiggy the spotlight (she even gets to sing a song in a pub which stops everyone in their tracks to listen to), she is by far the weakest warrior in the acting army this film recruited.
This one's not bloody or necessarily scary, but THE DOCTOR & THE DEVILS deals with dark, dark themes both sophisticated and most base. If you're looking for some grit and grime in the style of the old Hammer films, THE DOCTOR & THE DEVILS is a nice change from modern slashers, zombie post-apocalyptos and found footagers.
---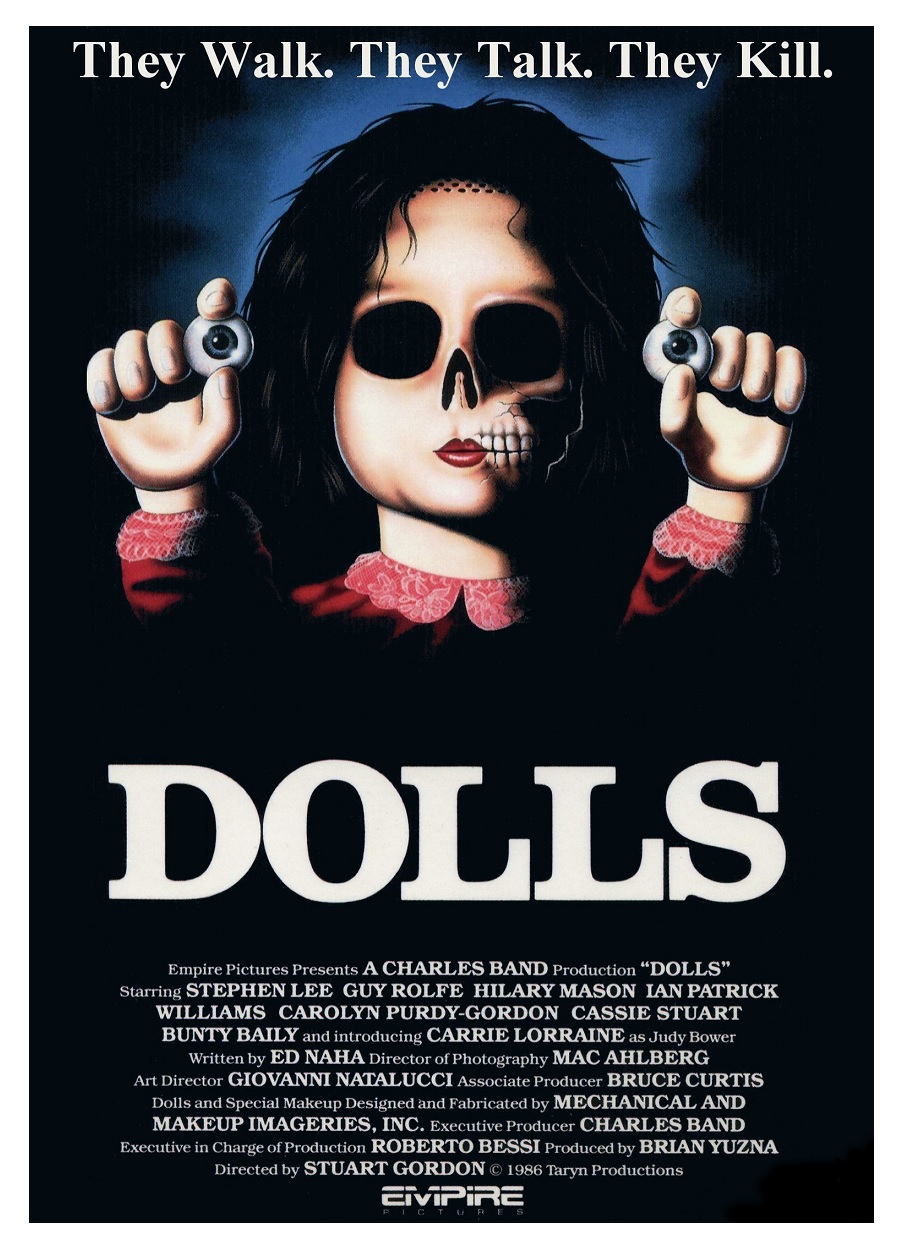 Retro-review: New this week on BluRay from The Shout Factory!
DOLLS (1987)
aka THE DOLL
Directed by Stuart Gordon
Written by Ed Naha
Starring Ian Patrick Williams, Carolyn Purdy-Gordon, Carrie Lorraine, Guy Rolfe, Hilary Mason, Bunty Bailey, Cassie Stuart, Stephen Lee
Retro-reviewed by Ambush Bug
From the folks who brought you FROM BEYOND and RE-ANIMATOR comes something a little less Lovecraftian, but still pretty effective. While DOLLS is steeped in 80s horror movie clichés, it is also downright creepy from start to finish and while it doesn't really stand up against the perfect storm that is RE-ANIMATOR or even the oddity that is FROM BEYOND, DOLLS still packs a punch worthy of recognition.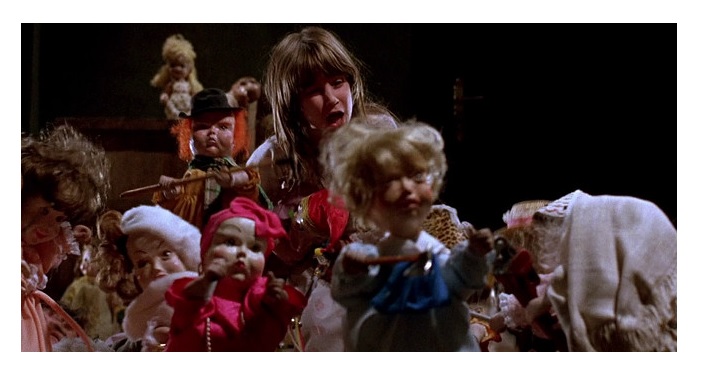 Released at the apex of awesome for Charles Band's Empire Releasing, DOLLS opens with a dysfunctional family of three passing up a pair of punk rock hitchhikers and then breaking down conveniently in front of an old gothic mansion. Inside the car, snippy bitch Judy (played acidically by Carolyn Purdy-Gordon) does her best stab at an evil stepmother sniping at poor little Judy (Carrie Lorraine) in the backseat as her spineless husband and Judy's father David (Ian Patrick Williams) snivel in the front seat. Immediately, we are to hate this couple and they do a fine job of making it so by yelling at Judy and then tossing her favorite teddy bear into the bushes. After a pretty amazing dream sequence where teddy gets his revenge on her parent, Judy is led to the mansion where the trio is to stay for the night. At the door of the mansion is the seemingly harmless Gabriel and Hillary Hardwicke (Guy Rolfe & Hilary Mason), who show the family to their own rooms, but not before the two punk girls show up as well as our unlikely hero, Ralph (Stephen Lee), a chubby but lovable man-child who has a sot spot for Judy having to put up with her shit-ass parents. About the entire mansion are tons and tons of dolls, and no one really seems to find this odd until they begin to stand up and attack folks when they are alone. Soon, only a few are left to find out the secret of the Hardwickes and their murderous doll collection.
Much like clowns, dolls can be very frightening due to their painted-on faces, especially when they are antiquated and worn down by use and time. Director Stuart Gordon knows this as many a scene is dedicated to focusing on their blank stares, dirty faces, and creepy painted-on smiles. Toss in a little stop motion animation and these dolls are damn spooky. And while a modern version of his tale would likely use CG for much cleaner movement, there's something about the stop motion articulation that gives it all a much more effective chill factor. Gordon uses this in some extremely well choreographed scenes of murderous doll mayhem ranging from an amazing full-on attack with dolls with razor blades to a firing squad of toy soldiers to one victim turning into a life-sized doll holding her bloody eyes outside of her seeping eyeholes. And while the body horror isn't as potent as RE-ANIMATOR, FROM BEYOND, and SOCIETY, the kills definitely are creative to the max.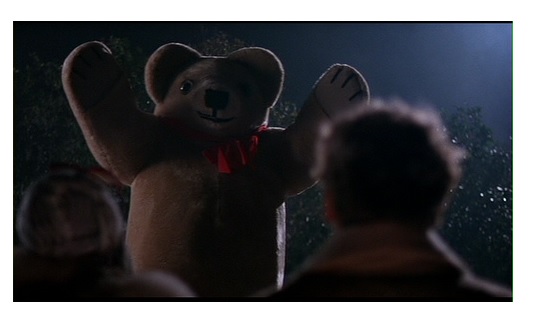 Stephen Lee has been in a ton of films from THE NEGOTIATOR to WAR GAMES, but he really gets to shine in this film as Ralph, the guy all of us geeks can relate to. He has an appreciation for toys, and is definitely more at home playing with Judy than interacting with the asshole adults in this film. Lee is likable in the role, even though some of his reactions to the horror make it feel like he channeling Lou Costello. And while a lot of the humor falls flat, Lee fills the void in the heart department left by these evil adults.
This new BluRay version of DOLLS is loaded with some fantastic special features. There's a new documentary about the making of the film which offers up interviews with Gordon, the cast, and the department behind all of the amazing effects. There's also commentary tracks from Gordon, writer Ed Naha, and some of the other cast, plus a storyboard to film comparison and the usual trailers and TV spots. Though this is a bit of an outlier in director Stuart Gordon's resume in terms of dealing with more fairy tale elements compared to the stuff he is most famous for, DOLLS proves that no matter what the sub-genre, he is a master at his horrific craft.
---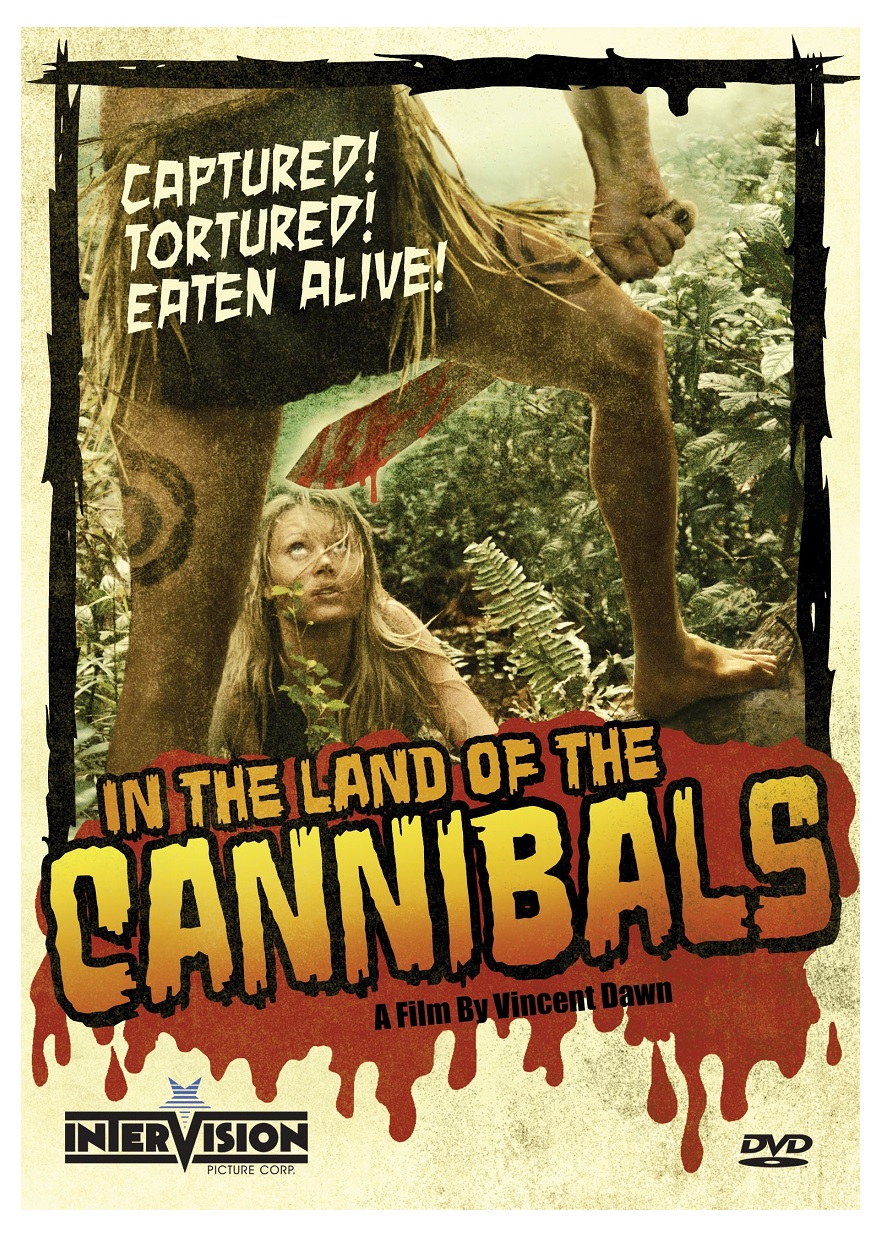 Retro-review: New this week on DVD from Severin/Intervision!
IN THE LAND OF THE CANNIBALS (2004)
aka LAND OF DEATH, CANNIBAL FEROX 3, CANNIBAL OF DEATH, HORROR CANNIBAL 1, CANNIBAL VS COMMANDO
Directed by Bruno Mattei (as Martin Miller)
Written by Bruno Mattei, Giovanni Paolucci
Starring Claudio Morales, Lou Randall, Cindy Jelic Matic, Ydalia Suarez, Silvio Jimenez, Sanit Larrauri, Kenny Krall
Retro-reviewed by Ambush Bug
Not that xenophobia started there, but the rise of cannibal films in the Seventies and through the Eighties certainly didn't help things in terms of dissipating "civilized" culture's fear of the other. For just a few bucks and maybe some cases of liquor or cigarettes, filmmakers convinced tribes to let them "document" doing tribal rituals, then convincing them to chew on fake human meat in order to convince the viewer that they were vicious cannibals. Yes, this was done to some effect in CANNIBAL HOLOCAUST, the godfather of cannibal films, but the number of cannibal films that preceded and followed the film are too abundant to count. Still, this type of film fascinates me, as do sasquatch films and clown films, as it really does delve into primal fears of the other. Some of them are effective (like CANNIBAL HOLOCAUST), and then we have IN THE LAND OF CANNIBALS aka LAND OF DEATH aka CANNIBAL FEROX 3 aka CANNIBAL VS COMMANDO.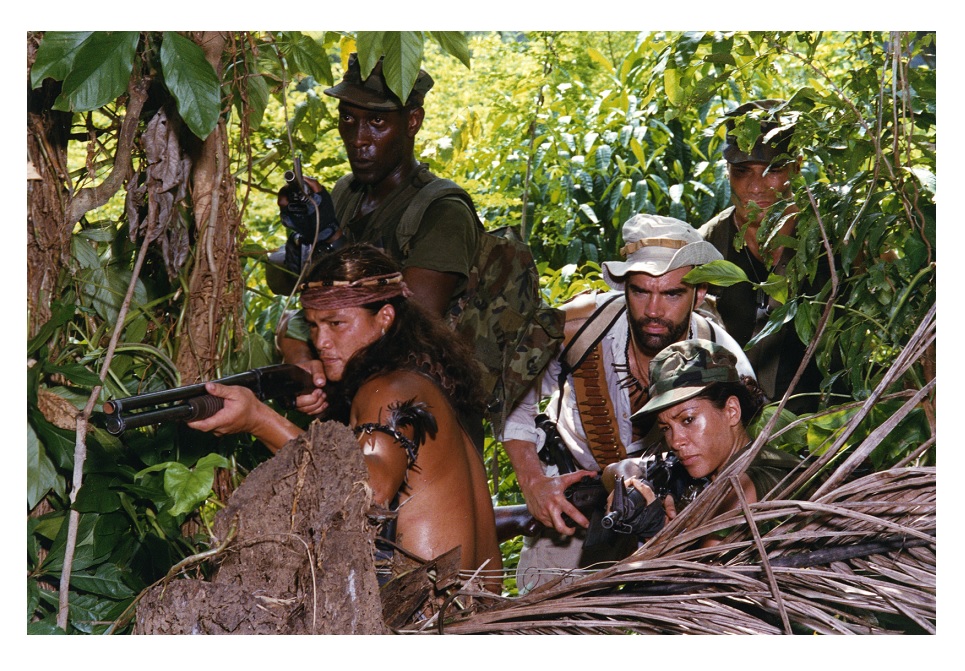 Though the story is often the same in these, I'll whiz past this one since the filmmakers didn't find it necessary to have much of one anyway. A group of mercenaries are hired to suit up and touch down in the heart of an unnamed jungle to rescue a white woman from the cannibalistic savages who are worshipping her as a fertility goddess. Beat for beat, this is pretty much a remake of PREDATOR with the cannibals substituting the role of the alien. A version of "I ain't got time to bleed" is even used during one of the battle scenes. And while the story does take the time to zoom in on how wicked and evil this foreign tribe is, I found the clichéd lines coming from the even more clichéd characters to be much more horrifying.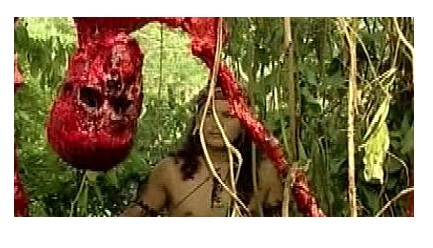 All of this xenophobia would have been seen as the norm had this film been made in less sympathetic times of the 70s and 80s, but this film was only made a decade ago! Knowing that this type of film is still being made is what really disturbs me.
Aside from the cannibals chomping on some bloody meat and some red painted skeletons hanging upside down (another swipe from PREDATOR), this one is surprisingly low on gore, which is usually one of the draws of these cannibal films. This one is too much overflowing with macho clichés to be bothered with no namby-pamby fake blood and gore. Instead we get attempts at being clever by having some of the characters named after Hollywood icons like Cameron, Krueger, and Romero. Sure this can be seen as Mattei's love song to 80s action films, but at least change something up to make it feel somewhat different.
The action movie clichés make IN THE LAND OF THE CANNIBALS worth watching if you're looking for a movie to shred whilst drinking with friends. See it otherwise and you're bound to be bored.
I have no idea what this trailer is saying…but it's awesome.
---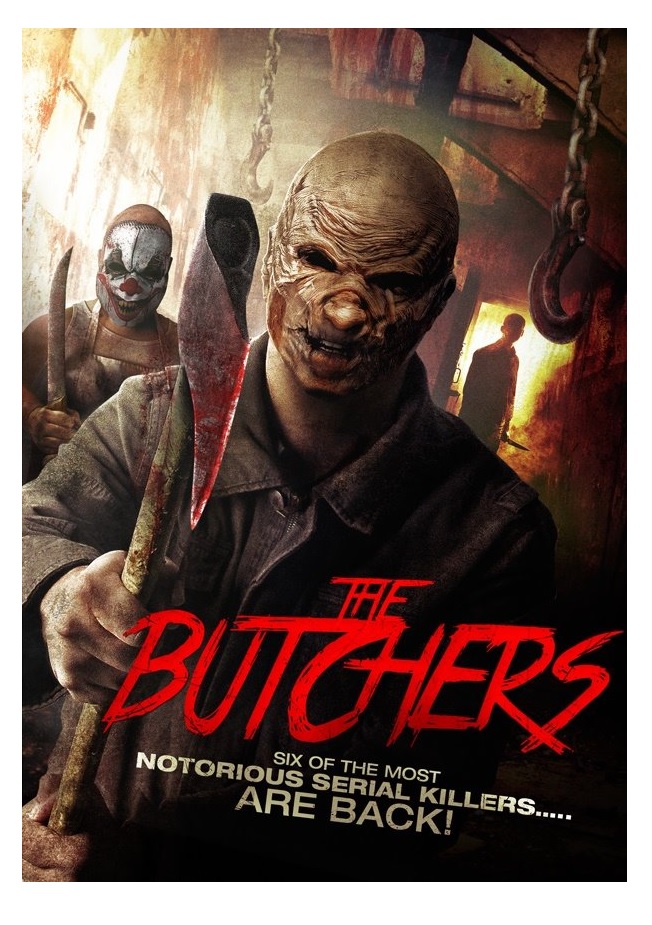 New this week on DVD and On Demand from Uncork'd Entertainment!
THE BUTCHERS (2014)
aka DEATH FACTORY
Directed by Steven Judd
Written by Stephen Durham, David McClellan
Starring Semi Anthony, Damien Puckler, Randall Bosley, Cameron Bowen, Braxton Davis, Mara Hall, Jacob Hobbs, Tonya Kay, Christy Keller, Charito Mertz, Milly Sanders, Jeremy Thorsen, Ire Wardlaw, Rick Williamson as Albert Fish, Hawk Walts as John Wayne Gacy, Mary LeGault as the Ripper, Marion Kopf as Jeffrey Dahmer, Gary Kasper as Ed Gein, and John C. Epperson as the Zodiac
Find out more about this film on Facebook here
Reviewed by Ambush Bug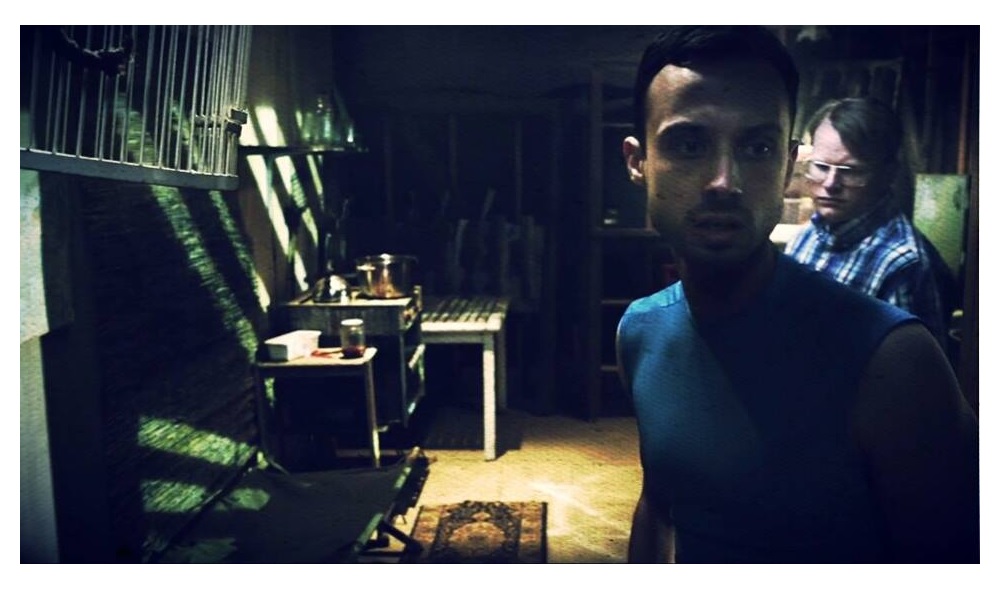 This is the type of film I would have loved as a kid. I was ghoulish. I liked the macabre, and I enjoyed reading up on things like sideshows and serial killers. I still do kind of, but at the same time, as I've learned more about the sideshow industry, it's clear the degradation of the soul these performers underwent in order to provide this entertainment. In the same sense, as I have grown older and more conscious of the rest of the world, making a film about a real life serial killer, especially when family and friends of the victims are still alive, just doesn't sit well with me. At the same time, there is a part of me that thinks it's kind of cool to have an AVENGERS/MONSTER MASH style film featuring the most infamous serial killers all at once.
The problem is, this film doesn't really do that. Now, I'm no expert, but I know a little about the most notorious of the serial killers and for the most part the description is the same: meticulous, outcast, shy, boy next door type, and the last person one would think would be a serial killer. There's a reason this cliché exists—it's because so many serial killers fit that description. So grouping them all together isn't going to be as interesting as one probably might think. Of course, in order to make things interesting, this film makes these serial killers, aside from some clichéd looks (like the checkered shirt and thick glasses look for Dahmer, the clown makeup for Gacy, and the mask for Zodiac), just act like asshole berserkers. It's even mentioned that these serial killers aren't really acting like themselves to cover up this fact, but then, why use real serial killers in the first place then?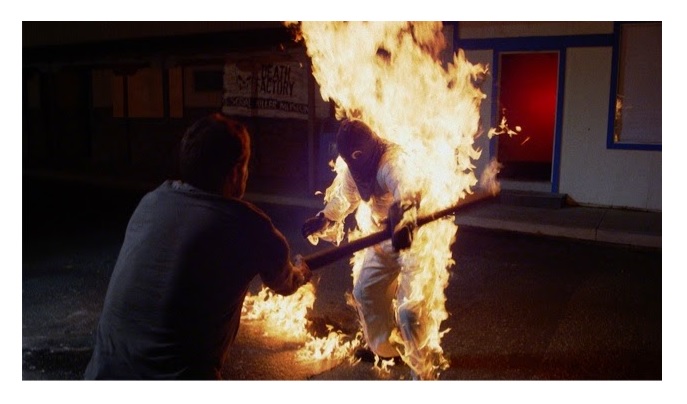 The story follows a roadside serial killer museum being taken over by some kind of voodoo shaman and resurrecting five of the worst serial killers ever just in time for a group of vacationing kids to happen upon the museum. There's a decent body count, the kills are ok, and the effects are almost fun, but still, I couldn't shake the missed opportunity of really doing a little research and writing a story that combines these diabolical characters into an interesting story. But hey, I'm probably expecting too much.
As it is, THE BUTCHERS is a pretty standard stalk and slash film with a bunch of monsters that try to convince you that they are authentic replications of serial killers. There's a decent amount of blood, some boobs, and some voodoo magic. I've seen worse, but THE BUTCHERS could have been so much more.
---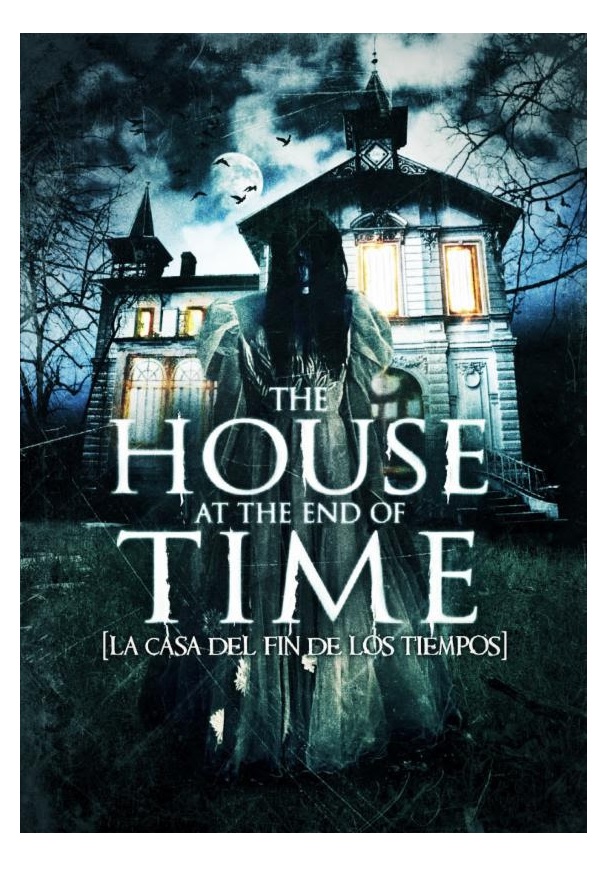 New this week on DVD from Dark Sky Films!
THE HOUSE AT THE END OF TIME (2013)
aka THE HOUSE OF THE END TIMES
Directed by Alejandro Hidalgo
Written by Alejandro Hidalgo
Starring Ruddy Rodríguez, Rosmel Bustamante, Adriana Calzadilla, Simona Chirinos, Gonzalo Cubero, Alexander Da Silva, Miguel Flores, Guillermo García, Amanda Key, José León, Guillermo Londoño, Héctor Mercado, Yucemar Morales, Efraín Romero
Find out more about this film here and on Facebook here
Reviewed by Ambush Bug
Joining the list of heart-wrenching yet powerfully scary Spanish ghost stories like THE ORPHANAGE, THE DEVIL'S BACKBONE, and PAN'S LABYRINTH is THE HOUSE AT THE END OF TIME, a story that touched me deeper than any American horror film has done in quite a while. Focusing on the power of a mother's love, this story takes complex elements and simplifies them by adhering to powerful characterization and emotion.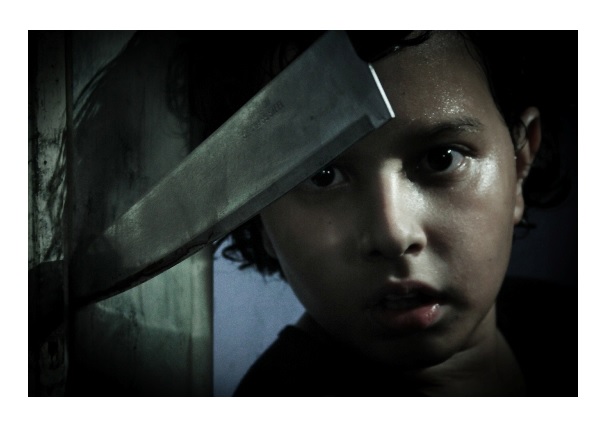 Ruddy Rodríguez is outstanding as Dolce, a burdened mother of two young energetic boys and wife to a lazy husband. Still, she manages to put up with all of them in the rundown and cavernous home they live in. The film opens at what looks like a climax to a previous film that was never made in mid-action as Dolce wanders around in the dark looking up and down stairwells for her family. As she approaches one of her boys, he is pulled back into the darkness by some kind of mystical force and she screams. Fast forward a bit and Dolce is accused of murdering her husband and family, though the bodies of her sons are not found. After a bit, we fast forward again as Dolce is released from prison and returns to her home only to find that despite the large amount of time in the slammer, the house remains haunted with some kind of otherworldly power. The rest of the film has Dolce investigating what really happened that night as she still attests that she is innocent.
Playing around with what happened and when, THE HOUSE AT THE END OF TIME could easily prove tough to understand to those who don't like to pay close attention to their films. But given that this is a Spanish film (and thought I took four semesters of Spanish, I still can't understand a lick of it), I was forced to watch this one closely in order to understand what was happening. Not everyone has that attention span, so I'm sure until the third act when all of the pieces start fitting together, some people may have already checked out. I was intrigued throughout as this film takes its time introducing you to the family, their conflicts, and their struggles, all the while peppering in some pretty inventive and simple scenes of pure bump-in-the-night goodness. Without the use of CG or really any kind of practical effects other than creative lighting and fantastically electric camerawork, this film does what 10 Hollywood horror films attempt and fail to do.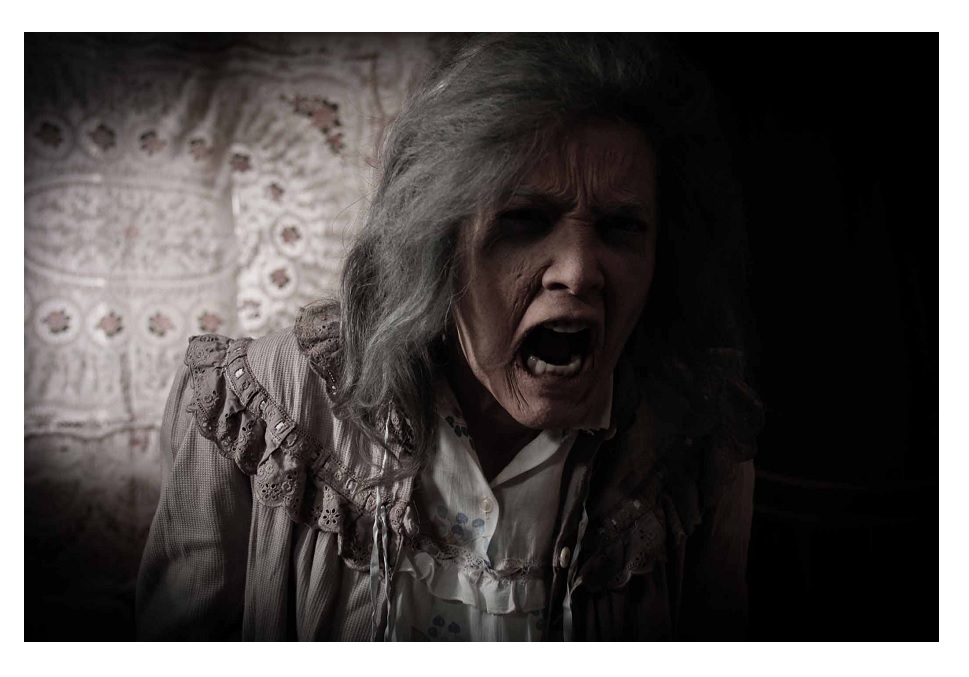 But what impressed me most is how the ending comes together so eloquently and ingeniously. While it should have been evident as to what was happening, when things start clicking together and making sense, this is one of those amazing ah-ha moments that really took me back. To have the lead up to the climax be so effectively haunting, I wasn't prepared for how emotionally impactful the whole thing is by the end.
If you're looking for a powerful ghost story that is striking in its simplicity in scares and handling of human emotion, THE HOUSE AT THE END OF TIME is one that delivers both with a skill and grace that few other horror films have done this year. Sure there are things that will make you shiver and scream here, but the emotion this one will bring out of you will make the horrors endured in this film all the more harrowing.
---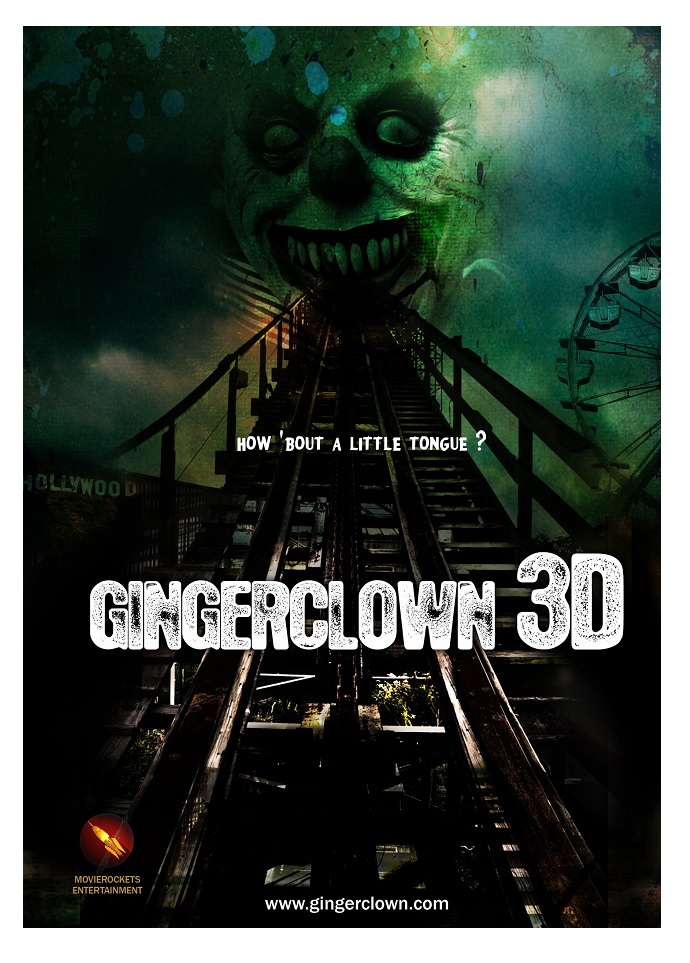 New this week on DVD from Lionsgate!
GINGERCLOWN (2013)
Directed by Balázs Hatvani
Written by Balázs Hatvani
Starring Ashley Lloyd, Erin Hayes, Tim Curry, Lance Henriksen, Michael Winslow, Brad Dourif, Sean Young, Michael Cannell-Griffiths, András Koloszár, Joshua Brownwood, Nelson Matthews, Andrew Montesi
Find out more about this film here and on Facebook here
Reviewed by Ambush Bug
Man, some films…some films are just painful. I can appreciate what Hungarian writer/director Balázs Hatvani attempts to do with GINGERCLOWN. Incorporating talking puppets with a throwback style film that takes place in the 80s is just crazy enough to work in theory, but unfortunately if fails on many, many levels in execution.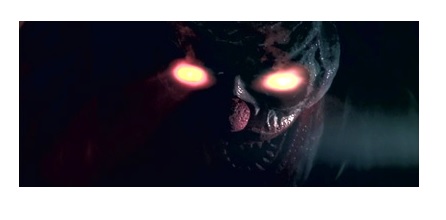 The film opens on the darkest night of 1983, but for some reason everyone is dressed as if they are in the 50s driving old timey convertible cars. The threadbare plot involves a bully named Biff (very original) daring a nerd named Sam who has a crush on Biff's girlfriend Jenny to spend the night in an abandoned and rumored to be haunted amusement park. For some reason, Sam takes the dare and on another inexplicable note, Jenny follows him. Once inside, for another inexplicable reason, the park in fact proves to be haunted by demonic creatures. For the rest of the film, Sam, Jenny, and Biff (who decides to follow his girlfriend into the park, which is the only understandable motivation of the entire film) run from one slow-moving, badly articulated monster to the next.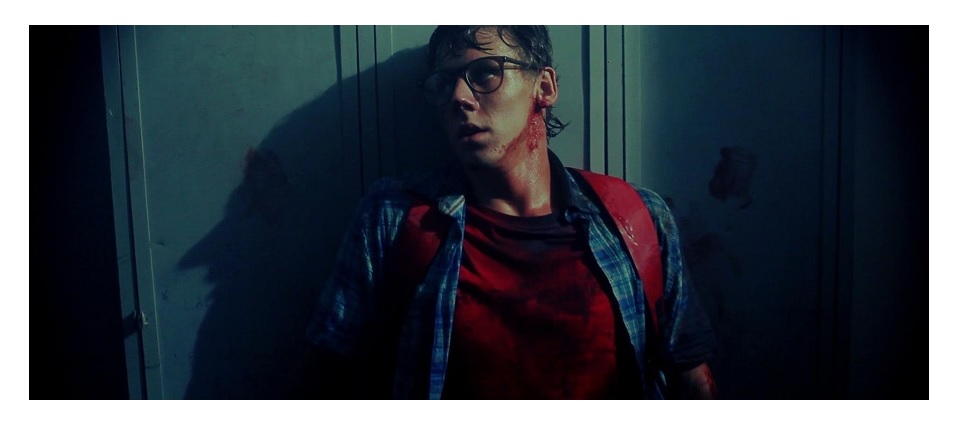 The main thing wrong with GINGERCLOWN lies in the script and story department, as this film practically has none. Sure there's an impetus prompting our characters to enter this amusement park from hell, but once inside, it's just one scene threaded through to the next with no rhyme or reason. There's no explanation as to why these monsters exist--just hokey dialog. And while the clichéd dialog from the human actors are hard to sit through, sitting through the awful attempts at humor that respectable actors like Lance Henricksen, Tim Curry, Sean Young, and Brad Dourif collected a paycheck to spout is downright painful. What is an even bigger shame is that the film amassed such a talented voice cast and gave them nothing to work with (sometimes garbling up the voices so much that they are unrecognizable). Someone needs to let Balázs Hatvani that simply swearing to be swearing isn't really all that funny and injecting horrible jokes and even more painful references to 80s pop culture is even more wince-inducing. At its heart, the film tries to be a "nerd gets the girl" story, but the stiff acting and horrible way the obviously non-American actors try their damndest to cover up their accents to speak English make it all the less effective. In the end, we are being led through this film for no reason, encountering one unfunny character after another trying their hardest to be cool or make us laugh, achieving neither.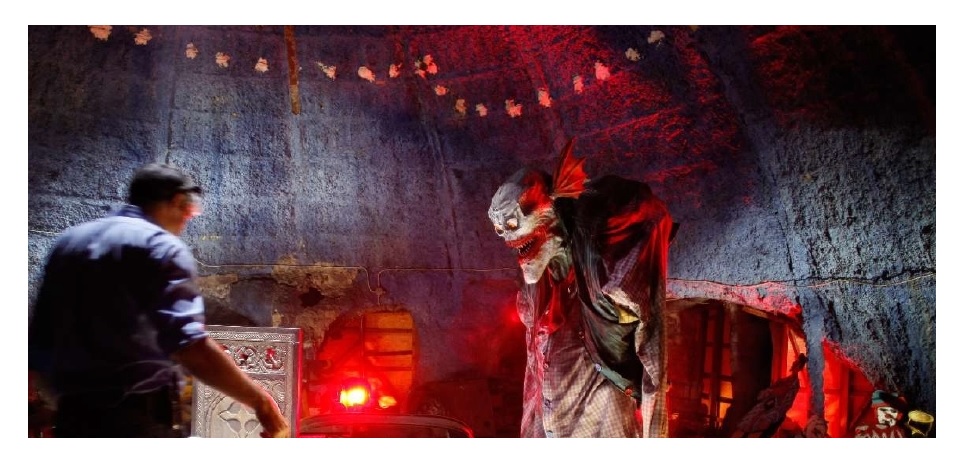 On top of all of that, the effects are absolutely horrible. The monster puppet angle has been tried with amazing success in films like
MEET THE FEEBLES
and
PUPPET MONSTER MASSACRE
, but here there seems to be no understanding of how puppetry works. These bulky monstrosities can barely move and even if they could, Hatvani keeps things so dark and dismal that we can't even see the puppets through the grimy and ill placed lens. Sure one could say that the director was aware of how bad the creatures looked and chose not to show much to cover up how bad they look, but that can only account for so much and there are some shots where the shoddiness of the puppets with bad mouth articulation are in plain view that contradict that theory.
I usually don't say this, but avoid this film at all costs. Sure the atmosphere of the closed down amusement park is decent, but without a story, without a motivation, and without monsters that move, let alone scare, GINGERCLOWN is a tough pill to swallow.
---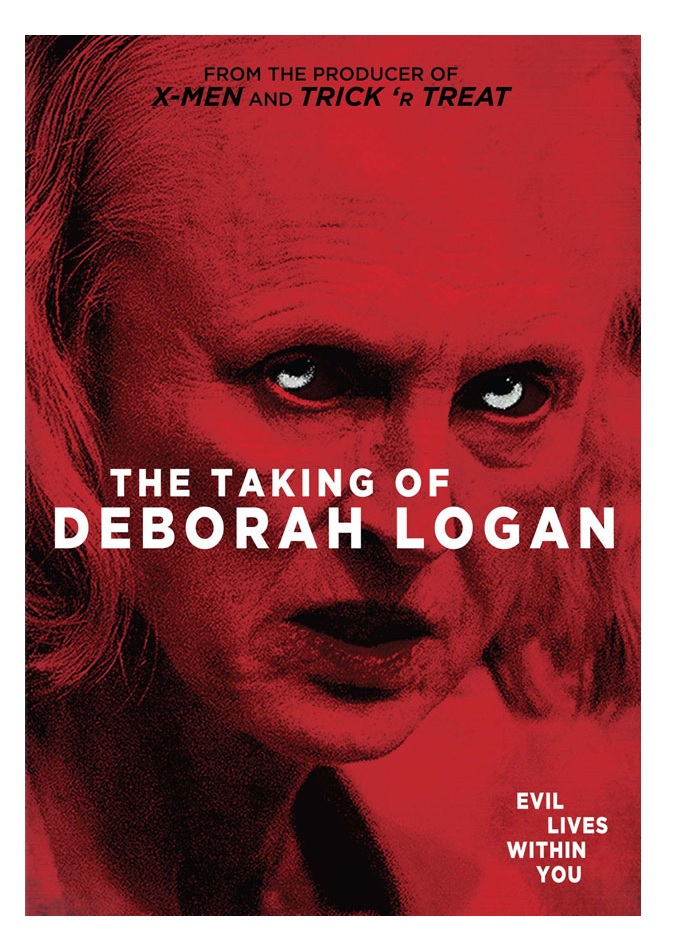 New this week on DVD and iTunes from Millenium Entertainment!
THE TAKING OF DEBORAH LOGAN (2014)
aka THE TAKING
Directed by Adam Robitel
Written by Gavin Heffernan, Adam Robitel
Starring Jill Larson, Anne Ramsay, Michelle Ang, Ryan Cutrona, Anne Bedian, Brett Gentile, Jeremy DeCarlos, Tonya Bludsworth, Julianne Taylor
Find out more about this film on Facebook here
Reviewed by Ambush Bug
Full disclosure time: old people scare the shit out of me. Sure it's probably my own reluctance to accept the fact that I myself am getting older and that my own mortality is much more apparent on a daily basis these days, but still, there's something about old people that creep me the hell out more than any clown, serial killer, or sasquatch.
And maybe that's why I found THE TAKING OF DEBORAH LOGAN so fascinating and frightening. The film is a mockumentary of sorts about an attempt to make a documentary about a woman suffering from Alzheimer's disease, focusing on one patient named Deborah Logan (Jill Larson) as she battles the disease every day and following the degeneration as it destroys her mind and body. Not a very chipper subject, I know, but it does approach this horror from a standpoint that feels pretty genuine and definitely new. While the fear of disease is often the subject of horror films, I don't remember one dealing with Alzheimer's, so this one gets points from me for originality.
It also feels real, something that is a lot tougher than most would think with a found footager such as this. Acting like you're not acting is one thing, but acting in a naturalistic manner that makes one believe the footage being shot is real and documentarian, that's another issue altogether. Here, the reactions from the documentary reporter Mia (Michelle Ang) and her camera crew Gavin (Brett Gentile) and Luis (Jeremy DeCarlos) feel genuine, as they clearly break their code of silence by stating that they didn't sign up for the wacked out shit that begins to happen during this documentary. Gentile especially gets points for his convincing yet self-serving performance as the guy who can only take so much.
Points for acting also have to be given to the actress playing the title character, Jill Larson. This is a bold performance by the actress who isn't afraid to get dirty and scary, going to unglamorous places most actresses of her age would fear to tread. DEXTER's Anne Ramsay plays Deborah's daughter Sarah with a lot of nuance as well. Sure she could have played the one-note grieving daughter, but instead she gives a layered portrayal of someone forced to watch a loved one wither away.
And things do get rather wacky. I don't think it'll be a spoiler to say this is not your typical Alzheimer's case the crew is filming. There's a deep dark history at play here and as the mystery comes to light, it gets all the more dire and creepy. Moreso than any other found footage film, though, director Adam Robitel does a fantastic job of manipulating the camera and the direction of the story. Using pitch blackness, flashes of light, and unintentional catches on the camera, Robitel is able to make it all feel real and not staged. Never is there a time when the camera falls at the right place to capture something, and even though things get a bit shaky, it seems to be done so with intent rather than just typical shaky cam chaos.
For some reason, all of the attempts at horror hit me with this film. Occasionally there are some cheats here and there. Some musical beats are added to make some of the reveals more impactful and multiple types of cameras are used. But the beginning of the film says this film was put together through doc footage, stock footage, and security cam shots, so it kind of covers its tracks and makes it all more acceptable. If you're looking for a found footage film done right, I think THE TAKING OF DEBORAH LOGAN does more things right than most. Sure, this isn't going to change the minds of those who automatically dismiss a film for being first person POV, but it definitely ranks as one of the most effective entries in this popular subgenre.
---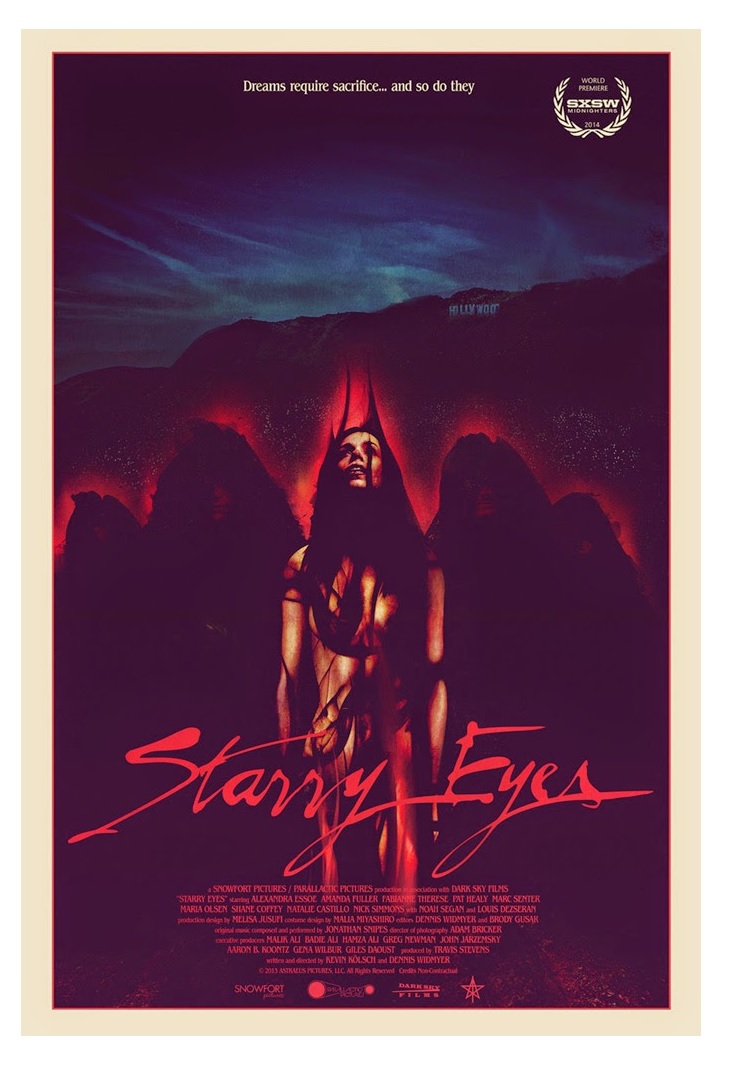 New this week on iTunes, On Demand, and in select theaters Dark Sky Films!
STARRY EYES (2014)
Directed by Kevin Kolsch, Dennis Widmyer
Written by Kevin Kolsch, Dennis Widmyer
Starring Alex Essoe, Amanda Fuller, Noah Segan, Fabianne Therese, Shane Coffey, Natalie Castillo, Pat Healy, Nick Simmons, Maria Olsen, Marc Senter, Louis Dezseran, Danny Minnick
Find out more about this film here and on Facebook here
Reviewed by Ambush Bug
The best horror films I can think of take a speck of the real world and tweak it to horrific lengths. That's what STARRY EYES does--a bleak and twisted, albeit not so inaccurate, comment on the state of Hollywood and our dreams of stardom and fame.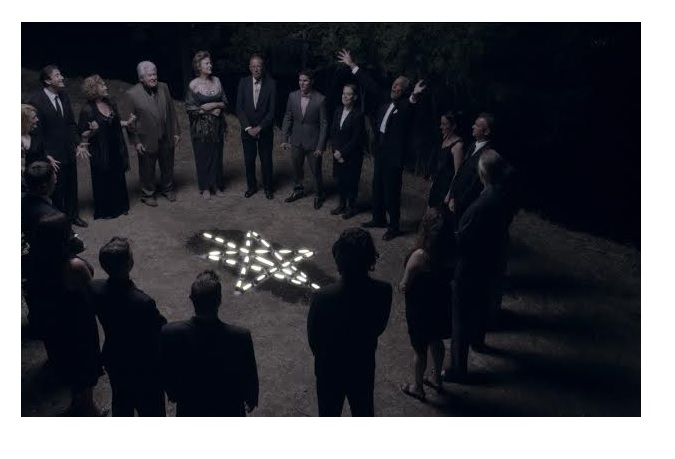 Alex Essoe offers up an ironically star-making performance as Sarah, a waitress at a Hooters knockoff restaurant (managed by the always awesome Pat Healy) who dreams of becoming a star and is annoyed by her friends who also dream of stardom. After bombing yet another audition, Sarah has a breakdown in the women's bathroom screaming and tearing her hair out by the roots. Unbeknownst to her, the casting agent is in the bathroom and witnesses the freak out and sees something in Sarah she did not convey in her audition. Asking her to audition again, we see how this girl we want to root for is really pretty unhinged as she freaks out in front of both casting agents, impressing them with her guttural and primal tantrum. This opens the door to stardom for Sarah, but with that stardom, of course, comes a price.
The standout of the film for me was Essoe's performance. At first, I was drawn into Sarah's plight. Having to wear skimpy clothing and serve fatty foods to mouth-breathing customers is something we think she has too much talent for. But after the freak out and as she progresses up the ladder to possible stardom, a darker and less likable side comes out and it is brave for this story and this actress to show it. While it's subtle at first, as Sarah chuckles when a friend slips and falls, breaking her nose, this cruel streak grows and grows to gargantuan proportions as the film makes a comment that in order to become a star, all forms of humanity and soul must be left behind. What proceeds is not a comfortable film, but it is rich in subtext on how much you are willing to give in order to achieve a dream.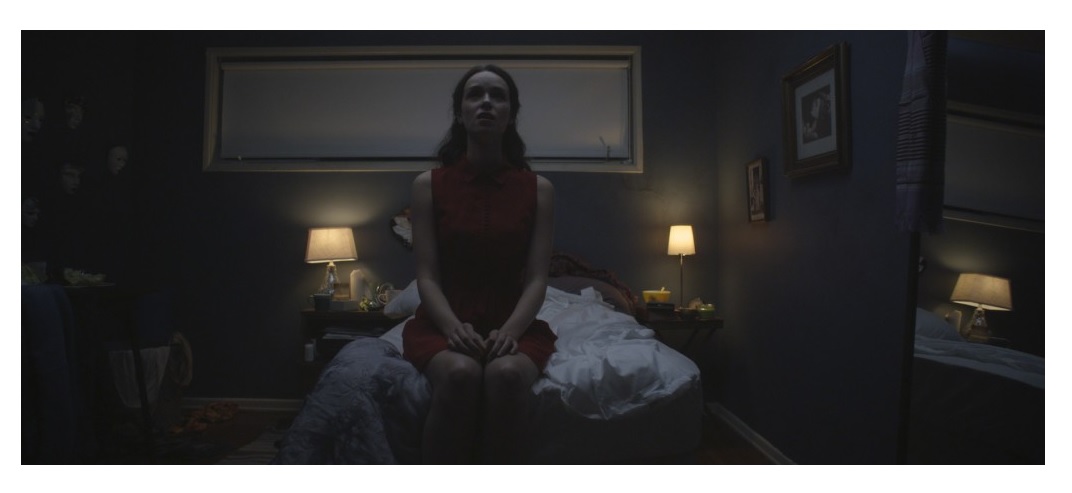 If there's a criticism I have for STARRY EYES is that it's coming out late in the game in terms of movies focusing on painful and awful transformation. Films like
THANATOMORPHOSE
and
CONTRACTED
were notable last year as both being very effective in depicting the deterioration of one person because of the lifestyle they were leading. In those films, the ugliness inside of them seemed to come out and visibly be seen as the movie progresses. This similar theme occurs with STARRY EYES as the latter half of the film depicts Essoe writhing and squirming in pain as whatever is happening to her after her "audition" seems to be changing her from the inside out. Only because I had seen two very effective films already this year depicting practically the same thing did these scenes lose the intended gross-out effect it was going for. But since some of you haven't seen THANATOMORPHOSE or CONTRACTED, this may not be an issue for you.
The ending of STARRY EYES is bombastic, graphic, and poetic all at once. Kolsch and Widmyer highlight the ugliness and beauty of superstar aspirations evenly and all at once. And while STARRY EYES might not be a great film to watch if you have dreams to make it big one day, it is an entertaining and harrowing film that is very difficult to shake after viewing. Strong performances, a great ear for music, and a well executed theme make STARRY EYES stand out even if it is reminiscent of other recent body horror films.
---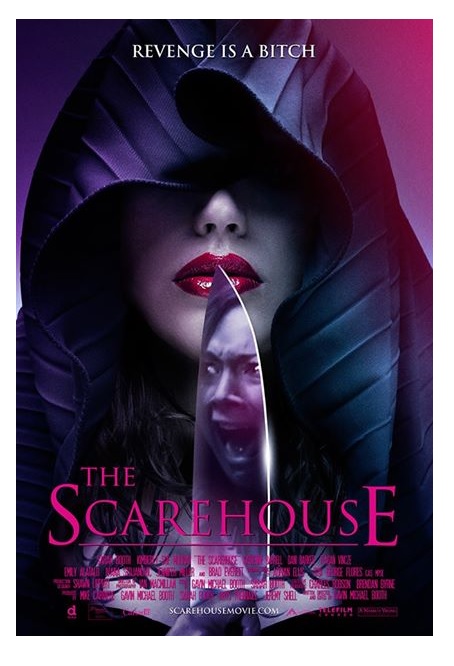 Advance Review: Playing next at the NYC Horror Fest tomorrow (Saturday Nov. 15th), Toronto for a week run starting Dec. 5th (theaters to be announced), and coming to On Demand/iTunes/BluRay/DVD on January 13th in Canada and the US!
THE SCAREHOUSE (2013)
Directed by Gavin Michael Booth
Written by Gavin Michael Booth (story/screenplay), Sarah Booth (story)
Starring Sarah Booth, Kimberly-Sue Murray, Katherine Barrell, Jennifer Miller, Teagan Vincze, Emily Alatalo, Dani Barker, Ivana Stojanovic, Brad Everett, Jack Ettlinger, Alex Harrouch, Jonathan Dubsky, Sean Kaufmann, Tanya Bevan, Scott Cavalheiro, Braulio Elicer, Ted Jefferies, Rhys Wyn Trenhaile, Julie Williams
Find out more about this film here and on Facebook here!
Reviewed by Ambush Bug
When THE SCAREHOUSE opened with a handheld camera being turned on and we began following a half a dozen girls pittering and chirping about talking about boys, dresses, and partying, I had a bad feeling this film was going to be a chore to get through. But it turns out that there's a point to this annoying opening, and it's a point that's brought home in a pretty fantastic fashion in the film that follows.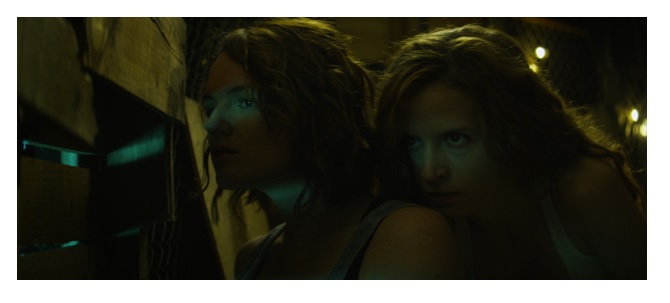 Corey and Elaina (Sarah Booth, who also wrote this film with her husband and director Gavin Michael Booth, and Kimberly-Sue Murray) are among the screeching girls wearing various modes of underthings in the opening moments, but after the credits, we find that things have changed dramatically in two years' time. Corey and Elaina have been recently released from prison after the night of the opening scene and the only thing on their mind is payback as they lure the rest of the girls from the video to a haunted house party, all souped up for revenge.
While there are parts of this film that will definitely make your torture porn gag reflex twitch, what saves it is the performances by Booth and Murray. Both actresses are absolutely engaging and full of infectious personality. They've obviously been wronged, but they don't play the roles as simple bad girls. Sometimes they are wide-eyed and gleeful like children burning ants. Other times they seem remorseful, as if they feel they might be going too far. The two actresses take what could be clichéd roles and add a lot of hefty characterization to them. Both actresses are extremely talented, and should be seen in much bigger and better movies in the future.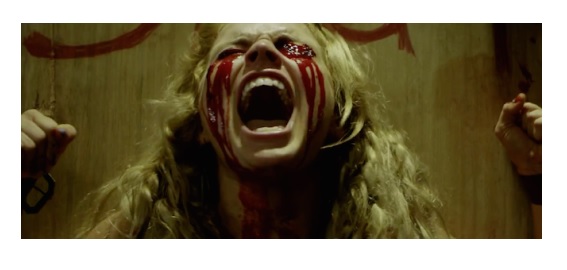 But THE SCAREHOUSE is the opposite of a bad movie. It's pretty engaging throughout, as the leads make short work of the first two girls who make it to their private haunted house shindig, but their plan goes south quickly as random factors begin to enter into the plan. This is where things get interesting because, since we've been following these two girls for most of the film, you kind of want their plan to come together. Then again, they are cold-blooded killers, so there's a moral conundrum this movie gleefully guides you through.
Full of unexpected turns and twists, THE SCAREHOUSE is not your typical revenge film. It takes some inventive kills and some interesting plot swerves and injects two characters played by two fantastic actresses. Don't dismiss this film as typical torture porn fodder. The performances and deft writing elevate it to a much more respectable status.
---
And finally…here's a short and sweet zombie yarn about a pregnant young woman surviving in a living dead world from Matthew Forte called WEDNESDAY'S CHILDREN. If you like what you see, you can check out the short's Facebook page here!
See ya next week, folks!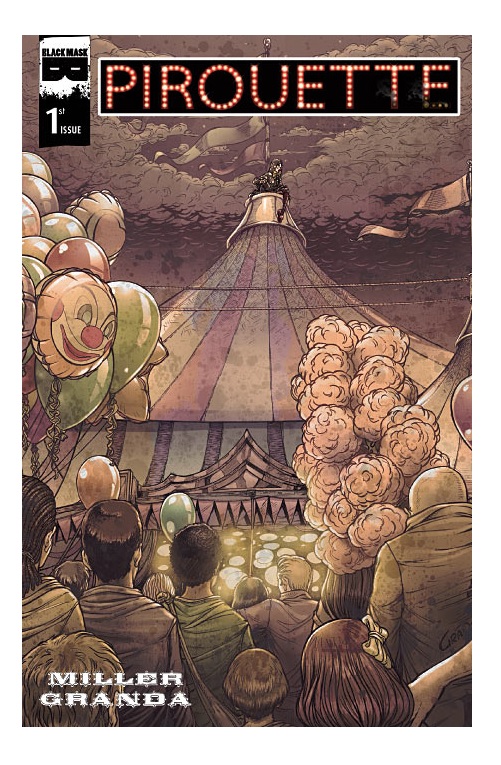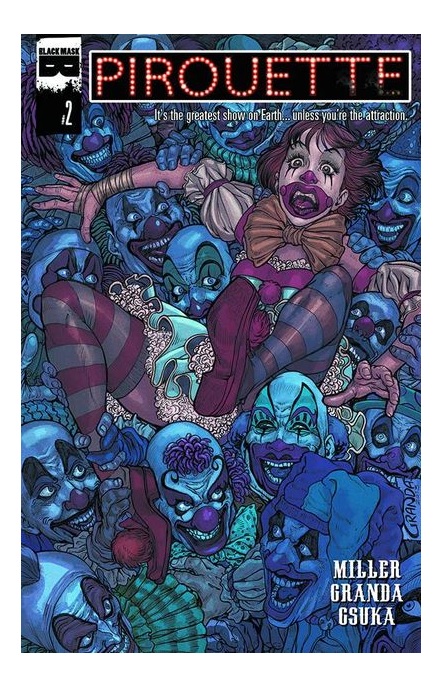 Ambush Bug is Mark L. Miller, original @$$Hole/wordslinger/writer of wrongs/reviewer/interviewer/editor of AICN COMICS for over 13 years & AICN HORROR for 4. Follow Ambush Bug on the Twitters @Mark_L_Miller.

Be sure to tell your comic shop to order his new comic PIROUETTE (out now!) from Black Mask Studios!
---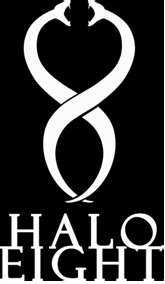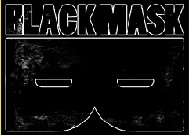 Find out what are BLACK MASK STUDIOS and OCCUPY COMICS here and on Facebook here!


Interested in illustrated films, fringe cinema, and other oddities?
Check out Halo-8 and challenge everything!
Look for our bi-weekly rambling about random horror films on Poptards and Ain't It Cool on AICN HORROR's CANNIBAL HORRORCAST Podcast every other Thursday!
---
Find more AICN HORROR including an archive of previous columns on AICN HORROR's Facebook page!