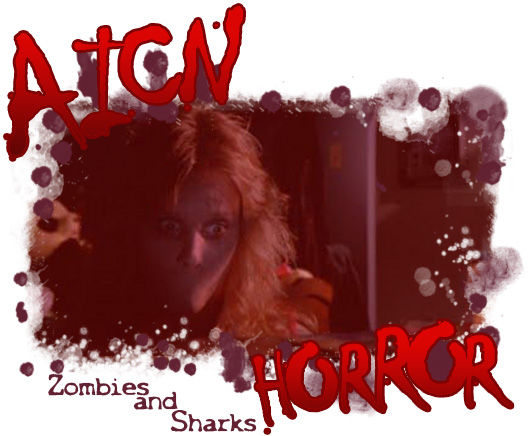 Logo by Kristian Horn
What the &#$% is ZOMBIES & SHARKS?
---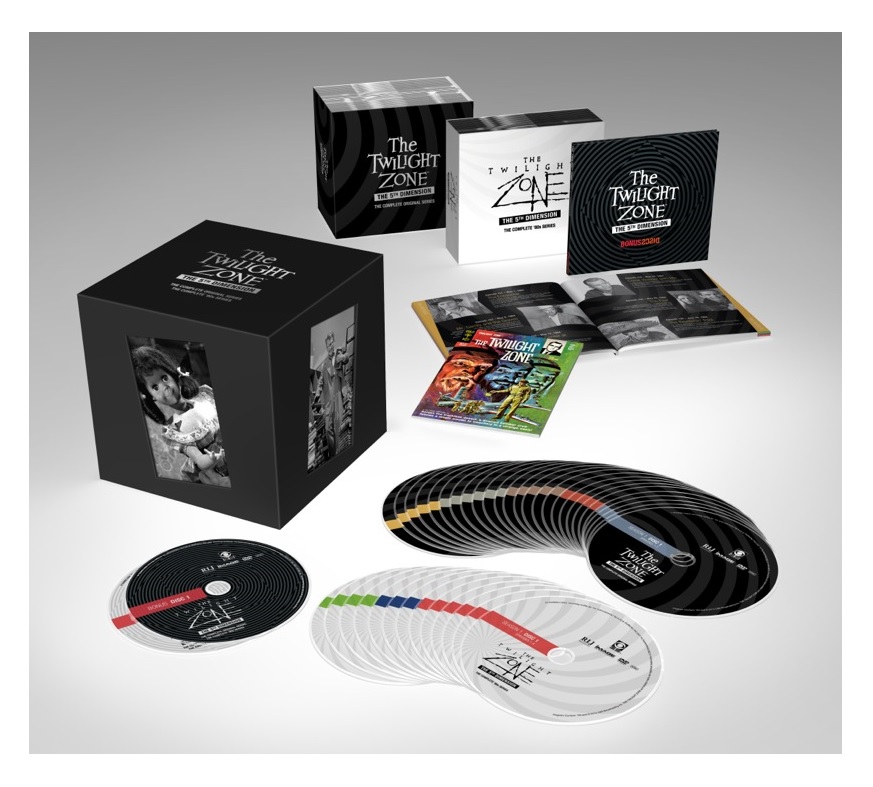 Ambush Bug
here. Those of you who have been following my weekly AICN HORROR column know I've been reviewing TWILIGHT ZONE episodes of both the 1960s and 1980s series for quite some time now. Follow the links below for those reviews. Well, one lucky AICN HORROR reader can win THE TWILIGHT ZONE: THE 5TH DIMENSION, a DVD mega-collection of both series all in one amazing box set from
Image Entertainment
. The 41-DVD set contains over 20 hours of bonus features, including a brand-new documentary with never-before-seen interviews, the American Masters documentary Rod Serling: Submitted for Your Approval, numerous Rod Serling interviews, lectures and appearances as well as interviews with original cast and crew. There are also dozens of audio commentaries, a selection of isolated music scores from the Original Series and much more. Only 7,500 copies will be released, each individually numbered, and each will retail for $349.98!
How do you win such an amazing prize?
Well, I only have one of these box sets to give out, so it's going to be somewhat tough. Though the film is flawed and tragically controversial, there's a lot of awesome in 1983's TWILIGHT ZONE: THE MOVIE, so my question to those interested in winning this prize is;
If there were to be a new TWILIGHT ZONE: THE MOVIE, what four episodes from either the 1960s classic series or the 1985 series would you like to see reimagined/readapted in a new TWILIGHT ZONE movie? All you have to do is thread together your favorite episodes in a winning way that tantalizes, terrifies, and entertains, and you could be the winner of this awesome DVD collection.

So list your four episodes you think would make for a fantastic TZ film and explain why you chose those four in a short email and don't forget to include your full mailing address (no address = no win, no matter how good your picks).
I'll be announcing the winner of this collection next Tuesday, November 11, which just so happens to be the day this box set is available for purchase from
Image Entertainment
.
Best of luck, folks!
Previous TWILIGHT ZONE Episode Reviews!
Season 1: Episodes 1.1-1.6, 1.7-1.12, 1.13-1.18, 1.19-1.24, 1.25-1.30, 1.31-1.36
Season 2: Episodes 2.1-2.6, 2.7-2.12, 2.13-2.18, 2.19-2.24, 2.25-2.29
Season 3: Episodes 3.1-3.6, 3.7-3.12, 3.13-3.18
Season 4: Episodes 4.1-4.5, 4.5-4.8, 4.9-4.13, 4.14-4.18
Season 5: Episodes 5.1-5.7, 5.8-5.14, 5.15-5.21, 5.22-5.28, 5.29-5.36
Season 1 (1985): Episodes 1.1-1.3


Look for more TWILIGHT ZONE Episode Reviews soon!
---
Find more AICN HORROR including an archive of previous columns on AICN HORROR's Facebook page!