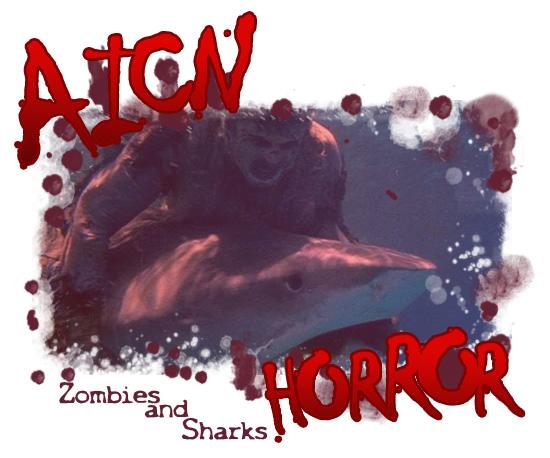 Logo by Kristian Horn
What the &#$% is ZOMBIES & SHARKS?
---
Greetings, all. Ambush Bug here. Happy Birthday to AICN HORROR which celebrates its fifth year in October! Always hoping to pass on new and exciting films for all of you ravenous readers, I have once again compiled a list counting down to my favorite horror film released since last October and covered in this here AICN HORROR: ZOMBIES & SHARKS column. Some of these films might be new to you since there isn't a lot of horror in theaters these days that aren't toothless remakes or watered down sequels. The theater just doesn't seem to be the place where the horror is at these days, I'm sad to say. Some of these films have only seen the light of day on Video On Demand or simply go straight to DVD/BluRay or digital download.

As far as how I compiled this list? Well, I simply looked over my AICN HORROR columns over the last year since October 1st, 2013 (which happens to be the birthday of this little column five years ago!) and worked and reworked a list until I had 31. No real method to my special brand of madness. We'll be counting down every day until Halloween to my favorite horror film of the year. I'll also provide a second film suggestion at the end of each post that is worth noting or missed being on the list by a little bit for those who can't get enough horror.

So let's get to it! Chime in after the article and let me know how you liked the film I chose, how on the nose or mind-numbingly wrong I am, and most importantly, come up with your own list…let's go!
#3: ENEMY!
Why is ENEMY #3? What Denis Villeneuve achieved with ENEMY was awe-inspiring. The film fills you with every piece of the puzzle necessary to put it all together and still smacks you in the face with an ending that leaves a scar and if you're like me, you'll immediately watch the film again to see what we missed. Gyllenhaal is amazing in a dual role here and while this is another one of those uncategorizable films of the weird, it is definitely one of the films that left the deepest gouge into my psyche this year.
You can find ENEMY
on Amazon here
and
on Netflix here
. Below is my review of ENEMY from June!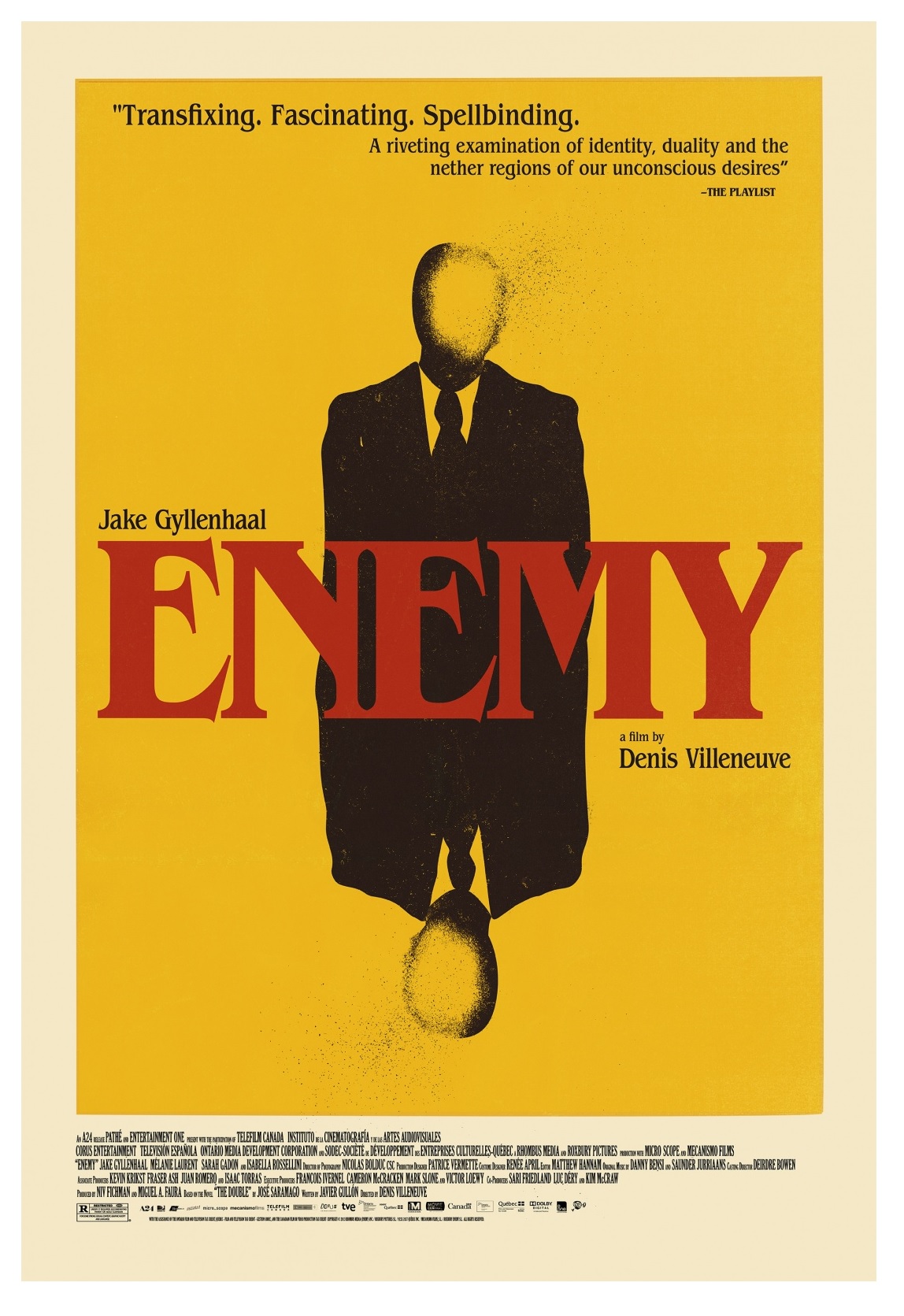 ENEMY (2013)
Directed by Denis Villeneuve
Written by José Saramago (based on the novel by), Javier Gullón
Starring Jake Gyllenhaal, Mélanie Laurent, Sarah Gadon, Isabella Rossellini, Joshua Peace, Tim Post
Find out more about this film here and on Facebook here
Reviewed by Ambush Bug
The film that blew me away this week the most was ENEMY, a subtle, yet effective thriller that creeps up on you like a predator in the night and waits until the last second to pounce. I've heard mixed reactions to the film, which was based on the novel THE DOUBLE by José Saramago. The film is definitely not for the literal minded, but even for those who won't enjoy the surreal elements, the mixture of atmosphere and acting caliber is not to be beat.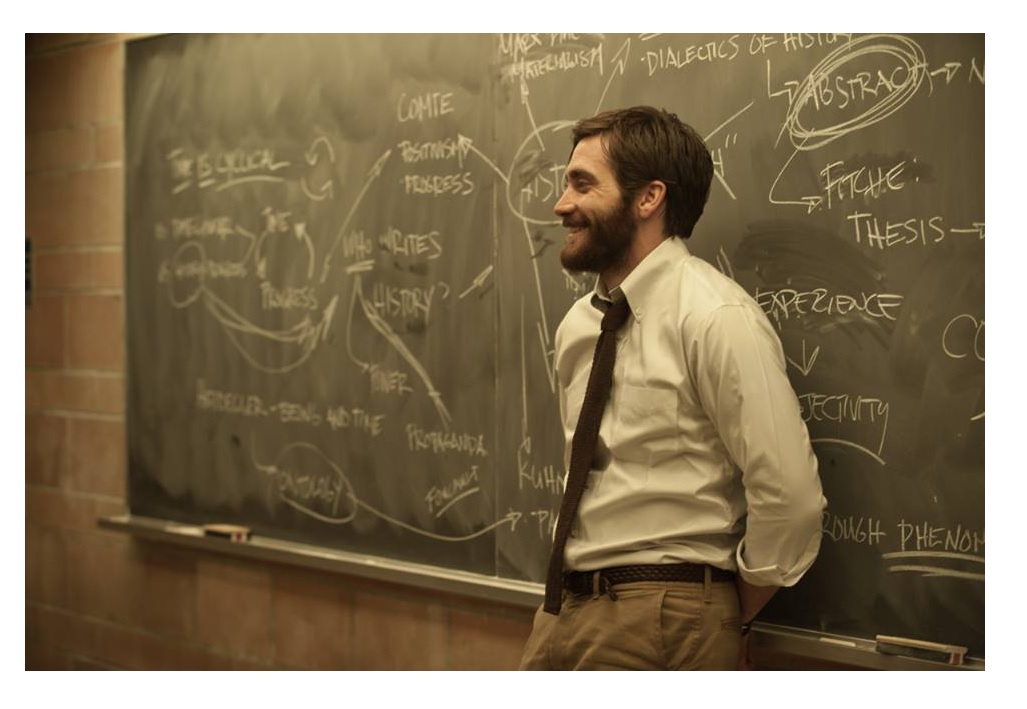 Jake Gyllenhaal plays Adam, a reserved college professor teaching history who seems about as enthused about teaching as we see his students are in attending his class. Adam recites the same speeches over and over about totalitarianism and its roots in both ancient and modern society. In a teacher's lounge, a fellow teacher asks Adam if he watches movies and guides him to watch a particular movie "Where There's a Will There's a Way." Out of boredom, Adam rents the film and sees an extra that looks exactly like him in the film. Doing a bit of IMDB and internet research, Adam finds Anthony (also played by Gyllenhaal), an actor who looks exactly like him. The rest of the film follows Adam as he seeks out Anthony and the reasons behind the fact that he has an exact double walking around. Adam and Anthony both have significant others; for Adam, it's a passionless relationship with Mary (INGLORIOUS BASTERDS' Mélanie Laurent), and for Anthony, a pregnant wife in Helen (THE MOTH DIARIES/ANTIVIRAL's Sarah Gadon). And both have no real idea why they have a doppelganger…well, maybe that's not entirely true.
To talk about ENEMY in too much detail would give too much away. I will say that it is a film that needs to be paid attention to in order to get the full effect. Director Denis Villeneuve peppers in little clues throughout the entire film; sometimes obvious ones, at other times more subliminal and in the periphery. But if you're willing to pay close attention, this will be a satisfying film for you.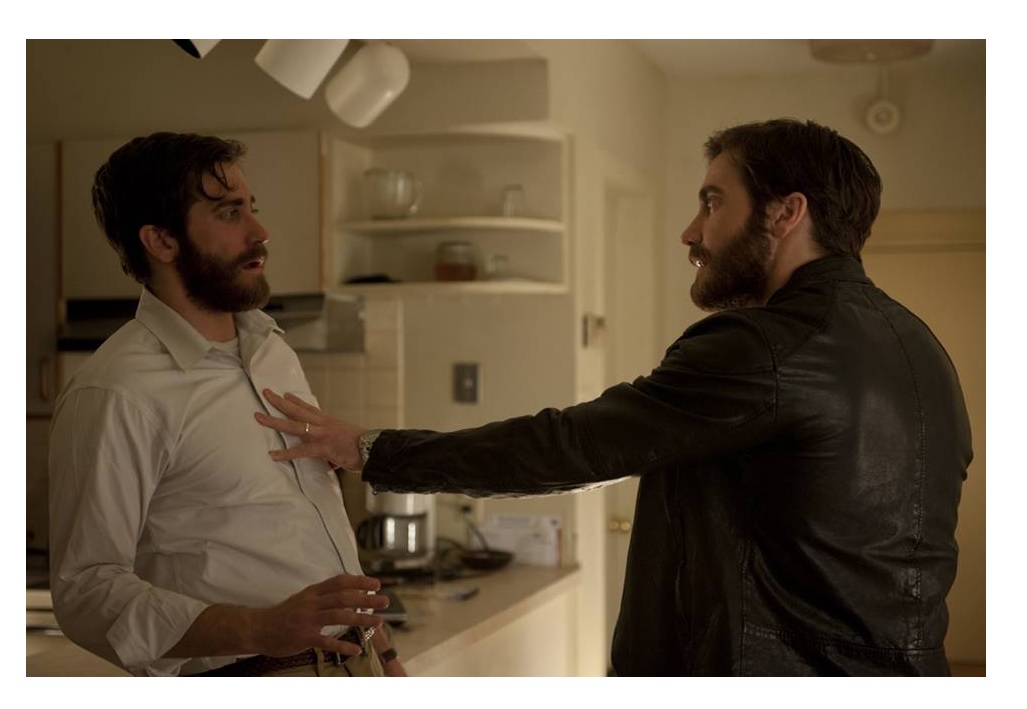 But if you aren't the type to pay close attention to the film you're watching, the film ends on a genuine "WHAT THE HOLY FUCK DID I JUST SEE!" moment that will most likely infuriate the viewer to no end and leave some folks scratching their heads until it bleeds. But if you pay attention to the themes and look at the symbolism of the double, the reoccurring spider imagery, and even the names of the characters, the clues did fall into place for me, although the ending did throw me a bit.
Whether you're pissed off by the outcome or not, you're bound to be impressed with, Jake Gyllenhaal, who ups the ante here in the dual role of Adam and Anthony. He incorporates subtle, yet distinguishable features in both roles making it pretty obvious which is which even when they aren't identified. Sure wardrobe helped as Anthony is much hipper than the dour Adam, but less subtle things like posture and stance make the two roles feel like they are two actors in the same room. Laurent and Gadon are fantastic as well, both play love interests unsatisfied, yet loyal to their lovers. Their reaction to the possibility that their lover has been switched are distinct and fascinating to see unfold.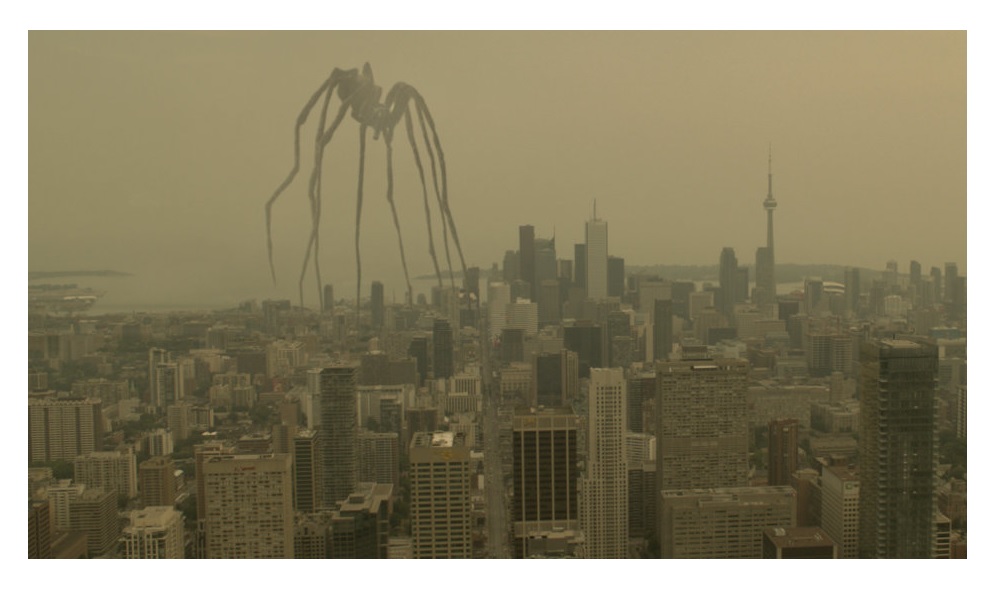 Like the spiders which appear everywhere in this film, the dangers of this movie will creep up on you if you let it. Is this a comment on totalitarianism? It would appear so as everything from paintings in the periphery to Adam's lectures themselves convey the subject matter. Is it a doppelganger movie? Or do the final minutes suggest instead it's a monster takeover film told in the most intimate of ways? Like all great pieces of art, this film is completely open to any and all interpretations as Villeneuve doesn't provide any easy answers.
I will say that watching the bonus feature behind the scenes footage helped in my understanding of the film itself. Seeing it in BluRay format may have added to this experience as I was immediately able to access some kind of logical explanation to the gorgeous piece of cinema I had just seen. But even if the true meaning behind the film is left for debate, the powerful dual performance by Gyllenhaal and the engrossing way Villeneuve has fleshed out this alien, yet familiar blocky, modern landscapes in ENEMY make the film satisfying for those who love ambiguity and aren't afraid of being overwhelmed with dark unknowns as the credits roll.
---
Worth Noting: MOTIVATIONAL GROWTH!
Another film about a man at war with an aspect of himself is MOTIVATIONAL GROWTH. A unique and visionary film experience that involves a psychotic television, a recluse, and a talking pile of mold (with the voice of Jeffrey Combs). This is an oddball film, but one that definitely stands out among the rest in this year's horror films as something unlike anything you've ever seen before.

Check out my full review of the film here and you can check it out here on Amazon!






---
The Countdown so far!
#31: DISCOPATHE (worth noting: STAGE FRIGHT)!
#30: STALLED (worth noting: CHRYSALIS)!
#29: RIGOR MORTIS (worth noting: I AM A GHOST)!
#28: GHOST TEAM ONE (worth noting: HYSTERICAL PSYCHO!
#27: THANATOMORPHOSE (worth noting: CONTRACTED)!
#26: LIFE AFTER BETH (worth noting: EVIL FEED)!
#25: AT THE DEVIL'S DOOR (worth noting: THE DEVIL'S MUSIC) !
#24: CHIMERES (worth noting: THE RETURNED) !
#23: AFFLICTED (worth noting: DEAD WEIGHT) !
#22: TUSK (worth noting: BENEATH) !
#21: FOUND (worth noting: RABID LOVE) !
#20: DEVOURED (worth noting: CRAVE) !
#19: DELIVERY: THE BEAST WITHIN (worth noting: THE HUNTED) !
#18: THE MACHINE (worth noting: BLOOD GLACIER) !
#17: GRAND PIANO (worth noting: OPEN GRAVE) !
#16: WILLOW CREEK (worth noting: WOLF CREEK 2) !
#15: ALL CHEERLEADERS DIE (worth noting: THE SEASONING HOUSE) !
#14: THE SACRAMENT (worth noting: HOLY GHOST PEOPLE) !
#13: CRAWL OR DIE (worth noting: BENEATH) !
#12: PIECES OF TALENT (worth noting: EVIL IN THE TIME OF HEROES) !
#11: PLUS ONE (worth noting: THE DEMON'S ROOK) !
#10: CHEAP THRILLS (worth noting: THE POISONING) !
#9: THE GUEST (worth noting: TORMENT) !
#8: BLUE RUIN (worth noting: THE BATTERY) !
#7: THE CONSPIRACY (worth noting: THE BANSHEE CHAPTER) !
#6: HERE COMES THE DEVIL (worth noting: ASMODEXIA) !
#5: HONEYMOON (worth noting: ALMOST HUMAN) !
#4: UNDER THE SKIN (worth noting: ESCAPE FROM TOMORROW) !
See ya tomorrow, folks, as I count down the best of the best covered in AICN HORROR since October 1st, 2013!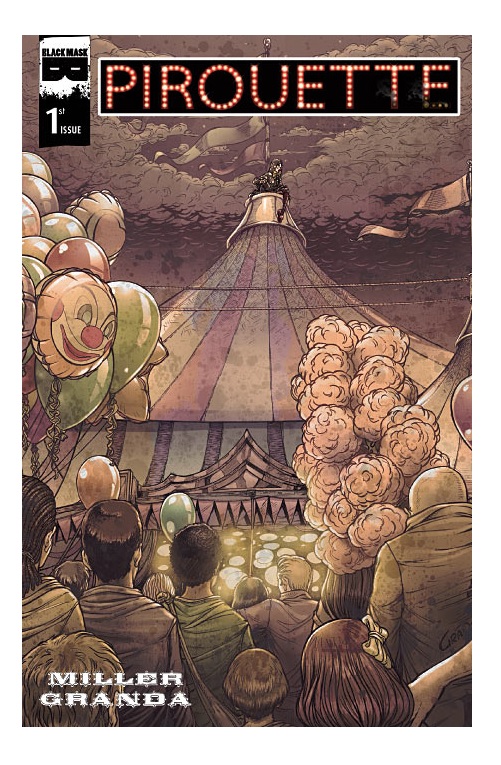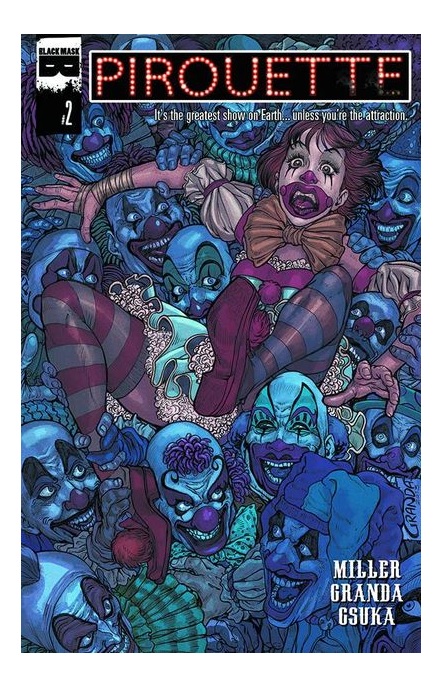 Ambush Bug is Mark L. Miller, original @$$Hole/wordslinger/writer of wrongs/reviewer/interviewer/editor of AICN COMICS for over 13 years & AICN HORROR for 4. Follow Ambush Bug on the Twitters @Mark_L_Miller.

Be sure to tell your comic shop to order his new comic PIROUETTE (out now!) from Black Mask Studios!
---
Find more AICN HORROR including an archive of previous columns on AICN HORROR's Facebook page!